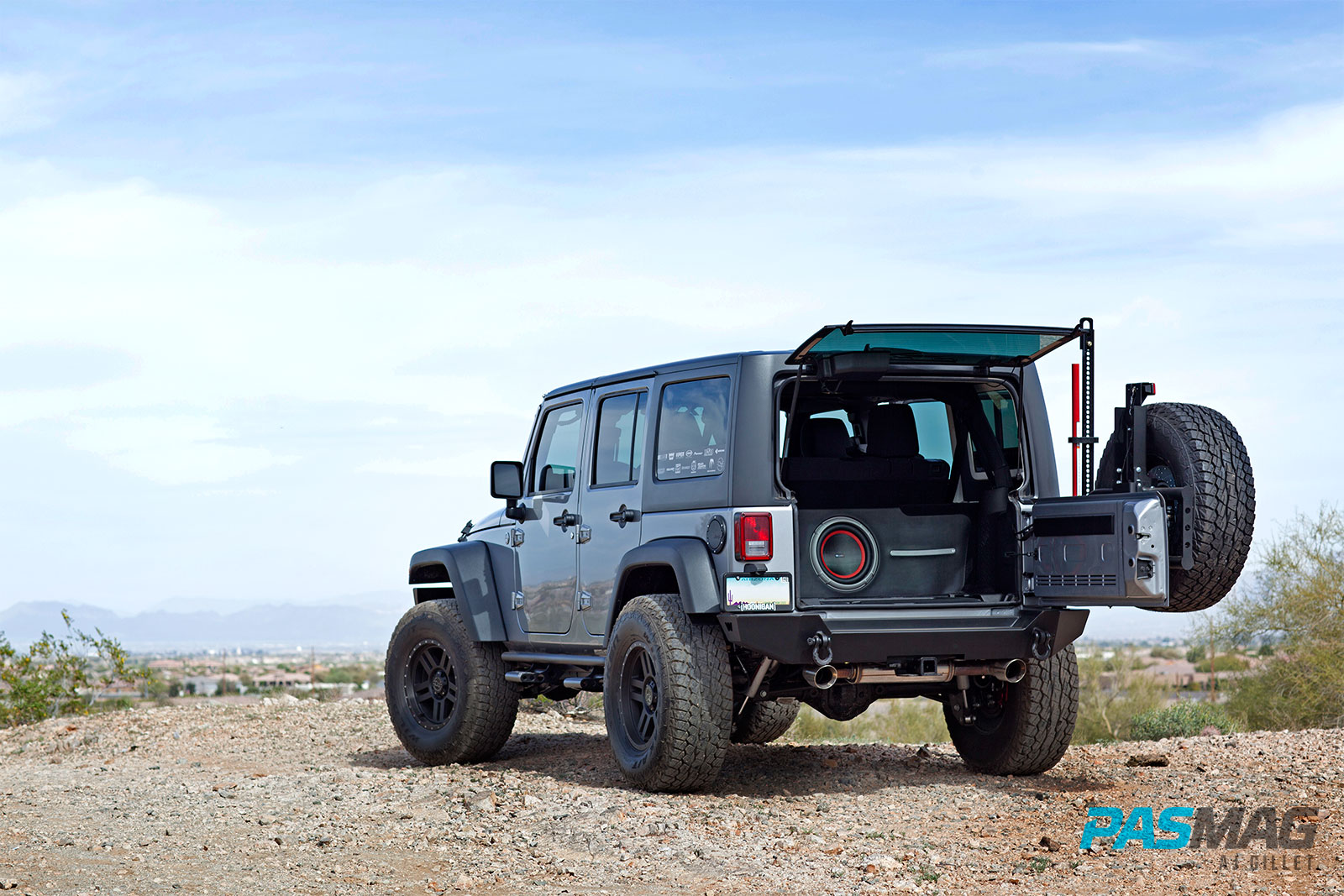 When you think Jeep, you think tried and true off-road capability and a ruggedness that just won't give up. Jeeps don't get stuck, they just venture further into the thick of it. While this romanticized view of the off-road American icon still holds true today, unfortunately the numbers these represent are few and far between. The majority of Jeeps on the road these days have been turned into manicured pavement princesses and grocery getters, instead of land-conquering 4x4s. It's kind of like when your buddy stopped showing up for football on Sundays and started following Dancing With The Stars religiously.
Text by Micky Slinger. Photos by AJ Gillet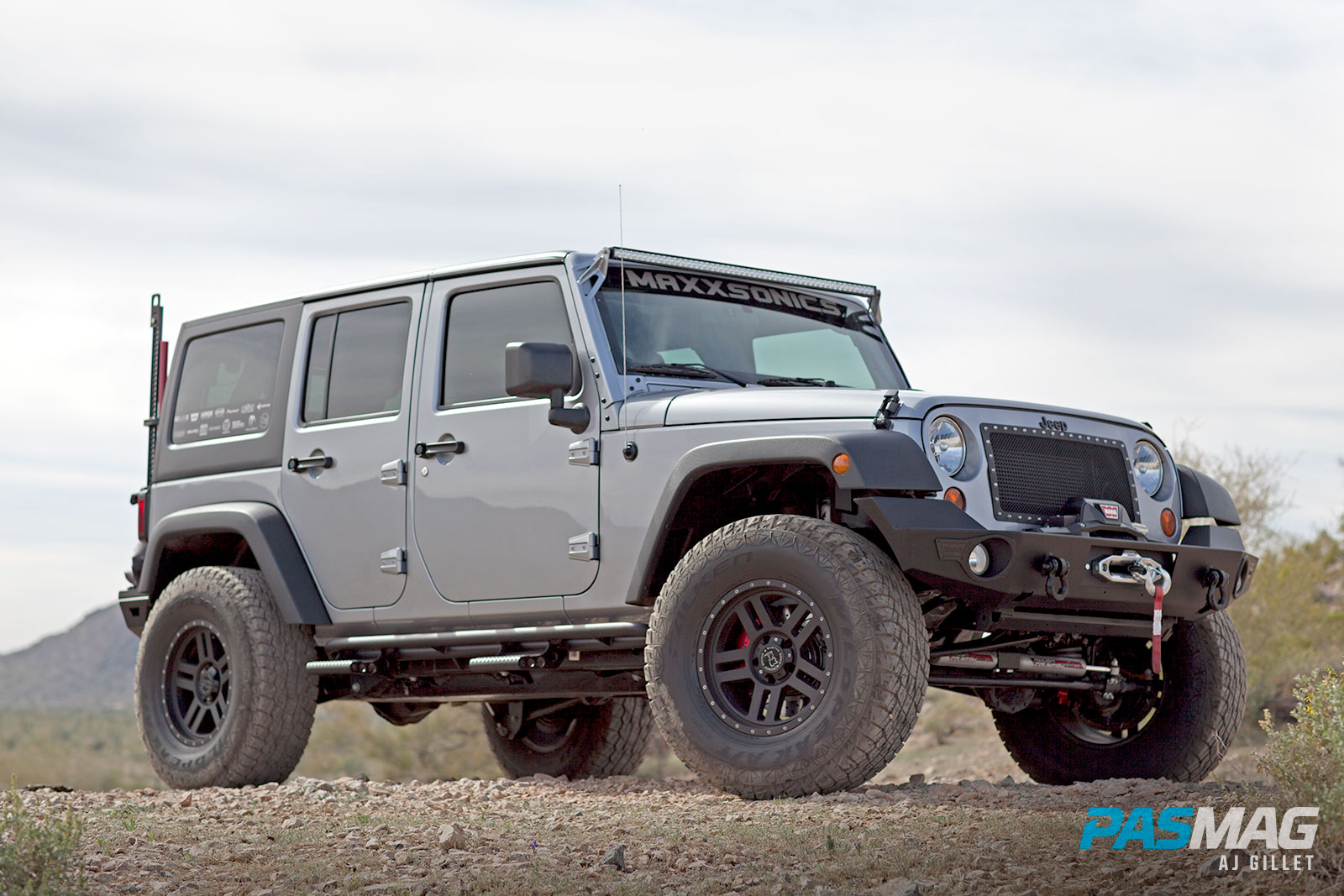 When Brian Sherman purchased his 2013 Jeep Wrangler, he had a build plan that would not only stay true to the Jeep's off-road roots, but would also put a tasteful twist on things. Sherman is the Director of Business Development at Maxxsonics and an admirer of Jeeps and their off-road lineage.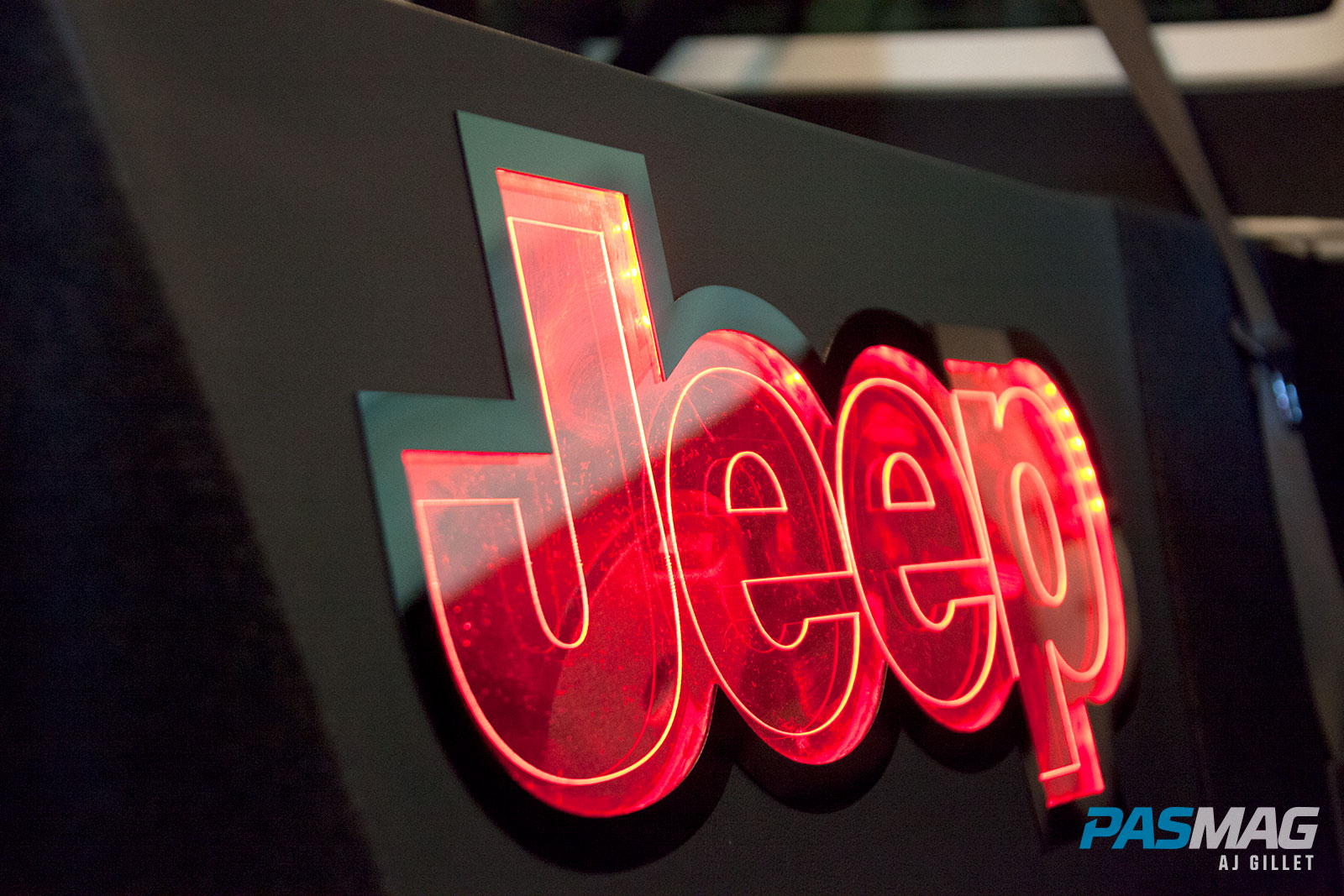 "[I've] always loved Jeeps, but never owned one," says Sherman. "The wide range of customization options available made it a good option for us. The new engine and transmission combination responds well to performance upgrades, making it a good performer off-road."
Sherman and his family have been competing in car shows and sound offs for years. They started in the JDM scene with Hondas, then worked their way up to Euros. Their Audi S4 was actually featured in our magazine on two separate occasions! What was the allure of moving from luxurious, European road floaters to rugged, American trail runners?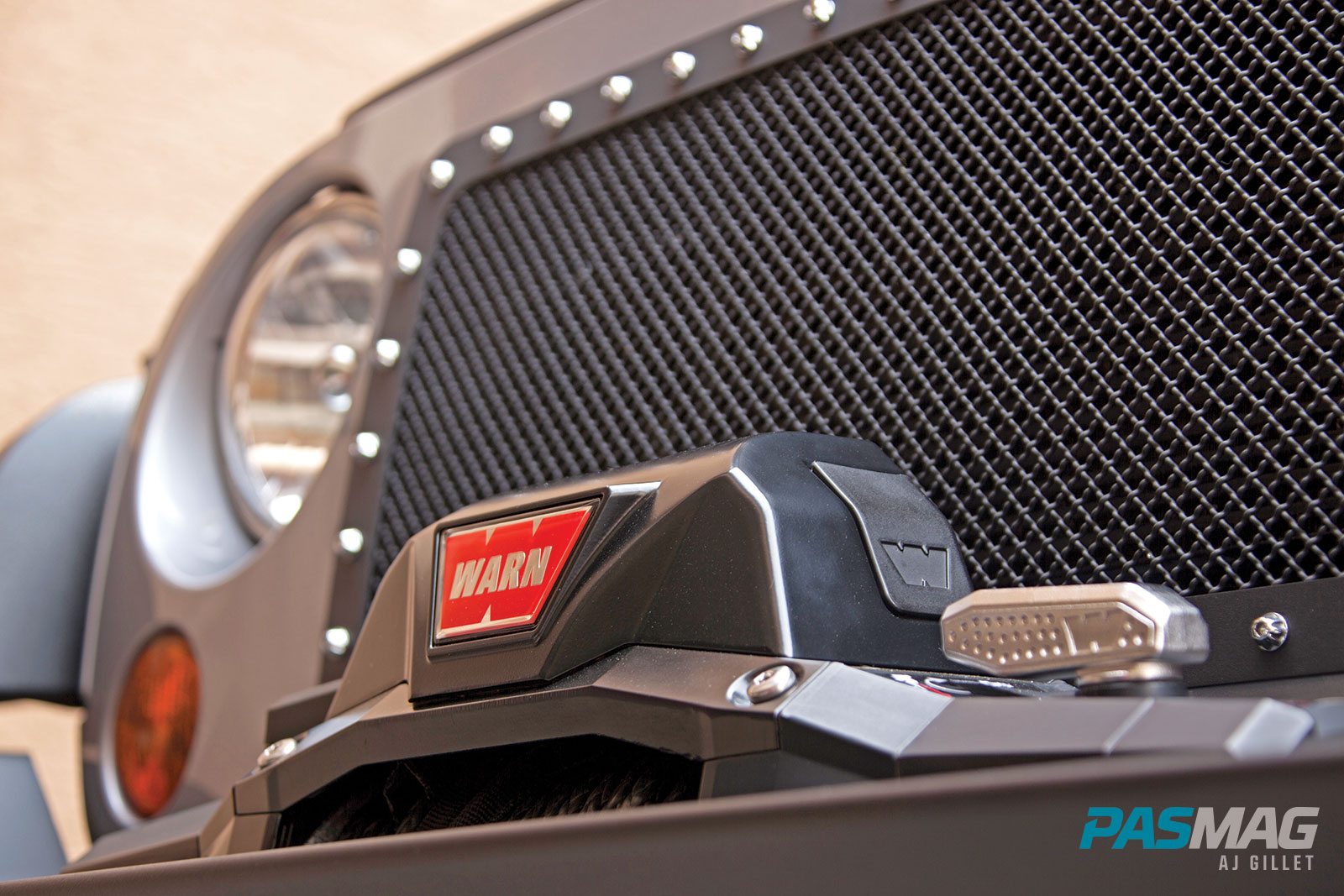 "I grew up in rural Pennsylvania in a small town that hosts the annual STPR (Susquehanna Trail Pro Rally)," explains Sherman. "This Rally America sanctioned event introduced me to high performance vehicles at an early age. Watching rally legend John Buffum slice through the trees near my childhood home in a highly modified UR Quattro is a memory I hope I never forget."
With thoughts of rally madmen ripping through the trails in his head, Sherman set out to find the perfect set up for his Wrangler. However, with an aftermarket slightly shy of a Honda Civic's, part choices were going to be tough. After gaining inspiration from SEMA in 2012, he had an idea of where he wanted to go.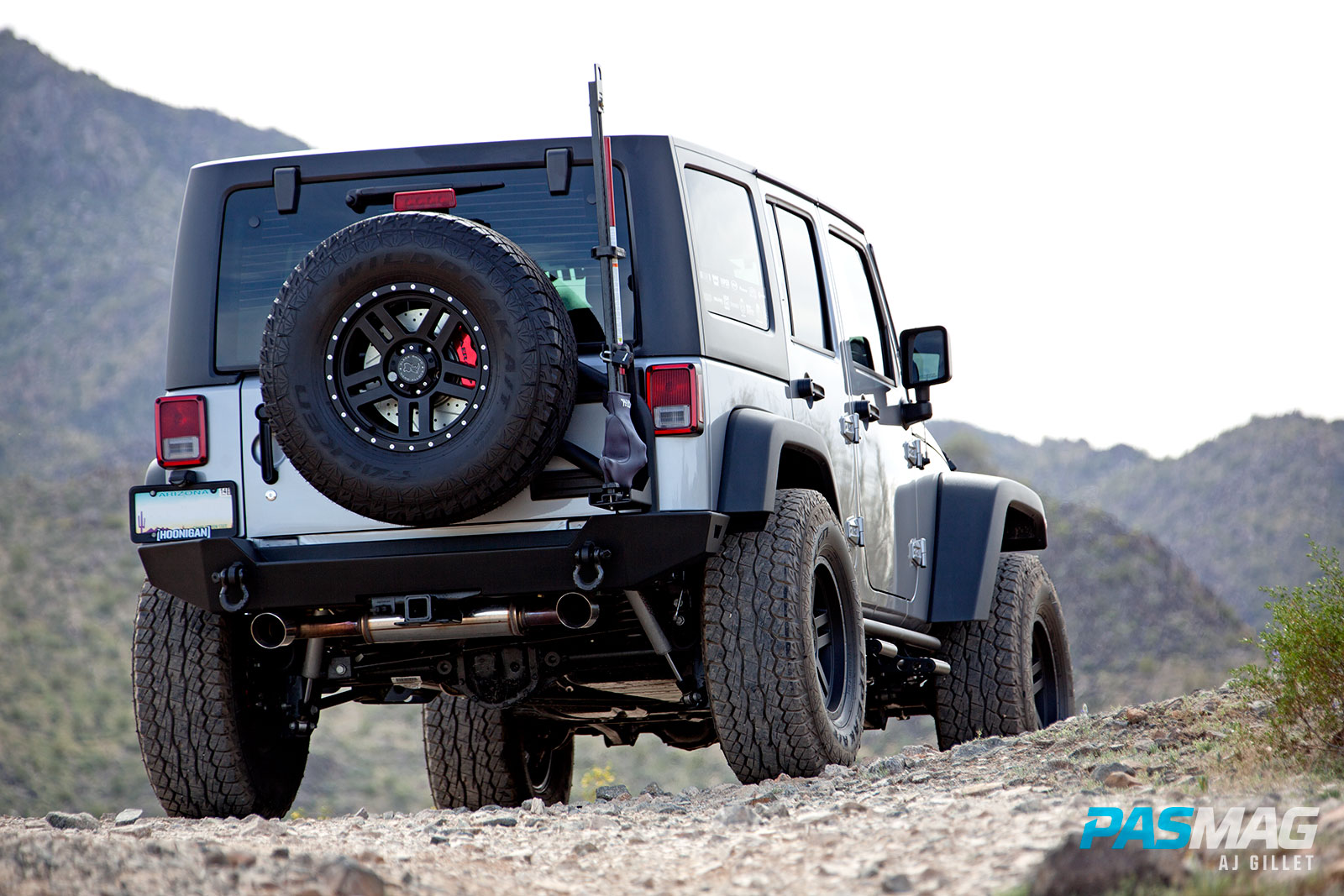 When searching for some proven legs for his Jeep, Sherman sought out the accessible and proven Rough Country for his needs. Rough Country shocks, springs, and sway bars make up the capable suspension, while the lift kit provides 3.25-inches more space between the Jeep's belly and the ground.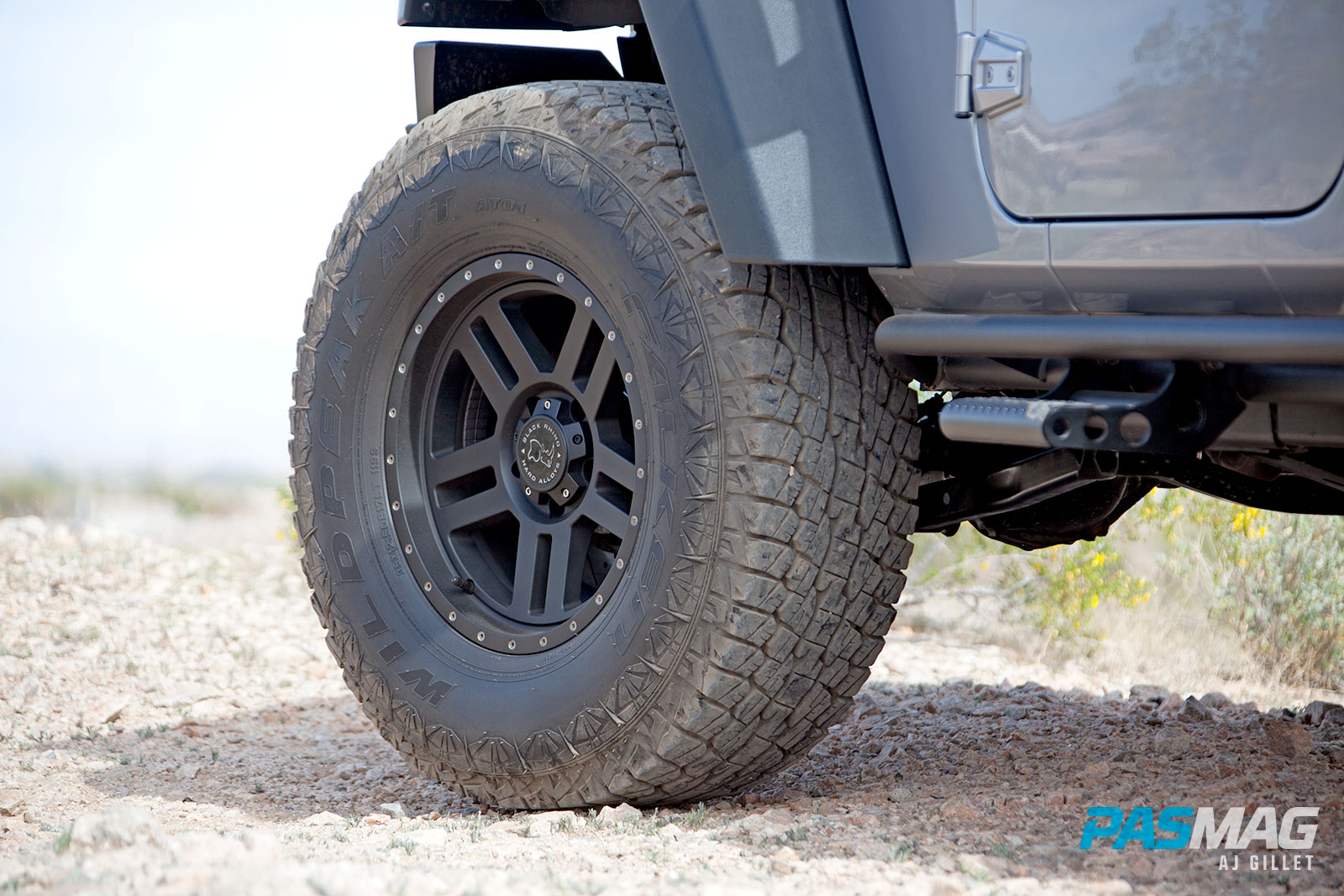 To conquer any terrain, sturdy wheels and big rubber are a must. Sherman chose a set of hard alloy Black Rhino Moab wheels in 17x9-inches all around, which were then wrapped in some fatty Falken Wildpeak A/T tires, measuring in at LT35x12.5 a piece. With shoes like that, an Airaid intake, and a Superchips ECU under the hood, he's going wherever he wants, whenever he pleases.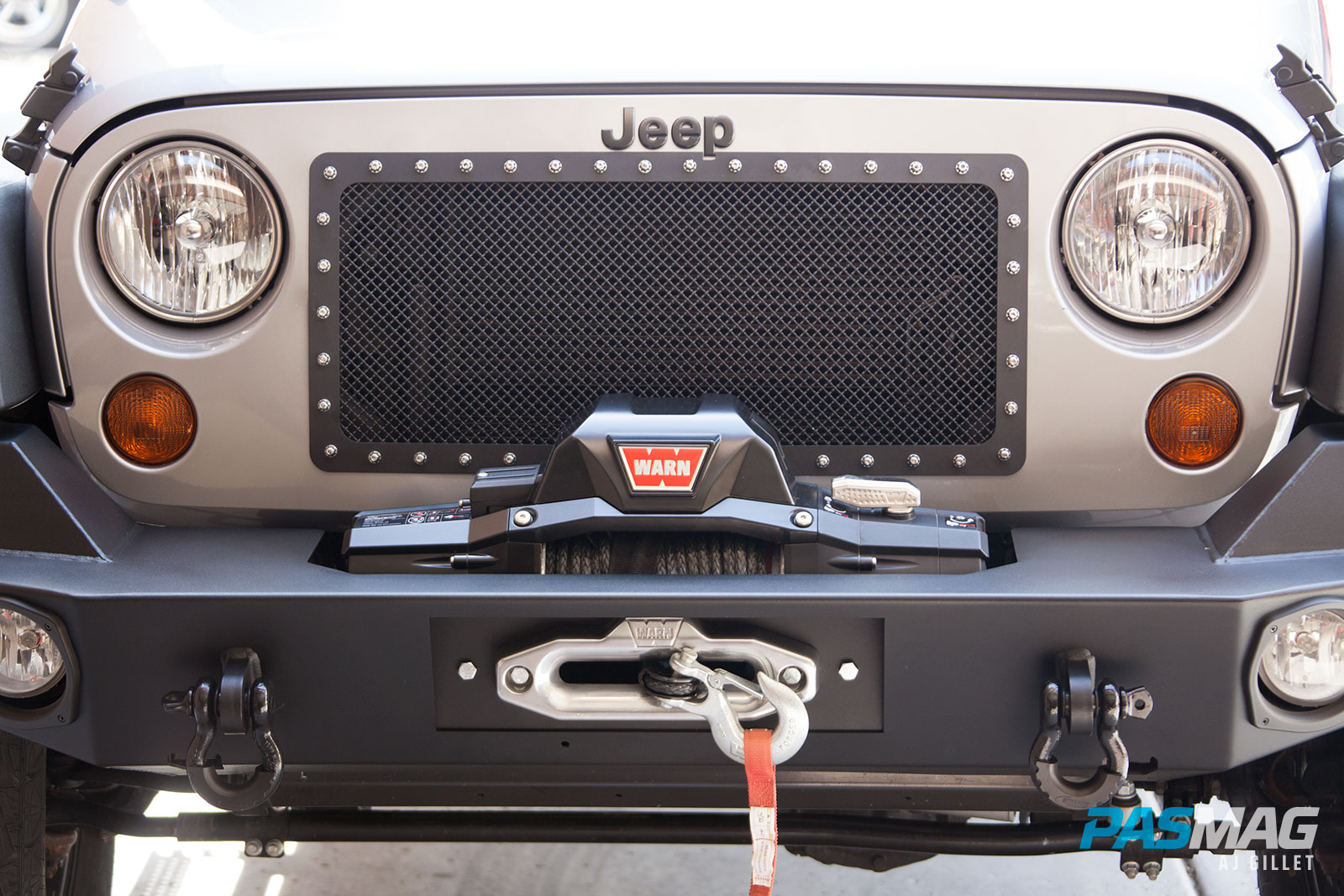 To complete it's rugged exterior, Warn Industries was Sherman's best option for his Wrangler. Elite series front and rear bumpers add some armor, while a Zeon 10S winch in the front and swing-away tire carrier with a full-size spare and Hi-Lift jack leave no questions about what this Jeep does in its spare time.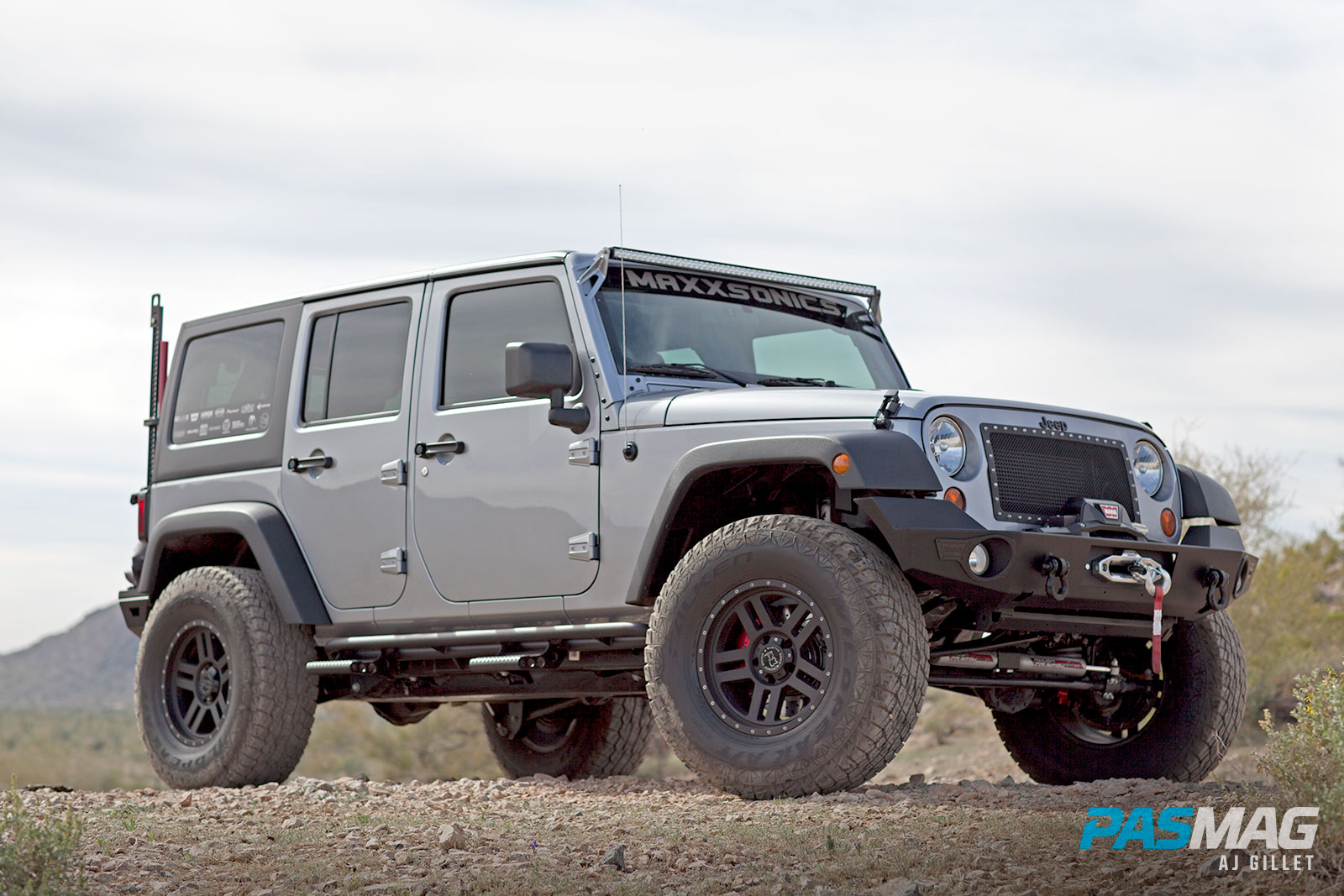 If that's enough of a hint for you, a Rogue-4 50-inch LED light bar dominates the front roofline for those evening jaunts through the backcountry. N-Fab removable steps give the kids a leg up when they're getting taxied around, but they get right out of the way when it's business time.
With the Wrangler off-road ready, this is where Sherman saw fit to throw his own spin on it.
A Pioneer AppRadio 3 acts as the helm to the audio system with more features than you can shake a muddy tire at.
To get tasteful, quality sound from all around, MB Quart's RCM216 6.5-inch component system is utilized. MB Quart RKM116 6.5-inch coaxials round out the rear fill.
In the back, a custom enclosure can be seen shining the Jeep logo proudly in red. Inside, the box houses an MB Quart PWM304 12-inch DVC subwoofer, sealed with Boom Mat sound deadening spray.
Boom Mat makes up the Jeep's headliner too, which keeps the silky smooth tunes thumping inside the Wrangler. To get such smoothness, an MB Quart RM740.5 five-channel amplifier and two Maxxlink VHC-5V3 five-farad capacitors filter through the passive crossover up front. This is all tuned by Arc Audio's audiophile grade PS8 processor.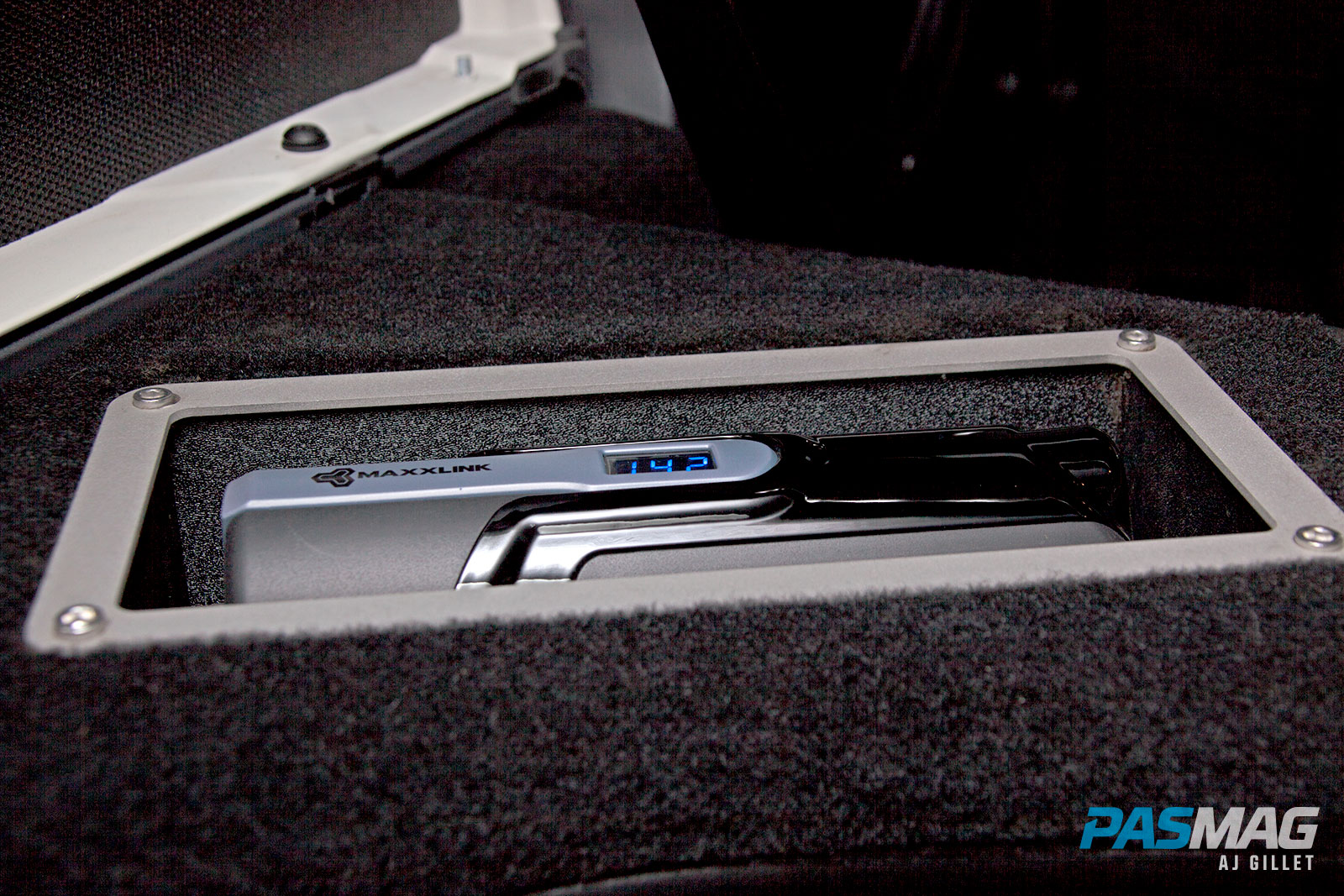 Of course, quality components take quality wiring, so Maxxlink steppped up with upgraded V3 4 AWG power wire, VDB3 distribution blocks and upgraded ground wires with VGT2 distribution.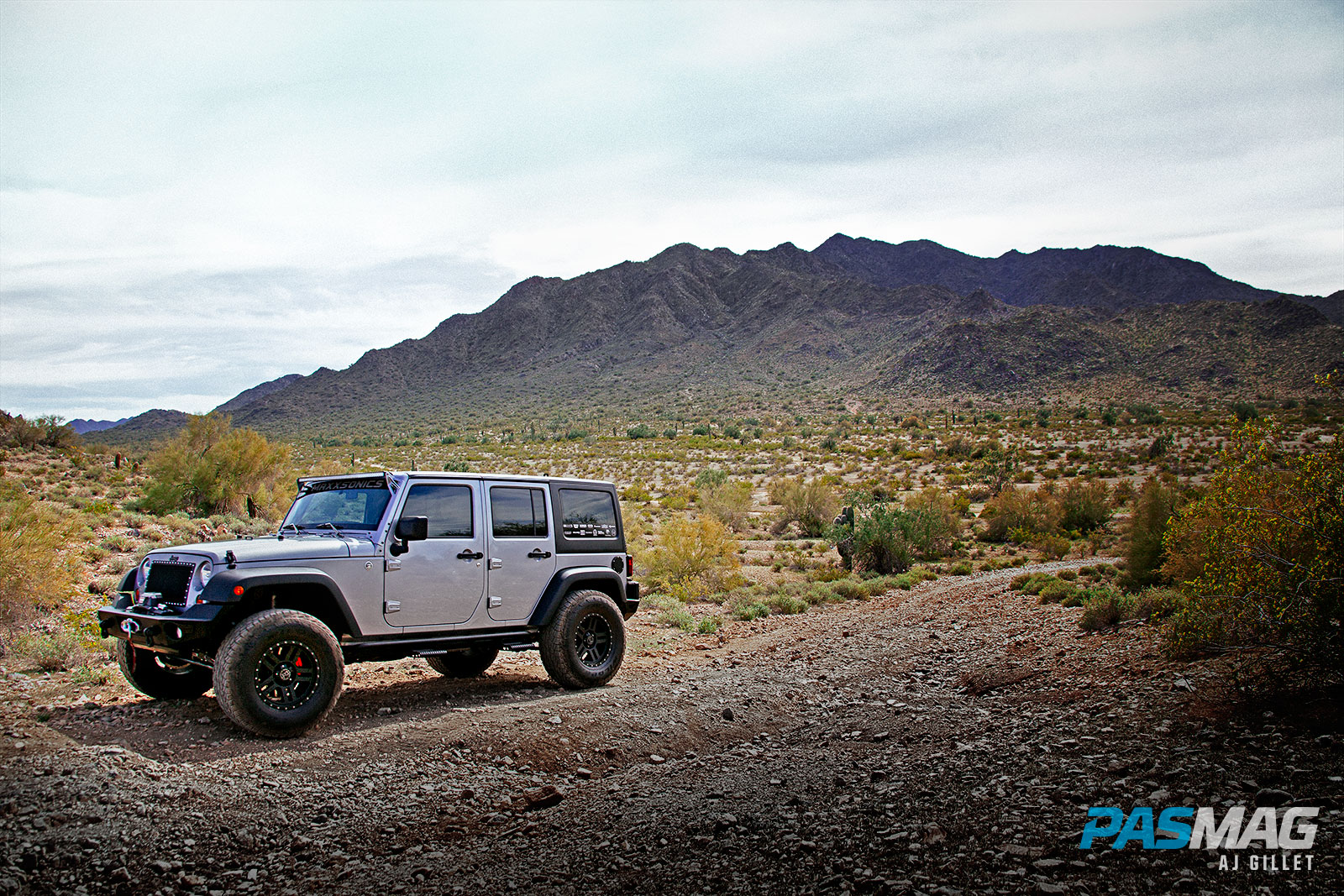 This Jeep really does it all. It can pick the kids up from school, demo some tunes at a car show, and then take off into the country to tackle the trials of the trails. One thing's for sure, this Jeep goes wherever it wants and it thumps all the way there.
ESSENTIALS // Vehicle: 2013 Jeep Wrangler Unlimited, Owner: Brian Sherman, Location: Gilbert, Arizona, USA, Engine: (G) ERB 3.6L V6, Horsepower: 315 hp, Torque: 290 lb-ft
ENGINE MODIFICATIONS // Airaid (intake, Synthamax filter, Poweraid throttle body spacer), Champion Double Platinum spark plugs, Superchips chipped ECU
EXHAUST SYSTEM // MagnaFlow Axle-back exhaust
CHASSIS / SUSPENSION // Rough Country (shocks, springs, sway bars, 3.25-in. lift with sway bar disconnect), Energy Suspension urethane bushings
WHEELS / TIRES / BRAKES // Black Rhino Moab wheels – 17 x 9 (f & r), Falken Wildpeak A/T tires – LT35 x 12.50 R17 (f & r), Baer (Pro Brake System (f), SS4 Brake System (r), braided lines), Hawk brake pads
EXTERIOR // Warn (Elite Series full front bumper, Zeon 10S winch, Elite Series rear bumper, swing away tire carrier), Hi-Lift jack, N-Fab (woven mesh grill insert, removable Nerf steps), Trucklight LED headlights, Rogue-4 50-in. LED light bar, Poison Spyder pillar light bar mount, Color matched mounting hardware by Rob Drew at Drew Brothers Customs, Graphics and decals by Robert Kramer at Master Designs
MOBILE ELECTRONICS // Pioneer AppRadio 3 head unit, Arc Audio PS8 processor, MB Quart (passive crossover, RM740.5 5-channel amplifier, PWM304 12-in. DVC subwoofer, RCM216 6.5-in. component system, RKM116 6.5-in. coaxial), Maxxlink (VBT48 battery terminals, VANLAFS1 brass fuse holder, V3 4AWG power wire, V3 4AWG ground wire, VDB3 power distribution blocks, VGT2 ground distribution blocks, VHC-5V3 5-farad capacitor with voltage meter (2)), Boom Mat (sound absorbing headliner, sound deadener spray on enclosure), Custom enclosure with illuminated Jeep logo
SPONSORS //MB Quart, Maxxlink, Baer Brakes, MagnaFlow, N-Fab, Black Rhino Wheels, Warn Industries, Superchips, Rogue-4 Lighting, Boom Mat by DEI, Airaid, Rough Country Suspension, Falken Tire
Contributors: Jacob Leveton, AJ Gillet