Written and Photograhy by Adam Zillin
---
Atsushi Ito is one of those Japanese tuners who flips the bird at conformity and the status quo. His brand, Weld Techniques Factory, has been around for a long time now and Ito has carved out a nice little slice of tuning stardom, not only through his exploits in D1 with pro driver Koichi Yamashita and their fire-breathing MKII Toyota, but also through custom tuning circles with cars like the FR-S you see in this post, also in our Feb/Mar 2015 issue.
I met Ito previously on a number of occasions, most notably at the Tokyo Auto Salon earlier this year, but I had not yet been to visit the shop in Yokohama. It was at the Auto Salon, though, where I first got to lay eyes on the extreme FR-S he had presented under the Work Wheels banner.
There are a couple of very good reasons why Ito chose an FR-S instead over the more traditional (and arguably, easier to build) route of an 86 or BR-Z. First, there are only a handful of Scion FR-S chassis in Japan, so the exclusivity factor is high, but second, and more importantly, Ito is a big fan of USDM machines rolling Japanese streets. In one corner of the factory, he showed me around a scruffy looking left-hand-drive Honda Prelude that he'd imported from the States. I didn't think much of it until he lifted the bonnet to reveal a glistening, chrome encrusted jewel of a stroked 2.2-liter VTEC that redlines at 9,000rpm.
It was a valuable insight into the way Ito thinks. Not "judging a book by its cover" is definitely important to remember here, because Ito displays an intense obsession toward the looks, power and presentation of not only a car's engine, but also its entire appearance and mechanical construct. Any of his builds will undoubtedly prove that to anybody who sees them.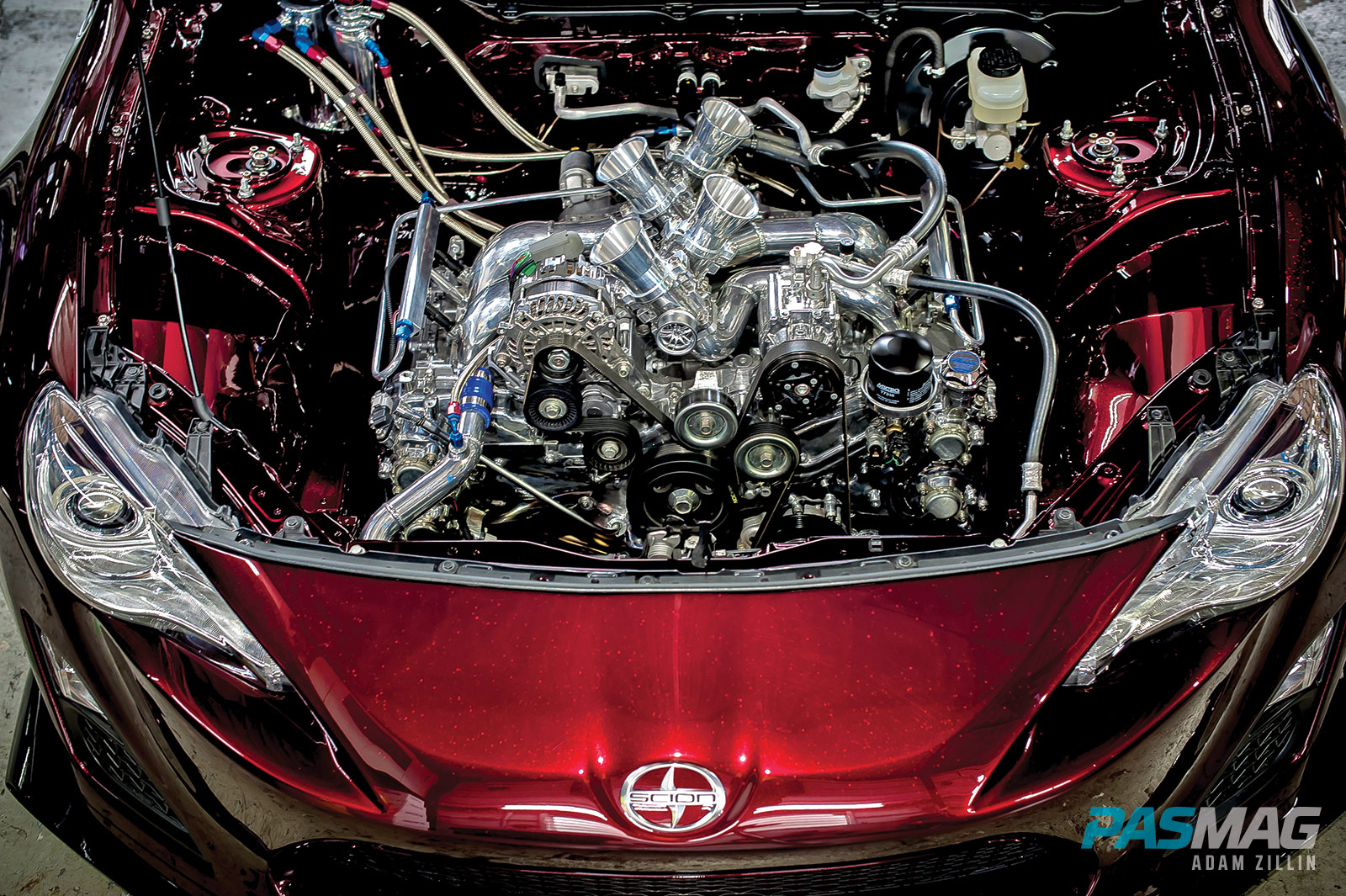 The Weld FR-S was no different when that delicious and vibrant candy apple covered bonnet was lifted for some shots. I'd seen it before, of course, but this event was no less amazing. This FA20 has more chrome than Google!
The engine was stripped down to its most basic components, with Ito deciding to take the unusual approach of adding individual throttle bodies with shortened trumpets to increase engine response. It's a beautiful and striking way to present the engine, a total change of direction from the turbo and supercharger crowd. And while Ito could easily have attached a blower or a snail, his philosophy was simple: "I wanted to keep it naturally aspirated because the FR-S was naturally aspirated from the factory."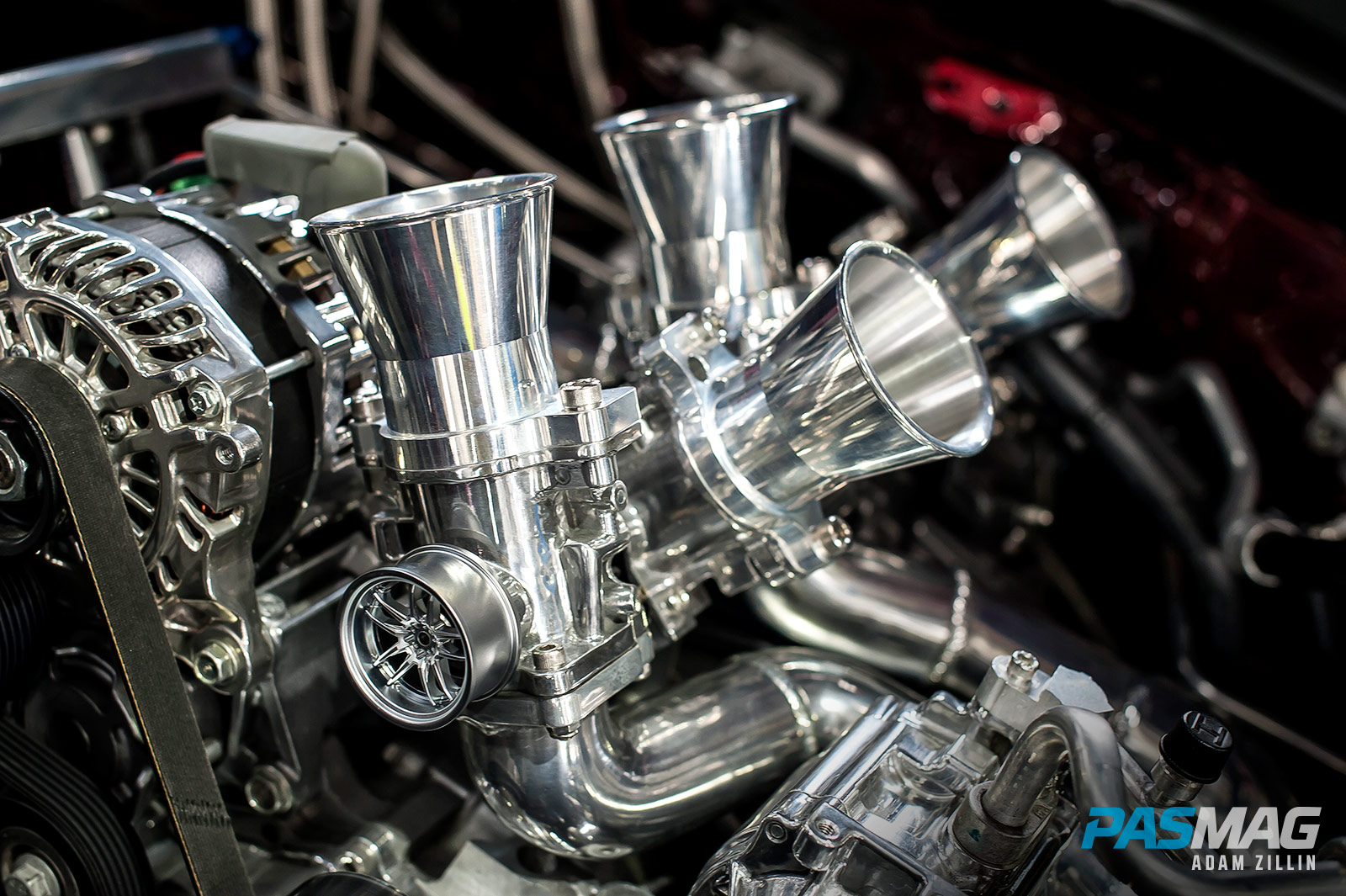 Ahh, there's the purist in him speaking. It's not a powerful engine by any means, and carries a little over 220 horsepower with the changes, but its bottom end response has been improved thanks to the ITBs, remapped ECU, and custom complete titanium exhaust system exiting in a set of titanium Amuse mufflers. One small touch that incidentally also reflects a big part of the Weld brand is the 1/10th scale Work XSA04C RC car wheel attached to the intake assembly. If you are into remote controlled cars, you should also check out Ito's RC brand, "Overdose."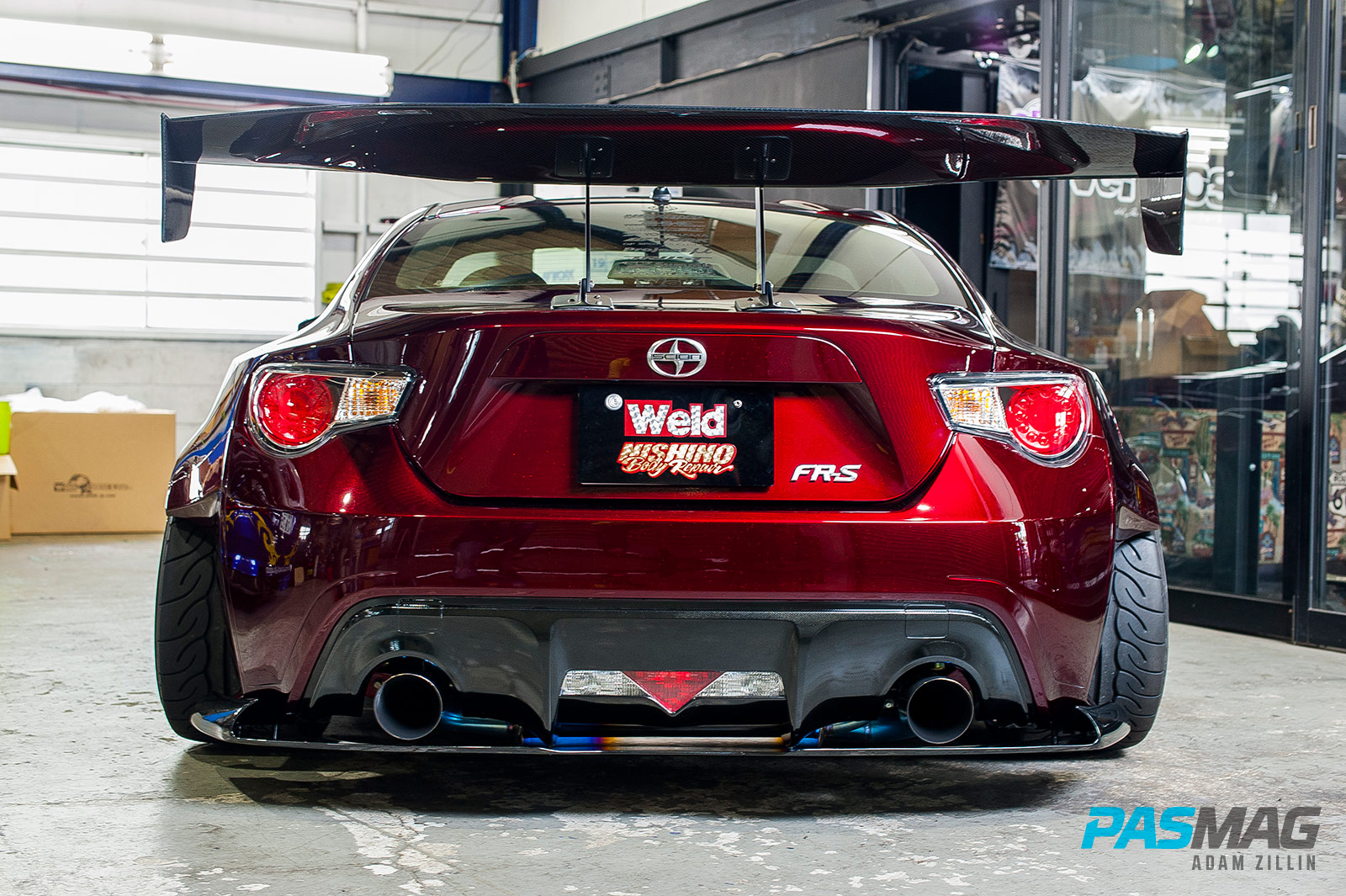 You'd be forgiven for thinking that the body is modeled on a Rocket Bunny kit. Ito is at great pains to point out "…it's not Rocket Bunny! This is me!" And so it is - the front and rear over-fenders are full sheet metal steel, painstakingly handcrafted over a six-month period using a wire subframe as the template. It's a masterpiece of craftsmanship.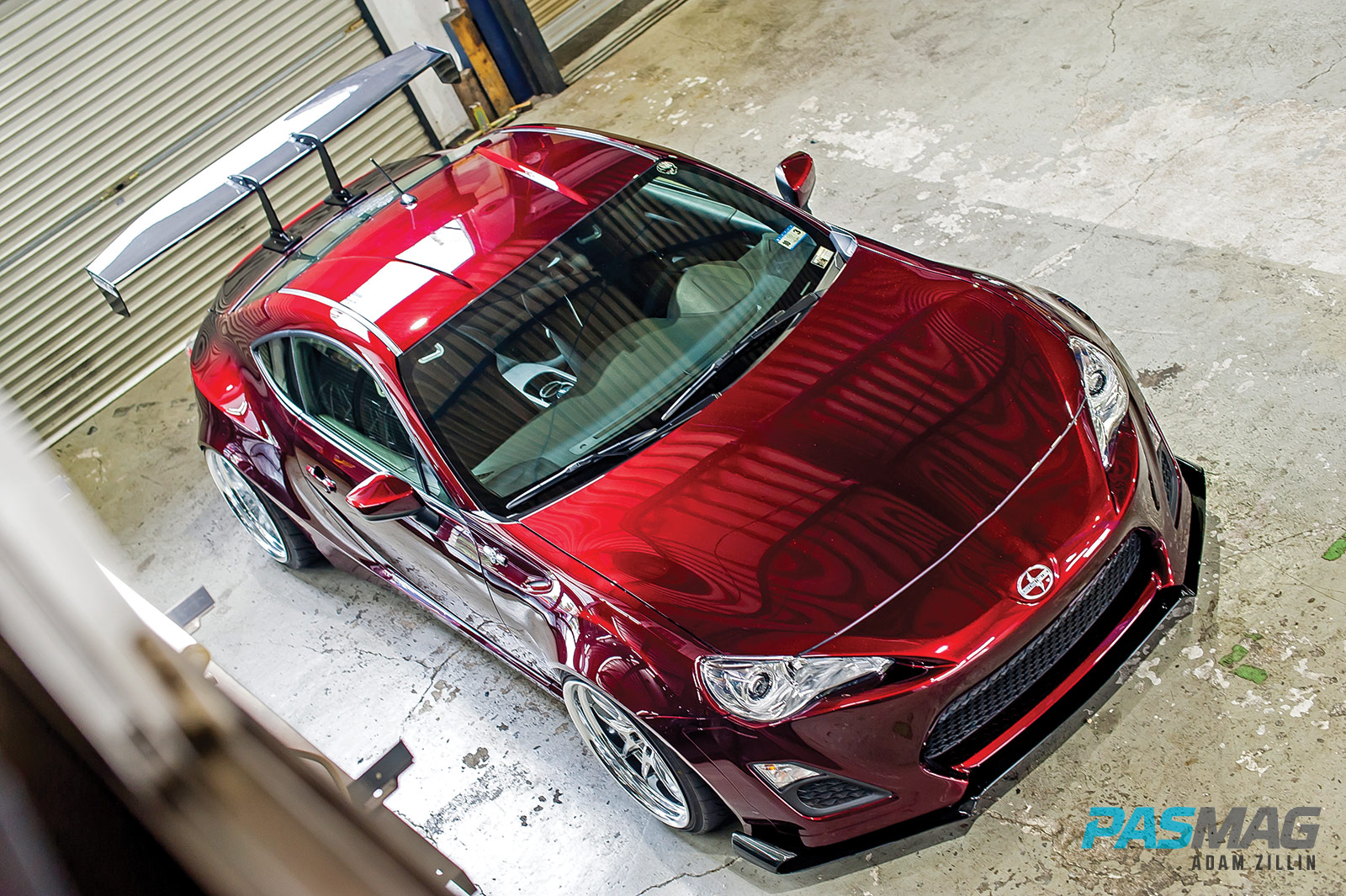 Ito showed me some Japanese magazines that had featured the car while it was being built and I couldn't help but be amazed at the level of detail that had gone into it. To my eyes, the body mods were perfectly symmetrical - I couldn't find a single blemish or measurement out of shape. This was just another indicator of Ito's obsession with perfection.
With the bodywork prepped, the FR-S was sent to Nishino Body Repairs, where it was finished in this gorgeous metallic candy apple paint. It's been applied to show subtle shifts in hue as you walk around the car; most noticeable in the way the color shifts on those wide rear hips. It's a beautiful looking thing.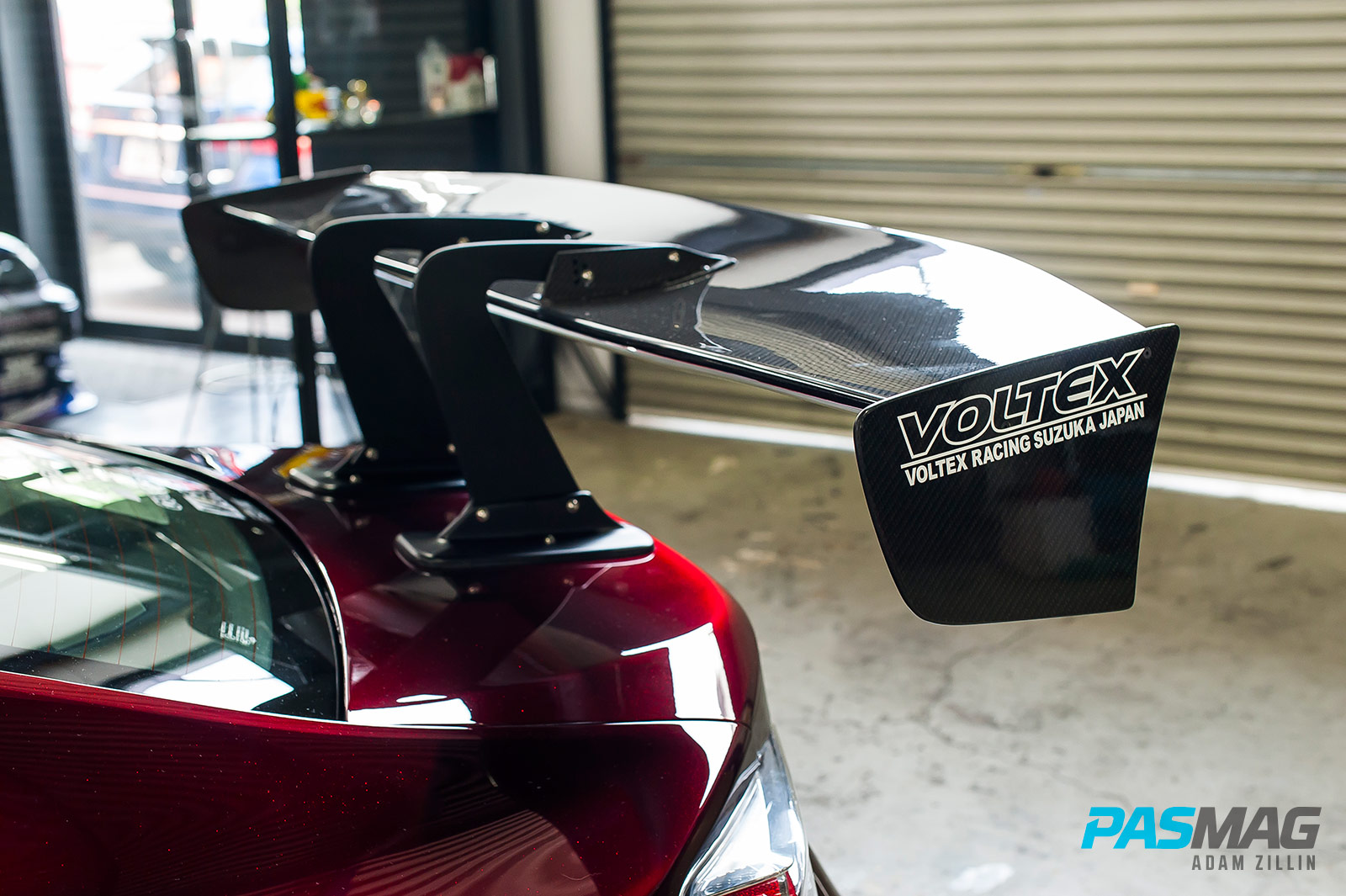 Aesthetic changes extend to a carbon fiber Voltex "swan neck" GT wing - a design element that has found its way onto the leading contenders of the Super GT500 class GT-Rs and Lexus RC-Fs because of the downforce it provides. One neat touch that keeps the huge wing in place and reduces flex, is a sheet of carbon fiber that has been molded to the inside of the boot lid.
More Voltex parts include the rear under diffuser and front under spoiler with custom curled valances. If you look very closely, you will see where Ito has added a crease in the corners of the front bumper that stretch from the fender and around/underneath the corner lamp assemblies. It's all in the details with this machine.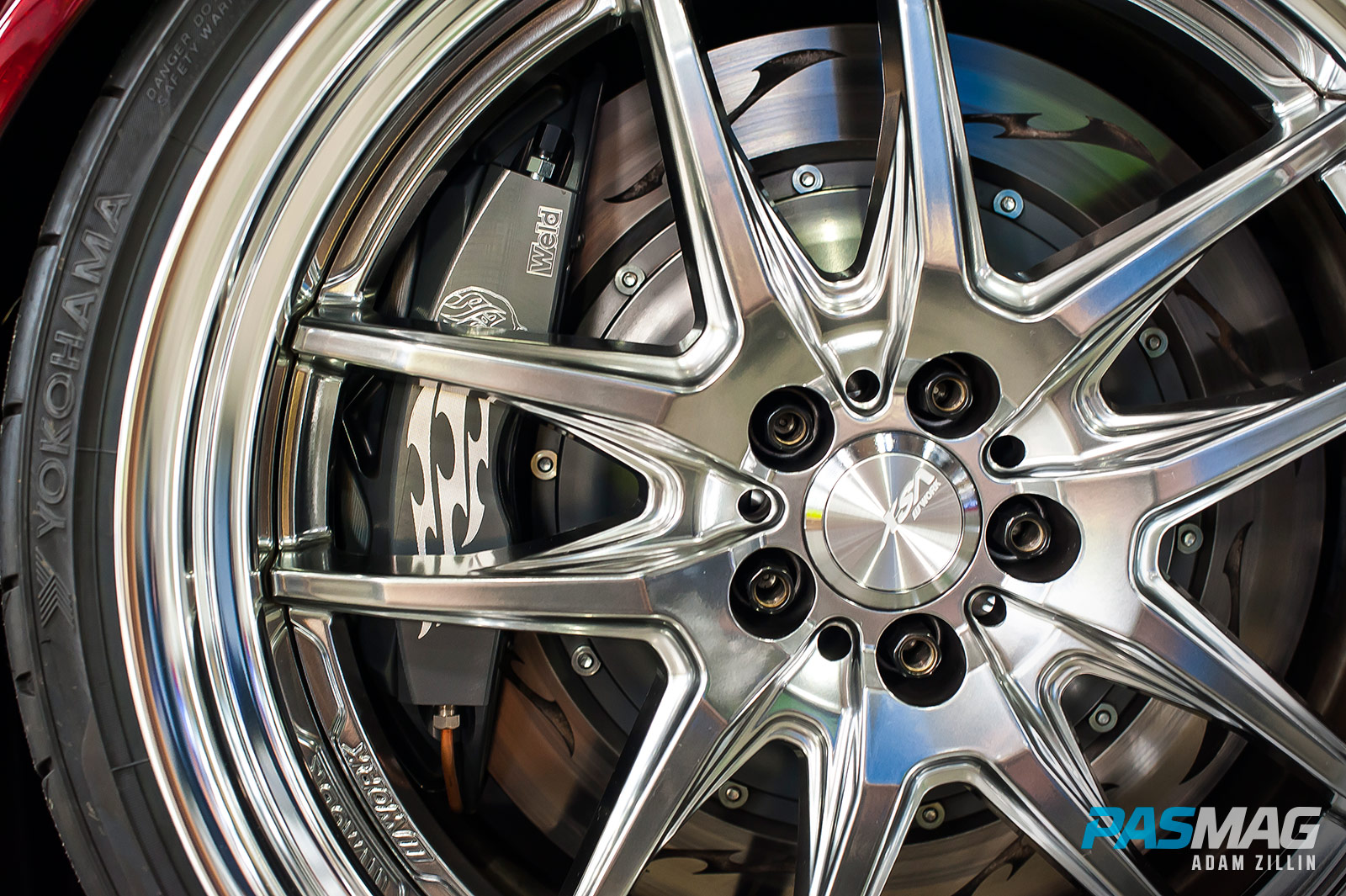 No doubt you've also marveled at the wheels and are wondering what they are. Together with Work Japan, Ito consulted on the design of these very special forged alloys. The XSA04Cs suit the car perfectly and naturally. To suit the theme of the build, they came polished. They measure 225/35 R19 on the front and a beefy 275/30 R19 at the rear. All four corners wear the latest super sticky Yokohama Advan AD08 R rubber.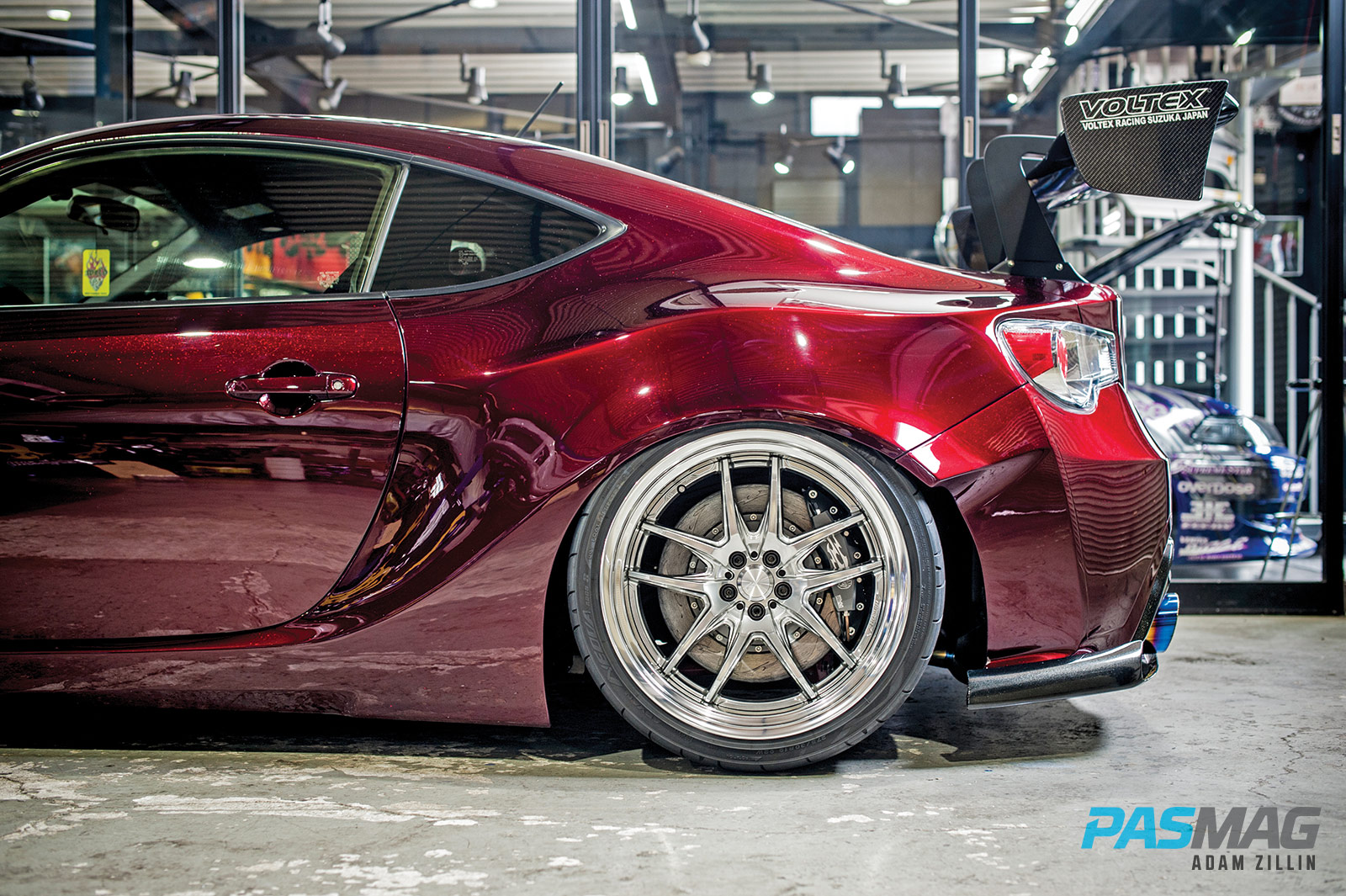 One of the most interesting details about the build for me are the brakes. I think it's a bit overkill to have a six-pot front and four-pot rear setup for a car with only 220 horsepower, but the fact that Ito got everything fully customized according to his tastes before application, was impressive. The two-piece ventilated rotors have been engraved with Weld's signature tribal designs, front and rear. Notably, the calipers at the front are also specially engraved with the new design and are top-of-the-line monoblock Project Mu items. The front caliper, pad and rotor assembly alone will set you back an eye-watering $25,000 MYR (approximately $7,500 USD).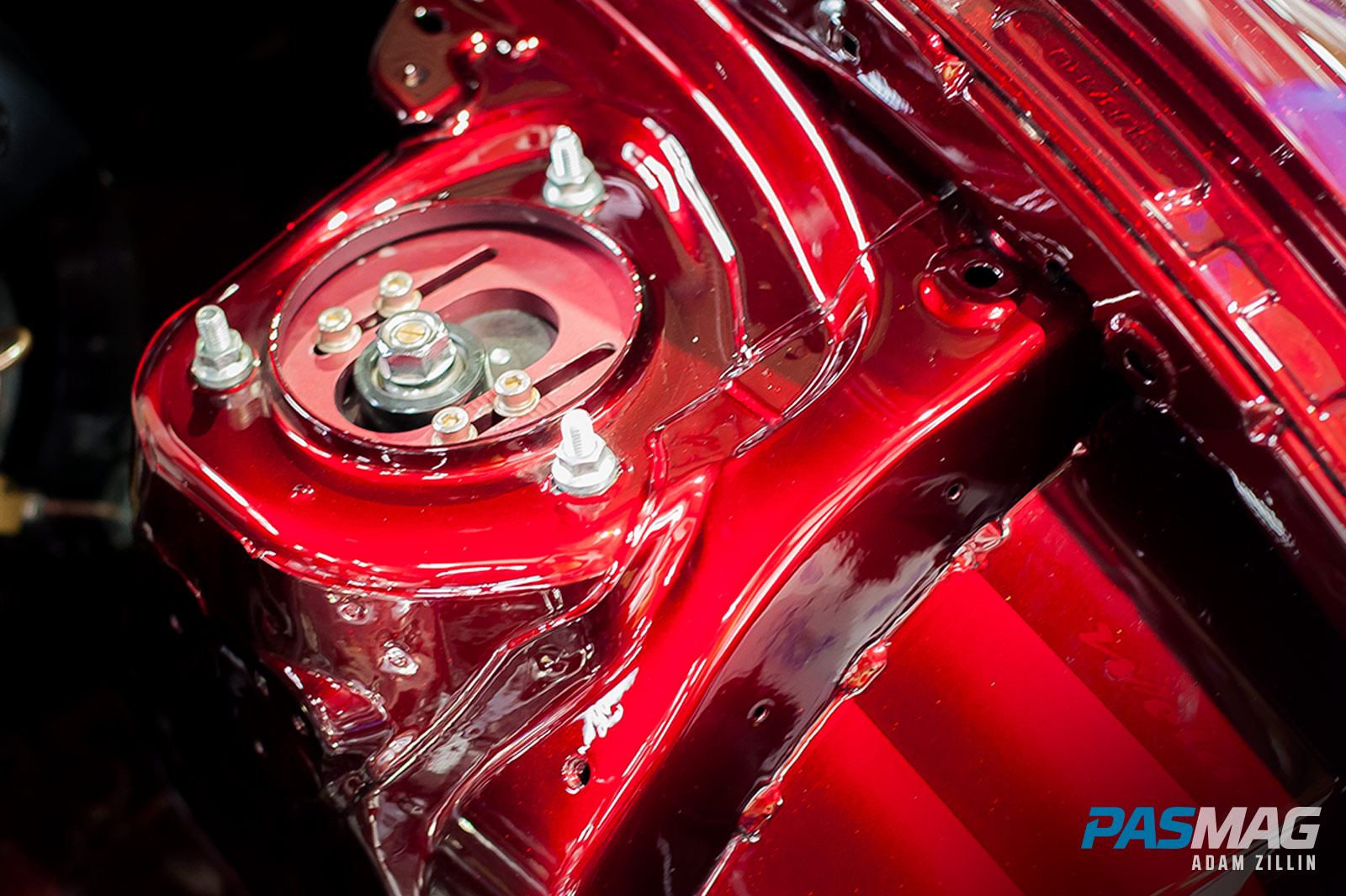 The whole package rides on super stiff JIC Magic suspension units that are wound to 12 kg on the front and 18 kg at the rear to compensate for the low height the car runs - a setting that greatly minimizes fender contact to the occasional bump or scrape. Ito insisted that the car be daily driven; a car that can be used regardless of where his mood takes him, and it's been set up accordingly. This is definitely no trailer queen.
Inside, there are only a handful of modifications worth noting, which include the Sparco semi-buckets and chunky Sparco wheel. Everything else is pretty much as Scion intended off the production line.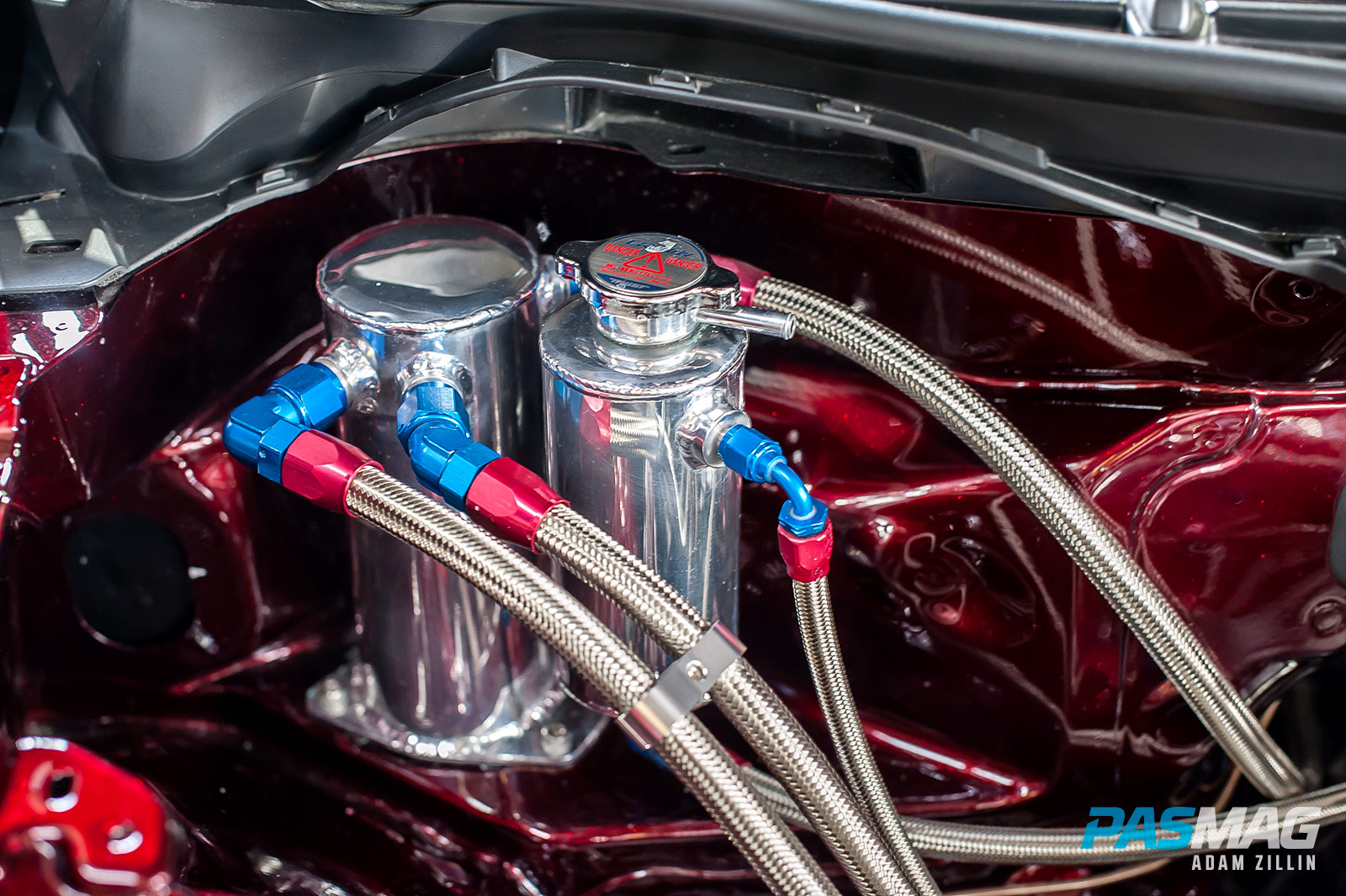 As impressive as all of this amazing customization is, Ito still isn't finished. Keeping with his purist-minded philosophies, the engine will be pulled again to be bored and stroked to 2.2 liters of naturally-aspirated fury. Among many other things on the build list are high-compression pistons, a custom billet crankshaft, extensive porting and polishing of the intake and exhaust ports, and a prototype Amuse titanium exhaust design that will premier on this FR-S.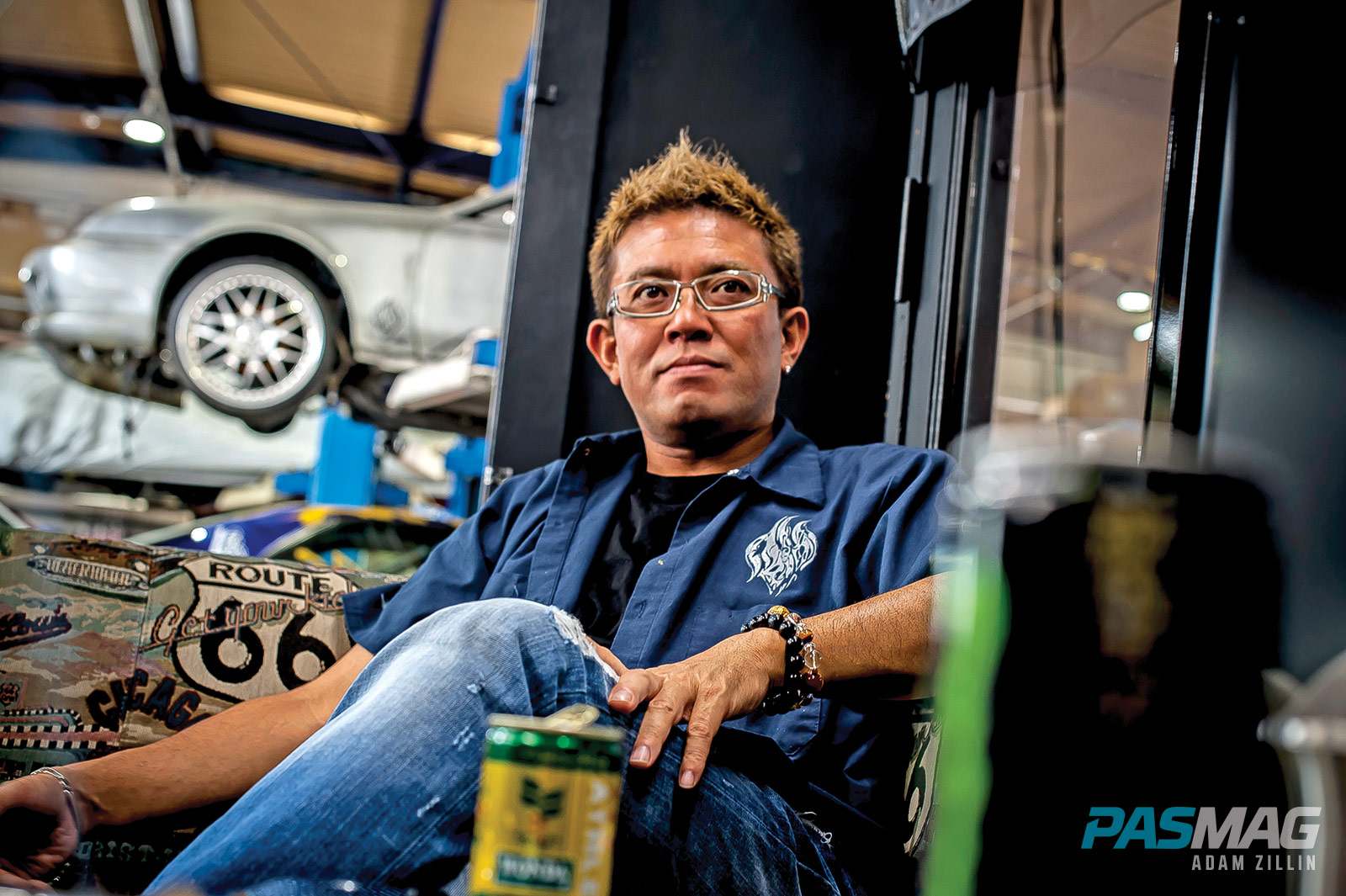 One thing is for certain; Weld does not do things by halves. The overriding impression from my time with this car and Ito-san was that, if you dig deep enough, you can discover that tuning culture in Japan is still as deep as it is wide, and it is populated by passionate tuners like Atsushi Ito, who will stop at nothing until they have expressed their utopian ideals through the creations they conjure.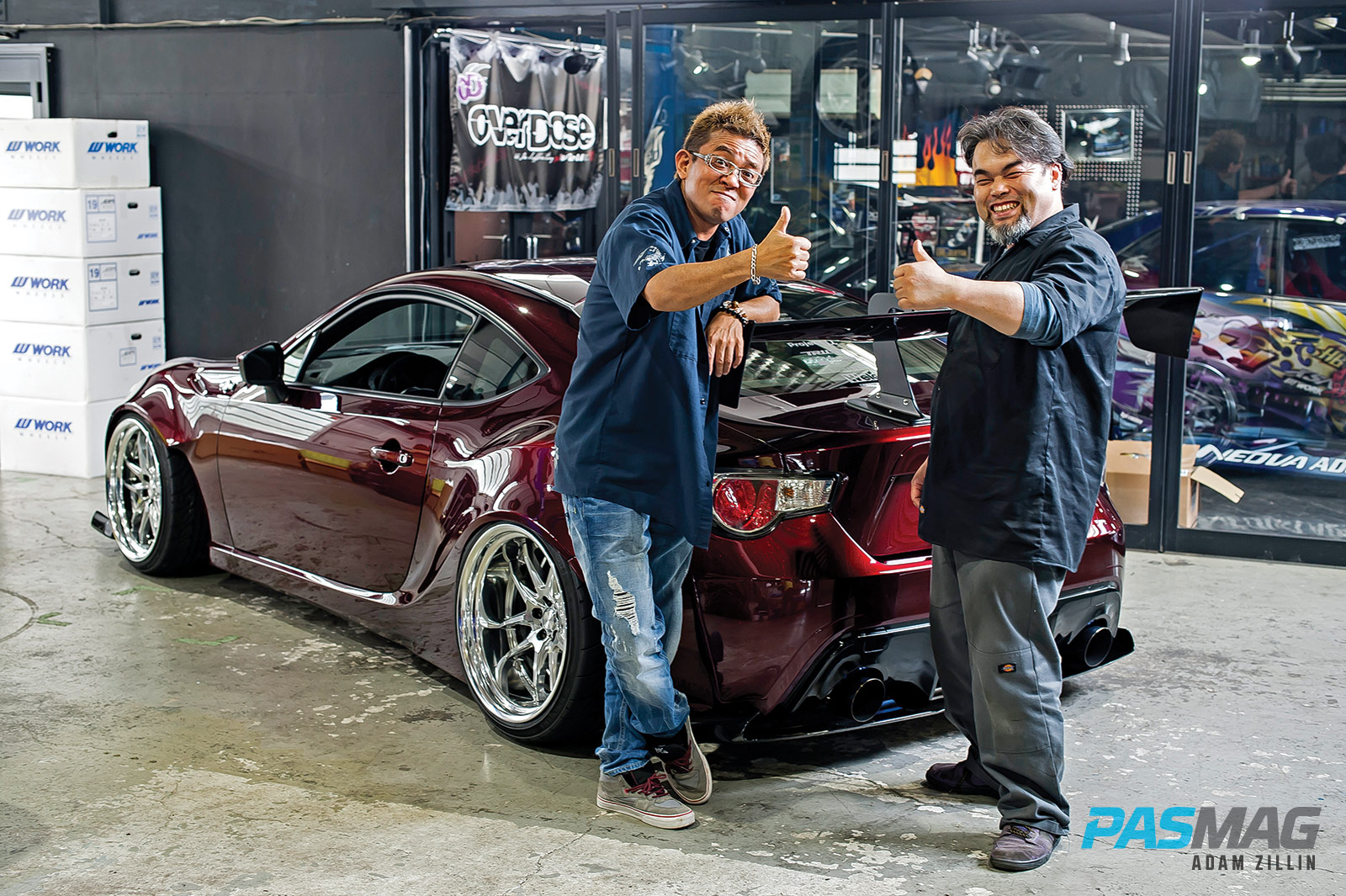 The Weld FR-S is a master class in the combination of old-school craftsmanship combined with cutting edge design, all wrapped in an almost edible looking skin. Beauty, at least with this car, is most definitely not skin deep.
ESSENTIALS
2013 Scion FR-S
Owner: Atsushi Ito
Location: Yokohama, Japan
Engine: Toyota/Subaru FA20 I-4 Boxer 2.0L
Horsepower: 220 HP
ENGINE MODIFICATIONS
Ported cylinder heads
Weld (cross intake manifold, fuel rails)
Toyota (AE111 4A-GE throttle bodies, JZX100 1JZ 380 cc injectors)
Trust (spark plugs, Vi-Pec ECU)
EXHAUST SYSTEM
Trust exhaust manifold
Power House Amuse titanium exhaust system
DRIVETRAIN
ATS (clutch, LSD)
WHEELS/ TIRES/ BRAKES
Work XSA 04C wheels – 19x10.5 (f), 19x11.5 (r)
Yokohama ADVAN Neova AD08R – 225/35 R19 (f), 275/30 R19 (r)
Project Mu brakes - 6-piston monoblock front calipers, 4-piston rear calipers, brake pads, braided brake lines, brake fluid ? Weld "tribal-slit" 2-pc. floating rotors – 380 mm (f), 355 mm (r)
CHASSIS/ SUSPENSION
JIC adjustable suspension kit
EXTERIOR
Weld x Nishino Body Repair custom widebody
Voltex carbon fiber swan-neck wing
House of Kolor Candy Apple paint
INTERIOR
Sparco (seats, steering wheel)
Atsushi Ito's Weld Techniques Factory 2013 Scion FR-S is featured in PAS Feb/Mar 2015 issue.
Available on newsstands in North America in February 2015 (Order HERE)