Written by Micky Slinger | Photos by Julie Opp
Some of us dreamed of being an astronaut or pilot when we were younger. Sean "Pitbull" Baisden didn't end up behind the controls of an F-22 when he grew up, but he did end up behind the wheel of a Silverado that gets pretty high up with its lift.
Before Baisden became the equivalent of a Chevrolet Sky Captain, he honed his craft on his mother's car. He was pretty irked when she came home from a shop appointment visibly upset because a garage had ripped her off.
"I told her, 'You'll never have to have your car worked on again by anybody else,'" Baisden says. "From that day on, I fixed her car for her. I've been turning wrenches since I was 14."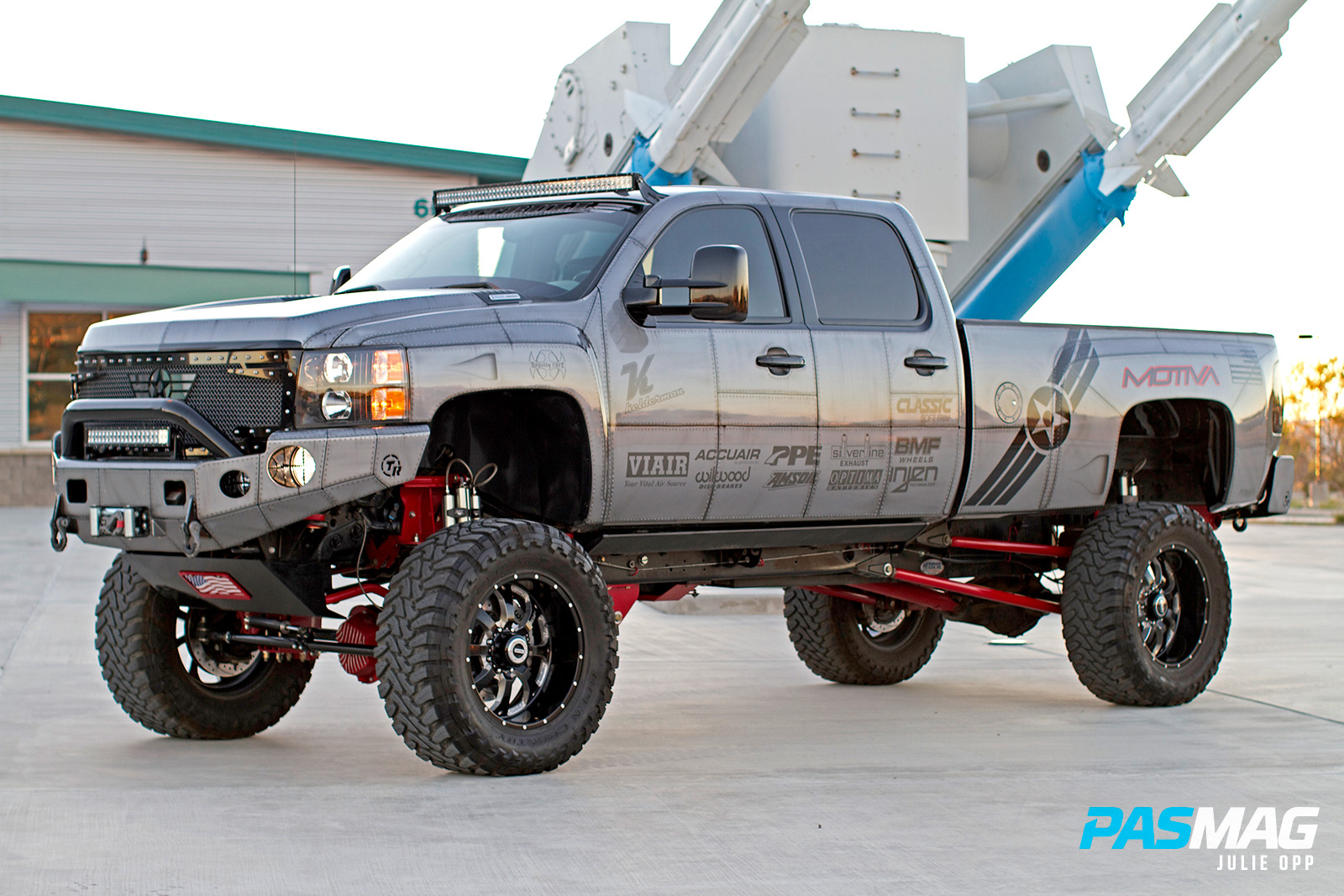 It didn't take long before he went from oil changes and brake checks to performance mods. Baisden's first car, a 1970 Chevelle, was the first platform that got him into the supercharging and tuning ways of hot rodding. After tinkering and building big, bad, fast cars, Baisden found himself setting up his own garage.
A move to California from Texas turned out to be the next stage of Baisden's career. In Cali, he found himself drawn to the blend of function and form in the street scene.
"I got more into the styling of the vehicle; more lips, big wheels, tires, lowering, etcetera," Baisden recalls. "I would still do exhaust and supercharging and nitrous and all that stuff, but I definitely got more into the street side of it."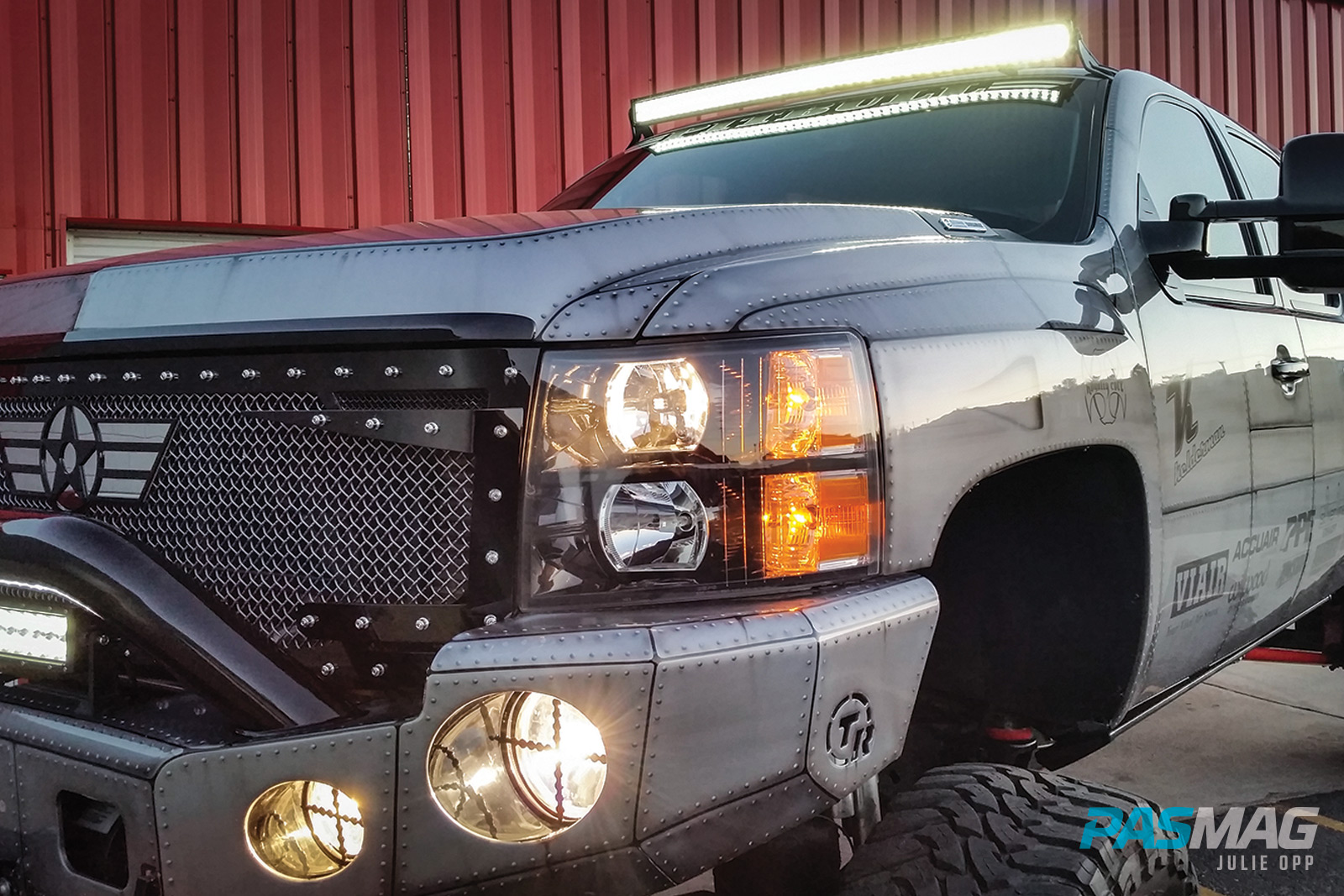 Having a good grip on both sides of the spectrum, Baisden sought to do something for himself. He fell in love with the new styling of the 2008 Chevy Silverado, and even though he already had the '06 model, he decided to make the newly face-lifted 2500HD his own.
"The truck, I actually bought brand new in December 2008 as a Christmas present to myself," Baisden chuckles. "In two weeks, it was lifted, had a complete interior, stereo, gears, exhaust and intake."
In two weeks, Baisden had built up a Silverado that would make any Chevy-head drool. The truck was then shipped to paint where it received a tribal flame paint job in gunmetal grey with candy red flames and suspension components. Now that it was performing and looking good, it was complete, right? Not quite.
"The truck was done for a couple of years and then I wanted to take it to the next level, so I completely re-did it," he says.
Baisden dove into the suspension first. Kelderman four-link systems in the front and rear, as well as AccuAir air suspension all around ensure that the Chevy has the legs for any situation. The AccuAir suspension also gives Baisden three selectable ride heights from inside or outside of the truck from what he calls "ride height" all the way to "show height," which is 13 inches in lift. Another component that Baisden swapped out was the independent front suspension, which has been converted into a solid front axle set up.
"The Chevys, in my opinion, ride the best because of the independent front suspension, but that's also their weak point if you're going to four-bar them," Baisden explains. "The Fords and the Dodges are solid, but they don't ride as nice as the Chevy. So I fixed the weak link by putting a solid front axle in it and a 13-inch lift."
As a military fanatic, Baisden hoped to one day build a vehicle to carry the theme of a WWII bomber. The Silverado would be that lucky recipient. The old flames were sanded off and each panel of the truck was treated to look like smaller, individual panels. By use of directional sanding and very convincing paint work, the Chevy looks and feels like it's riveted together.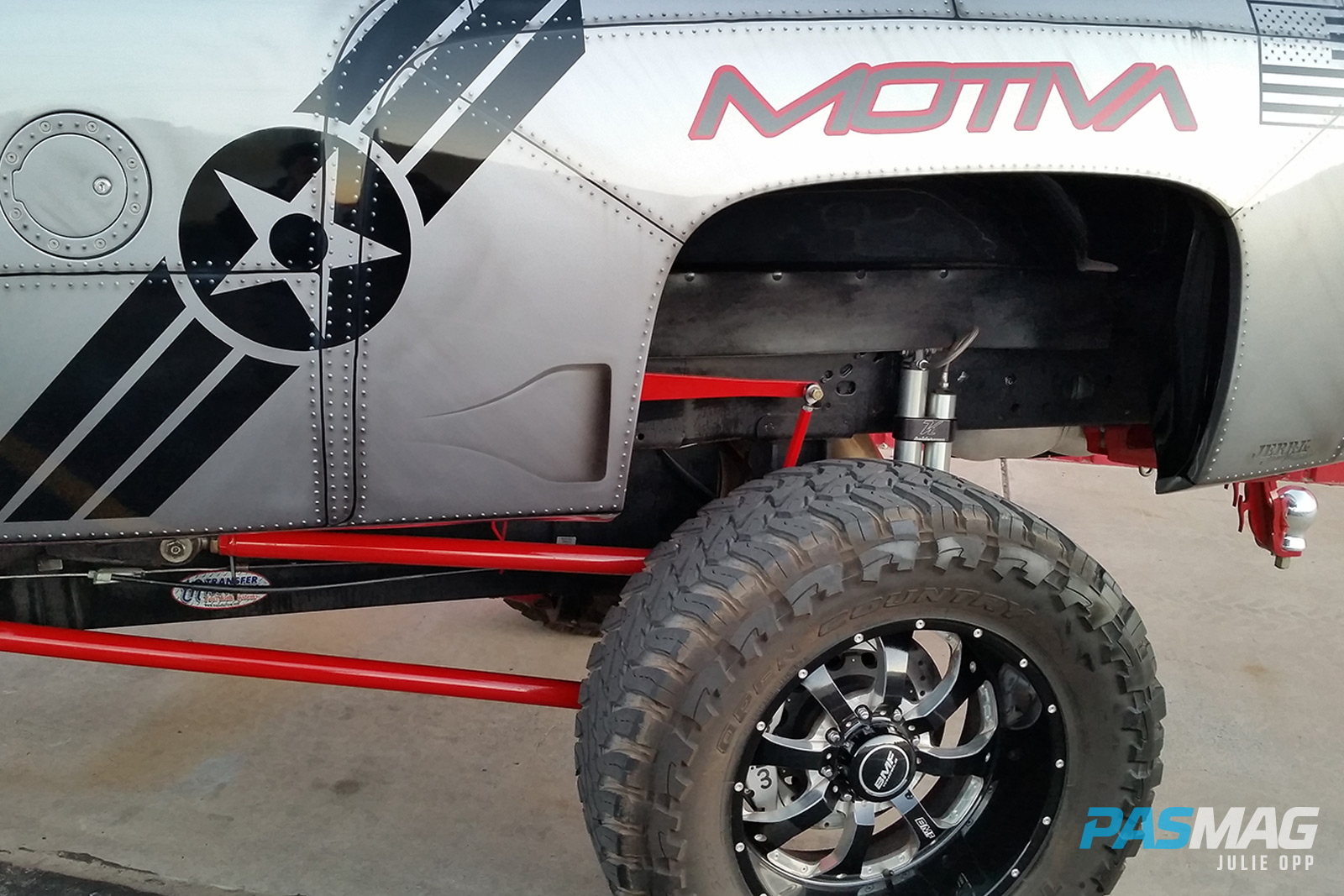 "We ended up using Scotch-Brite and sanding each panel – after we painted it – a different direction and it gave the grain that we were looking for," Baisden says. "Then we built a six-rivet template with a hole punch and the painter went to town putting all the rivets on the truck."
When Baisden says, "went to town," he means that his painter went around the truck, hand painting each rivet. Every single one has three steps: black for the rivet itself, white for the light reflection, and shadowing under each of them. There are over 2,000 hand-painted rivets on this truck.
"Everybody at the shows just wants to come up and touch it," laughs Baisden. "They always ask, 'Is this a wrap?' I love seeing the reaction from people."
A subtle touch, but one that Baisden found necessary as the owner of a 2500HD that now looks like a member of an armed forces fleet, are the crosshairs in the fog light bezels. Each one was laser cut and welded in. Oh, and they're mil-spec, in case you were wondering.
Already looking like the bomb on the outside, Baisden made sure that the inside could blow its occupants away as well. The dash is completely redone and features a gorgeous dual-DIN touchscreen Alpine X009-GM head unit. The front door panels are also customized to hold a tweeter, a 3.5-inch mid, another six-inch mid and a six-inch subwoofer each – all from Focal. If that isn't enough, the rear doors house tweeters and the 3.5- and six-inch mids. A couple of six-inch subs don't make a 12, so Baisden installed two 12-inch Focal subwoofers, which fire downward to shake like an airstrike. All of this is connected with Scosche wiring and fed through a Focal 900.1 digital subwoofer amplifier and two 900.6 digital mid-range amplifiers.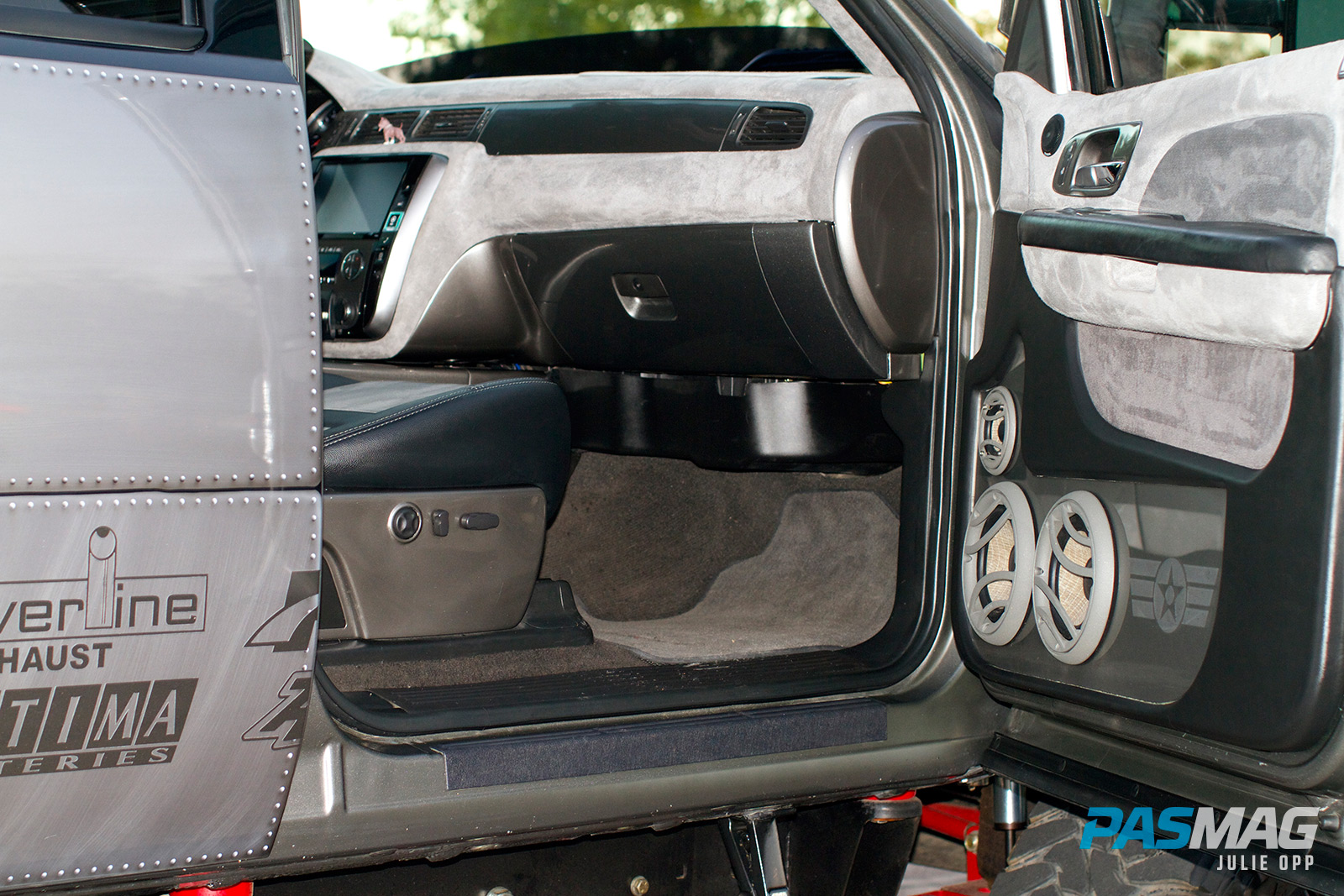 With a whopping four subwoofers integrated into the system, some may think that it's a little too bass heavy, but Baisden disagrees. The Focal speakers are as musical as they are pulse pounding. After all, this is his daily driver.
"I really just try to stay on functionality," Baisden says. "I use the truck. It's functional and it works."
And that's how it should be. If you need Baisden, he'll be towing his toys out into the desert, ripping around on the sand, and sitting back with a cold one. After all, a pilot needs to enjoy his time off, too.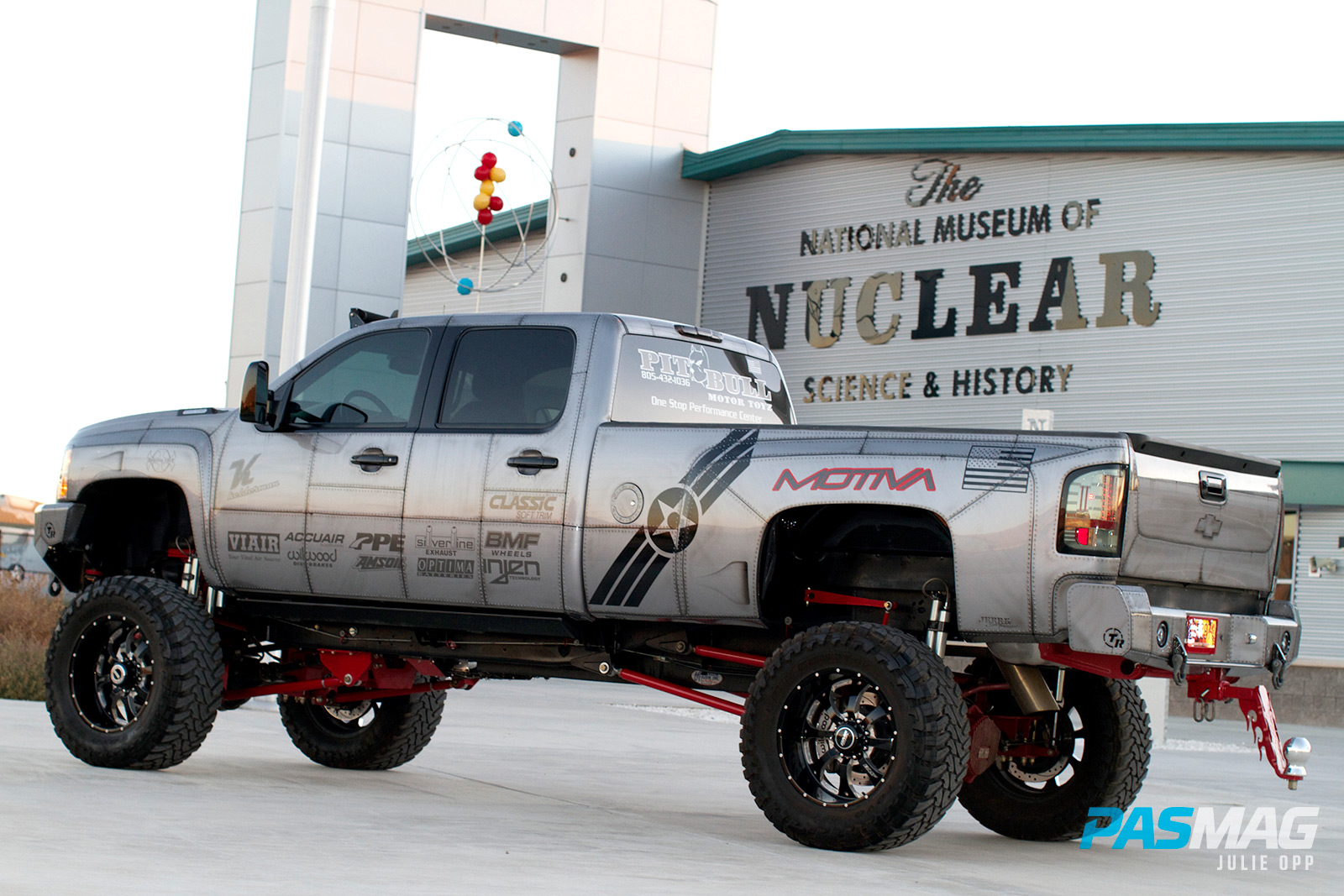 ESSENTIALS // Vehicle: 2009 Chevrolet Silverado 2500HD 4X4 Crew Cab Long Bed, Built By: Pitbull Motor Toyz, Owner: Sean Baisden, Location: Albuquerque, NM, Engine: Chevrolet 6.6L DuraMAX V8, Horsepower: 500 hp, Torque: 817 lb-ft
ENGINE MODIFICATIONS // HP Tuners software, Motiva tune, Variable vein turbocharger, Injen air intake, FASS fuel pump
EXHAUST SYSTEM // ANSA Silverline (5-in. turbo-back exhaust system, down-pipe, 6-in. exhaust tip)
CHASSIS/SUSPENSION // AccuAir air suspension, Hellwig sway bars (f/r), Urethane (bushings, body mounts), Kelderman 4-link suspension system (f/r), Dana-60 high pinion solid front axle conversion
WHEELS / TIRES / BRAKES // BMF Novakane wheels – 22-in. (f/r), Toyo tires – 40/15.50 R22 (f/r), Wilwood brakes – 6-piston calipers, 16-in. slotted & drilled rotors (f/r)
EXTERIOR // WWII Bomber custom design scheme, Trail Ready (Pre-runner front bumper, rear bumper), Royalty Core custom logo 3D grille, Stretched (3-in.) & flared (1.5-in.) rear fenders, Blackened headlights, Smoked LED taillights, Smoothed mirrors, Vision-X LED rear bumper-mounted lights, 52-in. curved LED windshield light bar, 20-in. curved LED bumper-mounted light bar, PIAA (4-in. bumper-mounted fog lights, 6-in. bumper-mounted fog lights), Custom mil-spec crosshairs in fog lights
INTERIOR // Classic Industries leather seat covers, Grant steering wheel, US Speedo stainless steel gauge cover, Lloyd floor mats, Smoothed & paint-matched interior components
MOBILE ELECTRONICS // Alpine X009-GM head unit, Focal (900.1 subwoofer amplifier, 900.6 mid-range amplifiers (2), PS165F3 (3.5 & 6-in.) mid-range door speakers (f/r), tweeters, 6-in., front door subwoofers (2), 12-in. rear seat subwoofers (2)), Optima Yellow Top batteries (2), Scosche (front fuse holder, main power wire), DC Power 290 alternators (2), Audio install by King Kong Kustoms (Albuquerque, NM)