Photography by Christopher James (JRP Media), Sasha Anis, Jr Basil.
---
A decade ago, Sasha Anis was at Canadian Tire Motorsports Park (AKA Mosport) in Bowmanville, Ontario, watching and listening to the 2008 GT2 cars wail as the entered turn two on the track, pushing the limits of what was possible in motorsport at the time. From that moment, he was completely hooked, and dreamed of building something similar and driving it to its limit.
Fast forward to the modern day, and Anis is the founder of OnPoint Dyno, a mobile dyno tuning and race service shop that specializes in producing reliable and powerful vehicles, including many of their own project builds. Over the years, Anis and his team have built numerous competition winning vehicles, including their own Canadian Touring Car 240sx, a top DMCC 240sx, and three Hyundai Genesis coupes that would win the CTCC in 2012. Impressive as those builds are, none compare to his pride and joy - "Kels," the 2007 Nissan 350Z you see here.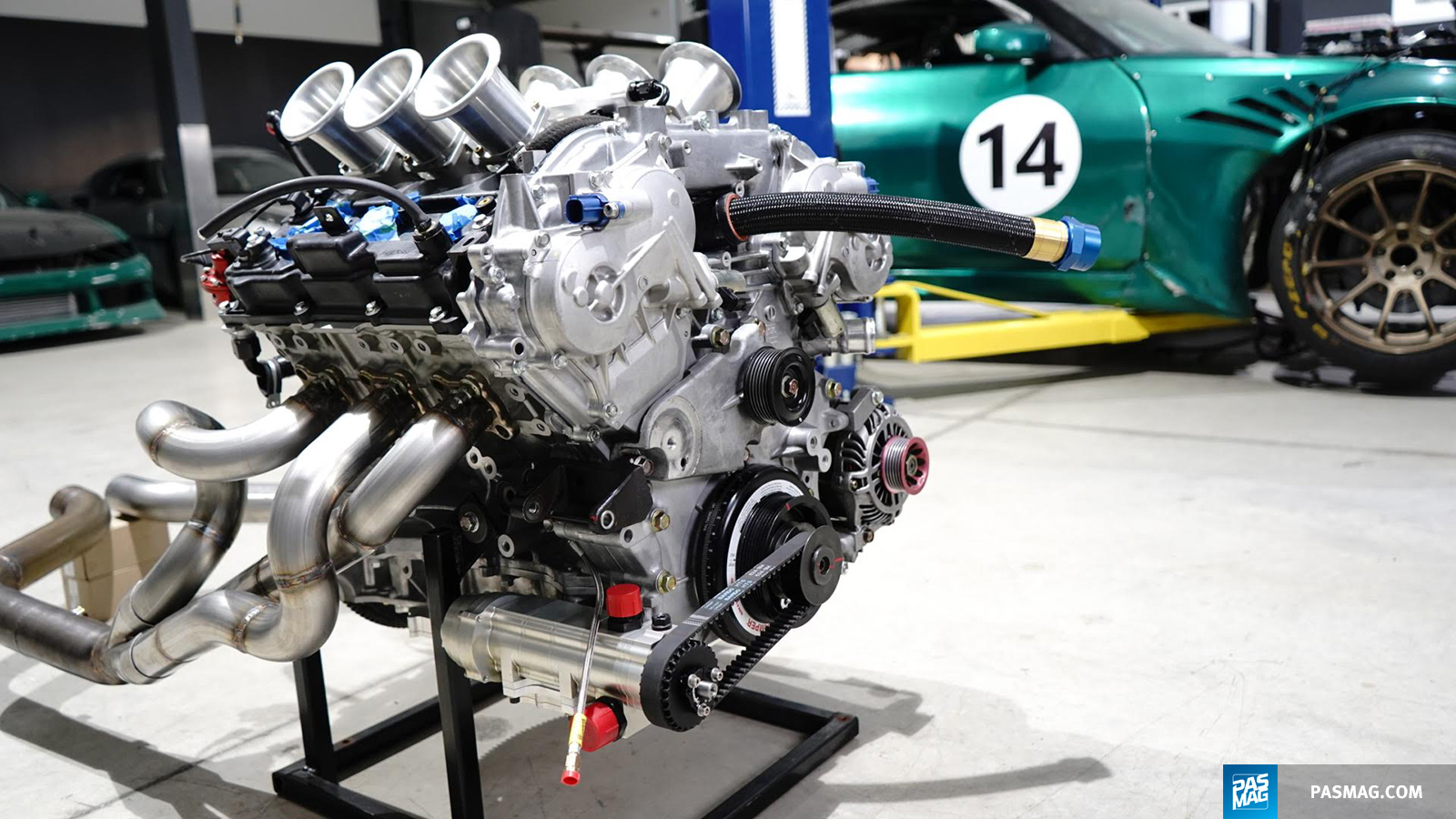 What originally started as an effort to build an endurance racing car slowly shifted into building the fastest possible GT car, built within the confines of GT car rules. This meant no insane aero, and the car had to run for more than five minutes at a time. With those parameters in mind, as well as a love for engine noises, the decision was made to keep the car naturally aspirated. Of course, that came with its fair share of challenges. "Getting enough power was a constant struggle," says Anis. "We hit a wall at around 330 whp in 2010 for a couple of years, and then after adding ITBs we moved up to 370 whp. Even after switching to the VQ35HR, and doing a lot of development work, we were stuck around 400whp."
The answer to the team's struggles came courtesy of a partnership with Jim Wolf Technology. When their 400 whp engine build threw a rod, they took a year off to build the dream VQ with JWT. A stroker engine with ported heads, custom pistons, big headers, large ITBs, and a ton of other advanced parts would end up making 537 whp with zero mechanical issues, becoming the centerpiece for the car.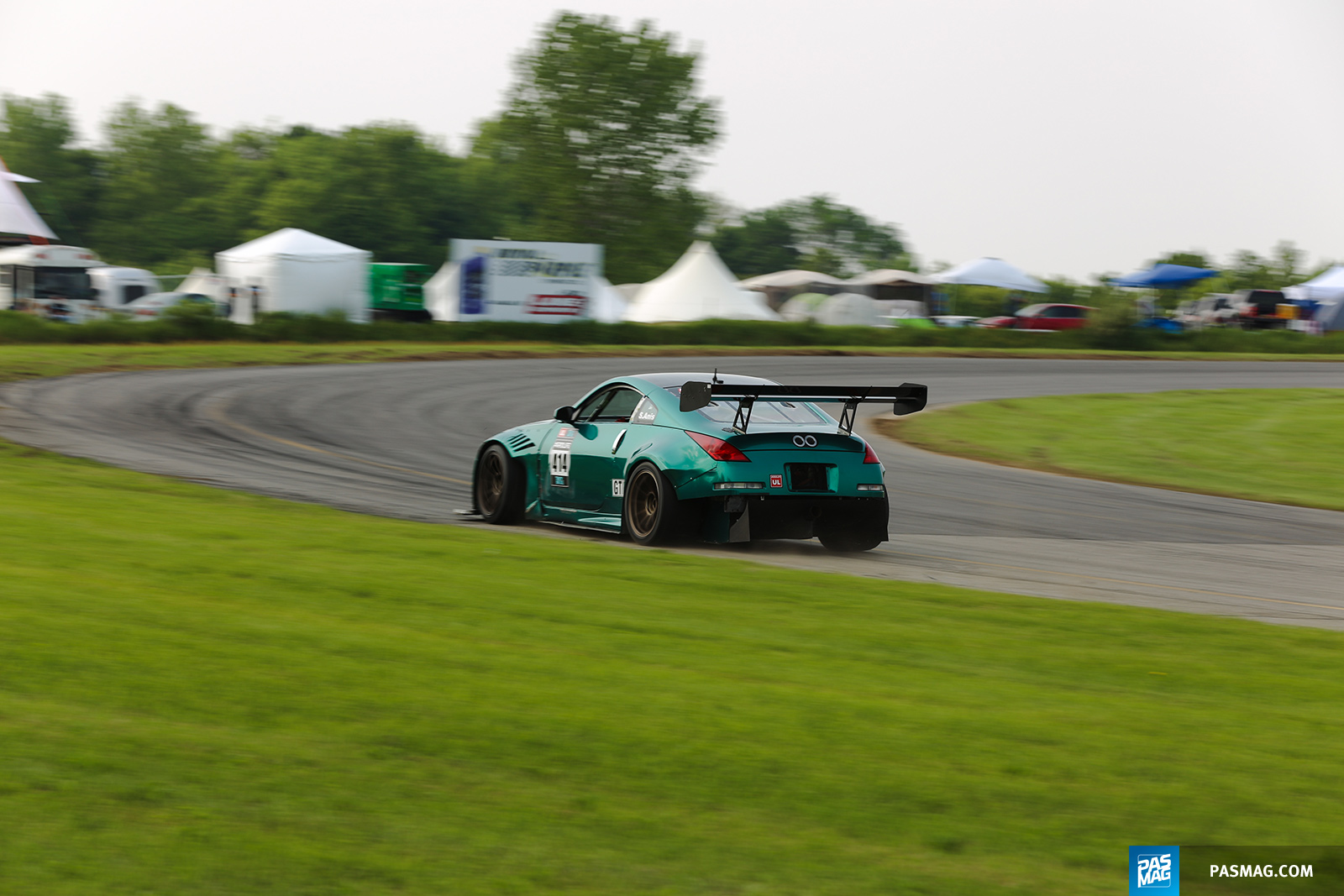 On September 17 of 2019, Anis and his team achieved what people said was impossible 10 years ago; they achieved a 1:18.1 lap time at Mosport - a time on par with GT2 cars of the mid-to-late 2000s, and faster than any production car lap of the same track, which was a goal of Anis' since the beginning of the journey. Today, Anis considers this his greatest achievement, and we would be hard pressed to claim differently. Utilizing trusted components throughout the build, and partnering with brands he knew he could rely on, OnPoint Dyno now holds numerous Time Attack lap records.
With semi-secret plans for a hybrid system coming next year, this machine is only getting more impressive. A hearty congratulations goes out to Anis and his team at OnPoint Dyno. We can't wait to see what they're cooking up next!
Sasha Anis' 2007 Nissan 350Z is featured in PASMAG Tuning Essentials: Performance Vol. 7. CLICK HERE to order.
ESSENTIALS
Owner/Driver: Sasha Anis
Vehicle: 2007 Nissan 350Z
Built By: OnPoint Dyno / Jim Wolf Technology
Location: Pottageville, ON
Engine: Nissan VQ35HR 3.5L V6
Horsepower: 537 whp
SOCIAL
Facebook: /onpointdyno
Instagram: @onpointdyno
ENGINE
Jim Wolf Technology (4.2L stroker engine build, prototype camshafts, oversize intake buckets)
JE 96mm bore pistons
Carrillo rods
Bryant 96mm stroke crankshaft
Dailey dry-sump
C&R (radiator, oil cooler)
OnPoint Dyno individual throttle bodies w/ 57mm Jenvey throttles
MoTeC M150 ECU
Engine set back 4-inches and down 2.5-inches from factory location
Custom (fuel cell, motorsport fuel system)
Injector Dynamics injectors
EXHAUST
Custom 2-inch to 2.125-inch long tube headers
Vibrant Performance titanium exhaust
DRIVETRAIN
Quaife sequential gearbox
Tilton carbon clutch
Nismo GT-Pro LSD
WHEELS / TIRES / BRAKES
Volk Racing ZE40 wheels - 18x12 -2 (f/r)
Pirelli slicks - 325/660/18 (f/r)
StopTech (ST-40 front brake kit w/ 332mm front rotors, aero rear rotors)
Project Mu brake pads
CHASSIS / SUSPENSION
Koni 4-way adjustable dampers
Eibach springs
Unitech Racing/OnPoint Dyno custom roll cage
SPL (suspension links, spherical bushings)
EXTERIOR
Custom (front splitter, diffuser, carbon fiber flat floor)
Carbon fiber (doors, hood, rear hatch)
Lexan rear window
DJ Engineering dual plane rear spoiler
Rocket Bunny front fenders
Widebody rear overfenders
AJ Hartman (hood vent, diveplanes)
INTERIOR
MoTeC (C187 Datalogger, PDM15 power distribution)
System-25 motorsport wiring harness
Custom billet aluminum sequential shifter
Tilton 800-series pedal box
Bosch motorsport ABS
Recaro Pro-Racer HANS seat
SPONSORS
Jim Wolf Technology
MoTeC
Vibrant Performance
Phi-Power
C17 Media
SPL Parts
Tilton Engineering
Volk Racing Wheels
Injector Dynamics
DJ Engineering
PHOTO GALLERY