Photos by Kevin Choi
---
Most people don't like being referred to as "obsessed" because of the negative connotation that comes with the word. After all, that's the term stalkers use when they're being hauled off to jail for breaking into celebrity homes and stealing their old underwear.
Ray Ramirez of Orlando, FL has a different type of obsession with his 2001 Lexus IS300. He calls it a passion but we've heard that excuse before and, honestly, there could be worse things to obsess about – like the "Twilight" franchise. The fire to start on his project was first ignited after the "Fast and the Furious" craze gave a shot of adrenaline into the sport compact scene. Long before that however, he already had a taste for racing back in the 1990s with his homies up in New York. At some point between then and the 21st century, Ramirez's addiction for fast cars just got worse.
When the IS300 was first introduced to the US market in the early 2000s, we North Americans got a watered down version of what was the Japanese Altezza, giving credence to the fact that somehow we always end up with the lamer hand-me-down. Though a stock IS300 wasn't a slouch with its 3.0 liter inline 6 2JZ-GE motor pushing 215 hp, for some reason it just never felt like the right motor for the vehicle which is why that was one of Ramirez's biggest tasks to tackle.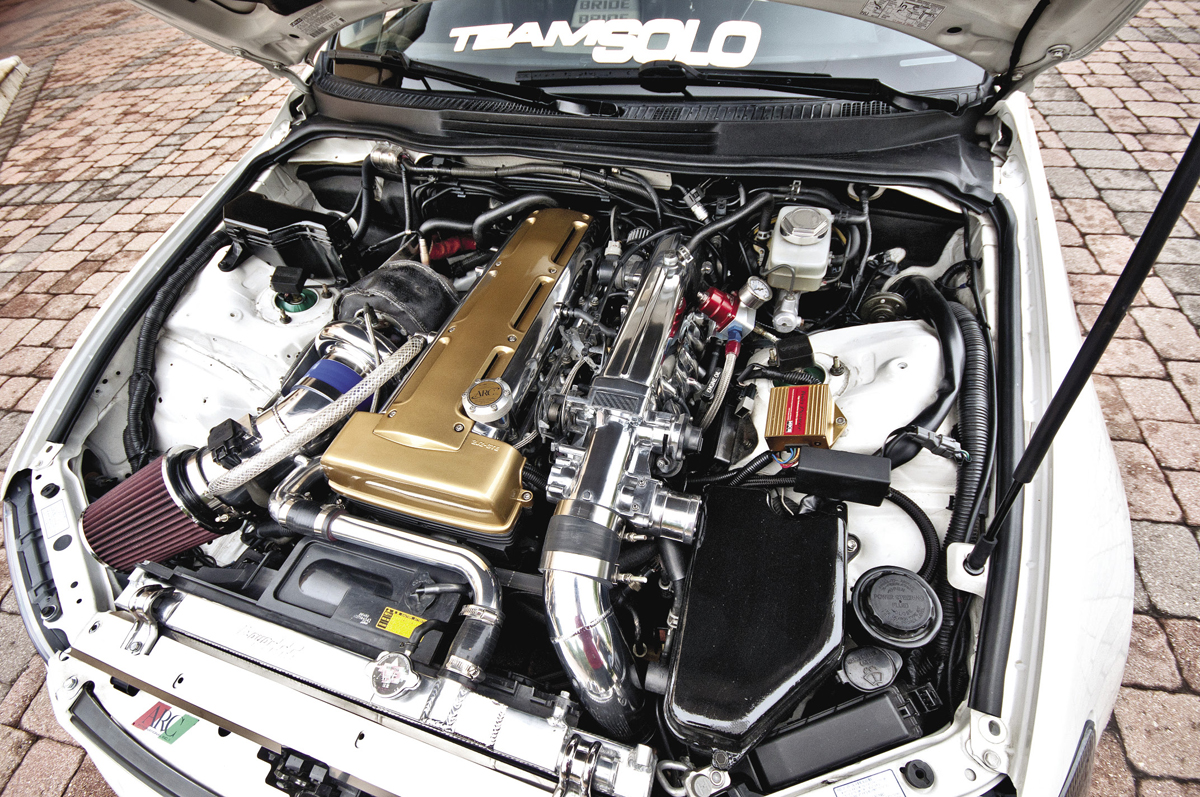 He had a JDM 2JZ-GTE turbo Supra motor swapped in and, as many may know, that thing is pretty much invincible unless you shot a cannonball at it. That doesn't mean that it couldn't be upgraded however, so in went a pair of Brian Crower Racing 264 camshafts controlled by Titan Motorsports gears. He then had the stock twin turbos yanked out and slapped in a TE67 single unit that sits on top of a custom stainless-steel exhaust manifold and essentially takes up as much space under the hood as the motor itself.
Other engine upgrades were left mild since the turbo 2JZ motor is already a beast and a half, the 780cc injectors and fatty intercooler were just precautionary measures for the extra boost that the 2JZ power plant was about to endure. Ramirez didn't disclose any dyno numbers, but we're sure that his car put some major abuse on those dyno rollers. Also of note was the fact that he managed to keep the car in its original automatic transmission configuration – it's a luxury automobile after all.
Just as crucial to the Altezza transformation as the performance upgrades was the appearance of his JCE10 chassis. This is where Ramirez put immeasurable amounts of effort into his Diamond White Pearl beauty. A combination of JDM Altezza and Vertex body parts make his IS300 look like something that belongs in a racing video game and not dodging tourists on the streets around Disney World. The IS300 body lines are clean and all the additions only help enhance its already sultry appearance. Extra touches like the Rod Millen rear spoiler and TRD/L-Tuned rear skirt are just the icing on the cake to ensure that no car show judge, enthusiast or random onlooker could walk past Ramirez's car without drooling just a bit.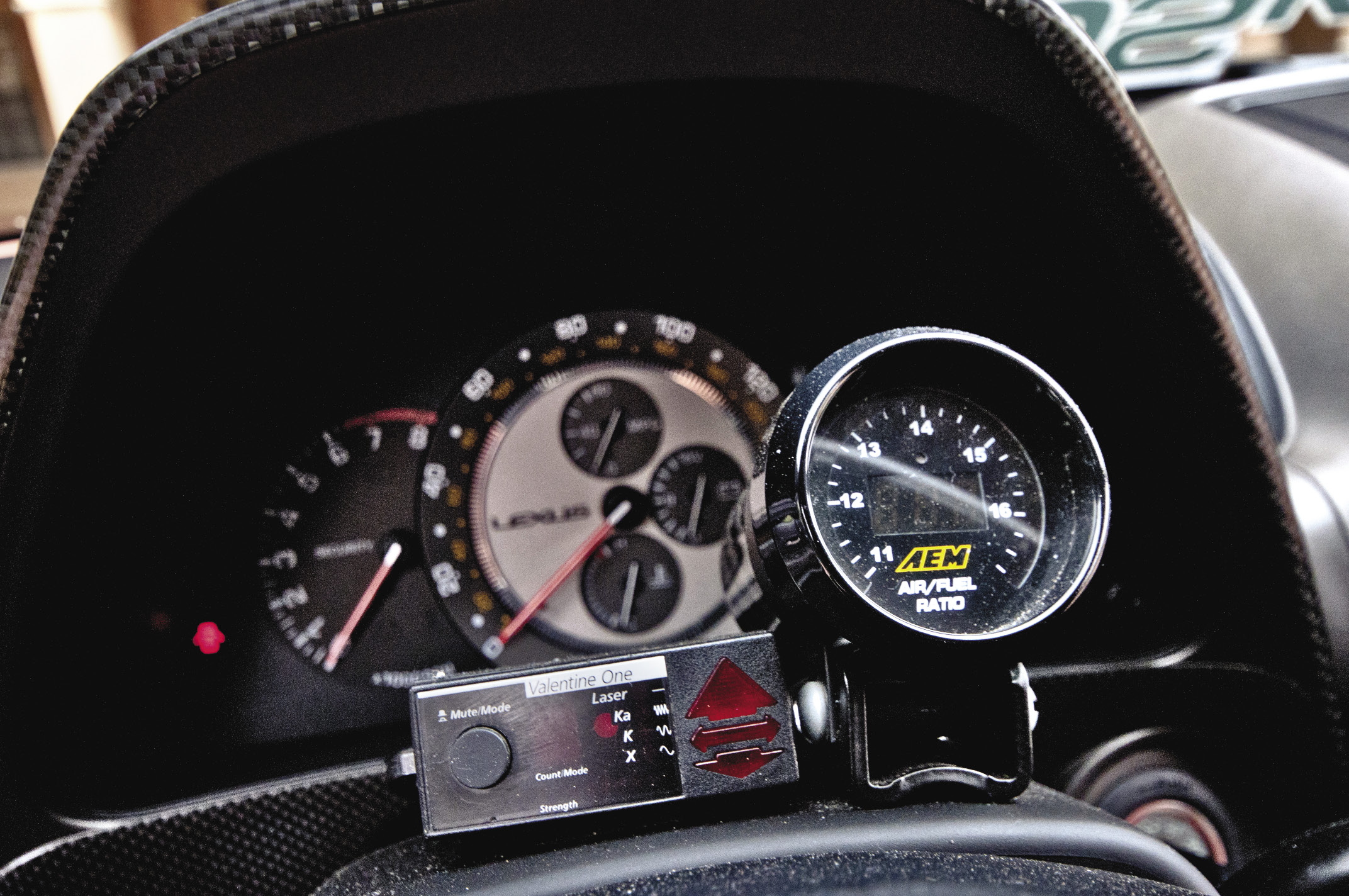 For those who haven't planted their asses inside an IS300, you are truly missing out. From the factory, the gauge cluster looks like a very expensive oversized time piece, Ramirez added to that madness with an audio system that included three monitors and enough subwoofer power to rattle off any JDM badges that aren't properly stuck on. And despite being a luxury car, a pair of Bride XAX seats gives Ray a more race-like feel.
So now you see that the word "obsession" doesn't always have to be a bad thing, it's just the context it's used in and what the person or object is – like Ray's IS300 or Scarlett Johansson. Both are obsession-worthy and while Ray is over 1,000 miles from the place where he started, his new Team Solo has made him feel quite comfortable in the Sunshine State. With their assistance, he's been able to hit tons of Toyota and Lexus meets while bring his beauty to all the high profile car shows. Like Ramirez, you should be able to turn your passion into an obsession. Just try not to get arrested for it.
---
ESSENTIALS
Vehicle: 2001 Lexus IS300
Driver: Ray Ramirez
Team: Team Solo
Engine: 3.0 liter inline 6 turbo
ENGINE MODIFICATIONS
JDM 2JZ-GTE engine swap
Brian Crower Racing (264 camshafts, titanium valve springs, retainers)
Titan Motorsports (cam gears, fuel rail)
ARP head studs
TE67 turbo
Tial (50 mm blow-off valve, 44 mm wastegate)
780cc injectors
Aeromotive fuel pressure regulator
AEM engine management
Koyo radiator
Boost Logic Turbo blanket
Front mount intercooler
EXHAUST
Custom turbo back three-inch exhaust
Stainless steel tubular exhaust manifold
DRIVETRAIN
Upgraded torque converter
Limited slip differential
CHASSIS / SUSPENSION
Tein (Flex coil-overs, EDFC)
TRD race sway bars
Modified control arms
Beat rush lower performance braces
Cusco rear strut tower brace
WHEELS / TIRES / BRAKES
Work Meister S1 Wheels – 18 x (f), 18 x (r)
Yokohama Advan Neova AD08 tires – (f), (r)
Rotora (slotted rotors, stainless steel brake lines)
EXTERIOR
Vertex (front bumper, side skirts)
Diamond White Pearl paint
TRD L-Tuned rear skirt
Rod Millen rear spoiler
JDM Altezza (grill, headlights, window visors)
6K HID headlights
Custom painted fog lights
INTERIOR
Bride XAX racing seats
Altezza shift knob
Carbon fiber dash kit
AEM UEGO wide band oxygen sensor
Blitz SBC-ID Spec S boost controller
AUDIO / MOBILE ELECTRONICS
Pioneer Z110 head unit
Valentine 1 radar detector
JL Audio (C5 component speakers, 300/4 and 500/1 amplifiers,W3 subwoofers (2), TR component speakers)
Custom modified 7.5-inch monitor in motorized dash housing
Fiberglass subwoofer enclosure with 15-inch monitor flush mounted
SPONSORS
Double D Tuning, Joey Tracey, Kamispeed