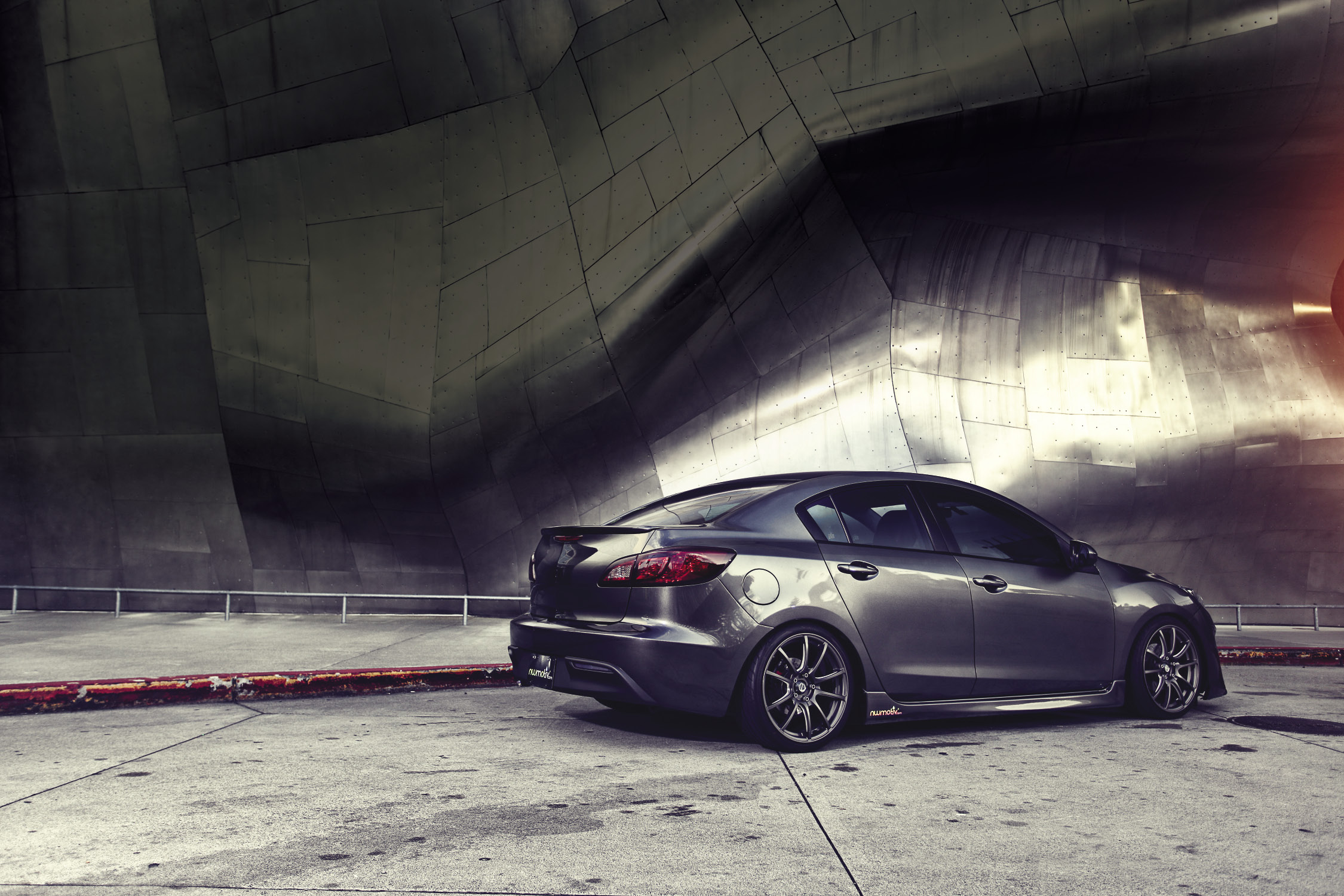 Written by Josh Mackey / Photography by NWMotiv
Function with form: 100% functional, as if it was being rolled off the showroom floor. In 2004, Mazda introduced a new sport compact car on the scene that enthusiasts all over the world could enjoy: the Mazda3. It came in several different varieties between a sedan and hatch model; most noteworthy, the Mazdaspeed3 hatchback. The year 2010 marked the second generation of the Mazda3 with new looks and new upgrades, but the same sport compact heart. NWMotiv wanted to build a car that not a lot of people normally would and, more importantly, they wanted to build a car that most enthusiasts could also build.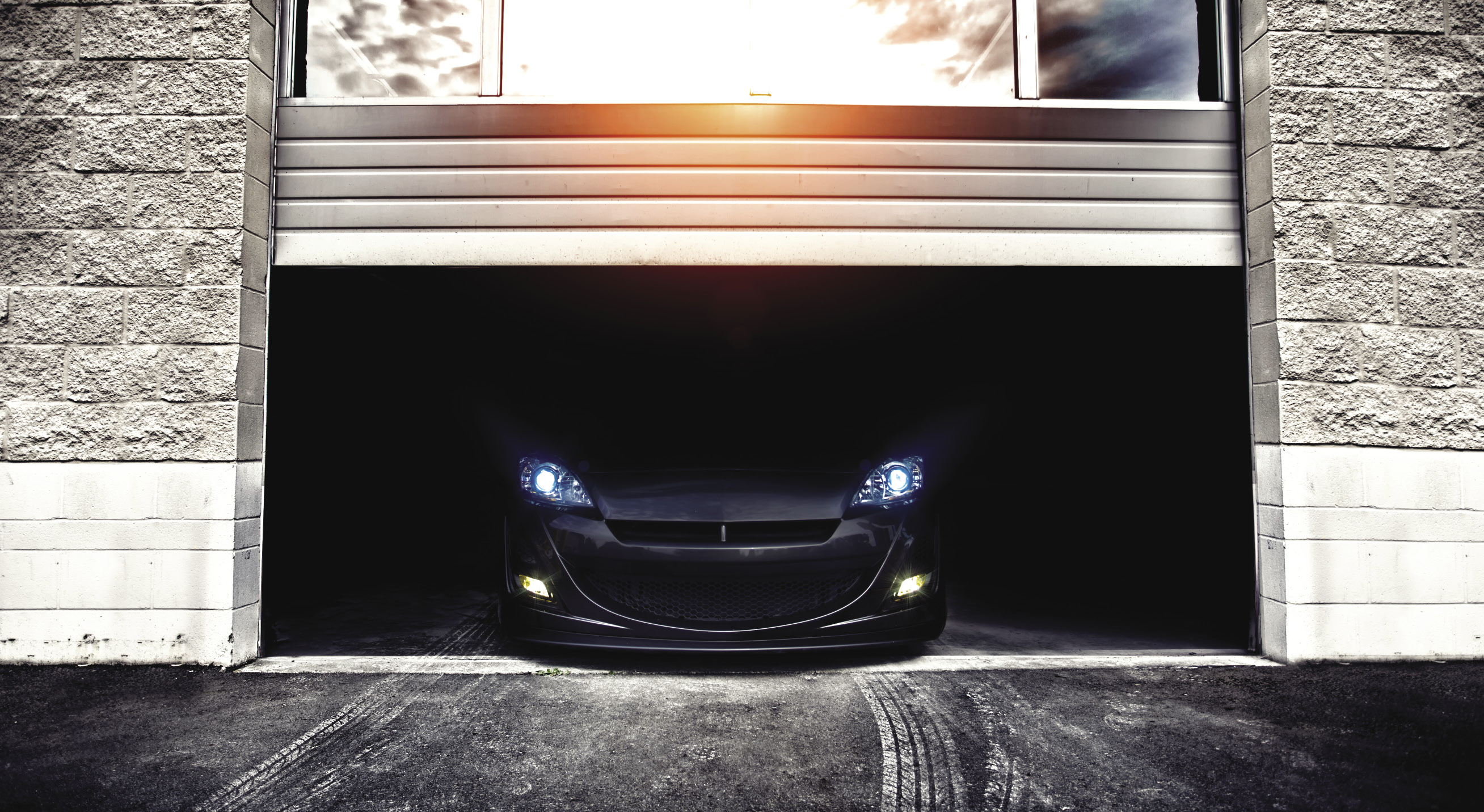 The 2010 Mazda3 iSV is almost as baseline as it gets: bottom-of-the-line two-liter motor, no body accents, kits, wings or spoilers. Not even fog lights. The point of the build was to show any true car nut they could have the car they wanted without sacrificing a more expensive monthly payment or, better yet, waiting for their dream car. The method to the madness was to build and make modifications that would impact real world events, daily life and things you do that you more than likely don't realize you'll miss when it's gone.
Function with form: making sure the car functions 100% as if it was being rolled off the showroom floor. This is where the story of the NWMotiv Project3 begins, nearly two years after it was brought home. How would you modify a base model car into something people want? First, start with the exterior.
The Mazda3 is pretty plain unless you splurge at the dealer and get every extra accessory possible. Along with paying heavy markups, you're going to be bringing home a very generic car. Challenge accepted!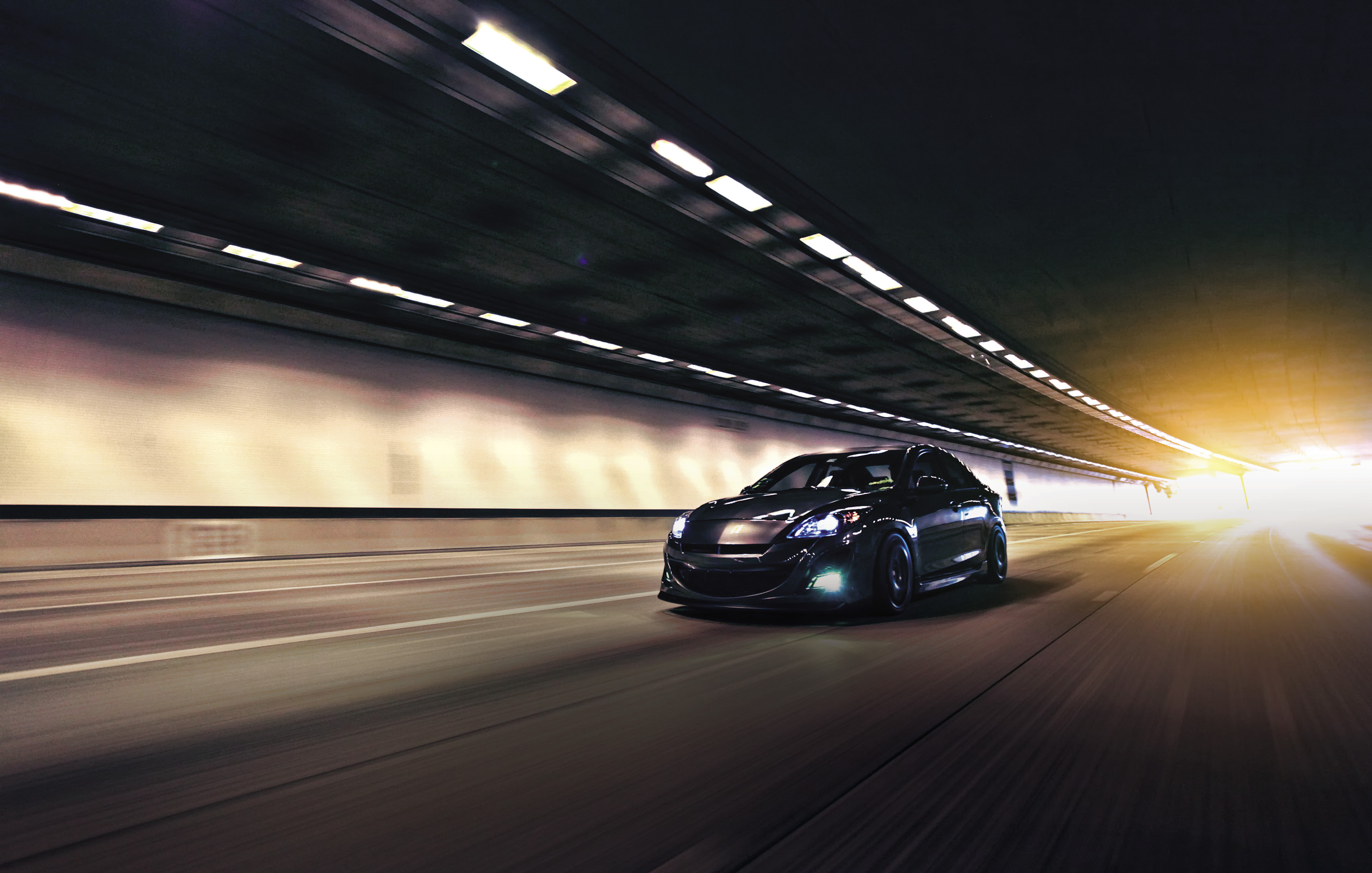 Working with a blank canvas is the best way to start something new with fresh insight. Its graphite grey paint provided for the perfect neutral yet vibrant canvas. Thus, a trunk lip spoiler and side skirts were paint-matched and added. The trunk holes were shaved by TAJ Collision Center, which cleaned up the backside really well and the AutoEXE front bumper replaces the ugly "smiling" stock front end with an evil snout appearance complete with integrated lip. Stock fog light housings were bought at a fraction of the cost and almost immediately installed with V-HID 3K bright yellow fog lights along with 6K HID headlights and high beams. Additionally, every bulb on the car was replaced with V-LED bulbs, including a custom LED third brake light, custom LED trunk lights and Corksport LED rear bumper lenses. Candy red taillights, custom smoked headlights and a 3M carbon-wrapped roof round out the exterior modifications.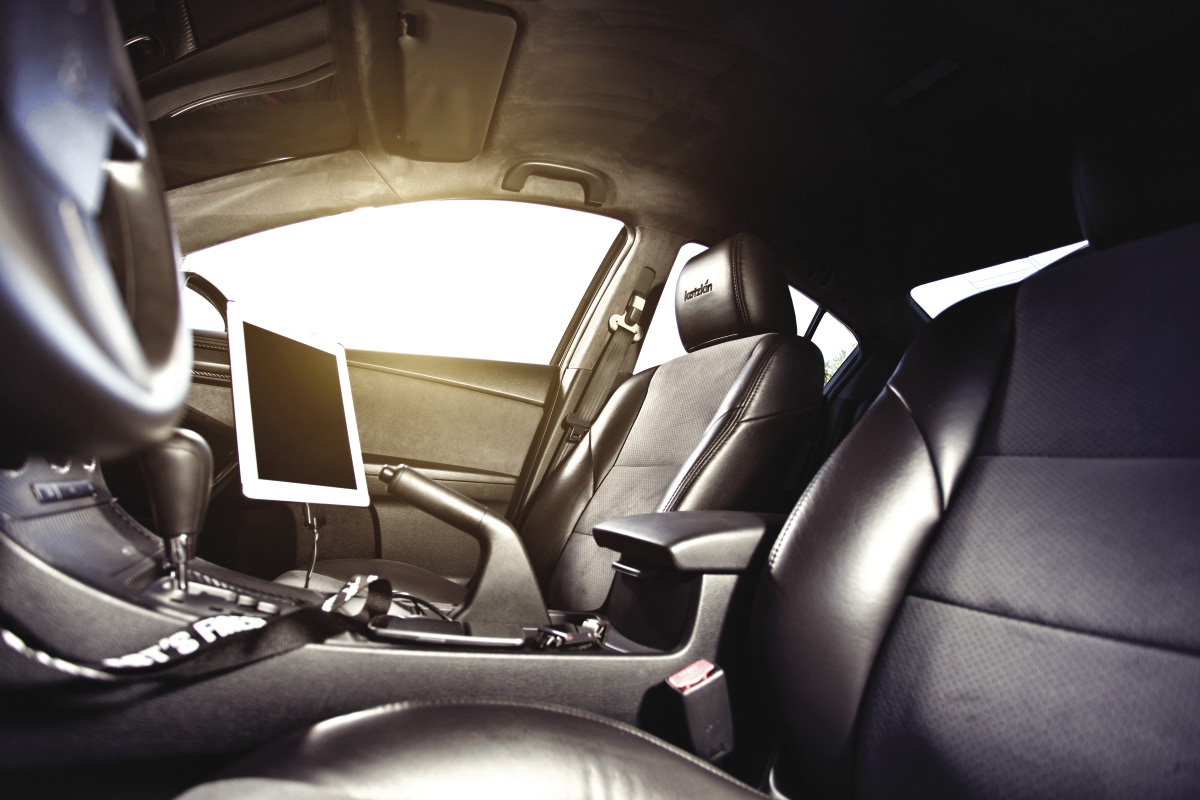 Building an interior that looks the part would take some serious work to deliver the right attitude with luxury. Katzkin Leather provided a full midnight leather kit in a two-texture grey and perforated suede combo. The rest of the car was wrapped in the same suede along the headliner and pillars and finished with carbon fiber wrapped accents. SRP Racing aluminum racing pedals also help to give it an edgier look.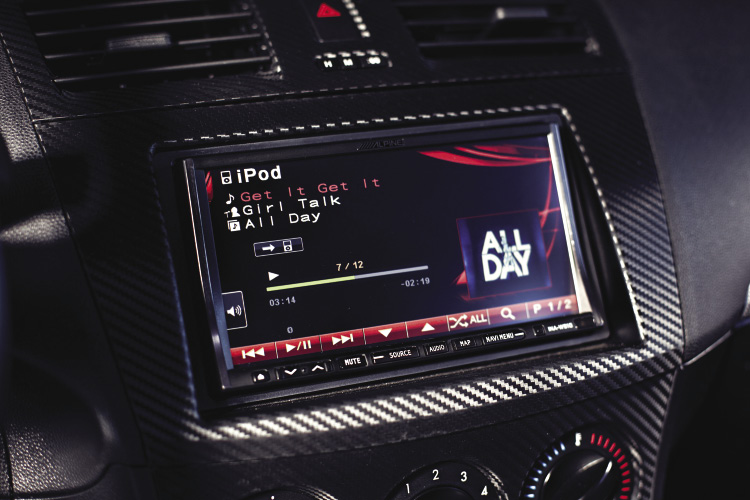 Provided by Diamond Audio and Metra electronics, the audio flows from the interior to the trunk.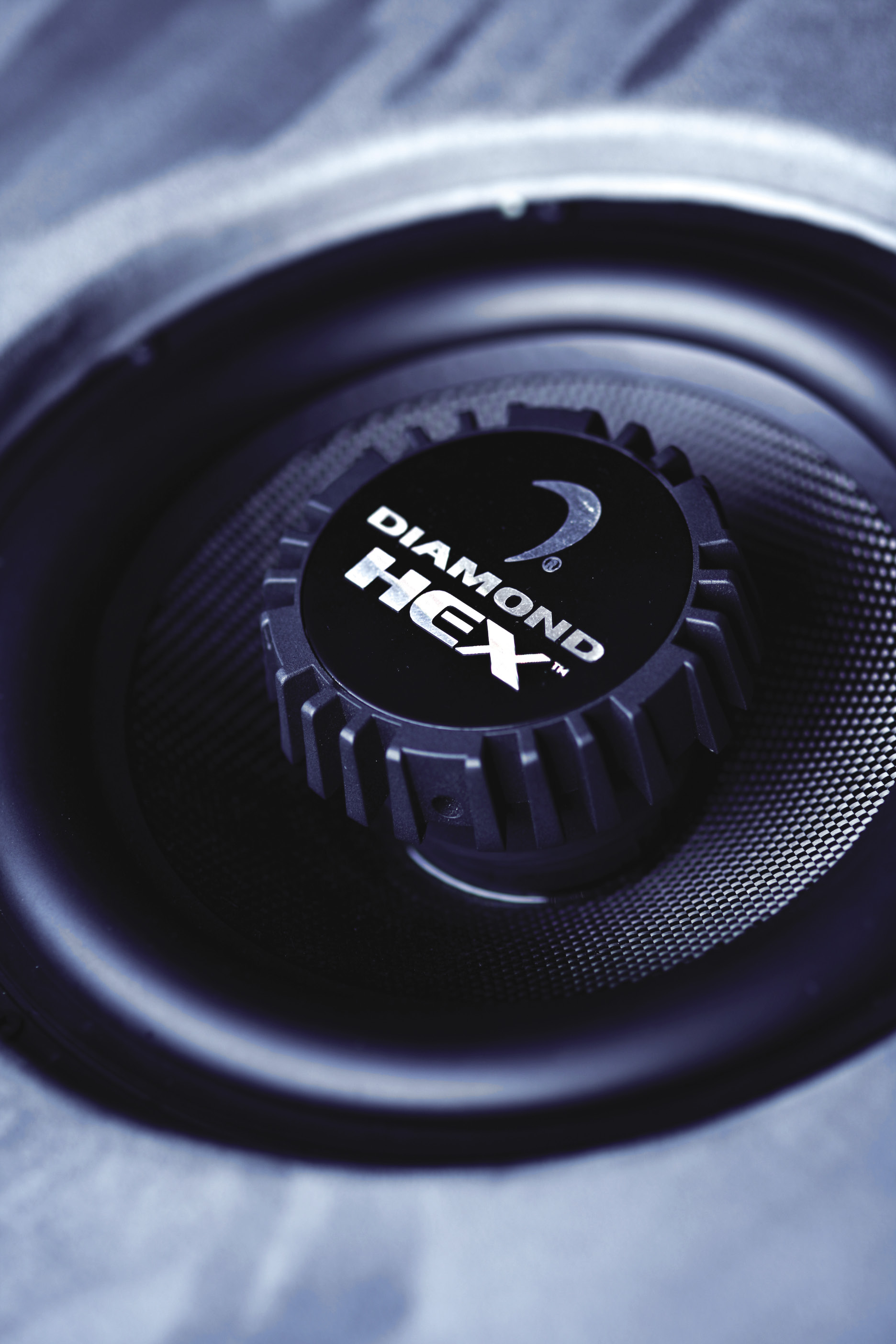 Starting with an Alpine in-dash DVD player, the system sends beats to two sets of Diamond Audio D6 components and a HEX 12-inch low profile subwoofer that is custom installed in the spare tire factory cavity that keeps the entire trunk 100% functional.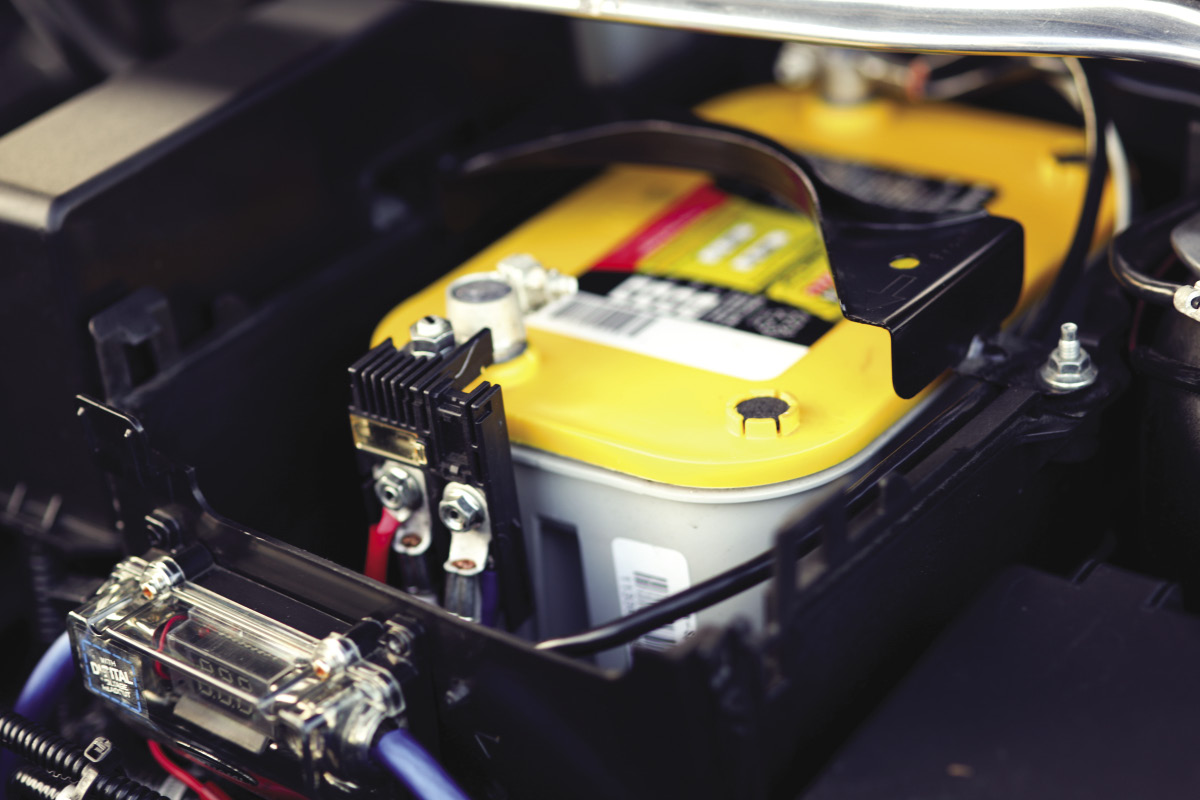 The system is powered from an Optima Yellow Top battery and Diamond's D400 and D300 amps while The Joy Factory supplied a carbon fiber iPad seat bracket mount. Audio is seriously protected with half the car being covered in ballistic sound dampening material and made safe from prowlers with Compustar's Drone mobile security system.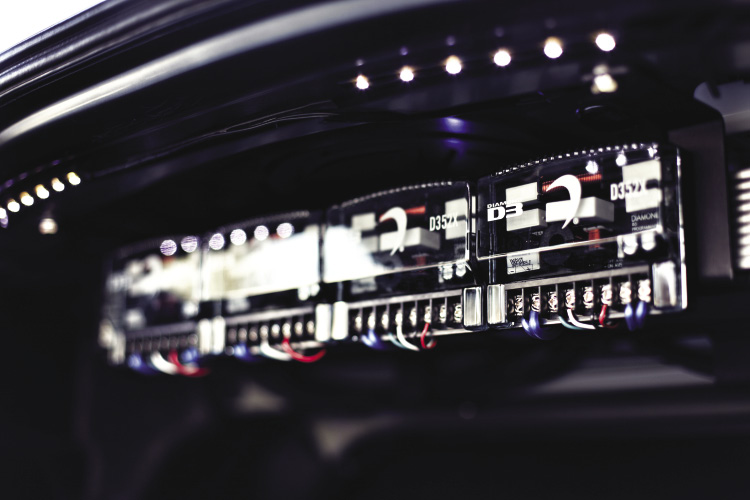 From the factory, the Mazda3 has a very sporty suspension. It's almost surprising how good it is off the lot, but it's still far from great. Stance USA provided the project car with one of its GR+ coil-over systems while Corksport provided the beefy rear sway bar and front strut bar. Yokohama S.Drive tires help keep this Mazda firmly planted on the road, which wrap around a set of 18x8 WedsSport SA55M wheels.
Function resonates around this car, originally the car was running a set of 225/40 tires, but rubbing doesn't make a functional car. So, smaller 215/35 tires replaced them. While it was very easy to upgrade the brakes to something bigger, NWMotiv felt it wasn't necessary to replace the car with heavier, bigger brakes when it didn't need it. Instead, EBC supplied a complete set of 3GD slotted and drilled rotors and Redstuff pads, however, while Corksport stainless steel brake lines and Motul 5.1 fluid help keep pressure consistent.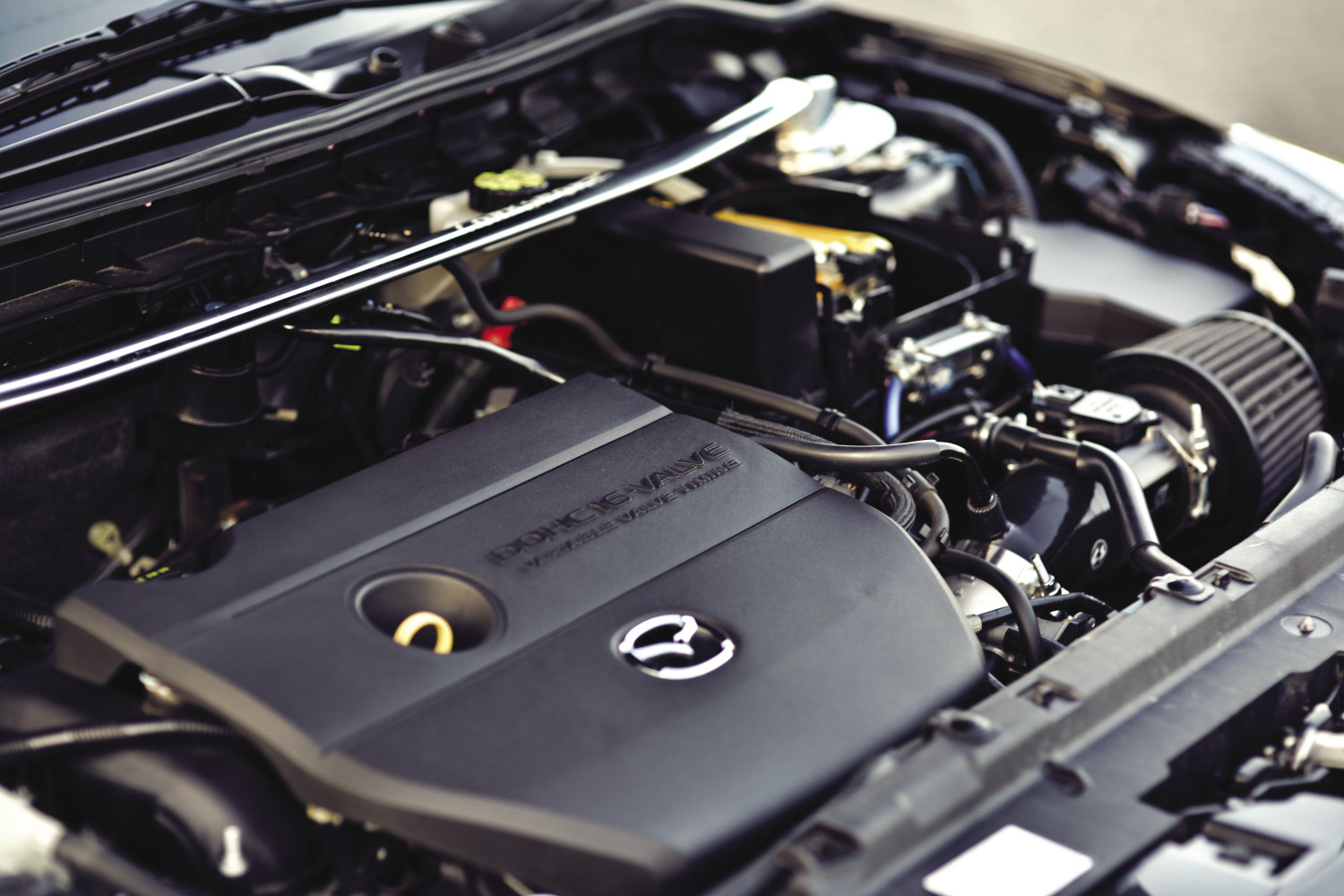 Lastly is the motor. While it's not setting any records, it certainly is no slouch. Could it use a major horsepower increase? Sure, but that's not exactly the point of this build since that begins to stray away from reality and it isn't exactly practical for anyone to do. Instead, the focus was on what could be done overall and how much power could be achieved. A base power run revealed 117 hp to the wheels and the addition of a Corksport Performance intake bumped it up to 125 hp. The addition of a Corksport Power Series exhaust with race pipe brought the power up to 130 hp. Not stopping there, MSDS supplied a four-into-one header, which gave the car an additional five hp, topping out at 135 hp – not Speed3 numbers but not bad and still compliments the car in corners. It should also be noted that a tune could be acquired for this motor, which will not only increase the horsepower by another 15 to 20 hp, but also keeps fuel efficiency the same.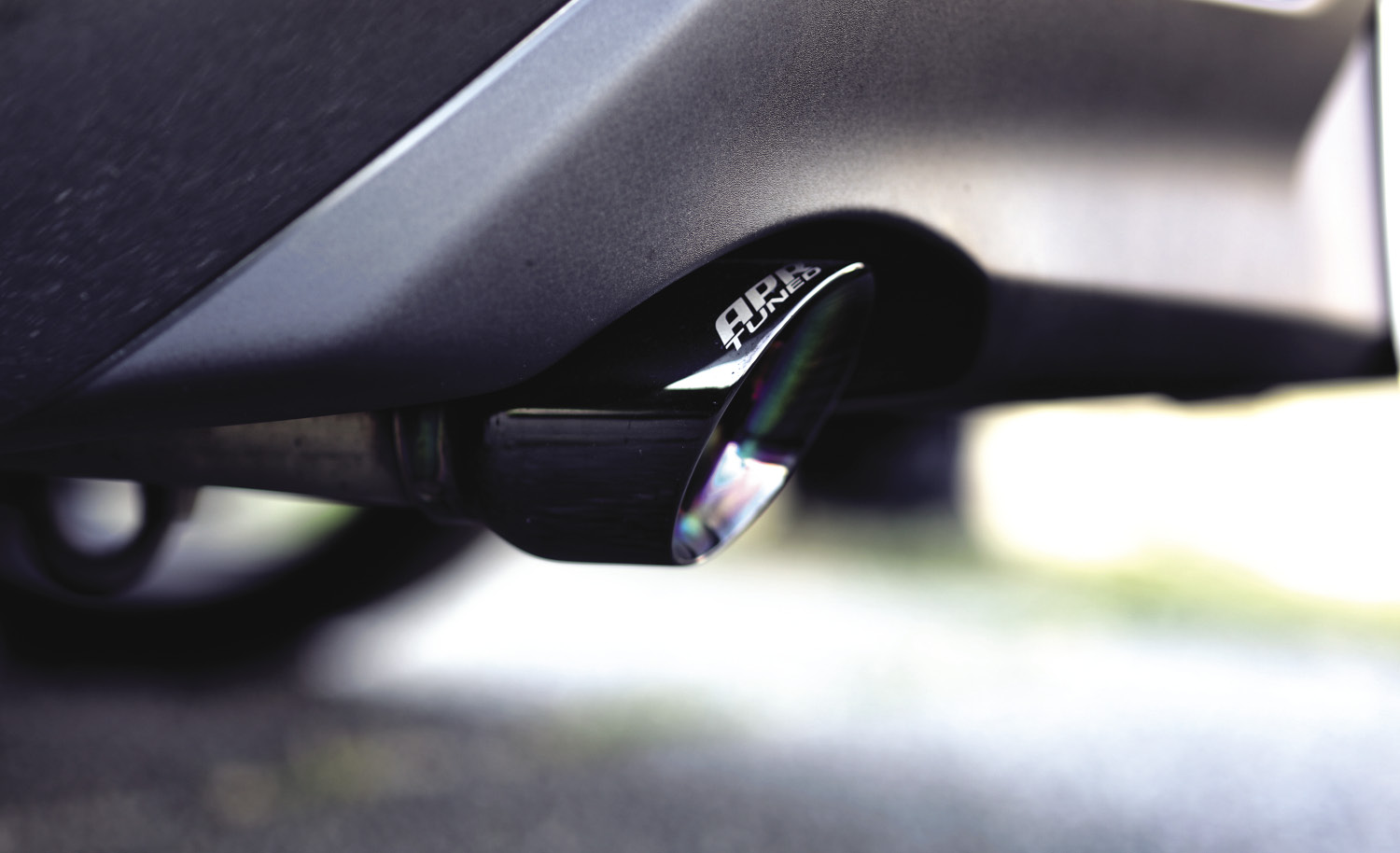 With the major two phases of Project3 are complete, NWMotiv can now look toward building a new heart for it. Exploring ideas of a turbo 2.5- or 2.3-liter motor with manual transmission are currently being explored. A turbo "Speed3 Sedan" is something a lot of people are looking forward to seeing and there's definitely eagerness to see what NWMotiv is going to do. One thing is for sure, this completely functional build is very possible with anyone looking to start on a budget and work their way up to something they can appreciate.
ESSENTIALS
Vehicle: 2010 Mazda3 iSport Sedan
Owner: Josh Mackey
Location: Seattle, WA. USA
Team: NWMotiv
Horsepower: 135 hp
Website: www.nwmotiv.com
ENGINE MODIFICATIONS
Corksport short ram intake
EXHAUST
Corksport cat back exhaust
CHASSIS / SUSPENSION
USA GR+ coil-over suspension
Corksport (front strut bar, lower rear sway bar)
WHEELS / TIRES / BRAKES
WedsSport SA-55m wheels – 18 x 8 with +35 offset (f/r)
Yokohama S-Drive tires – 215/35/18 (f/r)
Blox silver aluminum racing lug nuts
Corksport stainless steel brake lines
Motul 5.1 brake fluid
EBC (3GD Rotors, Red stuff brake pads)
EXTERIOR
Color: Graphite Mica
AutoEXE poly front bumper
Shaved trunk deck lid
3M 1080 carbon-wrapped roof
V-HID (HID 6K platinum headlights, HID 6K platinum high beams, HID 3K platinum fog lights)
V-LED (platinum LED corner, reverse and brake LED bulbs)
Corksport LED bumper lenses
Custom (candy red smoked taillights, smoked and painted headlights)
Mazda Factory paint patched (2.5-in. trunk lip spoiler, side skirts)
Street Designs (35% matching windows, 50% windshield tint)
INTERIOR
V-LED (LED interior map lights, LED trunk lighting strip)
Katzkin Custom leather and suede front and rear seat covers
JP Kustoms (suede headliner, pillars door cards)
3M 1080 carbon-wrapped interior
TrimSRP Racing aluminum racing pedals
The Joy Factory carbon fiber iPad seat bracket mount
AUDIO / MOBILE ELECTRONICS
Alpine INA-W910BT DVD in-dash head unit
Diamond Audio (D6 components (x2), HEX S124 12-in. subwoofer, D400.1 mono amp, D300.2 amp)
Optima yellow top battery
Suede-wrapped stealth trunk subwoofer enclosure
Custom top-mounted amp rack
Tsunami dual amp installation kit
Metra double-DIN center console
Replacement Ballistic sound dampening
Compustar drone mobile security alarm and remote start
SPONSORS
NWMotiv.com, V-LEDS.com, SpeedFactory Racing, Speedware Motorsports, TAJ Collision Center, James Anderson, Jeremy Pilgrim, Orlando at Diamond Audio, Corksport Performance, Metra Electronics, Brendan at EBC Brakes, Mike at Stance USA, Yokohama Tires, Jim at WedsSport North America, Don at Street Designs, Adam Nonis, Meguiars, Tex at GraphixbyTex