Rallycross Fiesta is inspired by motorsport, built for the street
---
Developing show car concepts is just one of the perks of working for a motorsports-involved company like Motegi Racing. It gives the gear heads around the office an opportunity to bring their craziest ideas to life.
Our inspiration for this build: the 600-horsepower, all-wheel drive Ford Fiestas campaigned by Tanner Foust and Brian Deegan in the Global Rallycross Championship and at X Games. They are awesome: they do zero-to-60 in two seconds, have deafening, high-strung engines and generate sneaker-melting heat from their bare transmission tunnels as they rip through gears. But, from a comfort point of view, they aren't cars we'd want to take on our 30-mile office commute. Not even once.
We wanted to make something that delivered on the rallycross racer aesthetic while still being a fun-to-drive street car. Rallycross meets street tuner, this 2012 Ford Fiesta is the first build to bring the rallycross aesthetic to the street.
"I think this is the car Ford should have built and sold," said Andreas Eriksson, vehicle builder and owner of Olsbergs MSE. "The end product is a magnet and I know people will like it."
Olsbergs MSE is one of the most successful rallycross outfits in the world, with headquarters in Sweden and an outpost in Huntington Beach, Calif. They developed the racecars that inspired this project, and Ken Block's "Gymkhana 3" car, among others. We selected their shop to ensure our show car would remain close to the race performance model that inspired it, every step of the way. Plus, they developed the body kit that goes on the rallycross cars and we wanted one.
"If you build a car that looks special, people buy it," said Eriksson. "It would be impossible to take one of the racecars to work, but this is very comfortable."
While racing builds are all about making modifications that push a vehicle's performance to the limit, this build started with the look – the body kit – and then was reverse engineered to accommodate it.
After taking our fresh-off-the-lot European three-door Ford Fiesta and extending the fenders so far that the car is nearly square, OMSE completely re-engineered the front end to widen the track by 2.4 inches per side (4.8 inches total) and drop the body by 5.5 inches. They also installed new four-way adjustable Öhlins dampers, hubs and a custom-built driveshaft.
The front calipers are replaced with four-piston APs while the drums in the rear are retained. The car is outfitted with 18-inch MR119 wheels in satin black – the cast street version of Motegi Racing's purpose-built forged wheel the rallycross cars use in competition.
Using a competition body kit on a street car introduced some unplanned challenges. Gas goes in a fuel cell in the competition car and, while our first few fills were through an opening in the trunk, we relocated the fuel filler to the C-pillar for a racy feel but street car practicality.
Interior panels, also lifted from the competition car, are adjusted to fit around the OE dashboard window switches. Molded carbon fiber door panels give the car a clean, uncluttered look while reducing weight.
For the first phase of this build, we decided on a modest engine upgrade, increasing the horsepower from 120 to 155 to drop the 60-mph time down two whole seconds to 7.9, with a Mountune engine upgrade. Mountune is the UK outfit that builds the engines for the rallycross cars, but they also create a number of performance kits. In Europe, their engine kits are factory approved by Ford, which means the car retains its warranty coverage after being upgraded.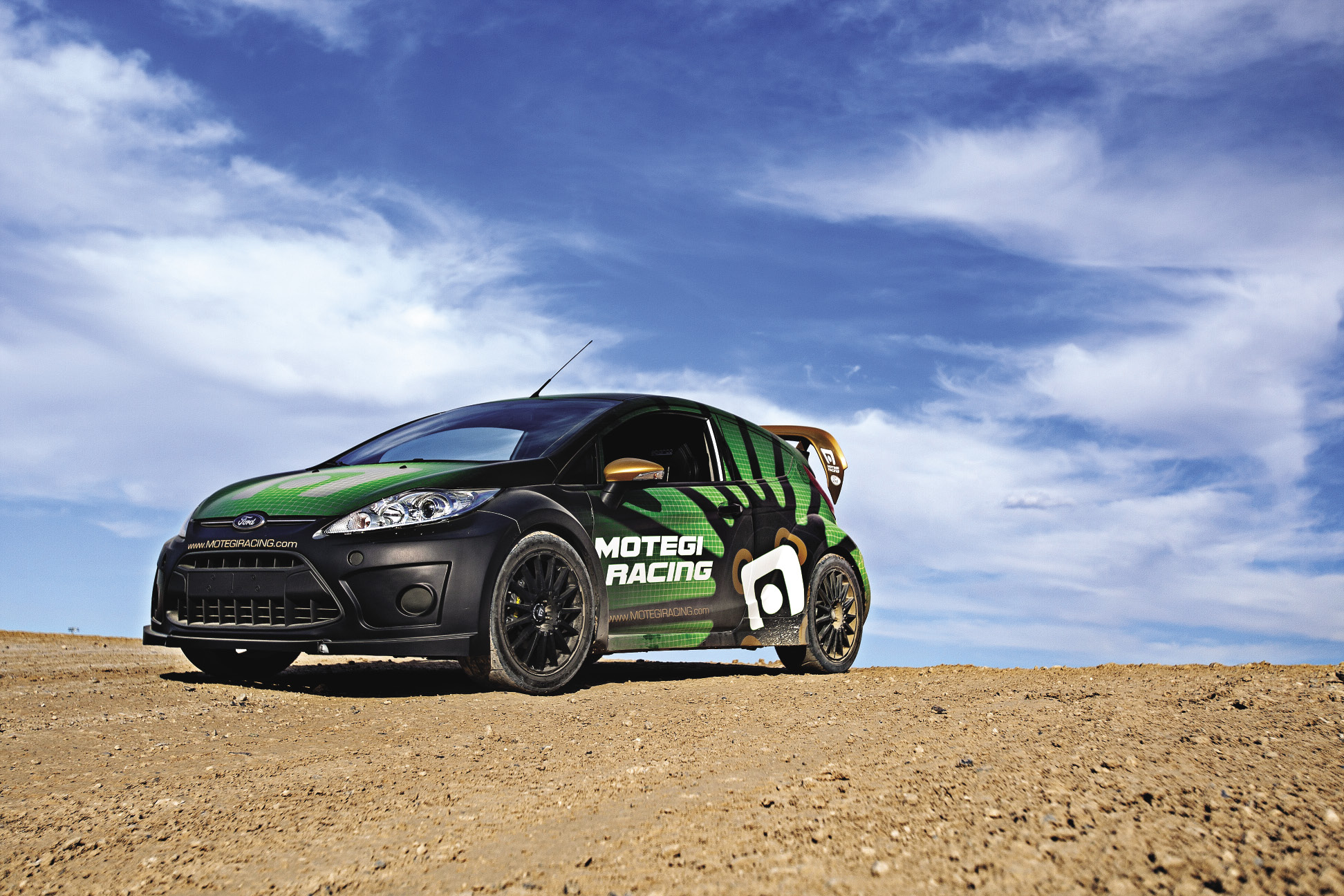 We've gone another step from Mountune's ECU reflash, and installed an AEM Electronics plug-and-play Infinity Engine Management System to maximize performance gains.
Interior accessories include Sparco R 100 seats – fully adjustable, still able to recline and usable with either harnesses or the stock, three-point belts, but with a supportive, race feel – and a flocked dash to reduce glare on the windshield, plus Sparco pedals and R 215 wheel.
To come up with the graphics scheme for this build, our Facebook fans were invited to submit concepts and Motegi Racing drivers Foust and Deegan, along with a vehicle wrap pro, Spin Imaging owner Erik Bond, selected a winner. Ian Thomas, an architectural modeler from Milwaukee, Wis., produced the art selected for the car.
"People can show their imagination in a lot of ways," said Foust, after seeing the finished product. "It's awesome when they can put it on a badass looking car."
Because we love cars, just like you, we consider every one of our vehicles a work in progress. We're going to drive this one for a while and see what we think, but don't expect this to be the last you see of it. In the works for the near future: a Focus ST turbocharged engine, new gear ratios, a trick handbrake set-up and a kick-ass stereo. Stay tuned.