Photography by Ranger Ramirez (Elite Tuner)
---
We have reason to believe that Drew Evans was one of those kids that saved big cardboard boxes for the sole reason of making them into make-believe spaceships. Exploring the great unknown is something that remained with Evans as he grew up, adding a fascination of constellations to his repertoire, and upgrading his spaceships from corrugated to Japanese metal – exclusive to the Nissan family tree.
A 1996 Altima SE would be the start to Evans' manufacturer loyalty, which would then lead to an Infiniti G35 Coupe, an Armada, an FX50S, and finally the stellar 2013 G37 XS Sedan we're focusing on today. A little-known fact about the G is that it was originally Evans' wife's car. With the exciting news that a third little one was on the way, Evans took over the G from his wife and sold the FX50 to buy a QX60 as their new family vehicle. In a way, we have Evans' youngest to thank for us being able to enjoy this car in the first place.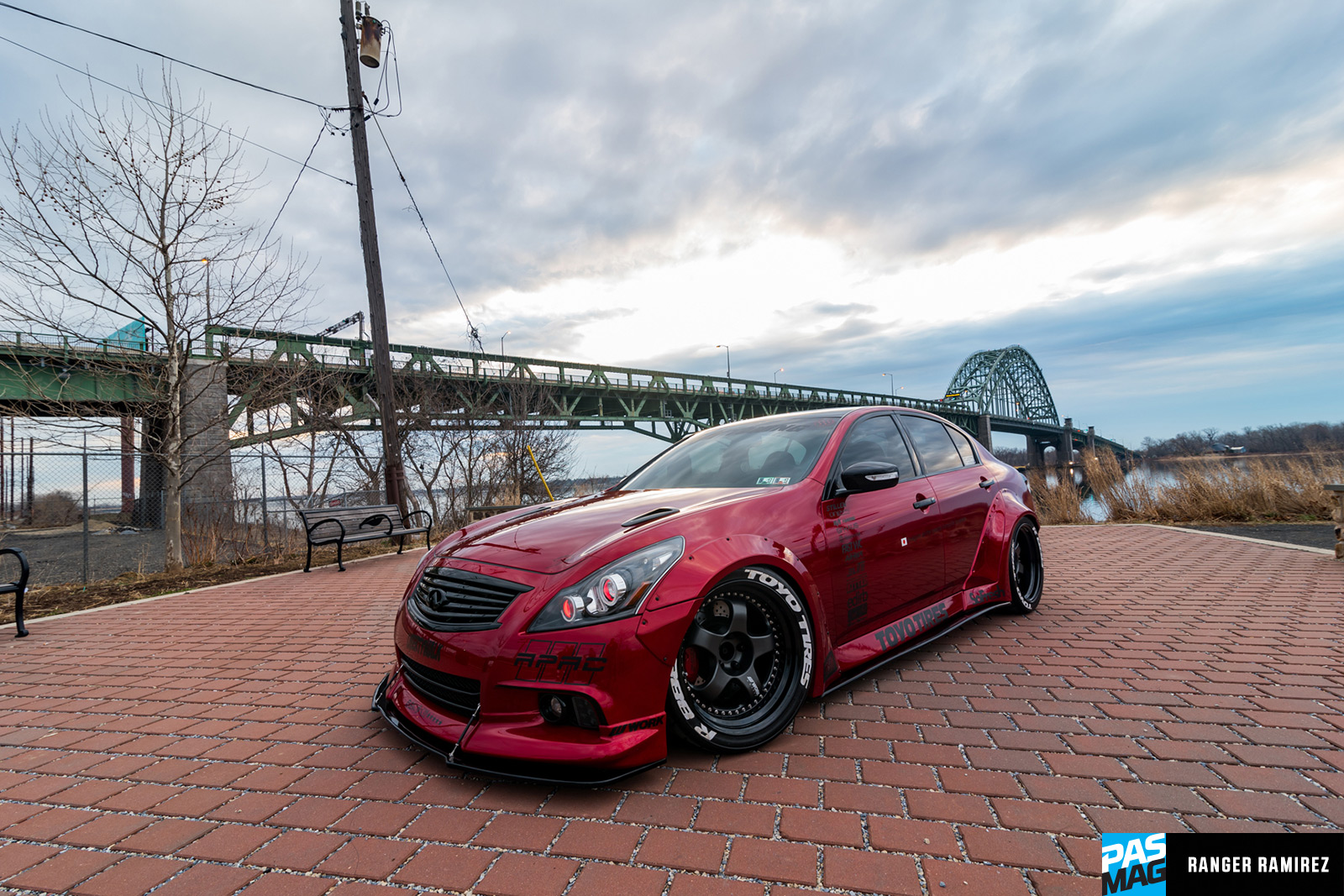 "I wanted to be unique, one-off, and one of a kind," Evans says about his build direction. "I wanted a build that represented my vision, my theme from bumper to bumper, inside and outside. I have always been JDM enthused, and always will be."
Immediately after snagging the once-white G37, Evans decked out the car with some basic bolt-ons to help him better enjoy the ride and score some points at a few shows he planned to attend. After acquiring "Best Infiniti" hardware at some events in 2014, the taste of competition proved to be a little too sweet for Evans to resist, and so he decided to go "full throttle – pun intended" (his words, not mine) on a fully-built car that would hit every checkbox on a score sheet, but with that one-off twist.
Now, we should probably address the widebody in the room. If you were thinking it, you're right; they never made a Liberty Walk kit for the G37 sedan body style, only the coupe. So, how are you seeing what you're seeing now? The answer is through lots of effort and fabrication work. The kit you see is the LB kit for the coupe, but modified to fit Evans' sedan.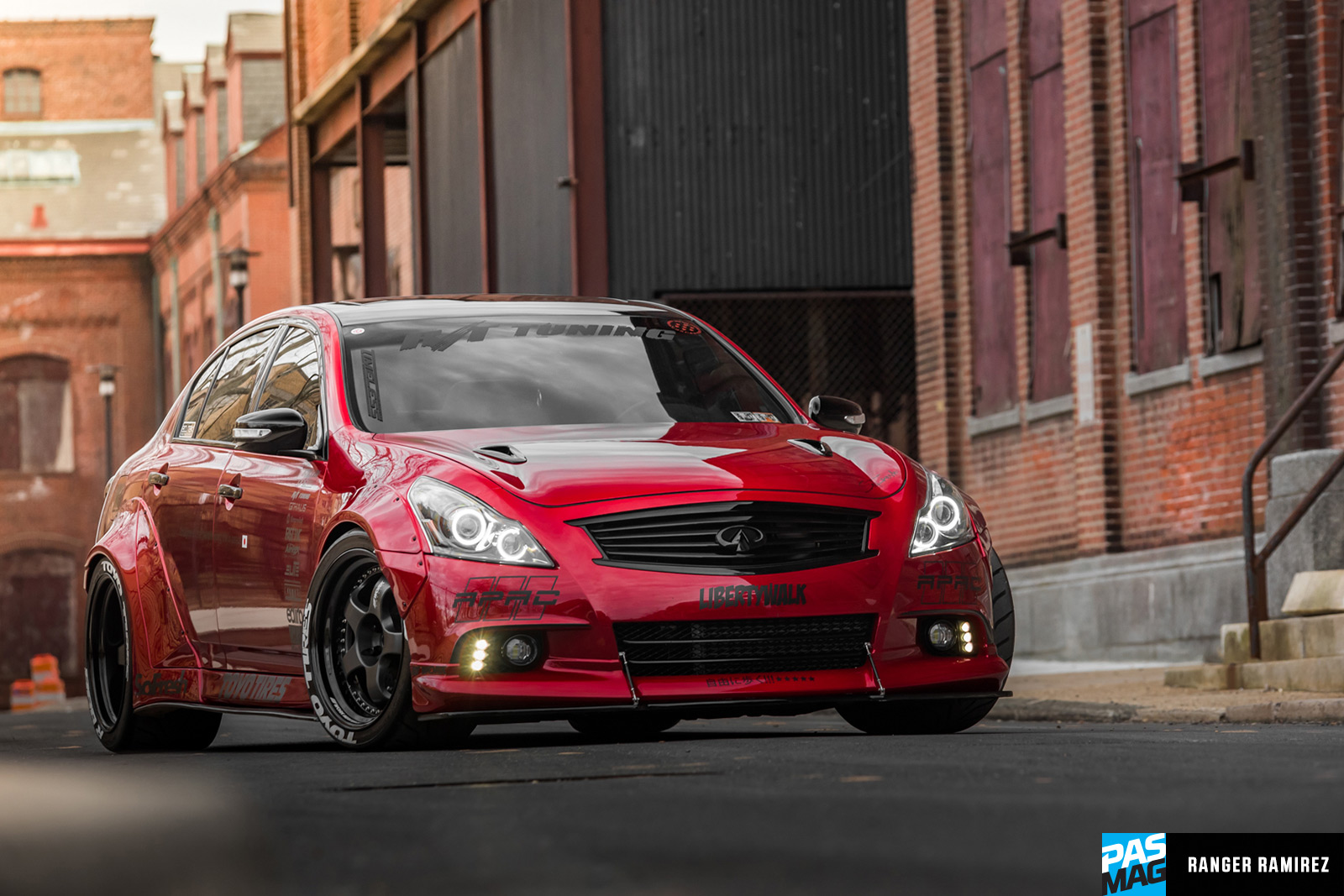 "When I went to APAC to discuss the one-off Liberty Walk sedan idea, it was farfetched and a job that had never been done before." Evans explains. "Hacking up the body of the car, and a brand-new Liberty Walk coupe kit from Japan had me sweating a bit; not to mention costs involved."
Thankfully, the capable hands at APAC (Auto Performance Aesthetics Center) were able to reform the fenders to sedan length and mold them to the body to fill the gaps without Evans or his wallet having a stroke, as well as pair the widebody with a Carbon Signal diffuser and rocker skirts, Successful Automotive Bella duckbill trunk, and even NACA hood vents from a GT-R. The vents and the shade of Martian red from BASF (Carizza Candy Ruby Red Metallic, if you're curious) on this G are evocative of a certain Infiniti with GT-R characteristics that never saw the light of day, and that's exactly what Evans was shooting for.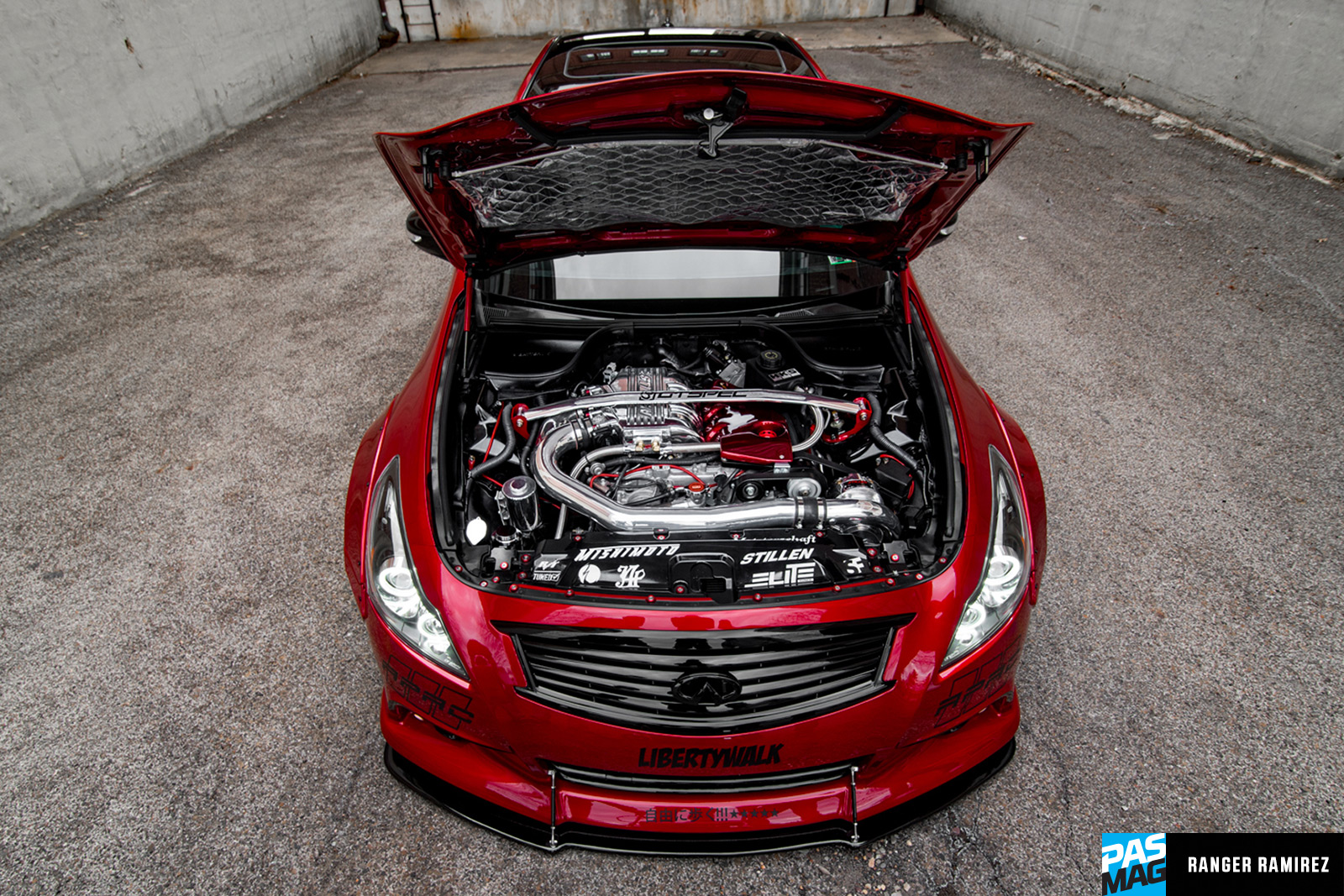 "Infiniti was due to release a Q50 Eau Rouge back in 2014," he recalls. "At that time, I was very light on the build of the G, and had every intention of being an owner of one of these four-door beasts when they went to production. I was absolutely in love with the concept; an AWD sedan from Infiniti housing the 3.8-liter, twin-turbocharged V6 from the GT-R. When that fell through and was scrapped, that's when the G build went full steam ahead."
The G37 is an X model, so it already has Nissan's ATTESA AWD system, but Evans would need a bump in power to bridge the gap between the Eau Rouge's 560 horsepower VR38 and his stock VQ37 pushing 328 horses. Luckily, Stillen offers a Vortech V3 supercharger kit that could increase his output significantly with the help of a custom tune from R/T Tuning. After being tuned and dyno tested, Evans' G was putting out 422 wheel-horsepower in RWD and 422 all-wheel-horsepower in AWD, which he can switch between via a custom VDC switch on his dash. Does Evans say "making the jump to light speed" every time he punches it? We sure hope so.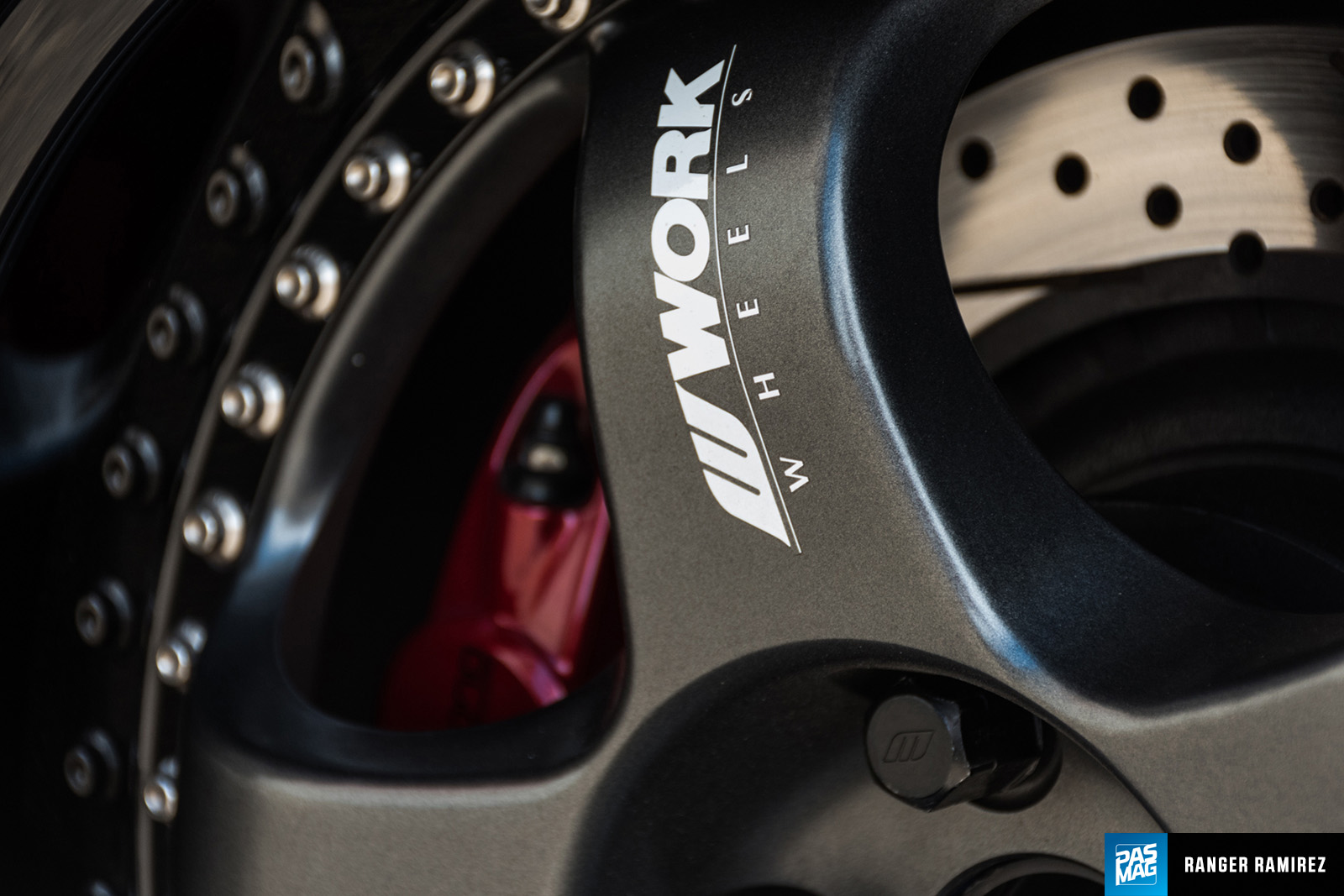 Of course, any sort of spacecraft (especially an upgraded one) needs the appropriate landing gear to bring it back down to Earth every now and then. Evans sprung for the good stuff. Work S1 three-piece wheels, in 19x10.5 front and 19x12 rear, are wrapped just right with Toyo's R888 tires in a meaty 295/30 and 325/30, front and rear, respectively. Providing the perfect amount of liftoff and touchdown is AirREX's fully-digital air suspension system. In tandem with SPC camber arms and some custom fabrication done to the front strut towers for more low, the G37's fenders sit perfectly.
In the cockpit, Evans' Edirb 032 Prestige captain's chair provides a comfy seat for deep space cruising, lighting the way with his custom ONEighty black housing headlights with ominous quad "demon eye" projectors. Exact Art has done a fantastic job on the upholstery in the interior, with charcoal Alcantara and that same red from Mars accented throughout. The crowning achievement would have to be the illuminated star headliner, which also follows through into the trunk.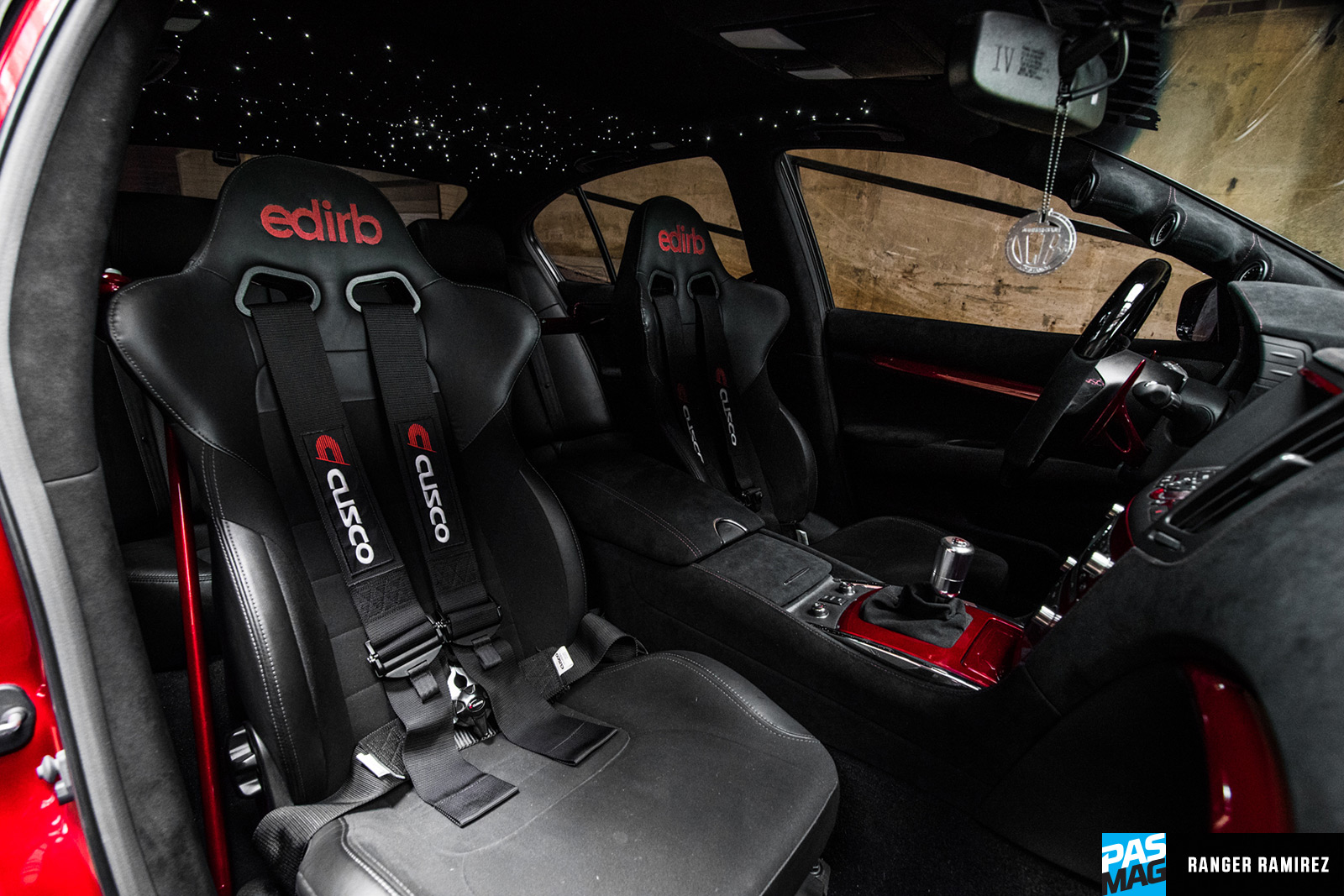 "I'm an astronomy nut, hence my car's nickname, 'Mars.'" Evans reveals. "The trunk liner is all zodiac signs of my wife and children. The headliner is all winter constellations."
Also in the trunk, sit twin Alpine Type-R subwoofers in 12-inch sizing in an integrated custom enclosure, with over-fender-like covers arching over them. The twins are fed by Hifonics' monstrous Brutus monoblock amplifier, providing 1,500-watts of clean power. It's all definitely enough to add an out-of-this-world rumble to any commute.
Now that the dust has settled and Evans has this truly one-of-a-kind car, one could totally ask if this was all worth it. And you could ask every single one of Evans' 44 awards that he's garnered over the 2016 show season. Before he sets his sights to infinity and beyond, he'll first tackle the largest stage that Earth has to offer: the 2017 SEMA Show. We recommend you see this car before it takes off to win trophies across the galaxy.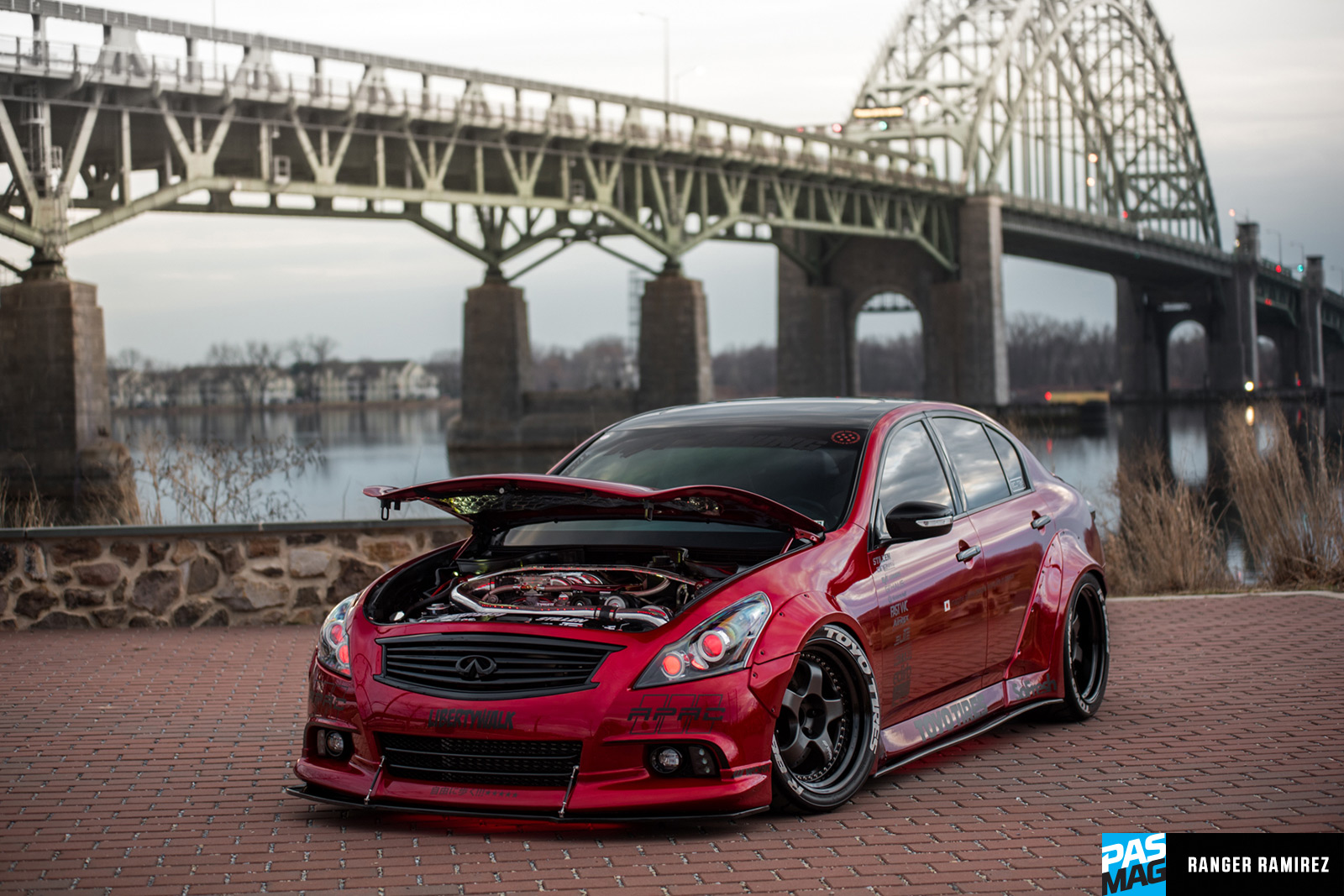 With 68% of the Popular Vote, Drew Evans was the winner of the PASMAG Tuner Battlegrounds award category competition at Elite Tuner: Import vs Domestic in Philadelphia, PA on September 18, 2016.