Photos by Edwin Villanueva (AutoImportCraze.com)
---
The Infiniti G has carved itself a nice little niche in the North American sport tuning niche ever since the third-gen V35s came online in 2003. In Japan, these are sold as Nissan Skyline 350GTs. Even though they're not in the same lineage as the legendary GT-R models (R32, R33, R34), the G35s smooth VQ35DE engine and RWD layout have been well-received by driving enthusiasts and tuners over here.
This Lamborghini Orange Pearl 2005 Infiniti G35 coupe has been Alvin Puertollanos pet project for several years now. And, when he's not knee deep in blood, the 24-year-old phlebotomist from Reseda, CA represents his Team Hybrid family well under the Mizter G moniker.
Frankie K., Alain and Karl Canta of AA Autoworks in Van Nuys, CA were instrumental in taking care of almost everything on this car. You might recall Frankie's tC from our December '08 issue (Purple Haze, pg. 74), so we know what this outfit is capable of.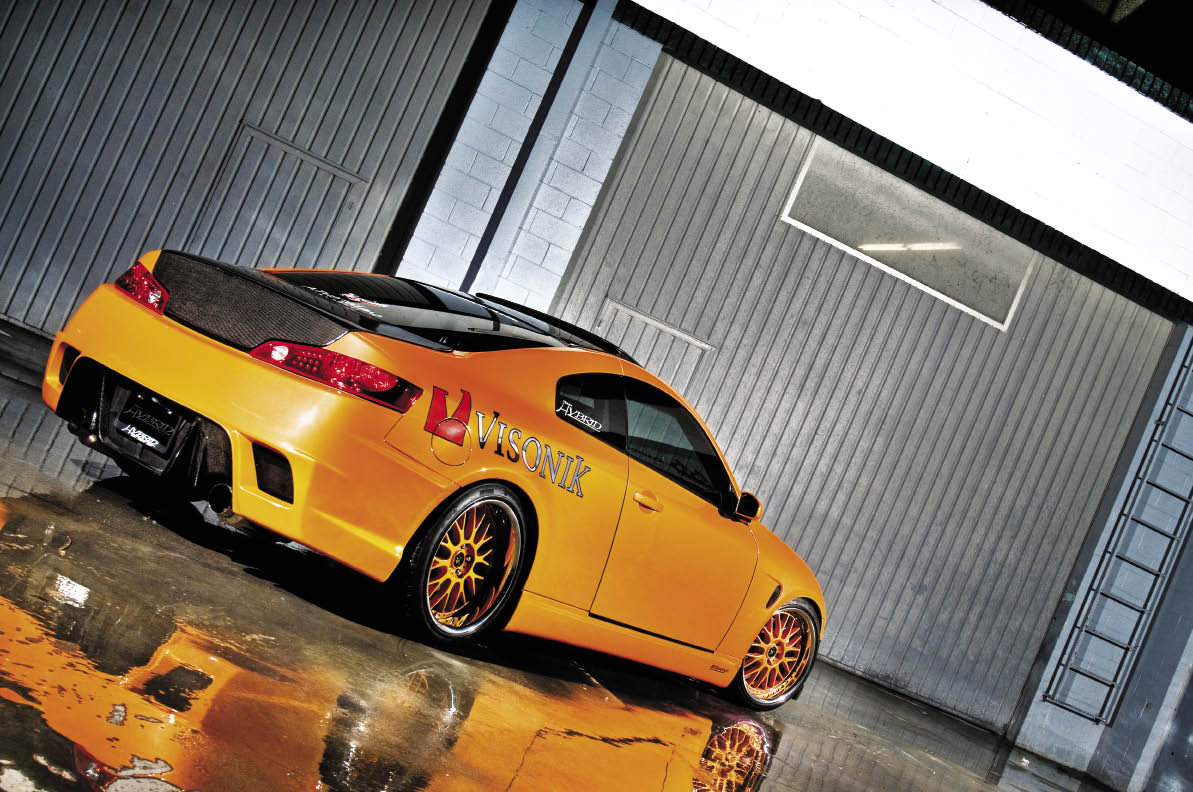 Upgrading the VQ35DE six-shooter hasn't been a top priority as of yet. Some exceptions include an Injen MR air intake and polished upper intake plenum for the cold side, as well as Nismo headers, custom 350Z Y-pipe extension and a polished RS*R ExMag GT2 cat-back exhaust system for the hot side. A carbon fiber engine cover and custom-wrapped JDM battery cover dress-up the engine bay modestly for now. For later, we're told, that there will be significant changes beneath the vented Seibon Top Secret-style carbon hood.
Besides its vivid orange skin, the exterior of this G35 has a certain Tokyo-style about to it thanks to a Top Secret Super G-Force front bumper, which features a custom carbon fiber overlay treatment on the lip, as well as INGs LX sport fenders and sideskirts. A custom carbon fiber roof and and trunk lid carry the theme to the rear of the coupe where the beefy KenStyle bumper gets the same treatment as the front lip to finish off the diffuser area.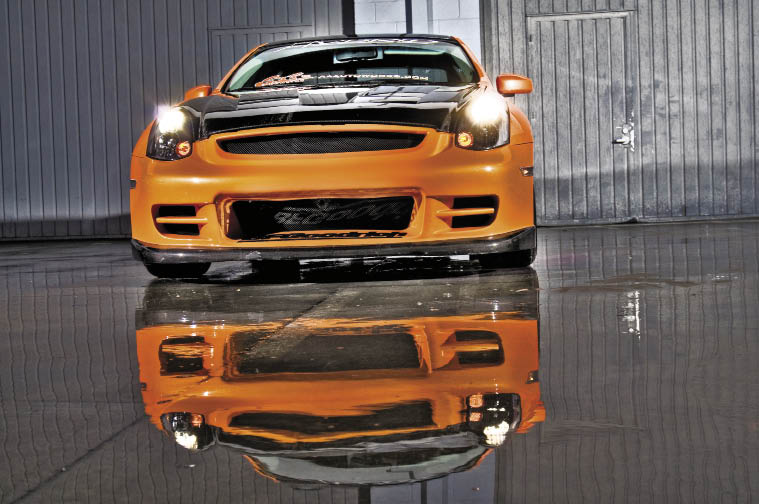 Custom taillight eye-lids are a nice antagonistic touch – the shape is very similar to the Mitsubishi Evo X tails – but the lowered tuner stance is owing to Espelir GT springs and a SPC camber kit that helps tuck the 19-inch Work VS-XX 3-piece wheels up nicely inside the fender wells. After each wheel got its custom finish, BFGoodrich g-Force T/A rubber, sized 245/35 and 275/35 in the front and rear respectively, was shoe-horned on. The factory Brembo brakes are still fit for duty.
More Japanese influence envelops the cockpit. Door sills come from a Skyline. The shift knob is Nismo. Even the AC system comes from a Japanese model. The rest of the custom interior was put together in a matter of weeks during the 2007 Christmas rush. In fact, two North Hollywood shops – F1 Audio & Video on Magnolia and A&A Autosound on Sherman – collaborated on this gnarly system to show-off in the Visonik booth at the 2008 Consumer Electronics Show (CES) in Las Vegas.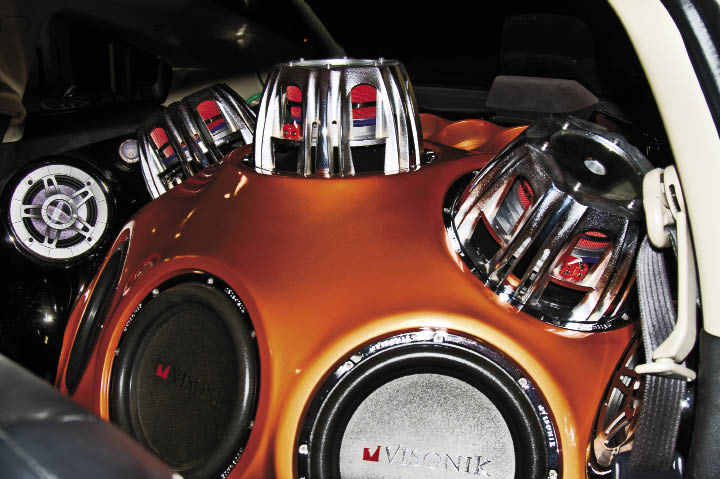 The system is clearly divided into two sections. The front section features a 7-inch wide Xenarc touchscreen monitor that replaces the factory audio with a custom faceplate, DIN panel and center console trim that looks well integrated. There's an Alpine CDA-9885 head unit in glove box to play straight from CD, but the real highlight up here is the Apple Mac Mini computer, which runs at 1.83 GHz and controls the entire system via Bluetooth keyboard and mouse, that sits in a removable Plexiglass harness between the front seats.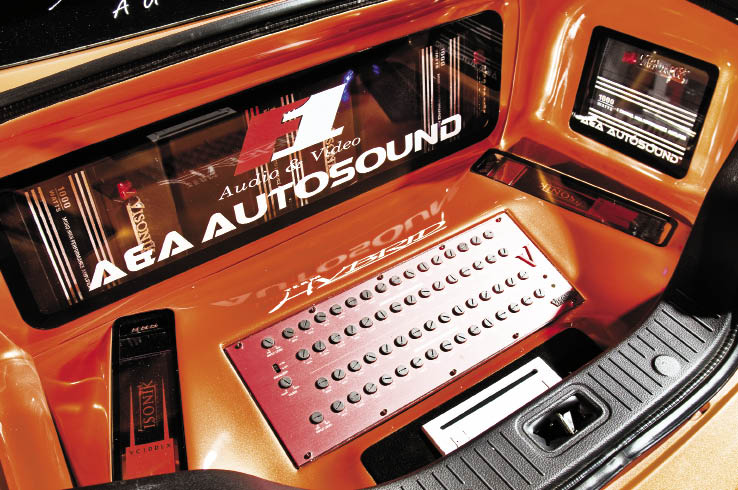 Directly behind those is a massive sealed subwoofer enclosure that negates the back seats, but adds some mega bass as it's filled with no less that a half dozen 12-inch 500W RMS subs. The two closest to the front fire directly into the seat backs while the other four are inverted to produce the rumbling lows. Each V128D4 sub gets its own Visonik V318XT monoblock amp good for a total of 6,000W peak while two V418XT 4-channel amps supply power to three V650XTC 2-way speakers. One set is found in the front doors with a second set mounted on custom trim panels that flank the sub box inside the car. The final set can only be seen when the trunk lid is open.
Of course, there's more than just speakers here in the back section. For starters, the inner trunk lid features a fiberglass panel that houses a 19-inch Acer widescreen LCD monitor in addition to the remaining 6.5-inch components. Helping take full advantage of this nifty mod, a Nintendo Wii console is mounted in the trunk floor. This is where all of the power and distribution hardware resides too. Note the amps behind the Plexiglas windows (not all are visible) and the massive V30EQ 30-band graphic equalizer in the trunk floor. A trio of 1-farad capacitors help shore up the power supply, which originates from a pair of dedicated Optima Yellow Tops. Custom trim panels make everything look nice and there's a special VGA selector that routes the signal(s) wherever it's wanted.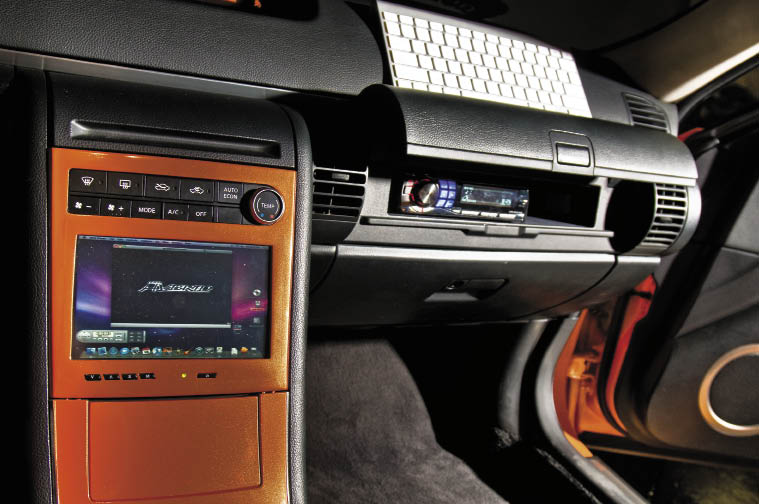 It's been a long road to get to this point. Fortunately, it hasn't been a lonely road for Puertollano. "A big thanks to James Lin of Team Hybrid and HybridHunnyz.com for all of the behind-the-scenes work on my build-up and sponsorships; and, to my Hybrid family, brother Allan and my honey Ira for all their full support.
"Special thanks to Karl, Alain and Frankie of AA Autoworks for all of the hard work they've put into my car and helping me build it to where it is right now. Last but not least, thank-you to Visonik for the equipment and the chance to go to the CES.
We're looking forward to some engine and performance mods to report on. As is, the Lambo orange G35 looks and the technology parts down pat. Now, if it only it had satellite TV and a PVR. Oh, the road trip you could have?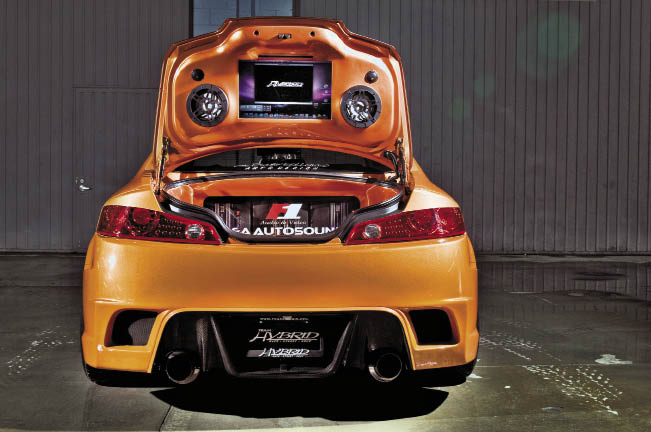 THE ESSENTIALS
Owner: Alvin Puertollano
Location: RESEDA, CA
Vehicle: 2005 Infiniti G35

ENGINE MODIFICATIONS
Injen cold air intake (with MR version)
RS*R ExMag GT2 cat-back exhaust system
Custom 350z Y-pipe extension
Nismo tubular headers
Polished upper plenum
Carbon fiber engine cover
JDM battery cover w/ custom carbon fiber overlay
Optima Yellow Top battery
WHEELS & TIRES
Work VS-XX wheels (Lamborghini Orange Pearl custom paint)
BFGoodrich g-Force T/A tires - Front: 19x9.5-inch, 245/35R19, Rear: 19x10.5-inch, 275/35R19
SUSPENSION
Espelir GT lowering springs
SPC camber kit
TEIN pillow mounts
EXTERIOR
Top Secret Super G-Force front bumper with custom carbon fiber lip overlay
Seibon TS-style carbon fiber hood
INGs LX Sport front fenders
INGs LX Sport sideskirts
KenStyle rear bumper w/carbon fiber lip overlay
Carbon fiber roof
Carbon fiber trunk
Custom taillight eye-lids
Custom Lamborghini Orange Pearl paint job
33% black tint windows

INTERIOR
JDM Skyline door sills
JDM Nismo shift knob
JDM A/C conversion
Custom Lamborghini Orange Pearl painted center console trim

AUDIO / MULTIMEDIA
Visonik V128D4 12-inch subwoofer (x6)
Visonik V418XT 1,000W 4-channel amplifier (x2)
Visonik 4318XT 1,000W mono amplifier (x6)
Visonik 6.5-in. 400W 2-way component set (x3)
Visonik V30EQ 30-band graphic equalizer
Visonik 1-farad capacitor w/ distribution terminal (x3)
Acer 19-inch widescreen LCD monitor
Xenarc 7-inch in-dash touchscreen LCD monitor
Pyle 7-inch monitors (x2)
Alpine CDA-9885 head unit (in glove box)
Apple Mac Mini 1.83 GHz
Apple Mac Bluetooth keyboard
Nintendo Wii console (Wii sensor custom molded)
Custom fiberglass sub enclosure (No Backseat)
Custom fiberglass amplifier/capacitor rack
Custom fiberglass trunk lid w/ 19-inch LCD
Custom in-dash DINs
Optima Yellow Top batteries (x2)
Monster cables, wiring, adapters, etc..
SPONSORS
AA Autoworks
A&A Autosound
BFGoodrich Tires
Meguiar's
F1 Audio/Video
Visonik Car Audio
www.HybridHunnyz.com