When Dan Quibell bought this full-size Denali in the summer of '04, and his original vision for it was not to transform it into the show-stopping, daily-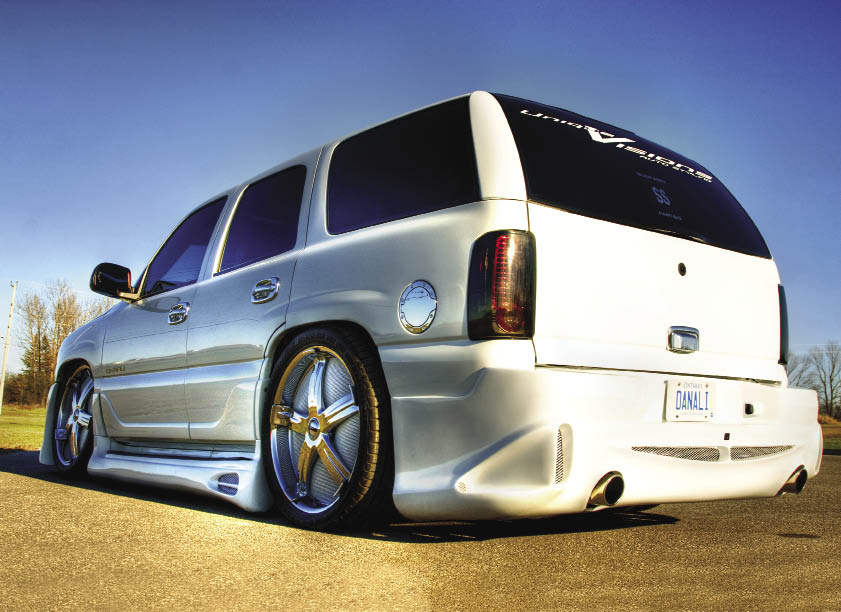 driving, full-size lowrider you see today.
"It was my first new vehicle," he recalls. "The first week I had it, I bought some 22s from Lexani and some aftermarket chrome accents and was going to just leave it at that."
Yeah right! Anyway, as the story goes, everything was cool for a few months. Then, one day after a Christmas shopping excursion with his wife and kids, they all came outside to find the truck had been stolen. "As if the whole family being stranded in a cold mall parking lot isn't bad enough my wife says, 'I told you not to add those big rims."
Police eventually recovered the vehicle – a day before the insurance company was scheduled to replace it with a newer '05 model no less.
Then one day, fate seemed to intervene yet again.
This time, the Quibells were out buying a second car when a poster of a customized Chrysler 300C on the wall of the dealership caught Dan's eye. And so, with the custom bug now stirring inside him, he did what any self-preserving family-man would do... Not only he did buy a 300C – "I bought my wife
a set of 22s and a car audio package with navigation so she couldn't complain about what I was going to do to our family hauler."
A few weeks later, Dan went to visit ESS Customs in Mississauga, ON where the Denali was fitted with 24-inch Davin Spinners along with a top-of-the-line Viper security system with GPS and cellular tracking.
Not stopping there, the ESS crew shaved off the roof racks, rear wiper, antenna, badges and added an Erebuni body kit, Lambo-style vertical doors and custom taillights.
A complete Air Ride Technologies ShockWave airbag suspension soon followed. Featuring two Viair compressors, ART dual five gallon tanks and half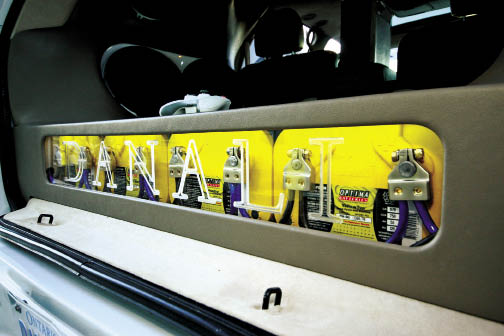 inch lines, it can be operated by remote control or via switches found on the custom dashboard.
"The exterior was looking pimp... But having previously owned a truck with a dozen 12-inch subwoofers inside the extended cab, something was definitely missing."
Quibell has held the pinks to several custom cars over the years, including
a '69 Chevelle SS, a '77 pro street Monza, as well as a the '96 Chevy full-size pickup that Pioneer used as
a demo vehicle (as per above).
A self-confessed car audio junkie and desperately in need of some beats, Quibell did his research and quickly found himself dropping off his ride at Unique Visions Auto Styling (www.uvisions.ca) in Concord, ON, who went above and beyond his expectations with the build.
"I explained how I wanted a motorized big screen in the back with JL Audio subs, lots of batteries, lots of mids and highs, plus most importantly the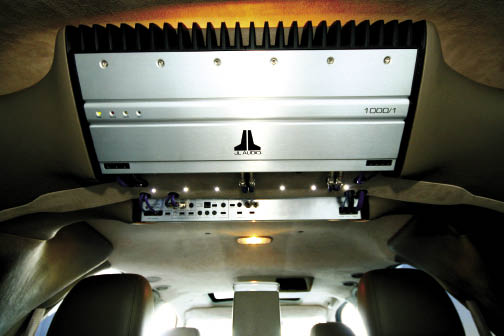 system had to be hella loud and clear," says Quibell.
Unique Visions head installer Ryan Griffiths finished off the dash with an inset Kenwood eXcelon DDX8120 head unit and custom switch panel – to control everything from the air ride system installed by Altered Altitude to the 13-million colour Street Glow underbody LED kit by Unique Visions.
Inside, the team at ESS hooked up the custom suede headliner, pillars and door pads along with vinyl insertsr, while Unique Visions handled all plexi and vinyl work. The Kenwood DNX8120 all-in-one entertainment unit has built-in Bluetooth and integrated 6.5-inch touchscreen display amongst many other features like navi. An Xbox 360 gaming console has also been hidden via motorization inside the built-from-scratch custom suede/vinyl rear console, which also houses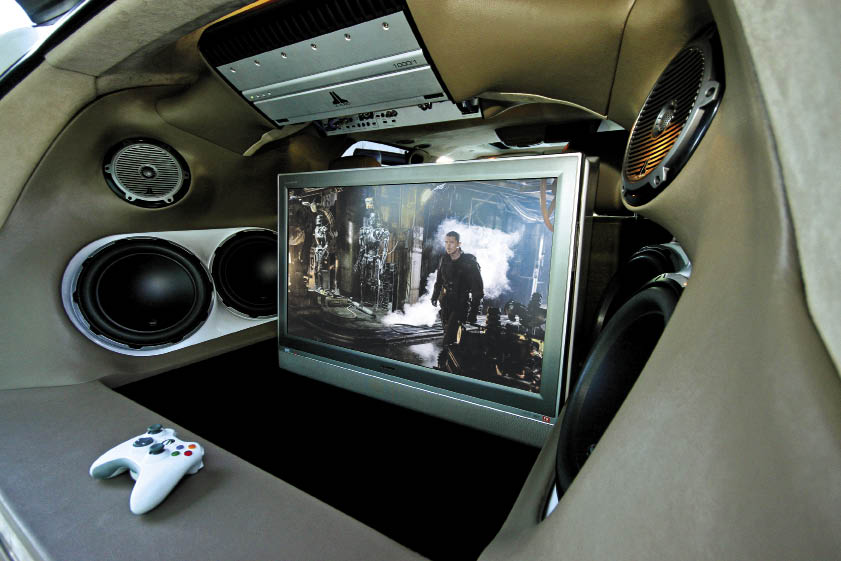 two JL Audio 450/4 midrange amps. Two more amps are hung upside down on an amp rack that's integrated with the ceiling and headliner; and, Quibell points out "...there are 20-inch monitors built into the rear quarter windows so the whole world can see what's playing."
Bass reproduction comes from a hard-hitting quartet of JL Audio 12W6 subs in two large sealed enclosures back in the cargo hold. Directly above the subs, a set of JL Audio two-way marine speakers add some rear fill while the rest of the mids and highs are taken care of by trio of 6.5-inch ZR component sets placed throughout the interior in fuzzy speaker mounts.
The biggest highlight of the install though is perhaps the hide-away big screen TV, which at 37-inches large, still tucks away enough to afford some cargo space. The slanted floor indicates how this piece was able to fit at all, and doubles as a battery cave with some yellow tops on display through a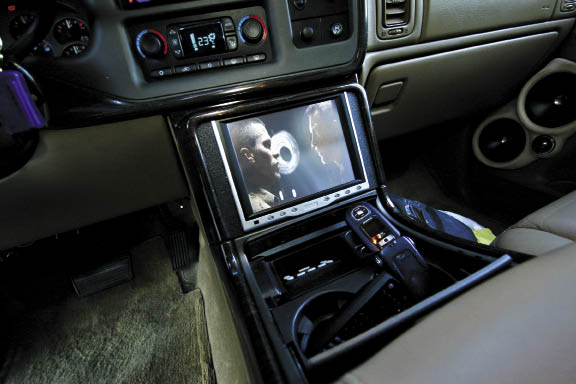 clear panel. There is another Optima battery under the hood along with an upgraded alternator from Ohio Generator.
The truck was finally finished last October; and, according to Quibell, "...was completed in a fraction of the time I expected. The team at Unique Visions put together one of the nicest audio/video setups I've seen and used with the materials that I wanted to give my truck an almost stock look when in "stealth mode."
"I want to personally thank Roni Prizant, owner of Unique Visions, and Ryan Griffiths for doing a great job, and doing it so quickly and professionally."
While the decked-out Denali is yet to make any significant appearances since its completion, "I did enter one show while it was under construction," says Quibell. It was a smaller show in Port Perry, ON, but "it won 'best of show,' 'best car audio design' as well as 'best wild design"
With a full slate of shows upcoming in 2009, the system and message here is loud and clear. Don't mess with Denali - coming soon to a show near you. 
Read on for Full Spec Sheet