One of the most important systems in your car, yet often overlooked is the clutch and flywheel system. These components are a vital part of any manual transmission car, which takes the power from all of the upgrades you perform and transfers it to the ground. In many cases, buyers go out there and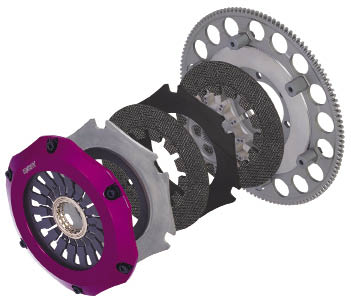 request one of the most serious clutches on the application list but don't consider what is right for their use and driving style. Since we have a backstage pass at Exedy Racing clutch, we questioned them on what our readers might want to know about proper clutch selection.
We spoke with Exedy's Aftermarket Specialist Evan Cline about the Exedy lineup; everything from a step above OEM to their most hardcore product - the triple carbon race clutch. "We have a huge amount of OEM business here at Exedy." admits Cline "Although our line of racing clutches accounts for a small portion of revenue, it is important for us to build a superior product and get it on the right competition cars." They sponsor many hardcore competitors like Vaughn Gittin Jr's drift Mustang and several Time Attack cars. Their foray into worldwide competition from grassroots all the way to top level motorsports has enabled their engineers to learn from experience and port that knowledge into every product they have.
A common misconception about Exedy Racing is that they only manufacture expensive carbon clutches. Exedy manufacturers all kinds of street clutches as well for every stage of modification. Before you order, you have to ask yourself a few critical questions. What kind of torque am I producing or will realistically produce? Torque figures are far less subjective than horsepower and can give the retailer a better idea of what clutch is ideal. Then you have to ask what purpose the car has: pure street, half street / track, light street with heavy track or all out competition. Knowing this will assist in proper selection of the clutch ensuring you have enough but not too much causing premature failure or other mechanical problems.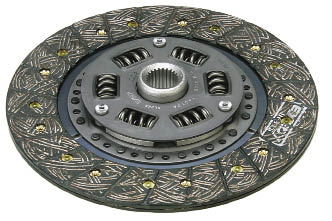 The Exedy Stage 1 Organic clutch is the first step up in quality over their line of OEM-spec clutches. The Stage 1 clutch is great for the casual enthusiast looking for a very smooth engaging clutch that is going to drive similar to the OEM disc but capable of handling moderate modifications like: intake, exhaust and ECU. The clutch is quiet, light yet grabs harder than OEM any day of the week.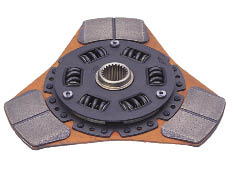 The Exedy Stage 2-3-4 Cerametallic disc with sprung hub center section is a solid choice for the weekend racer. These applications handle moderate to aggressive levels of modifications, yet offer consistent operation whether being daily driven or wide-open on a race track. The sprung hub center offers ease of engagement and absorbs many of the driveline vibrations at idle and during acceleration. However, for more clamping force and a direct feel on race applications the solid hub is the way to go.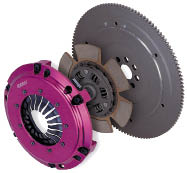 A more serious choice for racers out there is the Exedy Stage 4 & 5 Cerametallic disc with solid hub center section. This clutch should be installed in highly modified track cars putting out big torque numbers. The buyer of a clutch like this will not mind a stiffer engagement with more noise in the pursuit of performance. This type of clutch will offer a heavy duty clamp but "clutch chatter" and driveline vibrations will be experienced with the solid hub.
Now for the premier clutches from Exedy, the Hyper line of carbon fiber clutches. The Exedy Stage 3 & 4 Carbon disc with sprung hub center section is an ideal choice for a dedicated race car that needs a smooth engaging clutch with minimal driveline vibrations. Not only does the carbon disc provide superior engagement but it's very lightweight resulting in extremely quick shifting action. The unsprung hub will of course offer a more direct feel but with loads of clutch chatter, stiffer engagement and more ambient noise.
So which clutch did we choose for our Project R32?
The craziest clutch of course, the Hyper Triple carbon fiber multi-plate! This clutch is only for bad-man machines and can hold up to 750lb-ft on the drag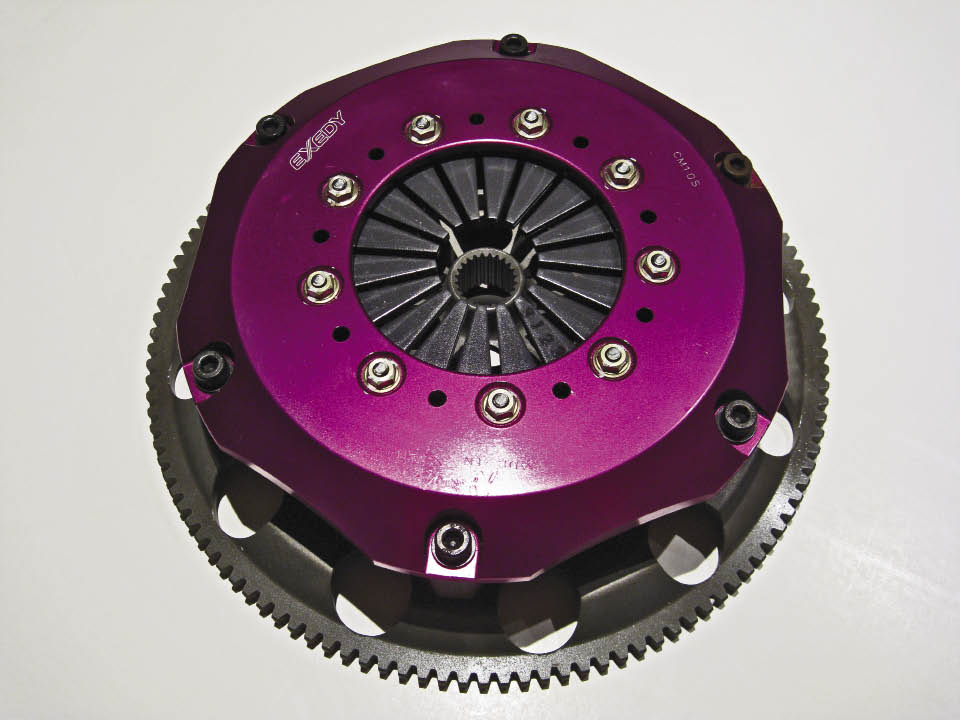 strip and 900lb-ft on the road course. Sure it is overkill for now but we beat the hell out of this car and are on track to make respectable numbers. Now will we ever make that kind of torque from an RB? Probably not, GT-Rs don't make too much but then again, the twin plate wasn't going to be enough for the car.
We stopped by Absolute Motor Specialties where owner Vuk Zivic got a chance to look at the triple. "Wow, now that is a serious clutch right there." Zivic yelled. With that he wanted to pull the plates apart to observe how it was constructed and clean off any debris on the carbon discs and metal friction plates. Then it was torqued back up and the removal of the old clutch had begun. After a couple hours we finally got to crack open the bell housing and see why the GT-R no longer wanted to move and smelled like an electrical fire! The culprit was one thoroughly beaten Nismo RS280 street disc and a stock flywheel. The spring Nismo street disc was down to the rivets, the springs were burnt blue and stunk up the shop but the real concern was with the flywheel. The flywheel was covered in hairline cracks from abuse and overheating – we are awesome!
Since all of this gear was now totally useless, it had to be scrapped unlike the rebuild-able Exedy multi-plate clutches. We installed a titanium JUN pivot pin while we were in there, which is mandatory for heavy duty clutches. The stock pivot pin is weak and will snap when you throw a man's clutch on your GT-R. Afterwards, everything was put back together and the transmission was refilled with Red Line synthetic MTL transmission fluid to keep the syncros silky smooth.
Part of the benefit of carbon clutches is that they require no special break-in procedure period. Just heat them up a bit and they are ready to hold the torque! So we rode the clutch a bit to get it up to temp and then went screaming down the street. The shifting action was so smooth and the revving was much snappier considering this clutch and flywheel combo only weighs 27lbs! The pedal engagement is fine, sure it is stiffer but there is some dead-zone and it doesn't act like an on/off switch. For someone driving this car for the first time, there is no way they could tell this car runs the master of all clutches, the $3500 Hyper Triple Carbon! On all of our track days since, the clutch has never been a concern. It has never slipped and never smelled as so many lesser clutches may during the rigors of road racing.