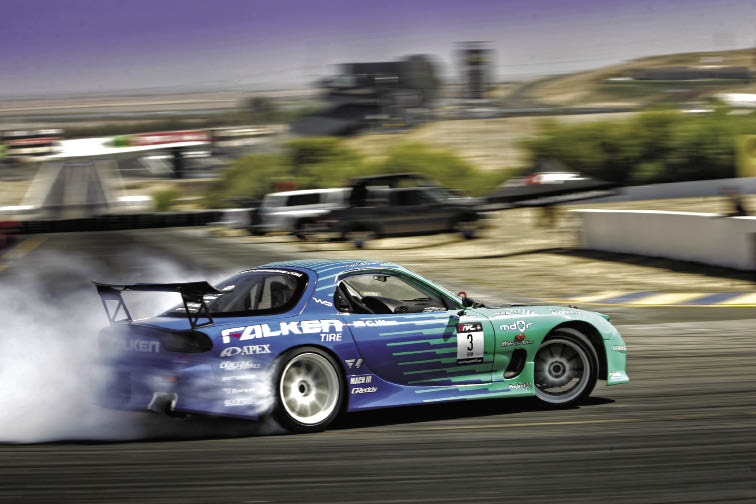 Written by Dave Pankew |Photos by Chris Manacop (Cipher Media Group)
Ever noticed how a message can get totally lost in translation? Often it's due to the lack of market research done in the socio-economic climate translations and regional slang that can make a marketing mess of any product launch. Case in point, the Ford Pinto, this 3-door compact car was launched in Brazil with disasterous results. The word 'Pinto' in Brazilian slang actually means small male appendage, which wasn't a hot model for obvious reasons. Or how about the urban legend of the Chevy Nova, where the words "No Va" translate into "it doesn't go" in Spanish, sealing the fate of this performance car in Mexico and South America. Then there is the Mazda FD3S RX-7 which is one of the more polarized love or hate cars of all time. North America was all about the body style, but just couldn't grasp the concept of spinning triangles and no camshafts inside the motor. But in Japan, the car was wildy successful with a production run of 10 new models between 1992-2001.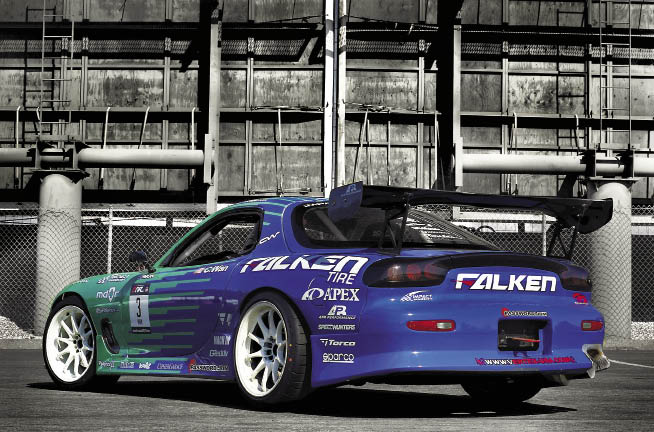 After its end in 1995, there were seven more new models of the FD RX-7 in Japan. The popularity of the car never waivered, since the Japanese were decidedly better at taming the triangles than here in North America. So the tuners here really were going against the grain with few shops being able to work on them and parts being rare to find in stock. Their allegiance to the RX-7 platform made them almost their own society speaking about parts and theories other enthusiasts had never heard about.
Enter Calvin Wan of San Francisco, CA. You know him as the Falken drift driver who once piloted a G35 but has always been about the FDs. "I have owned several," claims Wan "I have this competition car we built back in 2004 and a couple of street versions before too." With the help of Falken's resources they put together a serious car but it lacked some reliability for competition so it was shelved. But it's back and has an all new 2008-spec that is going to be a real threat on the drift circuit.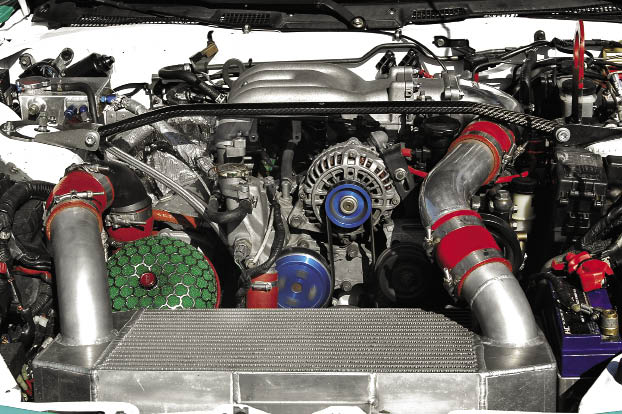 Starting with a fresh 13B-REW work commenced on building a champ. Rotary Engineering did a full race port on the motor which was sleeved back in with MazdaSpeed motor mounts. An A'PEXi AX75F92 single turbo kit was added along with A'PEXi racegate and the squished chilled by a Rotary Extreme Monster V-mount intercooler. On the hot side, the gases headinto an A'PEXi downpipe and GT exhaust. A couple GReddy parts found their way into the project too, an intake elbow and the under-drive pulleys. All that new gear needed some fuel, so Wan added RC Engineering 850cc primary injectors and 1300cc secondaries. HKS added to the project by donating a 4-inch Mega Flow filter and a a Twin Power DLI ignition.
After all the bolt on gear was fastened up they headed to the dyno at Garage Boso. Lead tuner Frank Siharath tuned-out the A'PEXi Power FC with the Commander to make some jam. At 15psi set by the A'PEXi AVC-R, the 2-rotor churned out 402whp with 305lb-ft. More than enough instant –on power that drift cars require. Wan held it al together by adding an Exedy twin carbon clutch and a KAAZ 1.5way LSD rocking 4.10 gears.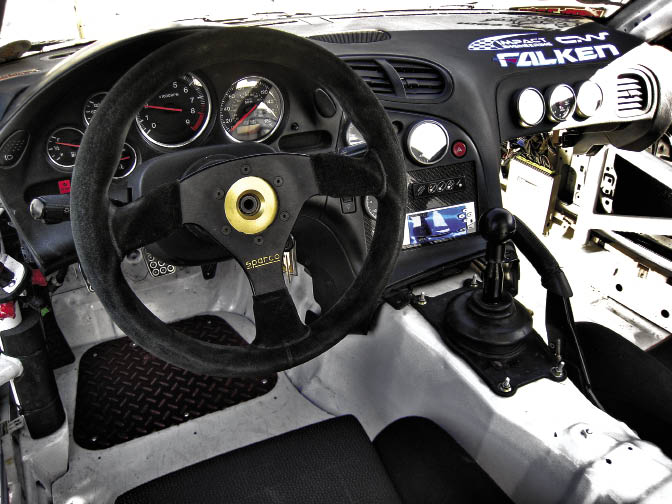 Hop inside the car and its exactly what you expect to see in a competition car. Sparco Corsa race seat with a 6-point harness draped over it faces a Sparco 330mm wheel. Impact engineering redid the floor pans and the car is fitted with a Formula D-spec cage by Impact Egnineering. To monitor the high-revving rotary, A'PEXi EL II meters measure: Boost, WaterTemp, Oil Temp, Oil Pressure, Fuel Pressure and EGTs. On the safety side, a Sparco extinguisher and battery cut-off were added.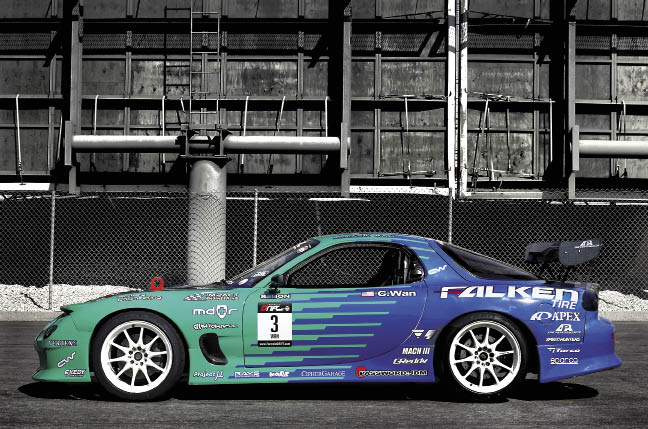 Wearing the trademark teal and blue colors, there is no mistaking this car as anything other than Falken. Fitted with a full Vertex bodykit, this FD looks unlike anything in Formula D. A Seibon KS Style Hood was added along with a Seibon carbon fiber hatch and doors to shave off all kinds of weight. An APR GTC-300 Adjustable Carbon Wing and Impact Engineering Lexan windows make no mistake that this is a full competition car. Finally a complete Falken wrap was hooked-up by GTstickers.com to give some love to the sponsors.
The suspension was the main consideration on this car because all the power in the world couldn't help a bad setup. A'PEXi N1 drift coilovers were added to high degree of adjustability. Rotary Extreme helped out with droppin' some lateral links, toe links and sway bar links under the chassis. A tri-point Engineering front sway bar was also added along with Super Now tie rods and ends. The corner weighting was performed by Impact Engineering and the aggressive race alignment done by Mach III to make it all work together.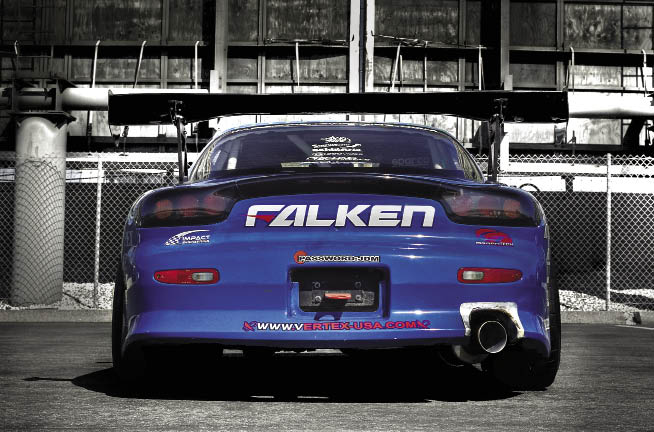 The drift gear is of course Falken product. Wrapped around Volk Racing CE28N wheels, the Falken Azenis RT-615s are sized perfectly with 245/40R18 in the front and 265/35R18 out back. The braking didn't need much, Wan just used OEM calipers from the Type-RZ RX-7 in Japan amped up with some: Endless stainless braided lines, Project Mu SCR-Pro rotors and D1-spec pads.
At the end of the day Calvin Wan is thrilled to be where he is. He is in an RX-7 and backed by the most recognized drift tire manufacturer and getting paid to do it. All under the sunny skies of Northern California, life is good, we'll have to stay tuned how the new formula works out.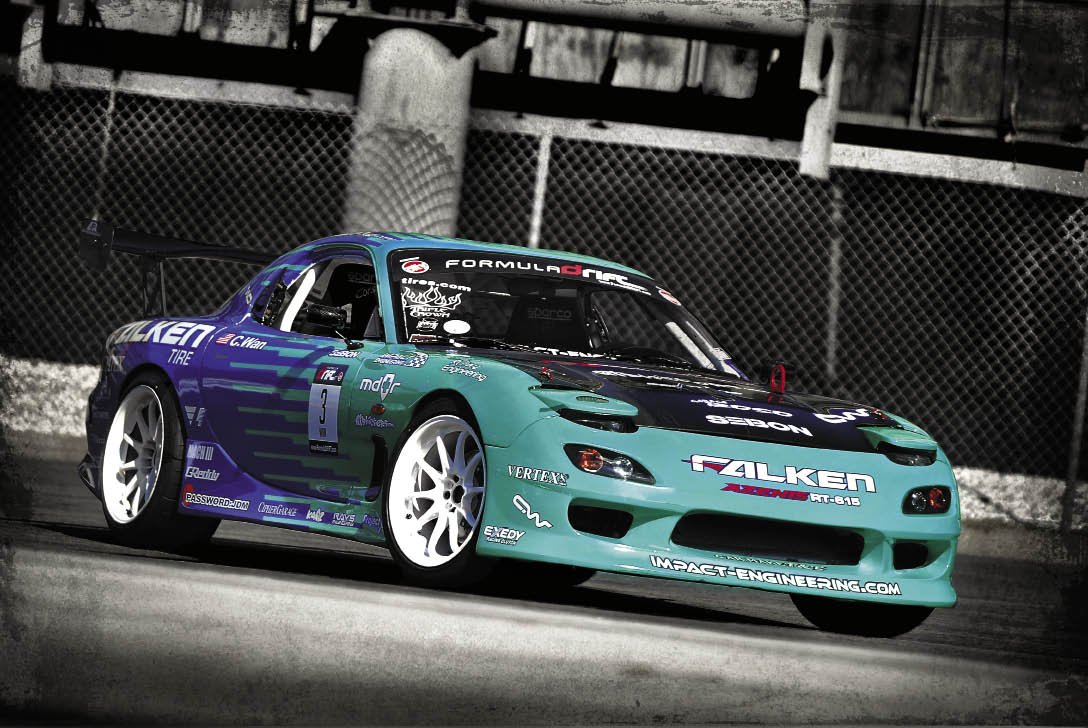 ESSENTIALS
Owner: Calvin Wan
Location: San Francisco, CA
Vehicle: 1993 Mazda RX-7
POWER: 402whp with 305lb-ft
ENGINE & PERFORMANCE
Apexi AX75F92 Single Turbo Kit
Apexi Watercooler Race Wastegate
Apexi BNR33 Fuel Pump
Apexi GT Spec Exhaust
RC Engineering 850cc Primaries
RC Engineering 1300cc Secondaries
HKS 4" Intake Filter
Greddy Intake Elbow
Rotary Extreme V-mount Intercooler
HKS Twin Power
Greddy Underdrive Pulley
Apexi Air Separator Tank
Apexi Radiator Caps
Mazdaspeed Motormounts
Car Built by: MD-R: Henry Chung
ENGINE MANAGEMENT
Apexi Power FC w/ Commander
A'PEXi AVC-R
Engine Tune By: Garage Boso: Frank Siharath
DRIVELINE
Exedy Carbon D Twin Plate Clutch
Kaaz 1.5 Way LSD
RE Amemiya D1 Spec Short Shifter
Super Now Solid Diff Mounts
4.10 Final Gear Ratio
WHEELS, TIRES, BRAKES
Volk Racing CE28N with Falken Azenis RT-615
(F) 18 x 9.5-inch with 245/40R18
(R)18 x 10.5 with 265/35R18
JDM RX-7 Type-RZ
Project Mu pads
Project Mu SCR-Pro rotors
Endless stainless brake lines
SUSPENSION
Apexi N1 Evolution Damper Type Drift
Rotary Extreme Toe Links
Rotary Extreme Lateral Links
Rotary Extreme Front Sway bar mount
Super Now Steering Tie Rods Adapter and Ends
Tri Point Engineering Adjustable Front Sway Bar
Cusco Type ALC-OS Front Strut Bar
Cusco Type CB Rear Bar
Race Corner weighting by: Impact Engineering
Race Alignment & Tire Service by Mach III
EXTERIOR
Vertex Full Aero Kit
Seibon KS Style Carbon Hood
Sparco Hood Pins
Seibon Carbon Doors
Seibon Carbon Hatch
APR Formula GT3 Carbon Mirrors
APR GTC-300 Adjustable Carbon Wing
Graphic Wrap & Decals By: GTstickers.com
Impact Engineering Custom Lexan Windows
Compete Chassis Lightening, Reinforcement and Spot Welding by Motorsport Dynamics
INTERIOR
Sparco Corsa / Rev Seat
Sparco 5 Point Harness
Sparco 323 Steering Wheel
Impact Engineering Floor Plate
Apexi EL II System Meters: Boost, Coolant Temp, Oil Temp, Oil Pressure, Fuel Pressure, EGT
Sparco Fire Extingusher
Sparco Battery Cut Off Switch
Impact Engineering Custom Roll Cage