Photography Courtesy of APR
---
Volkswagen's EA888 Gen.3 engine and MQB platform prove, year after year, just how potent that combo can be. APR is no stranger to the hidden potential of this pairing, and a perfect example is the MK7 GTI they've pieced together to be a standout performer.
The 2017 GTI that you could go to the dealer and grab right now has about 210 horsepower (220 with the performance pack) and 258 lb-ft of torque from its 2.0-liter turbocharged engine. The 2015 GTI you see here that has been made over by APR is packing some ridiculous power. Over 550 horsepower and 475 lb-ft of torque on race gas, in fact – just 340 horsepower over the base model, no big deal.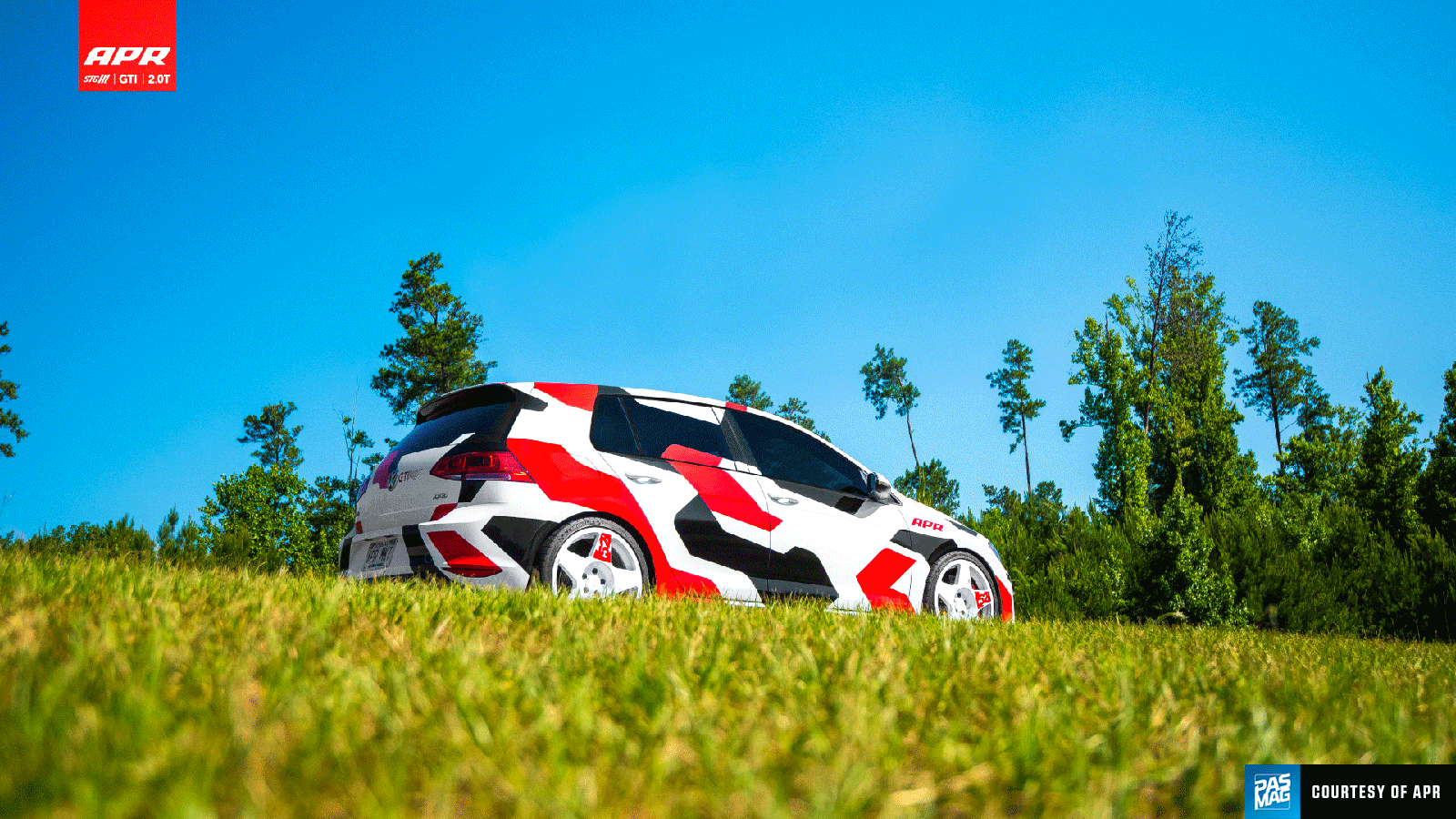 Letting APR achieve these crazy numbers is a whole suite of their tuning parts, all working in conjunction to output over 550 horses. At the center of this harmonious system is something that APR is very excited about: their very own built long block. APR's complete long block features forged connecting rods and pistons, piston rings, wrist pins, main and thrust bearings, coated rod bearings, stainless one-piece valves, valve stem seals, valve springs, valve titanium spring retainers, head studs, and overbore with torque plate, all of APR's design. Keep your eyes out for more on this as it develops and makes its way to market.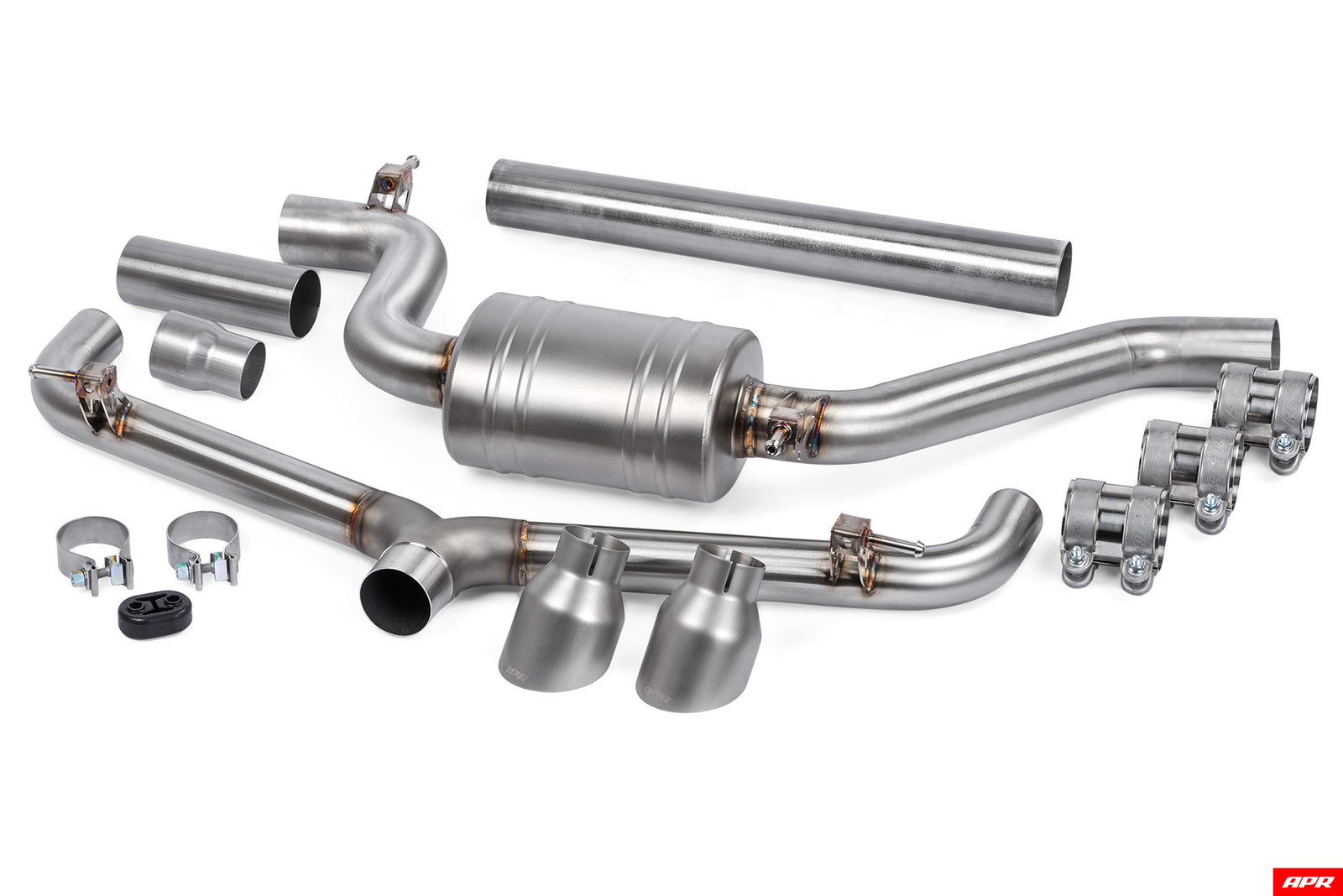 Wrapped around the long block is the Stage 3+ turbo system, which works in tandem with the carbon fiber intake and upgraded intercooler and utilizes a Borg Warner EFR 7163 turbocharger, with a "gamma-ti" turbine wheel with a mixed-flow design. This wheel and flow design combo produces very little lag from a turbo of this size, allowing for quick zips around town, or seat-pinning g-forces when the pedal has been dug into the floor. The Stage 3+ also includes upgraded fueling solutions that offer a low-pressure fuel pump and multi-port injection to the manifold.
One of the best thing about APR's system is that each part is investment cast and requires no welding. This power is bolt-on. Pair that with the fact that their Stage 3+ ECU upgrade is plug and play and the perfect match for the turbo kit, and you've got gobs of power that can be installed in your garage in a few hours without the need for involved tools or a dyno for tuning.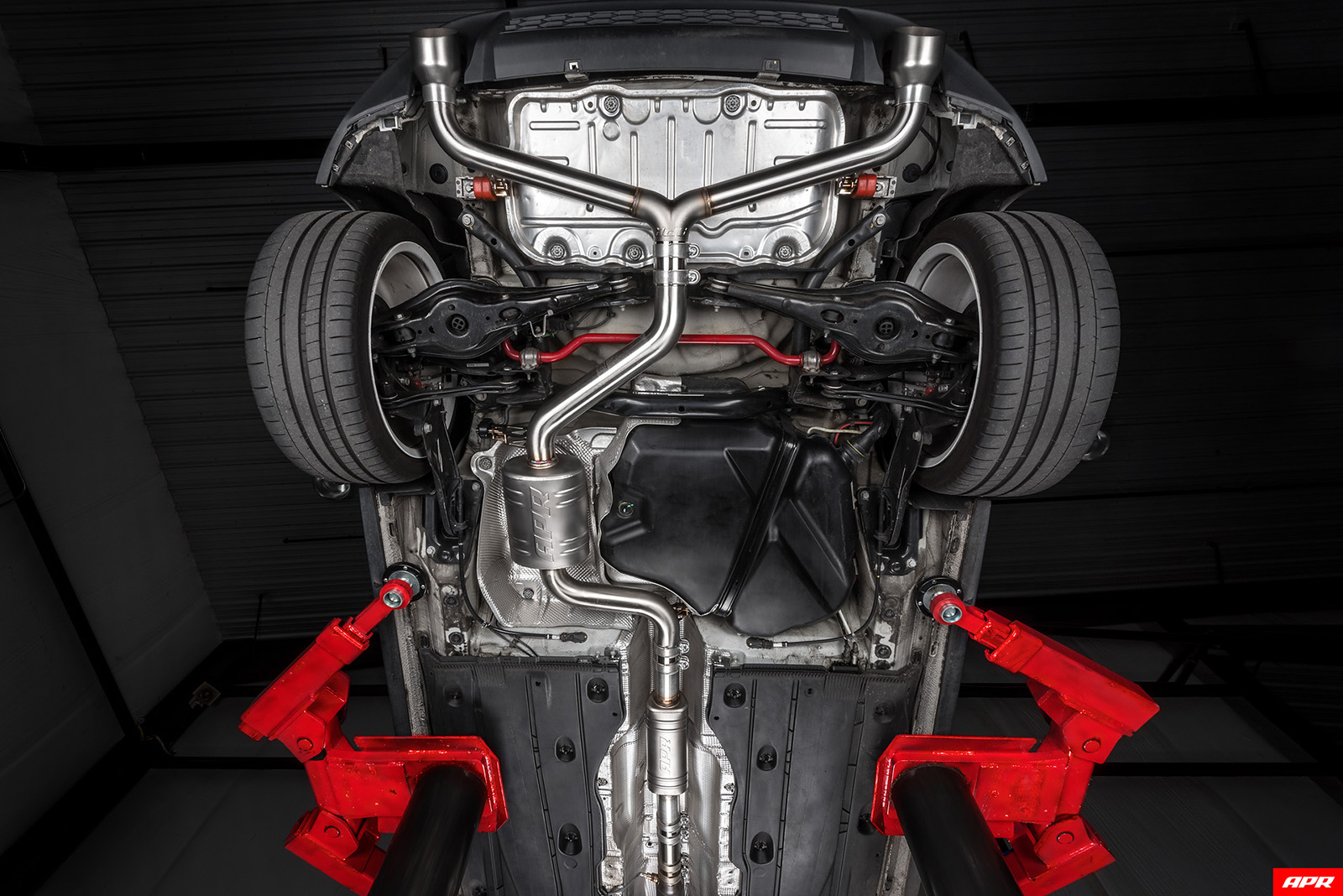 Something on the GTI that APR is especially proud of is their new cat-back exhaust system, which is the first to be independently designed, developed, assembled, and quality controlled in-house at their facility in Opelika, Alabama. Hand-crafted from T304 stainless steel and TIG-welded together, the straight through design delivers a smooth growl without adding rasp or drone. The system also weighs five pounds less than OEM, while using a three-inch OD piping and 2.5-inch for the split, compared to the 2.56-inch factory offering that restricts to 2.36 inches. Not to mention the four-inch satin-finished exhaust tips that tune the notes coming out the back of the GTI. The system is even tucked higher up, making it ideal for those who live the low life.
Supporting all the power that's been added to the GTI is APR's TCU upgrade, in order for the DSG transmission to keep up with all the extra power it needs to shift through, and lowering springs and sway bars in the front and rear for the extra traction and balance that are needed. APR even felt the need to install their six-piston big brakes on the MK7 to bring it down, which we agree is much needed. It's all finished off with Fifteen52 Tarmac wheels and a custom livery.
Make sure to swing by the APR booth at Waterfest to check out all their latest offerings for your platform. They'll be sure to have some examples of vehicles equipped with these incredible systems as well.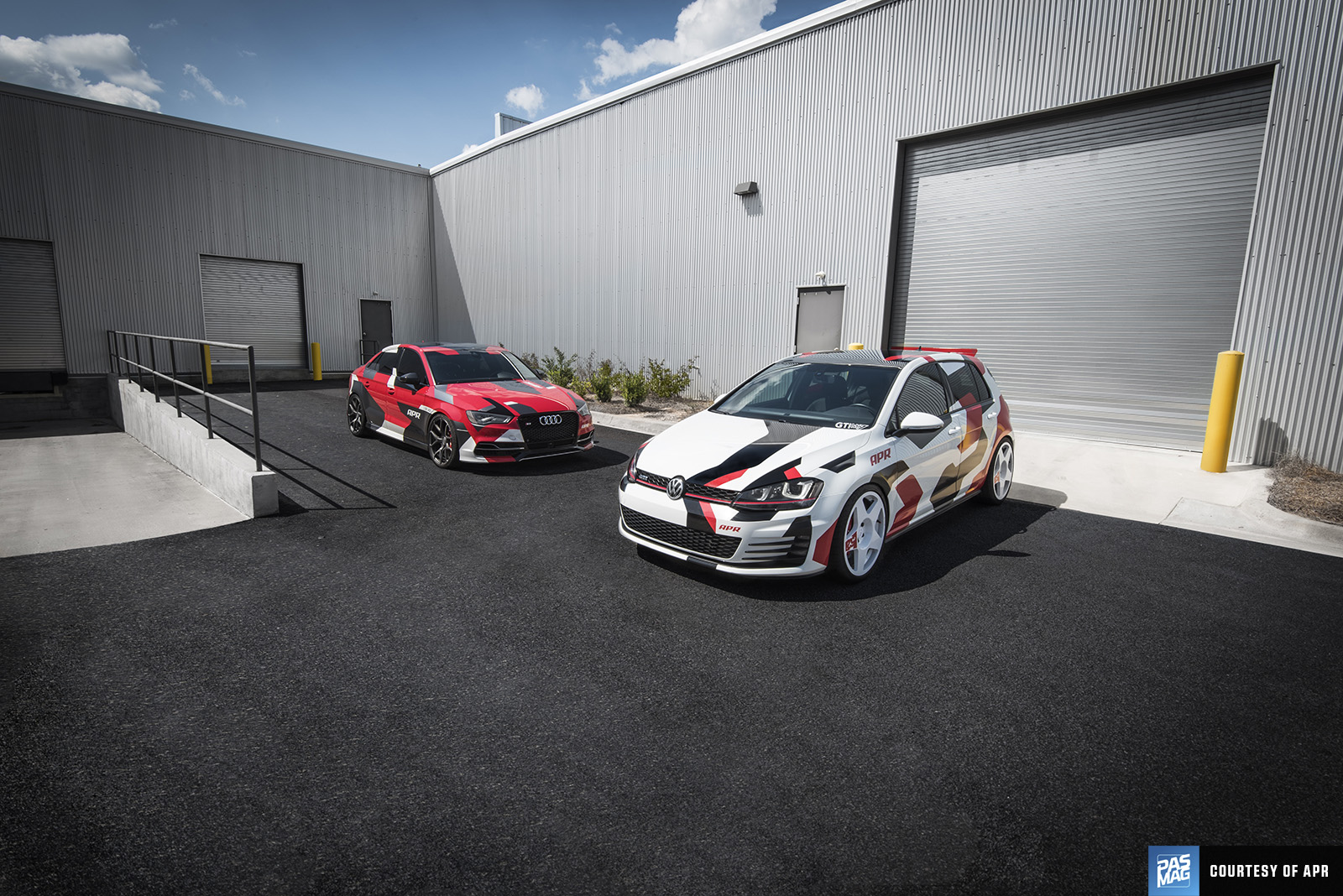 ESSENTIALS
Vehicle: 2015 VW Golf GTI
Engine: VW EA888 Gen. 3 2.0L TSI I-4
Horsepower: 550+ hp
Torque: 475+ lb-ft
ENGINE
APR (Complete long block, Stage 3+ ECU upgrade, Stage 3+ EFR7163R turbocharger system, Stage 3+ MPI fueling & LPFP, carbon fiber intake air box, carbon fiber intake turbo inlet pipe, intake system coolant hose, oil catch can, intercooler system, boost hoses, boost tap)
Motul 300V Engine Oil
EXHAUST
APR (cat-back exhaust system, cast down-pipe
DRIVETRAIN
APR DSG (TCU upgrade, clutch packs, transmission cooler)
CHASSIS / SUSPENSION
APR (lowering springs, front swaybar, rear swaybar)
WHEELS / TIRES / BRAKES
Fifteen52 Tarmac wheels
APR 6-piston big brakes
EXTERIOR
APR livery
Rear wiper delete
INTERIOR