Photos by Jeremy Alan Glover
---
When you hear the name Pat Cyr, the first thought that comes to mind is him flying sideways in his AE86 Corolla. When Scion Canada decided to get its new FR-S involved in the DMCC series, it was only fitting to have a Toyota supporter like Pat on board as their driver.
Fast forward and after months of hard work and late nights at his newly-opened shop, Cyrious Garageworks, Cyr's FR-S started to take shape. Trying to make his FR-S look different from the flood of other ones coming out, Cyr designed and fabricated a custom rear spoiler and front splitter he dubbed the 'Meat Slicer.' Paired with huge ML24 wide body flares and a matte paint job, it gives it a mean look that fits his style.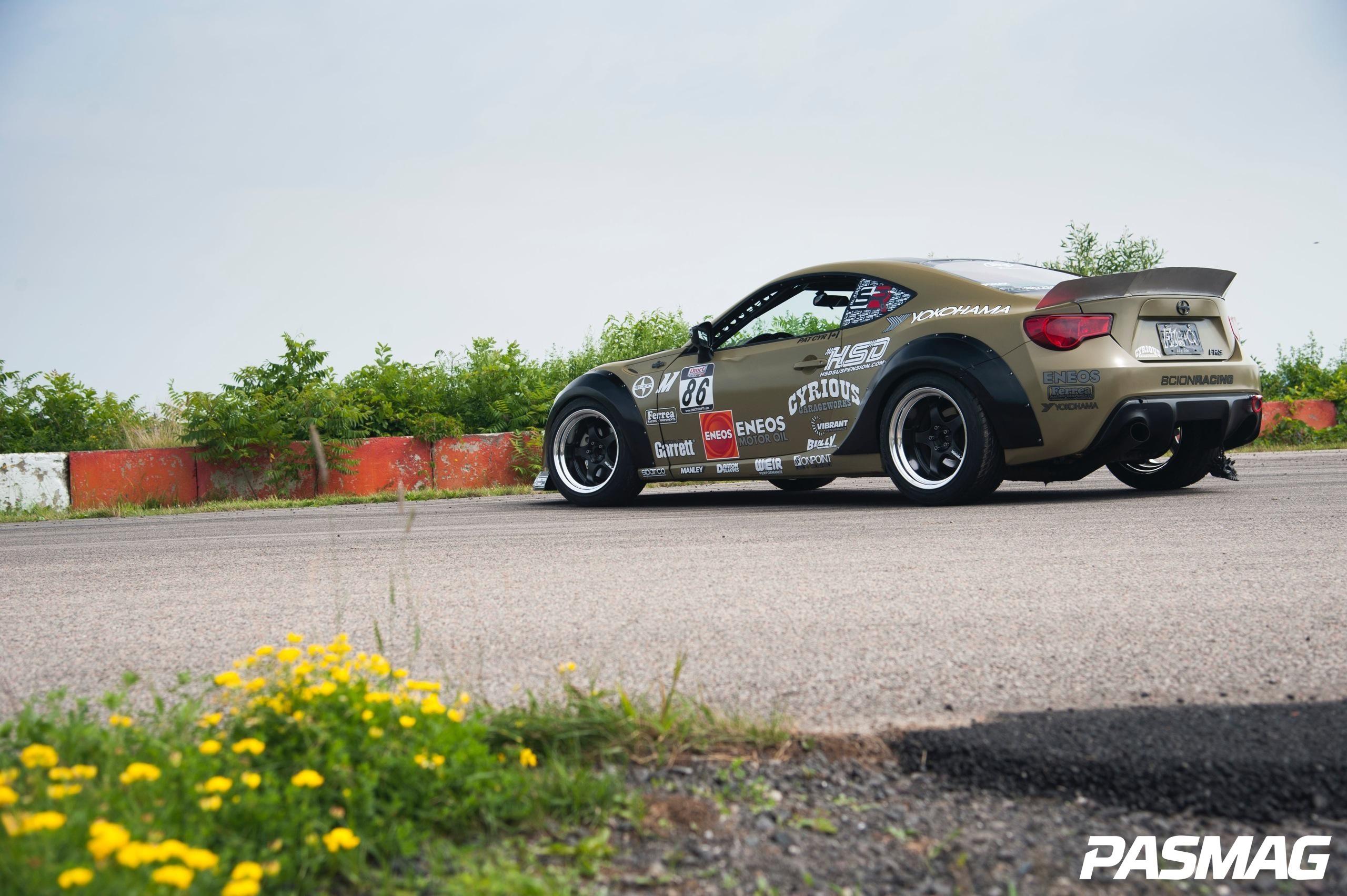 The car is slammed using three-way HSD adjustable coil-overs and rides on Work Meister 17x9.5 wheels and Yokohama S.drive tires to get as much speed as possible.
It is a DMCC car so the interior is all race car. The Cyrious Garageworks custom roll cage and stitch-welded chassis is all business, while Sparco takes care of the man with his steering wheel, seat and harness. AEM gauges help monitor the vitals.
When the car appeared ready it went out for his world debut, while Pat was still planning the final stages of the project. It was unveiled at the Montreal International Auto Show and it wasn't long before everybody was talking about it. After that it went on a journey to travel the Canadian auto show circuit with the rest of the Scion lineup.
With the car out on tour, Pat's efforts turned to finding more sponsors and decide what parts were needed to finish the build. He even made the trip out to the SEMA show with the goal of landing new sponsors and partnerships.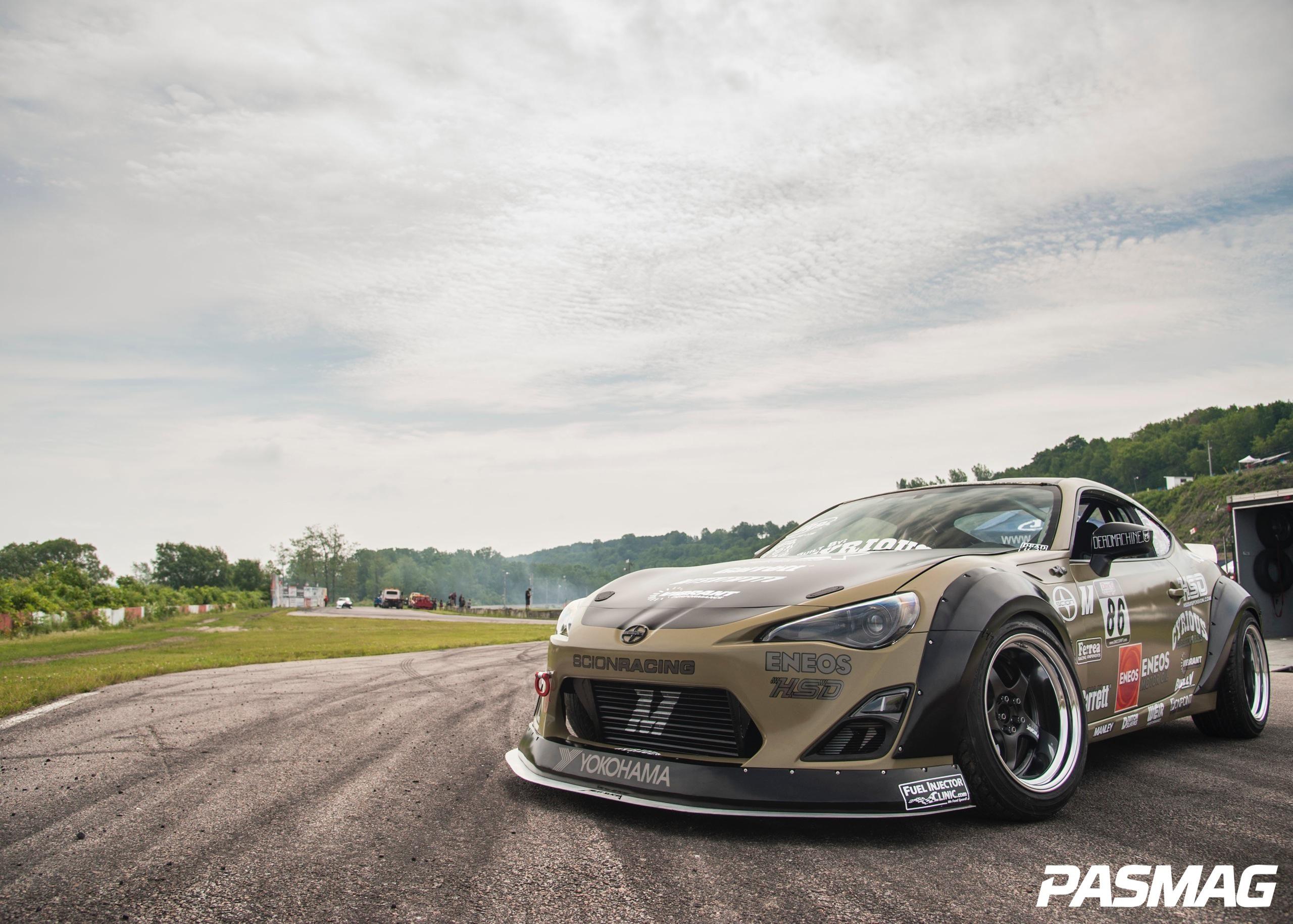 Upon arriving home it was time for him to start work on the motor. He had a few options in terms of swaps, but he wanted to see how far he could push the stock engine since it hadn't really been tested yet. To get the power necessary for competitive drifting, Pat added a Garrett GTX 3067R Turbo and all the necessary parts to keep the engine running strong, including parts from Darton, Manley, Mishimoto, ARP and Ferrea with Eneos Oil.
As a member of Scion Racing, Pat also became the host of the new Scion Tuner Challenge. Stepping in front of the camera, he travels all across Canada with three teams to compete in various challenges.
When Pat's FR-S finally made its way back home there was hardly any time to finish the car before the first round of the DMCC. The Cyrious Garageworks team went hard to work installing the engine and doing the final prep and installation. With the car buttoned up it was starting to become a proper drift machine, but it was still far from being competition-ready. Pat took it to OnPoint Dyno to get the car tuned and put down a healthy 380 whp. He had a few issues getting the car 100% ready for competition, so he was forced to skip both rounds one and two of the DMCC. All was not lost though, as he competed with his trusty AE86 and made it to the podium in both events, adding funds to his FR-S project account.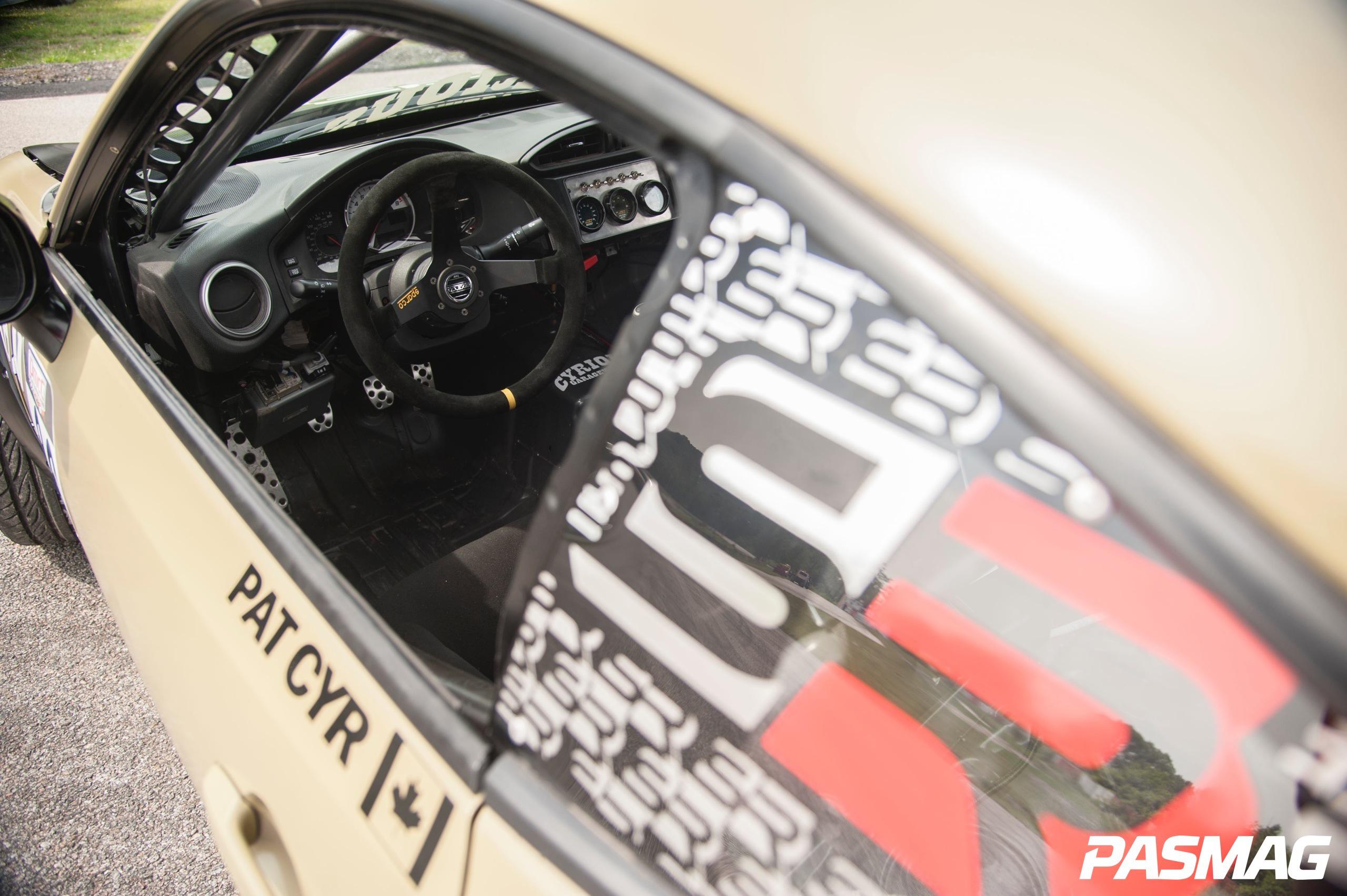 With the work complete, Cyr's FR-S made its competition debut in round three, quickly grabbing an insane amount of attention. Unfortunately, engine issues would sideline the car and Cyr was unable to qualify. They weren't able to figure out the exact cause, but after a complete teardown it was ready for round four. Pat and his team are still learning the car but right off the bat he's been look- ing sharp in the FR-S. The car is running solid and it shows when he smokes the tires.
As with any new drift car, there are growing pains. Cyr is currently in that stage, doing plenty of R&D to see what works and what doesn't. The hard work has already shown, and once he's content with the setup there's little doubt this FR-S will be even more competitive than his old AE86 – and for anyone else on track that's a very scary thing.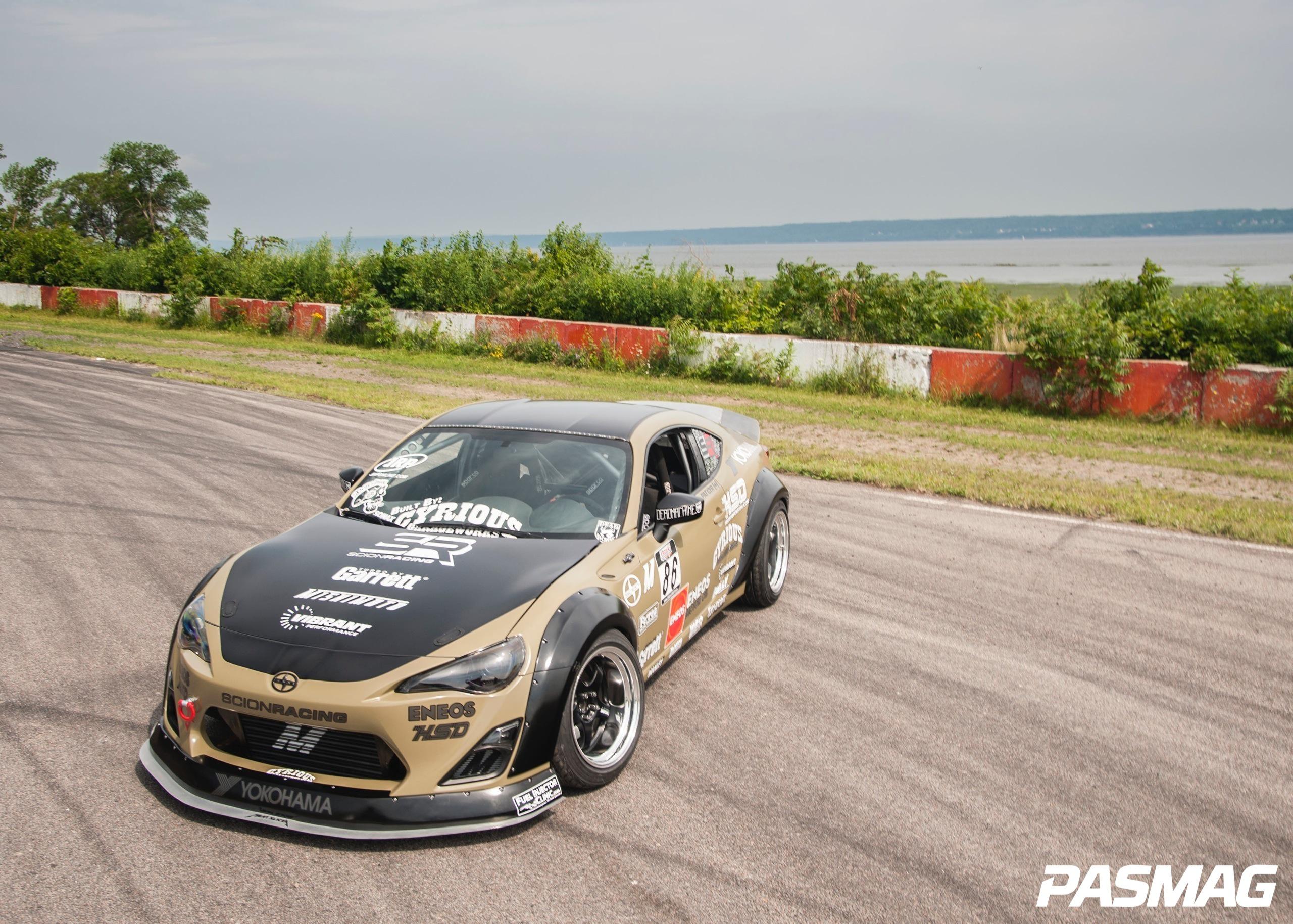 Essentials
Vehicle: 2013 Scion FR-S
Driver: Pat Cyr
Team: Cyrious Garageworks/Scion Racing
Built by: Cyrious Garageworks
Engine: FA20 4-cylinder
Horsepower: 380 hp (for now)
Torque: 305 lb-ft

Engine Modifications
Built by Cyrious Garageworks
Tuning by OnPoint Dyno
Eneos Sustina 0W50 oil
ARP studs
Snow Performance water injection
Vibrant Performance (IC tubing, couplers, vacuum block)
Fuel Injector Clinic injectors
Ferrea Racing Components valve train
Mishimoto (radiator, intercooler, oil cooler, fans, oil catch can and heat wrap protection)
Manley (pistons, rods)
Darton Sleeves
Cyrious Garageworks turbo manifold
Garrett GTX3067R turbocharger
TiAL (waste gate, BOV)

Exhaust
Vibrant Performance built by Cyrious Garageworks (3-in. tubes, muffler and V-band clamps)

Drivetrain
Bully Clutch (Stage-4 clutch, lightweight flywheel)
Weir Performance (spool, solid pinion spacer, gears)

Chassis / Suspension
Cyrious Garageworks (custom roll cage, stitch-welded chassis, modified lower control arms (f/r), modified steering rack)
HSD Coilovers three-way adjustable coil-overs
Battle Version (sub-frame collars and solid rack bushings)

Wheels / Tires / Brakes
Work Meister wheels – 17x9.5 (f/r)
Yokohama S-Drive tires – 215/50 R17 (f), 245/45 R17 (r)

Exterior
Cyrious Garageworks (front lip, spoiler)
ML24 wide body flares
Custom Paint by Davis Autobody

Interior
Sparco (steering wheel, Sprint 5 seats, belts)
AEM gauges

Sponsors
Cyrious Garageworks, Scion Racing,, Yokohama Tire, Eneos Motor Oil, JRP, HSD Coilovers, Garrett Turbo, Ferrea Racing Components, Vibrant Performance, Mishimoto, Weir Performance, Fuel Injector Clinic, OnPoint Dyno, Darton Sleeves, Manley Performance, Bully Clutch, ML24, Battle Version, Sparco, Sonax, Davis Autobody, Cyrious Productions, Dead Machine