As Rambo, Sylvester Stallone's character struck quite a chord in the movie First Blood. Given Hollywood's penchant for mixed genres, we're surprised the movie executives out west never launched a Rambo vs. Zombies action flick. It seems like the perfect combination - zombies who kill and eat everyone versus a man who kills everyone who pisses him off.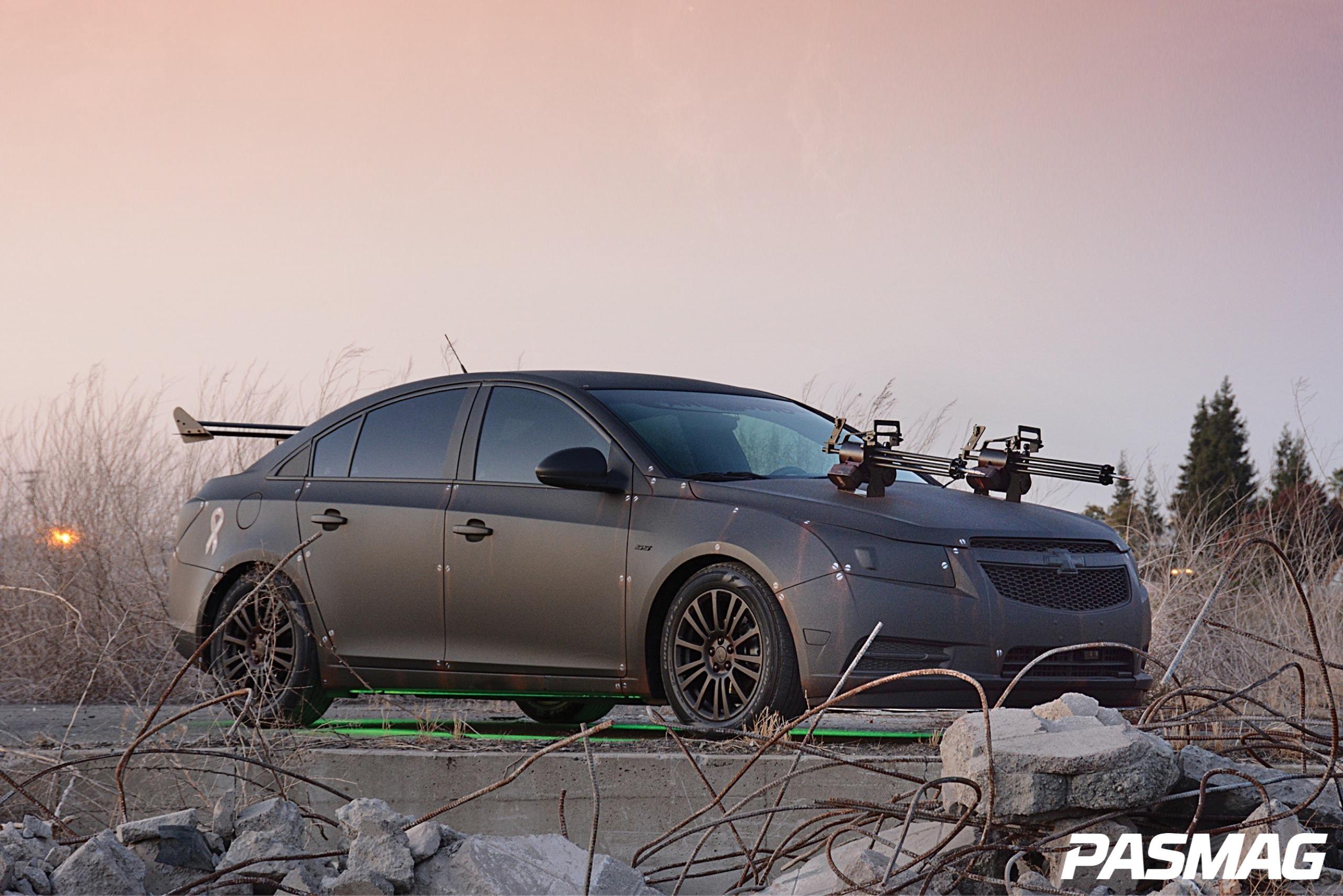 Machine guns, knives, booby traps, and a whole lot of hand-to-hand combat filmed in the vogue, Crouching Tiger, Hidden Dragon style; instant blockbuster! But there has to be some flash with the story, right? So how about this: Rambo is trapped at a car dealership. He needs to get away fast so he uses his 2012 Chevrolet Cruze with zombie-slaying weaponry. That Cruze would probably be very similar the one which belongs to Brian Mitchell of Liquid Trends Modesto, a well-respected audio shop in northern California.
Mitchell bought the Cruze for its distinctive shape and fuel economy after building V8-powered, gas-guzzling show machines prior to this one. Its 145 horsepower doesn't sound like much, but cruising along at near 40-mpg with crushing audio appointments has its own unique appeal.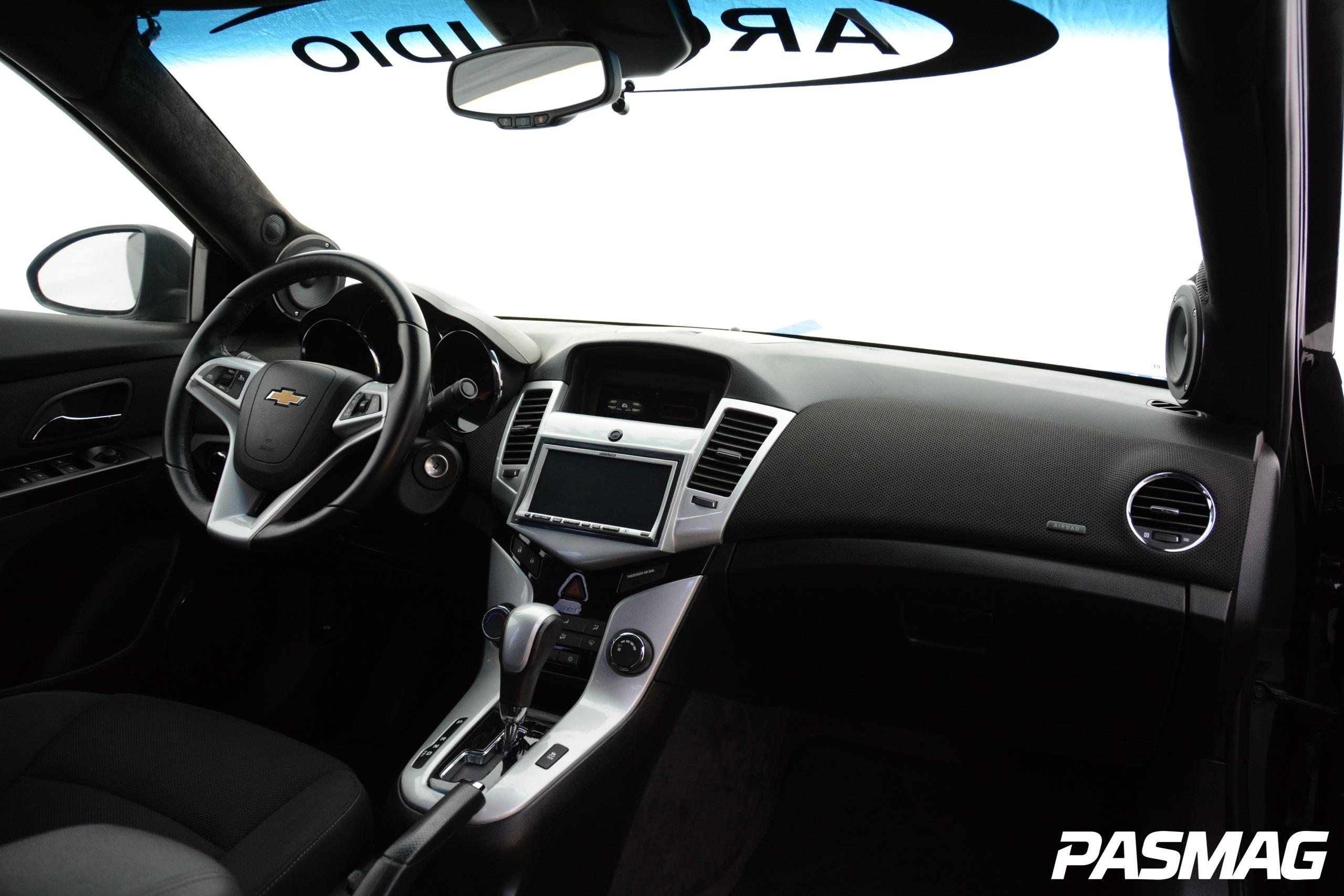 To begin, he disassembled the entire interior and contacted Dynamat for nearly an acre full of their products to better isolate the cabin from unwanted resonance. Upon reinstallation, he fabricated custom A-pillar pods to hold the ARC Audio Black 4.0 4-inch midrange and 1.0 tweeters. All of the pillars in the car are covered in smooth black suede by Watson Brothers. Hand-molded fiberglass and laser cut stainless steel was built to house the custom Alpine 910 head unit display and painted to match the silver interior trim. The lower door panels house ARC Audio Black 6.0 mid-bass 6-inch woofers, and both the mid-bass, mids, and tweeters all have separate ARC SE 4200 amplifiers driving them for balanced power.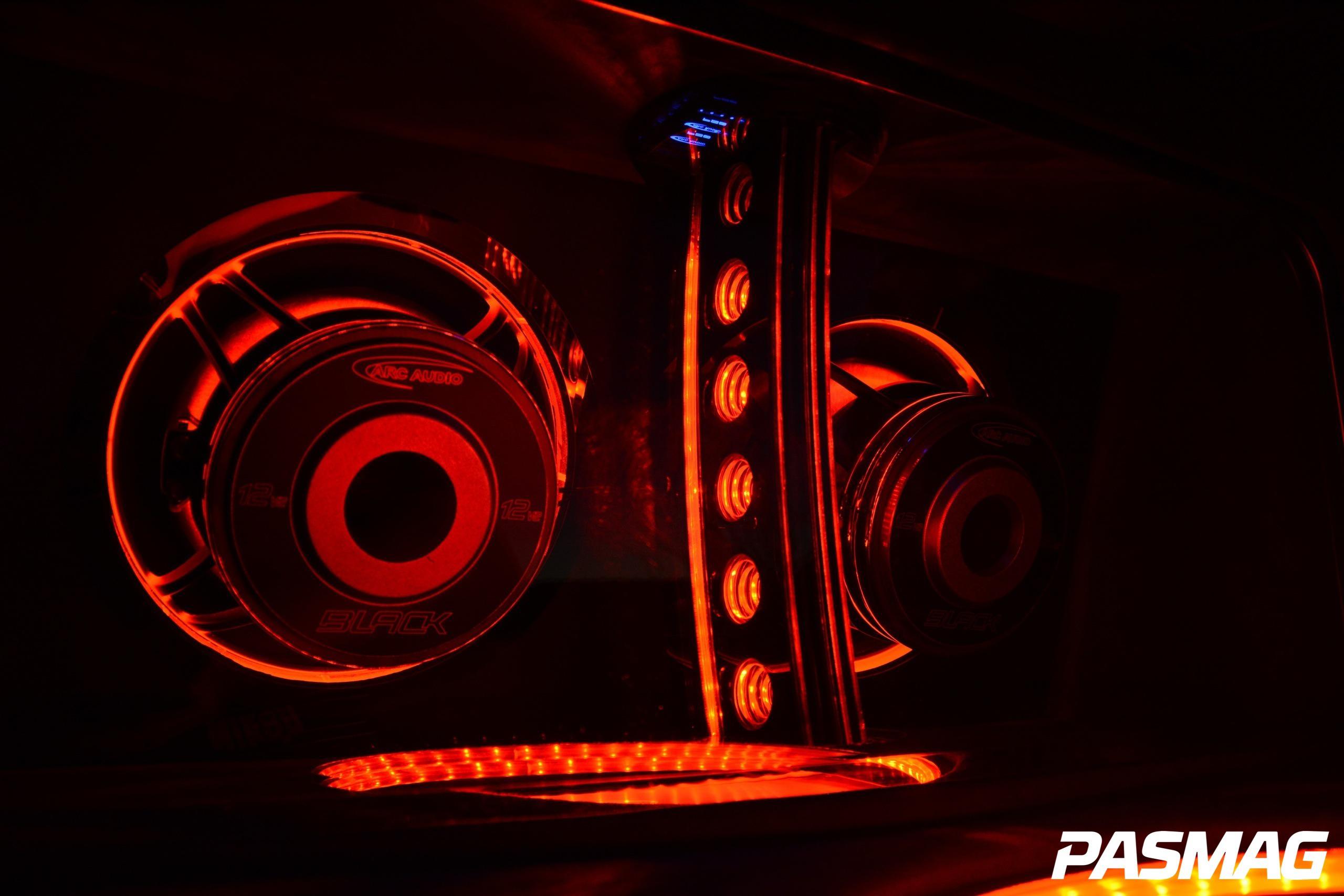 The trunk install dials the style up to 11. Mitchell designed an enclosure made from three-quarter-inch-thick plexiglass, laser cut by Plastics 2000. The tapped and threaded cabinet is filled with two ARC Audio Black Series 12V2-D4 dual 4-ohm voice-coil subwoofers and an RGB LED Wi-Fi controlled lighting kit from Street Glow. Below the enclosure, in the spare tire well, Mitchell installed the four ARC Audio custom-painted and modified amplifiers, with the SE2300 driving the subs.
An ARC Audio PS8 serves as the signal processor and active crossover, increasing overall system flexibility and tuning capability. With 5,100 total watts, balancing the frequencies is very important to competition, and Mitchell has proven he knows exactly what needs to be done. His numerous awards include the 2013 Spring Break Nationals Expert Solo SQ 1st place and the 2013 USACi Extreme SQ+ World Championship, among others.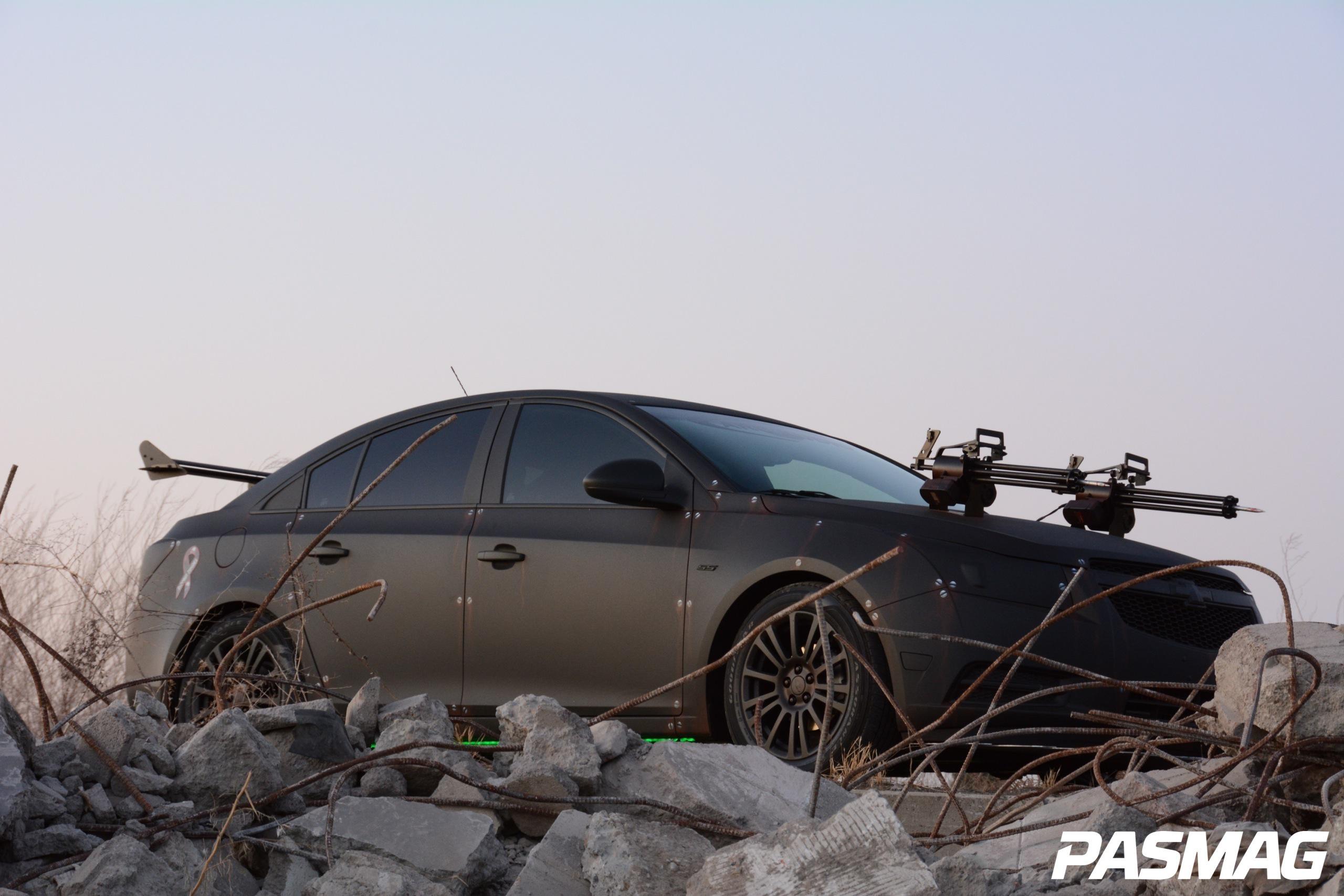 He doesn't stop there. In spite of it being his daily driver to and from Liquid Trends Modesto, a shop he owns, Mitchell first coats the body with flat black Plasti Dip paint by Auto Body solutions. On top of that, Mitchell had Daniel "Chato" Sperry of Sperry Air-brushing create a screw-mounted armor panel graphics application, complete with impressive weathering details.
The ultra-lightweight Eco wheels (measuring 17 inches each) are also decked out in black and wrapped in Goodyear tires. When the road ahead is clogged with the undead, the Cruze is ready to take them on thanks to a custom aluminum saw blade that literally forms the front splitter and saw-edged dual-foil aluminum rear wing. To keep Rambo happy, dual hood-mounted Gatling guns are placed - perfect for slinging lead into any zombie herd. With a few carefully placed (fake) body parts haphazardly hanging off the bodywork, the "Act Three: Rambo Escapes" look is complete - right down to the last severed head.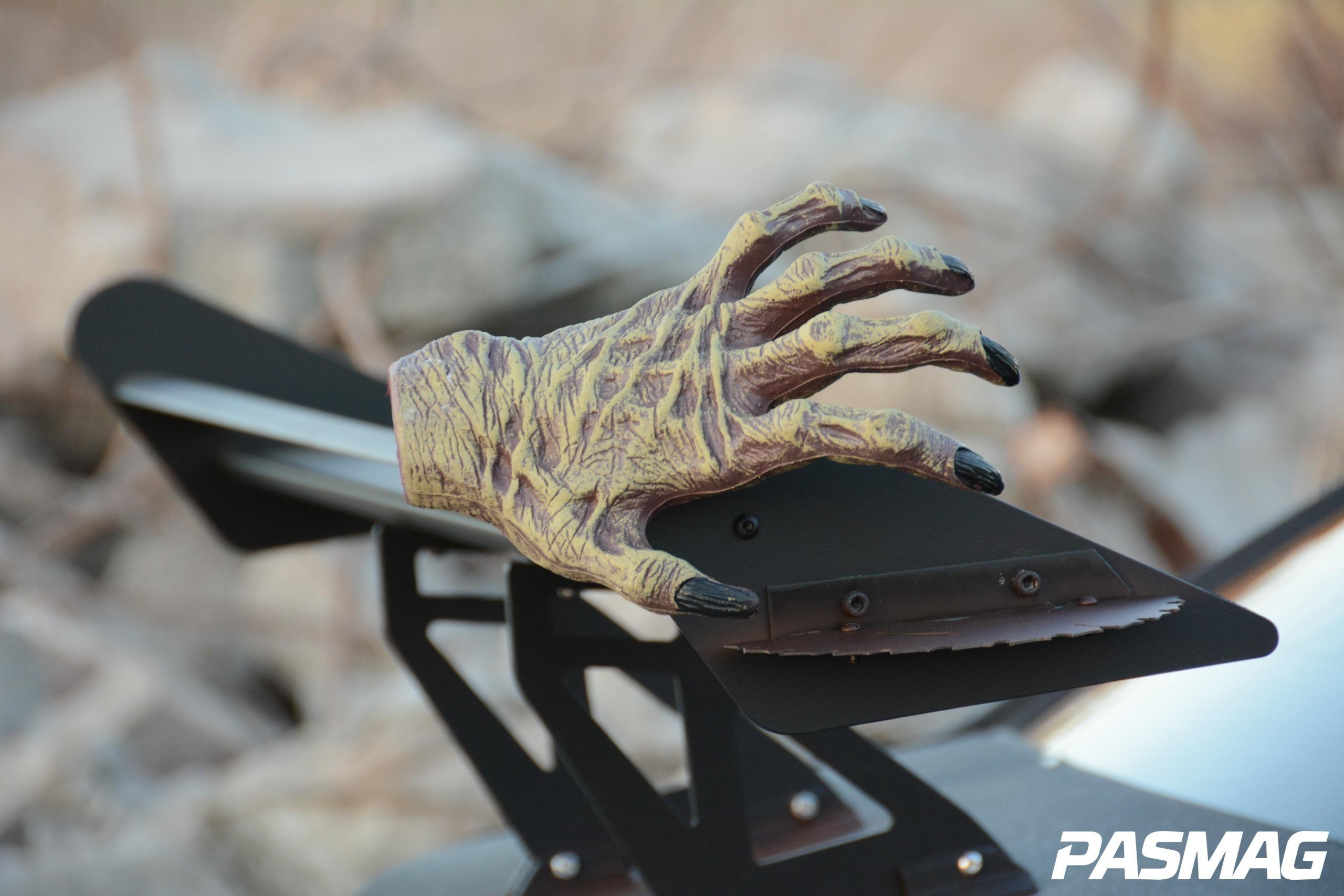 This look might not be for everyone; zombie stories definitely aren't Shakespeare, but Mitchell feels he hit his mark. "I was able to take a lowly Chevy Cruze and make it into a national-level show car. Being a fan of The Walking Dead and other sci-fi shows for my whole life, this was a dream come true. I wanted to make a statement that showed my passion to win and my love for sci-fi." Look for this innovative machine to be knocking 'em dead at shows in 2014 - with or without Rambo's help.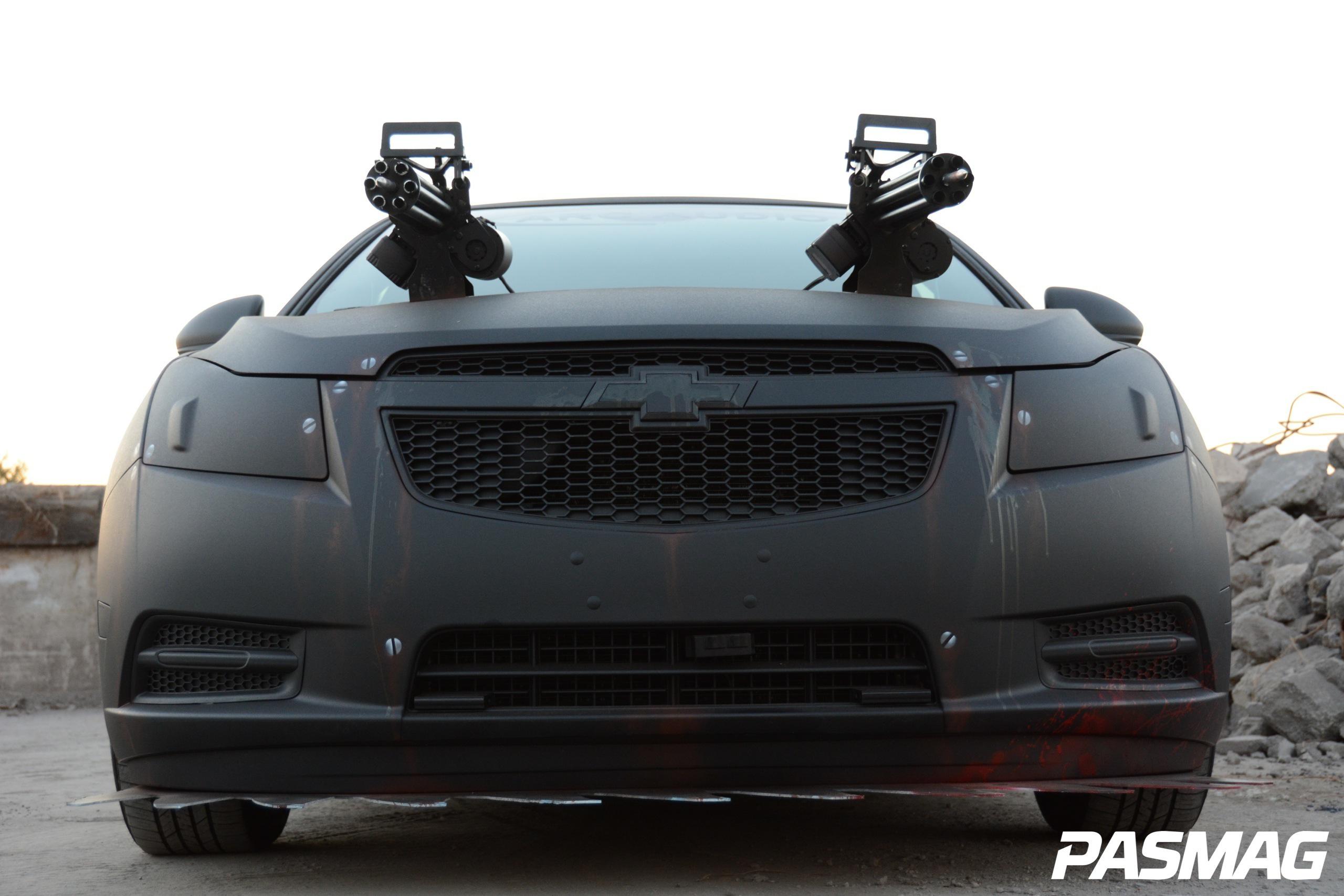 Photography by Fred Lynch
---
ESSENTIALS
Vehicle: 2012 Chevrolet Cruze
Owner: Brian Mitchell
Built by: Liquid Trends Modesto
Engine: 1.4L turbocharged 4-cyl
WHEELS/ TIRES/ BRAKES // Chevrolet ultra-lightweight Eco wheels - 17x7.5-in. (f/r), Goodyear tires - 215/55R17 (f/r), Front brake upgrade - 13-in. rotors
EXTERIOR // Flat black Plasti Dip panels by Auto Body Solutions, Graphics by Daniel "Chato" Sperry of Sperry Airbrushing, Street Glow (seven rolls of RGB LEDs, RGB Wi-Fi controller), Custom (aluminum saw blade front spoiler, saw-edged rear aluminum double wing), 3M 5% window tint
INTERIOR // Hand-molded fiberglass and laser cut stainless dash, Black suede headliner and pillars by Watson Brothers, Hand-made pillar pods for exact tweeter and mid-range imaging
AUDIO/ MOBILE ELECTRONICS // Alpine (custom INA-W910 navigation receiver), ARC Audio (5,100 total watts) (PS8 digital signal processor, painted and modified SE 2300 subwoofer amplifier, painted and modified SE 4200 midbass amplifier, painted and modified SE 4200 mid-range amplifier, painted and modified SE 4200 high-frequency amplifier, Black 12V2-D4 dual voice-coil subwoofers (2), Black 6.0 mid-bass speakers (2), Black 4.0 mid-range speakers (2), 1.0 tweeters (2)), Stinger (speaker wire, 1500 battery, 1/0 main power wire), Plexiglass subwoofer enclosure (tapped and threaded construction, exceeds 130 dB), Chevrolet truck alternator, Custom (battery distribution center, distribution blocks), Compustar remote start with Drone phone control, Dynamat Dynaliner sound deadening
SPONSORS // Ryan Bauman, Daniel "Chato" Sperry, Rich Pedrozza, Eddie at City Tire Sales, Fred Lynch, Demetrios, Robyn, and Brad at ARC Audio, Street Glow, Compustar, Dynamat, Liquid Trends Modesto, Plastics 2000 (laser cut plexiglass work), City Tire Sales (coilover installation)
AWARDS // 2012 USACi Extreme SQ+ World Champion, 2013 Spring Break Nationals Expert Solo SQ 1st Place, 2013 INAC 1st Place Expert Solo SQ and Install, Coveted 2 Seat Triple Crown, National Points Champion, MECA Grand National Points Champion, 2013 USACi Extreme SQ+ World Champion
For more product info visit: www.arcaudio.com.
PHOTO GALLERY