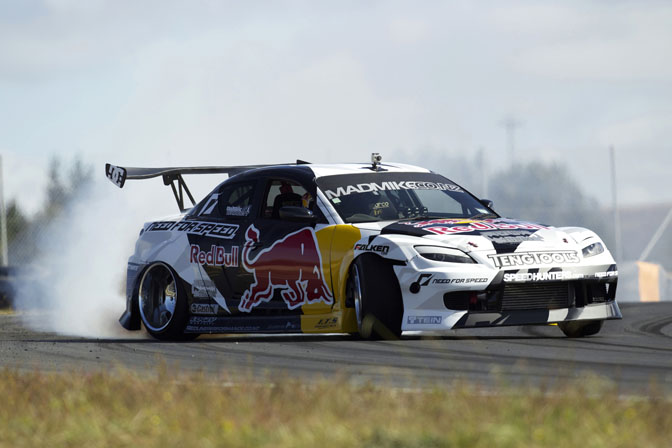 Written by Dave Pankew | Photos by RCH Designs & Jacob Leveton
Ask any of the staff around here and they might admit they're a bit spoiled by the experiences they've gone through. Whether it is hot feature cars, insane events or even the smoking models we have to work with, the bar is continually raised. You have to really knock us out to get noticed versus your average car guy who may get out to a handful of shows every year and may never have seen a national event or made it to SEMA. But on the other end of the business we have, we have to give credit when a build really leaves us drooling long after we have returned home.
Case in point was Mad Mike Whiddett's unreal RX-7 dubbed the "Madbul." The Madbul was a quad rotor, all motor beast of a car that sounded like nothing we had ever heard. The haunting screams of the fiery 4-rotor made such an impression that if I close my eyes I can still hear the sound that left me transfixed when I was supposed to be concentrating on the event itself. The bloated widebody of the FD made it easily a foot wider than stock and housed the kind of wheels that had a dish you could cradle a baby in. The car was a world-wide hit and we often wondered how would Whiddett top the Madbul?
Well, he would top it the only way he knew how, to stuff another rotary into a newer chassis and build up the Badbul. The Badbul based on the RX-8 chassis is actually the 28th rotary-powered vehicle Mad Mike has breathed on since he wasn't yet old enough to drive. He rocked all kinds of odd ball R100s, RX-2s and RX-3s with a number of RX-7s in the stable over the years. The RX-7 drift car was being shipped around the world and spent too much time in a container, so Mad Mike decided to round up his team and sponsors for an all new Mazda build to keep his fan-base well-fed.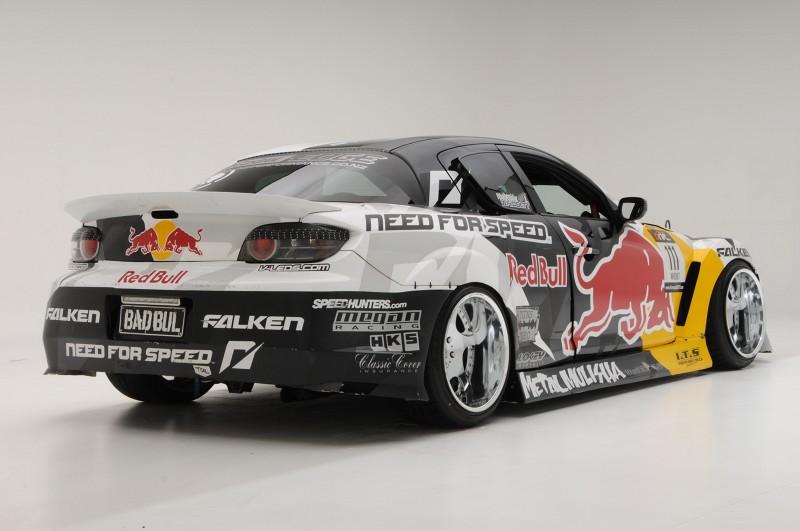 "I know my rotaries" says Mad Mike "So the only problems were waiting for parts to come from around the globe. It kind of slowed the build time down, but we still made our short time frame of 6 months and within the budget of $75,000USD."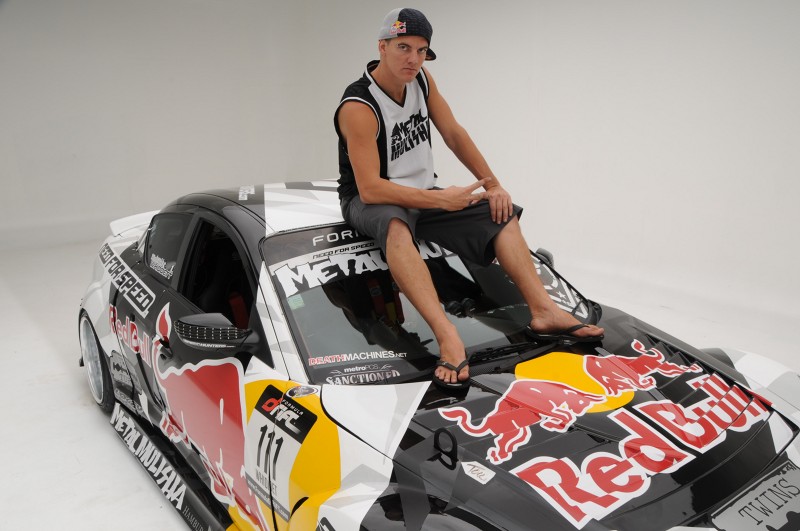 Mike pointed out that figure is about one quarter of the cost to build some other Formula D cars. Much of the work had to be custom as there aren't many drift parts available for the RX-8. All of the suspension is custom and the steering had to be highly modified to obtain the angles needed to keep it sideways at a steep angle. There was no widebody of this magnitude out there, so it also had to be built from the ground up. As for the rotary, well much of that comes from Mad Mike's homeland of New Zealand and neighboring Australia, both of whom have been tuning rotaries for over four decades.
At the heart of the build is a triple-rotor built by PPRE in New Zealand. The high polished monster Bridgeport has an unmistakable sound and solid horsepower numbers. The balanced RX-8 rotors have been fitted with PPRE apex seals for high compression and long life. The 3-rotor has been fitted with a custom PPRE header with a massive HKS T51R SPL turbo hanging off it. All the compressed air is chilled with a Redline front mount intercooler and vented by a TurboSmart Pro BOV. All that extra air required loads of fuel and a Bosch intake is aided by twin Bosch 044 inline spitting C16 out of six 1000cc injectors.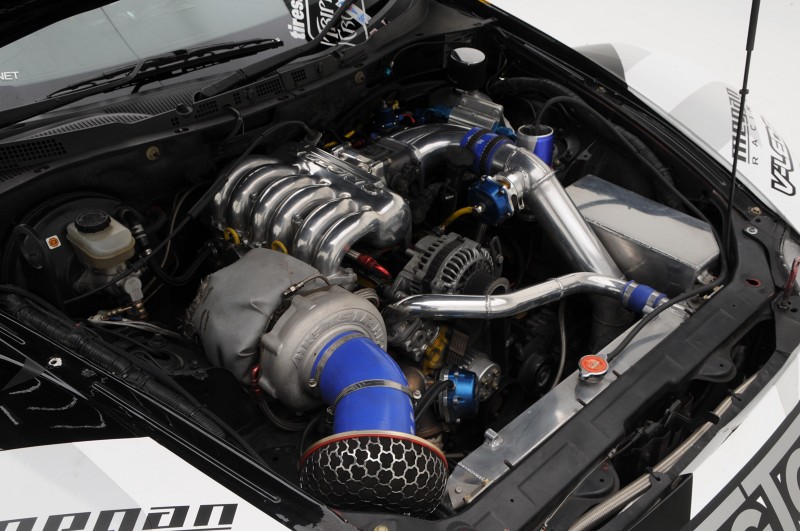 Tuned by a Microtech LT12 standalone, the boost is regulated by TurboSmart's e-Boost 2 electronic boost controller. On the rollers, the 2.0L pumped out some decent figures topping 666whp with 543lb-ft of twist. Tuned by Pulse Performance, the mission was to get instant response of the big snail and power all the way to redline and beyond. The transmission had to be replaced with a rare HKS 6-speed sequential box rocking an HKS twin plate clutch. The custom driveshaft spins up an OS Giken 1.5-way LSD for superior traction and Driveshaft shop axles for strength.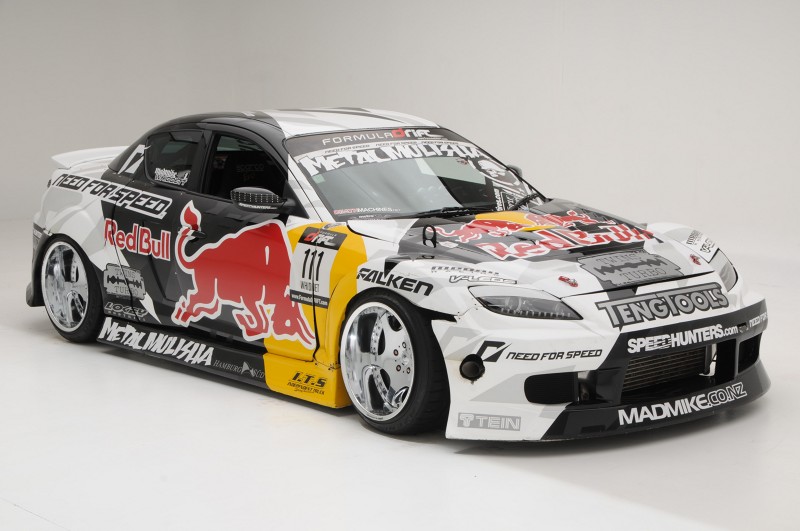 Aside from the insane sound of a Bridgeport 3-rotor and a minimal exhaust system, the look of the car breaks new ground for RX-8s. The reception on the RX-8 styling has always been moderate but Mad Mike built it to pay homage to all of the ridiculous cars he sees in mountain drift videos from Japan. The first order of business was to get a widebody but since none were available, it had to be custom built. The crew at Lokey took the entire shell apart and built fenders that were 90mm wide up front and 100mm wider in the rear. The engine was capped with a BN Sports hood and the trunk was fitted up with a SARD rear spoiler.
With a busy season of Formula D ahead of him Mad Mike has to put in some work. At the same time, he knows what it takes to be competitive and has and unbelievable list of sponsors to take him there included energy drink power house, Red Bull. With an unmistaken able sound and style, Mad Mike is sure to get noticed and we're eager to see the pay off in podium finishes.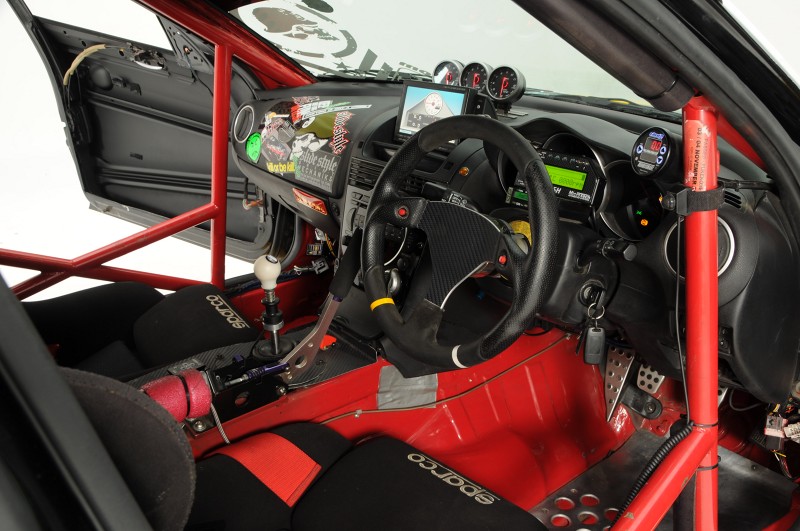 ESSENTIALS // Owner: Mad Mike Whiddett, Location: Auckland, NZ, Vehicle: 2004 Mazda RX-8, Power: 666whp
ENGINE // Mazda 20B 3-Rotor 2.0L
ENGINE MODIFICATIONS // RX8 lightened and balanced rotors, balanced rotating assembly, PPRE apex seals, Hi-rpm mod stationary gears, flowed oil galleries, X-drilled eccentric shaft, 3-window bearings
full polished housings and front cover, HKS T51R SPL Turbo, HKS intake, PPRE Modified Mazda 20b throttle body, PPRE Ported and polished 20b intake, Bosch 044 x2, Bosch 040 in-tank lift pump, Turbosmart FRP2000, Custom PPRE, 1000cc injectors x6, PPRE Surge tank inline fuel cooler, Custom PPRE header, Custom PPRE 3.5-inch straight pipe, Bosch HEC coils, Custom PPRE Exhaust, Turbosmart Pro BOV, Turbosmart 60mm Pro-Gate, Redline Performance Intercooler
ENGINE MANAGEMENT // Microtech LT-12 ECU, Turbosmart e-boost 2
DRIVELINE // HKS 5speed sequentional, OS Giken 1.5-way LSD, Driveshaft shop axles, HKS Pro 2 twin-plate clutch
WHEELS, TIRES, BRAKES // Weds Kranze Bazeriea 18x11-inch front with -36 offset, Falken 615K 235/40R18, Weds Kranze Bazeriea 18x12-inch rear with -36 offset & 25mm spacer!!!, Falken 615K 265/35R18
SUSPENSION // TEIN Super Drift coilovers, Alignment by: Autoalign, All Custom suspension arms, MazdaSpeed strut bars
EXTERIOR // Full custom Lokey Industries widebhody w 100mm fenders, SARD rear spoiler, BN Sports hood, CRE8GRAFX vinyl wrap, V-LEDS headlights and tails
INTERIOR // Microtech digital dash, HKS C.A.M.P-2 digital dash, A'PEXi gauges, Sparco EVO seats, Willans 5-point harnesses, Twins Turbo Motorsports harness bar, Sparco wheel and quick release hub
SHOUTOUTS // Chromie, Damion, BIG TED and Cookie for all the hours and late nights that went into building BADBUL. Warren at PPRE for all his knowledge and the kick-ass 20B. Shannon and Gam @ Lokey Industries for helping me create the illest looking RX-8 on the planet. My sponsors Red Bull, Need for Speed, Metal Mulisha, Castrol, TengTools, Weds, DC, TEIN, Goodyear world wide, Falken USA, Redline Performance, HKS, Fusion, Independent Truck Spray painters, Classic Cover Insurance, Any Mazz Spares, Turbosmart, Lokey, and Hamburg Sud.