The pinnacle of every GT-R fanboy's wildest dreams.
For many enthusiasts of all ages, this is the top of the totem pole. Timeless design, pop culture stardom, refined engineering, and balanced yet potent performance potential all combine to make the R34 Skyline GT-R one of the most iconic cult classics of modern tuning. In addition to a long and impressive racing history, balance is an important theme across all GT-R models to roll off Nissan's assembly lines over the years. For many, the R34 was the peak of this balance - an entire generation before the Skyline moniker was abandoned for the heavier GT-Rs of the modern day. These cars were truly the best of all worlds for enthusiasts.
Darren Shady is one of those enthusiasts who idolized the R34 GT-R, and like many who would come before and after him, his love for the car was a product of the pop culture he grew up around. For him, the first real exposure to the platform was via Gran Turismo 2 on the original Playstation. His intrigue for the hero car brought him down a path of extensive research and history lessons, and he became enamoured with the Skyline and its racing heritage. In no time, a man who grew up building Mustangs had a new dream car in a JDM rival to his original love for classic American muscle.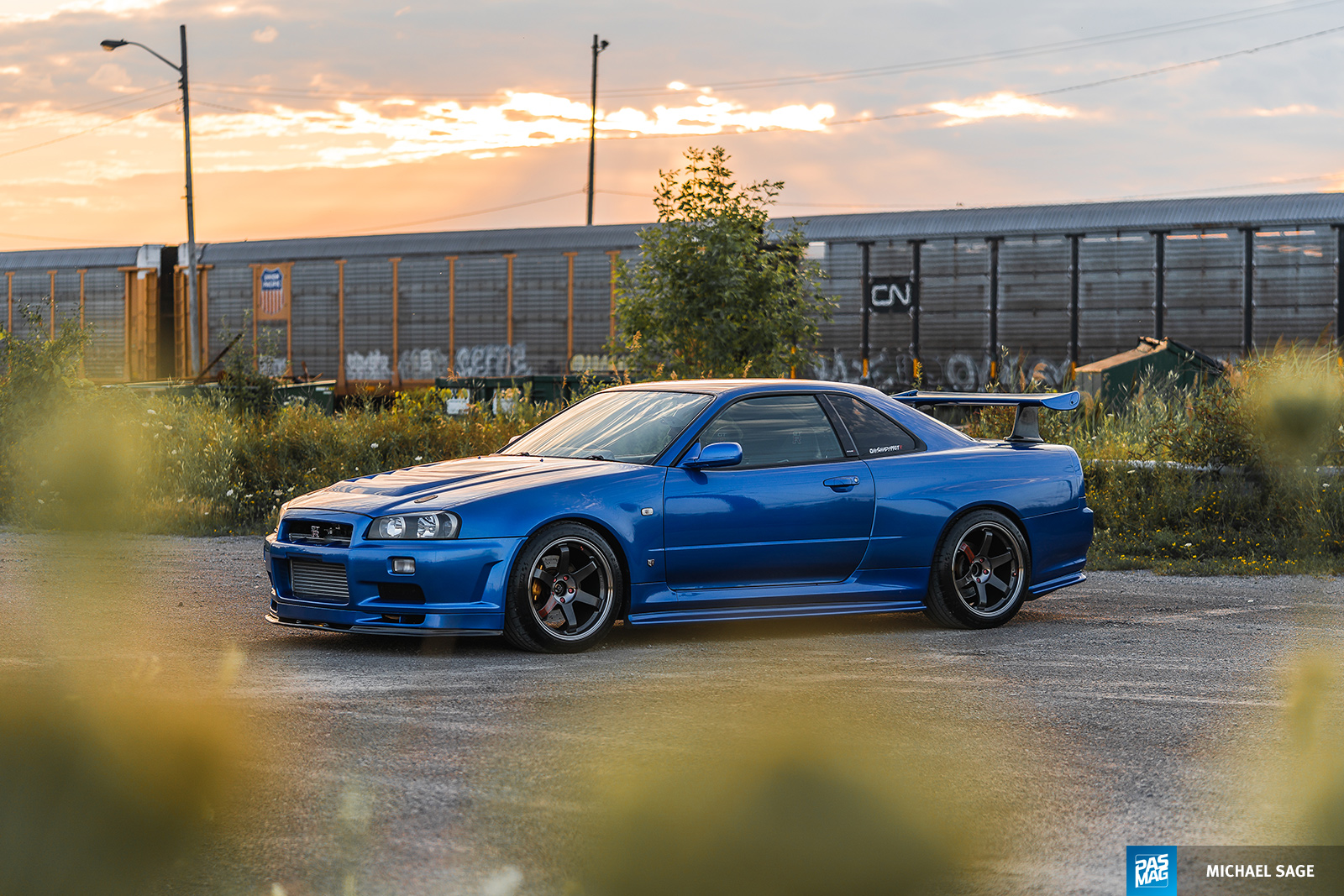 With a penchant for modifying cars that runs deep in his family, the Skyline GT-R was the perfect canvas for Shady to tinker with and achieve its true potential. In due time, Shady acquired a 1999 model for himself. Unsurprisingly, there were no other R34 GT-Rs in his area when he picked up the car, so it was up to him to blaze a trail for the local scene by carefully researching every modification. He knew from the beginning that he wanted a well balanced build with plenty of power on tap, but he also wanted it to feel at home and comfortable on the street without making for a punishing driving experience.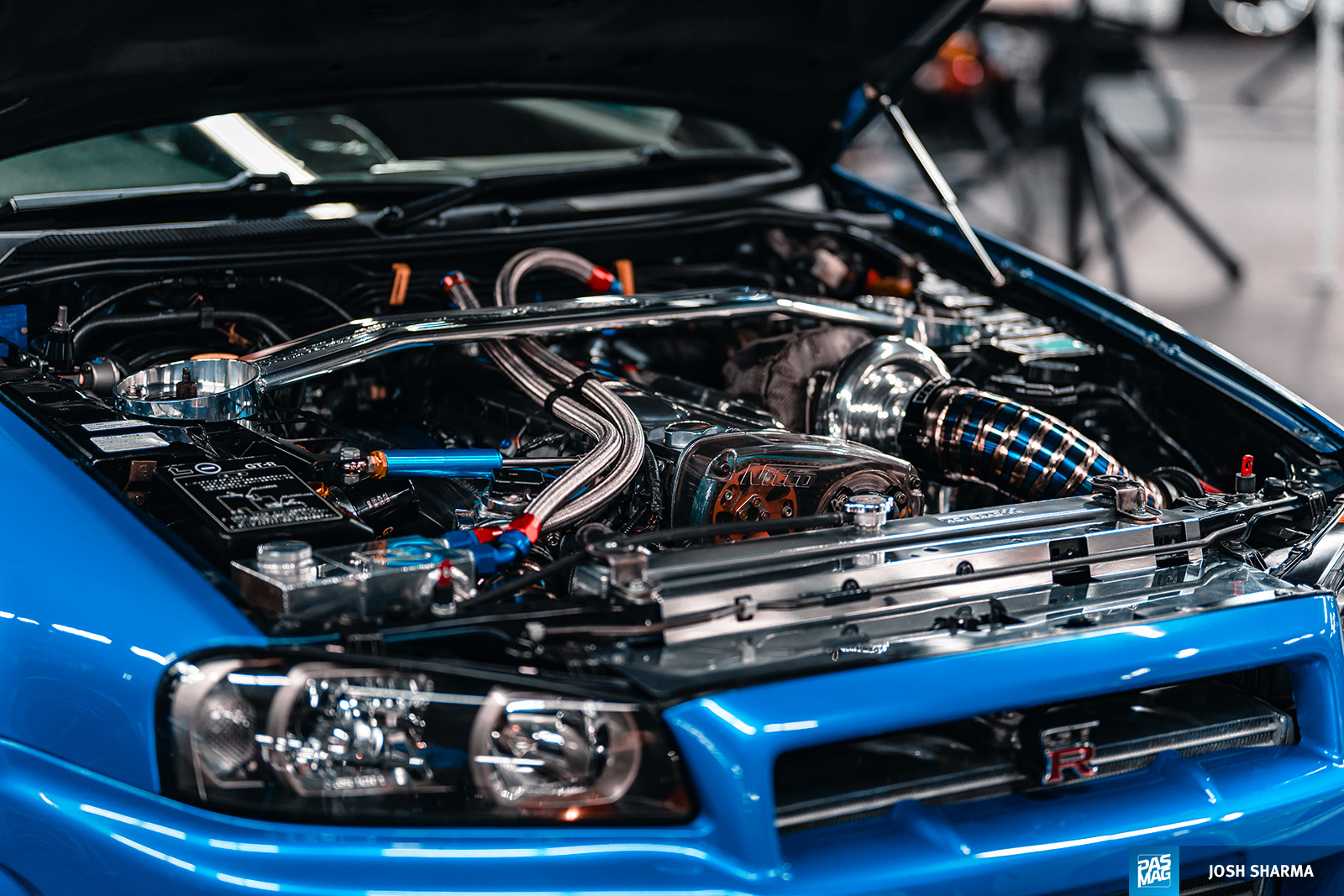 After some initial complications with a cracked block and a snapped crankshaft, the RB26DETT was rebuilt using an N1 block and forged internals. Every part inside or on the engine was carefully selected based on its proven track record and recommendations from reputable builders. The result is an engine made up of an eclectic mix of high quality parts from brands like Tomei, Supertech, ARP, and many more trusted names. This paid off in spades, as Shady says the single-turbo converted RB has been rock solid since the refresh. The single turbo mentioned was upgraded to a BorgWarner S369SX-E FMW turbocharger recently, but at 25 psi on an E80 ethanol tune for the previous smaller turbo, it made a potent 803 whp and 622 lb-ft of torque. It's only going to get better from here with the new setup!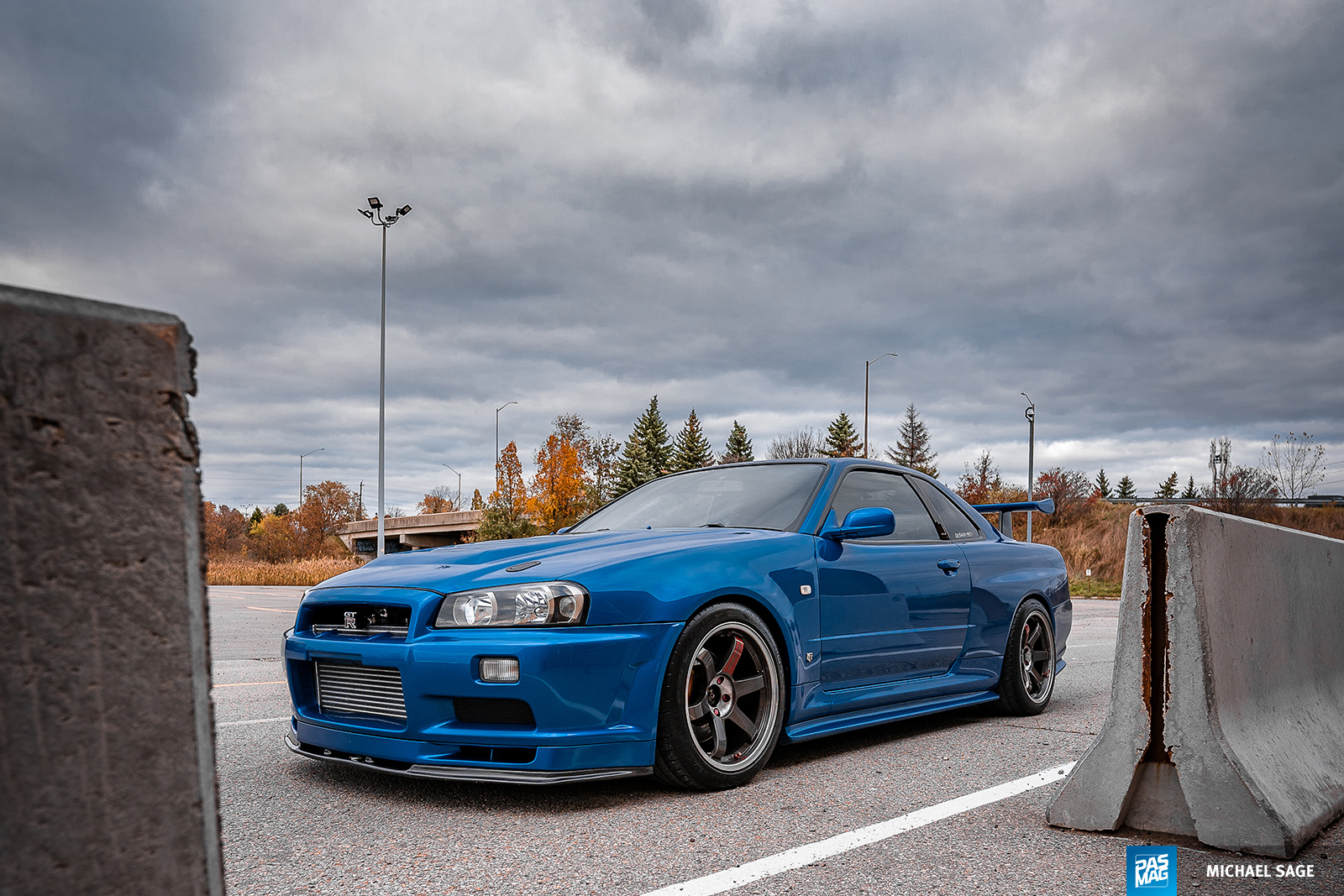 Behind the engine, the drivetrain is made up of an ExtremeClutch 230mm twin-disc organic clutch and lightweight flywheel mated to a Getrag V160 six-speed transmission, which is bolstered with Synchrotech Pro-Series steel/carbon fiber synchros and hardened synchro sleeves - more than capable of containing the 800-plus wheel horsepower on tap, as well as the planned 1,000-plus horsepower Shady has planned for the future. A combination of Brembo calipers, DBA rotors, and Hawk Performance brake pads bring this freight train to a stop at the drop of a hat, and a square set of Michelin Pilot Super Sport tires measuring 285/35/18 throughout keep the car stuck to the road, looking great while wrapped around 18x10.5 TE37SL wheels in a Gunmetal finish.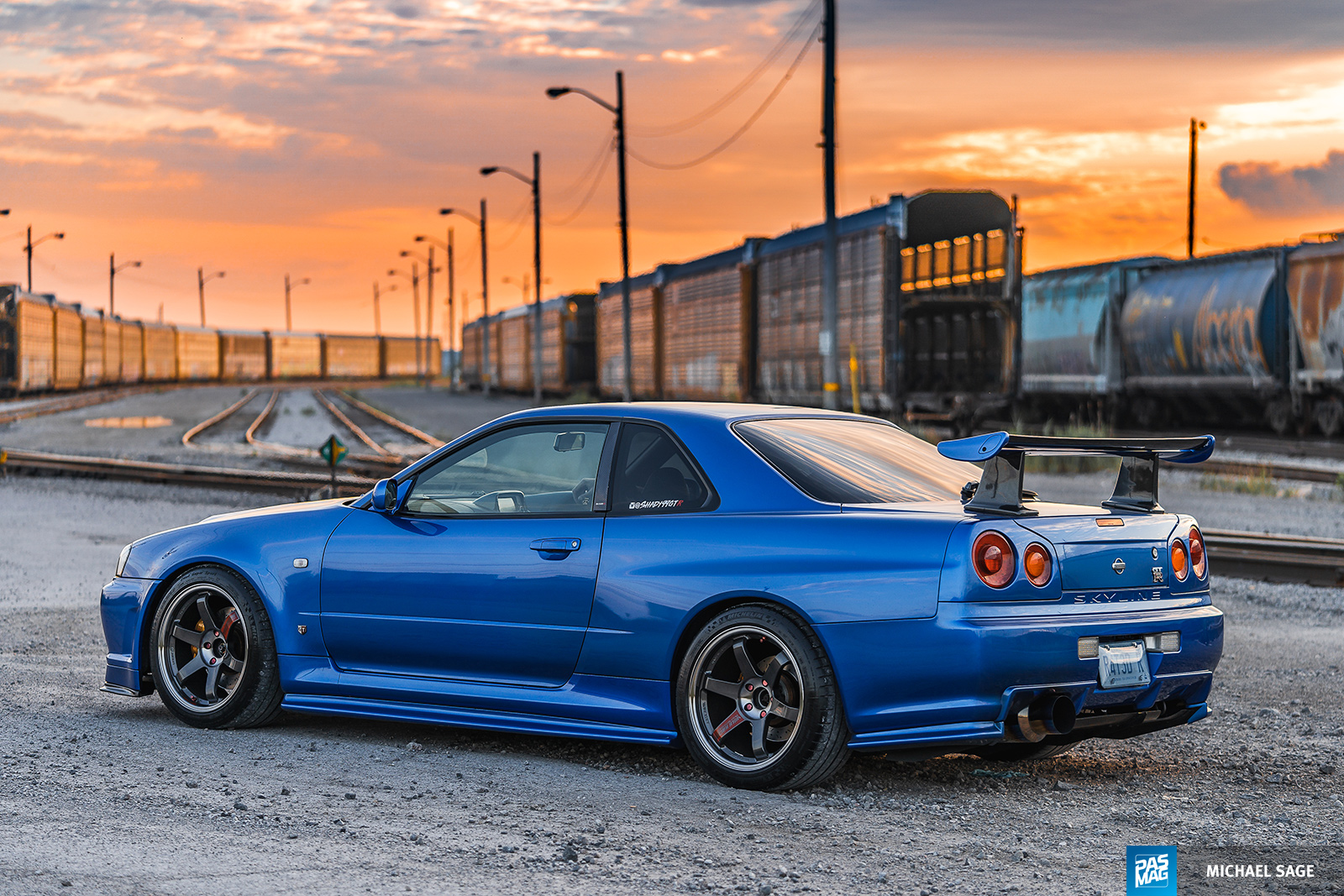 Stylistically, Shady keeps things simple in order to preserve the overall timelessness of the Skyline's design, adding only subtle changes to accentuate design cues, rather than replace or reshape them. Little touches like the paint-matched Seibon DS carbon fiber hood, Jun carbon fiber high wing stands, and Nismo's carbon fiber wing blade, front lip diffuser, dry carbon rear diffuser, and pillar garnishes all work in tandem to keep the aggressive design true to the original, with some added flair for good measure. Finishing off the look, and adding some handling prowess, is a set of HKS Hipermax SP coilovers, lowering the entire car nicely over the iconic Volk Racing wheels.
Inside the car, you'll find more attention to detail that really drives home the idea of a balanced and completely thought out project. Interior Motives hooked up Shady with a complete custom Napa leather and Alcantara seat reupholstery, which includes logo-stitched headrests and custom door cards, and Robson Design handled some tasteful carbon fiber interior trim pieces. The cockpit is kept relatively straightforward and simple - Nismo floor mats, an Autometer 52mm gauge pod, a JVC double-DIN head unit, and Takata 4-point harnesses to keep driver and passenger secure.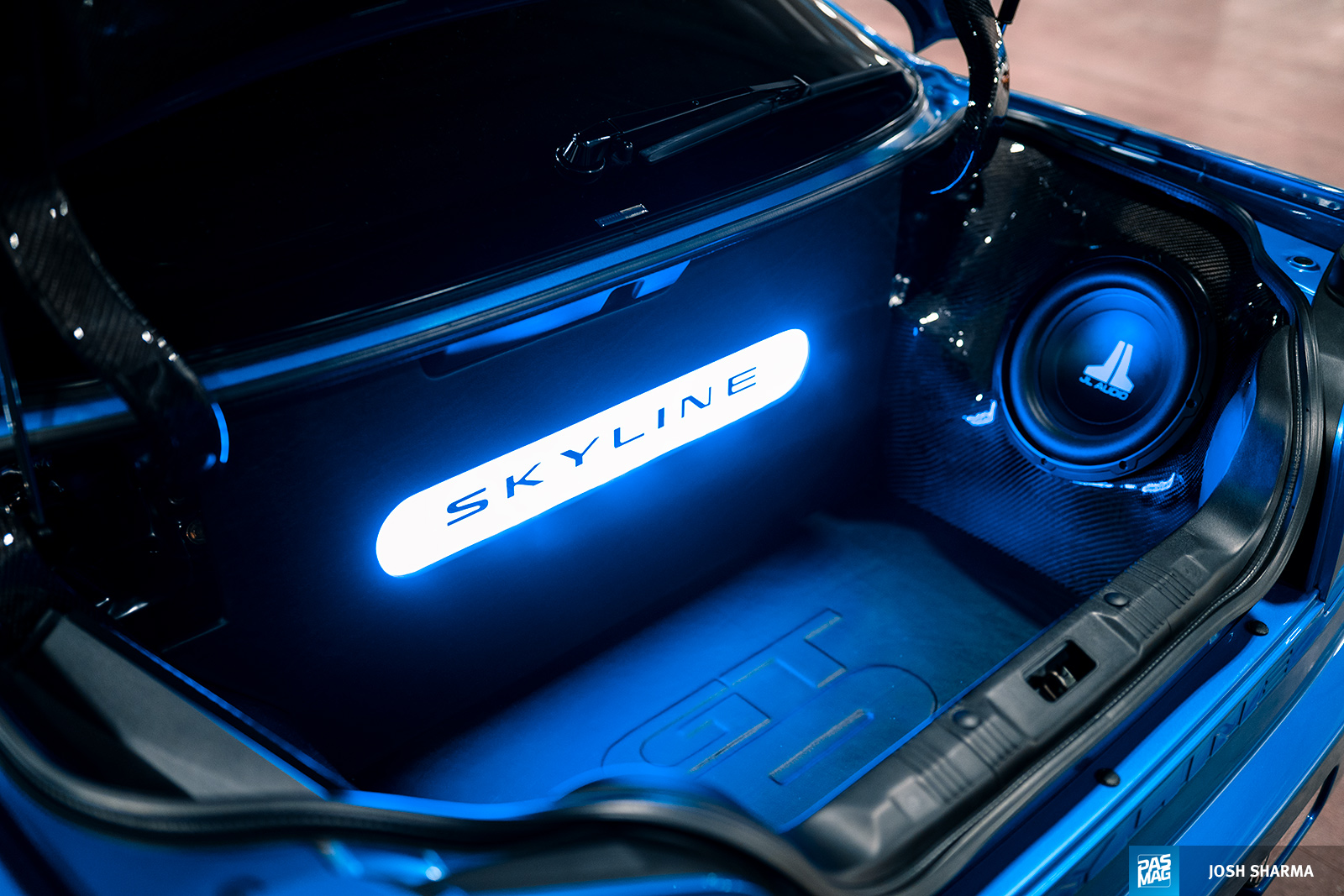 In the trunk, Shady let the custom work shine. A tribute to Paul Walker, a name now synonymous with the R34 thanks to the Fast & Furious franchise, decorates the rear elements of the audio system with a beautiful carbon fiber and LED display by Beyond Concepts. It's the perfect home for his JL Audio subwoofer and 5-channel amplifier. Other audio components include Pioneer 2-way component speakers and 4-way coaxials hidden throughout the cabin. This build really does do it all, and Shady has his partners and friends to thank for so much of the car's well-roundedness. The biggest of thank-yous were given to Josh Dunand and the crew at Amaris Premium Autocare, Matt Morgado of GT Custom Exhaust, Radek Kilarski of RS Tuning, and Bruce Lim of Beyond Concepts.
"I also want to recognise and thank my good buddies who are always there to help me out whether it's a spare part, their time, or their expertise," Shady says in closing. "Big thanks to Connor Macdonald (@thatszguy), Jeff Bingley (@bingr34gt4r), Phil Marino (@phil_r33) and Sam Rodriguez Matos. Huge thanks to all the talented photographers and content creators that always make my GT-R look its best. I'd like to specifically recognise Abdul Elabed (@media.32), Jonathan Tesoro (@takara.style), Josh Sharma (@lowspecmedia), Michael Sage (@capturedbysage), and Robbie Nichols Mialkowsky (@6ix.rides) who all regularly shoot the car and consistently provide me with awesome content. Shoutouts to the whole VQNorth crew, the GTA GT-R club, and the GTA Motorheads squad!"
Photography by Michael Sage (@capturedbysage), Josh Sharma (@lowspecmedia), Jonathan Tesoro (@takara.style), Abdul Elabed (@media.32), Robbie Nichols Mialkowsky (@6ix.rides)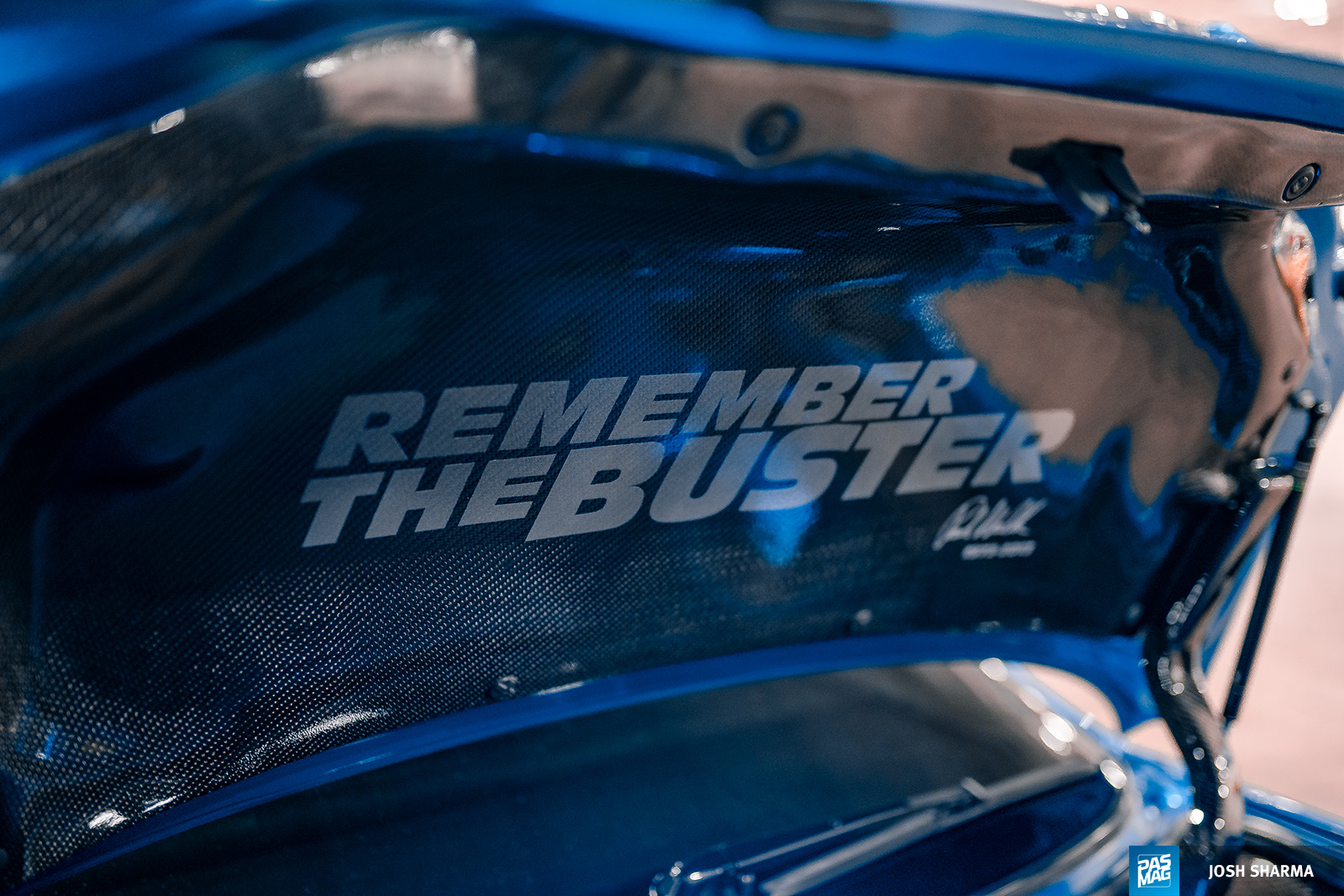 ---
ESSENTIALS
Owner: Darren Shady
Vehicle: 1999 Nissan Skyline GT-R
Location: Whitby, ON
Engine: Nissan RB26DETT 2.6L Turbocharged I6
Horsepower: 803 whp
Torque: 622 lb-ft
Club: VQNorth / GTA Motorheads
SOCIAL
Facebook: /darren.shady.1
Instagram: @shady99gtr
ENGINE
Nissan (RB26 N1 block, N1 crankshaft, N1 water pump)
Wiseco forged 86.5mm pistons
Manley forged H-beam rods w/ ARP 2000 hardware
King XP (race series main bearing set, race series rod bearing set)
ARP (engine head stud kit, main stud kit)
Tomei (Poncam Type-B camshaft, adjustable cam pulleys, Type-A valve spring kit, high volume oil pump)
Autodream cam trigger kit w/ hall sensor
Supertech (black nitride forged intake valves, inconel forged exhaust valves, bronze valve guides)
Ported head
R.I.P.S. intake plenum w/ 90mm throttle body
GM air temp sensor and pigtail
Ross Tuffbond Gold Series harmonic damper
RS Tuning oil pan sump extension w/ oil baffle
GReddy oil cooler kit
Auto Staff oil catch can/windshield washer combo tank
Autobahn 88 (engine torque damper, custom front mount intercooler)
Koyorad aluminum radiator
Mishimoto radiator fan
Custom titanium (radiator cooling plate, pie-cut/polished/burned cold piping, velocity stack w/ K&N air filter)
BorgWarner S369SX-E FMW turbocharger
Raw Brokerage billet twin-scroll top mount turbo manifold
Precision Turbo PW46 46mm external wastegates (2)
ProSport carbon fiber turbo blanket
TiAL Q 50mm BOV
Fuel Injector Development 1600cc injectors
Frenchy's Performance Garage (twin fuel pump kit, twin pump relay control box, 150 amp high-output alternator)
Custom 10 AWG fuel hat wiring upgrade
Walbro Hellcat 525 lph fuel pumps (2)
Aeromotive EFI bypass fuel pressure regulator
Custom fuel system
PTFE teflon braided stainless steel fuel lines
Billet fuel filter bracket
100 micron fuel filter
Zetronix ethanol sensor
Napol Performance Series 2 high voltage ignition coils
Haltech Platinum Pro ECU
EXHAUST
Amuse R1 Titan custom 3.5-inch titanium exhaust
Custom (wastegate dump tubes, downpipe)
DRIVETRAIN
Getrag V160 6-speed transmission w/ Synchrotech Pro-Series steel/carbon fiber synchros and hardened synchro sleeves
XtremeClutch (230mm twin-disc organic clutch, lightweight flywheel)
Limited-slip differential
WHEELS / TIRES / BRAKES
Volk Racing TE37SL wheels - 18x10.5 (f/r)
Michelin Pilot Super Sport tires - 285/35/18 (f/r)
Brembo (4-piston front calipers, 2-piston rear calipers)
DBA 4000 Series cross-drilled/slotted rotors
Hawk Performance HT-10 compound brake pads
Goodridge brake lines
CHASSIS / SUSPENSION
Kansai Service tower bar
HKS Hipermax SP coilovers
Cusco drag rod HICAS delete kit
EXTERIOR
Custom LED exterior lighting
Seibon DS carbon fiber hood
AeroCatch hood pins
Technica hood dampers
Jun carbon fiber high rear wing leg stands
Nismo (carbon fiber rear spoiler wing blade, carbon fiber front lip diffuser w/ undertray, dry carbon fiber rear diffuser, carbon fiber pillar garnishes)
INTERIOR
Interior Motives (custom Napa leather and Alcantara upholstery, logo headrests, door inserts)
Robson Design carbon fiber interior trim
Beyond Concepts custom (carbon fiber trunk Paul Walker tribute, carbon fiber trunk arm covers)
Nismo carpet and floor mat set
Autometer 52mm gauge pod
Custom LED interior lighting
Takata (4-point harnesses, harness bar)
AUDIO / MOBILE ELECTRONICS
BeyondConcepts custom (trunk layout, carbon fiber subwoofer enclosure, carbon fiber amplifier rack)
JVC KW-NT1 double-DIN head unit
Pioneer (TS-A1606C 2-way component speakers, TS-A1686R 4-way coaxial speakers)
JL Audio (10W0v3-4 10-inch subwoofer, RD900/5 900-watt 5-channel digital amplifier)
SPONSORS
Amaris Premium Autocare
RS Tuning
Beyond Concepts
GT Customs Pickering
PHOTO GALLERY