Photography courtesy of Unitronic
---
As is the case with many things with a substantial hype-train, so many hop aboard and are disappointed in some way with the resulting launch. We've seen it happen with video games, movies, and even cars – and we can't say how happy we are that the Golf R fell didn't into that same category as so many other hyped-up products.
It was definitely hard to not be excited about the first "R" model Golf that North America would get without a limited number being associated, and then add to that the promise of Haldex 4MOTION all-wheel drive, and 296 horsepower and 280 lb-ft of torque out of a burlier EA888 Gen. 3 engine that already had a faithful following among GTI enthusiasts. A reworked cylinder head, new exhaust valves, valve seats and springs, injection valves, pistons, and a larger intercooler and turbo lead to a car that could comfortably go get groceries, and then switch to "Race mode" for some quick time attack on the way home.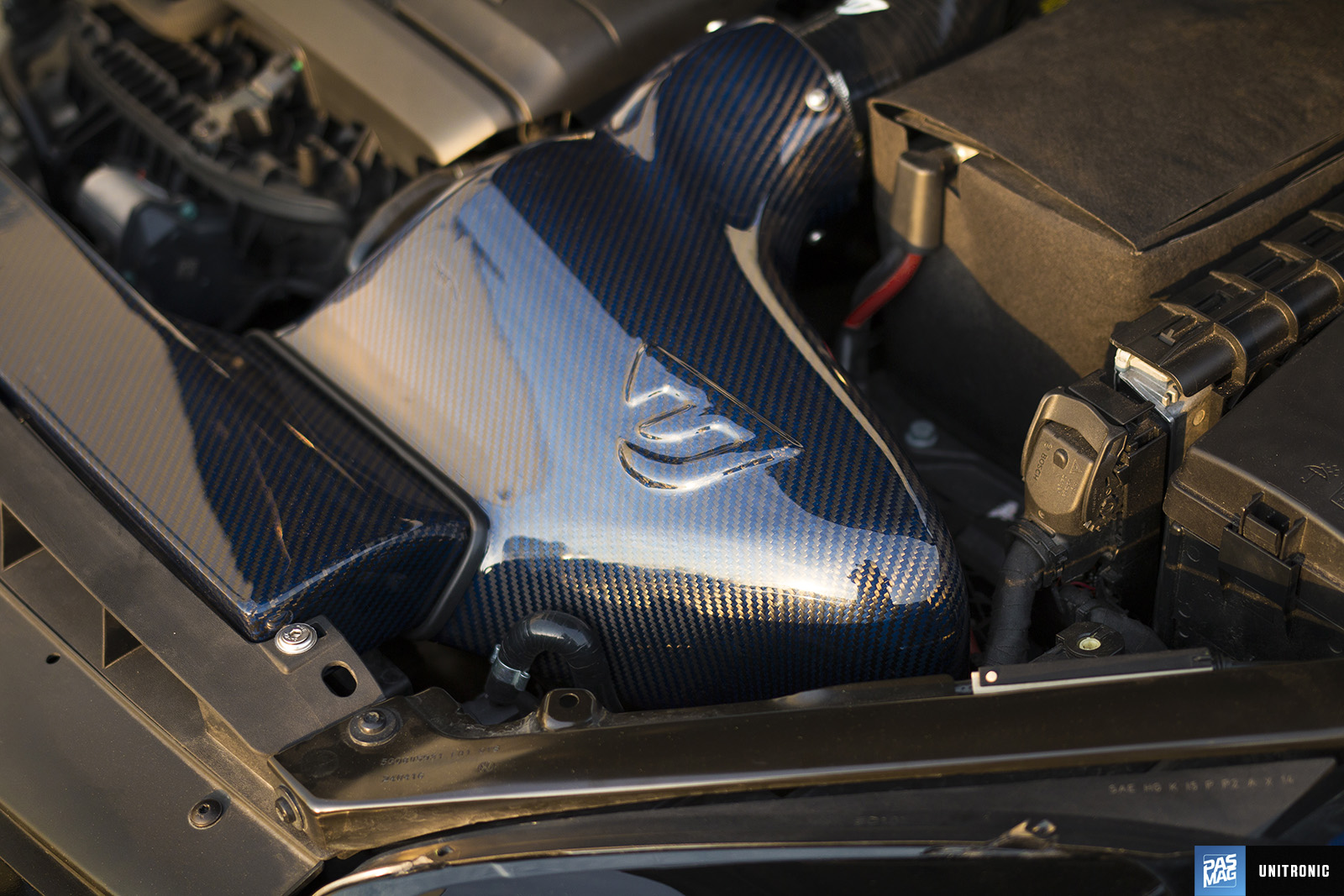 In the true spirit of tuning, Unitronic rolled their eyes at these performance specs and said, "We can do better." Already offering a full catalogue of tuning products for the third generation EA888 engine, this was an exciting project to tackle, and their results were impressive. Thankfully, one of Unitronic's sales reps, Patrick Archambault, happened to pick up a 2016 Golf R and was the perfect guinea pig to see these enhancements put to the test on the drag strip.
Of course, the engine and transmission would need a bit of a wakeup call in order to put down some decent numbers, and Unitronic's Stage 2 ECU and TCU tune were just what the doctor ordered. Paired up with an upgraded Unitronic intercooler, limited edition blue carbon fiber air intake, and down-pipe, Archambault's R puts out 397 horses and 368 lb-ft of torque on MS109 VP race fuel.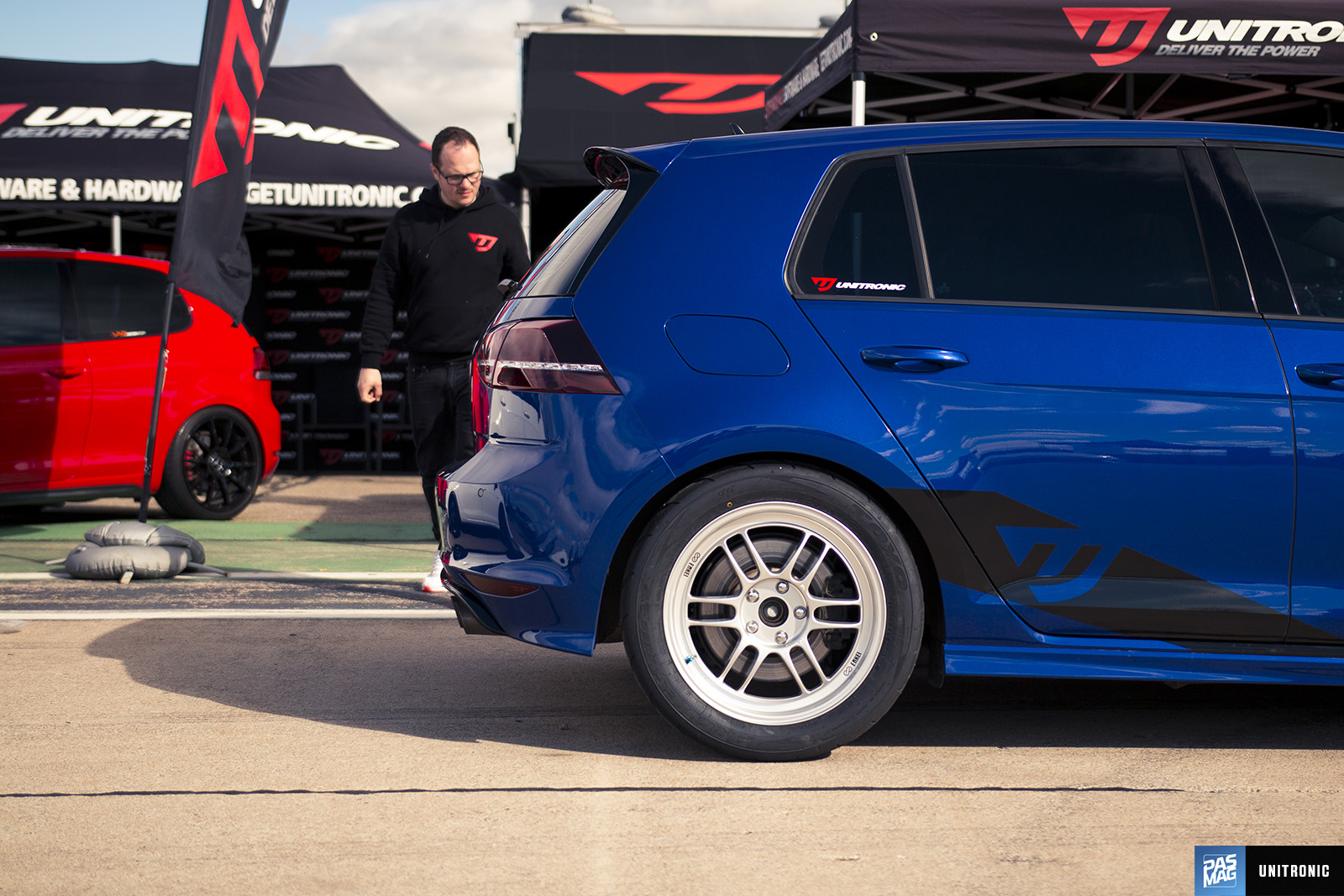 Not wanting to give up the "street to track" spirit that the Golf R carries, Archambault armed himself with two sets of wheels and tires: 19x8.5-inch BBS CH-R wheels with Michelin Pilot Sport 4S 235/35 tires for the street, and 17x7.5 Enkei RPF1 wheels wrapped in 235/45 Toyo R888Rs for the track, bolstering the already great grip and acceleration of the R.
Archambault has previously owned two fast GTIs – both an MK6 and MK7 - and says the Golf R is a step above in the performance department.
"I've always loved the GTI, but it lacked traction when modified," he says. "The R has traction!"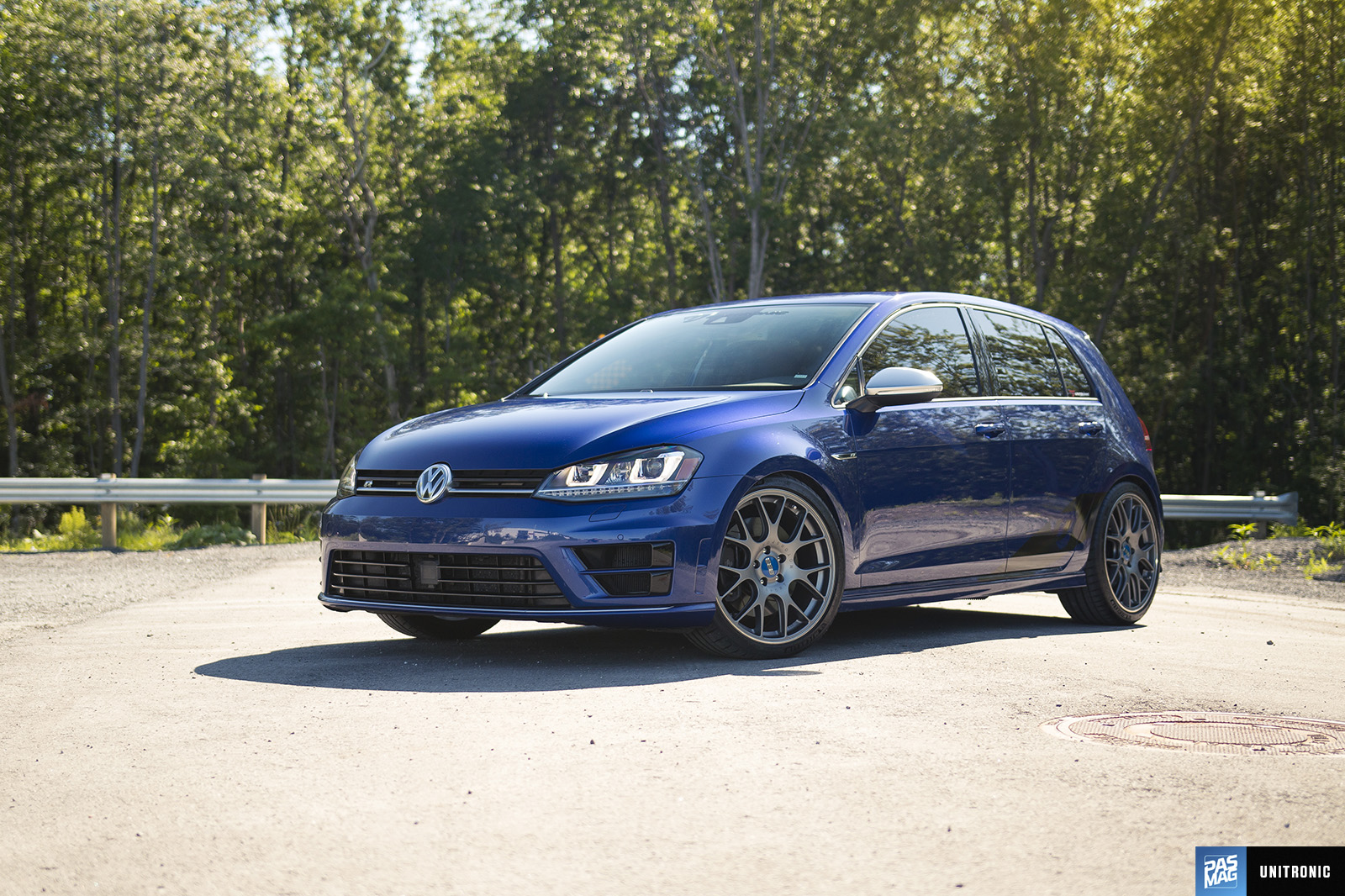 Sitting at the right height with KW V2 coilovers and brought down by StopTech slotted rotors and EBC Redstuff brake pads, the R was finally ready to put down some times at the drag strip. Both Archambault and Unitronic came home happy with their results. Crossing the line at 11.54 seconds at a top speed of 118.9 miles-per-hour is fantastic outcome from a car that originally supposed to be a fun commuter. Those are some fast groceries!
To see Archambault's Golf R, as well as some other quick V.A.G vehicles and the product that makes them fast, be sure to stop by Unitronic's booth at Waterfest 23.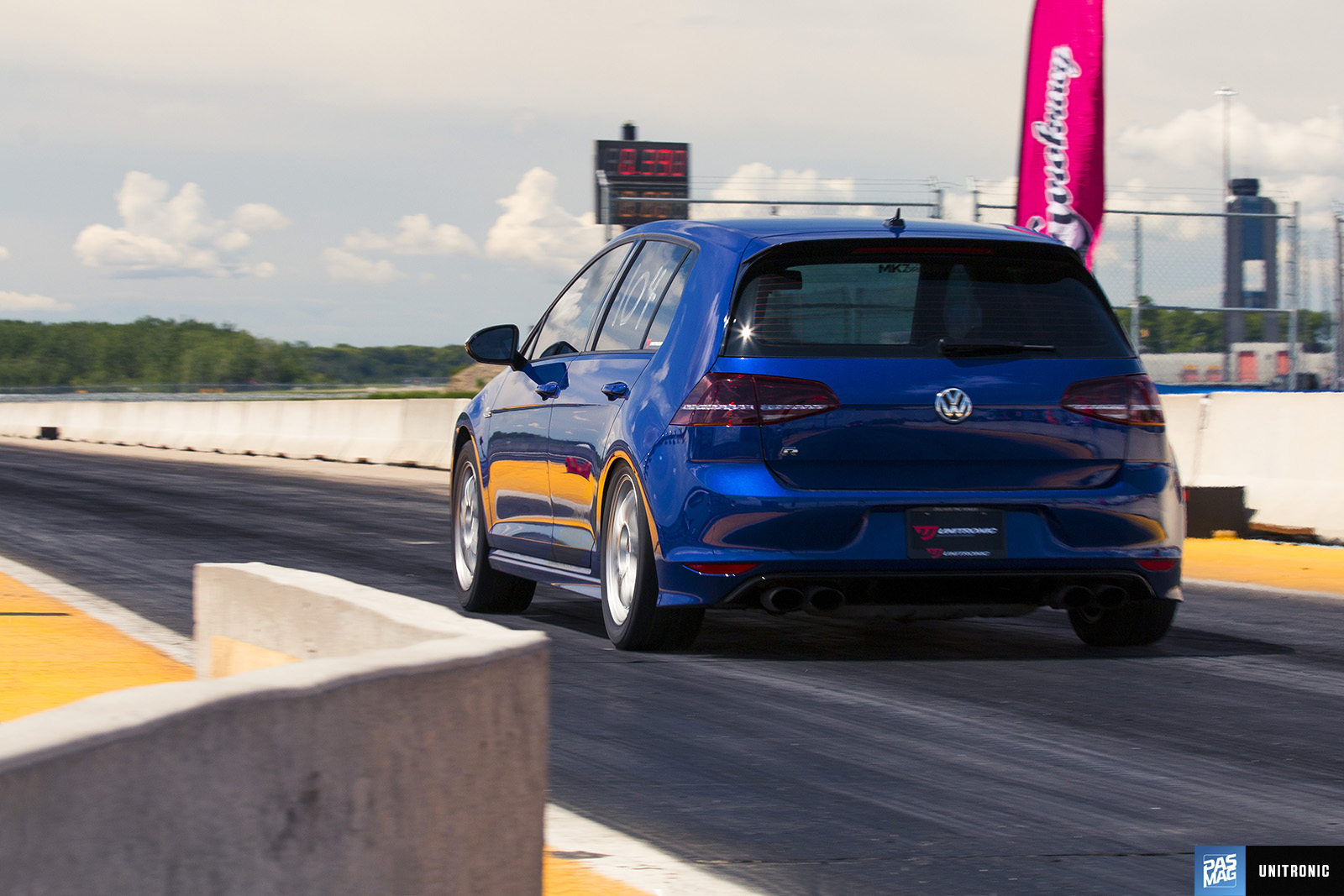 ESSENTIALS
Owner: Patrick Archambault
Vehicle: 2016 VW Golf R (MK7)
Engine: VW EA888 Gen. 3 2.0L TSI I-4
Horsepower: 397 hp
Torque: 368 lb-ft
Quarter-Mile: 11.54 @ 118.9 mph
ENGINE
Unitronic (Stage 2 ECU tune, intercooler, limited edition blue carbon fiber intake)
EXHAUST
DRIVETRAIN
Unitronic Stage 2 DSG tune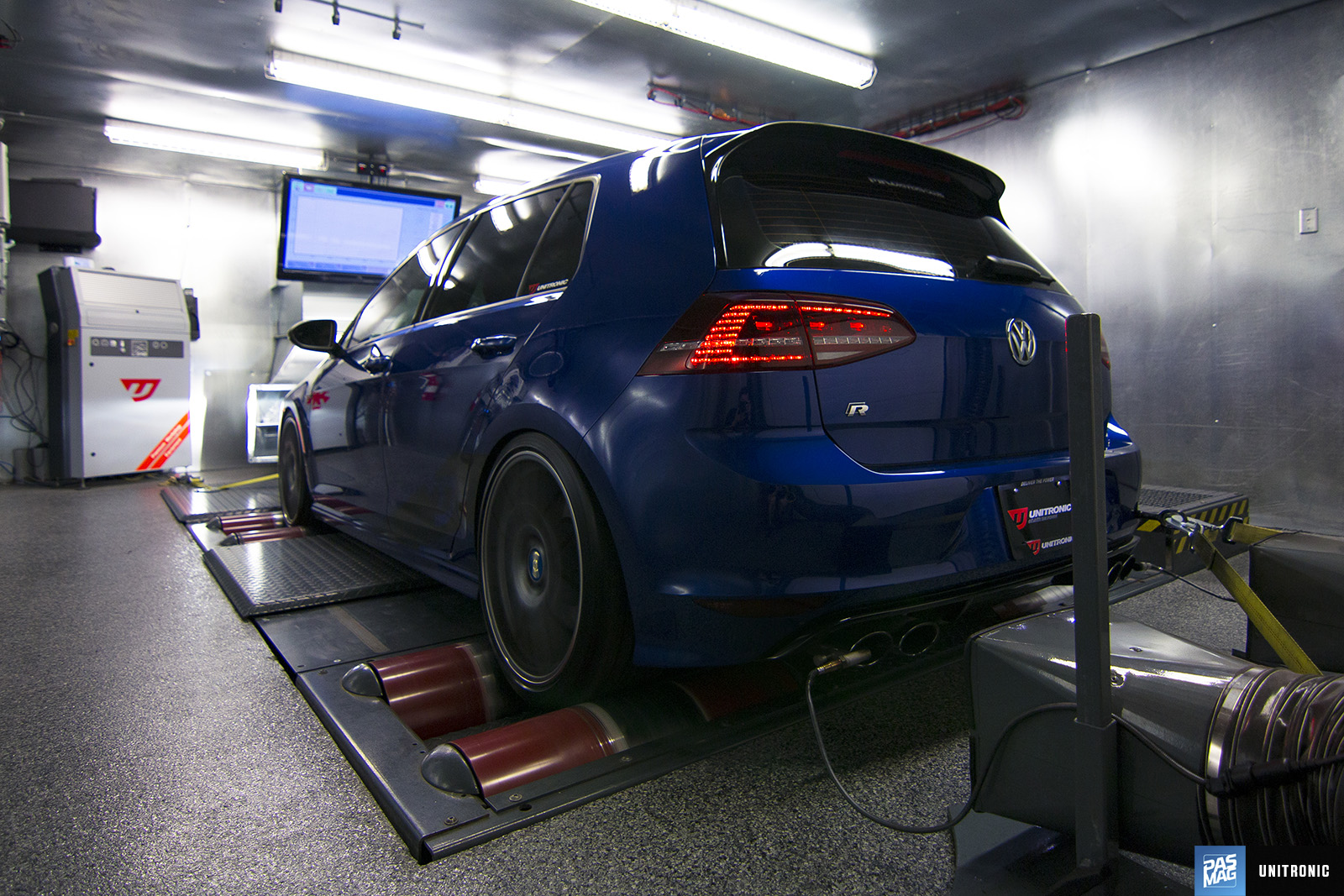 WHEELS/TIRES/BRAKES
BBS CH-R street wheels – 19x8.5 +48 (f/r)
Michelin Pilot 4S street tires – 235/35 R19 (f/r)
Enkei RPF1 track wheels – 17x7.5 +45 (f/r)
Toyo R888R track tires – 235/45 R17 (f/r)
StopTech slotted rotors
EBC Redstuff pads
CHASSIS/SUSPENSION
KW Suspension V2 coilovers
EXTERIOR
VW Euro (aluminum mirror covers, LED Golf R tinted taillights & adapter harness)
SRS-Tec spoiler extension
INTERIOR