Photography by Jade Nelson
---
The LMS-Built R8 Daily Driver
Those of us with octane flowing through our veins have definitely dreamed of taking a purpose-built racecar out on the town, waking up the neighbors with an unrestricted exhaust, flying down empty residential streets and wide open country roads, and feeling the wide, sticky tires grip against the asphalt into a corner or out of a roundabout. It's even something we daydream about when we get a section of open road in our daily drivers, imagining our engines with a few more cylinders and an invisible clock to race against (hopefully with no cops around). For one enthusiast in Vancouver, British Columbia, those fantasies have become a reality thanks to a tuning shop in Seattle, Washington.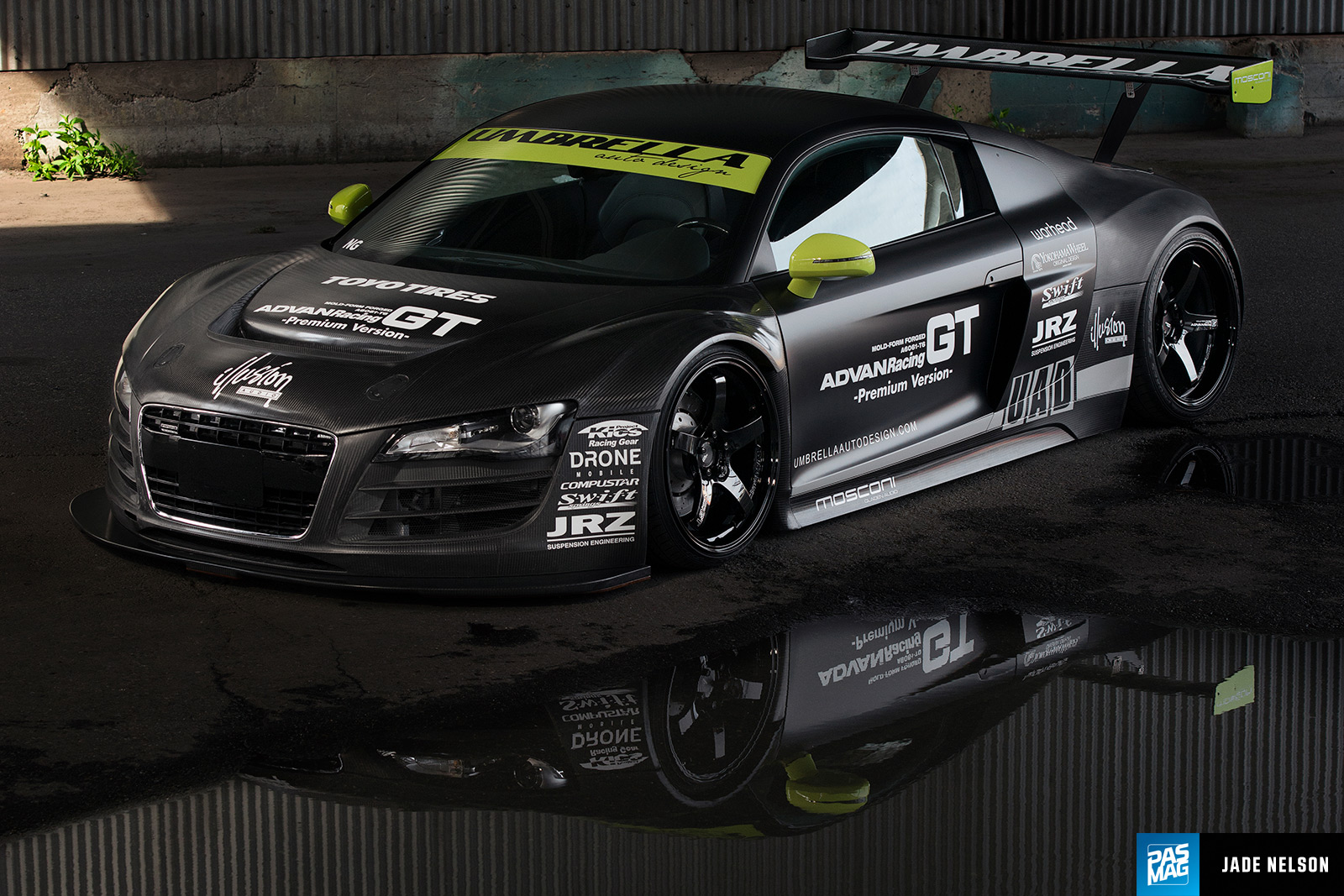 Clement Ng has been friends with Ravi Ayyagari of Umbrella Auto Design (UAD) for a few years, previously getting a VRH lift system, which Ayyagari manufactures and installs himself, on his widebody S2000. While the S2K was the focus back then, Ng also had a 2009 Audi R8, which became a topic of conversation and was planned to have some work done by UAD at some point. In April, 2013, the R8 had its turn at the Seattle shop for JRZ coilovers and a VRH lift system, a duo that UAD is known for. Ng also inquired about a widebody, which Ayyagari said would be no problem. Unfortunately, he was wrong. It would be a problem.
[As seen in PASMAG #143 (June/July 2017)]
"We got the JRZ coilovers in, the wheels he wanted, and we also ordered a certain widebody kit," says Ayyagari, not naming any names. "When the kit came in, it just wasn't ideal or what we wanted. I spent seven or eight months trying to fix all the idiosyncrasies and the flaws. It was really resin rich and weighed about 900 pounds."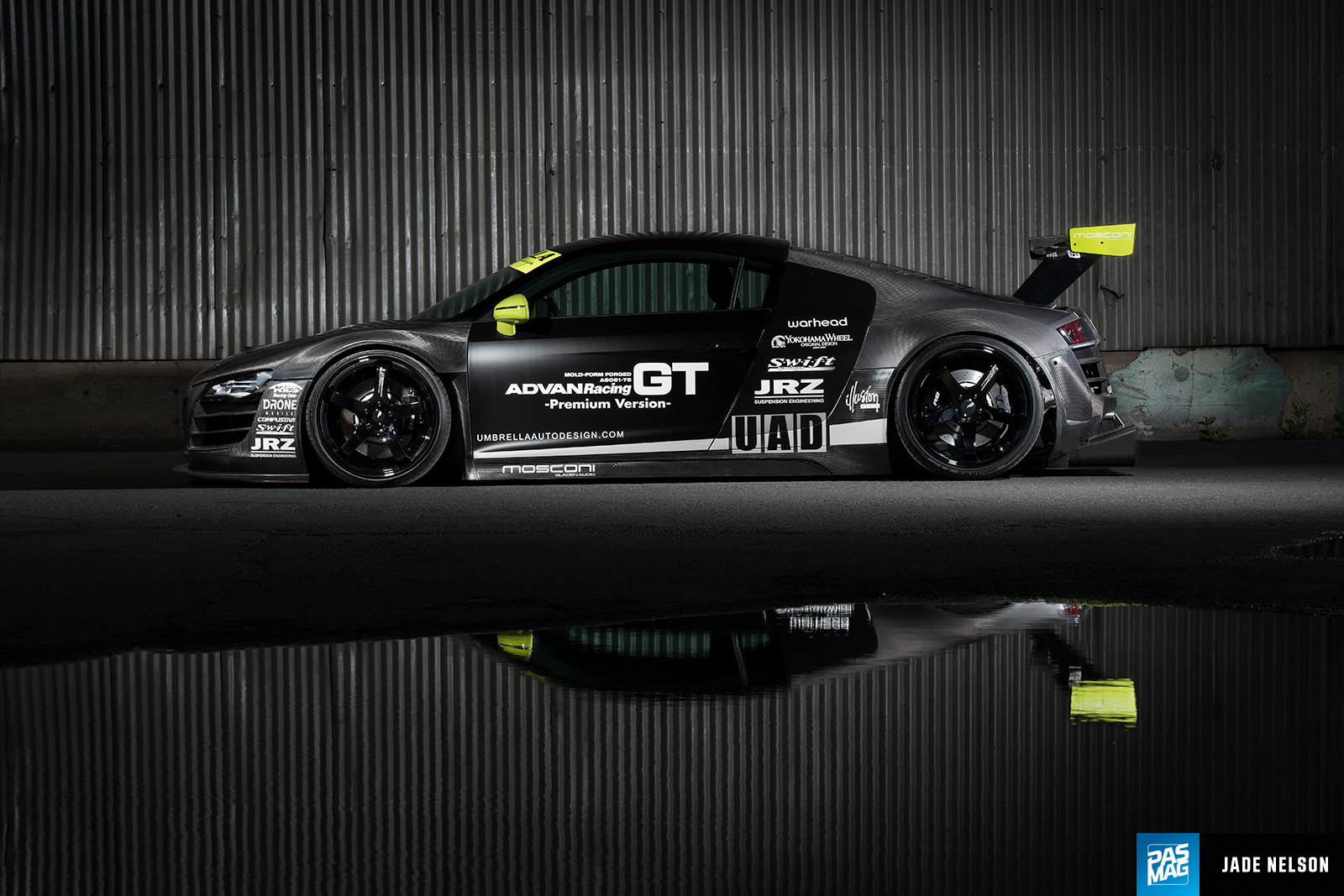 After too much wasted time trying to get the widebody to work with Ng's vision, Ayyagari finally came to him and explained the situation, asking if there were a different direction they could take the build in. In true supercar owner style, Ng merely asked him to get the numbers together. It turns out Ayyagari had something one-of-a-kind in mind, reaching out to some contacts of his who race Audi R8 LMS professionally, and eventually speaking to some Audi race team engineers to see if it were possible to get some spares for the R8 he had sitting in his shop.
"They got back to me and told me what I'd need, what I should get, and how much it would cost," Ayyagari recalls. "It was wildly expensive, but we decided to go forward with it."
Soon, Audisport LMS dry carbon fiber widebody pieces started showing up at the shop, made in different facilities, years, and some even used in races, in order to complete a full set. Mounting the front and rear bumper, splitter, diffuser, hood, side skirts, rocker panels, quarter panels, fenders, hatch and wing, which slots through the trunk and mounts directly to the frame, Ayyagari had already mocked up the ducting for the cooling system before realizing that something was amiss. The radiator setup on the R8 for the street and the one for the track are very different, and keeping the stock cooling system wouldn't work with the LMS kit.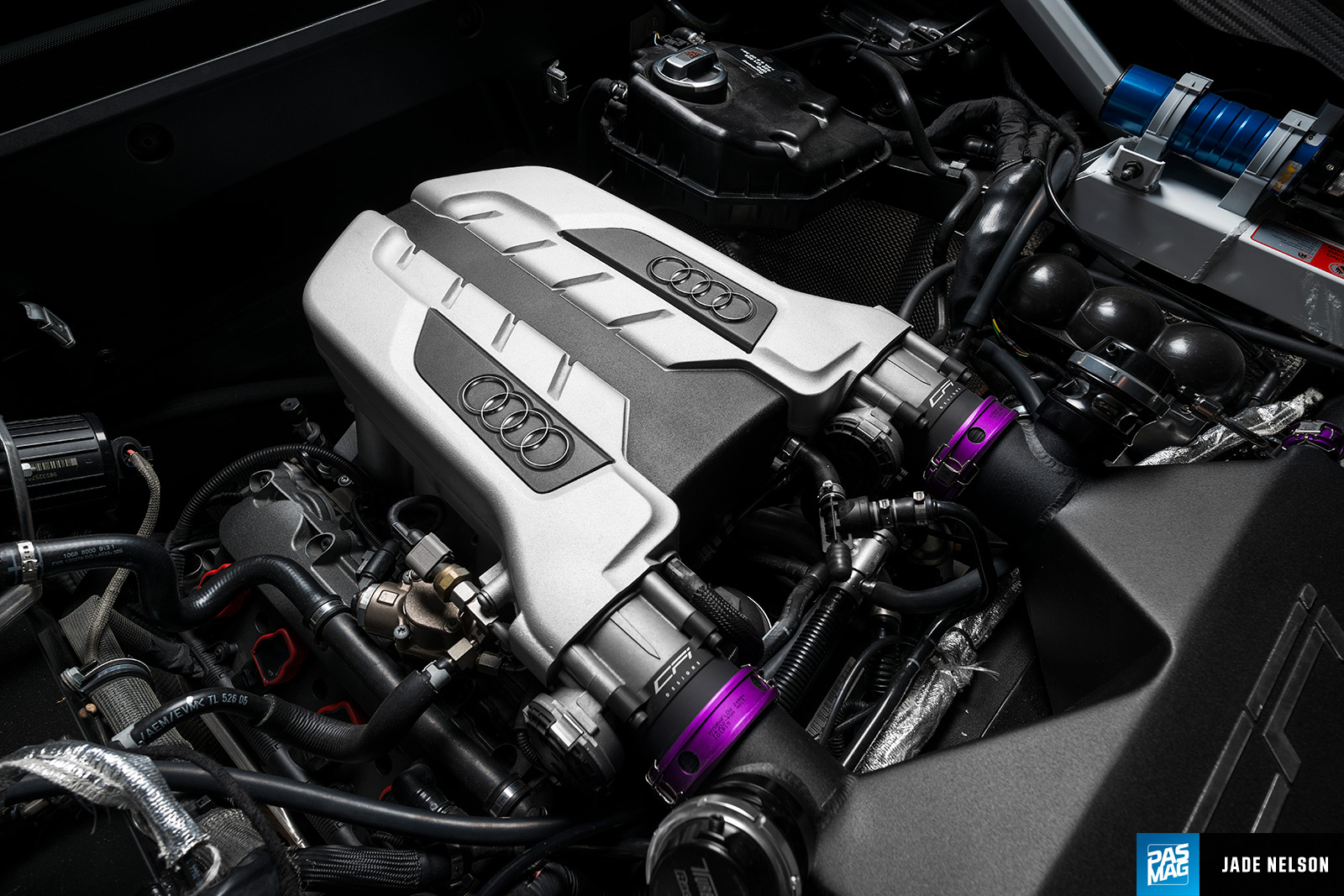 On an off-the-lot Audi R8, the radiators sit on the left and right sides, just below the headlights. An upper radiator core support bar runs laterally between the frame rails that's pretty much there for mounting the bumper, and then a lower support bar, which is a structural component to the frame, runs below. On the racecar, that's all been eliminated, the structural lower support bar has been cut out and replaced with a slightly thinner, bolt-in Audisport counterpart, and the rad now sits in a v-mount in the middle. Pair that with the fact that there's no such thing as an "R8 LMS cooling conversion kit," meaning that the UAD crew would need to fabricate all the radiator piping from the front compartment to the engine, and it's no wonder Ayyagari lists that job as the most challenging he's ever done.
"There's a huge, 14-inch, super-thin SPAL pusher fan that sits below the radiator, inside the v-mount, and the brackets for mounting it weren't available, so I had to fabricate this elaborate stainless steel cage that the radiator sits in, on top of the v-mount," he recalls, finding some humor in it now. "After that was in there, I had to cut the frame, drop the radiator mount in, and then set the rivnuts. I had never done anything that crazy before. I still remember the day I cut the center of the frame out – it was really scary."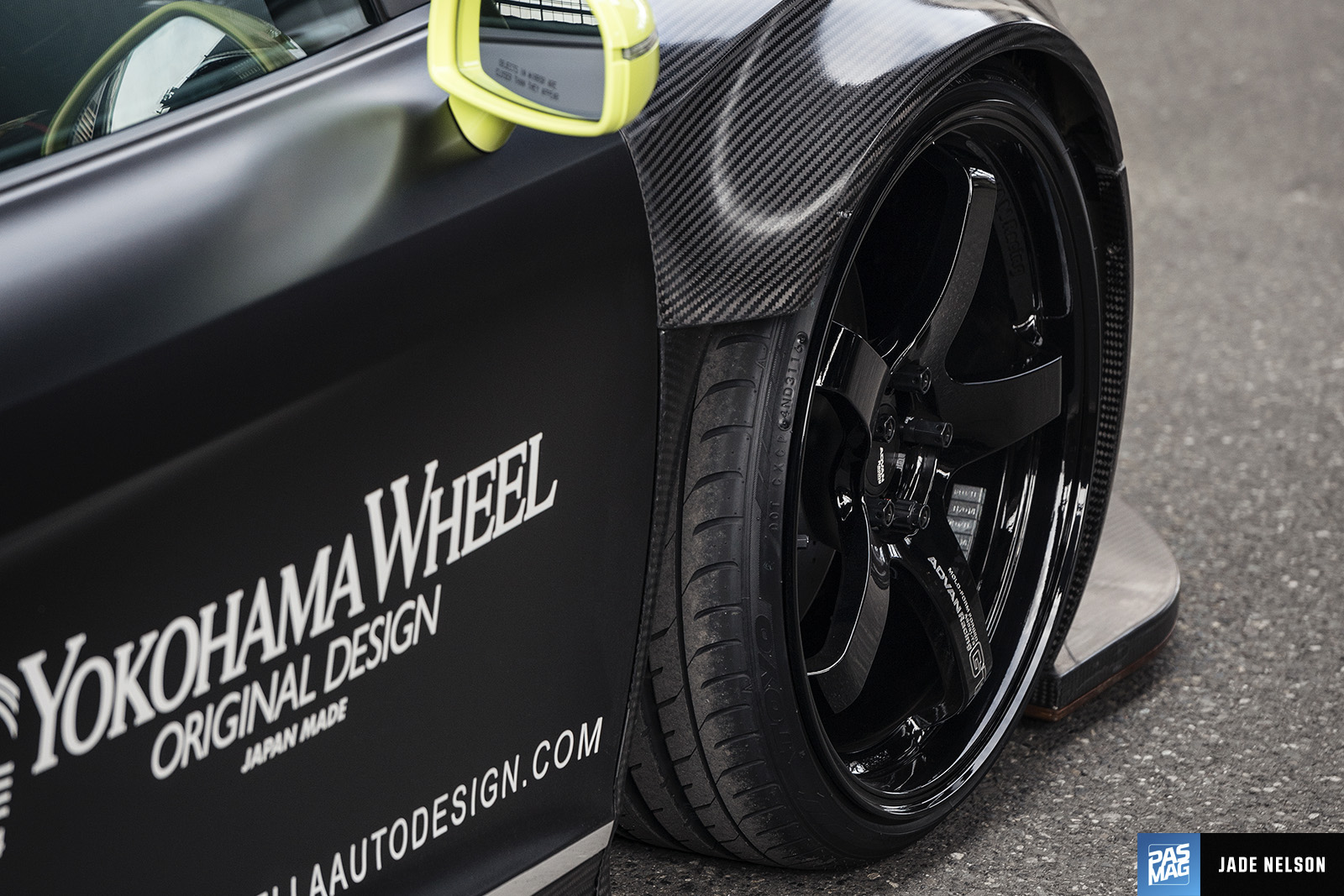 With the cooling system finally working, the suspension in, and the car literally firing on all cylinders, the team at UAD received more good news with some recognition from Yokohama Wheels in the form of an invitation to sit at their booth at SEMA. As visions of the R8 on Advan GTs in Vegas danced in their heads, it was decided to take the performance of the car up another level, so Ayyagari reached out to CFI Designs, as they're known for their twin-turbo setups for R8s and Gallardos. Touting a new turbo kit with a custom center-exit exhaust, pushing 580 wheel-horsepower and some very nice noises, while sitting pretty on Advan GTs in GT-R-spec, measuring in at 20x10 in the front (miraculously stretching a 235/30 over it) and 21x12 in the rear, the LMS streetcar was game for the big show, having only one little hiccup on the way out the door.
"My friend that owns the transport company brought his trailer and his truck, but the Audi was too wide to get inside," Ayyagari chuckles. "He had to go back and get his semi-truck so he could get it to Vegas!"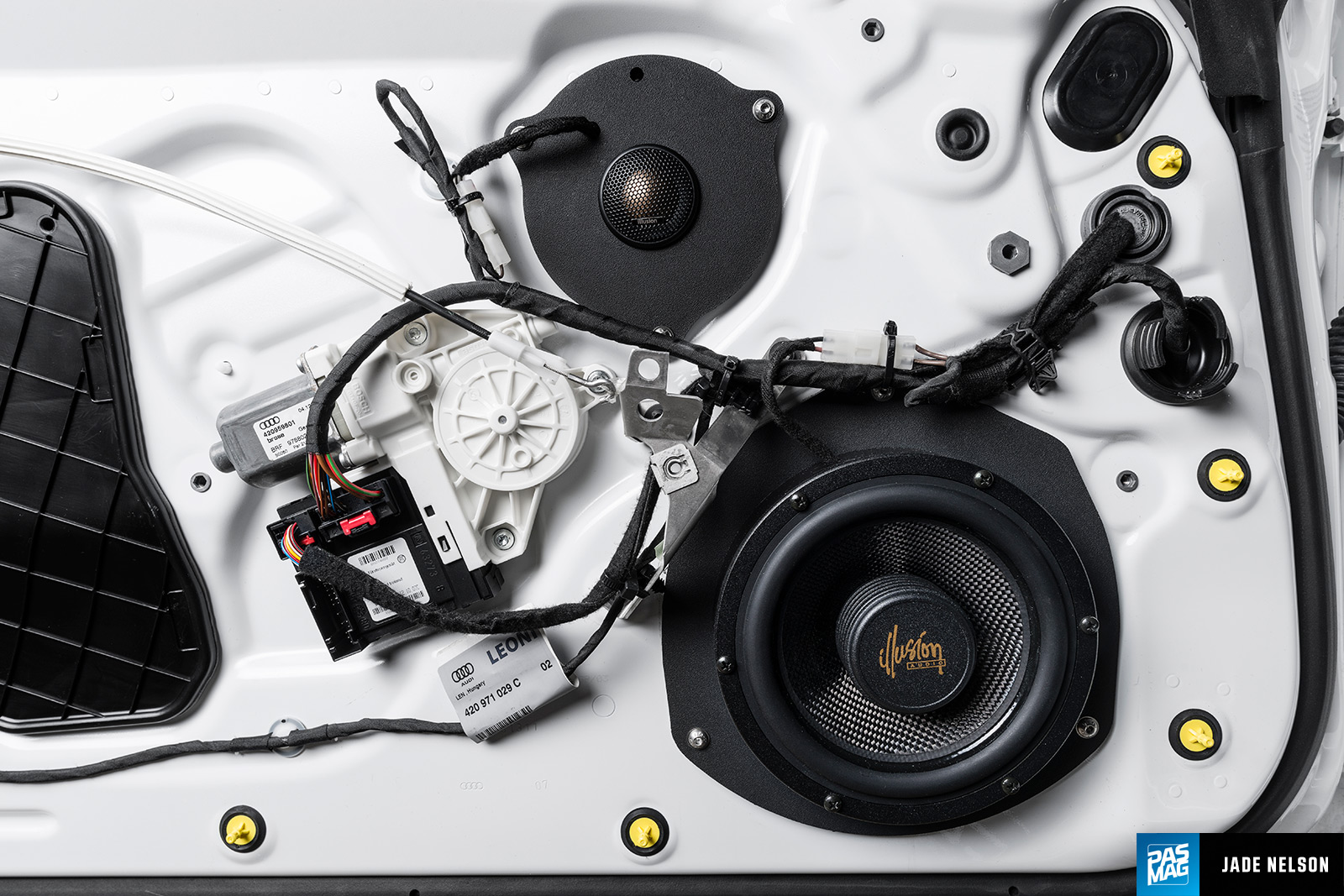 Coming home from Vegas the darling of every attendee's Instagram account, the R8 was soon back in the shop to get some finishing touches before Ng comes to finally pick her up for the summer. Yes, the car looks like a racecar, but it'll be driven on the road, and as such needs some creature comforts, like an audio system fit for an all-carbon Audi. Really, the only thing that goes with carbon is more carbon, so Ayyagari sourced Illusion Audio's Carbon Series component speakers and subs, and paired them with two of Mosconi's smallest amplifiers, which are mounted under the passenger seat. The Mosconi D2 100.4DSP runs 100 watts by four channels to the Illusion C6 components, while the D2 monoblock powers the C10 sub with 500 watts of clean power.
"I was really impressed with how lightweight they are," Ayyagari says of the speakers. "Having the magnet on the front makes them really versatile, as far as the mounting depth. I was able to create a direct bolt-in baffle for the doors that picks up on all the factory bolt points, so there's no drilling or cutting, and then added its own drilled mounting points for the speaker basket. It's super clean."
After almost exactly four years, the Audi will be taking some time off and vacationing with Ng for car show and track season in Vancouver. When winter hits, it'll be back to UAD for a custom interior and a splash of paint before it can really be called complete. In the meantime, the car that was only supposed to be in for some wheels, suspension, and a body kit, but came out on the other side as a racecar for the street will be out and cruising to meets or back and forth to the track, so if you're car-spotting in BC, keep an eye out to catch it as it blows past.