Photography by Adam Zillin (7tune)
---
It's the brightest, most vivid shade of orange I've seen on a car in a long time and is reminiscent of the Lamborghini hue, Arancio Borealis. Under a bright and sunny Tokyo sky, it comes across like an ice cold can of Sunkist; so refreshingly punchy and vibrant. This particular build has been over 12 months in the making, and has gone through three different engine and drivetrain configurations during this time - not because the previous incarnations were inferior, but because a perfectionist like Star Road boss, Shoji Inoue, knows sleep is optional and shop cars are a never-ending process of research and development.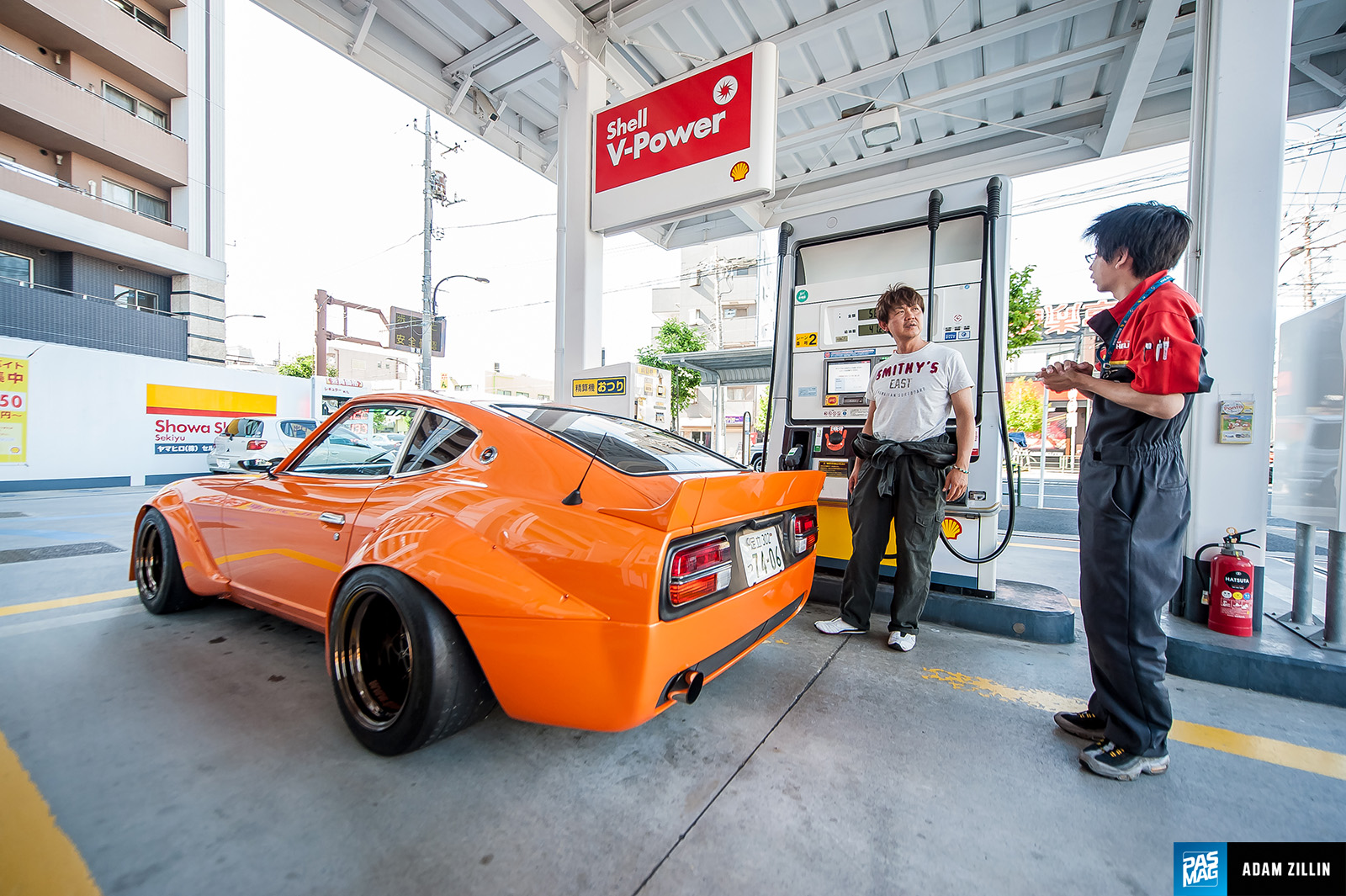 That being said, it took me quite some time to get used to the looks of Star Road's widebody kit, and Inoue knows it, too. I've made it no secret to suggest I preferred the classic, simple, carbon over-fenders on his other builds, but, over time, I've found myself drawn to the new lines of the Star Road kit. The "Sunkist Z" is polarizing, and for good measure; it carries presence and power visually, but backs that up with mechanical prowess worthy of a legend reborn from the ground up.
The "devil is in the details," as they say. Every Star Road chassis is built from the ground up, nut and bolt. Starting with a naked shell, everything on the chassis is blasted, treated and then seam- or spot-welded before being primed and painted, while the drivetrain, interior, and exterior modifications are simultaneously planned and prepared for execution. The process can take up to a year and a half and up to or over $200,000 (USD) to complete, depending on the options ticked. Absolutely no expense is spared nor stone unturned in the pursuit of automotive perfection.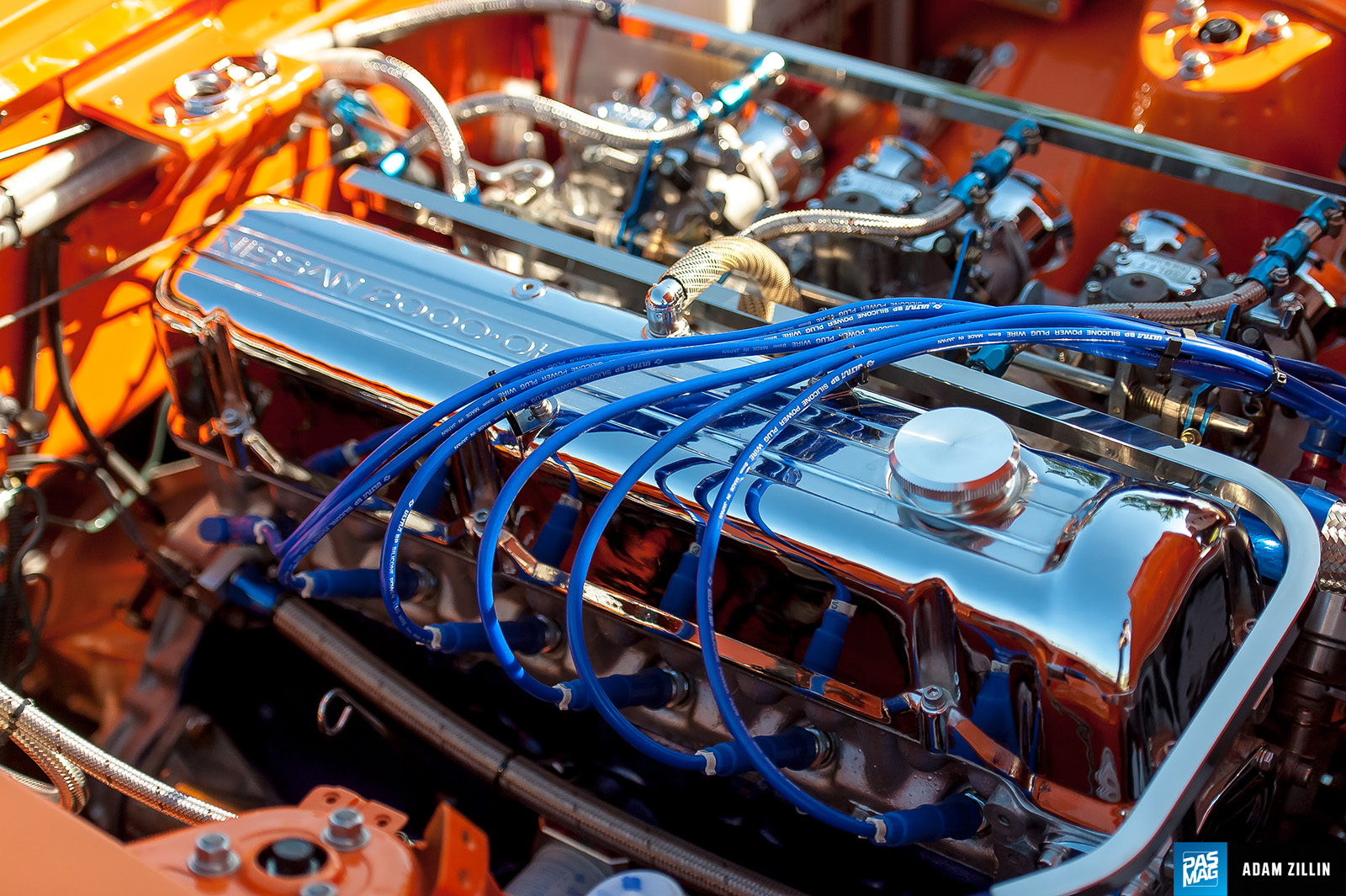 The purpose and concept behind a Star Road build is simple in concept, but eye-wateringly detailed in execution. The car must be something that can be driven daily, retain classic lines and features, be period correct where possible, and contain enhancements to the chassis, drivetrain and interior that bring it up to a more modern spec and finish. That's why Star Road S30Zs are powered by the classic straight-six L28 engine - this one stroked to 3.2 liters, with a five-speed gearbox from an R32 GTS-t.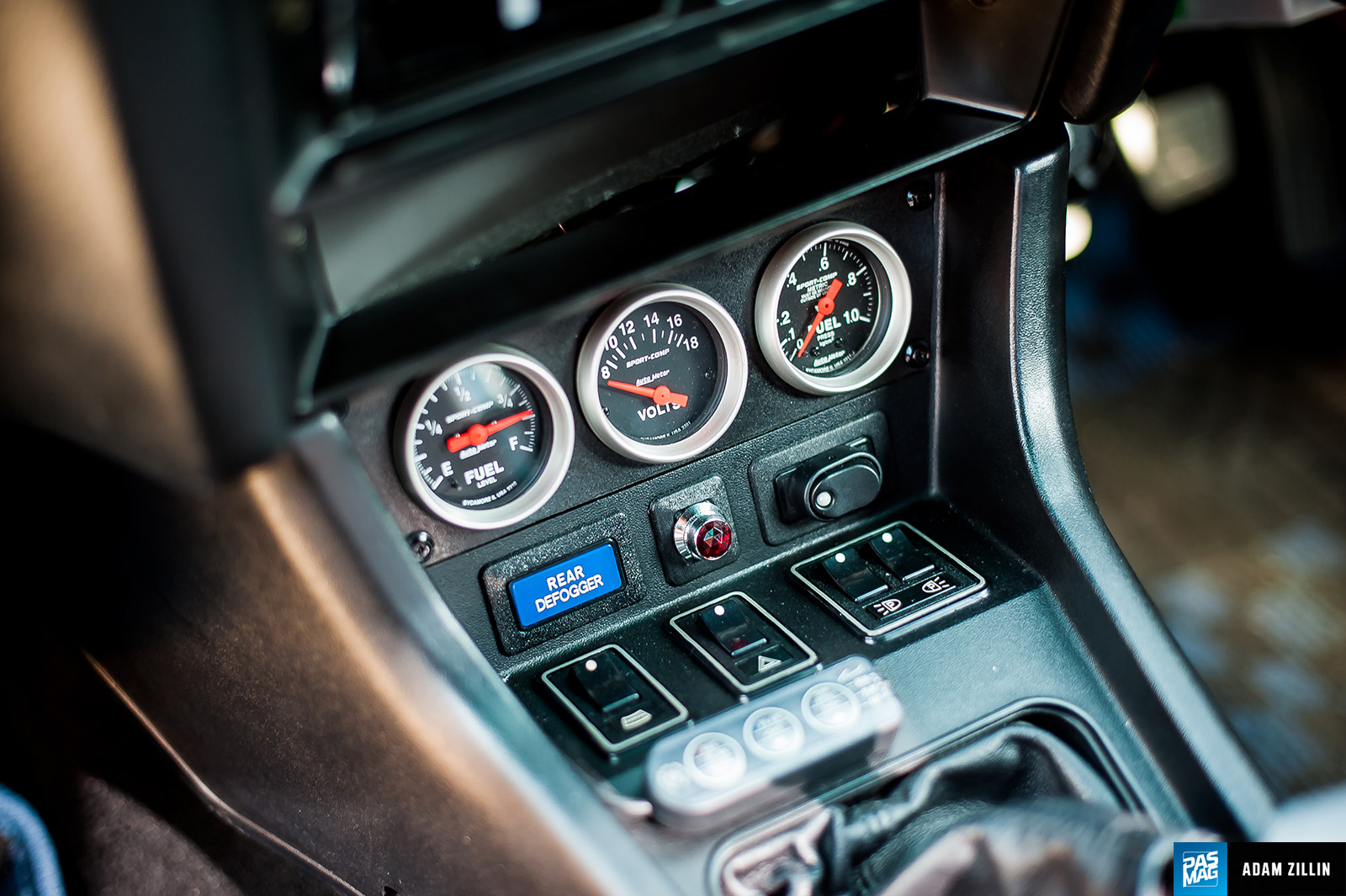 It's why there are Defi gauges in the center vent pods, and it contains two incredible Bride carbon-Kevlar GIAS semi-buckets. It's also why it has LED headlights from a Mercedes G Class that just happened to fit perfectly. It looks and feels like a brand-new car - one that barks just as viciously as it bites.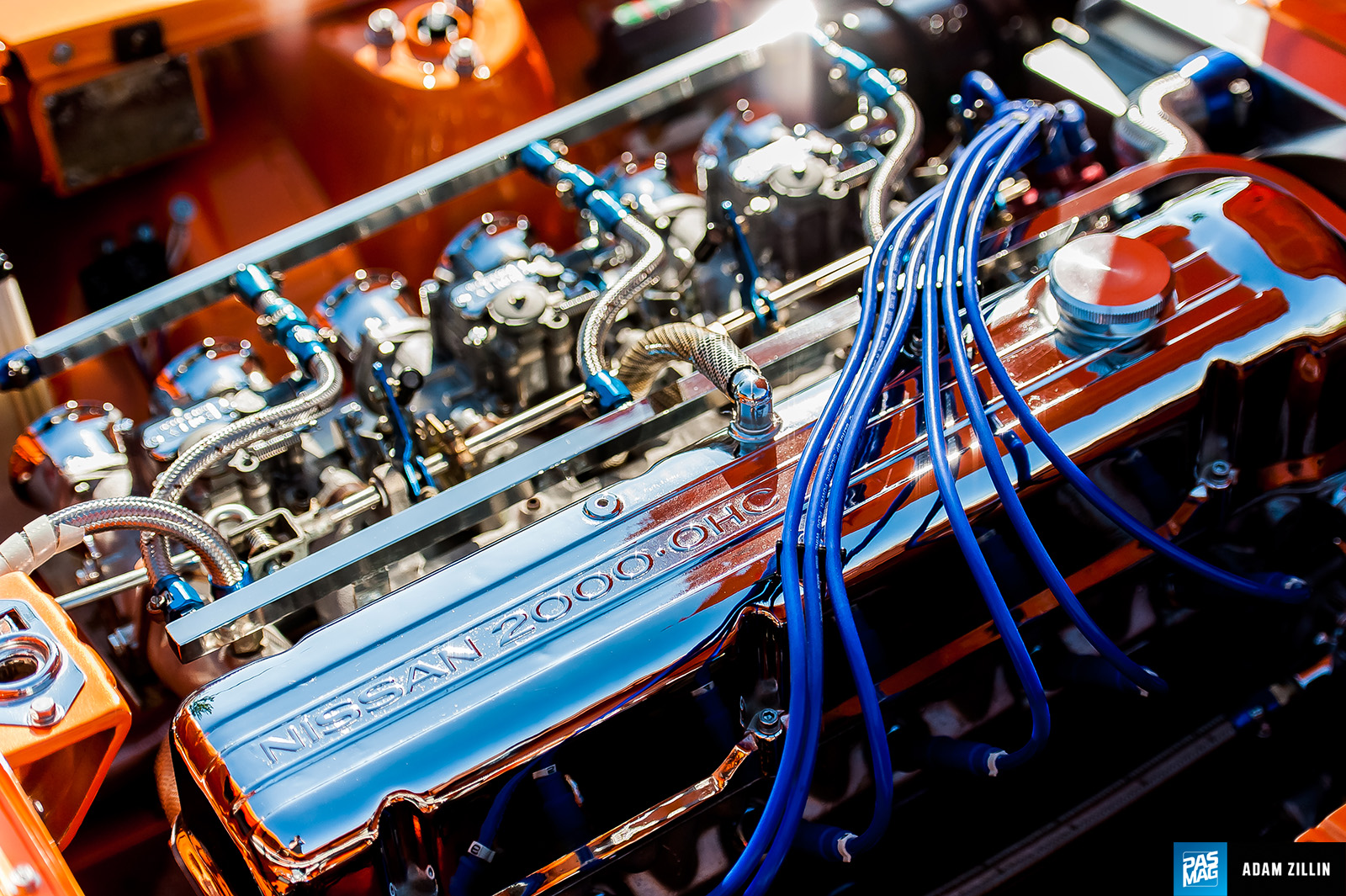 "Pop the hood!" The first time you do with a Star Road S30Z, you'll immediately realize what true vehicular engineering is. Starting with a venerable N42 L28 straight-six, the block is then sent to renowned engine builders, Auto Service Watanabe. ASW is not a name most of you will know in North America, but when it comes to extracting the ultimate level of performance and reliability from the L28 in Japan, ASW are virtually peerless. The block is meticulously checked, acid dipped, pressure tested, decked on both ends, and bored to 3.2-liter SPL specifications, with the further benefits of increasing the size of the big end bearing cap galleries and boring out the crank escape galleries to handle increased oil flow and combustion pressures, adding to the robustness of the package down low.
Inside this monster of a heart beats six forged ASW oversized pistons attached to H-beam ASW connecting rods, which are then fixed to a fully counter-balanced and shot-peened 3.2-liter-specification ASW crankshaft. The aluminum head was also sent to ASW, where things are just as hardcore. After extensive water pressure testing and machining of both faces, the intake and exhaust ports are entirely hand-finished to SPL big port specifications, with the intake receiving a hairline port treatment, while the exhaust gets a half-mirror treatment. If you saw the finish on these ports you would be absolutely speechless - they are truly a work of art all on their own, and dozens of careful hours are spent getting them absolutely on point.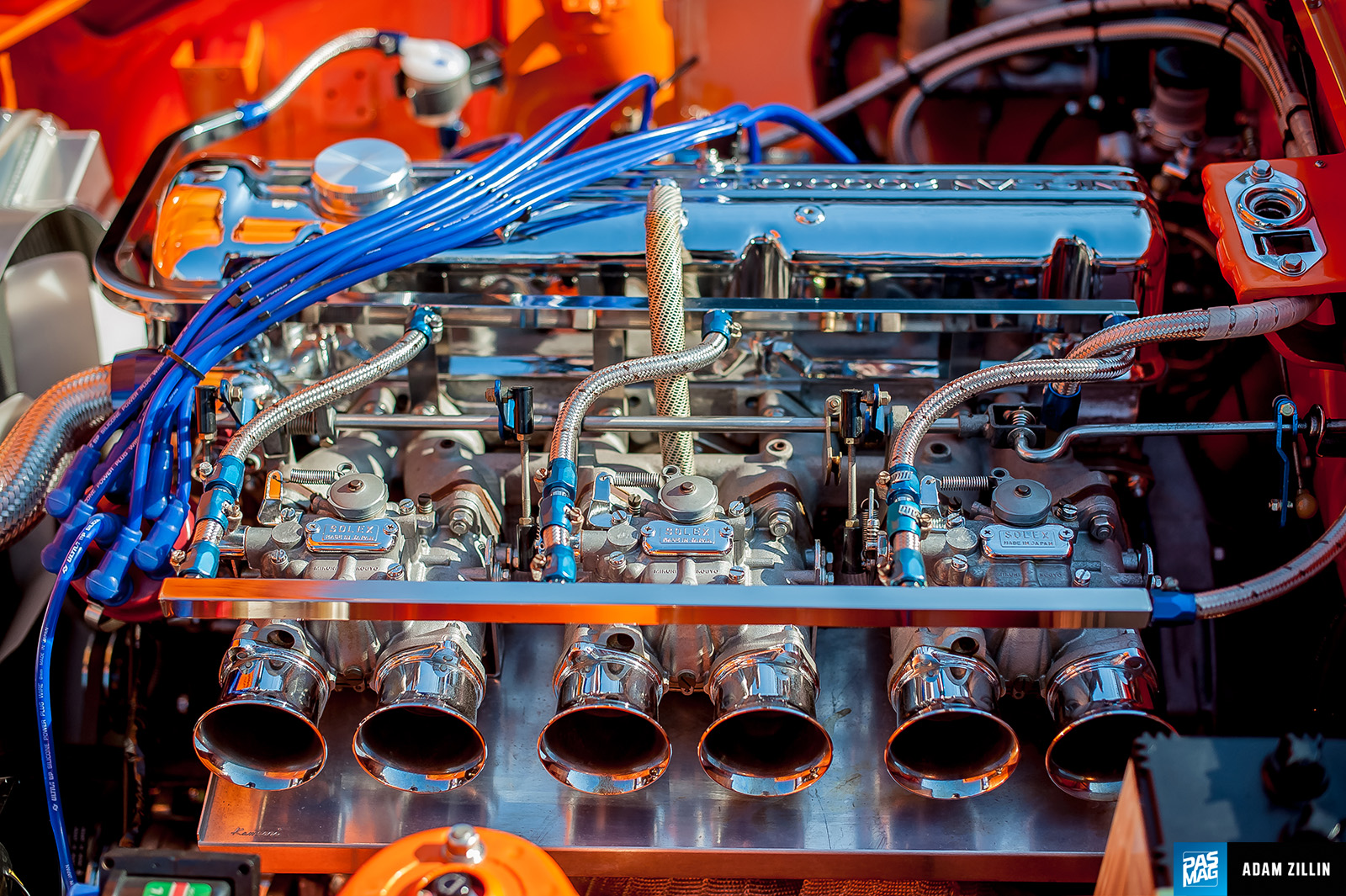 With a firm head on the L28's (L32's?) shoulders now ready, a set of ASW R-Type 79-degree camshafts were installed, backed up by a full set of larger (46.5-mm wide and 119-mm long) custom valves. ABB/PBB valve guides help the valves find their way back and forth through the combustion cycle with custom ASW high-lift springs assisting the send and receive. Spring retainers are custom-offset titanium items with uprated custom valve cotters keeping the valves securely in place. The meat in the metal sandwich is a head gasket that has a secret thickness to it to give a compression ratio nobody knows.
Feeding air to this beast of an engine is an old school triple threat set of brand-new Solex 50-mm carburetors, which are set off by a Mallory ignition system. It's old school cool that pops and coughs intermittently, but wails and rages to an ungodly scream when the loud pedal is squeezed hard. Expelling the raging fire within is a full custom Star Road exhaust system consisting of a shop original 48-mm "Low-Spec" set of custom headers, leading to a full stainless system and exiting in a street-and-track-friendly Star Road Low-Spec muffler.
How much power does all this madness add up to you? Naturally aspirated and on classic carburetors, the power plant makes a towering 380 horsepower at 7,800 rpm with near 295 lb-ft of torque at 7,500 rpm to back it up. It revs out all the way to an 8,500-rpm cutoff. These numbers are no joke, as I've driven many of Inoue's cars and they absolutely shock with the speed, power, and surge they produce under load. You firmly and progressively squeeze the throttle, and the Z instantly changes character; an urgent, guttural growl down low gives way to a blood-curdling scream at redline with no end in sight. It's enough to make every hair on your body stand to attention with your wits following soon after.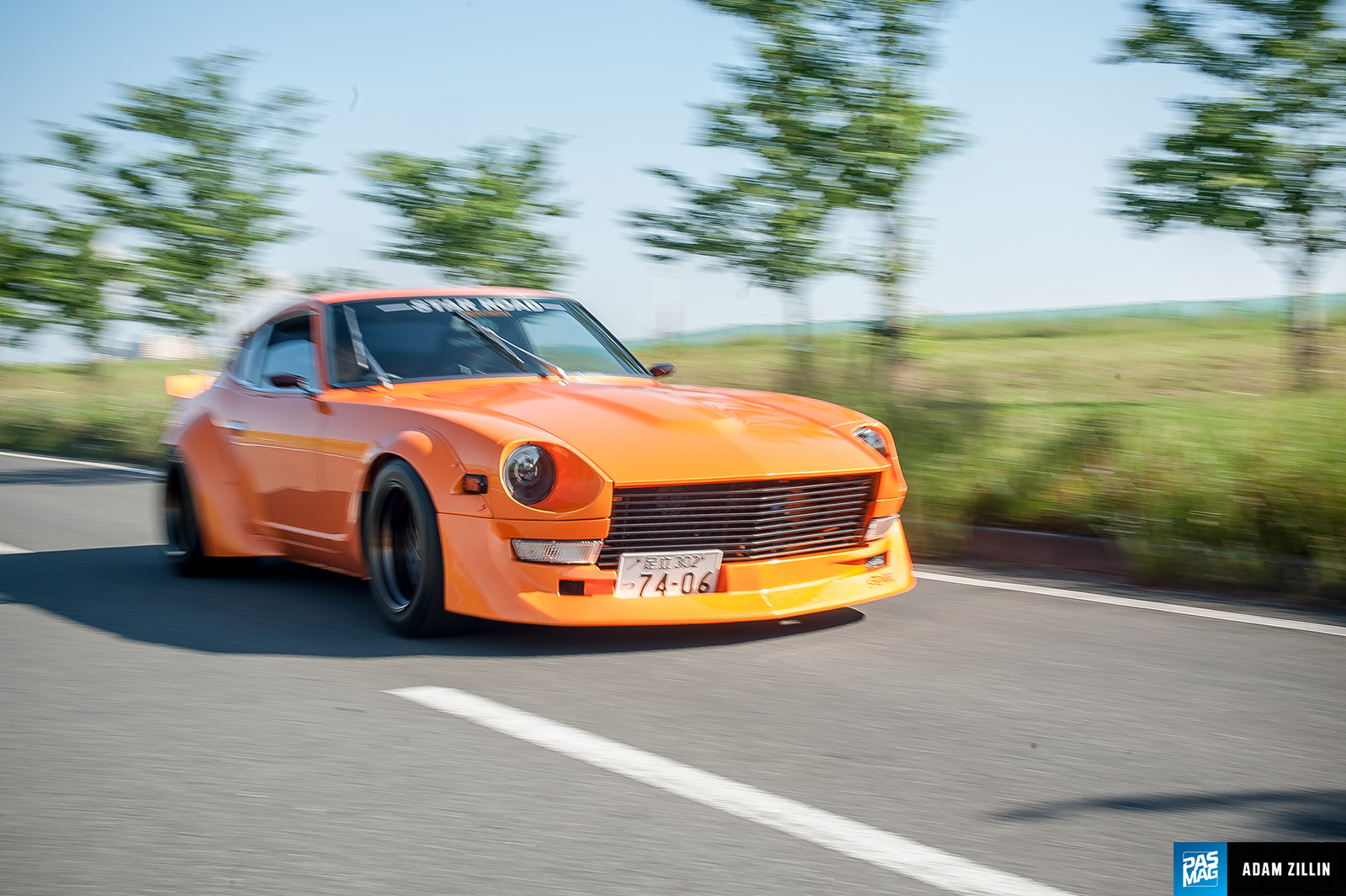 This particular engine is his finest yet. To drive, this S30Z is tractable, well-mannered, and a doddle in traffic thanks to the fully-overhauled, Kameari-spec, cross-geared R32 five-speed transmission and OS Giken twin-plate clutch assembly. The downsides to all this being the obviously alcoholic tendencies on fuel guzzling, not to mention that heat soak on the carbs can be a bit of an issue in hotter temperatures. To combat this, a fan forced system has been installed to assist intake temperatures.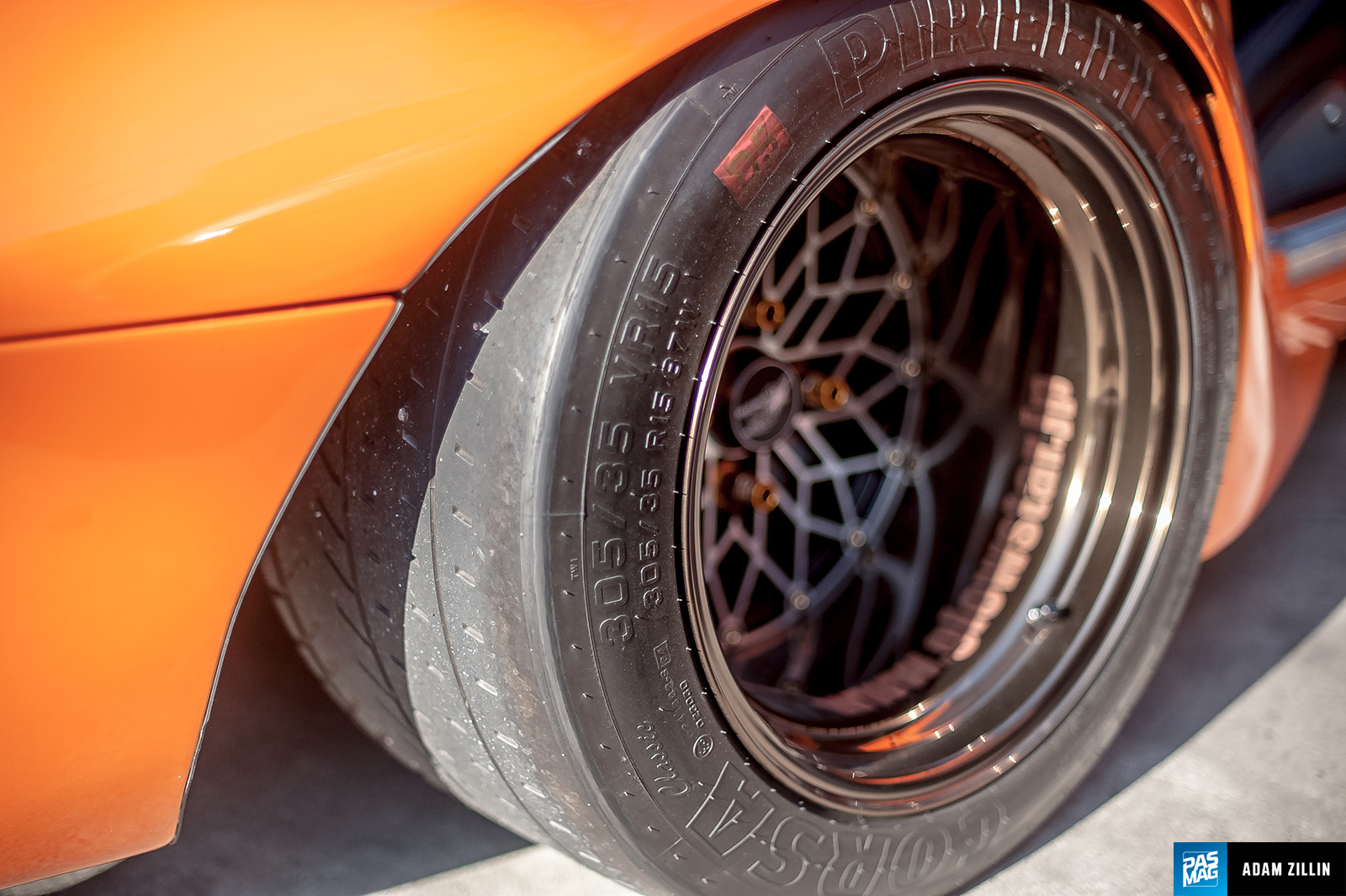 Getting power to the ground is a stout R200 casing containing a Nismo 4.375 final drive mechanical differential. And through what rubber is that power transmitted? None other than Pirelli P7 semi-slick race tires; good for dry weather, but I fear for the man who tries his luck in the rain on these. Measuring a massive 305/35 out back with a supporting 235/45 footprint up front, these are no joke to be fooling around on. It was very interesting to notice how the P7s come to you the harder you drive them. Setting off from the shop, they are hard as ice, with the tendencies to suit; they complain and protest over bumps and undulations, but give the chassis some work (and thereby, some heat) and they become much more supple. Tires not suited to a novice at all then - and at over $500 (USD) a corner, for very good reason!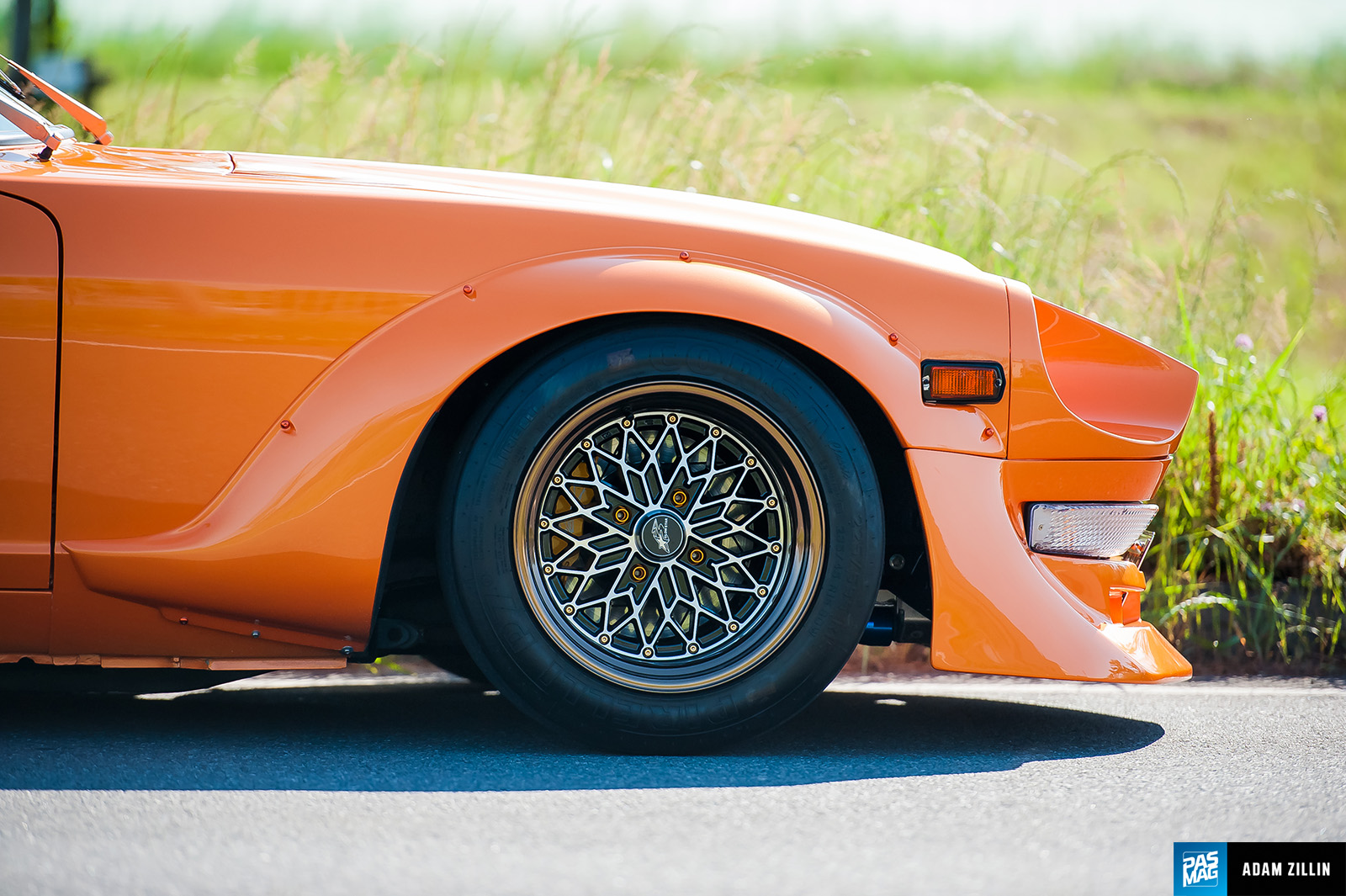 The P7 Pirellis embrace 15-inch WORK-Wheels-manufactured Star Road "Glow Stars," bejewelled in a black diamond-cut, bronze-anodized lip, measuring 9-inches wide and a -53 offset up front with a massive 12 inches in width and -60 offset at the rear. It's a gorgeous combination of colors and contrasts befitting the overall look and feel of the mechanical marvel.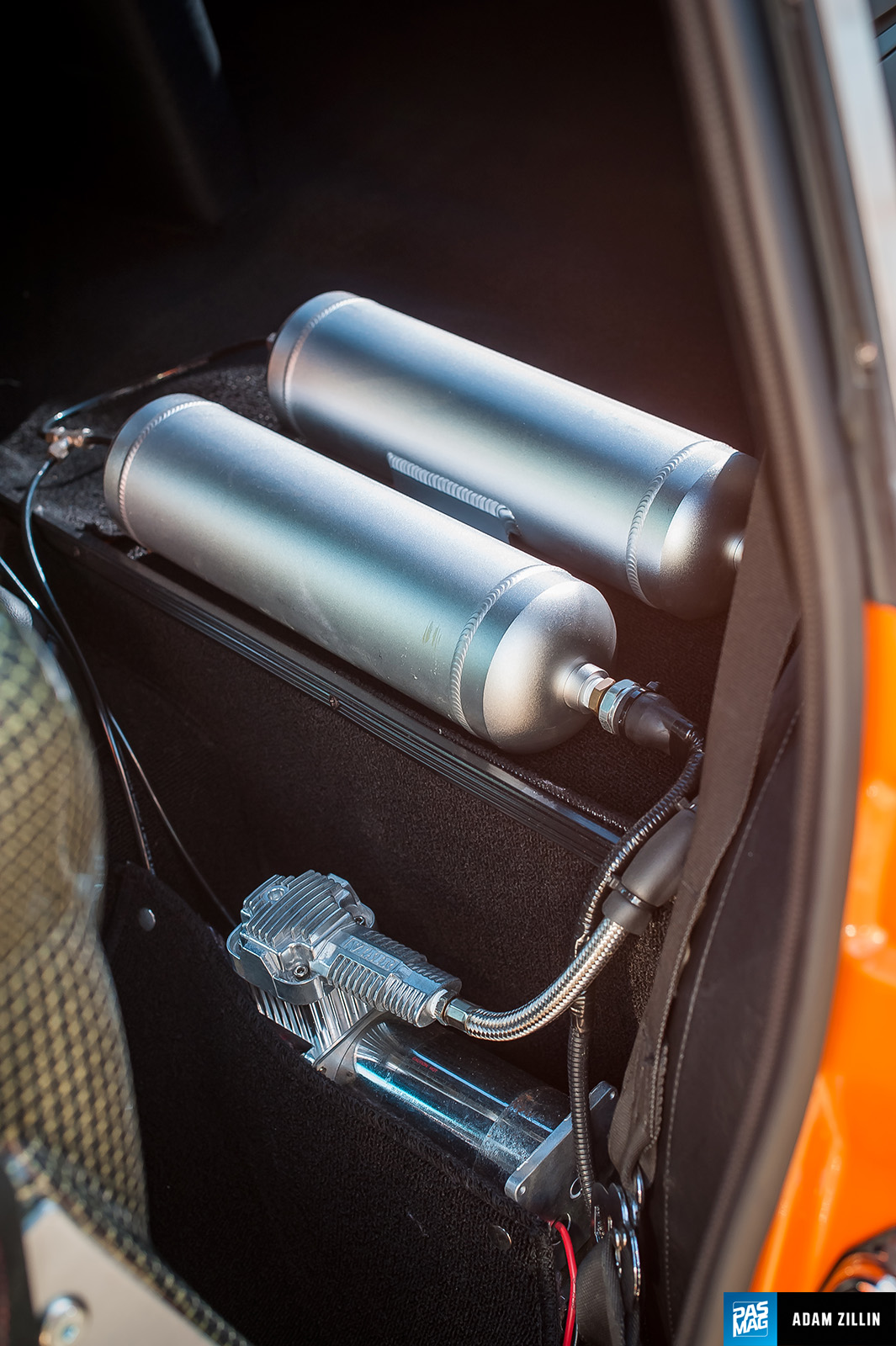 Holding everything up on all four corners is a brand-new set of Star Road's 16-point adjustable dampers with the very recently added Star Road hydraulic height adjustment system, not uncommon in supercars from Lamborghini or Audi. Thanks to the onboard compressor system, a press of the button on the dash-mounted switch panel gives you added inches of clearance to ensure bodywork remains intact and performance remains uncompromised. Pulling everything up is a complete set of Star Road four-piston calipers, discs, lines, and pads.
There is so much detail to these cars that I could write a book on it all, but I wanted to end this deep dive into one of the most amazing S30Zs in the world by explaining the interior; or rather what it was like to be travelling in it. No matter where we went, people stared. Necks snapped. Conversations ensued. We couldn't even get gas or a drink without someone coming over for a chat. Kids pointed, staring wide-eyed in amazement; their parents nodding approvingly. Older gents craned with wistful gazes reminiscent of a time remembered well in their younger years. It literally felt like we were travelling through time.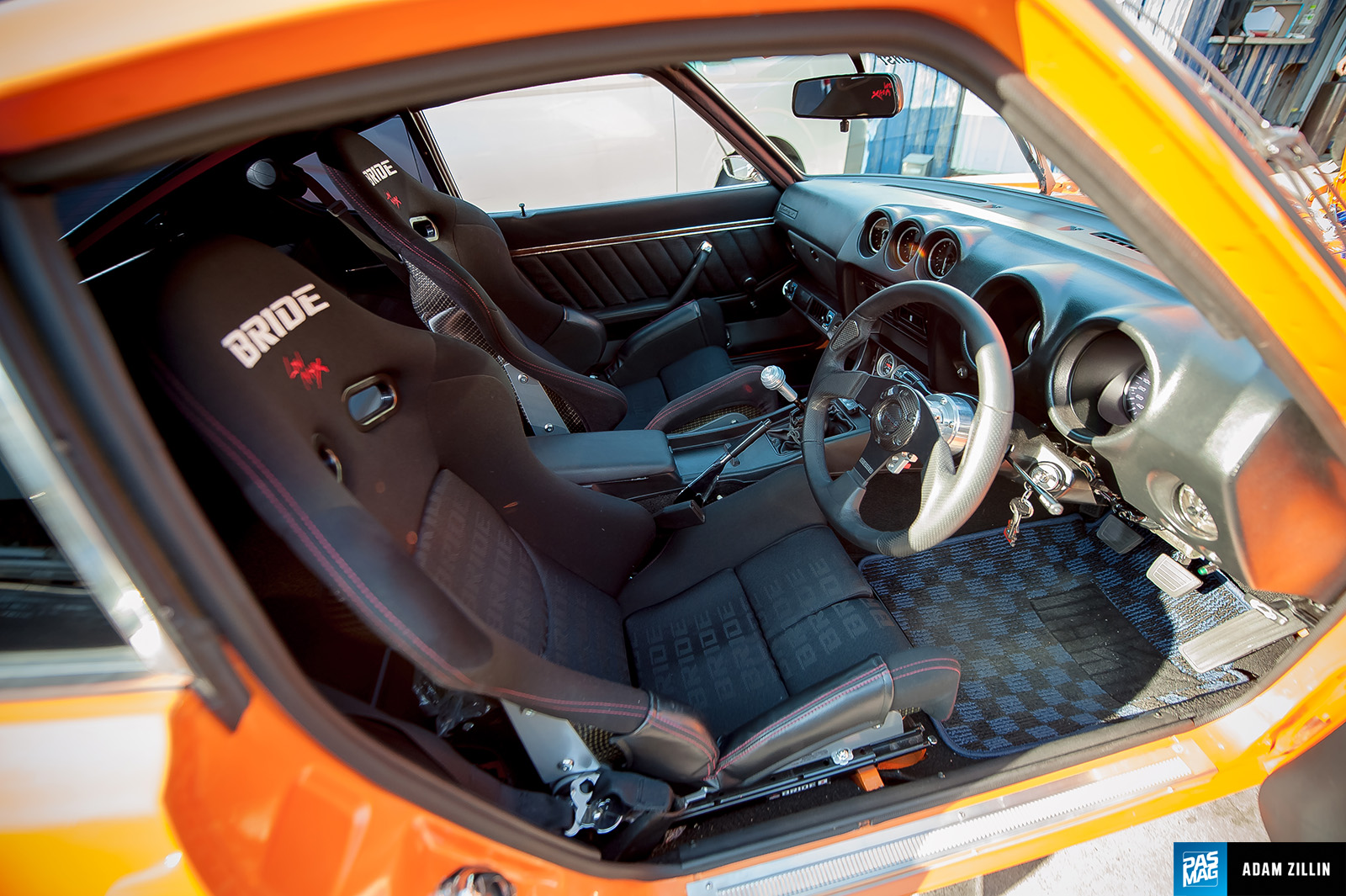 From the air-conditioned, Defi-gauge-clustered, bespoke interior, it all seemed surreal and yet all-too-familiar to me. Star Road is like a wormhole and Inoue may as well be piloting the Enterprise. In a universe where people care less and less about creation, and more about what is created for them, Star Road continues to blaze that "Rainbow Road" trail to motoring nirvana, unbridled by time and space, unaffected by opinion and industry machinations. Timeless in every way possible.
Inoue's machines are from a time long since passed, but he makes them present, relevant, and capable, like the traveler he is, with a million stories to tell. Pay him a visit sometime if you're in Japan and can find him! The gate to Star Road is always open to you.