Putting power to the wheels to match aggressive aesthetics.
Back when Joaquin Gomez was working as a mechanic, and barely had enough money to afford his own tools, he knew he wanted some form of imported tuner car, but he still didn't know exactly what he was looking for. Fast forward a few years, and Gomez was officially on the hunt, but still unsure what he was hunting for. It wasn't until he was driving down the Garden Parkway when inspiration drove past him. A pearl white Subaru BRZ, a brand new vehicle at the time, passed him, and he immediately found himself asking, "What the hell was that?"
When he got home, a little internet sleuthing took place, and he learned that the BRZ and Scion FR-S were a shared platform. Being a big fan of Toyota, Gomez realized he had finally found the one. That same week, he hit up his local Toyota dealer. "I want this car in pearl white," he told the salesperson. "The base model. And it has to be manual!" Knowing that he was going to modify the car extensively, simplicity was key. Once the dealer found his car, and the paperwork was signed, Gomez was at the beginning of a journey that even he didn't know would take him so far.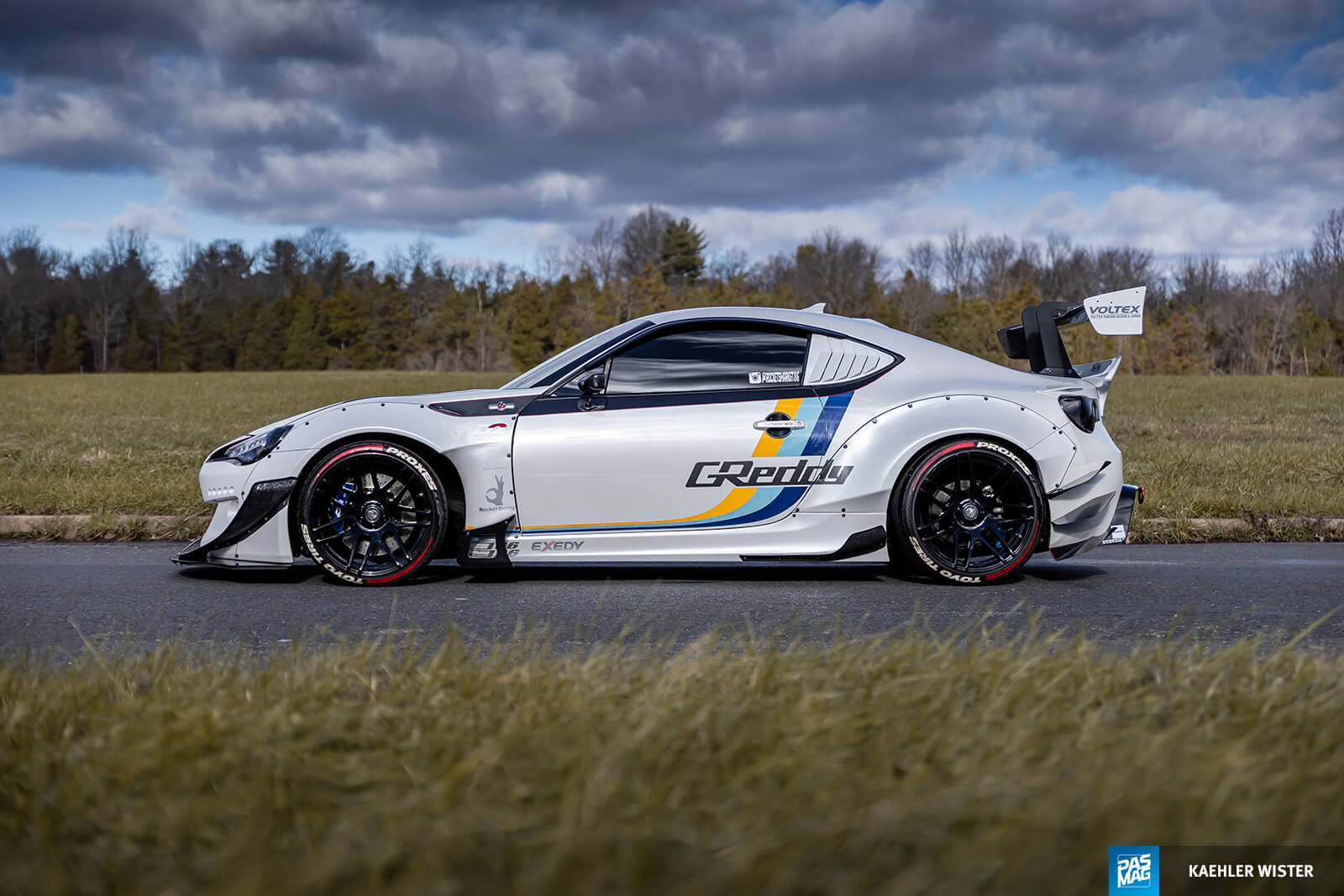 Not even a week later, tragedy struck. A minivan in a mall parking lot backed into the front of his brand new car. Of course, incidents like these can open the door to more opportunities, and Gomez saw it as a perfectly good excuse to seek out some body modifications. Having already added things like Cusco suspension products, a GReddy exhaust system, and window tints, he was ready for something a little more visual. Instead of just replacing the bumper, Gomez took a liking to the V2 Rocket Bunny kit which was released around that time. Determined to install it himself, he spent some time mocking up the kit before sending the pieces off for paint, and cut his own fenders and quarter panels before installing the kit himself.
With his kit installed, and a cool GReddy/Trust livery installed, Gomez decided to turn his attention to the performance side of the build, and quickly gained the attention of several brands who would become sponsors over time. With GReddy being one of the first, the FR-S was treated to a wide variety of quality performance modifications, including an awesome turbo kit bumping estimated power output to a potential 400 horsepower, but his factory drivetrain couldn't handle it, so it was held back temporarily.
With power now well above the factory output, the drivetrain needed to be able to handle the increased demand. After some more research, Gomez was surprised to know that many performance cars use Exedy clutches from the factory! "If many companies trust in the brand then I can trust in them to exceed my expectations," he says, "and they did with their Hyper Series twin-disc clutch!" With his new Hyper Series twin-disc racing clutch, he knows he can put all that power to the wheels, and is headed back to Ptuning to make that 400 horsepower with E85. Shoutout to Exedy for making the dream a reality!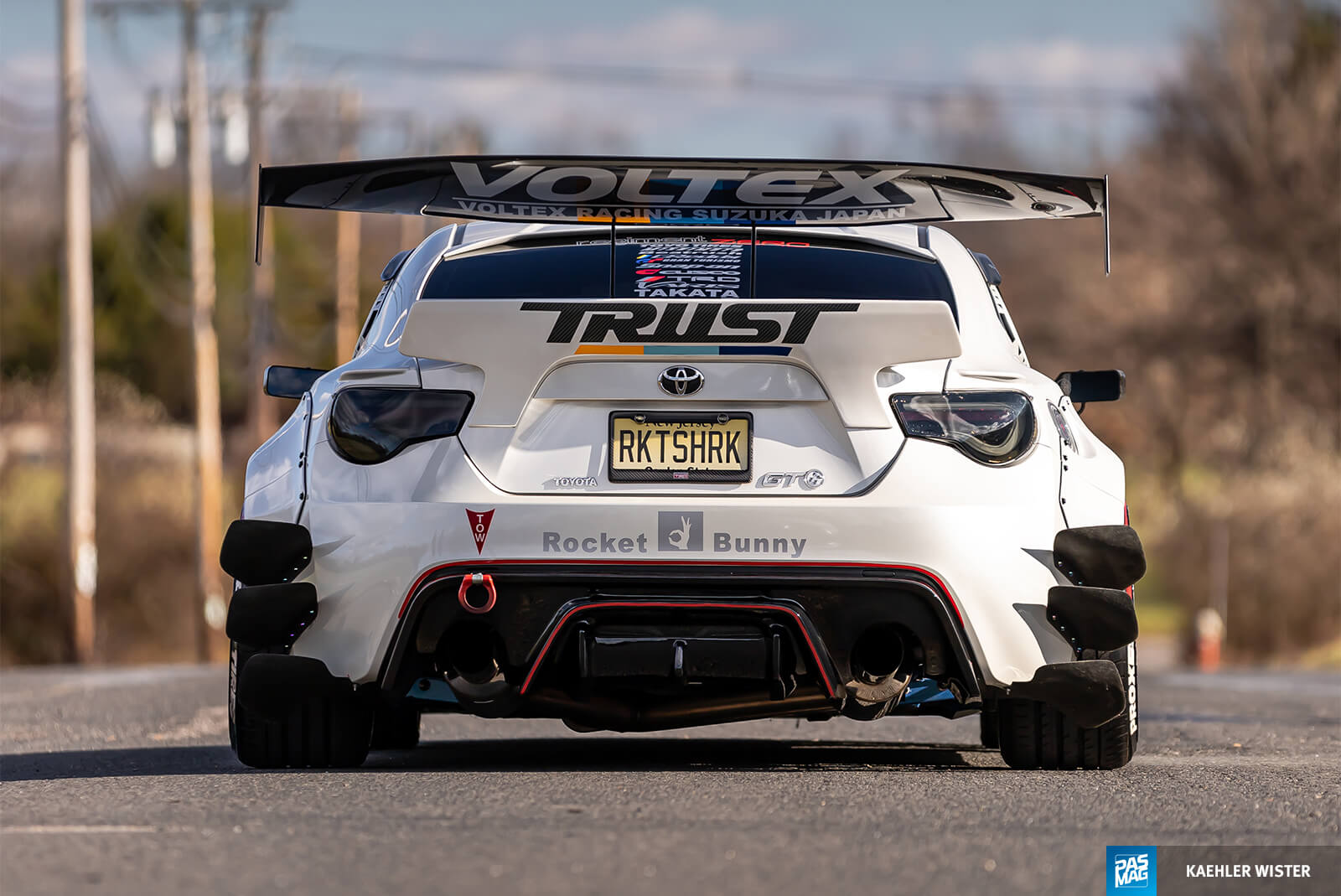 Photography by Kaehler Wister (@kwister_photography)
---
ESSENTIALS
Owner: Joaquin Gomez
Location: Bloomfield, New Jersey, USA
Vehicle: 2013 Scion FR-S
Horsepower: 400 (est.)
Club: Regiment Zero
SOCIAL
Instagram: @rocketsharkgt86
ENGINE
GReddy (GTX2871R turbo kit, individual throttle bodies, oil pan baffle plate, clutch reservoir sock, aluminum coolant neck)
Injector Dynamics/Bosch 1050x injectors
AEM Performance Electronics E85 fuel pump
Verus fuel starvation flap
DEI (gold tape, turbo blanket)
Ptuning flex fuel kit V2 w/ sensor failsafe OLED display
Cusco (air suction pipe kit, oil drain plug, alternator and AC compressor belt covers, engine grounding kit, air/oil separator, battery tie down, oil filter, aluminum radiator cap bracket, radiator cap, oil cooler,)
Verus (fuel rail covers, direct injection ECU cover, cam solenoid covers)
Nameless camplate
Password:JDM (carbon fiber fuse box cover, carbon fiber cooling plate, engine bay dress up kit)
Zspec titanium hardware
Toyota 86 logo oil cap
Gates high performance serpentine belt
Raceseng aluminum revo pulley kit
PTuning windshield washer reservoir kit
Mishimoto (radiator, fan shroud, coolant reservoir, silicone hoses)
HPS (hose clamps, heater core hoses)
EXHAUST
GReddy EVO 3 cat-back exhaust
Beatrush overpipe
HKS front pipe w/ dual resonators
Cusco HD exhaust hangers
DEI titanium exhaust wrap
DRIVETRAIN
Exedy twin-disc racing clutch
ARP flywheel bolts
Driveshaft Shop carbon fiber driveshaft

TRD quick shifter kit

MTEC shift springs
Velox bell housing cover
Cusco (shift fork w/ pivot ball, differential brace, stainless mesh clutch cable)
WHEELS / TIRES / BRAKES
Forgestar F14 wheels - 19x9.5 (f), 19x11 (r)
Toyo Proxes tires - 255/30/19 (f), 275/30/19 (r)
Forgestar carbon fiber center caps
TiBurnt titanium valve stem caps
FT-86 Speedfactory forged aluminum 20mm wheel spacers (r)
Tire stickers
D2 Racing (8-piston front calipers, cross drilled front rotors, brake lines)
CHASSIS / SUSPENSION
Cusco (Street Zero-A PB coilovers, rear interior pillar brace, steering rack reinforcement stay, strut bar w/ master cylinder brace, Type OS rear strut tower bar, front power brace, solid front sway bar, hollow rear sway bar, adjustable front strut tower brace, rear crossmember brace, adjustable rear toe arms, rear trailing arms, front lower arm brace, rear power brace, rear side power brace, adjustable rear lower control arms, 6-point roll cage)
Beatrush rear bumper brace
JDL front bumper brace bar
EXTERIOR
Rocket Bunny (Pandem V2 full body kit, Pandem V3 canards)
Dai Yoshihara Exclusive Canards for Rocket Bunny V2
Rocket bunny/GReddy V2 LED kit
Rallybacker V2 rear diffuser
Voltex type 7.5 swan neck 1800mm wing
Zspec (titanium hardware, rivnut hardware with washers, titanium M5 bolts)
APR Performance (custom carbon fiber wind splitter, wind splitter support rods)
Varis carbon fiber hood
Craft Square / JUN Automotive carbon fiber GT mirrors
TiBurnt Titanium (mirror hardware, hood latch hardware)
Aerocatch hood pins
HIC side window visor
IKON side window louvers
Vertical doors system
3M (window tints 5%, red pinstripe)
Vivid carbon fiber 3D wrap on front bumper
Cusco (front tow hook, rear tow hook, carbon fiber fender garnish)
86 fender emblem decals
Beatrush aluminum front diffuser underpanel.
Valenti (Black Edition 4th brake light, non-sequential smoked tail lights)
Diode Dynamics (smarttap flasher relay, 3000k HID kit)
OLM (carbon fiber exterior door handle insert, carbon fiber eyelids for headlamps and tail lights)
Toyota emblems
TRD (fuel cap cover, rear side spoilers)
Rexpeed (carbon fiber hood damper kit, carbon fiber window A-pillar trim)
Big Mike removable license plate bracket
Winjet JDM black headlights
Beatsonic (FDA43 shark fin antenna, roof spoiler)
Phase 2 Motortrend frame rail adapters
INTERIOR
Braum (Elite series red suede racing seats, racing harnesses, seat belt pads)
Planted Technology seat brackets
Zspec titanium hardware
Diode Dynamics interior LED kit
Splash airbag light fix resistors
TRD seat belt pads
GCS (carbon fiber switch overlay, red aluminum outer AC vent trim, carbon fiber interior dress up kit)
Custom carbon fiber climate control center panel cover
FR racing carbon fiber climate control side panels
Toyota JDM OEM black MT traction control buttons
Subaru TS ultrasuede upper door trim w/ red stitching
JPM Coachworks (alcantar speaker trim w/ red stitching, gauge hood red stitched, alcantara cluster hood w/ red stitching, alcantara knee pad w/ red stitching)
OLM (carbon fiber center AC trim overlay, carbon fiber steering wheel trim overlay, S-line carbon fiber dash trim)
Subaru BRZ TS JDM red leatherette and black alcantara armrest
Toyota JDM frameless rear view mirror
Toyota 86 steering wheel emblem overlay
Intec high mount 3rd brake light
Raceseng (reverse lockout lever, MT slammer shift knob)
Subaru door bolt head covers
Cusco (carbon fiber steering wheel bezel, carbon fiber steering wheel, heel & toe sports accelerator pedal, E-brake drift button, carbon fiber shifter panel)
Sparco carbon fiber brake/clutch pedals
TiBurnt titanium kit for Cusco rear pillar power brace
Rexpeed (carbon fiber E-brake handle, carbon fiber door handles)
TRD door stabilizer kit
Subaru OEM carpeted trunk liner w/ custom GT86 stitched patch
Weathertech floor mats
Verus Motorsports pedal spacer kit
Moroso performance roll cage pad
Pandem windo net
Cipher racing harness bar
H3R performance fire extinguisher

Drake off-road fire extinguisher clamps

Carbon fiber gauge cluster overlay
AUDIO / MOBILE ELECTRONICS
BlackVue (DR750s dash cam system, power magic pro)
---
PHOTO GALLERY