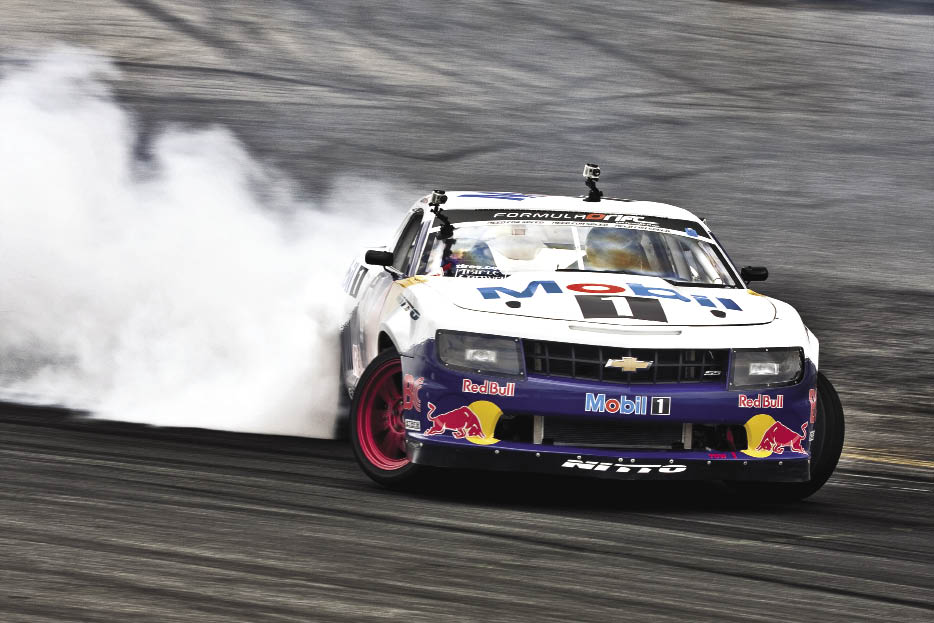 P rofessional drift racer Ryan Tuerck's story begins not with cars, but with bikes. The New Hampshire native always seemed to have an itch for speed, putting it to good use initially with BMX and Motocross. When you were just getting ready to take off the training wheels, Tuerck was already competing off-road in dirt bike racing, going so far as to earn his American Motocross Association (AMA) license at the age of 16.
Shortly thereafter, he heard about the sport of drifting. The concept made sense: if you could break away the tail of a dirt bike, why not do the same thing with a car on pavement? So, armed with a Nissan 240SX and lots of guts, he went head on into the world of Formula Drift, and his two-wheeled lifestyle was relegated to leisure time.
Early success in the sport earned him the attention of sponsors, and in 2008 he signed on with Gary Gardella as part of the NJ-based Gardella Racing squad. For 2011, the team has gone back to the lab to create an all-new Mobil 1 Chevrolet Camaro drift machine for Tuerck.
First things first: let's get right to the heart of this animal. The Camaro's original motor was swapped out in favor of a LS7. It's an engine that is normally found in the front of a Chevrolet Corvette Z06 making a respectable 505 hp. The Gardella crew has gone far beyond that, tuning the GM Racing 7.0-liter V8 to put out in excess of 700 hp for the Camaro.
A quick glance under the hood reveals a few of their tricks. Carbon fiber Kinsler LS Crossram Individual Throttle Bodies (ITBs) replace the standard intake piping for maximum breathability towards the Brian Crower internals, while a C&R radiator keeps engine temperatures in check. Further back, custom headers by Kooks are mated to a unique exhaust system that is shortened to exit under the body, saving weight. Finally, Stef's Fabrication Specialties provided new oil and breather tanks to ensure the Mobil 1 fluids are well distributed, keeping everything lubricated under stress.
A new G-Force GSR 4-speed transmission was selected to compliment the big V8. Not only does it feature an easy to use Long shifter, but get this, it's also cast out of magnesium to help with the Camaro's diet plan! An ACT clutch and flywheel handle the input and a Driveshaft Shop driftshaft feeds back to a Winters quickchange rear end. It all adds up to a very natural power delivery so that Tuerck knows just how much gas he needs to hold it sideways around the track.
On the outside, lighter materials were used to replace the stock sheet metal while still keeping the Camaro's signature look. A Pratt & Miller carbon fiber front bumper, hood, roof, and rear decklid along with Norm's fiberglass fenders and doors all help lower the car's center of gravity. No rear wing is used, similar to many of the other muscle cars in the Formula Drift series.