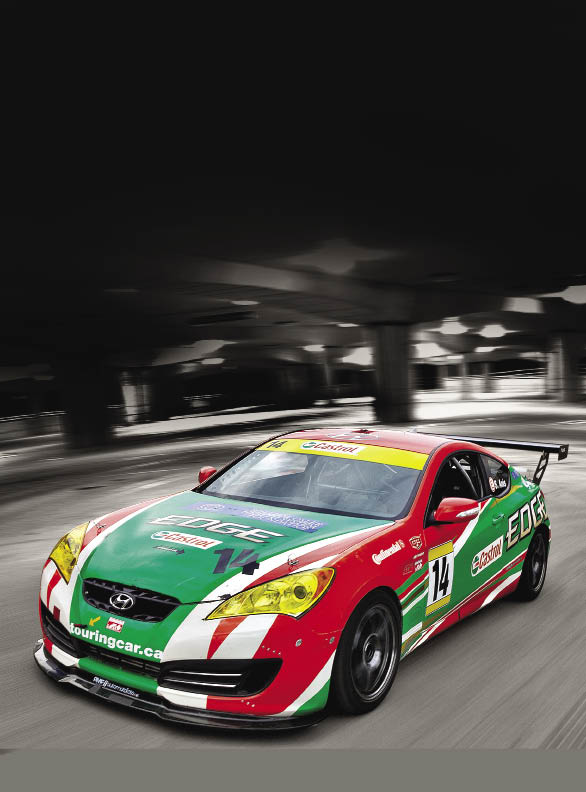 In early 2009, Hyundai introduced the Genesis Coupe to North America, shocking it's competitors and taking away any negative stigma that a Korean vehicle manufacturer had. In previous years, Hyundai was known for having conservative designs, and seemingly little interest in the performance market. Fast forward two years and the Genesis Coupe has quickly gained much appreciation amongst tuner enthusiasts and motorsports team such as G1 Racing of Ontario, Canada in the Castrol Canadian Touring Car Championship (CCTCC) series.
In 2010, Attrell Hyundai partnered with SG-Motorsport to develop the race team only two weeks ahead of the race season. G1 Racing had already completed one development year and the team was eager to make some headway and fight for some wins with a competitive car. By the third race of 2010, the team had claimed pole position at ICAR, Mirabel and would go on to win multiple races later in the year, earning Hyundai's first professional North American road racing win along the way.
For the 2011 season, the CCTCC forced G1 Racing to switch from 3.8L V6s to the alternative factory engine - the 2.0 liter turbocharged four-cylinder, as the V6 was a little bit too large in comparison to the other competitors. Unfortunately for their competitors, the little turbo engine wouldn't slow them down, and by the end of 2011, the team had won five races, set three lap records, taken third place in the championship, and secured Hyundai's first Manufacturers' Championship in North American Road Racing. Did we mention the engines were bone stock, from a scrap yard?
Diving deep into the 2011 Genesis Coupe racecars revealed a complete rebuild consisting of a Hyundai Theta 2.0-liter, 4-cylinder, turbocharged engine producing a healthy 300whp and 290lb-ft of torque at approximately 20psi. The ability to produce that kind of power is thanks to ATP's bolt-on 2871R turbo that is fed air through a Vibrant Performance/SG Motorsport cold air intake system. Cooling the charge is a Vibrant intercooler with SG aluminum piping while a set of Injector Dynamics 725cc injectors provide precise, reliable fueling and let the NGK spark plugs light the fire. Hot exhaust gasses and a deep ear piercing scream exit the engine through a custom SG 3.5-inch exhaust system using Vibrant race mufflers. If one thing is for certain, it's that you'll hear the cars before you see them!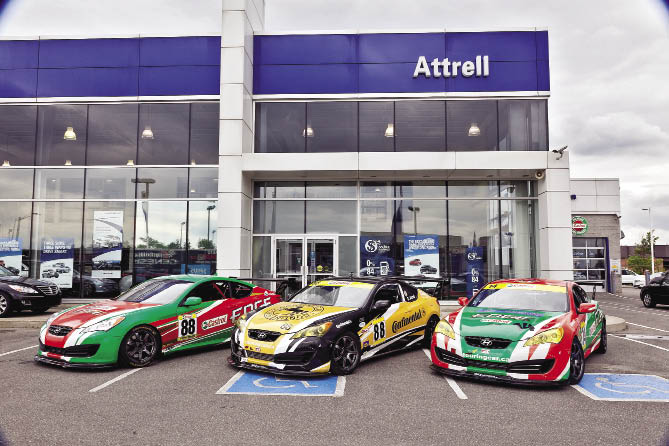 Managing engine vitals is key especially in a professional racecar for a bumper-to-bumper competitive touring series like the CCTCC. For this, SG-Motorsport entrusted the job to Haltech's customizable ECU and wideband paired to an AIM MXL dash display.
In touring car racing, as in most types of racing, the brakes are where you make your passes. To help these heavy Genesis Coupe's stop consistently G1 Racing worked with Rotora to develop a 330mm brake kit front and rear, using two piece floating rotors, with 6 piston calipers in the front and 4 piston calipers in the rear. Fast Wheels supplied 17x9-inch FC01 lightweight forged wheels to hold the series-spec Continental Tire racing slicks.
Additional footwork comes in way of Penske triple adjustable dampers, the front struts custom built by ANZE Engineering; Eibach and Hyperco motorsport springs; custom spherical rod ends and ball joints; and all suspension arms modified by SG-Motorsport and Four Star Motorsports.
The exterior of the G1 Racing cars are fairly simple like many touring-style vehicles. The only aftermarket bodywork consists of an APR front air dam and SG-Motorsport alumalite front splitter in the front, and a Crawford Composites rear adjustable wing.
Venturing inside the cockpit it's nothing but business, with a Recaro Pro-Racer Hans seat in one car, and a Corbeau Revenge Kevlar seat in the other. The driver's seat has been moved back almost an entire foot from factory and the OE pedals ended up in a garbage bin somewhere in favor of a tilton triple pedal setup. An SG-Motorsport custom switchbox now replaces any reminisce of factory electrical controls.
With the 2011 Castrol Canadian Touring Car Championship (CTCC) series wrapped up, it's time for G1 to sort out their plans for 2012. If one thing is for sure, it's that this Hyundai has come a long way since the Pony. What better way to show it off than by beating Subarus, BMWs, Hondas and Audis in a professional racing series?
G1 Racing and SG-Motorsport would like to thank their supporting partners for making this season possible: Castrol EDGE, Continental Tire, Attrell Hyundai, the SG-Motorsport crew, NGK Spark Plugs, OS Giken Differentials, SPEC Clutch, Haltech Engine Management, Vibrant Performance and JRP.