Photos by Nathan Vestal, Phil Sohn
---
The dirty little swap that could. The little town Huntsville, Ontario, has been a little overcast lately. A dark cloud seems to hang over it, and no one seems to know why. Well, the region put their top environmental scientists on it and they have deduced that the cloud is actually soot, and it seems to have come from a roaring diesel engine. There are a few theories about the location of the engine throughout town, and most fingers point to a man named Jacob Gettins, cackling and swearing like a maniac from his garage, towing a first-gen Miata all over with something monstrous jutting out of the hood. But a diesel in a little Miata? That's not possible, right?
That's where you'd be wrong. Gettins and his crew at Pistonhead Productions believed they could achieve it, and so they did. The idea to try to stuff a diesel into a Miata actually started as a bit of a joke among friends at 2015's iteration of Importfest. Gettins and two of his friends were sitting around and talking shop. Eventually, as each of them are involved in media, the conversation turned to the best way to get views on YouTube. Someone suggested putting the manliest engine into the girliest (no offence Miata owners) car.
"In my mind, nothing is more manly than a Cummins diesel, and there aren't many cars girlier than a Mazda Miata," chuckles Gettins.
Leaving the show that day, that conversation stuck with him. Almost immediately, he asked the rest of the Pistonhead team about what's been done in Miatas before and they all got down to some serious research. People swap V8s into Miatas all the time – there are even whole businesses, like V8 Roadsters, that are solely dedicated to tossing an eight-cylinder in your little nimble convertible – but it turns out that no one had really attempted to fit a 3.9-liter 4BT Cummins diesel into one before. Taking the dimensions of the engine bay and the dimensions of the engine, the Pistonhead crew deduced that, with quite a bit of cutting, it could totally happen.
The next roadblock the team faced was a financial one. They had all the dedication and talent to make the build happen, but cash flow was an issue. Elsewhere, at the local high school, cash flow was also an issue in the automotive programs. The shop programs, that Gettins is a product of, are being condensed to save on budget constraints. Seeing a way that he could give back to the system that helped him even think this whole crazy project was even achievable, Gettins shot a video and laid out a whole marketing plan to fund the Miata build, as well as give back to the local high school.
Through crowd funding website Indiegogo, he proposed a $10,000 goal to fund the build. As the build progressed to completion, Pistonhead sold raffle tickets for the car. Once the car was tracked and completed, it would be given away to a lucky someone, while the high school shop program would receive all proceeds from ticket sales. That's definitively one way to build a car!
And it started gaining traction, mostly in thanks to rendering artist Alexandre Blanchet (Sleepy Abbey) noticing the project on Instagram and deciding to lend a helping hand.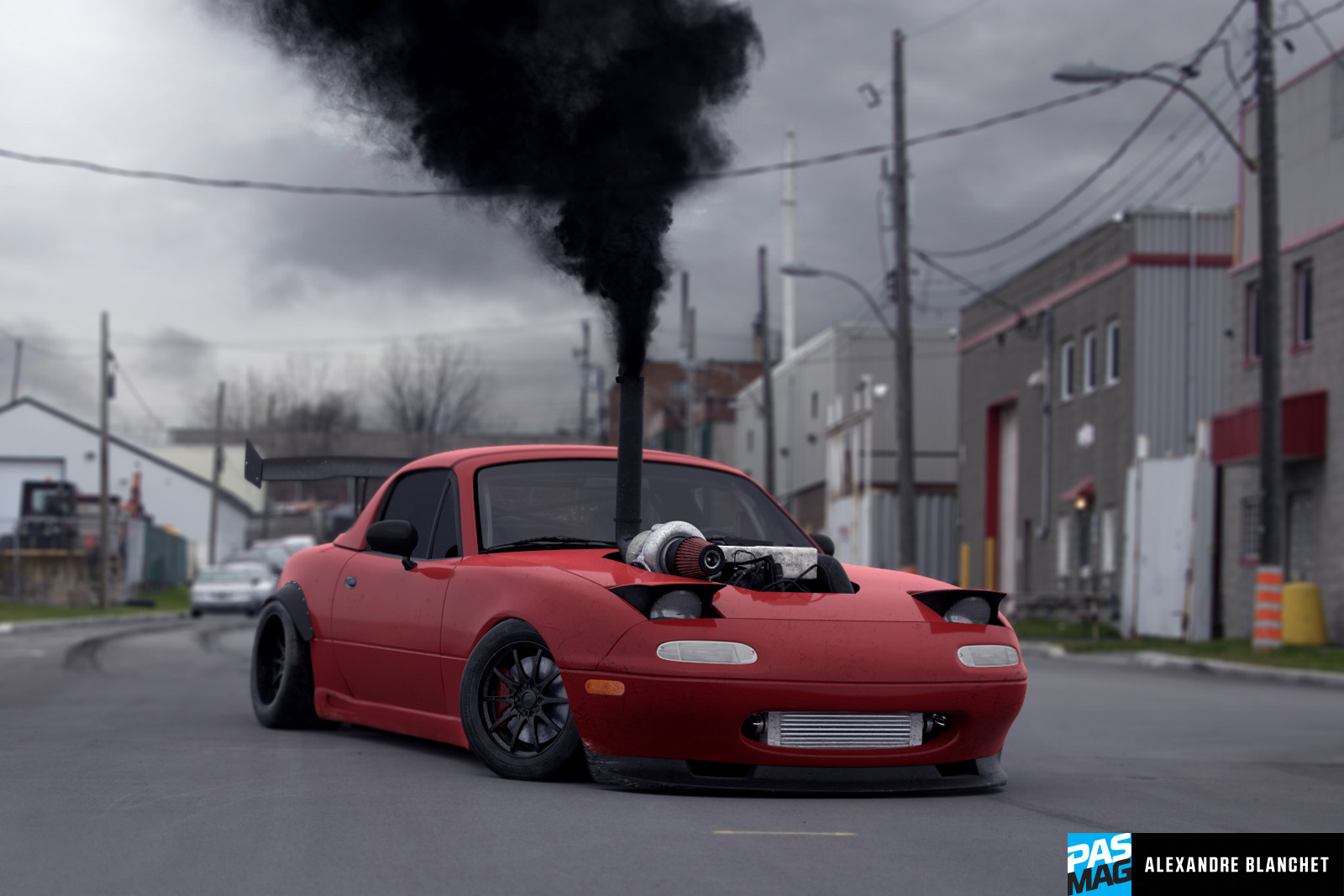 "I made a really crappy rendering of what I wanted to do and, thankfully, it was picked up by an artist called Sleepy Abbey," Gettins recalls. "He made these renderings that just went viral. I think I owe almost all the marketing to that guy!"
Between the rendering and some good connections, Pistonhead was able to get enough people on board to make the project (affectionately named "Soot Salon") a real thing. In the last 48 hours, the crew realized they were going to raise the $10,000 needed to fund the project.
To add a little pressure, the team scheduled an event in the build campaign where they would source all the parts needed, and then complete the build over a weekend – two days. It sounds crazy, but what else isn't with these guys?
After sourcing an engine, which had already been converted to fit an '03 GMC truck, as well as a suitable Miata to build upon. Fun Fact: this is actually Roadster number two. The originally donated shell turned out to have all of its structural components completely rusted out, so Gettins reached out to Dave's Garage, a Miata specialist in Oakville, to see if he could help out. Dave himself loved what Pistonhead was trying to do and donated a Miata from his shop with no questions asked!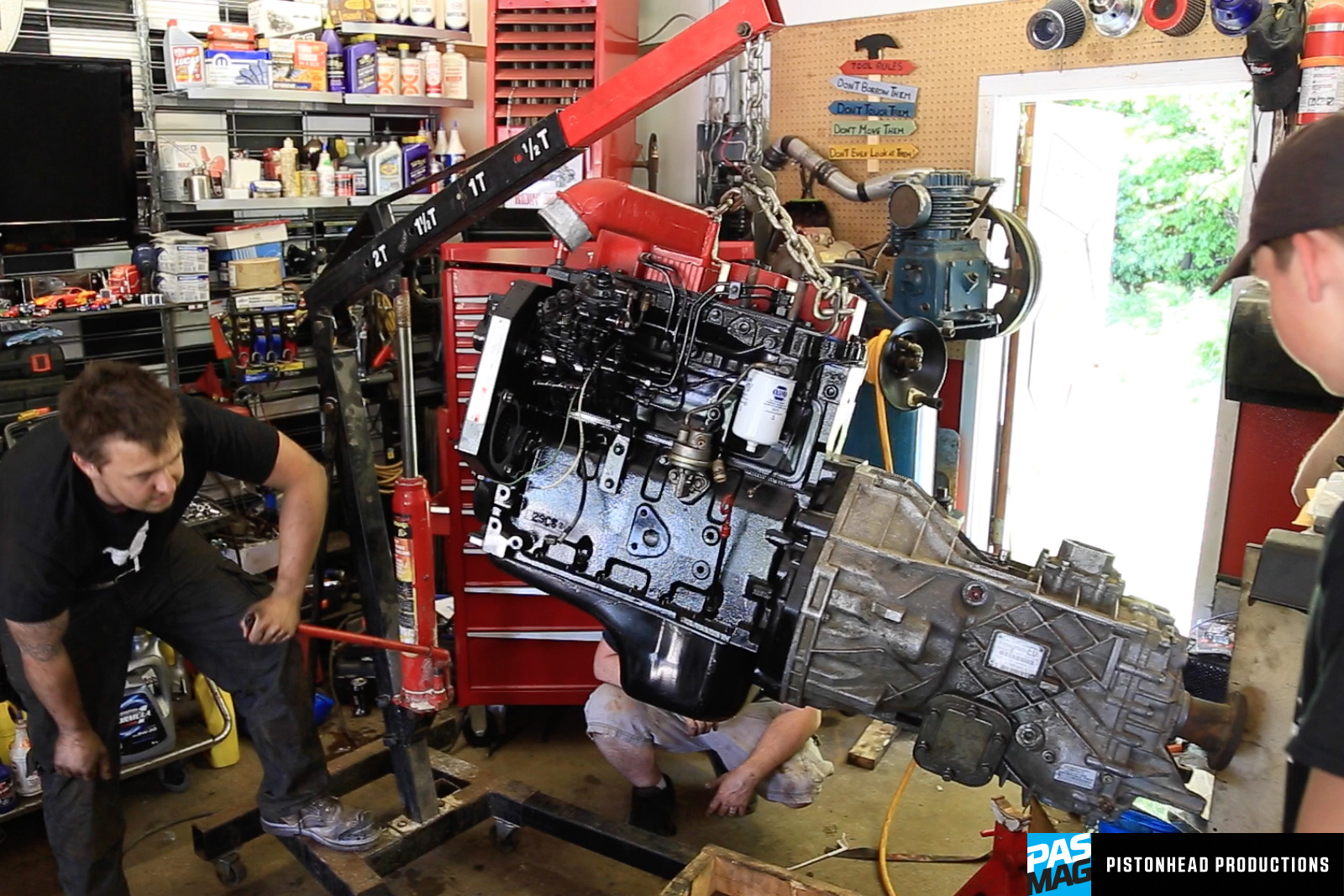 Of course, the Cummins 4BT would need to get that power to the ground, so Gettins sourced a Ford F-350 Super Duty transmission to get the job done. Inside the tranny is some clutch magic from Exedy that combines an F-350 pressure plate with a Ford Mustang Stage 2 clutch plate. After getting the engine back with a full ARP bolt rebuild from Northern Upfitters, a shop with a pedigree in tractor pull engines, it was time to put it all together.
"It was funny to get that whole package and realize that it was a Cummins engine out of a generator, with a Mustang and F-350 clutch, and a Super Duty transmission," Gettins muses. "That drivetrain is such a Frankenstein. The rear differential is actually out of a Lincoln Mark 8!"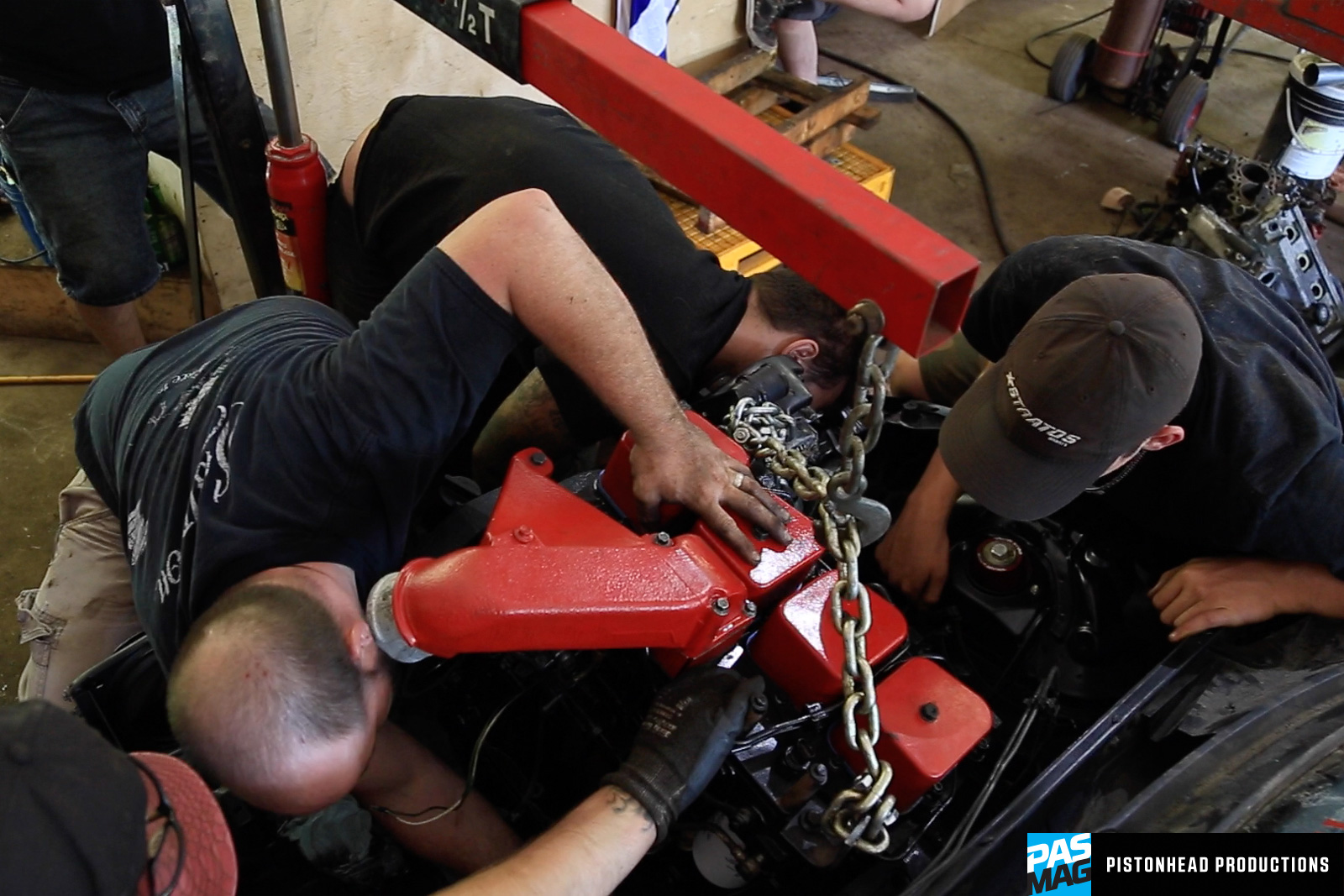 With a turbo from a previous project and everything in order, 15 guys showed up at the garage and put the whole thing together in just two days. Gettins says there were hiccups here and there, but they were overcome easily enough. V8 Roadsters actually donated their engine cradle and diff cradle to make the job that much easier. Unfortunately, they couldn't start the car just yet, so the brave few who stuck it out to build this monstrosity couldn't actually hear it boot up, but Gettins made sure no one was left out when they finally turned the key.
"Its first start was at its first event," he explains. "We had a nice big crowd around us, so we bit the bullet and used a lot of American data, and I streamed in the start-up to a bunch of the guys who were part of the project so they could at least be there in some way."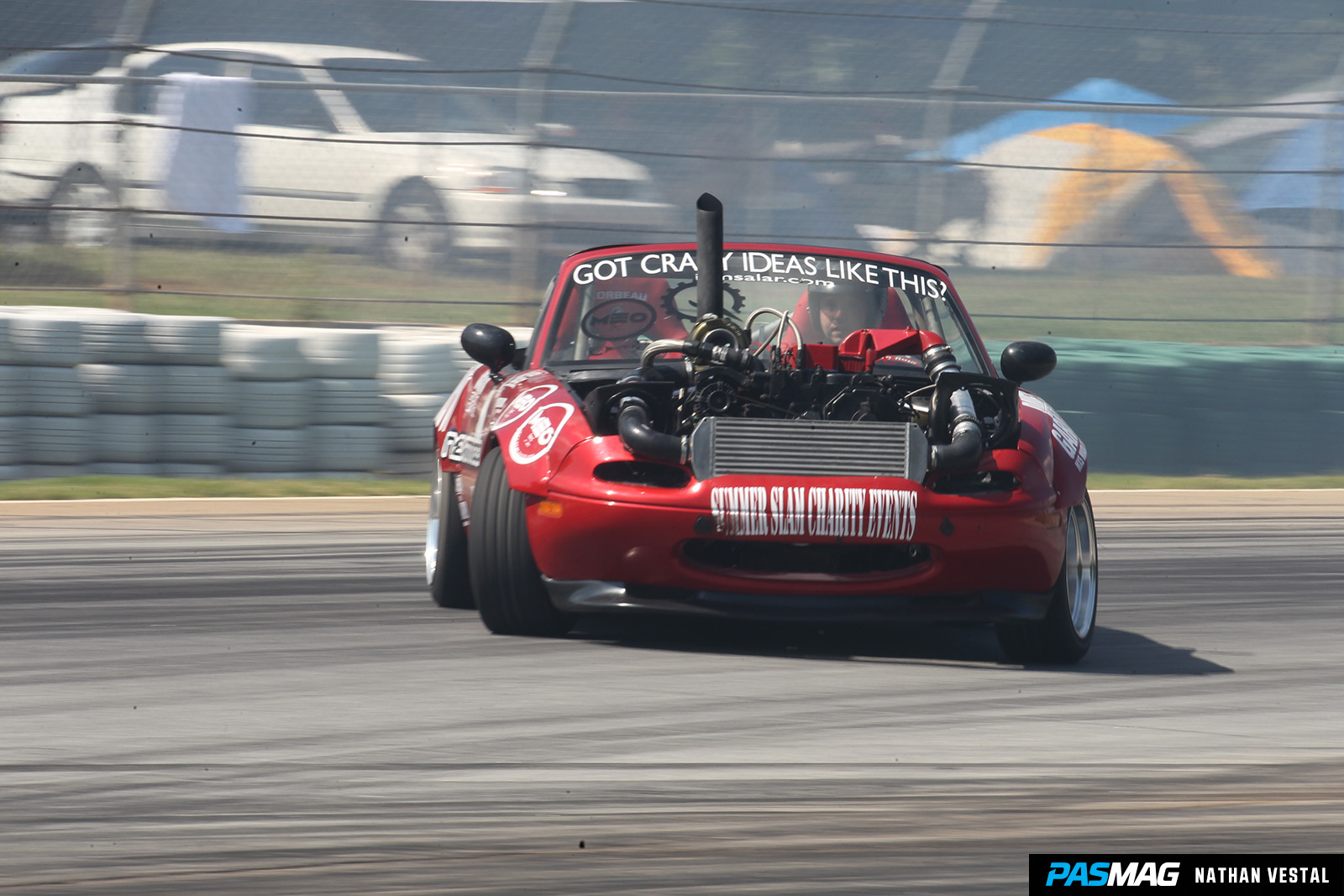 Since completion, the Miata has been toured around to quite a few drift events, but the highlight of its life so far has definitely been its track debut at Gridlife Atlanta. After a rigorous double tech inspection, gridded up against some of the drift world's best, and pushing an estimated 300 horses and 600 lb-ft of torque with about 30 pounds of boost, the Soot Salon got sideways for the first time in the horseshoe corner of the Formula Drift circuit of Road Atlanta.
There are just a few more stops for this little monster before it's given to its new owner, something that will be decided in early November.
"We've had a great response with the tickets and we're hoping to donate a big check to the school at the end of it," smiles Gettins. "If all goes well, maybe this is something we do again next year. I know my fiancé doesn't want to hear that!"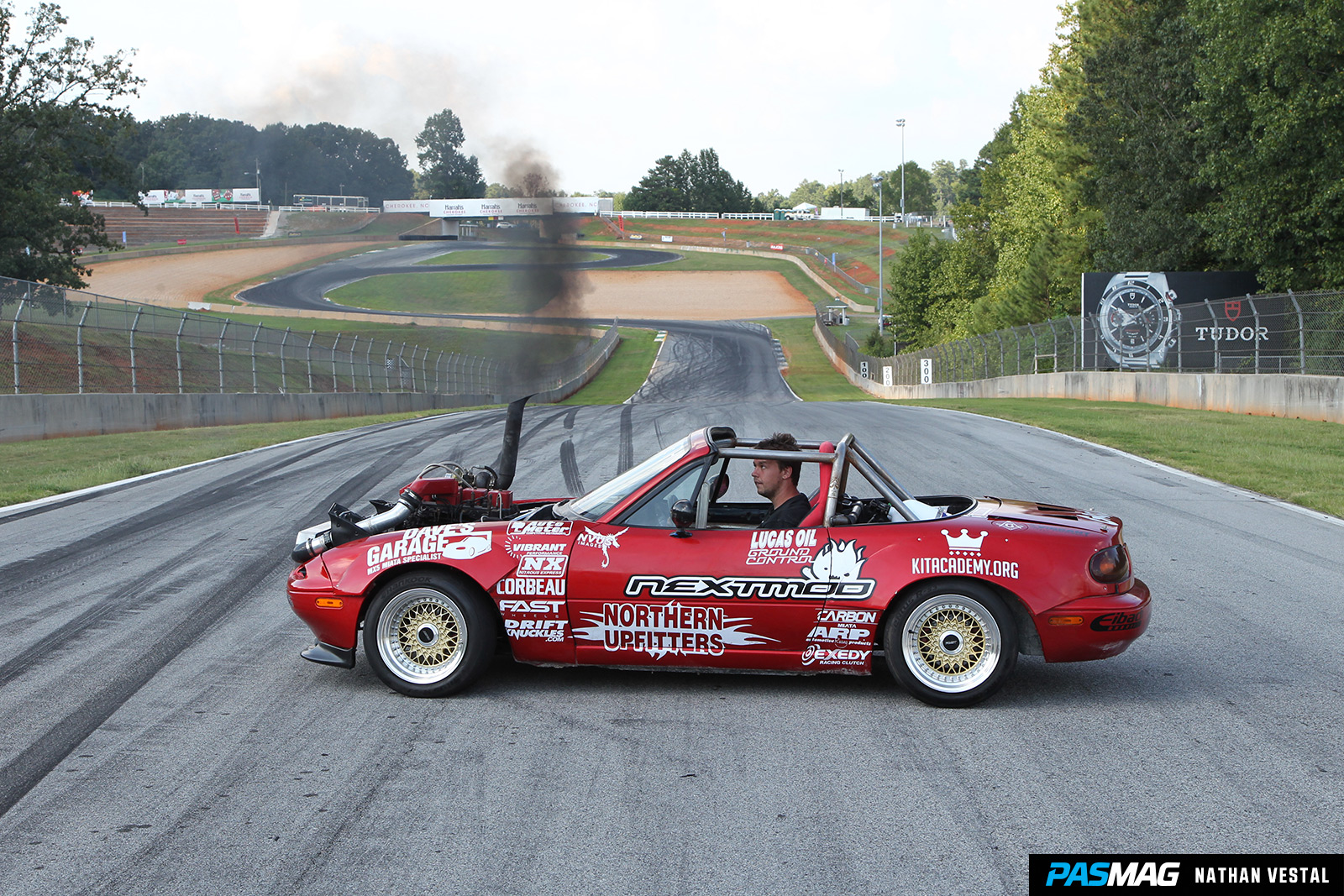 After putting hundreds of hours and over a year of his life into that car, Gettins says that it'll be pretty bittersweet to give it away to the new owner. By choosing a raffle process instead of an auction though, chances are that the diesel-powered Miata will go to someone who will beat the snot out of I on the track, which is exactly what it was built for.
"I'm really looking forward to meeting whoever gets to run that car next," Gettins says, hopefully. "It'll be a bittersweet burnout when I get rid of it, but I'm going to mount some extra tires just to melt them off before I let it go."
Just one more soot cloud before the Miata travels to another town to terrorize the locals.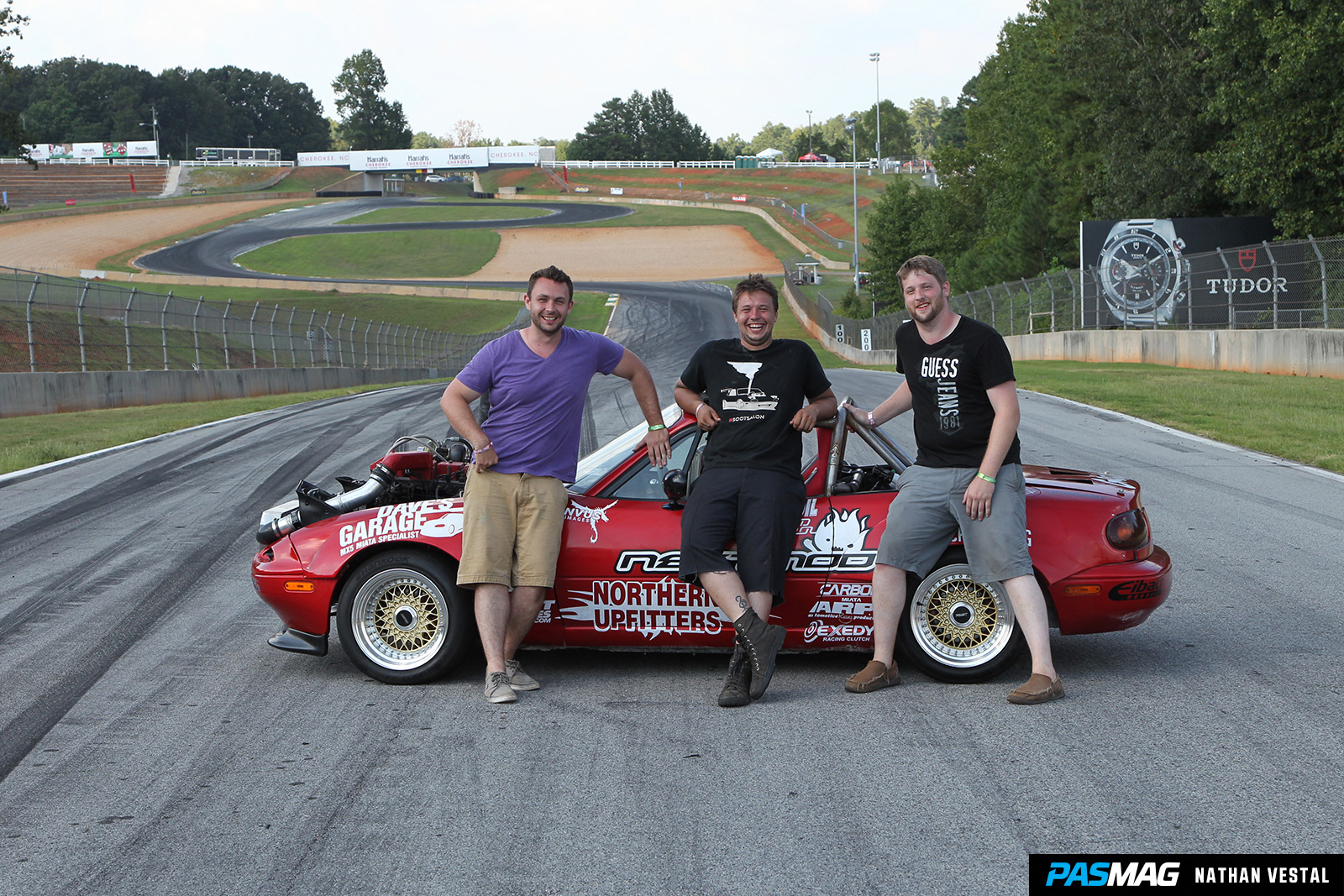 ESSENTIALS
Vehicle: 1990 Mazda Miata
Owner: Pistohead Productions
Location: Huntsville, ON
Built By: Pistonhead Productions
Engine: Cummins 4BT 3.9L I-4 diesel engine
Horsepower: 300 (est.)
Torque: 600 lb-ft (est.)
SOCIAL
Website: http://pistonheadproductions.ca
Facebook: Pistonhead Productions
Instagram: @pistonhead_productions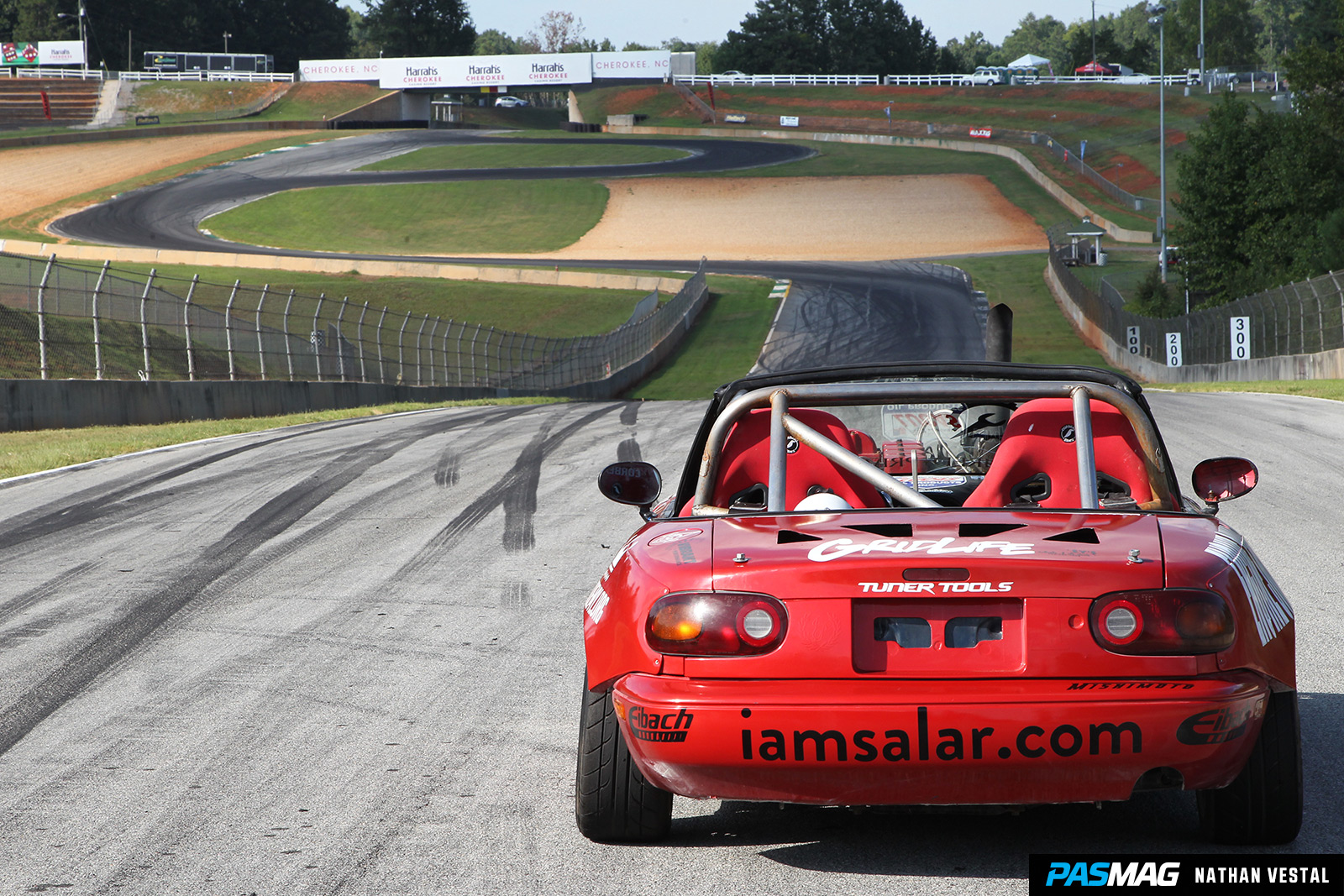 ENGINE
Cummins 1996 4BT diesel engine
Northern Upfitters full ARP engine rebuild
V8 Roadsters engine cradle
Vibrant Performance (intercooler, HD couplers, fittings, hoses, custom expansion tank)
Mishimoto (Toyota MR2 radiator, 12-inch universal fan
Nitrous Express diesel stacker - 75 shot dry nitrous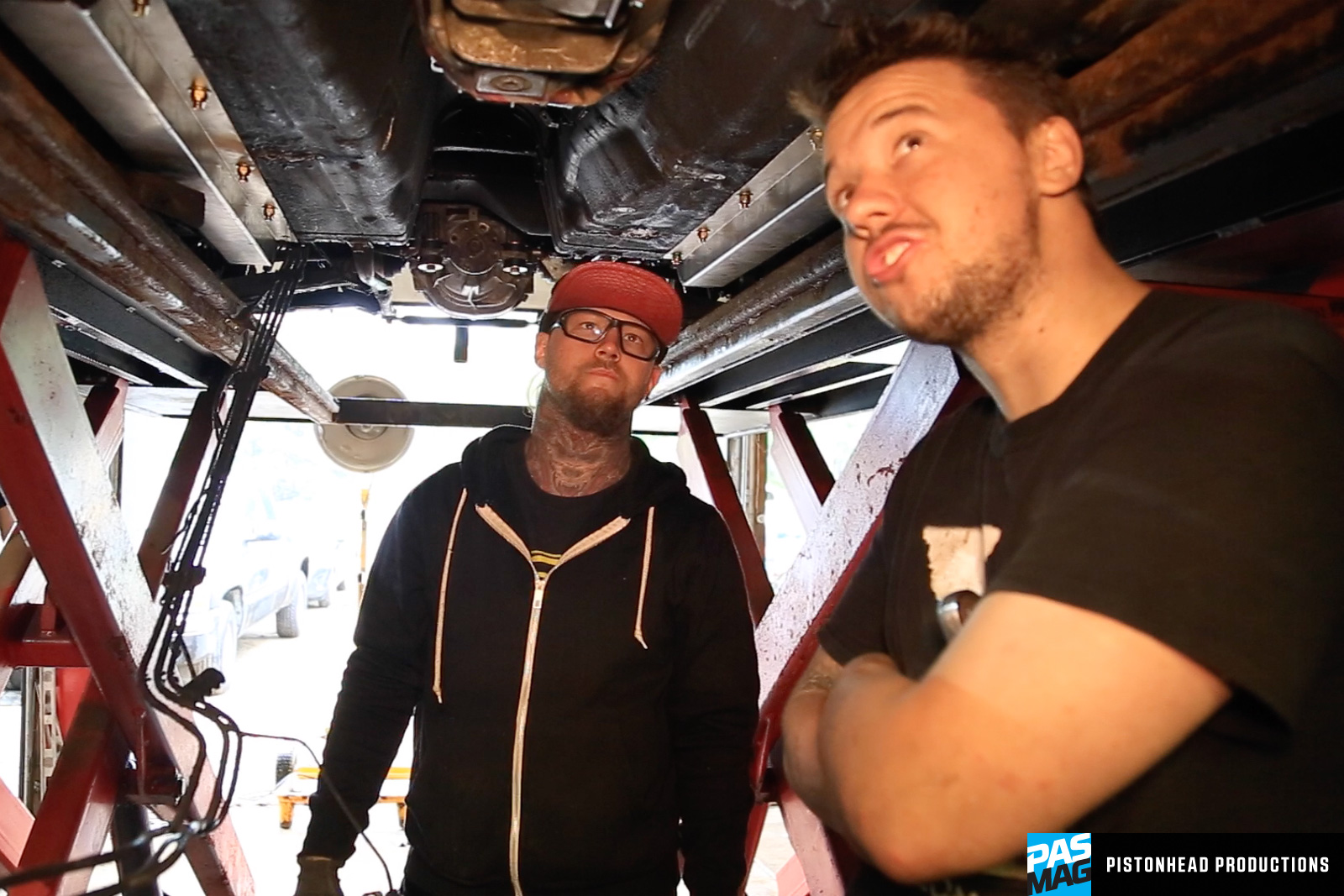 DRIVETRAIN
Ford (1990 Super Duty ZF5 transmission, 8.8 rear diff)
Exedy Stage 2 Mustang clutch
Custom driveshaft
V8 Roadsters drive axles
Driftknuckle.com high-angle knuckles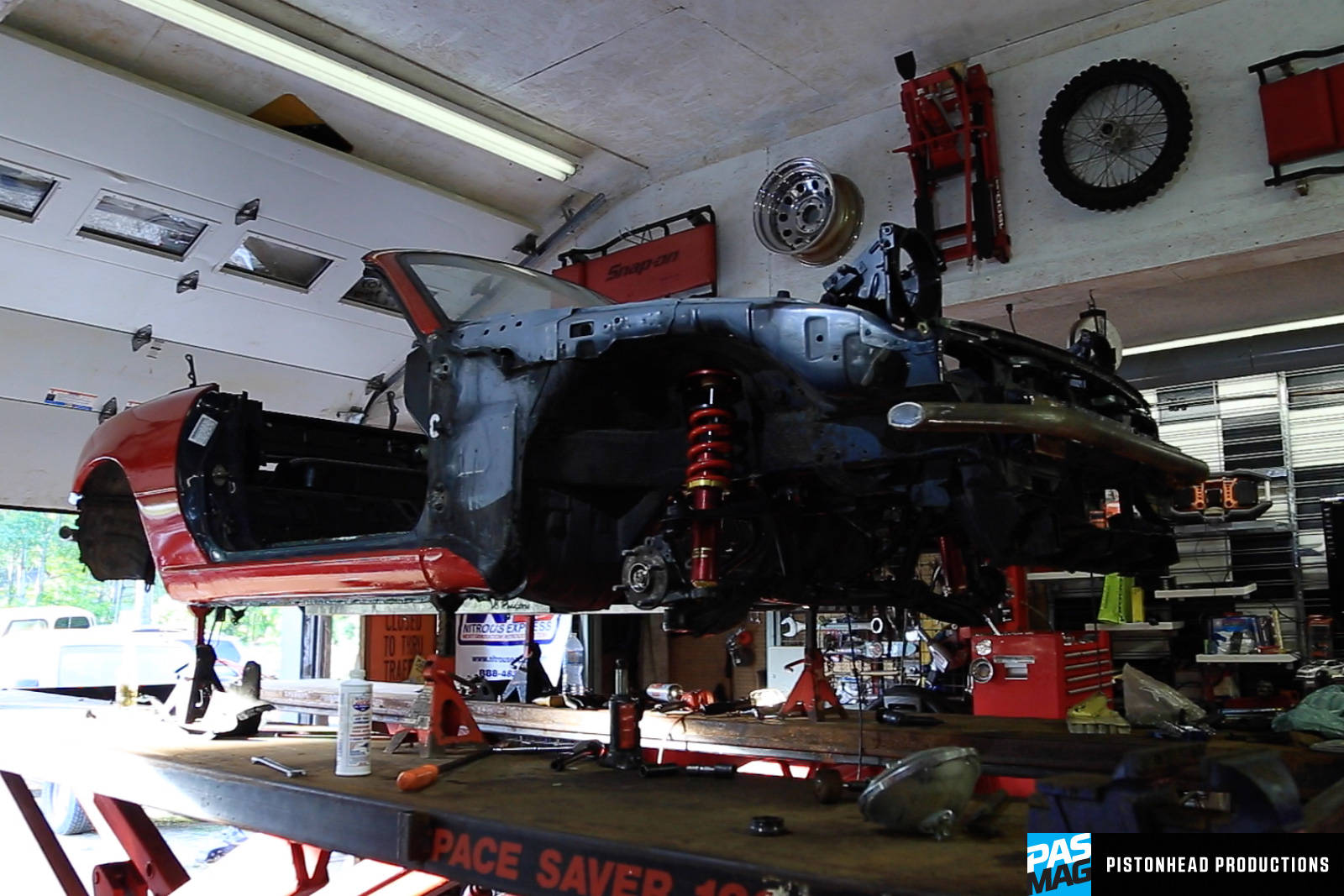 CHASSIS / SUSPENSION
Eibach (sway bars, springs – 1,200 lb (f), 700 lb (r))
Ground Control sleeves
Koni struts
R Theory Motorsports adjustable end links
V8 Roadsters strut tower bar
Chrome 2 Envy Customs 6-point roll cage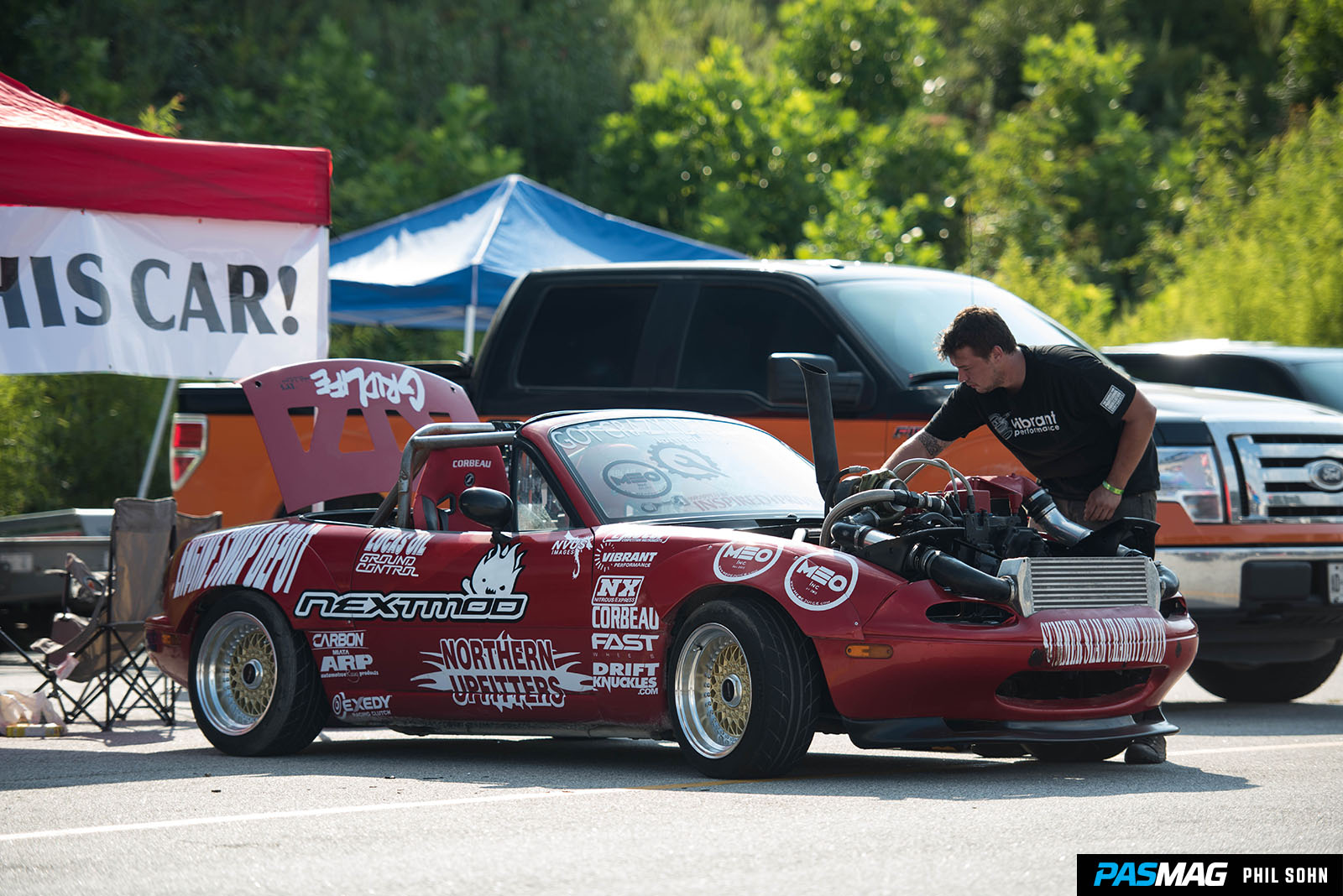 WHEELS / TIRES / BRAKES

Fast Royal wheels – 15x8, 0 et (f/r)
Hankook RS3 tires – 195/50 R15 (f/r)
EBC Greenstuff brake pads
DBA slotted rotors
Custom second caliper hubs
INTERIOR

Corbeau (Forza seats, 5-point harnesses, Miata seat sliders)
AutoMeter gauges (water temperature, oil pressure, diesel tachometer, boost, nitrous)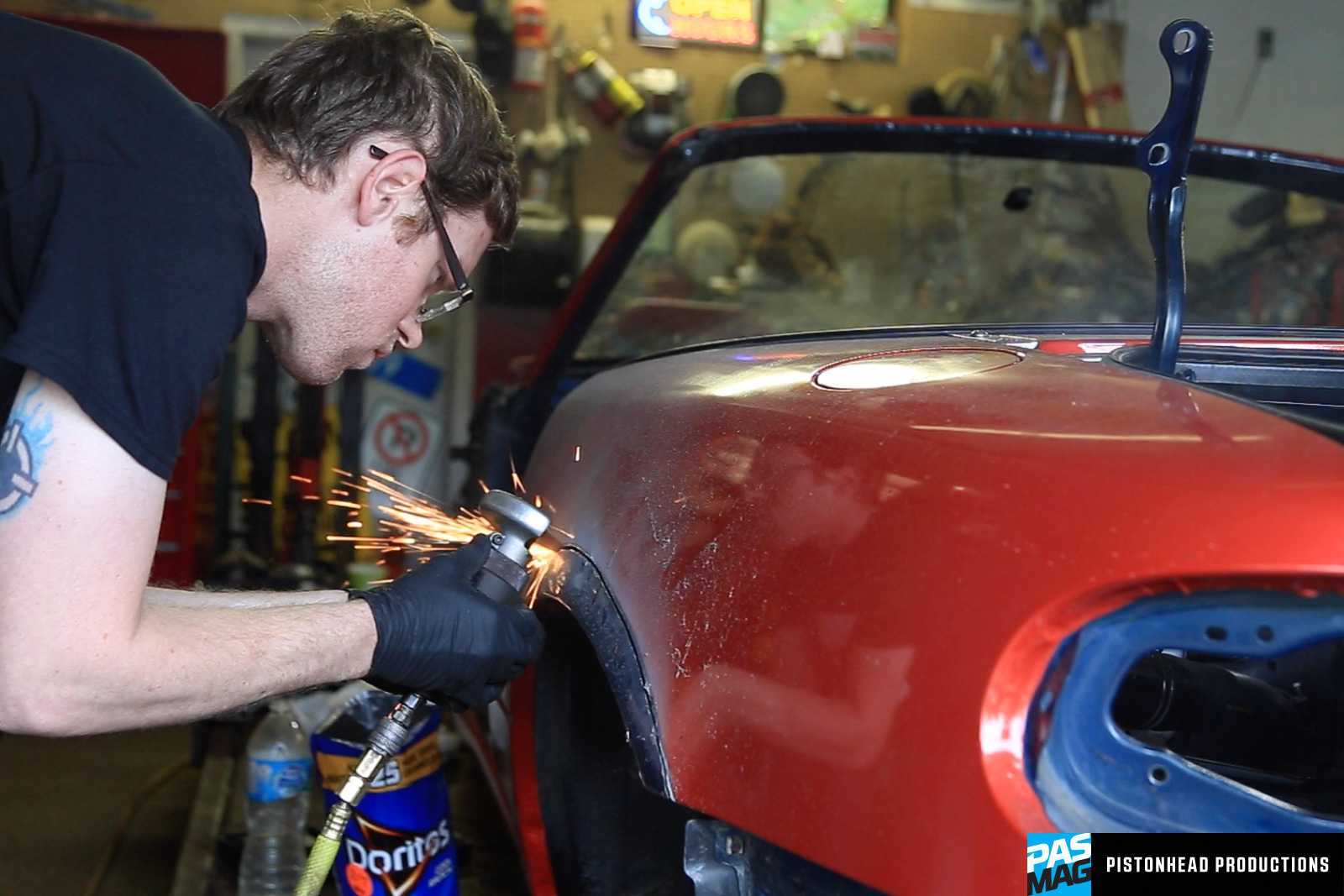 SPONSORS
Northern Upfitters, Vibrant Performance, NEXTMOD, Exedy USA , Carbon Miata, Dave Biagioni, CRS (Contractors Rental Supply), Fastenal, Moss Miata, MEO Ejuice, Turbosmart, V8 Roadsters, Muskoka Roastery Coffee Co., Moose Delaney's Sports Grill, AutoMeter, ARP, Ground Control Systems, Eibach, Fast Wheels, Corbeau Seats, R Theory Motorsports, Nitrous Express, Lucas Oil, Mishimoto, Engine Swap Depot, Dave's Garage
Contributors: Nathan Vestal, Phil Sohn