An HKS-themed IS300 Sportcross that pays tribute to one of the coolest IS300s of all time.
While stationed in Okinawa, Japan with the Marine Corps, Martin Cabrera took some time to check out a downhill drift event. At the time, it was unlike anything he had ever experienced before, as he heard his first turbo and blow-off valve noises. It was music to his ears. From that moment he was hooked, and there was no going back.
Fast forward to 2012, and Cabrera had already modified and parted with some cars, including a Lexus IS300. In March of 2012 he saw the 2002 Lexus IS300 Sportcross up for sale, and he started building the car in his head before he had even signed the dotted line. The day after bringing it home, he began modifying the wagon with some parts he had left over from his previous IS300 sedan.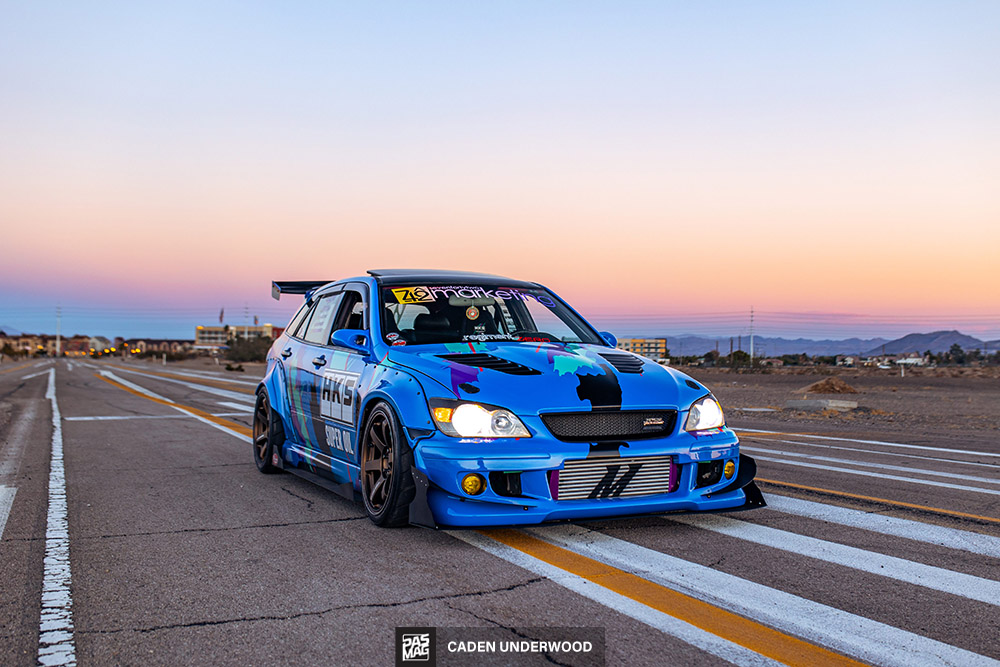 The overall idea behind the build was to emulate the HKS IS300 sedan built by Billy Shea many years before, but as a wagon version. In 2016, after a few more modifications, Cabrera messaged Billy Shea to see how he felt about someone replicating his build in wagon form, and got the thumbs up from Shea. Since then, Cabrera has been planning this rendition of his IS300 Sportcross.
"A lot of people think that I'm sponsored by HKS," says Cabrera. "Well, I'm not. I have always been a fan of the brand, and after seeing Billy Shea's build on his sedan all those years ago, with the HKS livery and parts, I decided to replicate it but in a wagon version." That presence of HKS is noticeable in just about every aspect of the wagon build. Numerous engine components, including the GT3 4R turbo, the titanium muffler, coilovers, and an HKS style body kit by EKB Plastics all play a part here.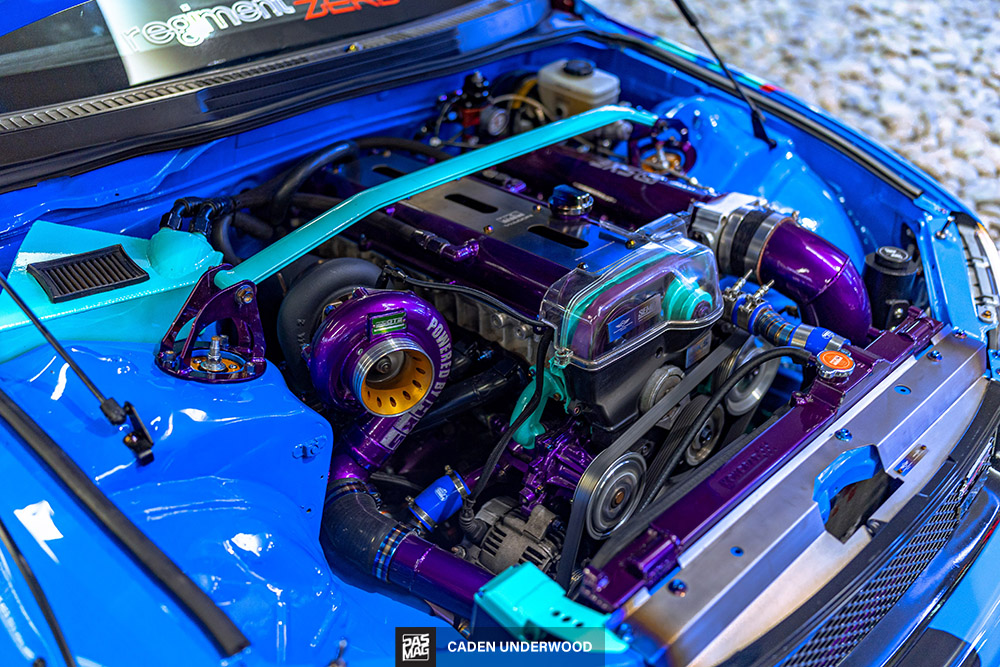 While it hasn't been dyno-tuned just yet, the powertrain is built for potent power output. The 2JZ-GE+T is fully built with quality parts such as CP pistons, BC rods and cams, ARP head bolts, and 1000cc injectors, while the drivetrain boasts a manual transmission swap via R154, an ACT Xtreme clutch package, and a Mk3 Supra LSD. It's crystal clear that Cabrera is aiming for reliability with good power.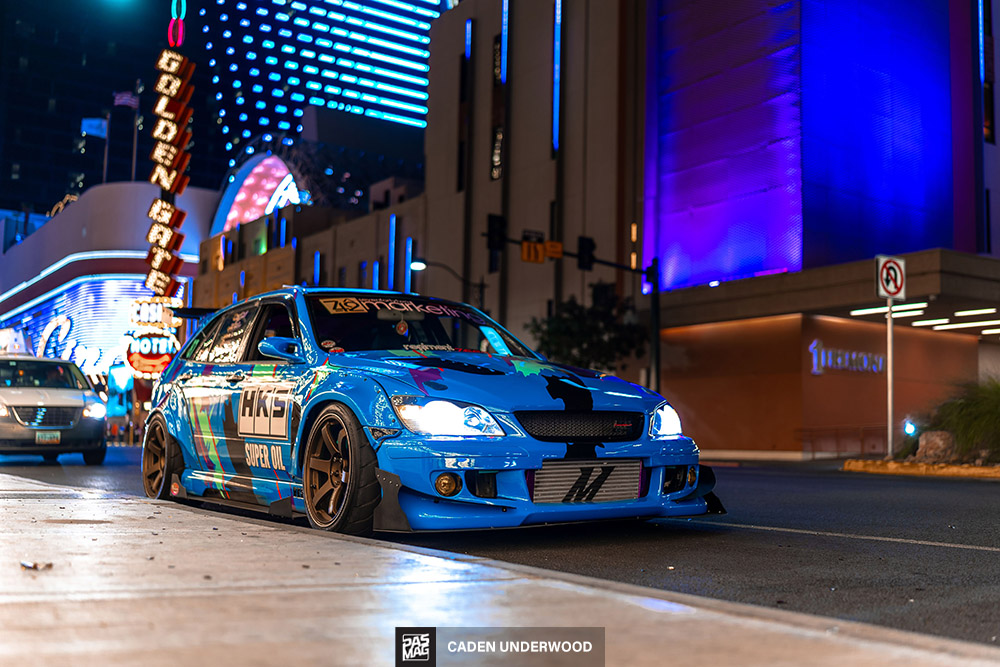 Years of building the Sportcross has seen the car go through multiple iterations. "Every season I changed something on it to bring something fresh to the scene the following season," Cabrera tells us. "It is currently on its third paint job, third livery, second motor, and fourth set of wheels. It's been on coilovers, air bags, and now on coilovers with a cup kit." While his intentions were originally to build a pure show car, he decided along the way that he didn't want to build a trailer queen, and wanted to enjoy his car on the road as much as the show floor. We appreciate that, and we think this recent iteration is the best one yet!
Photography by Caden Underwood (@cru_media)
Martin Cabrera is featured in PASMAG #168. CLICK HERE to order.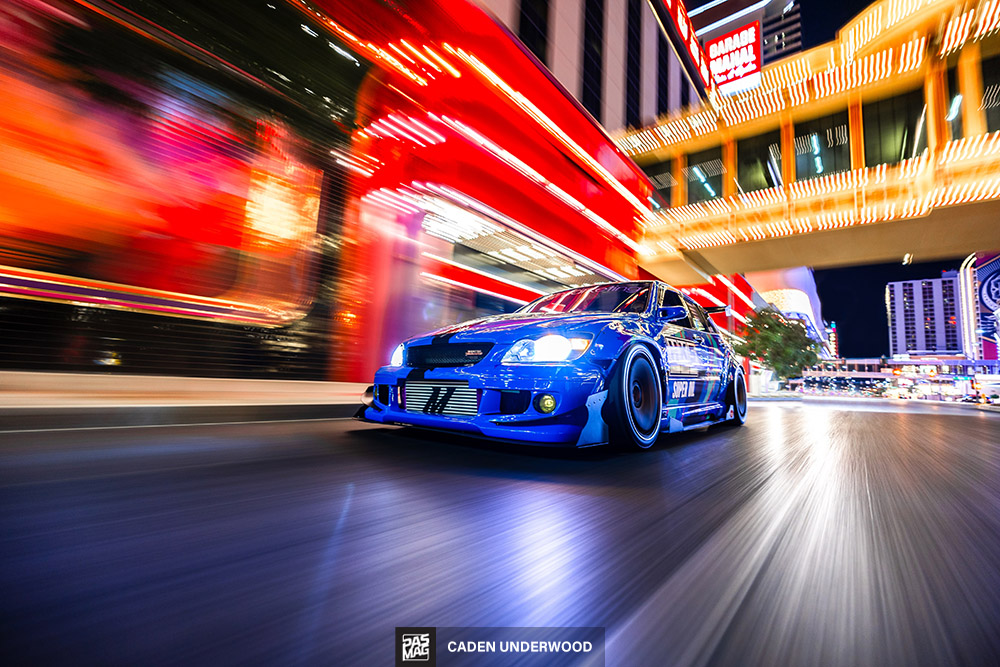 ---
ESSENTIALS
Owner: Martin Cabrera
Vehicle: 2002 Lexus IS300 Sportcross
Location: Elizabeth, NJ
Engine: Toyota 2JZ-GE 3.0L I6
Club: Regiment Zero
Social Media
Instagram: @sxeautoworxbuilt
ENGINE
CP pistons + BC (rods, 264 cams) + GTE head gasket + HKS (timing belt, cam gear, 4 blow off valve, GT3 4R turbo, Type 1 radiator cap, oil filter, turbo timer) + Xcessive engine mounts + ARP head bolts + XS Power (front facing intake manifold, turbo manifold) + Ross Machine Racing 90mm throttle body + M&S Performance (custom piping, catch can) + Mishimoto intercooler + Precision 46mm wastegate + Toyota Aristo valve covers + Mazterpiece Automotive (titanium spark plug cover, cooling plate) + Koyo radiator + FAL dual fans + South Bay fuel pressure regulator + Walbro 455 fuel pump + Radium Engineering fuel rail + AEM V2 management by Dezod Development + Wire tuck and shaved engine bay + Fuel Injector Development 1000cc injectors + Titanium Works titanium engine hardware + Driftmotion oil level sensor block off + Chase Bays (power steering kit, clutch master cylinder, clutch line) + PHR (modified oil pump, VVT-i line, fuel pump hanger, pulley kit)
EXHAUST
Custom 3-inch exhaust + HKS carbon Ti muffler
DRIVETRAIN
Xcessive trans mount + R154 manual transmission conversion + Driveshaft Shop driveshaft + ACT Xtreme clutch + Toyota Supra Mk3 LSD + Supra Sports short shifter
WHEELS / TIRES / BRAKES
RAYS Volk Racing TE37 - 18x10.5 (f), 18x11 (r) + Toyo Tires R888R tires + Custom (6-piston front calipers, 4-piston rear calipers) + Floating rotors
CHASSIS / SUSPENSION
HKS coilovers + Stance Parts air cup kit + Figs caster arm and lower control arm bushings + Front and rear lower braces + Eibach front and rear sway bars. + Serial Nine rear subframe bushings
EXTERIOR
Toyota Voodoo Blue paint + HKS style body kit from EKB plastics + Elixir roof wing + Ganador mirrors + Altezza (headlights, Gita door visors, mesh grille) + LED custom tail lights + Charge Speed hood + Ascura Garage Riot V2 wide body + Carbon Fiber Element carbon fiber (door handles, gas lid, and trunk) + Dress Up Bolts (titanium over fender kit, hood latch kit) + Aero Catch hood latches + Galvez Customs/Mazterpiece Automotive custom trunk-mounted GT wing + Galvez Customs (front splitter, canards, side skirt extension) + Mazterpiece Automotive (titanium bolts, fender vent grills) + LED headlights
INTERIOR
Kevman Kevtec carbon fiber bucket seats + Vertex steering wheel + Custom stitched rear seat + AEM Performance Electronics gauges (oil pressure, Tru-boost, wide band) + Alcantara red headliner + Custom trunk setup
AUDIO / MOBILE ELECTRONICS
Pioneer (double-DIN head unit, speakers) + Kicker (amplifier, 12-inch L5 subwoofers (2), component speaker set)
SPONSORS
Elite Garage + South Bay Fuel Injectors + Dress Up Bolts + Titanium Works + Audio Clinic + Inspire Auto Sound + Wrap That + Ascura Garage + MCC Loyalty + Versus Autosports
---
PHOTO GALLERY