In the world of Japanese-based, Evolution Lancer tuners (specifically dealing with the legendary 4G63 engine), G-Force stands head and shoulders above all others. The company president, Naohisa Tazawa, has been dealing with the Lancer Evo platform/engine combination for decades, and his builds are world renowned – both for the street and the circuit.
What many of our readers may not know is that G-Force (with Tazawa-san at the helm) is a brand name that sits right in the thick of Japan's fastest in time attack terms. To put the RH9 (Record Holder 9) group into context, all the drag cars they used to create had to run a nine-second quarter-mile. Still, to this day, the group consists of a who's-who in tuning brands from Japan; Top Secret, Top Fuel, JUN, Endless, Signal Auto and Phoenix Power to name but a few. The Nissan GT-R was the weapon of choice for most tuners in the early days but, more recently, other models like the Evolution have also been a major tuning platform.
This group of individuals makes up the upper echelon of street tuners in Japan, consisting of 35-plus companies at last count, nationwide. This should give you an idea of just where Tazawa fits in the grand scheme of things – traveling at warp speed in the most hardcore of Japanese machinery matters, day or night.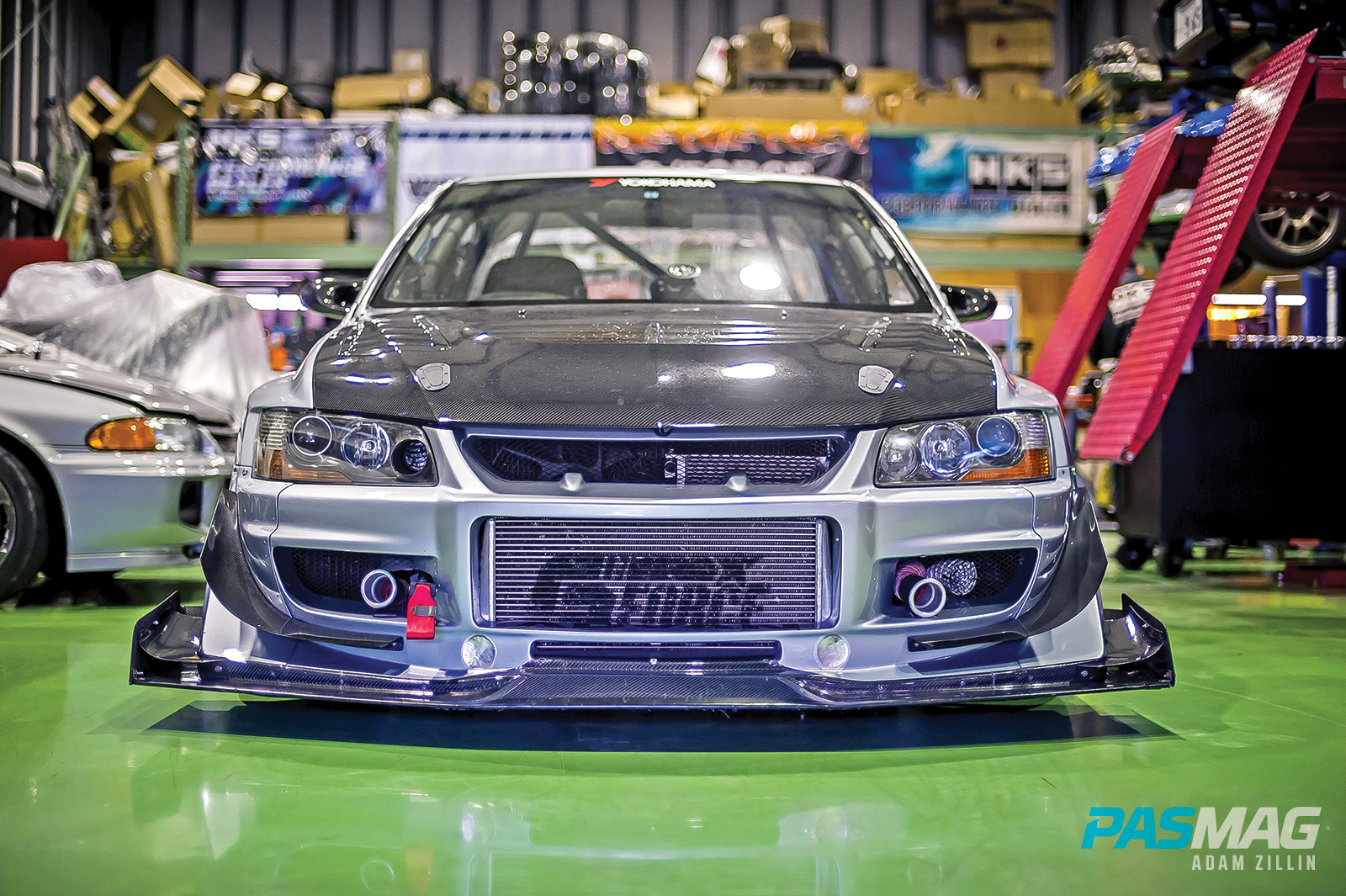 This particular CT9A Evolution is their current time attack car, and it packs a barnstorming 4G63 bored out to 2.3 liters by way of its Tomei stroker kit — delivering a lap shattering 665 brake horsepower at 6,712 rpm, backed up by a tractable and g-force — no pun intended — pulling 565 lb-ft of twist at 4,751 rpm. Evos and their Subaru brethren have always been lauded as point-and-shoot weapons, but this is seriously next level.
Nob Taniguchi is the driver of choice for the G-Force outfit (and one of the best in the business), and most recently during shakedowns, the monster Evo managed a 55-second lap at Tsukuba, a 2:07 lap at Suzuka and a 1:43 lap at Fuji Speedway. These are staggeringly quick numbers, and almost on par with genuine front- running works Super GT300 cars for pace. Let that sink in.
Going a little further on the engine, you can clearly see by the shots that it is a tightly packed ball of aggression with a bright orange cam cover signaling some of the intent. The extreme heat shielding and wrapping is prominent and, despite this, the temperatures coming off the exhaust manifold (gasses that end up being spewed out the back of the custom titanium one off exhaust straight pipe arrangement, made exclusively by the master-craftsmen at G-Force) have ended up scorching and discoloring the carbon Varis bonnet that conceals the set-up. It's all in the name of extreme function and, incidentally, is actually one of the more beautiful aspects on the entire car.
Inside the engine are more Tomei goodies, including 270-degree camshafts for intake and exhaust, titanium valve springs, retainers and sleeves, which are all mated to an extensively ported head on both intake and exhaust openings.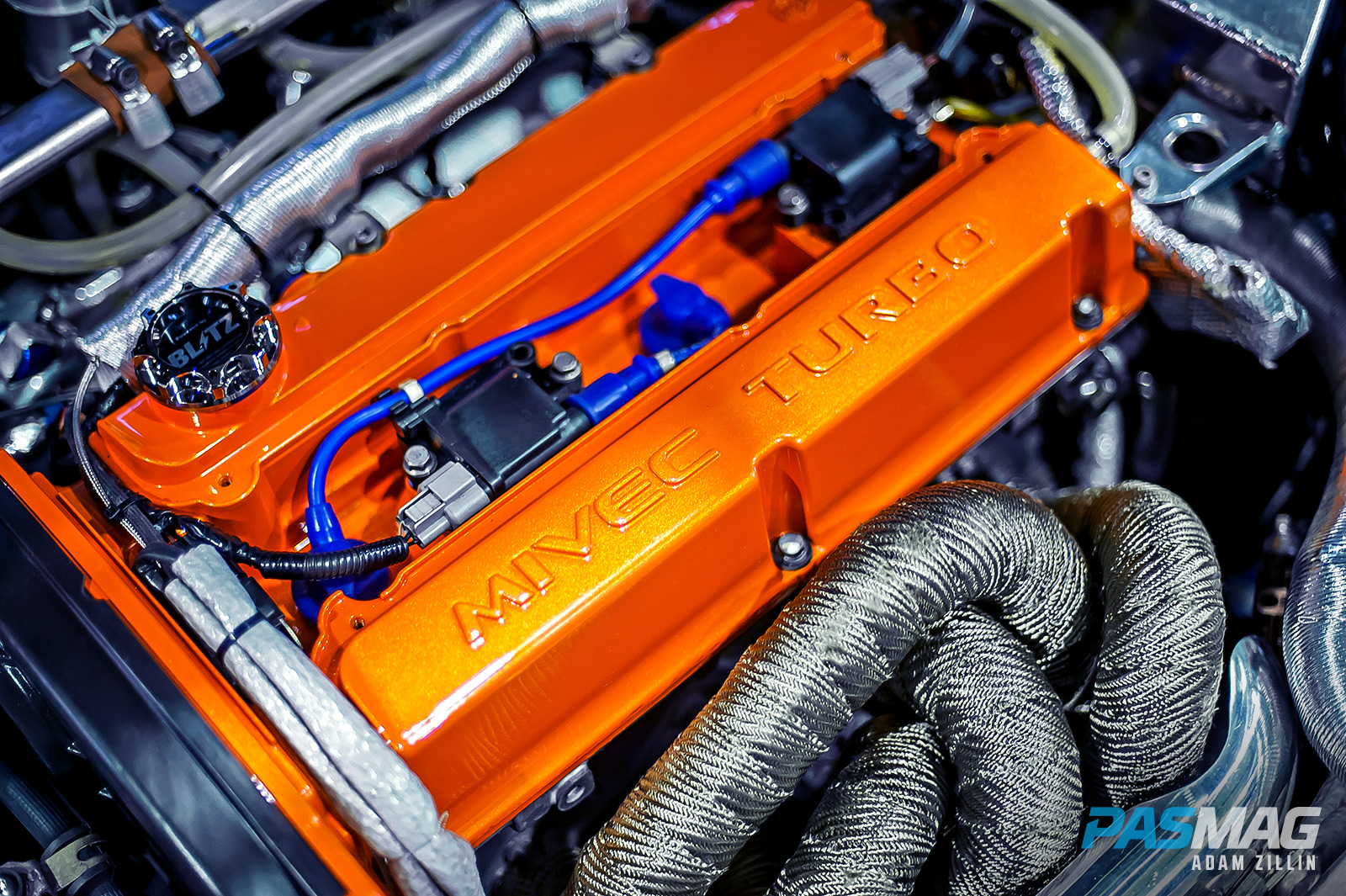 Giving this entire arrangement the boost it needs to make that whopping power figure is a Borg Warner EFR8374 turbo; one that is now considered as one of the best solutions for hardcore time attack engines — and one which offers an elusive balance of high engine response at relatively low revolutions, combined with the potential for huge power outputs at maximum revs. To give you an idea of the types of teams that run this turbo, NEMO; that controversial and record-breaking tube frame Evolution that ran in the WTAC a couple of years ago, also uses this exact same turbo setup.
Since the RH9 group also manufactures its own personalized brand of in-house products, Tazawa-san went with twin, 255-liter output RH9 fuel pumps mated to a custom rail assembly. Keeping the entire system cool comes down to other tried and tested HKS items such as the multi-core R-Type intercooler and oil cooler, along with a multicore ARC radiator.
One of the crown jewels in the power delivery system (indeed one that needed to match the extreme demands of the engine output) is a six-speed Holinger sequential dog-box. Banging through the gears never looked like so much fun and various videos of Taniguchi rowing through them on this particular lever can be found on G-Force's official Facebook page (GForceENG). The mix of Exedy Carbon-R clutch plates, pressure plate and flywheel assembly transmit to Cusco RS spec one-way differentials in the front and rear.
Time attack conditions obviously demand stopping power just as much as propulsion and RH9's long-standing members, Endless, supplied the whole works. In the front, six-pot Endless calipers clamp down on two-piece rotors, while Endless four-pots take care of the rear. Pads, meanwhile, are CCR-G carbon mix items that more than match the sub-2,645-pound chassis in pulling up.
But what good is pulling up or accelerating when you have nothing to keep you tied down through corners? This is where other long-standing RH9 partners Yokohama and RAYS come into play, with newly-created and sticky Advan A050s on all corners and TE37 Super Laps to match. The tires measure 295/30 R18 on each wheel with the forged handled by an HKS F-CON V Pro along with an HKS EVC6 boost controller that dictates a massive 4.85 pounds of boost.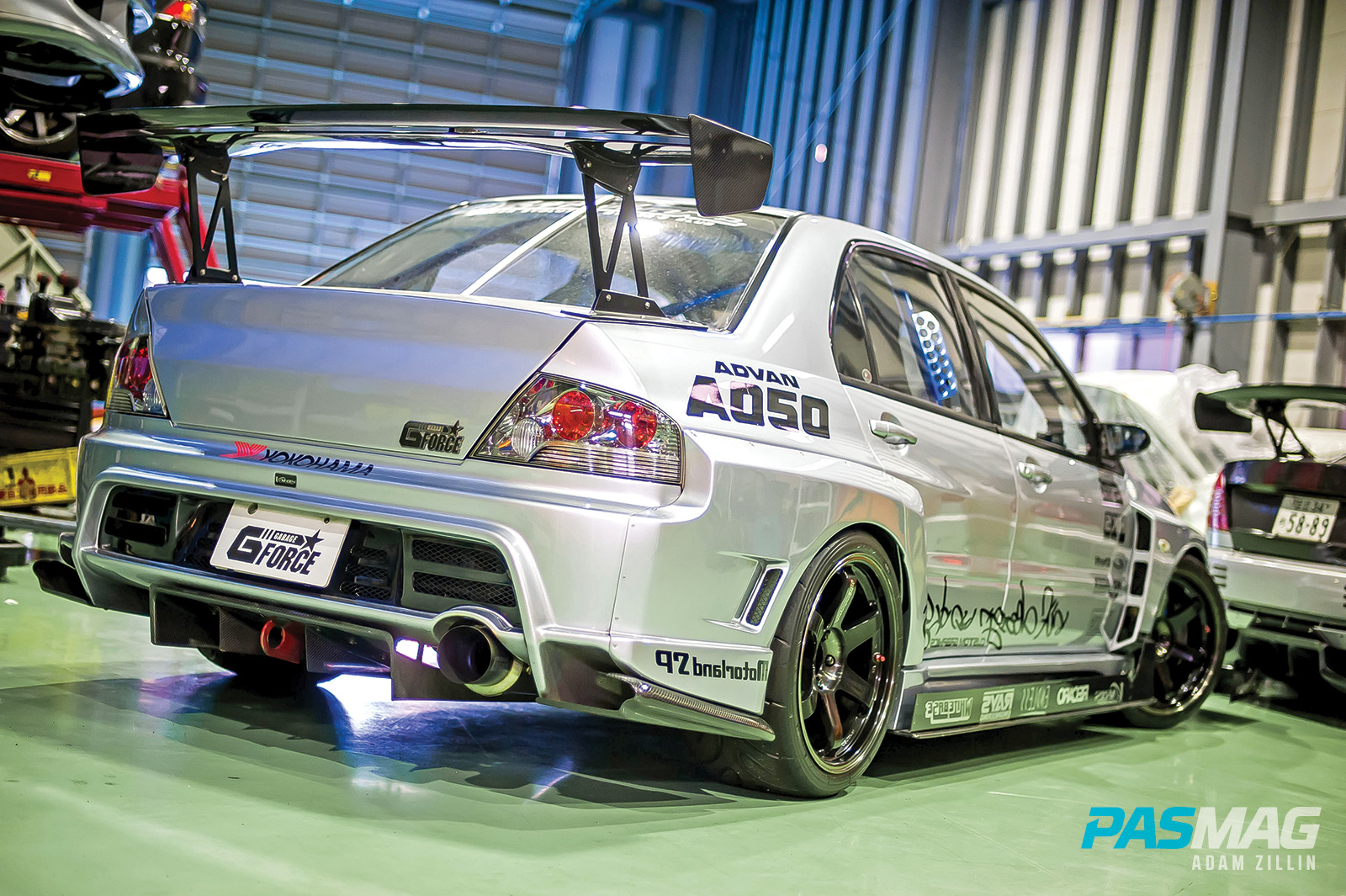 Cars like this absolutely bonkers CT9A G-Force Evolution really capture my attention. They are like thoroughbred race horses — straining at the gate, chomping at the bit — built to extreme measurements and tolerances and are somewhat fragile in construct. But while they are often at their greatest over only a sequence of single lap attacks, they are absolutely unhinged and the tech that goes into them is entirely relatable to street performance — because almost all of these parts are available off the shelf.
Tazawa-san, while personifying a "driving force" through his Garage G-Force brand, is continuing to define his undeniable international reputation for extreme Lancer Evolution weapons and their abilities to dominate the time attack scene. While Mitsubishi as a manufacturer may be cutting the Evolution branding short, G-Force is forging on. This CT9A is proof that Mitsubishi's corporate decision to axe the Evolution line of vehicles may not have been a timely one.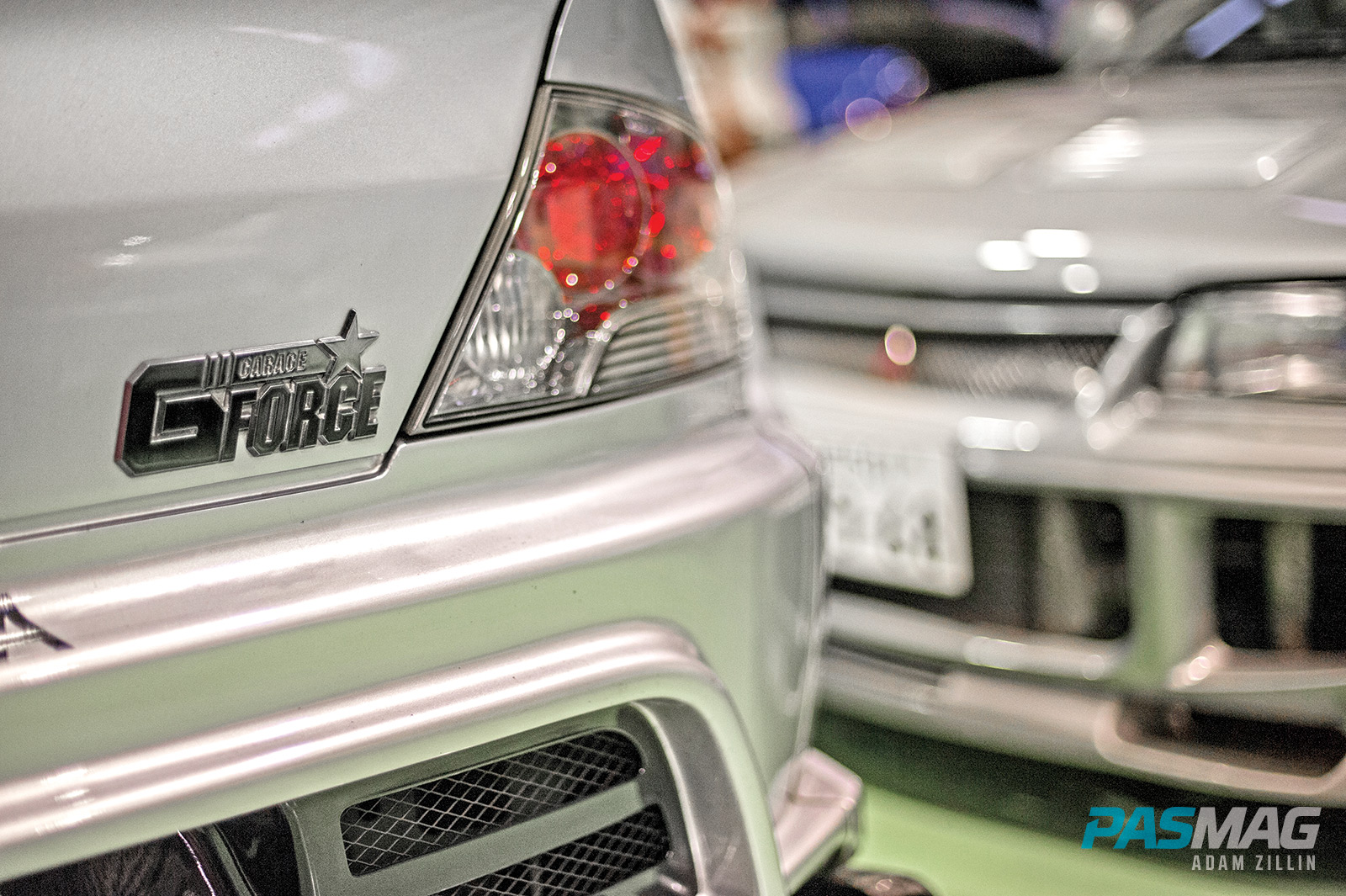 ---
ESSENTIALS
OWNER: Naohisa Tazawa
VEHICLE: Mitsubishi Lancer Evolution IX
BUILT BY: Garage G-Force
ENGINE: Mitsubishi 4G63 2.3L turbocharged I-4
HORSEPOWER: 665 hp
TORQUE: 565 lb-ft
ENGINE
Tomei (pistons, connecting rods, 270- degree camshafts)
Ported & polished head
RH-9 255L fuel pumps (2)
NGK Racing spark plugs
HKS (PF air filter, S-SQV blow-off valve, R-Type triple-core intercooler, F-CON V-pro ECU, EVC 6 boost controller, oil cooler)
G-Force intake
Borg Warner EFR-8374 turbocharger
ARC radiator
EXHAUST
G-Force (Race-Spec exhaust manifold, down-pipe, titanium extractors, titanium exhaust system)
DRIVETRAIN
Holinger 6-speed sequential dog-box
Exedy Carbon-R clutch
Cusco RS 1-way differential
CHASSIS / SUSPENSION
Marlsche front stabilizers
Cusco (rear Power Brace, 15-point roll cage)
Ohlins DFV G-Force Version dampers
Hyperco springs
WHEELS / TIRES / BRAKES
Rays Volk Racing TE37SL wheels – 18x11 +17 (f/r)
Yokohama Advan A050 tires – 295/30 R18 (f/r)
Endless (6-piston calipers (f), 4-piston calipers (r), CCR-G brake pads, rotors, stainless brake lines)
EXTERIOR
Varis (front bumper, side skirts, rear bumper, hood)
Voltex wing
INTERIOR
Recaro seats
Racepak IQ3 dash cluster
PHOTO GALLERY