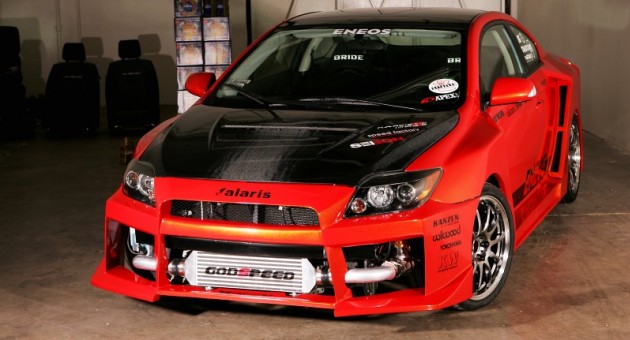 When you have a craze in the automotive after market like the one we have witnessed with Scion in the last decade, the trend often carries on without an end in sight. Even oil giant ENEOS wanted in on the action, so it took on the task of building this tC in house. The mission was simple but it wouldn't be easy. They had to take an all-stock Scion and wrap it up before SEMA 2009 for display in the ENEOS booth.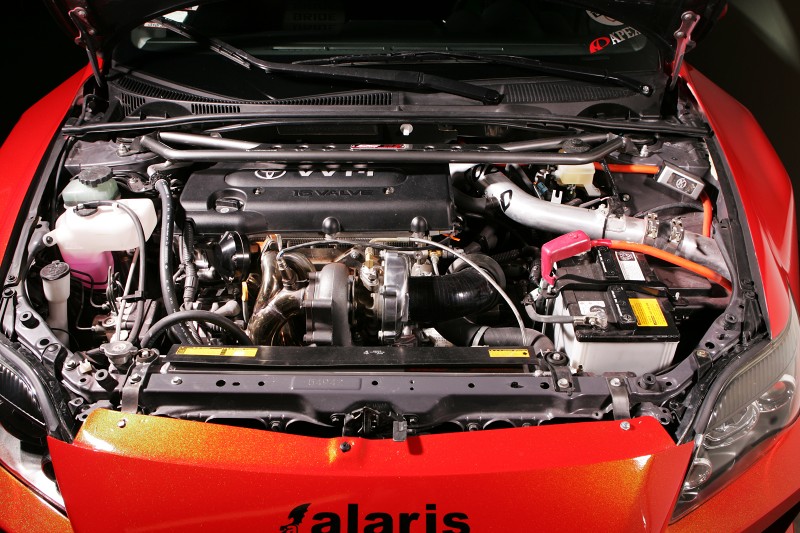 According to the owner, the car put down 500whp with 450lb-ft of torque on a Mustang dyno and will hit 195mph.
While touring the show floor, our sales staff spotted this weapon out of the corner of their eye. The car had all the right parts on it and the engine was lubricated by none-other than ENEOS synthetic oil. The crew passed by a sick right-hand drive 370Z and even a murdered-out Ferrari Challenge Stradale to get a closer look at this turbo 4-banger. Of course, we contacted owner Daniel Lin of Cerritos, CA and decided it would make for one serious feature car.
Right out of the gate, this Scion has all of the right gear to make some ponies under the hood. The 2.4L 2AZ-FE motor was fitted with a Godspeed T3/T4 turbo sitting on a custom manifold. From there, the downpipe and test pipe is a custom KVZ fabrication matched with an A'PEXi exhaust. The cool side consists of an HKS filter feeding a Godspeed intercooler and blow-off valve. The engine is controlled with an A'PEXi S-AFC and the venerable AVC-R boost controller. Insane revs and a r2038_thturbo whining away at over 100,000 rpm meant this car runs a strict diet of ENEOS 0W30 synthetic for racing. According to the owner, the car put down 500whp with 450lb-ft of torque on a Mustang dyno and will hit 195mph.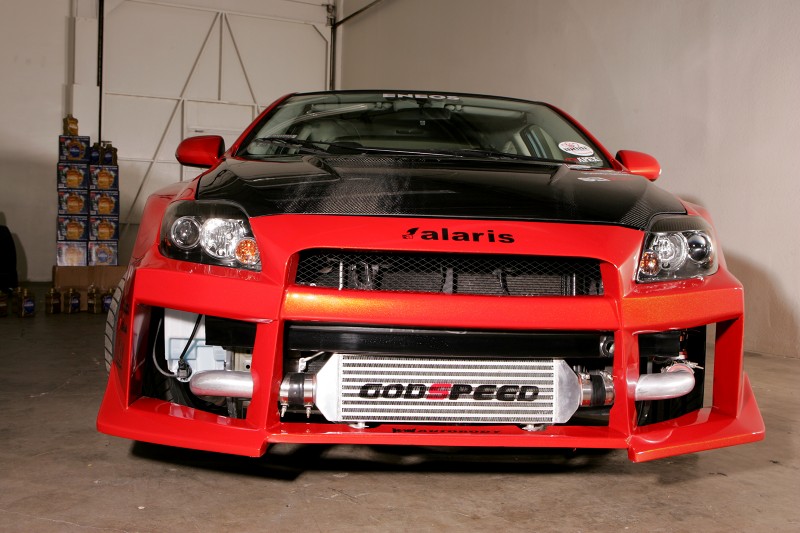 The look of the car is definitely unique, which is because it is the only one that exists in the world. The widebody is a one-off design by Alaris designs which directs airflow to allow car to almost enter the 200mph club! Painted by K&W Autobody, this Scion features a stunning EkiShow paint job using paint and techniques imported direct from Japan. The look was completed with some piercing HIDs and plastered with Speed Factory graphics.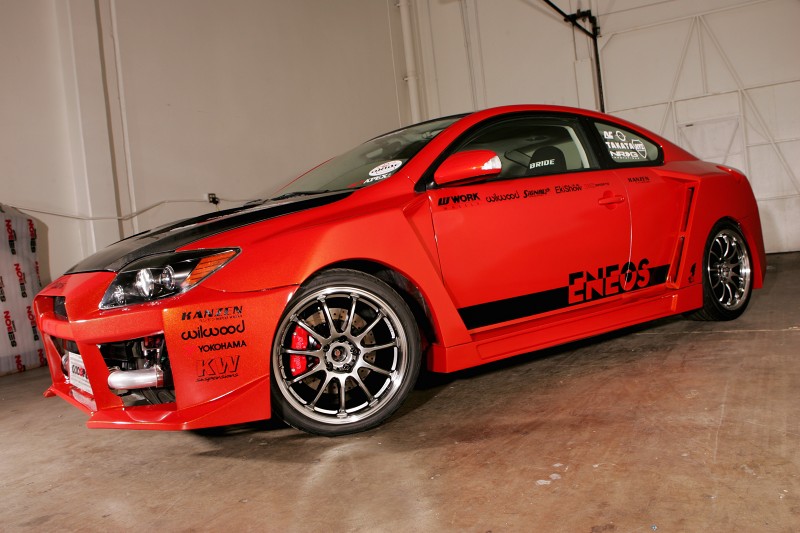 The Scion wouldn't be complete without an aggressive set of rollers. The Work Emotion was selected in 18x9-inches and 18x10-inches rocking Advan tires. Behind the gunmetal spokes are Willwood 6-piston brakes chomping down on 2-piece rotors. The right stance was achieved inside the massive body work by adding some KW Suspensions coilovers, while the DC Sports keep the chassis tied up tight.
Inside the cabin, the Scion got the full BRIDE treatment. It might not have the headliner but seeing the BRIDE fabric on the sub box was definitely next level. Instead of going to an established upholstery shop like most feature car owners, Lin decided to go it alone and did all the work himself.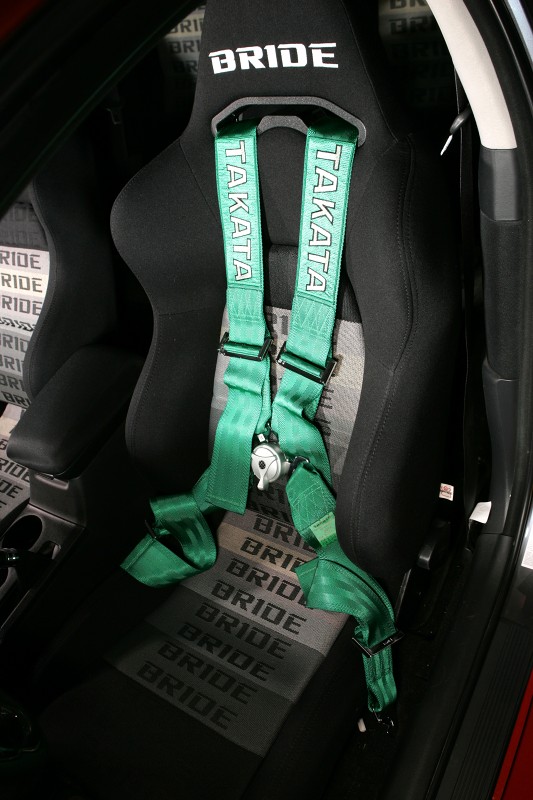 He also added BRIDE recliners with a Takata harness to make sure this Scion get noticed. All of the driver inputs are made with NRG gear including a 320mm carbon fiber and black leather steering wheel, carbon fiber shift knob, as well as shift and e-brake boots.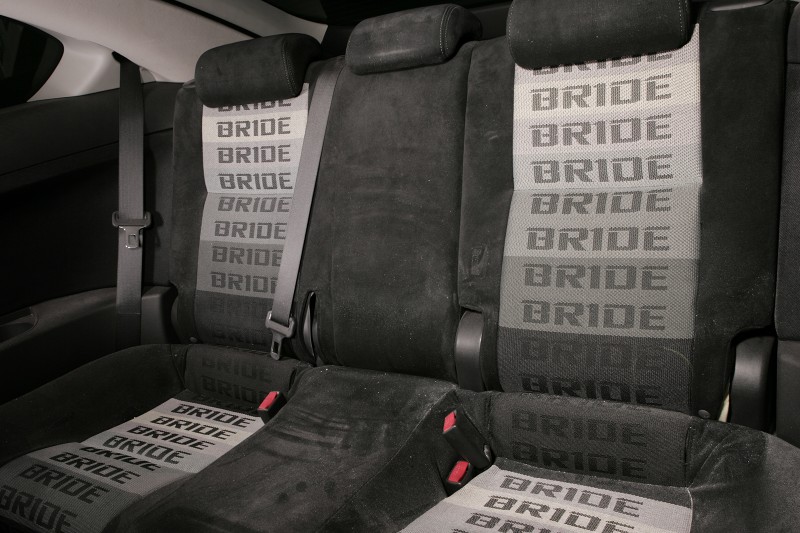 Lin knows getting noticed also has everything to do with appealing to the senses, not just sight but sound too. Lin contacted Memphis Audio to assist with the audio needs of the vehicle. Stemming from a factory headunit, the signals are sent to a Memphis power amp to power the trio of 10-inch thumpers in the trunk.
The Memphis Audio 4-channel lights up the Memphis component speakers found throughout the cabin.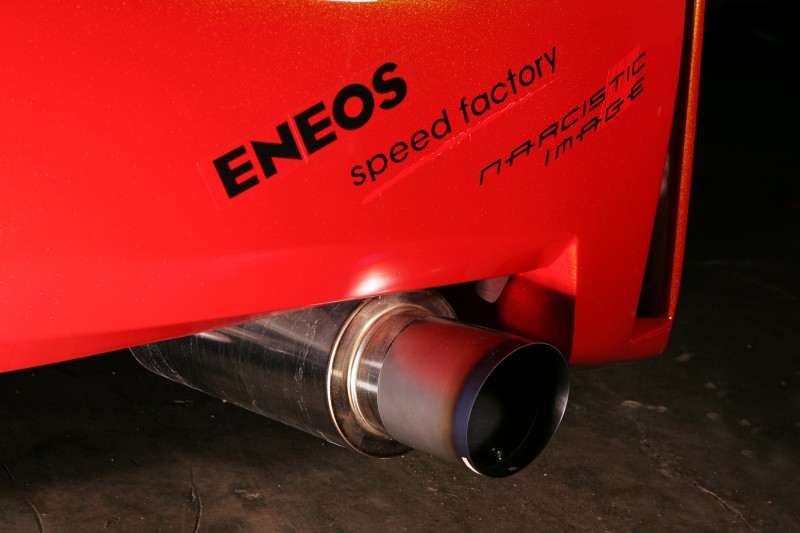 With sound, style and lots of attitude, this Scion boasts a better power-to-weight ratio than a Ferrari. Keep an eye out on the streets of SoCal or at the next Scion meet for this one of a kind tC. Be sure stop Lin and ask him just how he made the magic happen.
THE ESSENTIALS
Owner: Daniel Lin
Location: Cerritos, CA
Vehicle: 2008 Scion tC
Power: 500whp with 450lb-ft (est.)
Engine: TRD 2AZ-FE turbo-4
ENGINE MODIFICATIONS
Godspeed T3/T4 turbo manifold
KVZ downpipe and test pipe
A'PEXi exhaust
HKS Mega Flow filter
Godspeed intercooler
Godspeed blow-off valve
ENEOS 0W30 synthetic oil
ENGINE MANAGEMENT
A'PEXi S-AFC
A'PEXi AVC-R
WHEELS, TIRES, BRAKES
Work Emotion; 8x9-in (f), 8x10-in (r)
Advan Neova tires
Wilwood 6-piston 355mm brakes
SUSPENSION
KW Suspension coilovers
DC Sports strut bars
EXTERIOR
Alaris Designs widebody
Seibon carbon fiber hood
EkiShow paint by K&W Autobody
Halo HIDs
Speed Factory vinyl graphics.
INTERIOR
BRIDE Interior treatment
BRIDE fabric on the sub box
BRIDE racing seats
Takata harness
NRG carbon fiber and leather wheel
NRG carbon fiber shift knob
NRG shift and e-brake boots
AUDIO / MULTIMEDIA
Factory headunit
Memphis Audio 10-inch subs
Memphis Audio Component Speakers
Memphis Audio Mono Amp
Memphis Audio 4-Channel Amp
SHOUT-OUTS
Work Wheels
Alaris Designs
GodSpeed
BRIDE
KW Suspension
Yokohama
Takata
RC Engineering
Wilwood
Ekishow
Signal Auto
NRG
Halo
K&W Autobody
Speed Factory