Photography courtesy of CAtuned
---
The history of BMW's iconic 2002 has been exciting to say the least. After talk of smaller, sportier BMW models circulated the brand's corporate echelons in the early 1960s, it wasn't long before the 02 series began. The idea was simple enough: a shorter wheelbase, lighter body, and a sporty image that BMW had, for a time, been unable to recapture from the 1930s. Shortly thereafter, the 2002 was born, complete with a 2.0L engine, and later, a turbocharger, making it the first turbocharged production car to ever roll off the BMW assembly line.
Since the dawn of this new an exciting BMW era, the 2002 models have played many roles. They have been transformed into award-winning show cars, street-ready daily drivers, and of course, brutal, circuit-dominating track weapons. However, in all of its many iterations and interpretations, none have been as rugged in both looks and spirit as this 1973 BMW 2002 from CAtuned.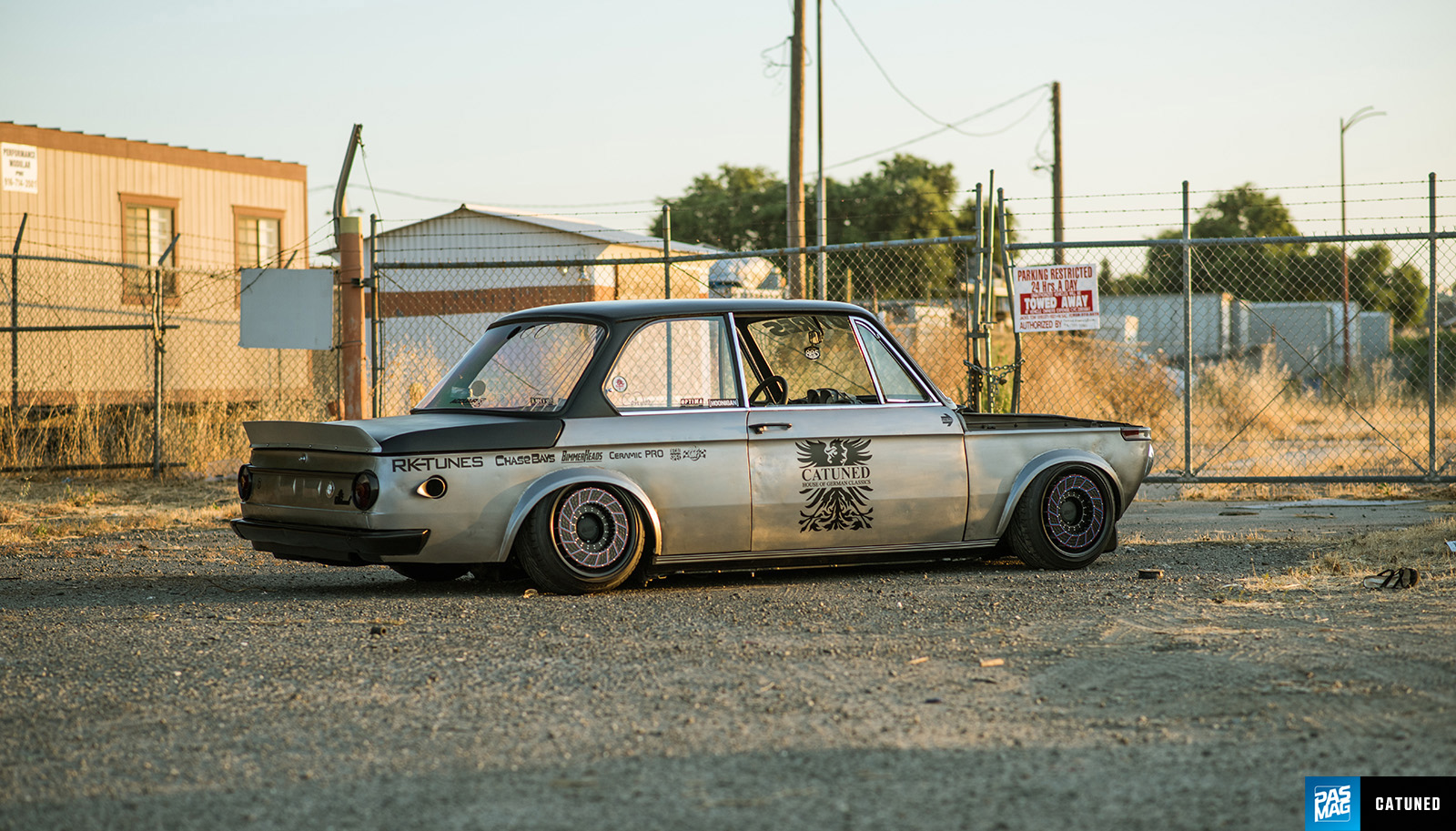 Click HERE to order your copy of PASMAG Issue #144 (Aug/Sept 2017)
Based in California, CAtuned was started by a man named Igor Polishchuk as a hobby in August of 2002 (what a coincidence), but it took off so quickly that it soon became a full-time gig. The ethos of the brand had always revolved around classic BMWs, typically of the E28 and E30 variety. Soon, the shop started work on a BMW 2002, which became the first F20-swapped 2002 in the world. When another 2002, the one you see here, came to them without a plan, it was once again time to venture into new territory.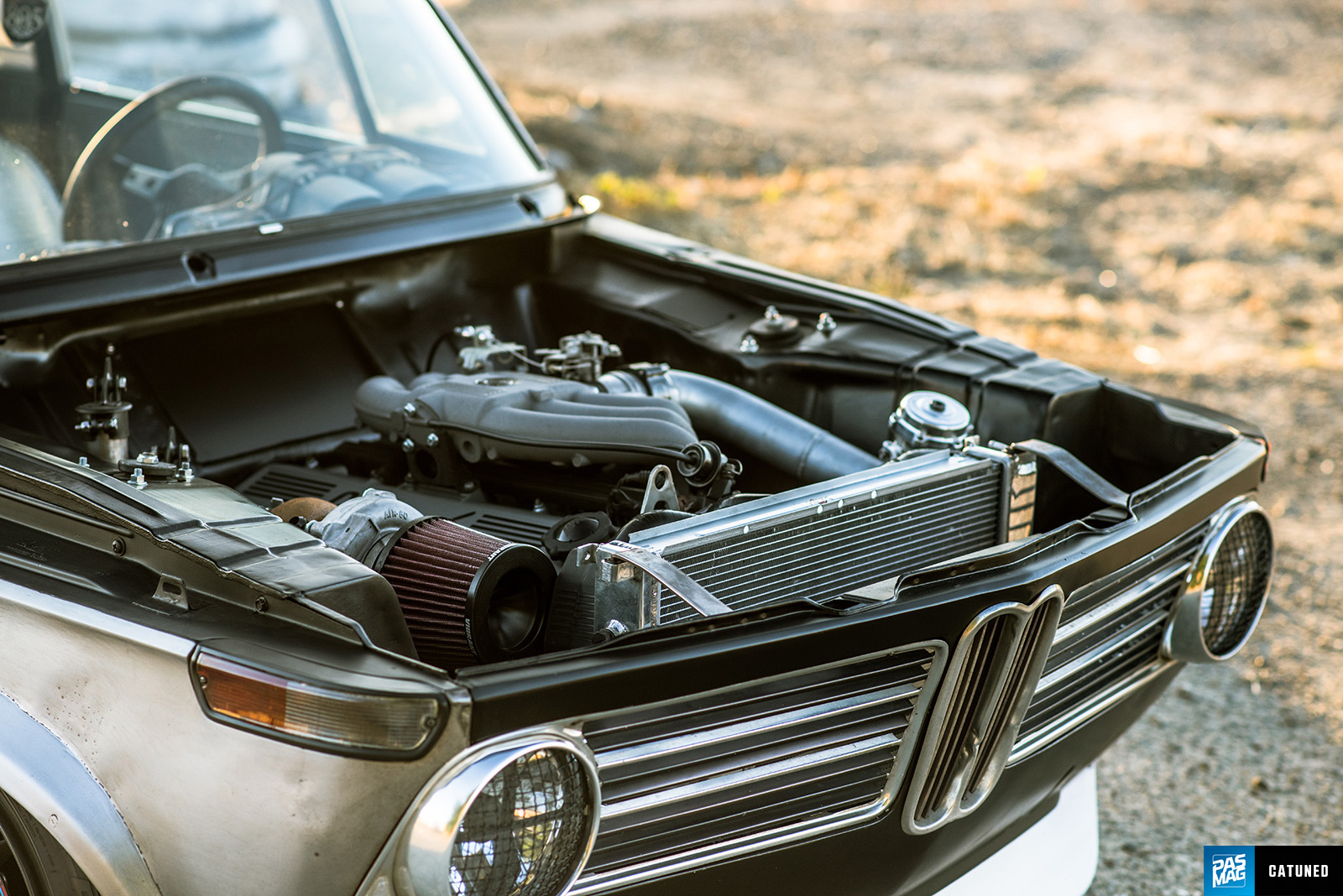 Click HERE to order your copy of PASMAG Issue #144 (Aug/Sept 2017)
The car had been sitting for a while when it arrived at the shop. The previous owner has started some work, but had given up after the car sat for multiple years untouched. Without a build plan from a customer, the '73 Bimmer was set to be a clean slate – but it wasn't as clean as they thought. As Polishchuk started tearing down what he could, he discovered that the car had major side impact damage. At some point in its life, the car had been T-boned, and it was a hard hit. "As I was sitting there thinking about how to overcome the issue, I quickly realized what I was going to do," he says. "There was no way to make the car pretty, so I was going to strip it down and leave the raw finish."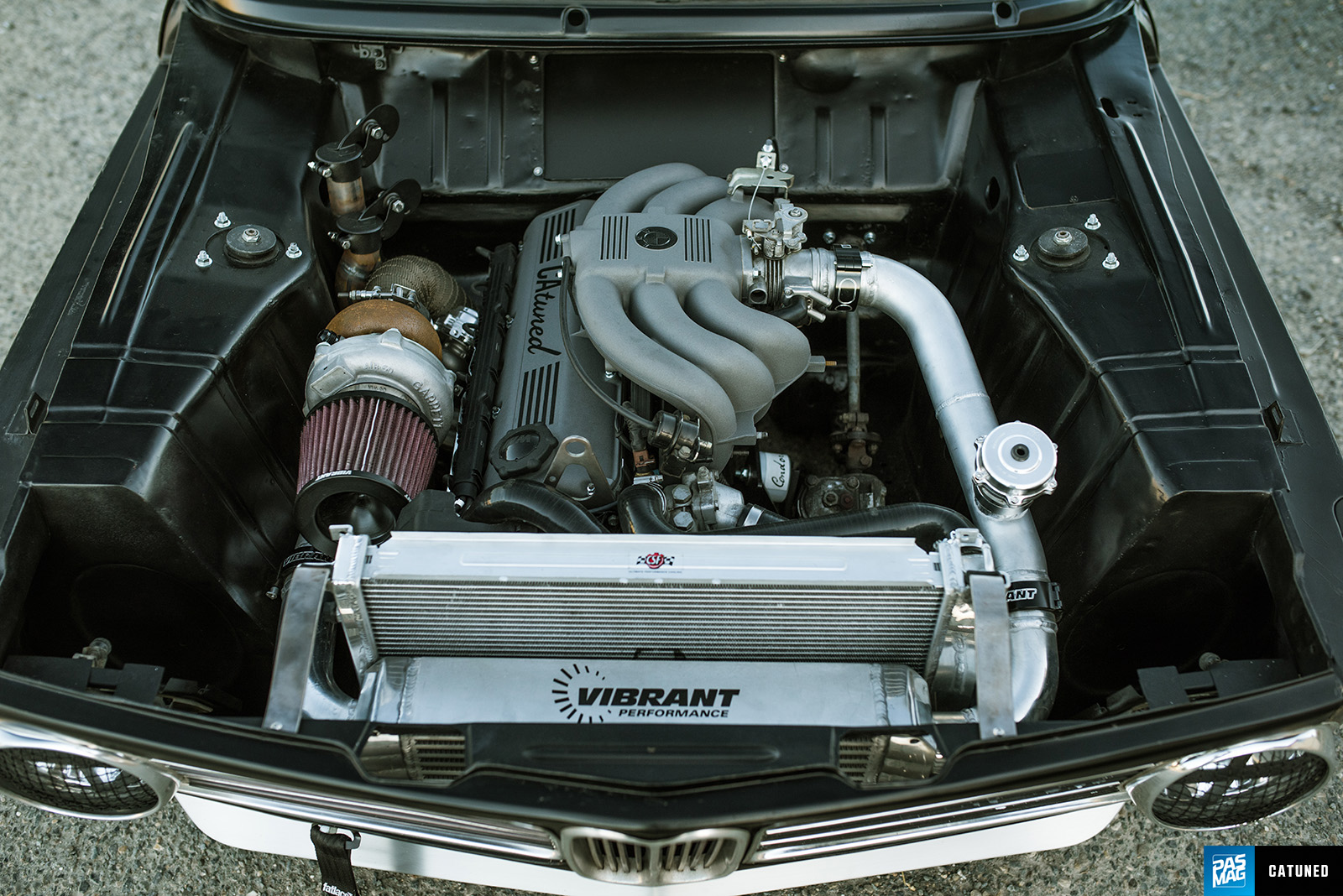 Click HERE to order your copy of PASMAG Issue #144 (Aug/Sept 2017)
The repairs that had been done to the once-pristine 2002 after its accident were fairly novice in quality, and certainly wouldn't live up to Polishchuk's CAtuned standards. After straightening the chassis again, the team at CAtuned welded and reinforced the impacted side. Their original plan to pre-assemble the car with a regular M20 engine was thrown to the wind. Since Polishchuk was set on keeping the raw and rugged finish, they decided to see what kind of fun they could have with the revitalized chassis.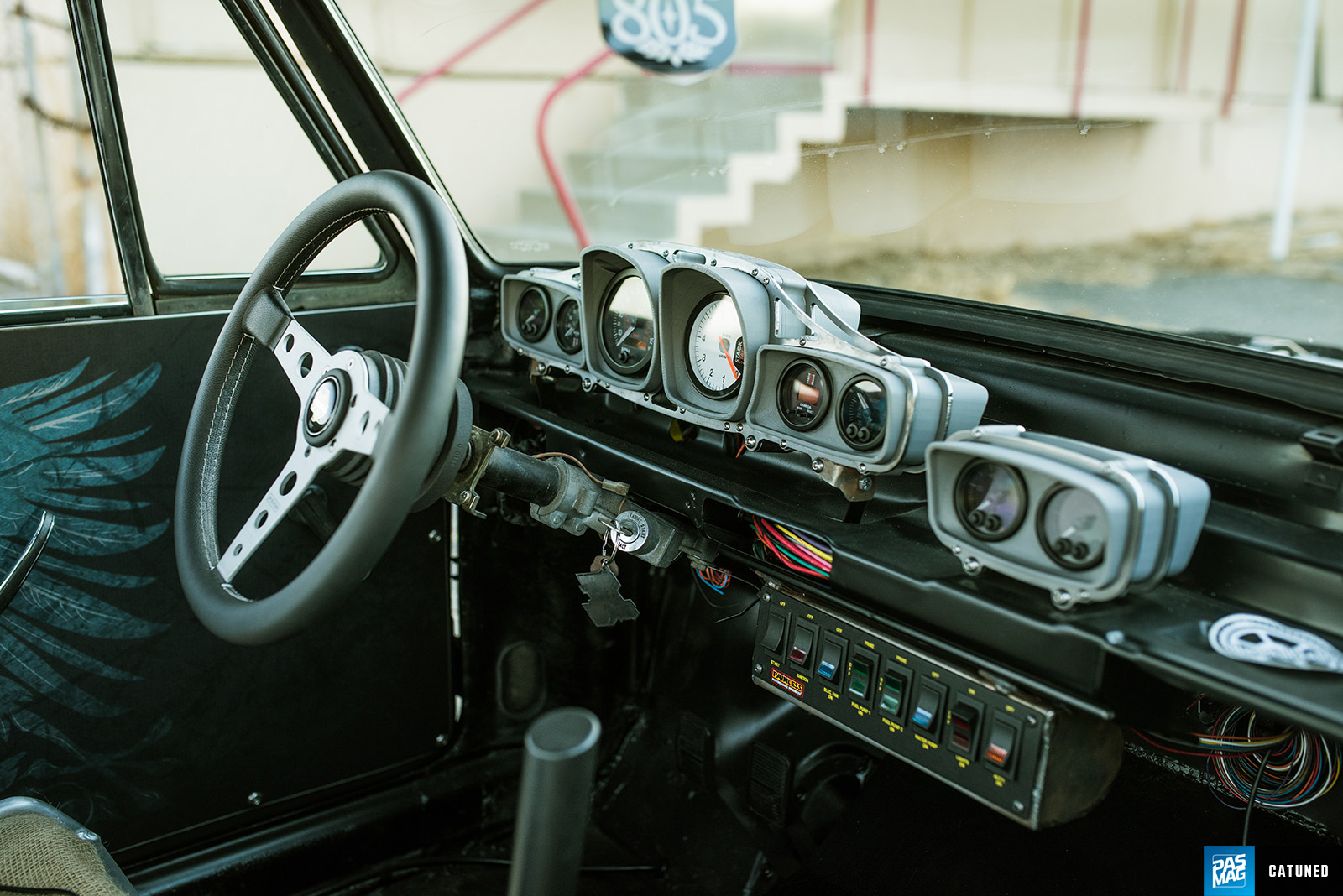 Click HERE to order your copy of PASMAG Issue #144 (Aug/Sept 2017)
Inspiration for a theme to match the raw metal look came directly from the world of aviation, specifically old raw metal war planes. That inspiration is echoed throughout the build, but is especially evident in the cockpit. Where you once found comfortable leather seats, you'll now find bare metal seats straight from an old bomber. Even the seat belts came from a real airplane, and the Rennstall shift knob resembles a cockpit lever in aircrafts of decades past. Topping it all off, the Stack gauge cluster panel, built by "3D Magic Mike" at Roadster Shop, was designed to carry the theme right into the driving experience on the dashboard.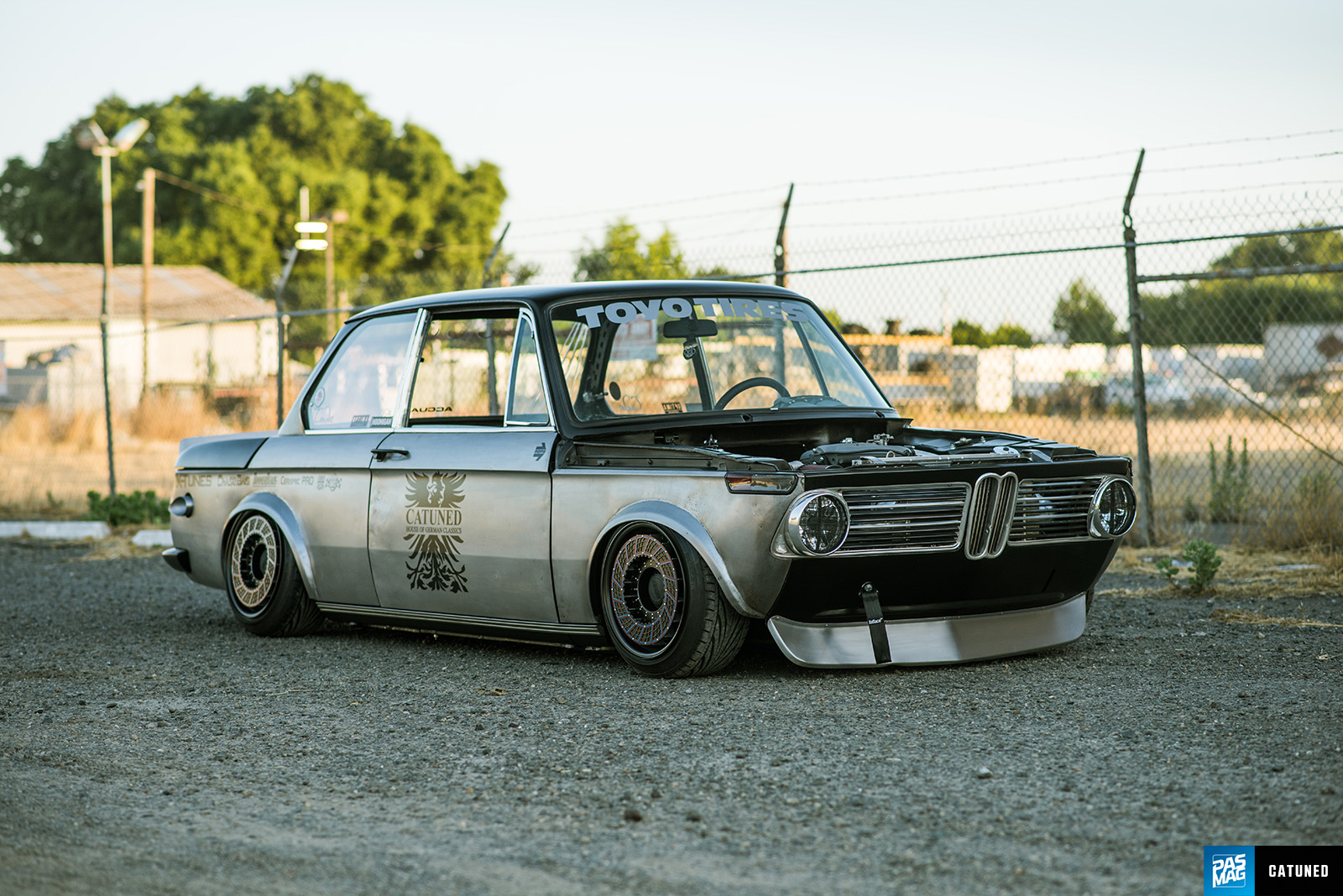 Click HERE to order your copy of PASMAG Issue #144 (Aug/Sept 2017)
On the outside, this grounded fighter plane is a treat to look at. In a world where beautiful paint jobs and expensive wraps reign supreme, it's refreshing to see a clean take on the raw metal body. It's actually what made the car stand out so much to us at SEMA 2016. Even parked alongside RWB Porsches and wide body Lamborghinis, this car commands attention. Keeping the raw metal in good shape is a generous dose of Ceramic Pro's nanoceramic coating, and a custom trunk spoiler and front air dam from Forrest at Kooglewerks give the 2002 a properly aggressive look.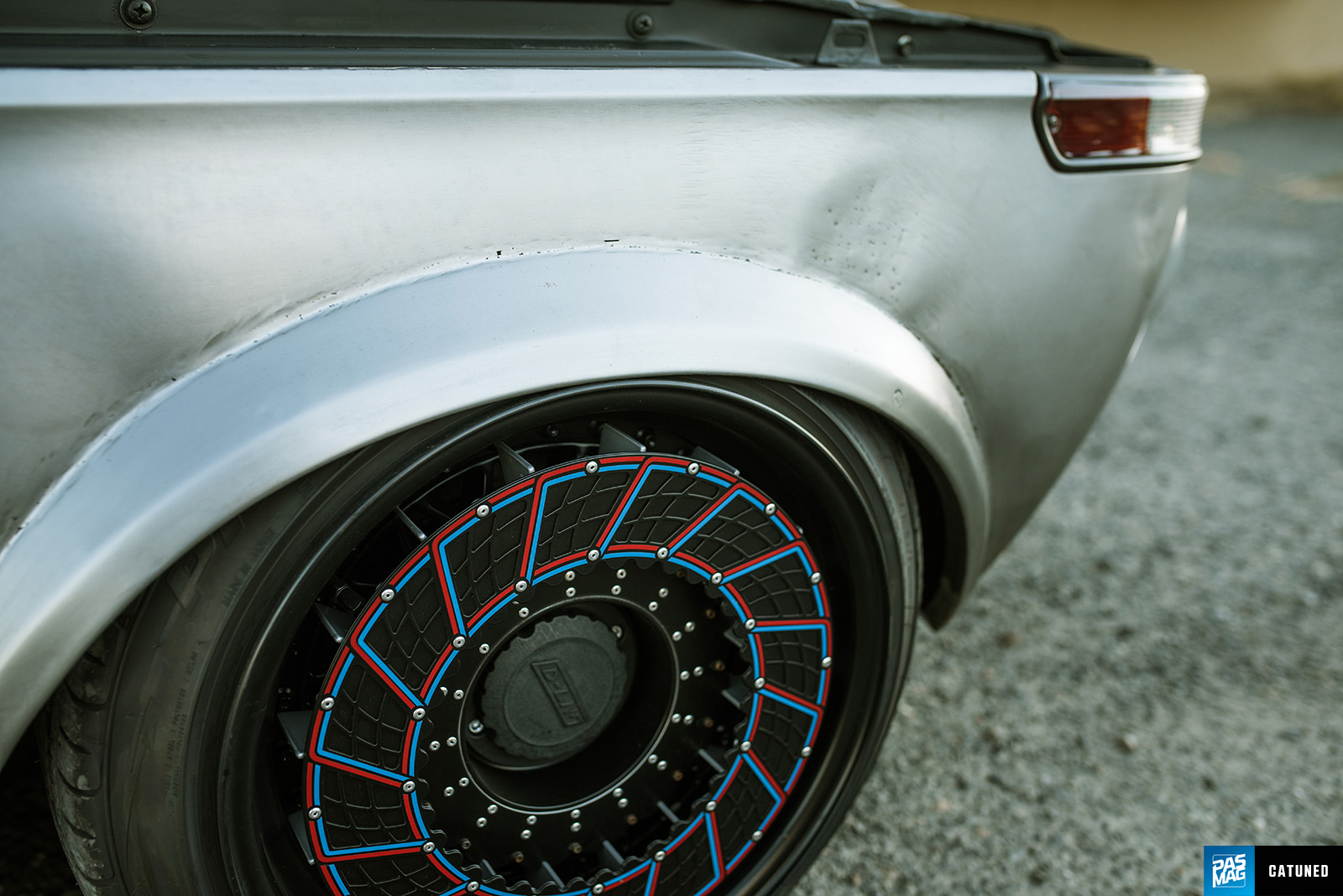 Click HERE to order your copy of PASMAG Issue #144 (Aug/Sept 2017)
The CAtuned 2002 has a lot of character, even down to the wheels. Steve Van Der Vorst, owner of D-lng Designs, has made waves in the automotive world with his custom turbofans and wheel adaptors. Thanks to him, one of rallying's most coveted car features has made its way onto the CAtuned BMW in the form of a one-off set of red and blue M-inspired turbo fans on top of its 15-inch BBS wheels.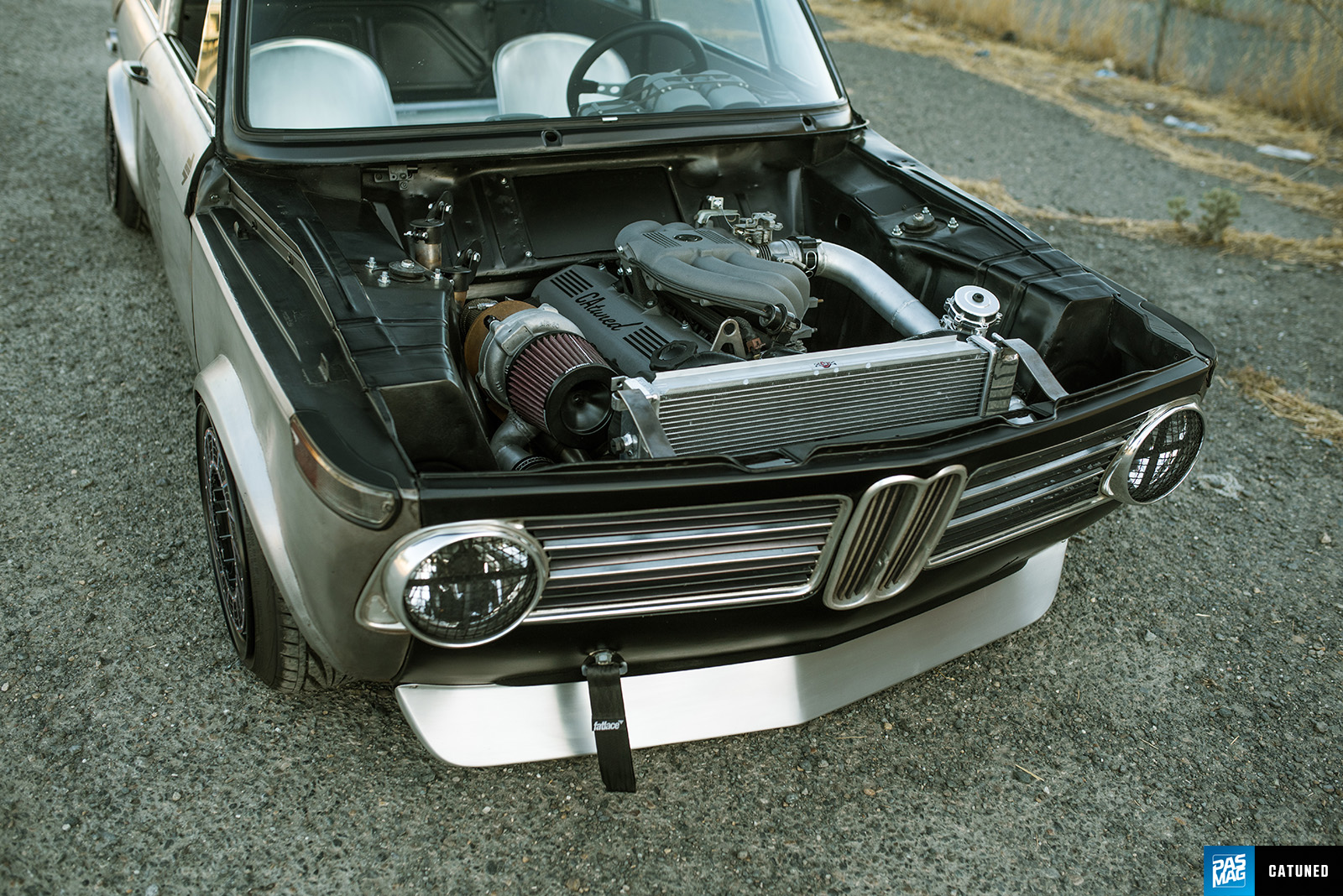 Click HERE to order your copy of PASMAG Issue #144 (Aug/Sept 2017)
Of course, looks aren't everything, and this one of a kind fighter plane BMW wouldn't live up to its theme without the power to match. If you're familiar with Bimmerheads, you're probably already excited at the mention of their name within this feature. If not, let me explain. Like Polishchuk with CAtuned, Shant and Matt of Bimmerheads started out as a hobby, and quickly became a full blown operation. These days, Bimmerheads specializes in building and rebuilding some of BMW's most iconic classic engines, namely the M10, M20, and M30, to tremendous power levels. The original M20 that CAtuned planed to drop into the 2002 was given the full Bimmerheads treatment.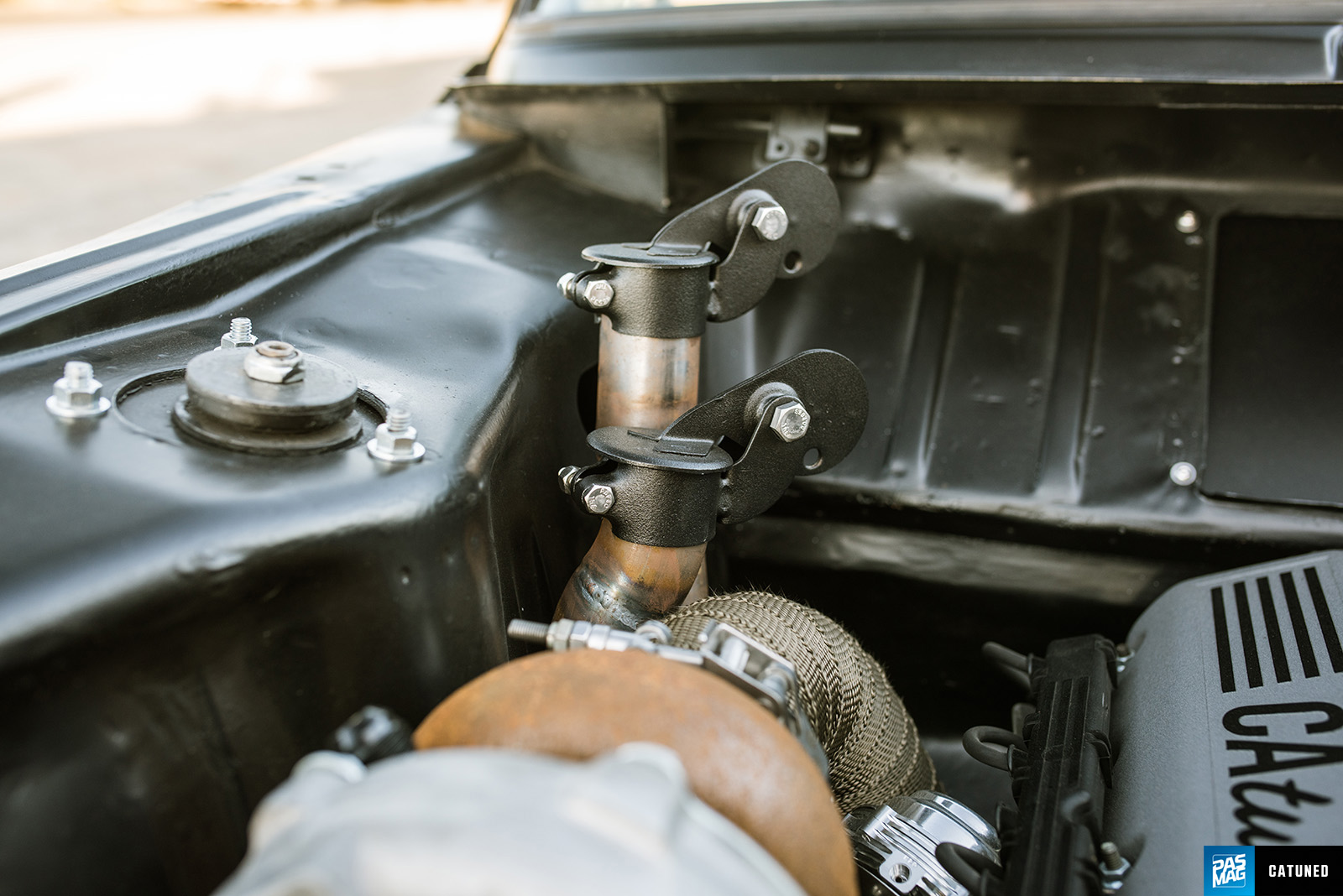 Click HERE to order your copy of PASMAG Issue #144 (Aug/Sept 2017)
The result of Bimmerheads tinkering expertise is a 3.2L stroker engine, bored from a 2.5L, with forged internals, built to handle all sorts of boost, heat, and spirited driving. A far cry from the factory M20 that CAtuned had planned on using, this engine allowed for heavy boost, courtesy of a Garrett GTX turbocharger, which mounts up nicely thanks to 666fab's turbo manifold. Vibrant Performance took care of the car's plumbing, and CSF's radiator and oil cooler keep the whole package running at optimal temperatures. The whole package is capable of a hair-raising 700 horsepower, but will be kept at low boost for around 450 horsepower for both daily driving comfort and long-term sustainability. All of this power is routed through CAtuned's own "Monster Rear End Solution", an in-house modified subframe that accepts any E30/E28 medium case differential, and comes complete with welded on camber and caster adjustments, and an E36 dual ear differential cover.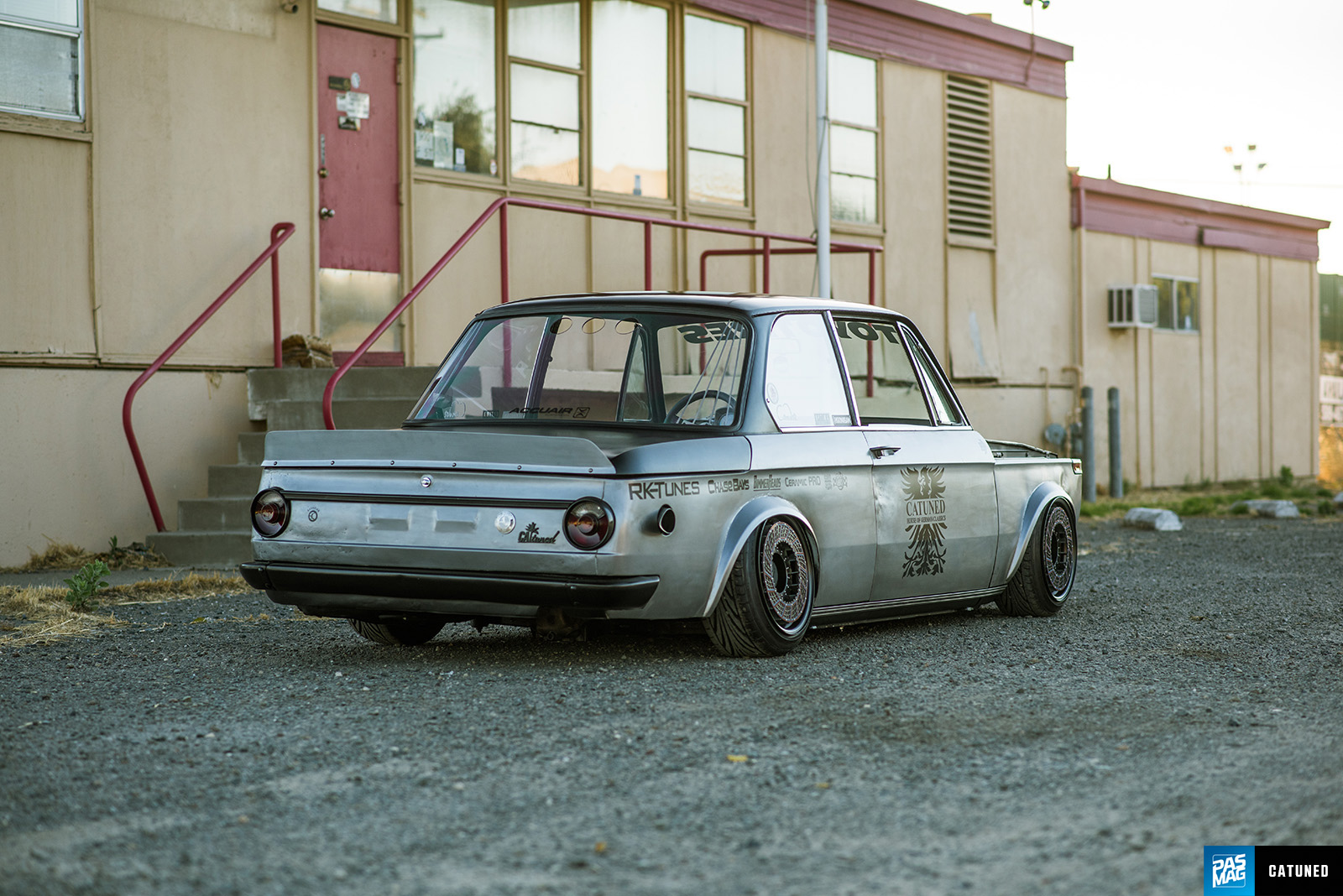 Click HERE to order your copy of PASMAG Issue #144 (Aug/Sept 2017)
All together, the CAtuned 2002 is ready for 4-G inverted dives with MIG-28s with a meter and a half of clearance. The culmination of Bimmerheads' mechanical expertise, CAtuned's innovative solutions, and more style than Maverick and Goose would even know what to do with is one of the most rugged and impressive BMW 2002s the world has ever seen. From the custom side-exit exhaust to the CAtuned custom badges, the details are what make this car sit above similar hot-rod style resto-mods. Now if you'll excuse us, it's time to buzz the tower.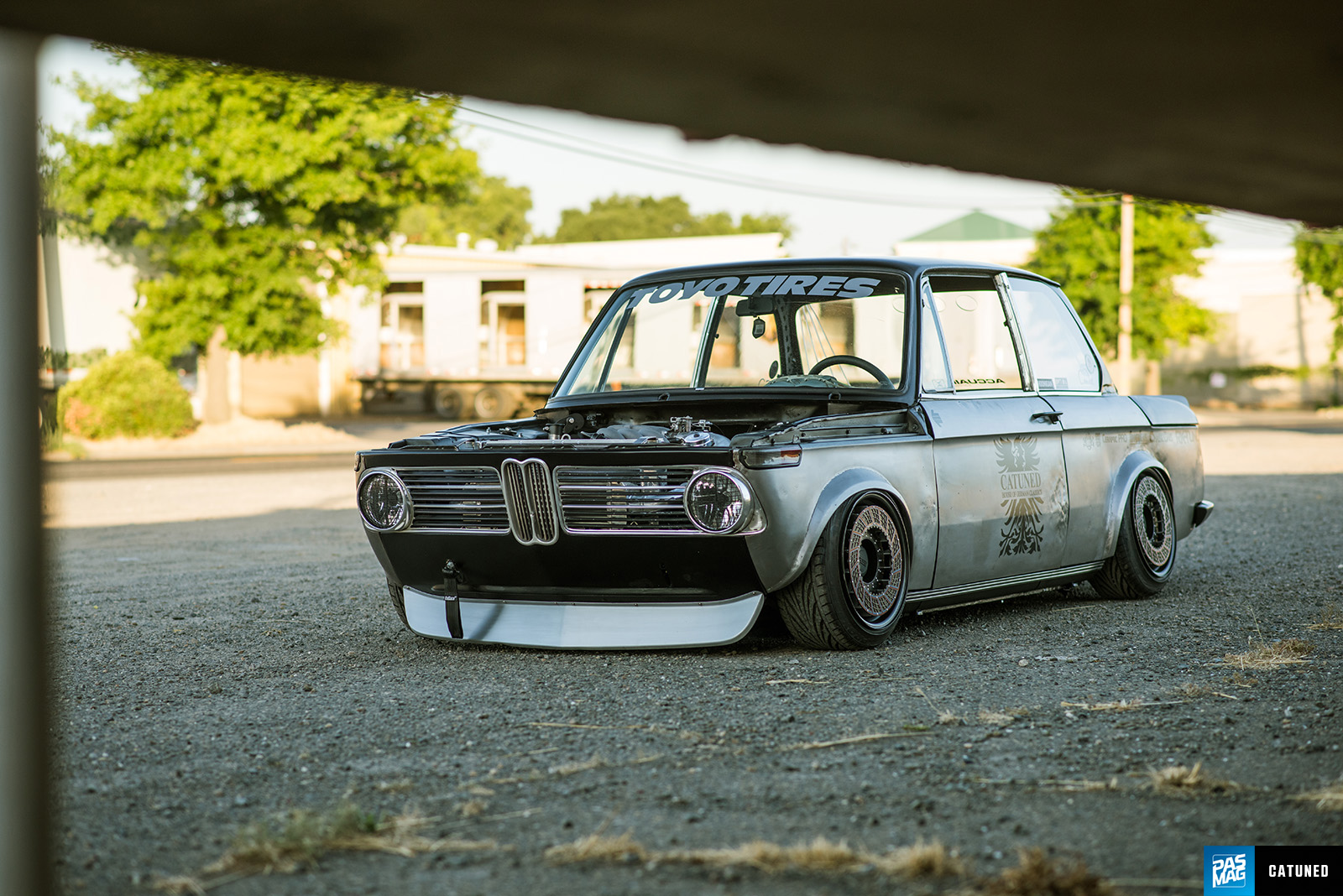 Click HERE to order your copy of PASMAG Issue #144 (Aug/Sept 2017)