Photography by Marcus Bolds
---
Phil Blottie, the man behind Twisted Images, is no stranger to Datsun's 510 platform. By the time he got to the example you see here, he had owned 15 of them over the past 20 years. In love with the 510's drivability, looks, and ease to work on, Blottie was already familiar with the platform when it came time to build something truly different that hadn't been seen before. A same-brand engine swap is always cool, but he wanted to go the distance with this build, turning it into something that couldn't be replicated.
When he first purchased the rusty shell of a Datsun for $200, he wasn't sure where he was going with it. "I didn't have any plans for it, other than to save it from going to the scrap yard!" he tells us. "My friends and I started talking about ideas for it, and it very quickly turned into a vision for the car you see here. Not much changed from the original plan, except for the 13B swap- that's the result of watching too many rotary videos on YouTube!"
Yes, you are reading that correctly – the 510 here is indeed powered by a Mazda 13B rotary engine, and the best part is that's just the start of the car's Frankenstein nature. The entire car from the chassis up is a smorgasbord of parts from varying sects of the Japanese automotive world. In addition to the Mazda rotary, you'll also find the 5-speed transmission from an RX-7, an R200 differential, the front suspension clip off a 1994 Toyota pickup, Recaro seats from a Mk2 Volkswagen, and some unique taillights from a Nissan Bluebird coupe. As you can see, this car is the rolling embodiment of the Frankenstein theme of this issue.
The wild build started out as an idea to keep up with bunch of his buddies in friendly competition. "My friends are a constant source of inspiration for new ideas as well as motivation to keep working on projects," Blottie says. "They're always building something new, so I have to keep up!" While running his own business and providing for a wife and three children, he managed to find just enough time to piece the 510 together for SEMA 2016. With an extensive history of working on cars for most of his life, Blottie made quick work of some of the car's most challenging modifications.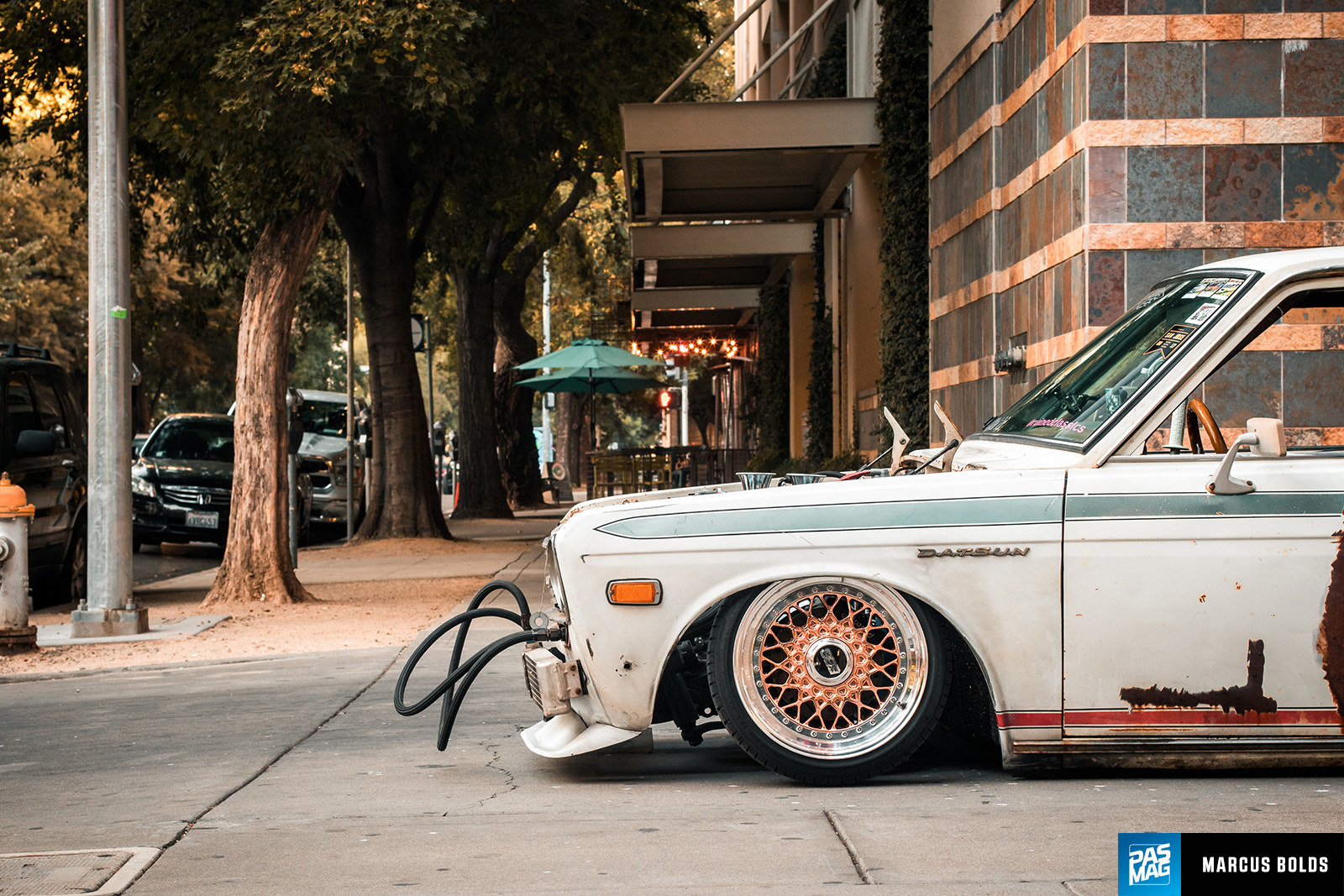 Thankfully for him, Blottie's wife Victoria is always supportive of his projects, and even helps him with styling decisions. The copper-plated BBS RS wheels that the Datsun tucks beneath its fenders were actually her idea! Behind those special 15-inch wheels wrapped in Achilles ATR-K tires sits a set of Wilwood brakes, complete with Dynalite 4-piston front calipers and Dynapro 2-piston rear brake calipers.
The car's drivetrain is a mismatched batch of rotary-centric parts, all pieced together perfectly and built to perform. In addition to being built to look incredibly cool, a job it does very well, this Datsun 510 was also built to abuse and do fire-spitting burnouts, so the drivetrain had to be ready to withstand some thrashing. As mentioned above, the 13B rotary sends its power to the drivetrain via a Turbo II Mazda RX-7 5-speed transmission, which feeds rotating power into an R200 differential before hitting the specially rebuilt axles built by Driveline Service of Sacramento.
With a background in mini trucks, Blottie wanted his 510 to lay completely on the ground when aired out, but the Datsun's Macpherson front struts and low crossmember wouldn't allow for that. In theory, he could have raised the crossmembers, but then the struts would have to be so short that it would leave little to no travel in the air suspension, and sacrificing that much ride quality wasn't an option. Noticing that the bottom of the car had a lot of rust after sitting in a field for years before he picked it up, Blottie came up with a plan.
Rather than repairing the unibody and ruining the beautiful patina the car had earned over its 1970s SCCA Trans Am 2.5 Challenge paint job, a 2x3 box frame was created that would tie into the roll cage for structural integrity. A 1994 Toyota pickup served as the donor vehicle for a front clip that would secure the new front suspension to the frame they built. The mini truck background lent some familiarity to this process, and it wasn't long before custom upper arms and lower A-arms made up the suspension geometry. The entire front clip from the '94 Toyota was narrowed by 4 inches to fit within the confines of the 510's dimensions, and the project began taking shape.
Once the new frame was ready, Air Lift Performance suspension coupled with VIAIR compressors made it easy for Blottie to bring the car down to ground level. After making some custom strut mounts, the Air Lift bellows were slotted into their place in the custom Toyota frame beneath the 510's body, and the car was ready to lay that frame on the ground.
A stock 13B just wouldn't do any justice to Blottie's creation, so it was soon time to add some bolt-on performance courtesy of Weber and Racing Beat. Weber velocity stacks funnel air through a 48mm IDA carburetor, which travels through a Racing Beat intake manifold before undergoing the wizardry that is Wankel engine combustion. To supply ample fuel for the increased air intake, Holley's fuel pressure regulator and fuel pump are put to use. All in, this setup is good for a little less than 200 whp, which may not seem like much, but it's more than enough for such a fun little platform.
Blottie's favorite aspect of his build is the contrast between the ratty exterior and the quality of everything underneath. "At first glance, most people will just see shiny wheels on a dilapidated car," he writes, "but once you start looking at all of the custom work you'll see that everything that was modified was done properly, painted or powder coated, and built to work." That idea is especially evident in the interior, where you're met with the Mk2 VW seats mentioned above, as well as a Nardi steering wheel, Defi Advance ZD gauges, and Corbeau 4-point harnesses – the perfect hints of modern day aftermarket parts in a custom classic.
Blottie's car was built on a budget, but that doesn't prevent it from being a total show stopper with more character than any other car in the room. Part of the idea for Blottie was to show that you can do great things in the car world without blowing your life savings. "You don't need an unlimited budget, the newest fanciest parts, or a $20,000 paint job to enjoy a car, or even win at shows," he says. "This car was built on a budget to take out to shows, abuse on the street, do burnouts, shoot fireballs, and make people stare!" This is definitely one of the best Datsun 510s out there, made especially cool with the use of some imagination and ingenuity to create something that can't be mimicked. What a twist.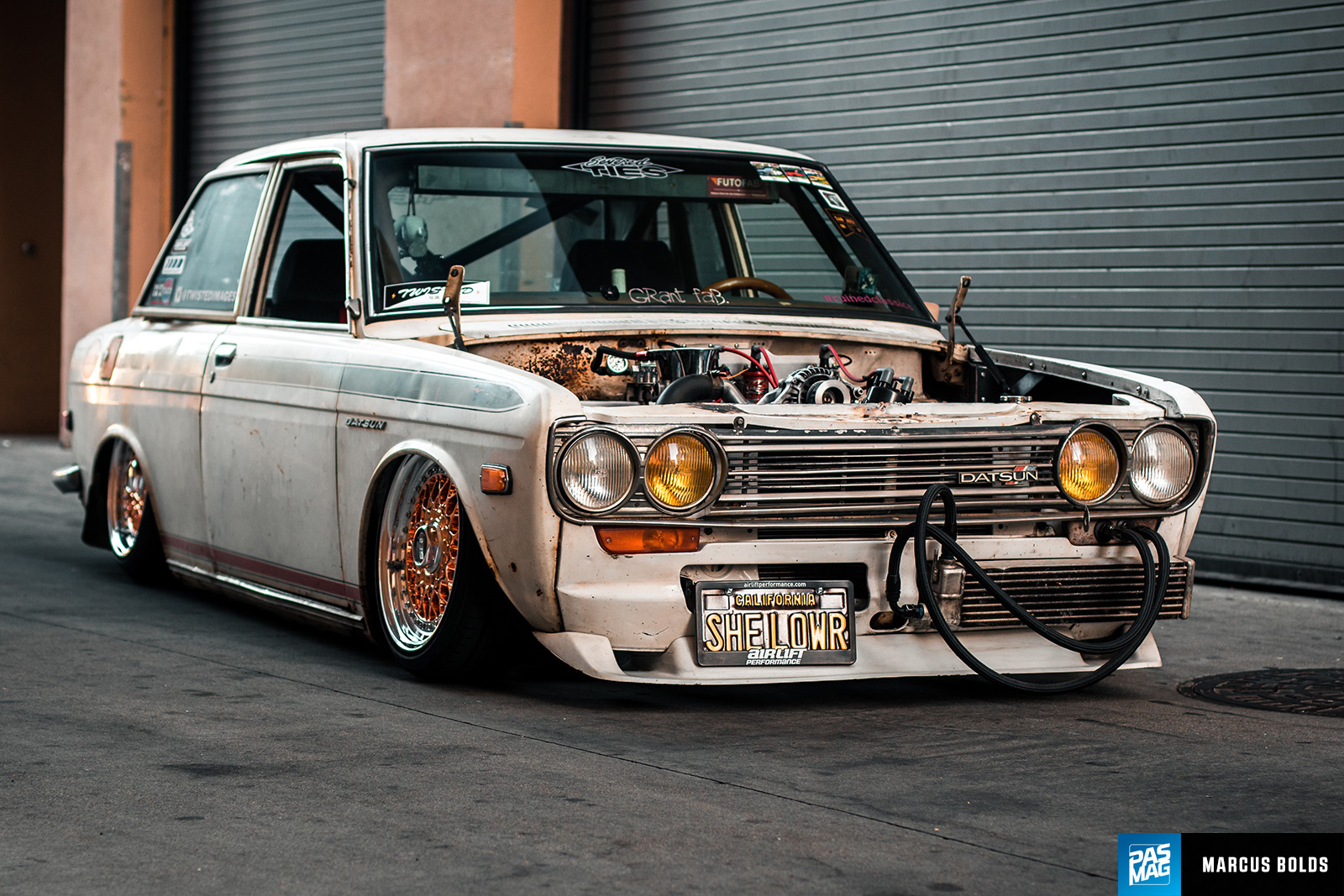 Featured in PASMAG #145 (Oct/Nov 2017). Click here to order your copy.