Clackamas, OR - After over a year of design, development, testing and refining, Radium Engineering is now officially releasing the new line of "RA-series" fuel cells that are designed and produced in-house! Three different sizes are in stock and available for immediate shipment!
These FIA-certified competition fuel cells are designed to work perfectly with Radium's popular Fuel Cell Surge Tank (FCST) systems to provide a turn-key integrated fuel delivery solution for any performance vehicle.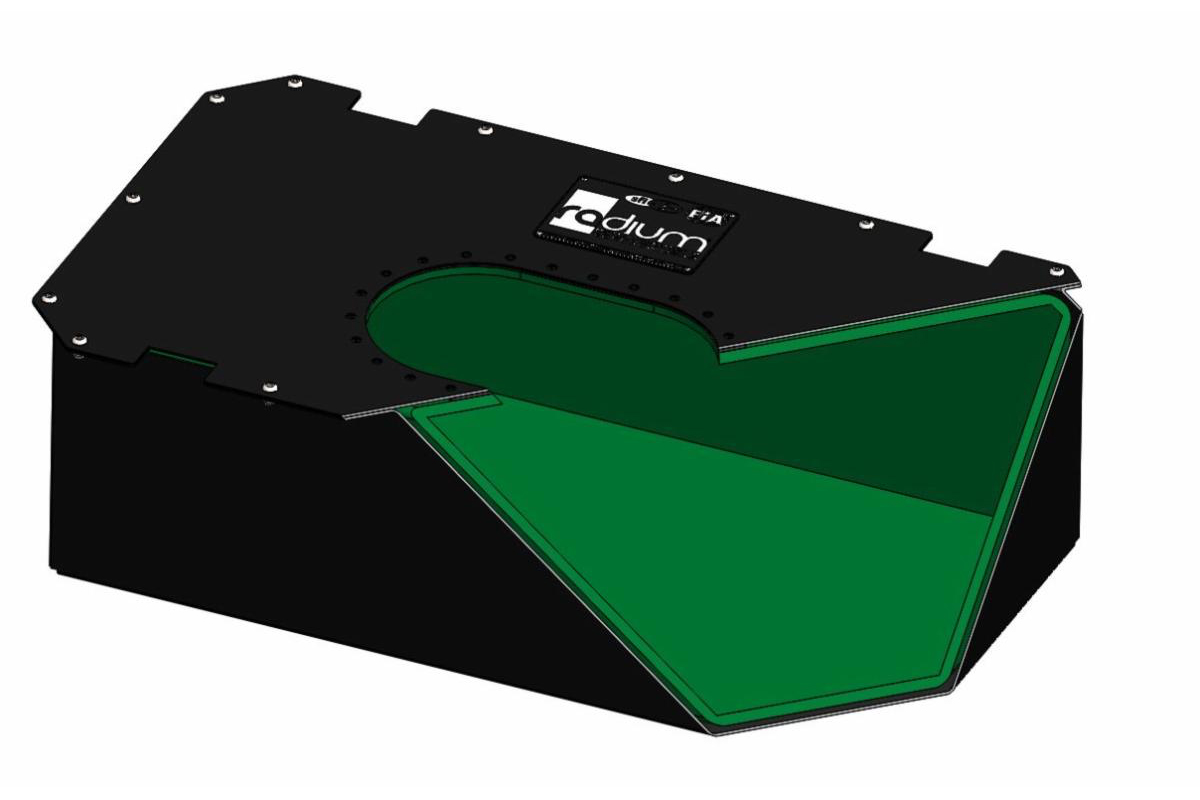 Design and Construction
The basic construction of each RA-series fuel cell uses a powder coated lightweight aluminum container and molded polymer bladder. There is only one bladder material available, simplifying the selection process. The bladders are resistant to all fuel types including alcohol based fuels.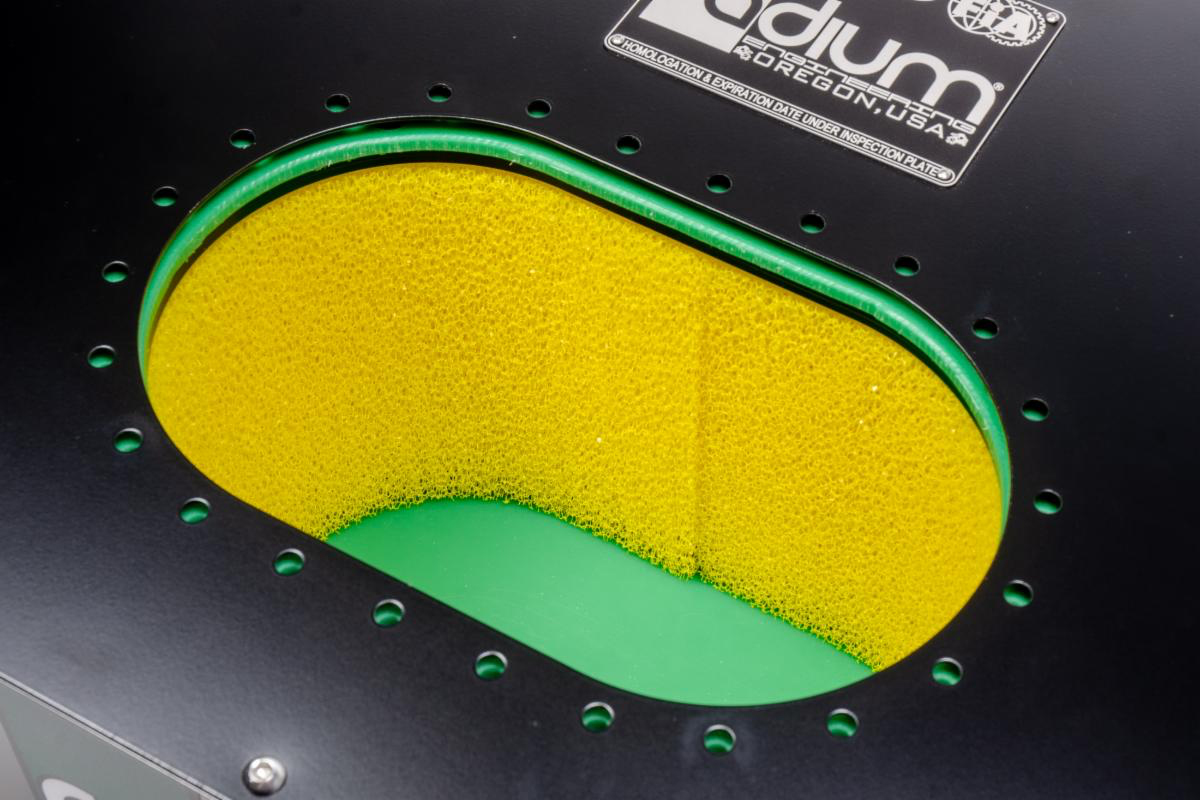 All fuel cells are equipped with internal foam for explosion suppression and to help reduce fuel slosh.
Available Sizes
Radium Engineering will be offering three different size fuel cells at initial release: 6 gallon, 10 gallon and 15 gallon. Other sizes will be added in the future. The external dimensions of the fuel cells are shown below.
RADIUM WILL NOT BE PRODUCING CUSTOM-SIZED OR ONE-OFF FUEL CELLS.
Certifications
Radium Engineering has achieved the major milestone of being granted FIA homologation for fuel safety bladders and has joined the small handful of companies worldwide certified to manufacture fuel cells for racing vehicles.
All Radium Engineering fuel cells will carry FIA FT3-1999 and SFI 28.3 certification.
This means that the fuel bladders have passed all safety testing required by both organizations and are allowed to be used in most sanctioned motorsports competitions around the world.
These certifications last for 5 years from the date of manufacture. Each fuel cell will display both certification stickers on the bladder. Radium Engineering will ONLY offer certified fuel cells. There is no option for a non-certified fuel cell. Certification stickers are easily viewed by removing the inspection plate, as shown below.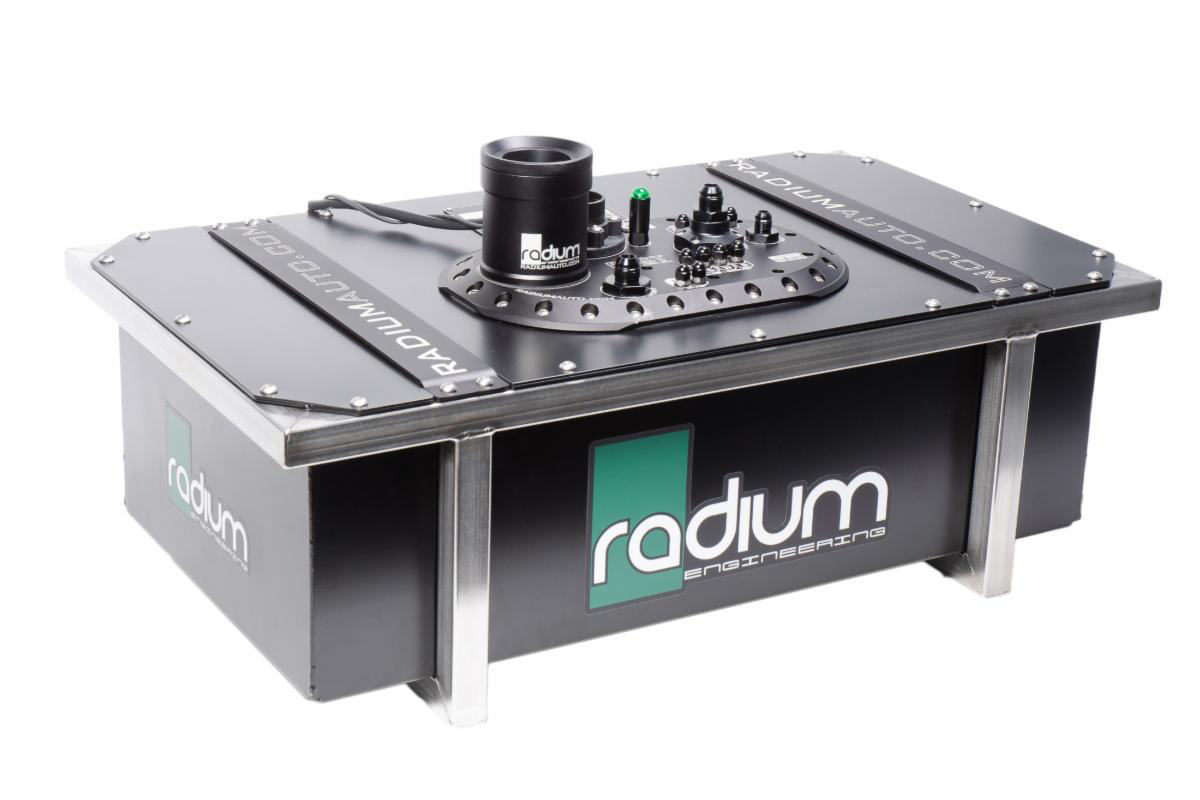 Optional Weld-In Mounting Cage
Radium Engineering is offering hand-made stainless steel weld-in mounting cages for fuel cells as an optional accessory. This speeds up the installation process and provides a safe and sturdy structure for the fuel cell. These are available for 15, 10 and 6 gallon sizes.
The cage is made from CNC cut stainless steel tubing and is TIG welded by hand. It is given a vibratory polished finish and can be left bare or painted with proper preparation. The kit also includes anodized and laser engraved aluminum over-straps.
Pricing and Availability
When building a performance vehicle, time constraints and lead times often play a large role in selecting parts. The goal of this project was to reduce lead times and have fuel cells in-stock and ready to ship. Radium will work to maintain stocking levels to avoid long lead times for customers.
The fuel cells are available directly from www.radiumauto.com or through Radium's network of dealers and wholesale distributors.
Radium Engineering has launched their new FUEL CELL CONFIGURATOR to make purchasing a complete fuel cell package easier. Click below to give it a try!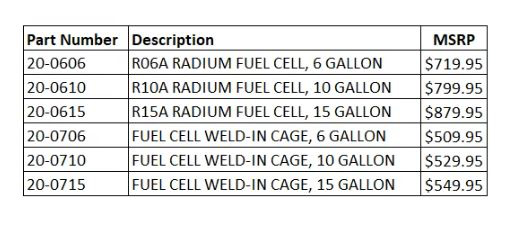 For more information, email This email address is being protected from spambots. You need JavaScript enabled to view it. or visit the company's dealer finder at www.radiumauto.com.