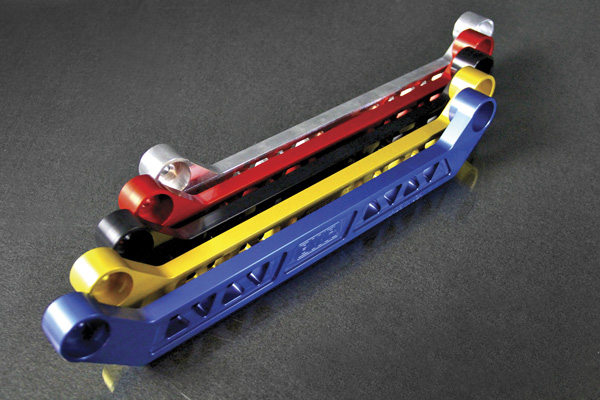 Blackworks Racing
Billet Rear Tie Bar
$125 | bwrusa.com

Blackworks Racing's new billet tie bar is designed to add structural rigidity to the subframe of your RSX/DC5, while still allowing clearance for aftermarket sway bars. CAD designed and CNC machined from a solid stock of billet aluminum, and finished in hard anodized black, red, blue, gold, green, pink, orange, purple and polished. Engraved with a unique serial number to ensure authenticity.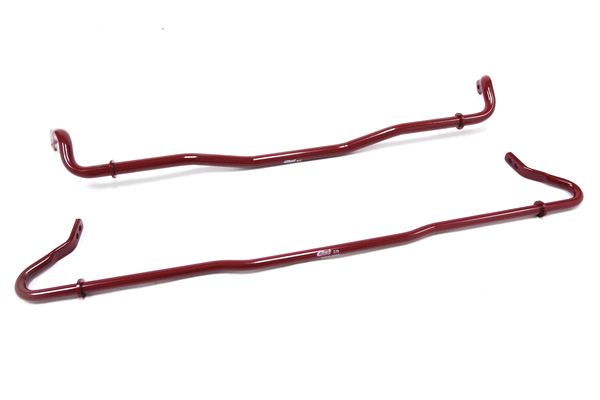 Eibach
ANTI-ROLL-KIT for FR-S & BRZ
$413.10 | eibach.com

The ANTI-ROLL-KIT allows critical fine-tuning of your car's handling characteristics. It reduces body roll through increased design stiffness over stock sway bars. The result: increased handling and cornering grip in any performance-driving situation. Manufactured from cold-formed, high-strength aircraft-grade steel for precision and finished with a long-lasting red powder-coat finish. Comes complete with greased urethane bushing and all mounting hardware and instructions for easy installation.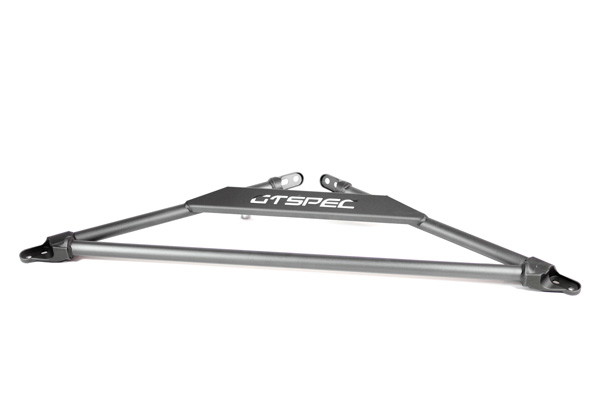 GTSPEC
3-Point Front Strut Tower Support Brace for 2012+ BRZ/FR-S
$310 | gtspec.com

GTSPEC 3-point front strut tower support brace for 2012+ for Subaru BRZ and Scion FR-S improves performance in handling. The tri-point design enhances rigidity and reduces front-end chassis flex. The end pieces and shafts are CNC cut 6061 aluminum and the brace itself weighs about 4.6 lbs.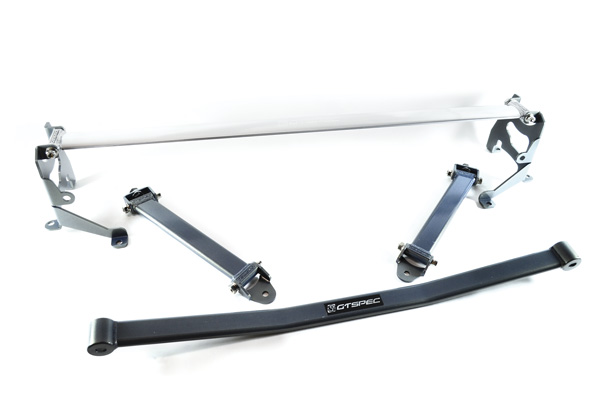 GTSPEC
Complete Trunk Cage Systems for 2011+ Impreza Sedan
$420 | gtspec.com

GTSPEC's trunk cage system was a success for the 2008+ Subaru Impreza five-door hatch back, so it was no question about developing one for the sedan. The cage stiffens up the rear of the car, giving the driver more feedback from the rear end. This will introduce more steering accuracy and rear-end follow through on turns.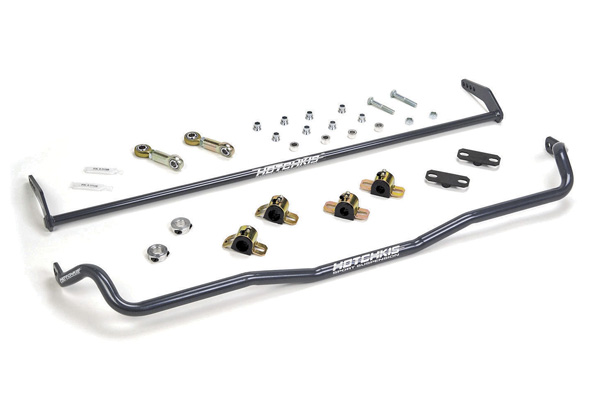 Hotchkis Sport Suspension
Sport Adjustable Sway Bars for Scion FR-S
$495.95 | hotchkis.net

Hotchkis sport adjustable sway bars offer dramatically improved handling and superior driver control. Featuring a lightweight 25.4 mm 2-way adjustable front bar, they are designed in conjunction with a 19 mm 4-way adjustable blade style rear bar. Both bars feature a durable powder coat finish, greasable bushings, and high articulation heim joint end links for the rear.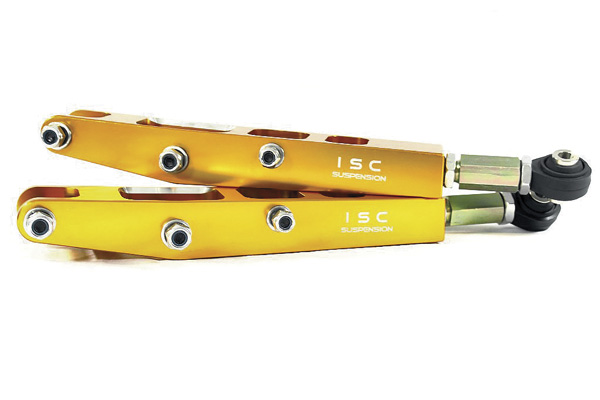 ISC Suspension
Rear adjustable control arm for Subaru BRZ/WRX
$575 | iscsuspension-na.com

ISC rear control arms are fully adjustable for correct camber settings, functional alignment and stance. At six times stronger and stiffer than OEM arms, you can be confident they will be able to handle the toughest abuse, while offering excellent road feedback and vehicle response.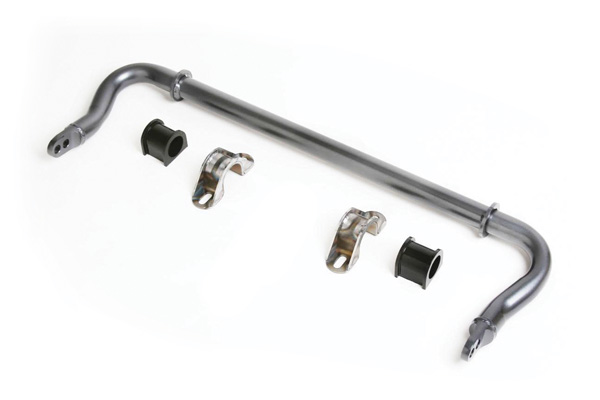 Progress Group
Anti-Sway Bar System for 2006-13 Mazda MX-5
$255 (front), $175(rear) | progressauto.com

Progress Group's anti-sway bar system for the popular Mazda MX-5 (NC) platform offers flatter, faster cornering and more confidence-inspiring control. The mandrel-bent tubular front bar (1.125 in.) and solid rear bar (0.688 in.) feature a billet steel machined bar end with three adjustment settings on the front and two on the rear. Includes all upgraded and relocating brackets for installation.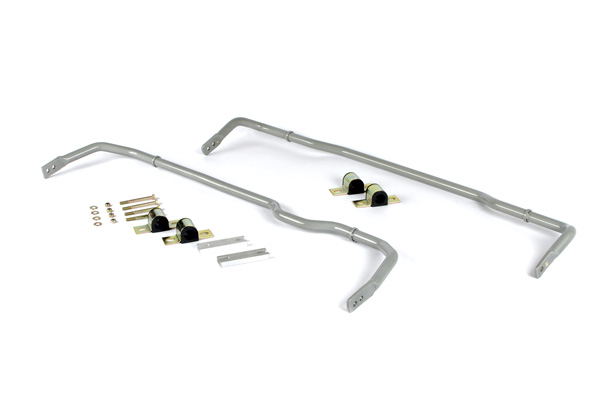 Stabila
Front and Rear Sway Bar Street Kit for Volkswagen & Audi
$399.99 | blackforestindustries.com?

These Stabila street sway bars are a complete front and rear kit for your MK5 or MK6, including Audi 8P A3 and MK2 Audi TT. Made from 25 mm solid spring steel, Stabila sway bars work to keep your VW or Audi as level and controlled as possible. Unlike hollow sway bars, the added rigidity provide optimal strength and worry-free performance.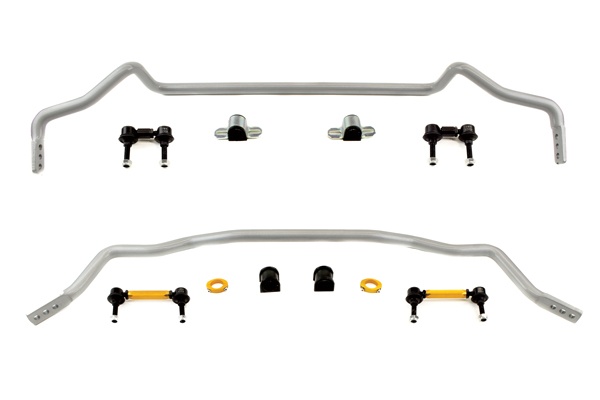 WHITELINE
BMK010 Evolution X Anti-Sway Bar Kit
$599.90 | whitelineus.com

WHITELINE's Anti-Sway Bar Kit provides a 20% improvement in sway reduction for the Mitsubishi Evolution X. The kit features three-point adjustable front and rear bars for quick on-track adjustments. Includes lifetime warrantied synthetic elastomer bushings, lateral locks and premium on-car adjustable end-links.