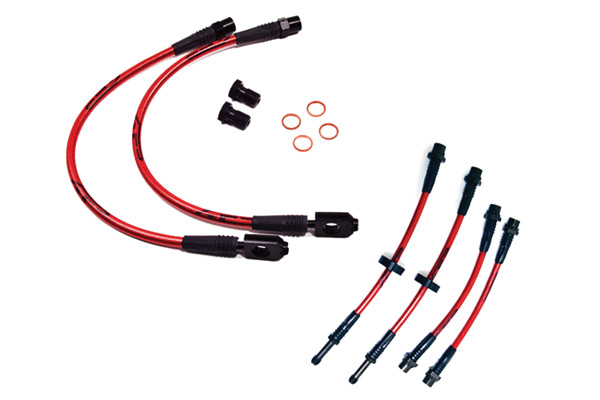 Agency Power
Steel Braided Brake Lines
$50 to $150 | agency-power.com | This email address is being protected from spambots. You need JavaScript enabled to view it.

Agency Power now carries a wide variety of steel braided brake lines for most applications. Rubber hoses tend to flex, causing a loss in firmness and reaction, so Agency Power's steel braided lines are designed to give an authoritative response and more control. All kits are assembled for a quick and easy install and include fittings, hoses, and all necessary hardware. Sold as pairs (front or rear).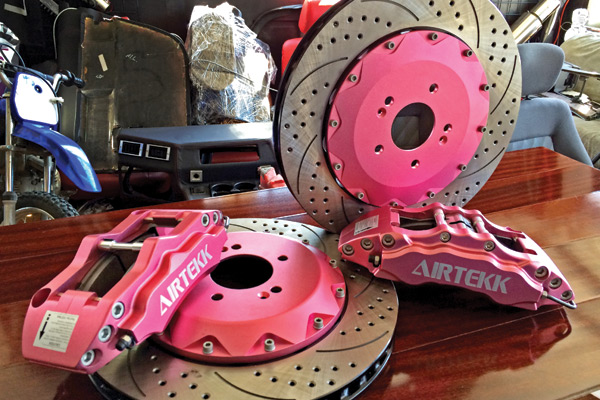 Airtekk
Big Brake Kit
Contact for pricing | airtekk.com

A fraction of the cost of the mainstay brands does not mean a sacrifice in quality! All Airtekk BBK kits come with stainless steel braided lines, low-dust, high-friction pads, and include brackets (rears include E-brake). Discs are available from 17 to 20 inches with several options for slotted and drilled patterns. All are floating designs with the option of counter-sunk flush bolts. Numerous caliper color options are also available.



dba Brakes
4000 & 5000 Series XS Drilled & Slotted Rotors
From $157 | dbausa.com

The high carbon-alloyed iron provides thermal stability profiling for constant extreme heat cycles, with the strength and durability to provide exceptional late braking performance. The unique venting structure ensures a cool rotor across the face, while the color contrast and drilled and slotted pattern also offers a show-quality look.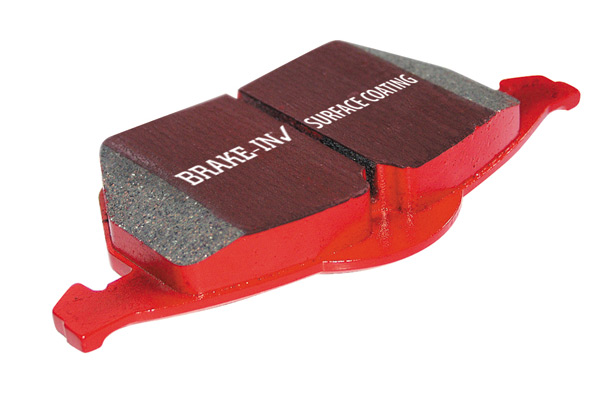 EBC Brakes
Redstuff low dust brake pads
Contact for pricing | ebcbrakes.com

Perfect for street use on high horsepower imports, European sports cars, and muscle cars. EBC Redstuff brake pads reduce rotor wear and emit up to 80% less dust than OEM pads. EBC's Redstuff pads have a higher heat range than OEM pads and a strong resistance to brake fade.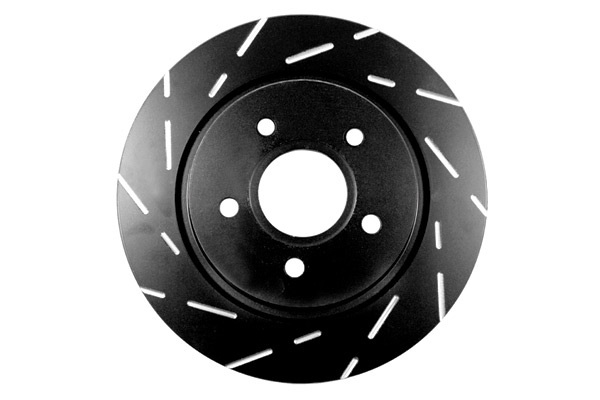 EBC Brakes
USR Series sport slotted rotors
Contact for pricing | ebcbrakes.com

EBC's USR rotors feature a narrow profile slot pattern which helps to cool and de-gas brake pads at speed, ultimately detering brake fade. Slots help to promote even pad and rotor wear, while the rotors will not develop uneven grooves and never have to be resurfaced. The black geomet and phosphate coasting helps protect against corrosion. Sold in pairs.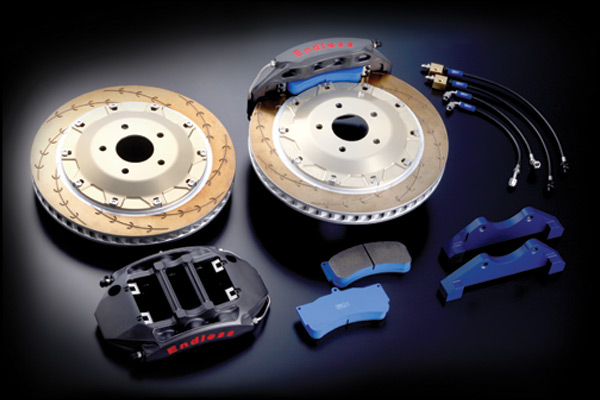 Endless
Racing Mono-6 Front BBK
Contact for Pricing | endlessusa.com | This email address is being protected from spambots. You need JavaScript enabled to view it.

Using several thousand tons of pressurized forging, the Racing Mono-6 has been created. As the flagship mono-bloc caliper, Endless has produced this caliper for extremely high rigidity and lightness standards. The body is made using the highest production techniques and only the strongest aluminum, offering the highest possible performance.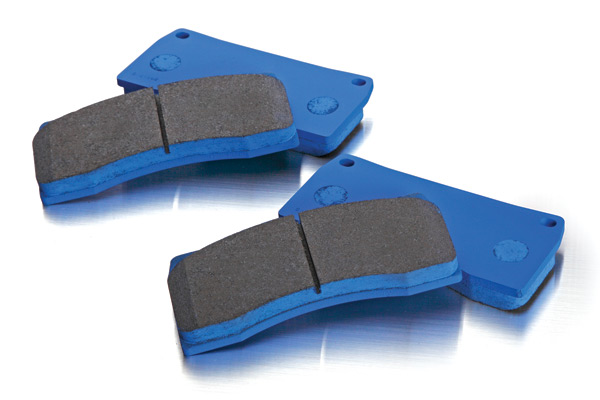 Endless
MX72 Compound Pads
Contact for Pricing | endlessusa.com | This email address is being protected from spambots. You need JavaScript enabled to view it.

Every material has been carefully chosen for the MX72 in order to produce minimal noise and dust while producing high friction at lower temperatures. The MX72 improves upon the ever-popular CC-X compound. Braking stability is improved at higher temperatures and yet, the MX72 actually decreases rotor wear. The MX72 is the ultimate, dual-purpose, street/light track compound.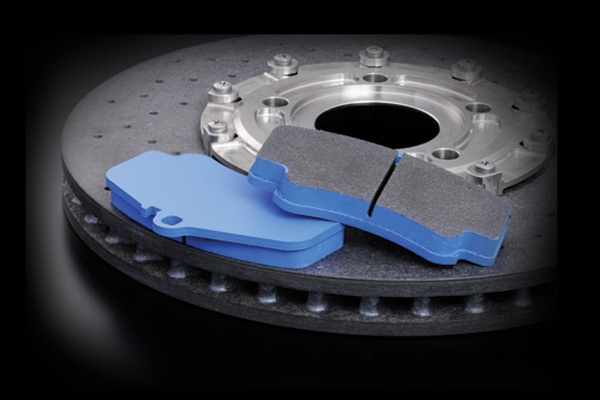 Endless
W007 Compound Pads
Contact for Pricing | endlessusa.com | This email address is being protected from spambots. You need JavaScript enabled to view it.

Designed specifically for use with Porsche PCCB, Nissan GT-R Spec V (NCCB), and Corvette ZR1 ceramic discs, this brake compound offers good heat resistance and is very easy on carbon ceramic discs. Development and testing was done on the Nurburgring circuit. Circuit use only.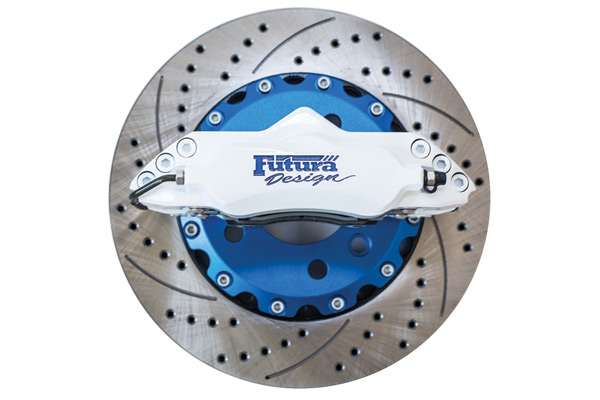 Futura Design
Compact Series Big Brake Kit
Contact for pricing | This email address is being protected from spambots. You need JavaScript enabled to view it.

The Compact Series features four- and six-piston forged aluminum calipers, designed for vehicles with smaller wheel and tire setups. With Futura's custom color program, you can select from hundreds of combinations allowing for true customization for your unique build.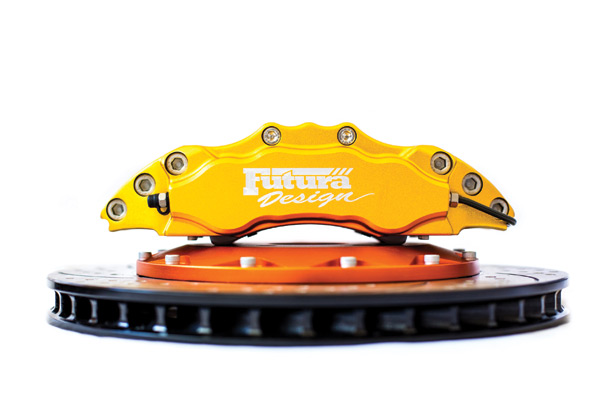 Futura Design
Classic Series Big Brake Kit
Contact for pricing | This email address is being protected from spambots. You need JavaScript enabled to view it.

The Classic Series features Futura's forged aluminum calipers with two-piece rotors available in five different rotor designs. With their custom color program, you can select from hundreds of combinations allowing for true customization for your unique build.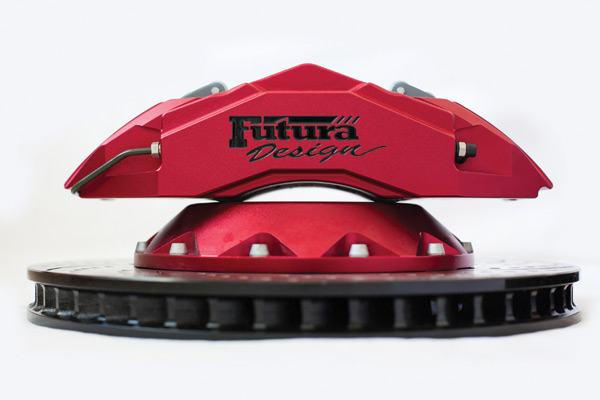 Futura Design
Super Series Big Brake Kit
This email address is being protected from spambots. You need JavaScript enabled to view it.

The Super Series line features Futura's largest calipers paired with up to a 17-inch rotor in your choice of an anodized or powdercoated finish. With their custom color program, you can select from hundreds of combinations allowing for true customization for your build.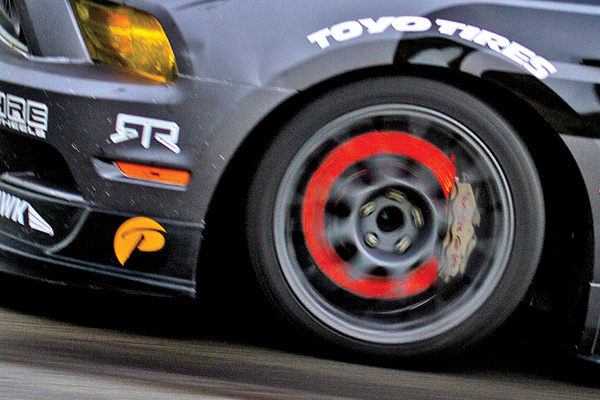 Hawk Performance
High Performance Street 5.0 Brake Pads
hawkperformance.com

The new High Performance Street 5.0 Pads are made of a ferro-carbon compound to provide advanced braking characteristics to enhance the driving experience. This new compound combines the safety and quality of aerospace design, partnered with the braking technology of motorsports. The results are shorter stopping distances, improved performance under heavy braking conditions and street-car friendly characteristics.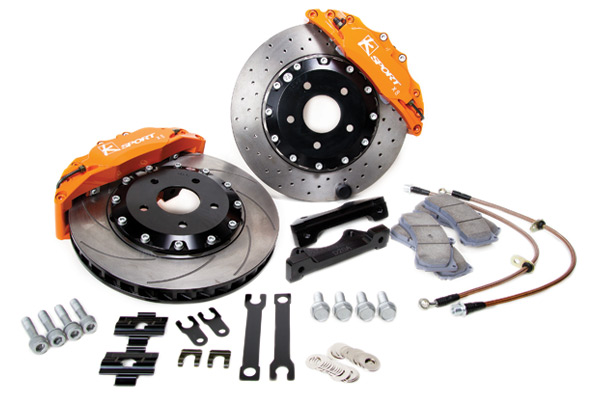 Ksport Pro
Comp Big Brake Kits
From $1,648 | ksportusa.com

Ksport ProComp Big Brake Kits are the pinnacle of stopping power. Starting from 11-inch rotors up to 16.6-inch with four-, six-, and eight-pot aluminum calipers (depending on disc size), this brake kit will provide all the stopping power your car will ever need. Two-piece rotors are standard. Calipers are available in orange, red, yellow, silver, blue, and black. Your choice of slotted or cross drilled rotors and street or race pads. Floating discs are optional for 13-inch discs and above.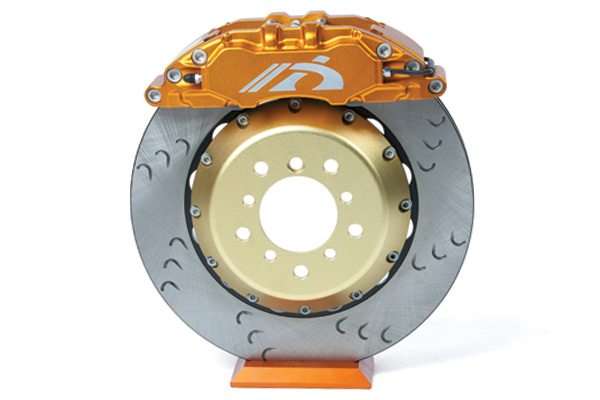 NEO Motorsport
F403 Brake Caliper
$1,285 | neo-motorsport.com

With its lightweight construction (4.6 lbs) and staggered 6-piston design, the NEO Motorsport F403 caliper is ideal for racing use. The F403 is CNC machined of 100% AL-6067 aluminum alloy and the staggered pistons feature multi-layer internal seals. The finish on the caliper is done in an extra hard anodizing, but powder-coating options are available.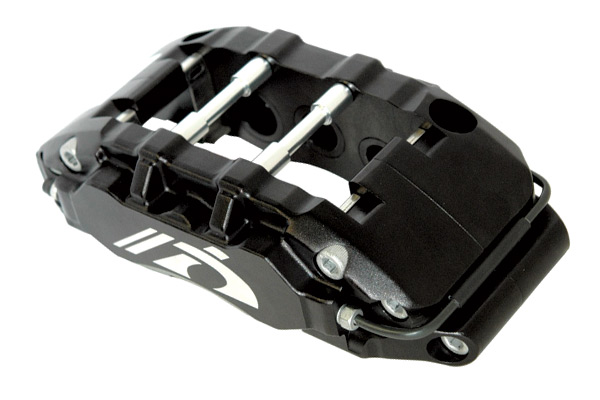 NEO Motorsport
F502 Big Brake Kit for BMW F30 3 Series
$2,199 | neo-motorsport.com

The NEO Motorsport big brake upgrade for the BMW F30 3 Series offers forged aluminum two-piece, six-piston fixed calipers with larger rotors. The rigid, ultra lightweight construction decreases unsprung mass while increasing clamping force and consistent pedal response. The massive discs (14- and 15-inch) are designed to improve cooling and heat tolerance under heavy use. Stainless steel braided lines and street performance pads are also included.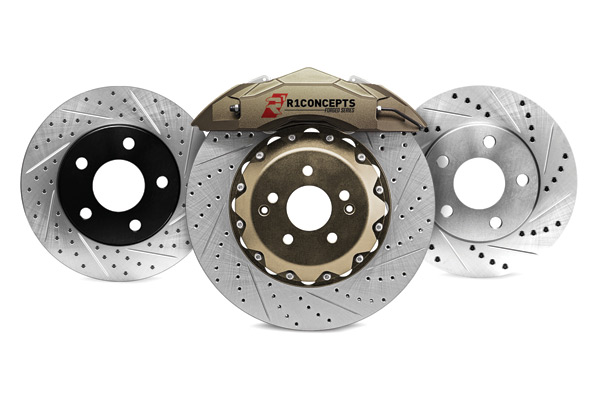 R1 Concepts
Premier Series Cross-Drilled & Slotted Brake Rotors
Contact for pricing | r1concepts.com

Whether you're on the track, street or at the shows, R1 Premier Series and E-LINE Rotors will deliver consistent performance during constant braking situations. Coming soon, R1 Concepts wanted to take it up a notch with the Forged Series Big Brake Kit. Available in 11- to 17-inch rotors and four-piston to eight-piston calipers, they'll provide all the stopping power you will ever need.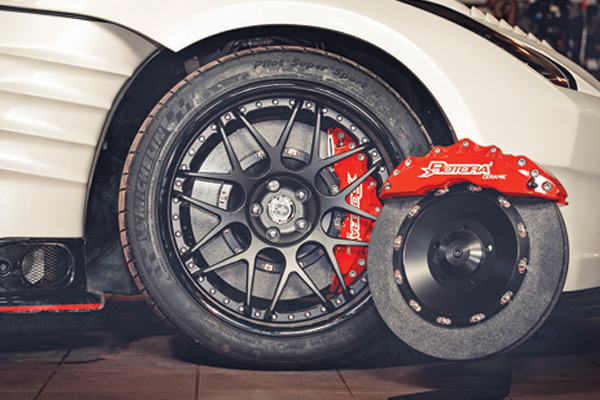 Rotora
Rotora Carbon-Ceramic Brake System (RCCBS)
From $8,995 | rotora.com | This email address is being protected from spambots. You need JavaScript enabled to view it.

The RCCBS uses an all-new innovative continuous fiber construction technique to ensure a significant reduction in rotational mass and uncompromised fade-free performance under any extreme driving condition. With an improved carbon fiber reinforced silicon carbide formulation, Rotora's new innovative material decreases thermal expansion and increases operating life and resistance to wear. Rotora's latest exotic brake system is composed with four-, six-, or eight-piston lightweight-forged caliper configurations. Carbon-ceramic disc sizes include 355 mm, 380 mm, or 405 mm versions.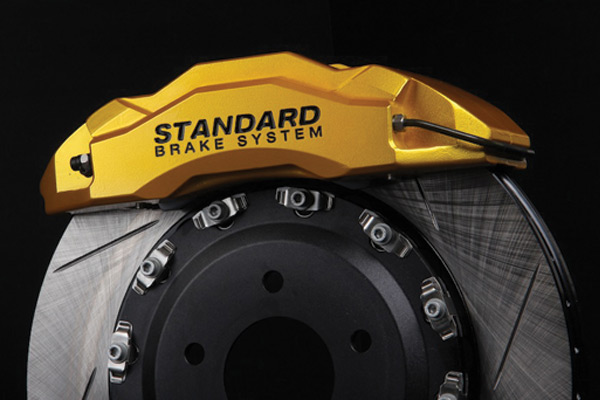 Standard
SBS-08 Big Brake System
From $1,299 | standardsuspension.com/brakes | This email address is being protected from spambots. You need JavaScript enabled to view it.

The Standard Brake System offers custom made applications to meet your high expectations and budget. All systems are CNC machined and can be customized with 35 finish options. The Standard Brake System is available in four-, six-, and eight-piston calipers with forged, two-piece calipers and floating discs. They're the perfect upgrade for both your daily and track car. Complete kits include forged brackets, brake pads, hoses, bolts, hardware and touch-up paint.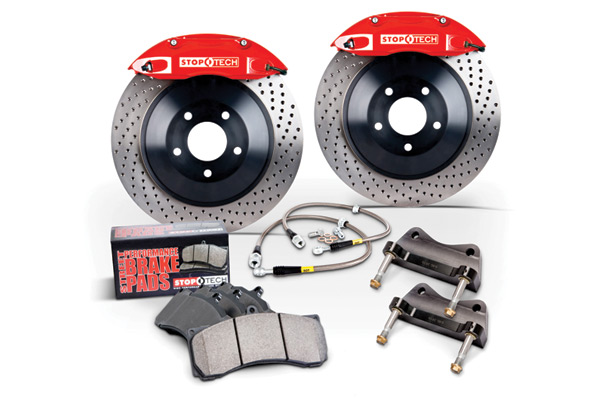 StopTech
Big Brake Kit
Contact for pricing | stoptech.com

StopTech is a championship-winning performance and racing brand from Centric Parts. They offer a full range of replacement and performance brake components and systems under the C-Tek, Centric, PosiQuiet and StopTech labels. Starting from the entry level C-Tek Sport rotors up to the championship-winning Trophy Big Brake Kit, StopTech has the right brake solution for all your performance needs.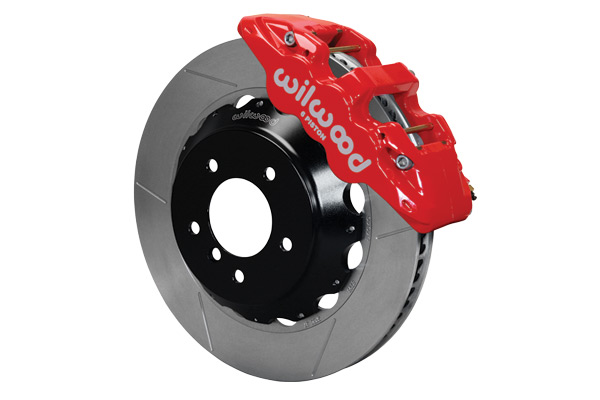 Wilwood
Aerolite Big Brake Kits for BMW E90
wilwood.com

Wilwood's newest forged billet Aerolite calipers have been coupled with 14-inch (355 mm) discs in a complete, four-wheel big brake upgrade package for the 2007-11 BMW E90 3 Series. Six-piston front calipers and four-piston rears deliver unmatched stopping power and high-tech styling for the road or track. Options for caliper finishes and rotor styles, with a full range of pad compound selections, allow simplified tailoring to suit the style and braking requirements for all types of driving.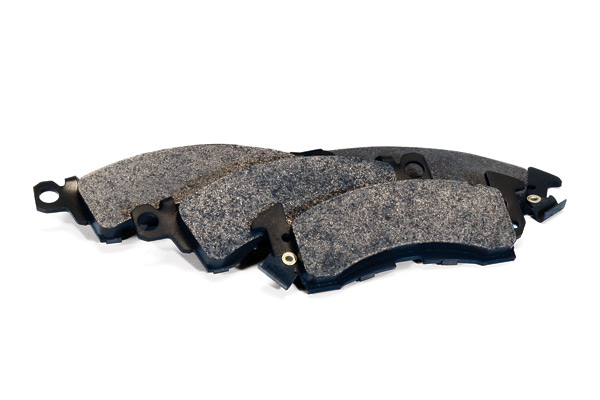 Wilwood
ProMatrix Dual-Sport Performance Brake Pads
Contact for pricing | wilwood.com

Wilwood ProMatrix dual-sport performance compound brake pads are engineered as direct fit replacement pads for OE production based calipers on all types of domestic and import cars and trucks. ProMatrix is a rotor-friendly formula providing the ultimate combination of clean and quiet driving for the street, with improved friction and high fade resistance for drag racing, auto cross, track day driving events, towing, off-road and any type of high-demand application.