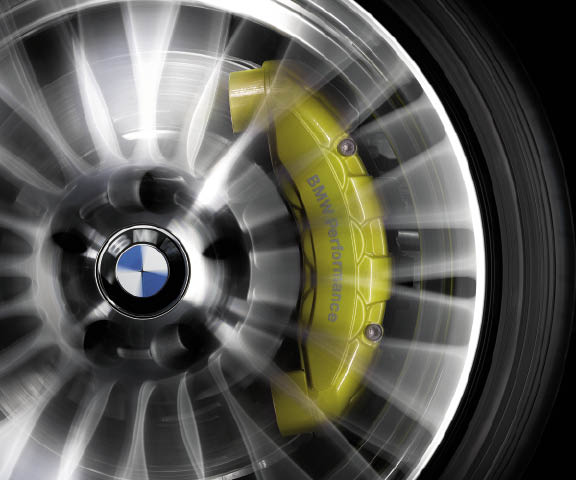 BMW Performance
Braking System
The BMW Performance braking system is designed to support a sporty driving style. The six-piston aluminum fixed calipers and grooved, cross-drilled discs give drivers an incredible amount of control, even in the wet, while their low weight reduces the unsprung mass on the car. Calipers painted in BMW Performance Yellow are a striking visual feature. For more visit your local BMW retailer or www.bmw.ca/performance.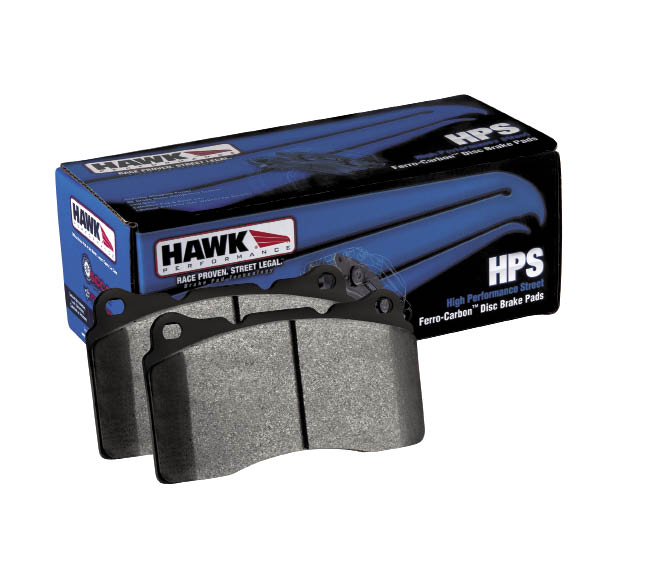 Hawk Performance
High performance street (HPS) Brake Pads
Hawk High Performance Street (HPS) disc brake pads are world renowned for increasing stopping power on your street legal vehicle. Increasing the performance of your vehicles braking system is easy when you choose Hawk Performance's HPS braking compound. This unique Ferro-Carbon formula was developed for street performance using the safety and quality of aerospace and Motorsports severe-duty friction technology. The High Performance Street compound offers a higher coefficient of friction over stock brake pads and can provide you 20-40% more stopping power and higher resistance to brake fade than most standard replacement pads. Less fade means you'll have a highly durable brake pad with less brake dust. For more visit www.hawkperformance.com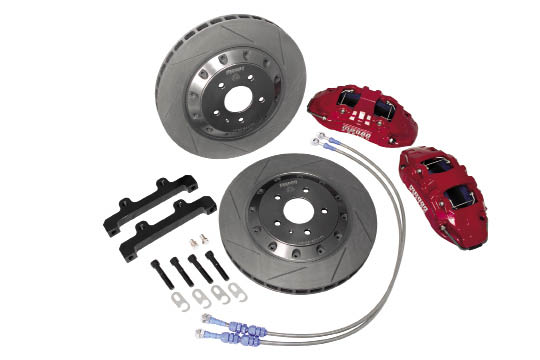 Megan Racing
RS100 Big Brake System
The Megan Racing RS100 Big Brake System is complete with everything you need to completely revamp your current brake system. The calipers are made from monoblock T-2024 aluminum and undergo a high-precision 3D CNC machining process. They are powder-coated with a high heat resistant coating and feature an asymmetrical piston design for linear braking performance. With the calipers fed by included stainless steel lines and clamping down on massive 320mm or 345mm slotted rotors, the Megan Racing RS100 Big Brake System will minimize stopping distances—with proper tires, of course—time and time again. For more information, call (626) 581-0988 or visit www.MeganRacing.com or
For more visit www.directautoimport.com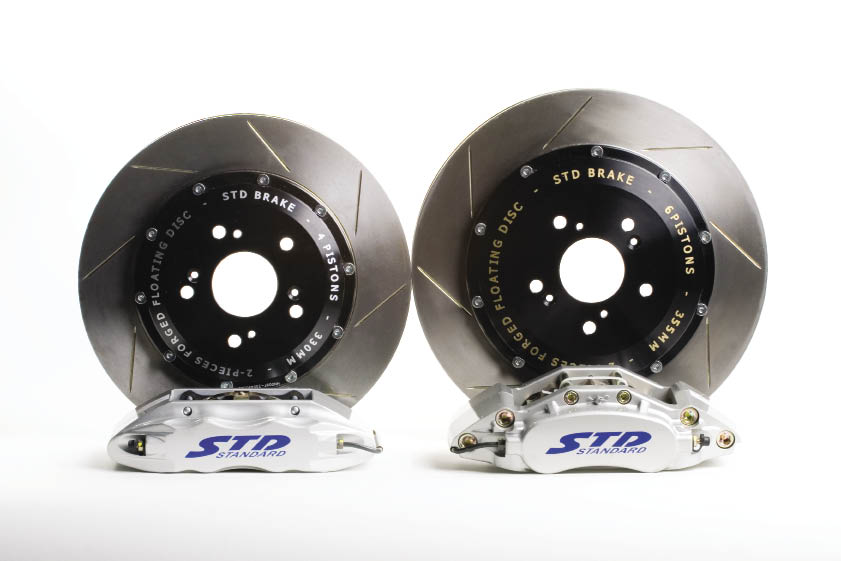 Standard Suspension
Big Brake System
Standard Suspension has big brake kits available with 8-piston calipers and 16-inch rotors. The calipers are manufactured from forged 6061 T6 aluminum alloy. Larger calipers with more, larger pistons increase clamp load and the stopping force while maintaining use of the OEM master cylinder. The rotors feture a 2-piece floating disc design which improves airflow and cooling characteristics. The discs are vented and slotted to ensure maximum heat dissipation and to increase thermal capacity. The ceramic brake pads provide a high coefficeint of friction to ensure stronger braking even under extreme driving conditions. More information at www.Standardsuspension.com.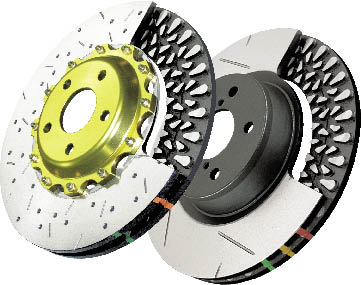 DBA
DBA Rotors
DBA rotors are available in standard slotted or cross drilled-and-slotted formats. Slotted-only discs are recommended for serious street performance and track use. Slotting improves brake pad bite, reduces glazing while removing gases, impurities and resins from the pads. The unique cross drilled-and-slotted combination offers similar braking performance and improves "out gassing" which can contribute to more even pad wear. Each drilled hole has been chamfered to remove stress points and reduce the incidents of cracking, unlike some of competitor designs.
www.dbausa.com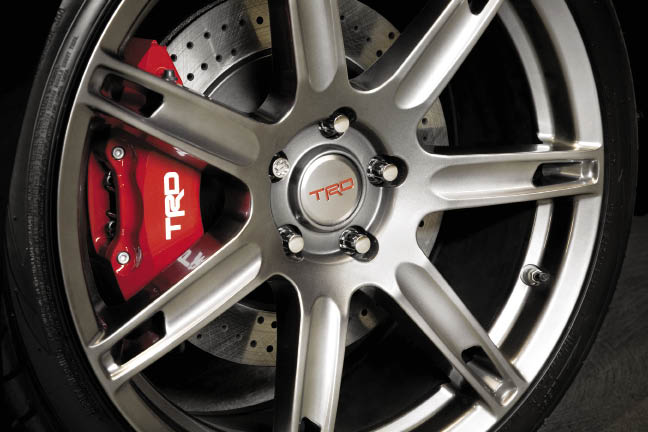 TRD
tC Big Brake Kit
The TRD High Performance Big Brake Kit delivers confidence-inspiring performance, improved stopping distance and enhanced pedal feel. The four-piston opposed fixed caliper design is optimized specifically for the tC, helping to maintain or improve braking torque distribution between the front and rear axles—while achieving shorter braking distances. A patented, directional AeroRotor internal cooling vane design induces greater airflow to cool rotors, providing consistent performance in repeated or heavy duty braking. Additionally, the application-specific, one-piece rotor design features e-coated non-friction surfaces, maximizing corrosion resistance and ensuring durability under the harshest conditions, while reducing maintenance requirements and simplifying service. Kevlar/ceramic compound performance brake pads and stainless steel braided brake lines with Teflon®-reinforced construction included.
For more visit www.scion.com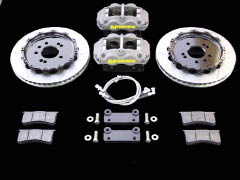 Fastbrakes
AP Racing brake calipers
Fastbrakes introduces new brake kits featuring competition-proven AP Racing brake calipers. These kits are designed around the AP Racing 4 piston calipers and use both 1 and 2 piece rotors. The kits include all components to make them a true 'bolt on' performance upgrade for high performance street and track vehicles. Kits are available for Honda, Acura, Nissan, Infiniti, Toyota, Lexus and Scion applications. Prices start at $1300. Contact Fastbrakes at 602 323 2110 or visit www.Fastbrakes.com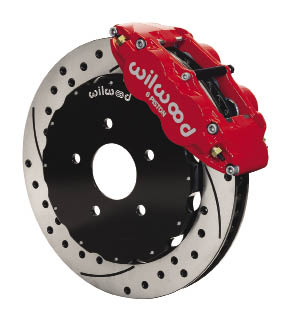 Wilwood
Wilwood brake kits for 2006+ Civics and 2010+ CRZ's
Wilwood Engineering has introduced front brake kits for 2006 and newwer Civic's and 2010 and 2011 CRZ's. These track-tested kits not only provide better street performance, but they offer a huge improvement over the original brakes on the track where consistency counts. The Willwood brake kit is lighter than the original brakes, so improved handling will also be a benefit. These kits feature Wilwood's Forged Narrow Superlite six-piston calipers that work perfectly with the OE master cylinder and ABS functions. A lightweight two-piece rotor assembly with an aluminum hat and the choice of a slotted or drilled and slotted rotor assembly are also available. These kits come with the calipers, caliper brackets, rotors, aluminum hub adapters, brake pads and all of the hardware required to finish the installation. The calipers are available in red or black powder coating, so not only will they allow your Honda to stop faster, they also provide an appearance enhancement.
For more information contact Wilwood Engineering at (805) 388-1188 or visit our website at www.wilwood.com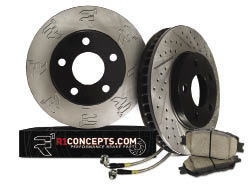 R1 Concepts
Performance Brake Parts
Want better braking without breaking your wallet? R1 Concepts Premium-Series Performance Rotors are your answer and they don't require any modification to the vehicle to install. They have made it easy and inexpensive for you to get better braking performance without the hassle of installing a big brake kit. These rotors come with a Black Electro-Coating to protect them from rust and give a 2-piece look. R1 rotors feature a Double Disc Ground Finish for fast break-in and Center Split Casting for even heat distribution and resistance to warping. Rotors come Drilled, Diamond Slotted or both. R1 can even custom engrave any rotor to your liking. If you're looking for better braking performance or just O.E.M. replacements, they have it all in stock ready to ship at great prices. R1 Concepts carries different kinds of rotors, brake pads, stainless steel brake lines and more for almost every year, make, and model of vehicle. R1 Concepts…. "STOPPING THE WORLD!"
For more visit www.r1concepts.com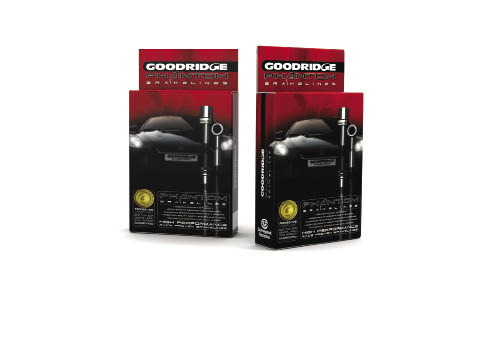 Goodridge
Phantom stainless steel brakeline kits
Goodridge stainless steel braided brake lines have become the standard in professional motorsports where the ultimate in braking is required. Factory rubber lines expand under pressure, causing a "spongy" pedal feel. Stainless steel lines provide firm confident pedal pressure which allows you to get deeper into the corner and onto the accelerator faster. The limited edition Phantom Gstop Brakeline Kits feature black poly-coated Stainless braided PTFE hoses with Stainless hose ends, banjos and bolts. Additional brackets and hardware feature a protective coating for appearance and durability. Phantom Gstops, as with all Goodridge kits, ship complete with all necessary hardware to allow easy do-it-yourself installation.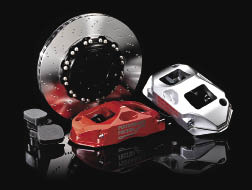 Performance Friction
Z-RATED Brake Kits
Performance Friction Z-RATED Brake Kits are custom designed to each application for optimal torque output and unbeatable performance. PFC's mechanical engineers measure each vehicle using a portable CMM machine accurate to 0.0011 inches to calculate and achieve the ideal brake bias and balance that is specific to that vehicle application. PFC applies championship-winning race technology to the design and manufacturing of each component. The result is a stiffer, more responsive and faster modulating system that provides better drivability and handling, and improved ABS response. Drivers will experience more stopping power, longer pad life, longer disc life and quieter operation.
For more visit www.performancefriction.com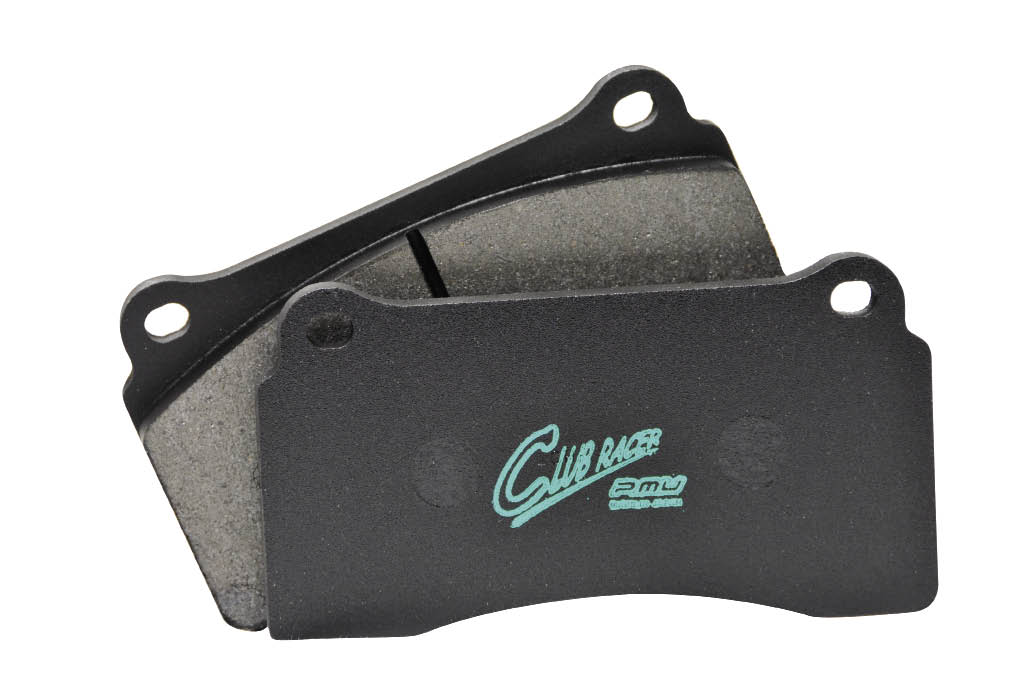 Project Mu
Club Racer
The latest track pad from the Project Mu Lineup, the Club Racer compound, offers exceptional brake feel, modulation and release characteristics while maintaining extremely low wear. This compound produces high mid-range torque and a consistent coefficient of friction all the way up to 1472 degrees Fahrenheit, ensuring reliable braking turn after turn.
For more visit www.mackinindustries.com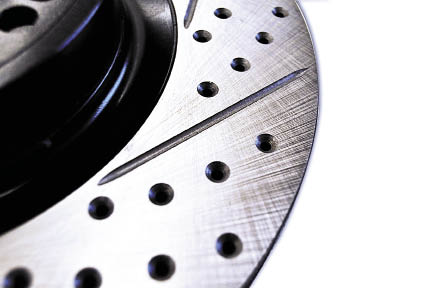 ARK
OEM replacement Drilled and Slotted Brake Rotors
The ARK Drilled and Slotted brake rotors are an affordable upgrade from your stock factory brakes. Combining performance and style, all ARK Performance Disc Brake rotors are CNC machined in the U.S.A from high tensile G3500 Grade Iron using leading edge technology. Most companies use softer G3000 Grade Iron or less. ARK disc brake rotors are engineered with a Diamond Edge Slot design to increase initial brake pad bite, help remove brake debris and function as a rotor wear indicator. Drilled holes are chamfered to add additional strength and to reduce heat stress thereby maximizing air circulation for better cooling. Each rotor includes a black e-coating finish that is electro-statically applied to help withstand 400 hours of salt spray testing without rusting or corroding. ARK Drilled and Slotted Brake Rotors will provide a big improvement in stopping power, bring an aggressive appearance/style to your vehicle and most of all will give you confidence on the road. They recommend using high quality, high friction brake pads for best braking results. ARK rotors feature a 12 month warranty against warping or cracking.
www.arkperformance.com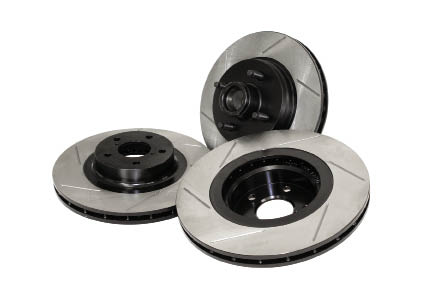 Power Slot
Power Alloy Enhanced Brake Rotors
The ultimate single-piece performance rotor. The award-winning Power Alloy enhanced brake rotors from Power Slot features a special formula of increased molybdenum content that delivers improved stopping power and superior resistance to cracking due to thermal stress in performance driving situations. An evenly applied anti-corrosion e-coating over all unswept surfaces creates an eye-catching black finish while reducing unsightly corrosion and providing a pad/rotor interface ready for immediate use without any additional attention needed for pad bedding. Power Alloy rotors make exclusive use of Power Slot's directional cooling vanes on the front rotors for certain popular sports cars and full-size trucks, additionally enhancing brake performance. For more visit www.powerslot.com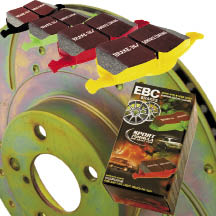 EBC Brakes
Yellowstuff Pads and GD Grooved and Dimpled Rotors
The newly refined EBC Yellowstuff brake pad formulation is available in applications to fit 99% of Domestic, Asian and European vehicles. The new GD rotors feature EBC's dimpled design that allows gases to be released without the need for through-drilling. The wide aperture "full sweep" slots on EBC rotors draw cooler air in under the brake pad to help reduce temps and maintain awesome performance. These features also help to remove brake dust and debris and maintain a flat and parallel braking surface for the lifetime of the pads. These pads and rotors will let even the fastest drivers stop their cars in a heartbeat!
For more visit www.ebcbrakesusa.com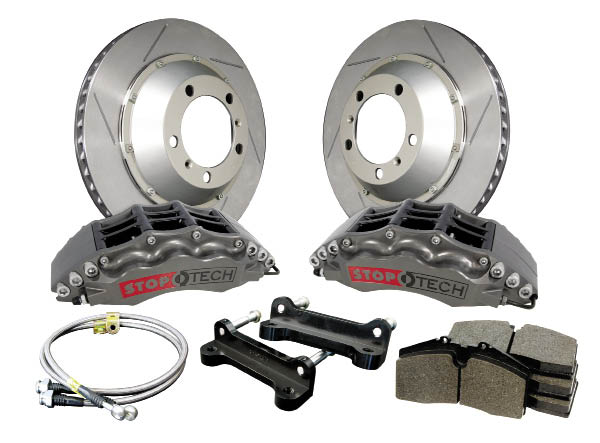 StopTech
Trophy Big Brake Kit
The Trophy Big Brake Kit from StopTech is the first braking system from the company designed exclusively for the track. Trophy BBKs feature ultra-lightweight racing calipers in four- or six-piston configurations providing a 20-percent weight reduction without sacrificing stiffness or performance. Full floating versions of StopTech's patented AeroRotor / AeroHat two-piece rotors eliminate pad knock-back and increase cooling airflow by 15% for consistent performance and pedal feedback under the unique combination of hard cornering and braking found on the track. These BBKs sport a "natural" finish for an attractive in-wheel presentation and include billet aluminum mounting brackets with stainless steel caliper studs and DOT-compliant stainless steel braided brake lines. Trophy BBKs make no compromises found on hybrid street / track systems.
For more visit www.stoptech.com