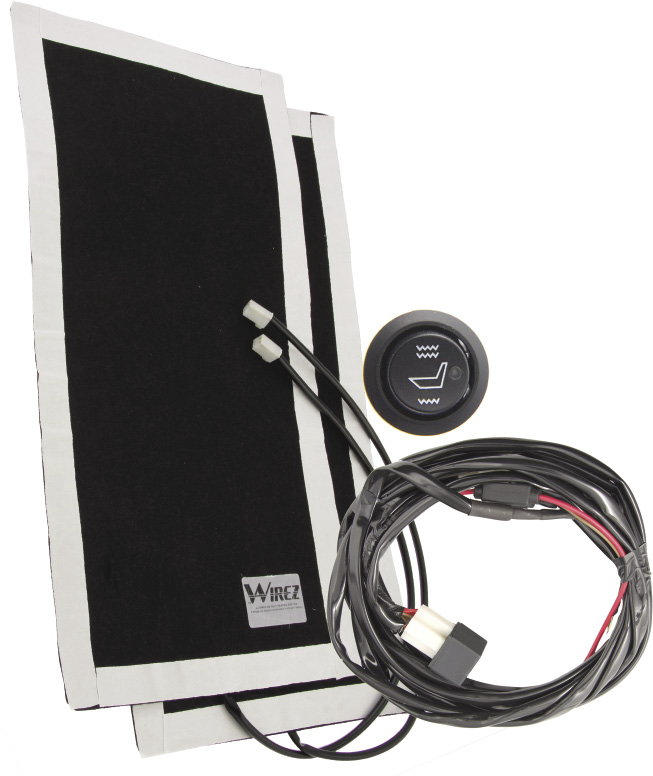 It's the middle of winter and for many readers of PAS, we wake each morning to see our cars blanketed with snow. Since we still have places to go and people to see, it's time to explore some options to make our trips more comfortable. We all know about the nearly infinite remote vehicle start systems to warm up your engine and your interior – but what about your seat? If you don't have a vehicle that came with factory-installed heated seats, this is something you can now add, and it's the perfect complement to a remote start system.
The Wirez Seat Heater kit includes two heating pads that measure 11 by 21 5/8 inches - one pad for the seat bottom and the other for the seat back. The pads feature flexible woven carbon fiber heating elements, and are so thin that they're barely noticeable once installed.
The Wirez SH1HL kit includes an illuminated three-position switch for high heat, low heat, and off. Because Wirez uses a mechanical switch, you can leave the switch turned on when your vehicle is off, and the seats will start warming as soon as you start it – either remotely or with your key.

While other aftermarket seat heater systems use electronic control modules to control temperature (which have been known to be unreliable) the Wirez SH1HL uses a simple relay to make the switch from high to low heat settings.

Each pad is rated to produce 35 Watts of heat, and they are thermostatically controlled for quick heating and reliable operation.
Wirez seat heater kits also include extra long heavy gauge wire harnesses to make installation easy for installers while ensuring reliable operation. The kits are manufactured in an ISO/TS 16949 factory to meet European TUV standards, ensuring maximum quality and reliability.

Because some vehicle manufacturers glue the seat material to the seat cushion, check with your local Wirez dealer to get details on vehicle compatibility as well as installation instructions.