Photograph by @omi_media
---
Specialty Products Company (SPC) provides alignment and suspension solutions for the Subaru BRZ.
These parts should only be installed by personnel who have the necessary skill, training and tools to do the job correctly and safely. Incorrect installation can result in personal injury, vehicle damage and / or loss of vehicle control.
SUBARU REPLACEMENT BUSHING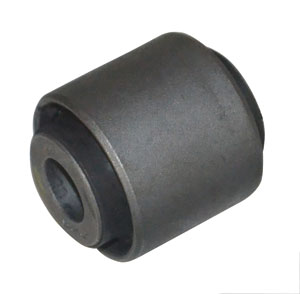 Replace the worn bushing on the inboard side of the rear lower control arm on many Subaru models from the 2000's to present. Need the toe cam adjuster too? Check out SPC part number 67688 for many 2000 to 2009 models. Part replaces OE #'s 20254AE01A and 20254FG020.
Installation time: .5 hr/side
Required: 1 per wheel
MSRP: $20.98/ea
---
REAR ADJUSTABLE LOWER CONTROL ARM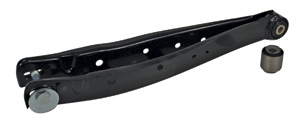 This hi-strength adjustable lower rear camber arm provides +/- 2.0 degrees of change for the popular BRZ, FR-S, WRX and Impreza. Get the ultimate in performance and handling with this stamped arm featuring our new xAxis(TM) Sealed Flex Joint which performs like a pillow joint but lasts like an OE joint. This kit is easy to adjust with a cam located at the outboard end of the arm. SPC's control arm is the only kit on the market to include an offset toe bushing to increase the range of your factory toe cam. If you need more toe range consider SPC's toe arm #67655.
Rear Adjustment Range:
Camber - ±2.0°
Toe - 1.5° fixed
Installation Time: .5hr/side
Required: 1 per wheel
Recommended Tools: 67647 Bushing Sleeves, 72509 Ball Joint Press
MSRP: $169.80 /ea
---
REAR ADJUSTABLE TOE ARM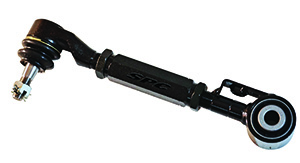 The Subaru Adjustable Rear Toe EZ Arm provides maximum toe change required due to camber changes. The toe arm incorporates an integrated OE style ball joint and is easily adjusted for positive or negative toe.
Rear Adjustment Range: Toe ±3°
Installation Time: .5 hr / side
Required: 1 per wheel
MSRP: $136.73/ea
---
EZ CAM XR (14MM - 2)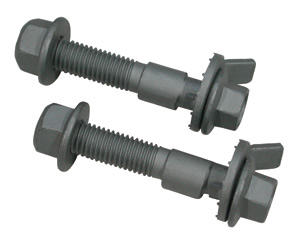 Dial in Front Camber ±1.75° by replacing the lower bolt of this two bolt strut on the 2012 and up Scion FR-S and Subaru BRZ. Head markings show where the cam is for maximum change and an easy-to-manipulate toothed washer lets you set positive or negative change. SPC uses a hex chromate free finish and offers a 700hr salt spray test for the best corrosion protection available.
Front Adjustment Range: Camber ±1.75°
Installation time: .4 hr/side
Required: 1 per axle
MSRP: $26.84/set
For more information, visit www.spcalignment.com.