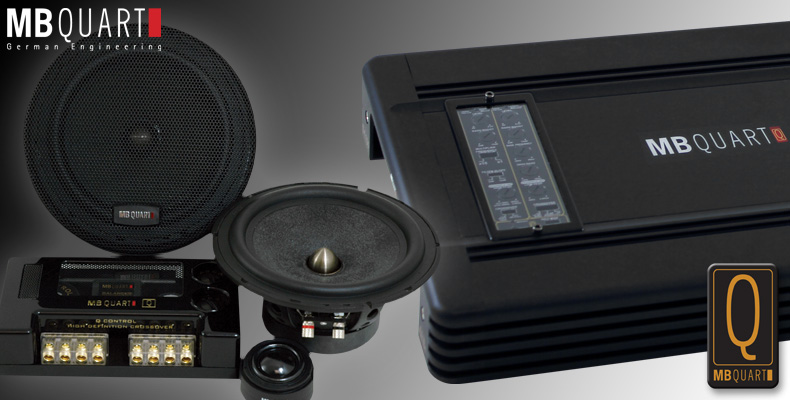 MB Quart Q Speaker and Amplifiers
MB Quart brings back the crème de la crème of speakers – the Q. This 6.5" 2 way component Q speaker is not only far superior than previous generations offered by MB Quart but is literally, we believe, better than other speakers at twice the cost. Everything about this speaker embodies high quality sound.
First, the mid-bass woofer is made from Nomex PMI composite material designed to be both light in weight and rigid. This unique combination allows for a flat linear response and incredible low frequency reproduction with high sensitivity. Next, it touts a 40mm Teteron silk dome tweeter allowing flawless reproduction of sound and improved durability from the Teteron blend. The high definition crossovers offer advanced "Q Control" for the tweeter and midrange with variable points of attenuation. And if that wasn't enough the Q crossovers feature MB Quarts' Balanced Temperature Control Technology so your music will never suffer through lengthy periods of high power listening. The best part of all is they are available to ship right now!
Additional product specifications:
Continuous Power Handling: 80 watts
Maxx Music Power: 170 watts
Frequency Response: 35Hz - 32,000Hz
Efficiency Q 1W/1M: 89 dB
Nominal Impedance: 4 Ohms

MB Quart has raised the bar and exceeded expectations once again. The Q series amplifiers have been designed for those unique individuals who settle for nothing but the best!
Having all of the attributes of design, quality and reliability that have been associated with the brand and admired for over 45 years, the Q has made a statement to the industry.
Our engineers have introduced "Q Control" which is a collection of advanced features only found in this new series of Q amplifiers. Multi-Colored Clipping Indicators, Frequency Multipliers and selectable Filter Slopes provide Sound Quality enthusiasts useful tools for getting crystal clear power and distortion free musical reproduction from their audio systems for years to come. Top Mount controls make the process of dialing the amplifier in much more user friendly, and removable end panels make for a more cosmetically appealing installation by hiding connections and wires.
Available in three models, the Q amplifiers are incredibly versatile. The Q4.80 and Q4.150 are 4-channel A/B class amplifiers that feature our PWM Pulse Width Modulated power supply and high speed MOSFET output devices for excellent sound reproduction. To power your subwoofers, look no further than the Q1.1500D mono D-Class amplifier for a boost of extreme efficiency with outstanding MB Quart quality.
The Q series feature variable High Pass, Low Pass, Subsonic, Phase Shift, Parametric Bass EQ and Bass Boost adjustments as well as the latest system diagnostics from MB Quart to ensure the health of your new amplifier. The Q1.1500D features the Q-LINK which allows for factory linking of two Q1.1500D's at 2-Ohms and produce an amazing 3000 Watts rms!

For more information, please visit www.mbquart.com or on Facebook