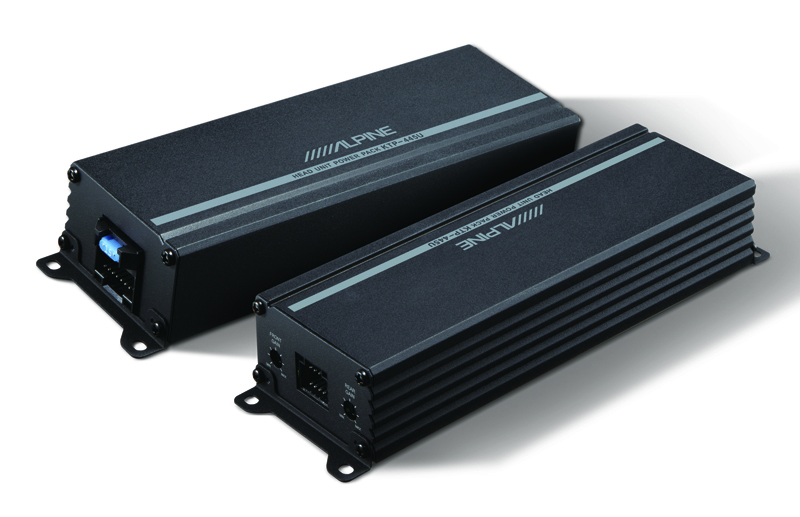 Maybe your audio system suits you pretty well, but lacks the clean power you need to really enjoy your music. Maybe you also don't want a big, current-hungry amp that robs precious cargo space and empties your bank account. If that describes you, there is a solution.
The "Head Unit Power Pack" by Alpine is an add-on 4-channel amplifier for use with virtually any aftermarket radio or OEM system. Best of all, it's small enough to mount behind the dash near your radio! Rated at 45 watts per channel at either 2 or 4 ohms, the power pack gives your system a nice power boost, and it sells for only $149.95 in the U.S. or $179.95 in Canada.
Features
The KTP-445U is a basic rectangular amp measuring 7.5-inches long, 2.5-inches wide, and 1.5-inches high. The small size and slender shape allows it to be hidden almost anywhere, so you don't lose cargo space, and it's light enough that you can mount it on any flat surface using hook and loop fasteners. Both ends of the amp have connections for the included wiring harnesses and the 15-amp mini ATC fuse and gain controls. Pre-amp inputs are also included for typical balanced high-level and RCA connections. The low level inputs are handy for using the amplifier in applications that don't have a traditional source unit (motorcycles and ATVs), where you would use an MP3 player as your source. There is also a switched 12-volt output wire to control additional amplifiers, and the amp is bridgeable for 2- and 3-channel configurations. Thoughtfully, the harnesses are long enough for a variety of mounting locations without needing to add wire.
The KTP-445U is equipped with built-in crossovers to select the front and rear channels. Available crossover frequencies are 60, 80, and 120 Hz. Rubber plugs at the bottom of the amplifier cover the frequency filters, 2- or 4-channel input selector switches, and either high level or RCA inputs. The amplifier is a Class D design for high efficiency operation, but it is designed to drive either 2 or 4 ohm loads - making it compatible with virtually any OEM or aftermarket speaker system.
Listening
The KTP-445U adds noticeable power to your system compared to a typical head unit, and sounds good doing it. The little amp adds virtually no additional character, and does exactly what a good amp should - faithful reproduction of the recording with adequate power. The amp has no audible noise floor, and draws very little current.
Performance / Bench Measurments

On the test bench the KTP-445U performs like a typical Alpine amplifier. As I suspected, the frequency response is exceptionally flat, and the signal-to-noise ratio is excellent. The input sensitivity has plenty of adjustment range to handle virtually any input source, and even after hours of fairly high volumes, the amp is barely warm.
Conclusion
While many of us have been brainwashed with the "amps are big and go in the trunk" ideology, the Alpine KTP-445U makes us re-think this. Sure, you aren't going to win any SPL contests with it, but the high efficiency design, ultra compact size, and startlingly good sound might make it the perfect amplifier for you.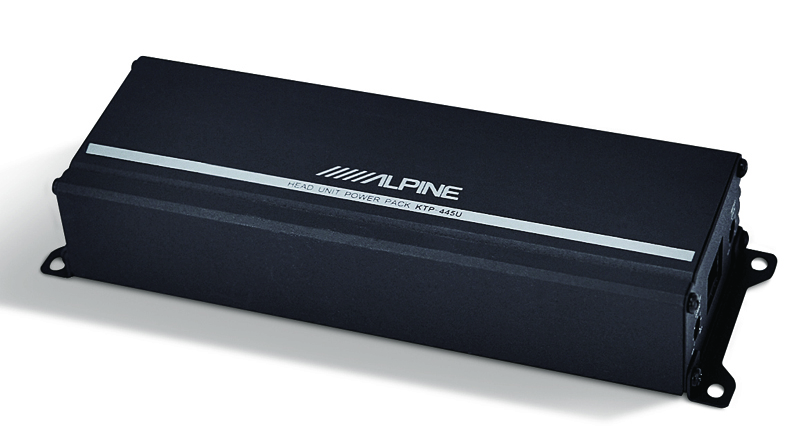 Technical Data
The following power measurements were obtained using industry standard methods. (1 kHZ @ 1.0% THD+N - Battery voltages shown +/- 0.2 V)
Manufacturers Rated Power Actual Measured Power
@ 1.0% THD+N @ 14.4 V Battery
@ 1.0% THD+N @ 12.6 V Battery
45 x 4 @ 4 Ohms 48 x 4 @ 4 Ohms 37 x 4 @ 4 Ohms
45 x 4 @ 2 Ohms 45 x 4 @ 2 Ohms 38 x 4 @ 2 Ohms
Signal to Noise Ratio referenced to 2V output.
(CEA-2006A) (1 watt @ 4 ohms) -89.2 dBA
Signal to Noise Ratio referenced to full 4 ohm output. -106.0 dBA
Distortion at rated power 0.6%
CEA-2006A rated 4 ohm Power (minimum power per channel developed over the entire audio bandwidth) 47 watts/ch
Maximum Efficiency at full 2 ohm power per ch. 82.8%
Idle Current (warm) 0.5 A
Maximum Current @ full power 2 ohms per ch. 16.2 A
Frequency Response (-3dB) 10 Hz – 46 kHz
Stereo Separation (Crosstalk) -76.7 dB @ 5 kHz