In Greek mythology, one of the titans was Atlas, who, as one story goes, was condemned to bear the heavens upon his shoulders, causing the globe to revolve. Now that's power. Only slightly less powerful is the Hifonics amplifier of the same name, and with power ratings of 1,200, 2,100 and 3,000 watts into four, two, and one ohm respectively, the top-of-the-line in the Mt. Olympus Series is the kind of amp that demands the same respect and admiration as its namesake.

FEATURES

The Atlas amplifier is built on an impressively-sized extruded aluminum heatsink, measuring approximately 22x9x2.75 inches and weighing just under 20 pounds. Thick, heavy duty injection molded caps trim out the ends of the amp and provide secure mounting points.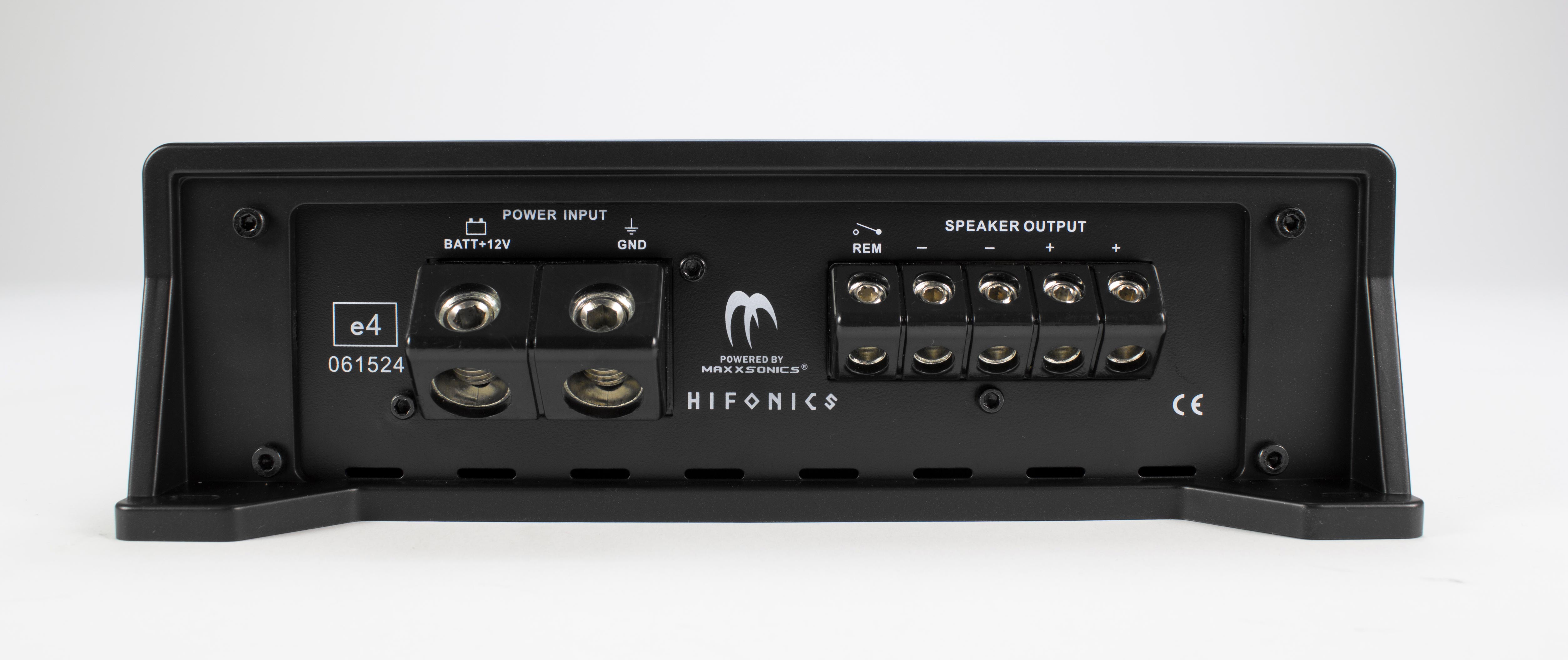 Controls and connections are found on opposing ends of the amplifier, complete with RCA inputs, outputs and connections for attaching two of these beasts together. Available adjustments include gain, variable phase, an extensive set of EQ controls with separate controls for level, frequency and filter bandwidth (also known as "Q"), a variable 15 to 35 Hz subsonic filter, and a variable 35 to 250 Hz low-pass filter. Power and speaker connections are made via set-screw terminals that accept 1/0 AWG cables for power, and eight AWG speaker cables. For convenience, when connecting multiple woofers (and with this much power available, you'll need multiples) there are internally paralleled speaker connections with a pair of positive and negative terminals.
Inside the amp you'll find a robust design with dual power supply toroids and 16 1,200 µF capacitors in parallel to minimize equivalent series resistance.
| | |
| --- | --- |
| | |
The secondary stage energy is stored via eight 1,500 µF high voltage, high-temperature rated caps. Most of the small components are traditional through-hole parts, secured to the double sided PCB. A daughterboard dedicated to the Class D control circuits is populated with surface mount parts and securely soldered into the motherboard. A remote level control and cable are included, which interestingly eschews the commonly found RJ-45 connector for a non-locking DIN style plug, similar to an S-video connector.

LISTENING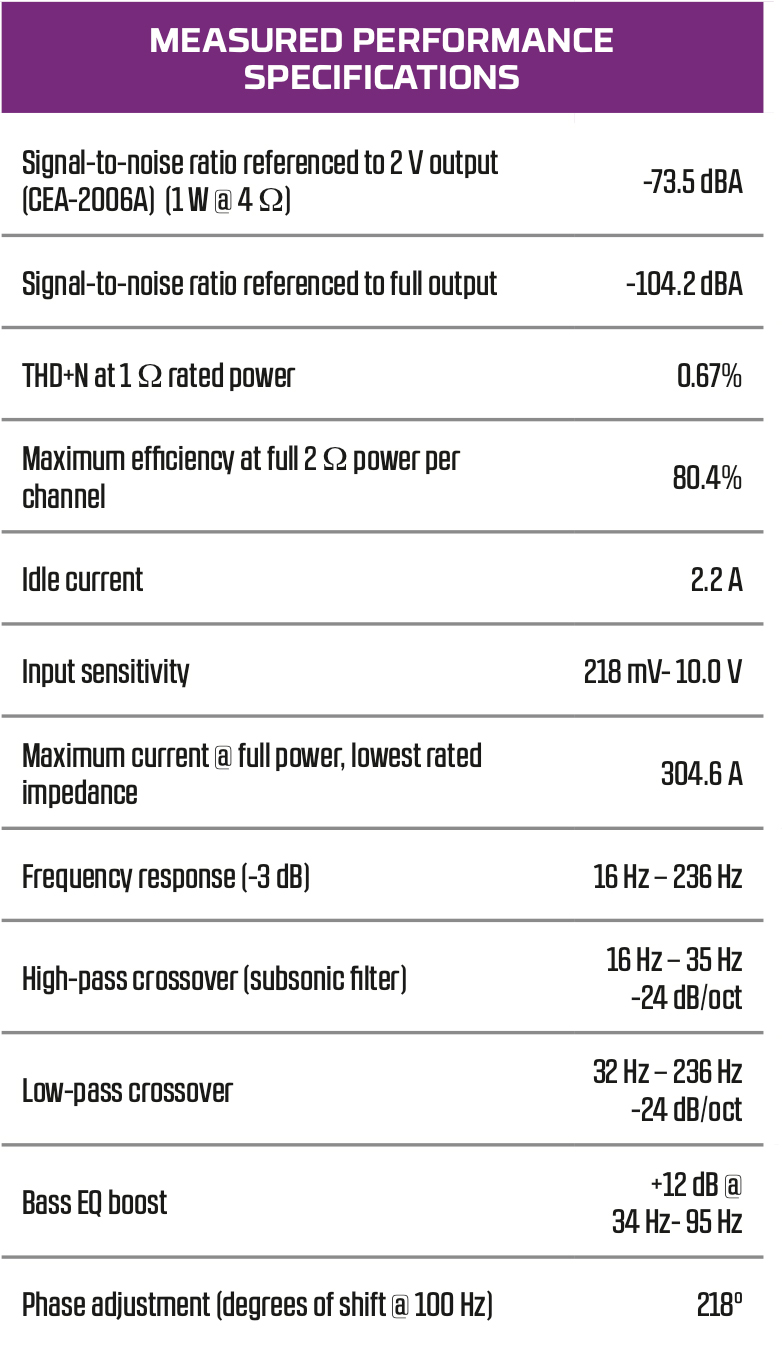 I hook the Atlas up in my reference system to drive a pair of four ohm, 15-inch subwoofers. After setting the levels and adjusting the low pass crossover to about 80Hz, I begin with some heavy rock from Primus, Metallica and Motorhead. The bass is strong, with an authority that just makes me turn it up even more. To see how it handles more intricate bass passages, there's nothing better than the late great Jaco Pastorius on bass. The Atlas does a great job of producing his musical brilliance in high detail, and because I like to hear his stuff loud, I'm happy the big amp has more than enough power, even driving my modest two ohm load. I mean, a couple-thousand watts on a pair of 15's should get pretty much anyone's car rockin'!
The amp has great musicality and effortless power delivery. Because I check for these things, I can tell you the amp has zero turn-on or turn-off noise, and even though I beat on it pretty good for a couple of hours, it's barely warm to the touch.

ON THE BENCH
There really aren't any big surprises here. For a big amp, overall efficiency is pretty good at better than 80%, signal-to-noise is fine, and the variable phase control provides a wide range of adjustment. The input signal level adjustment range is also very wide from nearly 0.2 volts to 10 volts. Four ohm and two ohm power measurements are a hair under the published numbers, but close enough to make no difference.
At one ohm, the amp actually exceeds the published number by over 100 watts, and draws just over 300 amps of current. If you're considering an ultra high-power amp like this, make sure your electrical system is up to the task.

CONCLUSION
The Hifonics Atlas amplifier is exactly what the designers intended: an affordable, quality product capable of very high power levels and built to withstand daily abuse in the typical automotive environment. It looks good, sounds good, and isn't likely to break. What the heck else do you want?