As the popularity of side-by-side UTVs (utility task vehicle) and ROVs (recreational off-highway vehicle) continues to grow, so do the number of folks who want an audio system to join them on the trail.
Lucky for them, Kicker has been supplying specially designed audio solutions for the market almost since side-by-side vehicles were invented. Since we get a lot of questions about what systems are available for UTVs, we thought a look into Kicker's latest offerings would answer a lot of those questions, specifically the PX100.2 and PX200.1 amplifiers.

FEATURES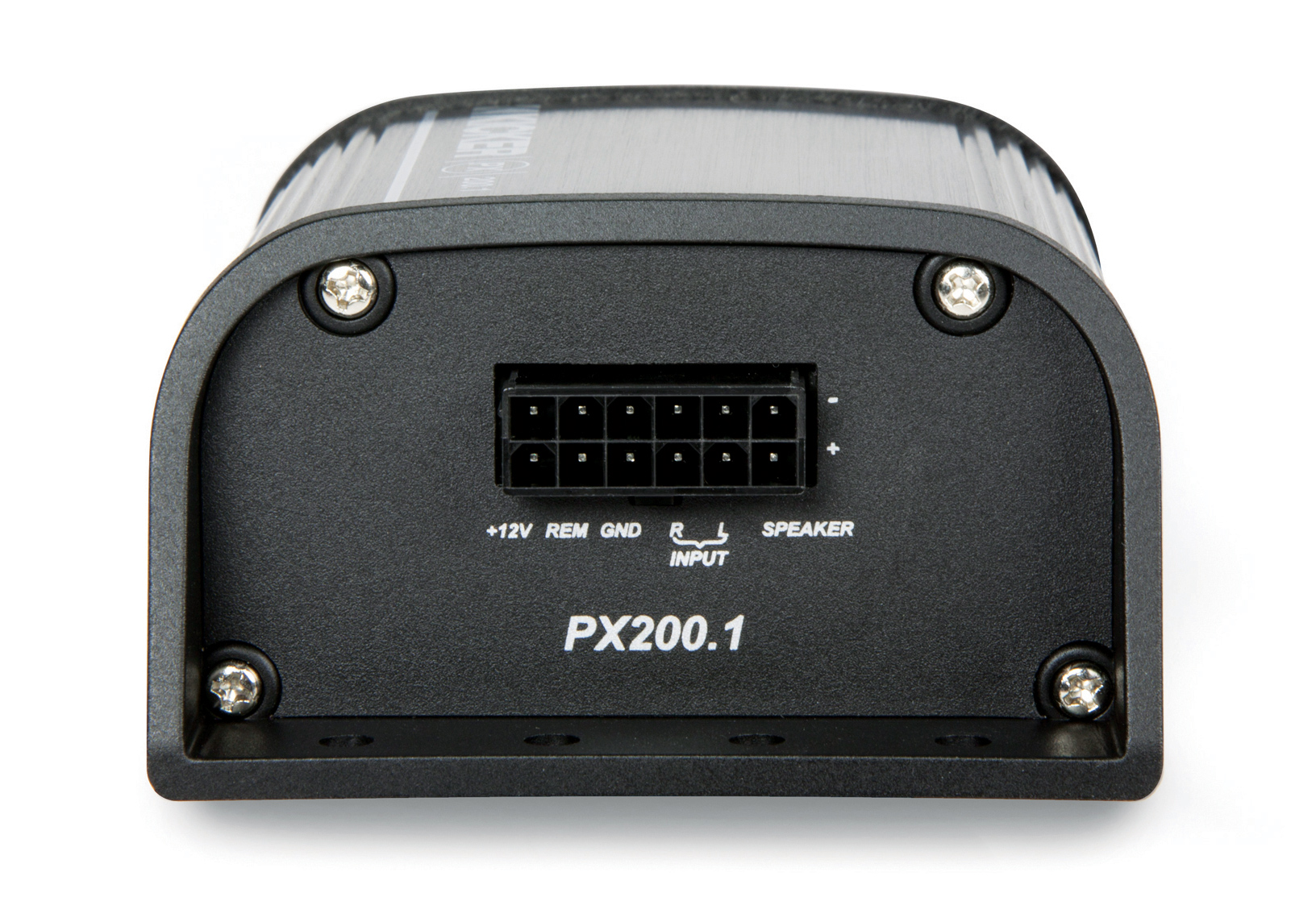 As the model numbers suggest, the PX100.2 is a full range two-channel amplifier rated at 50 watts per channel into two ohms, while the PX200.1 is a mono bandwidth limited subwoofer amplifier rated at 200 watts into 0.4 ohms. These amplifiers have a very small mounting footprint, so they can easily fit into tight spaces like your glove box, motorcycle fairing or saddlebag. Both models are only two-inches high and 3.5-inches wide. The two-channel version is longer, at seven inches.
Thanks to Kicker's "Direct Amp" technology, both amplifiers are designed to be incredibly efficient, with the two-channel model drawing less than 10 amps of current at full power, and the monoblock less than 15 amps. This ultra-high efficiency means that they are easily handled by most vehicle charging systems, but it also means that the amplifiers generate very little heat.
For those who are concerned about the typical operating conditions a UTV goes through, it's a comfort to know the internals of the PX series amplifiers are treated with a weather resistant conformal coated circuit board, and the hardware is rust-proof stainless steel.
To reduce the possibility of unwanted engine noise, the PX amplifiers use a specially engineered, fully differential input circuit. The input section of the amplifier is configurable for either high- or low-level input signals, capable of connecting to sources with a range of 125 mV to 10 V of output signal.

LISTENING
For my listening evaluation, I use two pairs of four ohm components driven by the PX100.2. Meanwhile, the PX200.1 drives a pair of two ohm, 12-inch woofers wired in parallel.
My listening evaluation employs all kinds of music. From Bruce Hornsby's classic Mandolin Rain to Limehouse Blues from Jazz at the Pawnshop and more contemporary tunes like Dire Straits So Far Away, the Kicker amplifiers sound great. With ample power to drive my system well into the loud category, I note no sign of straining, even on difficult tracks like Neil Peart's The Rhythm Method drum solo.
I've been lucky enough to have auditioned a number of Kicker products over the years. I expected these new PX series amps to uphold the Kicker tradition of great sound and plenty of power, and I'm not disappointed. The PX amplifiers easily exceed my expectations, delivering crisp, clean sound and more authority than I anticipated. In a UTV, these amps will easily overcome the usual noise and wind to make your vehicle really rock.

ON THE BENCH
On the test bench, the PX series amps perform very well, meeting or exceeding most of the published specifications. Maximum efficiency for both amplifiers is over 90%, a testament to the Direct Amp technology. Frequency response on the full range amp is ruler flat – well below and above the audible bandwidth – and signal-to-noise performance is also excellent, at better than -84 dB at one watt.

CONCLUSION
The Kicker PX amplifiers are an excellent solution to getting great audio power into your UTV, motorcycle, golf cart or any other compact vehicle you want tunes in. The amplifiers are very small, incredibly efficient, and pack plenty of power in a small package. With the flexibility of the input section, they can also be driven with just about any source, and at $199.95 each, they will also fit into any budget.