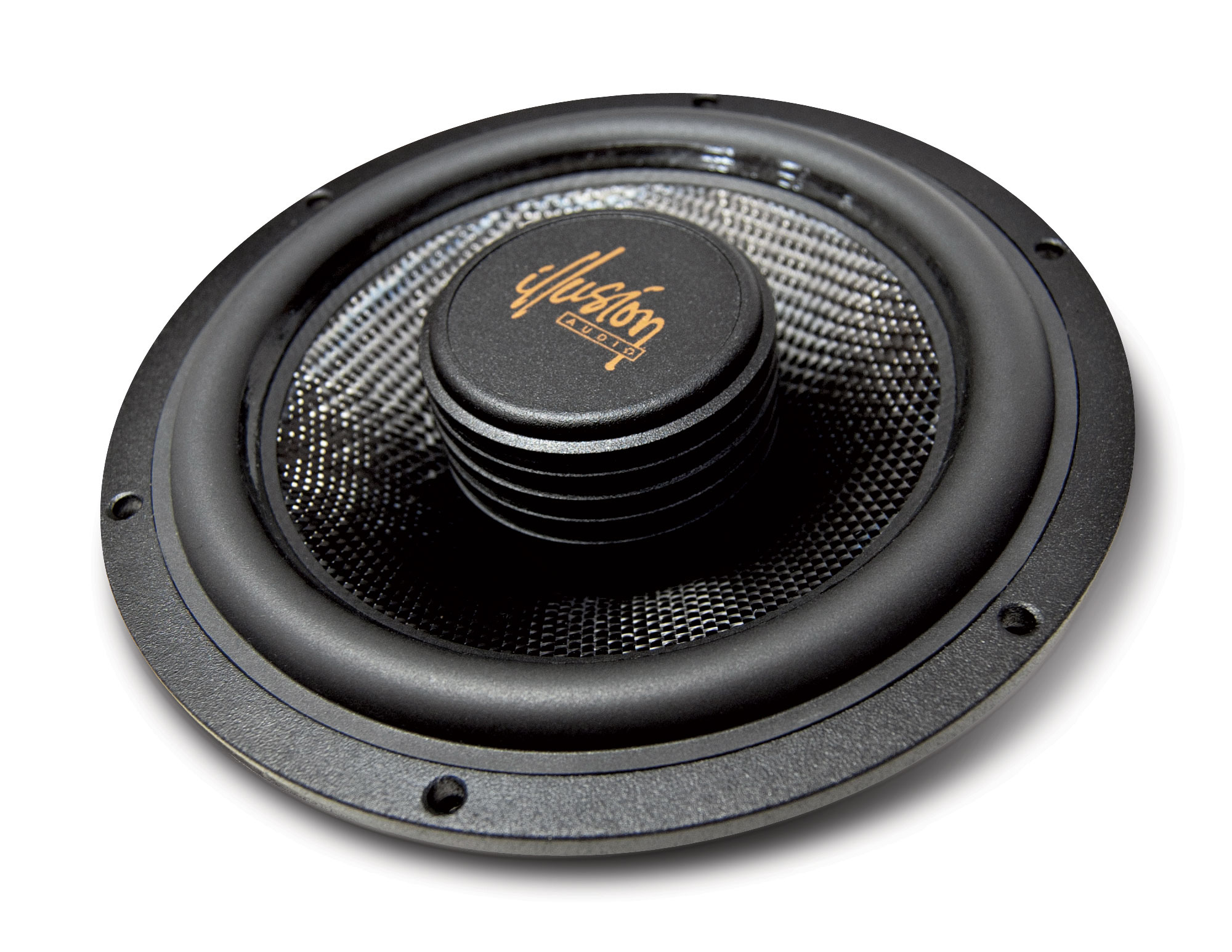 If you recall the innovative Illusion Audio speakers from about a decade ago, you probably also remember the front mounted motor assemblies. The Illusion Audio brand has been resurrected by the folks at Orca Design and Manufacturing, and the latest results are just as innovative and thought-provoking as the originals. Designed to be compact and easy to install without compromising sound quality or reliability, the Illusion Audio products are high quality products for those with discriminating taste and deeper pockets.
In this review, we are going to have a closer look at the new top-line Illusion Audio C6 Carbon Series components, with an MSRP of approximately $999 in the U.S., and a couple hundred bucks more if you're north of the 49th parallel.
Features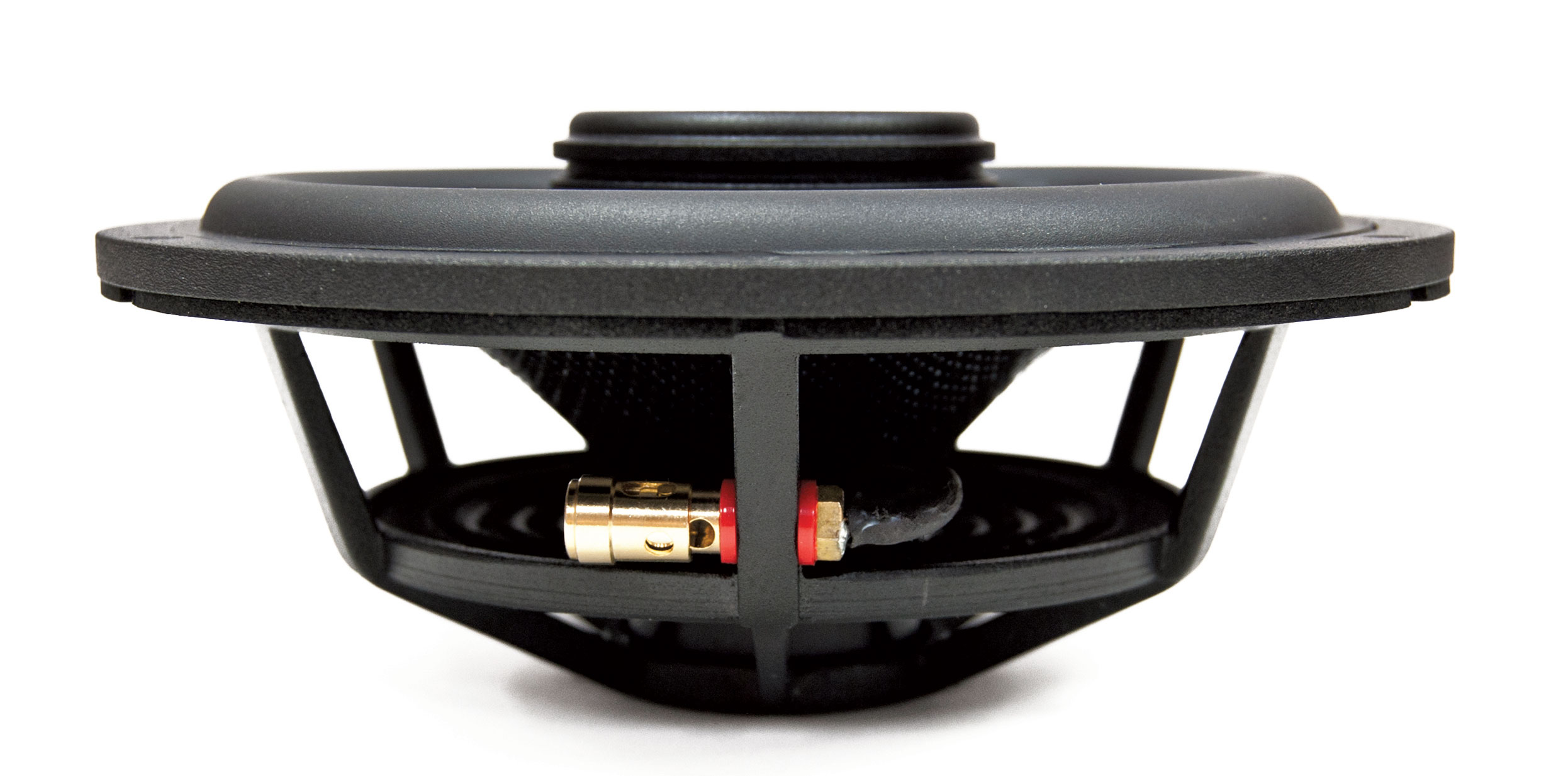 Midrange:
The first thing that impressed me about the Carbon C6 system was the nice, sturdy cardboard carton and soft closed cell foam it came in. Right away, you know this is a high end product, and something different. The most obvious anomaly of the 6.5-inch midrange is the front mounted motor assembly. By mounting the motor on the front of the driver, the mounting depth can be reduced, and cooling is improved. The motor is a powerful high energy neodymium magnet, measuring 37 mm in diameter, featuring dual magnetic gaps. This innovative feature both improves linearity and reduces intermodulation distortion. The motor is surrounded by a finned cast aluminum heatsink, like an amplifier would be, to dissipate heat efficiently.
The driver basket is made of cast aluminum, finished in a textured black powder coat. The rear side of the basket has six thin (but strong) spokes that are narrow enough to not cause any acoustic reflections. Because of the front mounted motor, both sides of the spider are visible from the backside of the woofer, with a high tech looking result. The spider is a linear design, 106 mm in diameter made of black Conex material. Driver sensitivity is an important specification and the C6 uses lightweight materials for everything that moves. Driving the moving mass of the C6 midrange is a four layer copper clad aluminum voice coil, 38 mm in diameter and wound on a Kapton former. The aluminum wire and Kapton materials are lower mass components than the typical copper coil on an aluminum former, thereby increasing sensitivity.
All of this drives a cone formed of raw woven carbon fiber, again for very low mass. The material is impregnated with a special damping epoxy to reduce sonic coloration. Even the rubber surround has been treated with a special edge damping coating to improve the high frequency response. Close inspection of the C6 midrange driver reveals careful and thoughtful engineering, with exceptionally good attention to detail.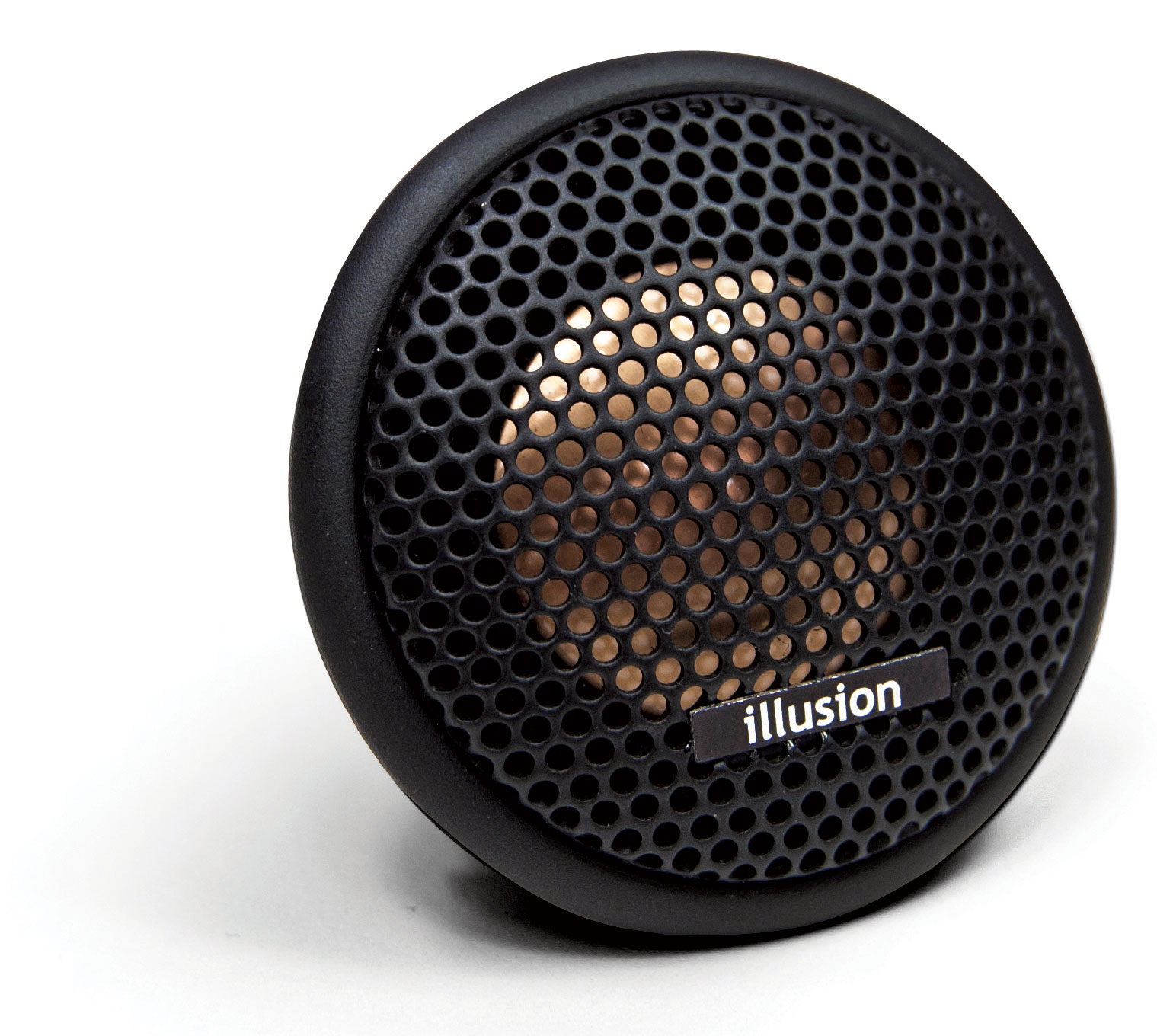 Tweeter:
The high frequency driver in the system is almost as unusual as the midrange, in that it utilizes a rather unique material for its dome. The 25 mm dome style tweeter uses a Beryllium copper dome suspended by a woven silk surround. The use of Beryllium copper may sound strange at first, but it is the strongest and stiffest of all copper alloys and can be made very thin and light. It also maintains a consistent timbre and tone.
The tweeter is also powered by a neo motor, and is Ferrofluid cooled. A large resonance chamber in the rear of the tweeter reduces resonant frequencies and doubles as a heatsink. A perforated metal grill protects the copper finish dome, and the wires are pre-connected with solder and heat shrink to the tweeter.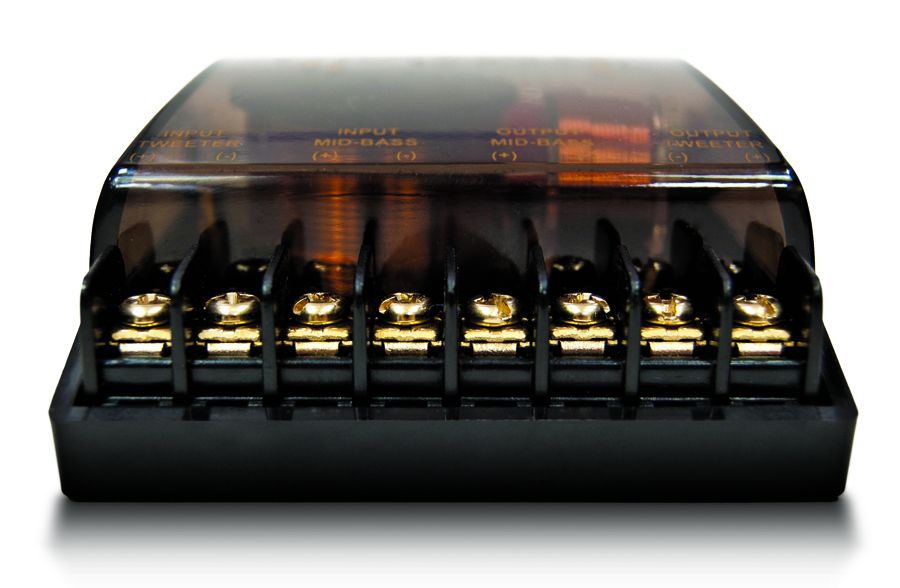 Crossover:
Frequency directing duties are handled by a simple but well made passive network. The two-way crossovers are mounted in your typical rectangular housing with a smoked acrylic cover. The crossovers can be connected to multiple amp channels or bi-amped with a flip of a switch and a series of three jumpers provide up to seven different tweeter levels, adjustable in 1 dB increments.
From a technical perspective, the crossovers use air core inductors and a high quality polypropylene cap for the tweeter circuit. The tweeter also has a safe polyswitch circuit for high current overload protection.
The crossover housings are mounted with 2 screws inside the case, and wire connections are made via gold plated terminal strip type Phillips head screws.
Listening
When I do my listening evaluations, I keep a notepad handy for my impressions of the system. When I went back to my old notes for the Carbon C6 components, there were only four words on the page - smooth, balanced and good detail. The C6 system was a very good sounding system with a natural timbre and sonic performance you would expect from a system that costs a thousand dollars. I had some early reservations about the copper dome tweeters, but I shouldn't have worried. The highs were smooth and non-sibilant, without harshness or bite - even on tracks with close mic'd brass sections. Bottom end response had depth and warmth, retaining excellent articulation. Speakers like this make listening to really good bass players like Geddy Lee, (Rush) Jim Creeggan (Barenaked Ladies) or Jaco Pastorius (Weather Report) that much more special.
Performance/Bench Measurements
I moved the system moved into the lab from the listening bench for some cursory frequency response and impedance measurements, where everything measured pretty much as expected.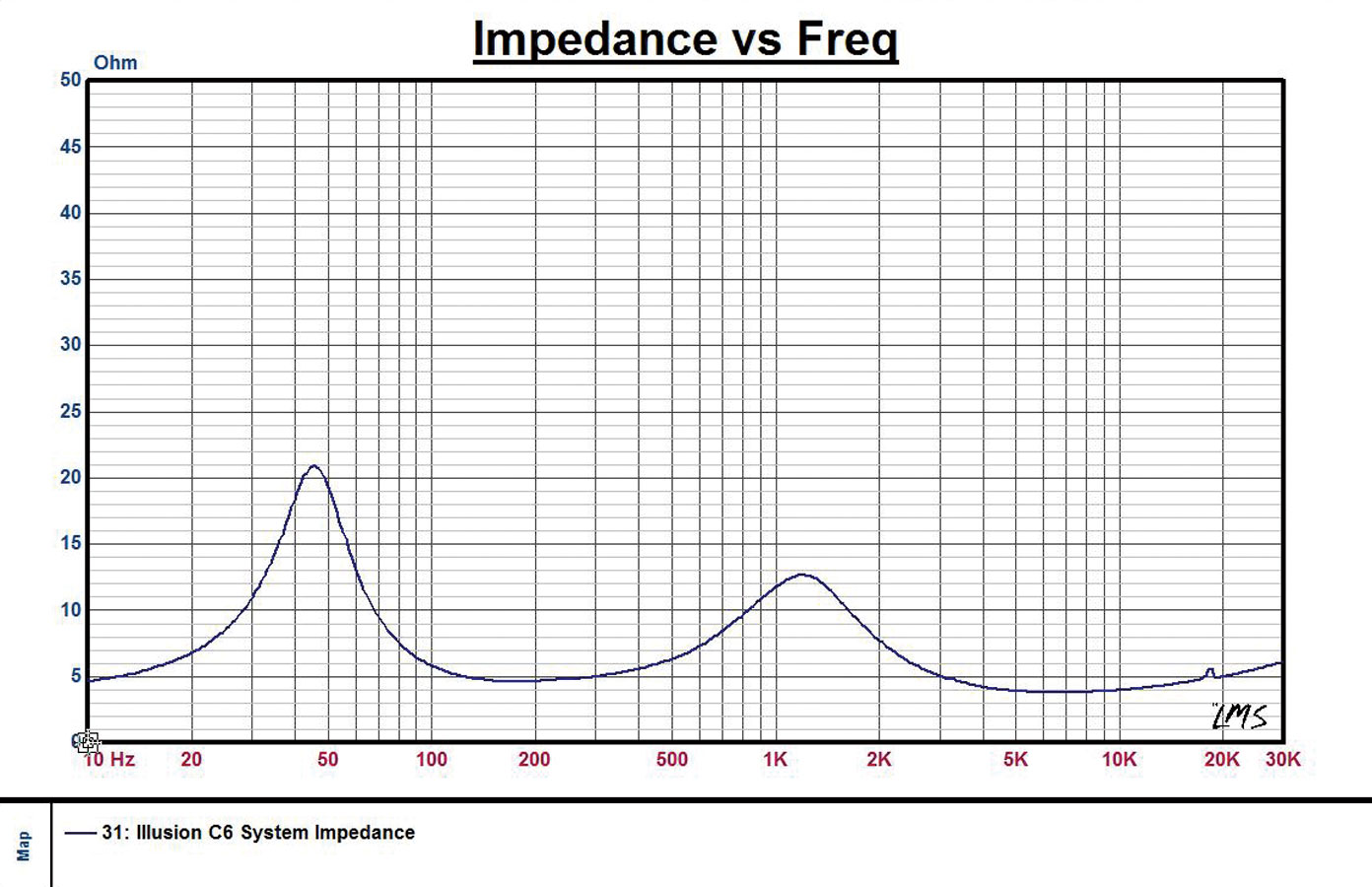 Quick Tech Specs
Recommended Power 100 Watts Continuous
Sensitivity (2V/1M) 88.0 dB SPL
Frequency Response 55 Hz -25 kHz (-3 dB)
Mounting Depth 2.1" (53.3 mm)
Mounting Diameter 6.5" (165 mm)
Midrange Resonance 45 Hz
Conclusion
The Illusion Audio Carbon C6 components are top shelf performers, and could be used with any high end system where accuracy and detail is appreciated. Granted, you need fairly deep pockets to afford them, but if you really love your music, the initial cost will quickly be forgotten when you get mesmerized by your tunes.