JBL has sent me a pair of its six-inch GTO series coaxial speakers to put through their paces. There are literally dozens of loudspeakers to choose from in this price range (a very reasonable $119 a pair), so finding a pair that sounds good to you can be a confusing task. My advice is to simply buy what you like the sound of. Whenever choosing a pair of speakers, the pair that sounds best to you is really all that matters. The sonic performance of various individual loudspeakers can be very different and a very personal preference. There is no real right or wrong. Sure, the better you are at critical listening, the more accurate a speaker you will choose, but when it comes right down to it, pick the one that sounds best to you.
FEATURES
The GTO629s are conventional two-way mid-tweet type coaxial speakers using a six-inch (152 mm) mid-range and one-inch (25 mm) textile dome tweeter. The system is rated for 60 watts of continuous power or 180 watts peak. Thanks to cleverly-designed steel mounting adaptor rings, the GTO629 coaxials can be mounted in a variety of hole sizes from six to 6.75 inches. Minimum mounting depth is a scant two inches, so these speakers will fit in virtually any door. If you prefer to surface mount the speakers on the top of your door, you'll be happy to know a very nice set of grilles is included along with all the required mounting hardware. Speaker wire sold separately.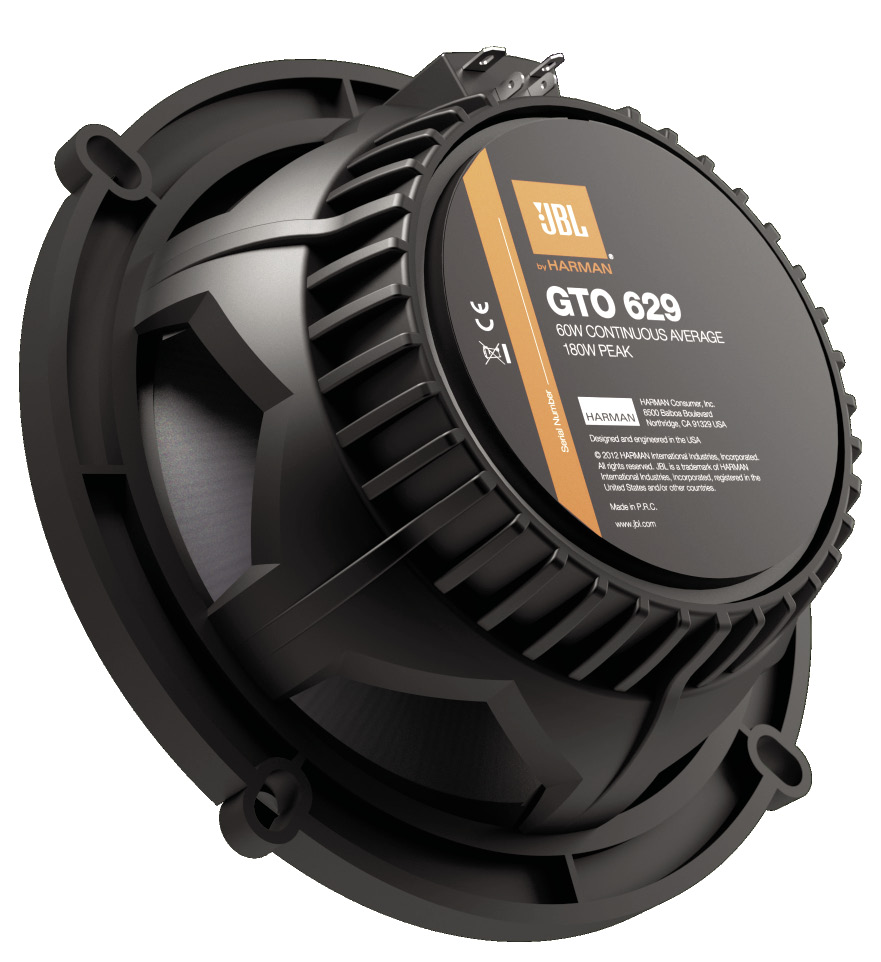 The mid-range drivers use high-tech carbon composite glass fiber reinforced baskets to eliminate resonances and ensure long life in the extreme automotive environment. Each mid-range driver is powered by a 10.3-ounce ferrite magnet, which drives a one inch copper voice coil wound on a Kapton former. The actual impedance of the system is three ohms, which allows greater power to be developed from the amplifier and results in increased output. You may not think one ohm can make much difference, but think about it this way. If you put 8.5 volts into a four-ohm speaker, you get about 18 watts; but, that same 8.5 volts into a three-ohm speaker results in 24 watts! JBL uses a three-ohm coil to compensate for the increased resistance in the very small gauge wire used by OEM car manufacturers, but I'll bet the people who use larger gauge wire aren't complaining!
Other technical details of the well-made mid-range drivers include a modified parabolic-shaped cone and a nitrile rubber surround incorporating JBL's patented Plus One™ cone technology for greater output. Nicely-done, solidly-mounted color-keyed spade terminals make the connections easy.
The tweeter for the system uses high-energy neodymium magnet and an edge dome design with ferrofluid cooling for improved power handling and reliability. To improve aim and focus of the angle-mounted tweeter output, JBL's UniPivot system allows it to rotate almost 360 degrees. Both the tweeter and mid-range driver utilize -6 dB crossover components to improve the transition between the drivers. I also notice a level padding resistor on the tweeter, so there has definitely been some careful tuning going on.
LISTENING
Regular readers of my test reports know I prefer to audition new products in my listening room instead of in a car. In here, my references are always the same and I can more easily detect small differences in equipment. So, after mounting the drivers in my specially designed listening baffle, which simulates the type of airspace (and air leakage) found in the door of a car, we're off to the races.
The competition in this category of products is fierce, so many speaker engineers design products to really stand out during the classic A/B demo situation. Thanks in part to careful tuning and the three ohm impedance, the GTO629 certainly accomplishes that goal.
The mid-range is very forward with excellent intelligibility. On Count Basie's "Take the A Train," the Bosendorfer grand piano sounds open and natural without much unwanted coloration. Bands with a well-recorded horn section placed front and center in the stereo image (like the Cherry Poppin' Daddies, for example) can really grab your attention with these speakers.
In my opinion and, for my taste, the JBL tweeters are not quite able to keep up with the otherwise excellent mid-ranges. This is something I have noticed in the past with JBL loudspeakers; and, in fairness, I know that every JBL speaker system undergoes extensive listening by very experienced engineers and I have no doubt the "polite" top end of the GTO629 is exactly as the engineers have intended. I simply prefer more high frequency output and, as I said in the beginning, it's important to judge what sounds best to you.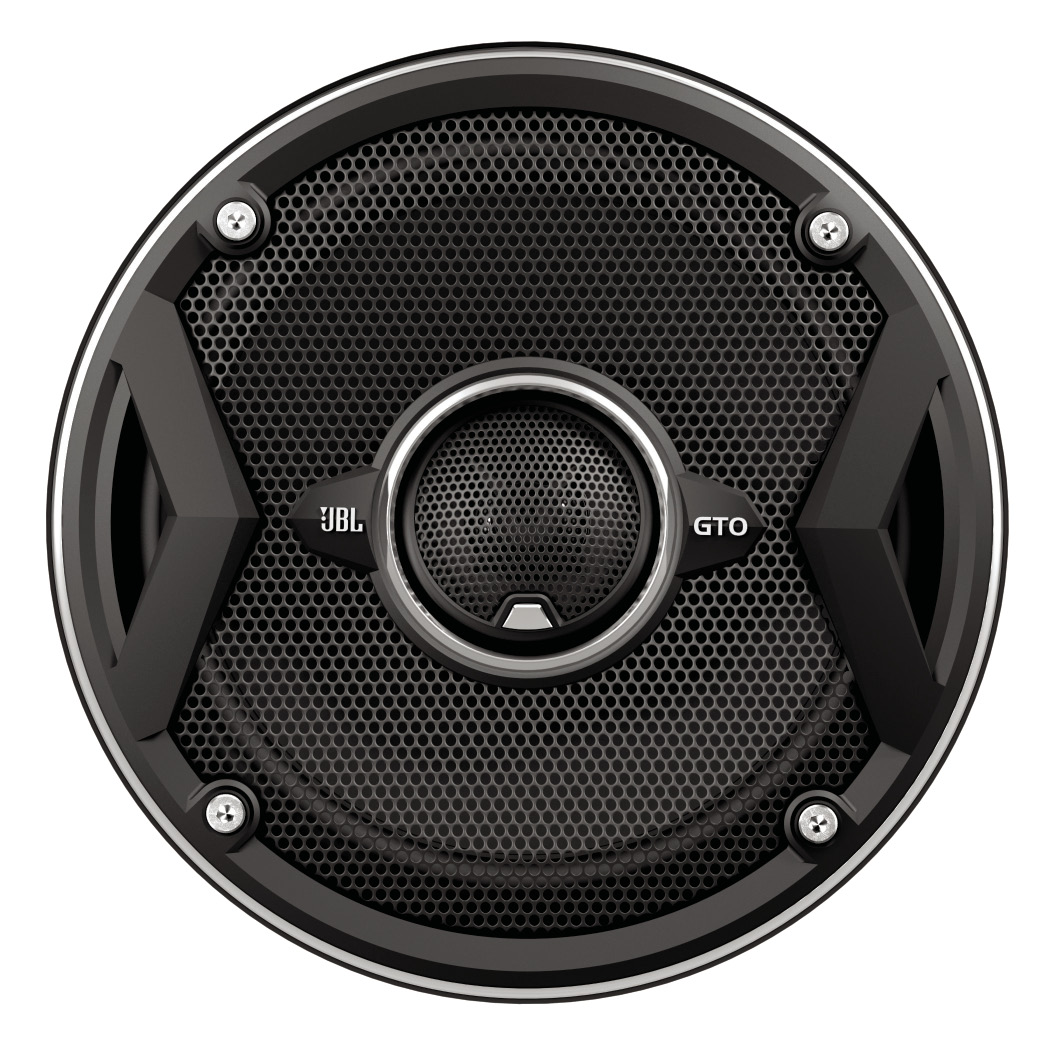 But, with a bit of treble boost around 10K, the system really comes to life with well-defined and punchy midbass. Thursday Diva's "Follow Me" is very rich and warm-sounding with good definition in the lower registers and simply excellent clarity and tone in the upper mid-range. Being an amateur drummer, I always pay attention to the sound of different artists' kits. In this regard, the JBL's are simply excellent with great midbass definition and timbre. If you can't tell the difference between Neil Peart's (Rush) snare and Steve Gorman's (ex Black Crowes, now Trigger Hippy) snare drum using these speakers you're probably legally deaf. In cars where the speakers are located low in the doors, mids like these may be just what the doctor wants. You'll want to keep the tweeters pretty much on axis and experiment some with the EQ in the upper registers.
After a couple hours listening, I must admit I've found myself really enjoying the sound of the GTO629. It's a very pleasing speaker system to listen to particularly when you consider its low price. Sometimes speakers that are this "forward" in the mid-range can fatigue in a short amount of time, but that isn't the case here.
PERFORMANCE / BENCH MEASUREMENTS
My trusty TEF-25 shows a response curve that pretty much agrees with my ears. There's a bit of a dip in response right in the middle and a bump in the upper mid-range. The missing high frequencies are also confirmed by a small but significant drop in output between eight and 12 kHz as alluded to in my listening evaluations. All in all, the system's response curve is relatively flat and, dare I say, flatter than a few systems I've measured that cost considerably more money.
I connect the GTO629's to my LMS system and have a final look at the overall impedance of the system. I find the resonance to be right around 70 Hz, so it's pretty safe to use these speakers right down to 80 Hz or so.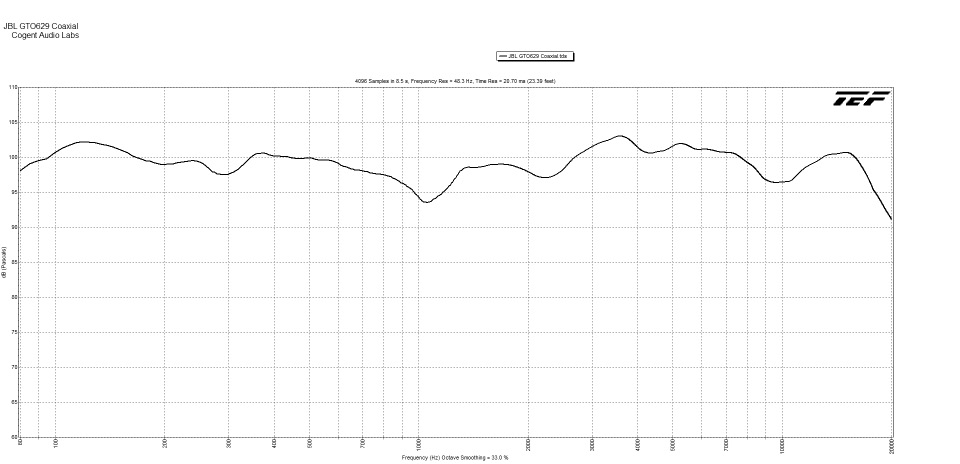 CONCLUSION
JBL has been building high-quality good-sounding speakers for a very long time and the GTO629's follow in that tradition. These are well-made, good-sounding speakers that have some of the best mid-range performance I've heard at this price. And, while I do prefer a bit more top end, you may find them perfect just as they are. Best go check them out at a JBL retailer near you and see for yourself!