Anyone on a tight budget who's looking for a double-DIN DVD/CD/MP3/Bluetooth navigation receiver would do well to check out the new VX7023 from Jensen.
With virtually all the whistles and bells you might need and a retail price of under $500, this bit of kit is excellent value.
FEATURES and FUNCTIONS
The features found on the Jensen VX7023 read like a veritable wish list for any car audio enthusiast. There's not much you could possibly need that this Nav/DVD receiver doesn't offer or can't do. Built around a 6.2-inch high resolution TFT touchscreen, the navigation section is a well-rounded system based on iGo Primo Next Generation maps, and it includes all the functionality that you'd expect from a dedicated GPS device. Of course, you can search for destinations by any number of methods, such as address, vicinity, points of interest, co-ordinates, telephone number, etc. Route guidance comes from both on-screen displays and text-to-speech voice guidance.
For audio playback, the unit has both a DVD/CD disc drive and the ability to support playback from USB devices. The Bluetooth pairing was simple and quick to my Android phone, and will also be the same for iPhone users. A2DP pairing is fully supported, so streaming content is no problem. App connectivity for all three platforms is also supported, along with control of Pandora from the touchscreen. Apps to connect to are plentiful, and include iHeart Radio, aHa Radio, Spotify, Slacker, TuneIn, and many more. The USB port is designed for 2.1-amp charging to keep your phone or tablet alive. For those fans of satellite radio, the VX7023 is compatible with SiriusXM's Vehicle Connect Tuner (subscription required).
The video section uses a 16:9 aspect ratio 6.2-inch TFT display, as well as an additional video output for adding monitors. Picture quality is excellent, and adjustments are available for color, hue, and contrast. Button and screen illumination colors are selectable, and you can select one of five built-in wallpapers or add a custom wallpaper if you choose. The audio section boasts a four-channel amplifier and three pairs of six-volt pre-amp outputs. A low-pass crossover is available for the subwoofer output, with selectable frequencies of 80, 120, or 160 Hz. For those who like to tune things to the car, a built-in 10-band graphic equalizer is provided.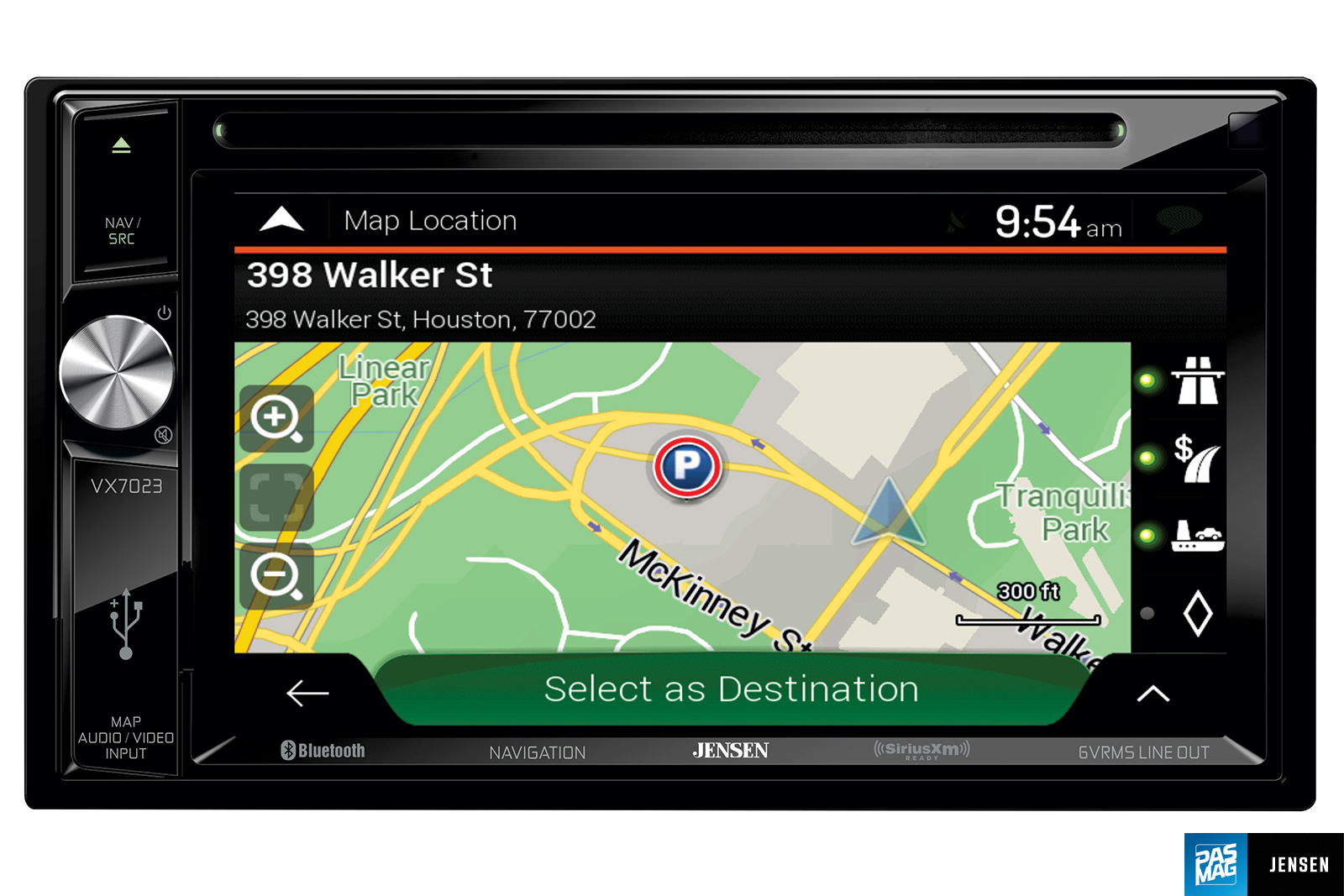 CONTROLS AND FUNCTIONS
Okay, in terms of what's really important to me on a head unit, the controls and ease of regular use are at the top of my list. Frequently used controls should be easy to get to, and be operated with a glance at most. Even better are the units that can be operated without looking. Kudos to Jensen for using a logical and easy-to-use rotary volume control. The volume knob is obviously one of the most used controls, and being able to operate it without ever taking your eyes off the road is excellent. I found the touch screen interface easy to understand, and logically laid out, if sometimes a bit slow to react. Some functions require a double press, but it's just a matter for spending some time and getting to know the controls.
In terms of actual functionality, the VX7023 works well. The CD/DVD mechanism is also smooth and quiet, and about average in terms of loading speed. I did find it a bit slow to load and access tracks on a MP3 encoded disc, but not really slow enough to cause any bother. The excellent TFT display is easy to read from almost any angle, although bright sunlight on the surface can create a glare situation if the sun's angle is right. Going from the audio display to the navigation display is a single button push. You can even retain the functionality of your steering wheel controls via a third party adapter.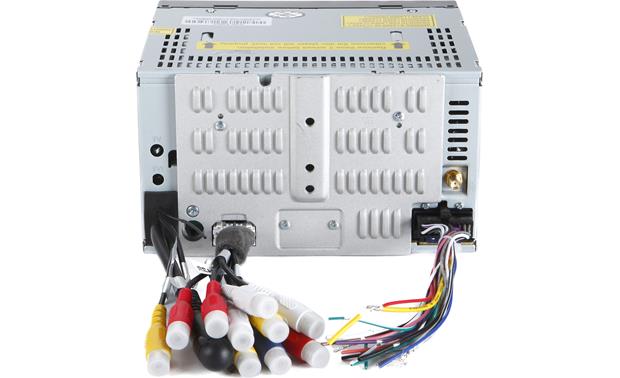 LISTENING
As one would expect from a head unit with this much technology, the VX7023 sounded great. The sound of the CD section was quite good, with warm sound and a polite top end. My DVD movies were reproduced excellently as well, with the full dynamics those recordings can provide. I even played a couple of damaged CD's just to test the error correction, and the unit had no problem reading them. The AM/FM tuner did a great job of tuning in all the expected stations, with very good reception as well as stereo reproduction. I was generally pretty impressed with the sonics of the VX7023, and while listening to a variety of CDs and DVDs, the unit performed quite flawlessly.
ON THE BENCH
Connecting the unit to the myriad of test equipment on the deadly accurate Cogent bench, I found this high tech piece of hardware easily met all of its published specifications. I also commend the folks at Jensen for using the CEA-2006 amplifier test standard to measure the internal amp power, instead of the grossly misleading figures used by some other less reputable manufacturers. The only minor niggle was a slight drop in high frequency output from the internal amp, but to be honest, very few people would ever hear it. The pre-amp section was flatter, and that's where it really matters anyway. Speaking of the pre-outs, more kudos to Jensen for endowing this unit with some of the highest voltage pre-outs I have seen in years. The maximum undistorted output voltage was an unexpected 7.2 volts, and the source impedance was also excellent at 102 ohms.
MEASURED SPECIFICATIONS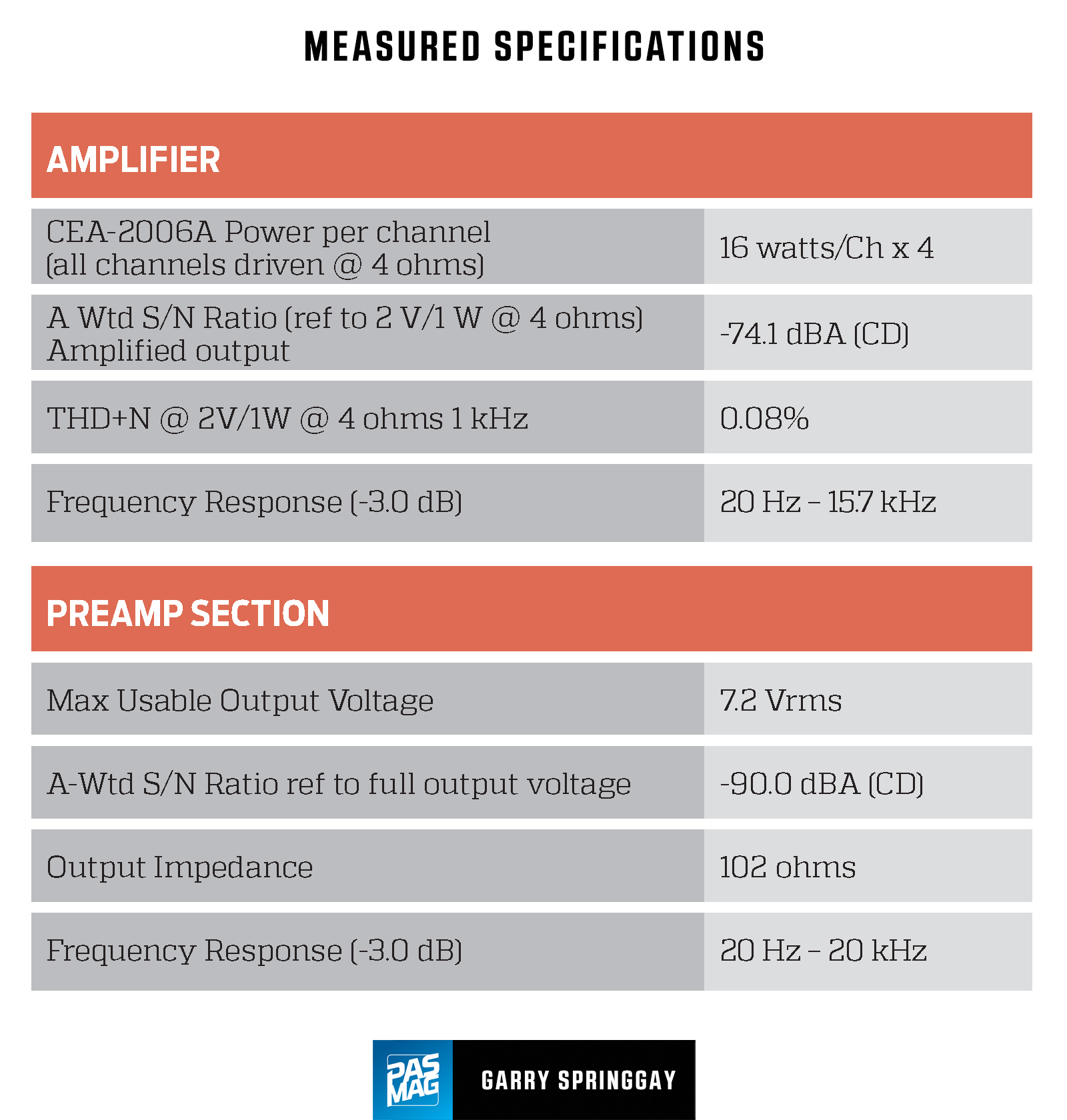 CONCLUSION
With high performance pre-outs, full navigation, and plenty of A/V options, the Jensen VX7023 has you covered. Whether you need reliable directions or just want to pull up your music from a variety of sources, you can do it all. Given the low price, it's a smart and affordable choice for pretty much anyone.
Graph 1: 4 OHM POWER vs THD+N PER CHANNEL BATT 14.4V
Graph 2: CD SOURCE - AMPLFIER FREQUENCY RESPONSE
Graph 3: CD SOURCE - PRE-AMP FREQUENCY RESPONSE
Graph 4: CROSSOVERS - SUB-OUTS - FREQUENCY RESPONSE
Website: www.jensenmobile.com
Facebook: Jensen Car Audio
AS SEEN IN PASMAG TUNING ESSENTIALS: CAR AUDIO VOL. 8