There are signs we may be coming out of a long and fairly brutal recession. Many people are doing everything they can to make the most of each hard-earned dollar; so, when it comes to putting great sound in our cars, aren't we all looking for products that offer excellent value for the buck?

Well, the folks at Scosche have been hard at work designing and building car audio products that do just that. The new HD (or High Definition) series of loudspeakers is a prime example of a low-cost yet well-made product that provides great value.

In upcoming issues, we'll have a look at the Scosche HD coaxial speakers but, for now, we've got this Scosche HDW12F 12-inch woofer ($59.95 U.S.) to run through a battery of tests and my critical listening.

FEATURES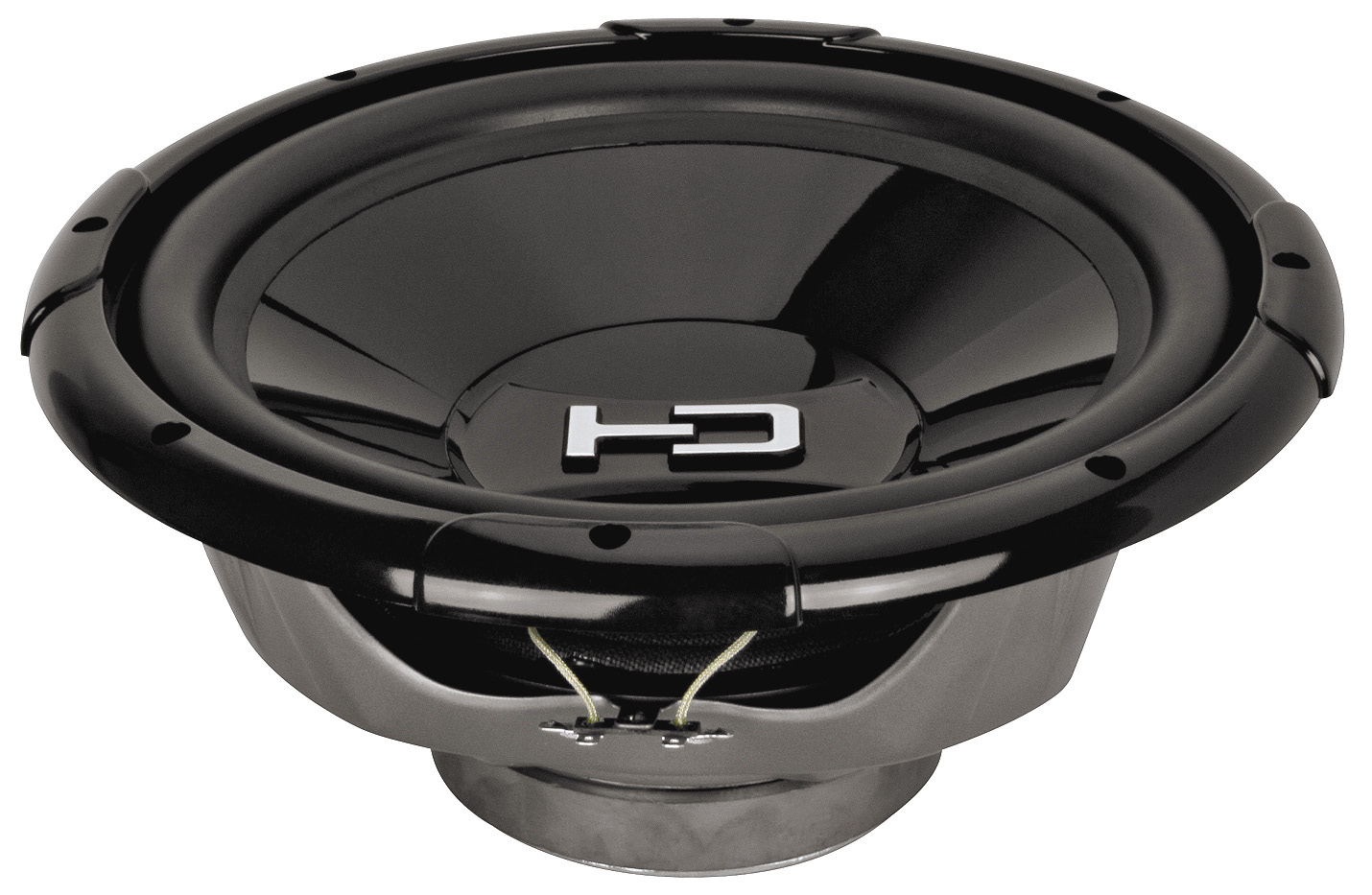 You might expect a woofer with a MSRP less than $60 to be fairly basic, but upon taking a closer look at the HD woofer, I'm impressed to find features and parts that would be quite at home on a woofer that costs twice as much. The HDW12F is built on a stout silver powdercoated stamped steel basket and the motor assembly is a 40-ounce single stacked strontium magnet. The linear-type spider is made of poly-cotton and Nomex and provides the centering and control for the single four-ohm two-inch diameter copper-wound voice coil. Electrical connections are standard spade-type terminals and the tinsel leads use conventional over-the-spider routing.

The voice coil assembly drives an IMPP (Injection Molded Polypropylene) cone, which is connected to the basket by a butyl rubber surround, designed to have low mass and high rigidity for good sensitivity and low distortion. The cone is finished in an extremely high gloss black color with a matching IMPP dust cap with chrome logo. A matching trim ring helps give the woofer a classy look.

According to the owner's manual, the HDW12F is designed to work best in a 1.2 cubic foot sealed box. The kind folks at Scosche have been kind enough to supply one of its well-made EFX SE12CC enclosures for use in my testing.

LISTENING
After a break-in and normalization period, I mount the HD woofer in the EFX sealed enclosure and set my amplifier's -24 dB crossover to 80 Hz. Bearing in mind the relatively low cost of this woofer, I had prepared myself to be somewhat underwhelmed. So, I'm happy to report any preconceived notions I may have had are gone already.

I'm actually quite impressed with the sound quality and, most certainly, the amount of output the Scosche woofer provides. Donald Fagens' classic Ruby track sounds smooth and tight with pretty good definition in the bass and drums. Next, the smooth bass and strong kick drum presence in Rickie Lee Jones' Danny's All Star Joint is noteworthy. I continue to throw of different music genres and wide variety types of bass information at the HDW12F. It handles it all in stride.

This woofer has a bit more high-frequency output than some other 12-inch woofers I've tested. Because of this, I prefer to use a lower crossover frequency slope and finally settle on 65 Hz give or take. While this is partial to my own musical tastes, you may prefer the sound and increased output you can get at a higher frequency. It is a matter of personal preference.

All in all, the woofer sounds pretty impressive in the recommended sealed box regardless of the genre. And, it continues to do so right up to (and maybe a bit over) the 175-watt power handling limit. I can make it protest if I push it too hard or if the music has lots of very low frequency information, which would cause the woofer to audibly reach its excursion limits. If the power is kept within reason, the HDW12F is a good performer regardless of the music.

PERFORMANCE / BENCH MEASUREMENTS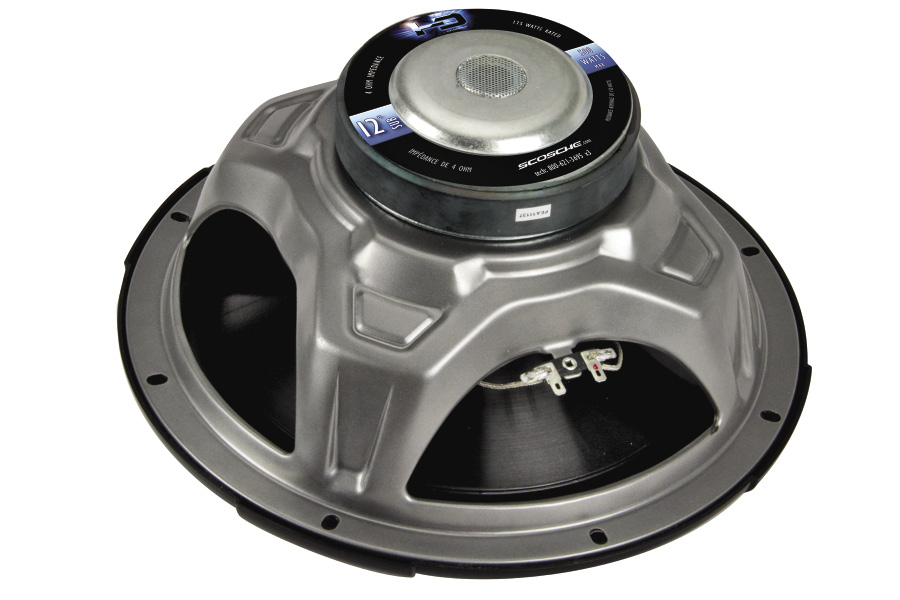 Only after the woofer cools and normalizes can I measure the Thiele-Small parameters. Indeed, the specs indicate a woofer with a strong preference for a sealed enclosure with between one and 1.5 cubic feet in volume. Free air resonance is a hair over 30 Hz while sensitivity is almost 85 dB at one meter. See graphs below. My one-watt measurements are as follows:

MEASURED PERFORMANCE SPECIFICATIONS
Revc = 3.430 ?
Fo = 30.570 Hz
Sd = 47.000m M²
Vas = 72.00 L (2.543 cu-ft)
Cms = 229.536 uM/N
Mmd = 112.227 g
Mms = 118.086 g
BL = 8.575 T•M
Qms = 3.770
Qes = 1.058
Qts = 0.826
Levc = 0.866 mH
No = 0.188 %
SPLo = 84.760 dB
EBP = 28.89

QUICK TECH SPECS
Power Handling - 175 Watts RMS
Frequency Range - 25-250 Hz
Sensitivity - 85 dB/SPL @ 1.0 W (2.0 V @ 4 )
Nominal Impedance - (1) 4 ? coil

CONCLUSION
Okay, I must admit I wasn't expecting much of this economical woofer going into this evaluation. But, as it turns out, the general sound quality of the woofer is quite a bit better than I expected and arguably as good as some other woofers costing a lot more money. Sure, I've heard woofers with a bit more definition, a little better musicality or higher power handling… but not at this price! After testing and listening to the woofer for a considerable length of time, I have a new respect for what you can get for under 60 bucks, especially if a Scosche HD subwoofer is what it gets you!
| | |
| --- | --- |
| | |