If the time has finally come to get rid of the crappy OEM speakers in your car and update them to a product capable of true high fidelity, the Sony XS-GS1720S component system is worth checking out.
Designed to bring lifelike sound quality and Sony reliability to your system, the XS-GS1720S components are backed by a three-year warranty. And, with a suggested retail price of $179.95, they won't drain all the life from your bank account.
---
FEATURES
This two-way system features nicely built six-inch midrange drivers and one-inch aluminum dome tweeter and comes with bi-ampable outboard crossovers. The midrange is built around a stamped steel basket with multiple mounting tabs that allows fitment for a variety of mounting screw patterns. The driver is fairly traditional from a technology standpoint, but it does employ a high-tech Mica Reinforced Cellular (MRC) cone for extremely light weight and rigidity. This cone improves the sensitivity of the speaker as well as provides a reduction in distortion. The midrange driver also uses a rubber surround instead of foam for improved reliability and more consistent performance in adverse conditions, a vented pole piece for improved voice coil cooling and is powered by a ferrite magnet.
For high frequencies, the aluminum dome tweeter is driven by a neodymium magnet and comes permanently mounted in a silver-colored housing designed to work with the included flush mount cups as well as the flat or angled surface mount adaptors. The surface mount adaptors stack up under the housing and tend to stand fairly tall, but the flush mount cups will allow the tweeters to blend in and complement almost any interior. The wires come pre-attached to the tweeters in an effort to make connecting them to the crossovers a fairly simple task.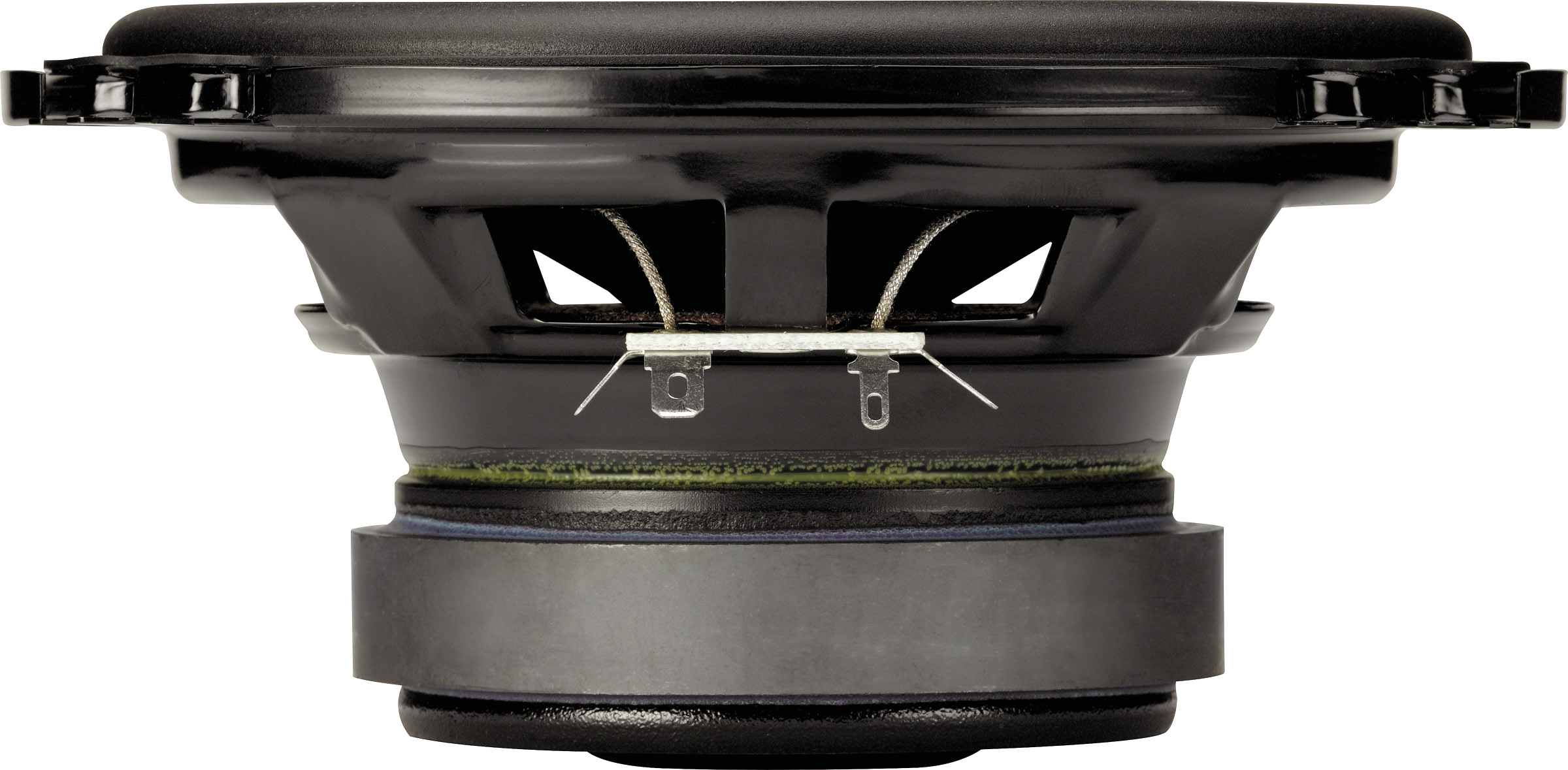 I have a criticism about the instructions in the owner's manual, however. You see, I'm just clever enough to know that when you connect a tweeter to a second order (12 dB) crossover, you are supposed to invert the polarity of the tweeter to compensate for the phase shift caused by the network. Okay, the tweeter has a wire with a black trace, but nowhere in the instructions does it tell you if that wire is intended to be positive or negative. I found out for myself, but not everyone has a phase detector and the proper software to make it work. For everyone's reference, the system should have the black wire connected to the tweeter negative terminal on the crossover. Hey Sony, pay attention to this stuff because it matters!
The crossover networks are well made and, as I mentioned, will accept bi-amp input connections. But, for what purpose? It seems to me that if you actually had separate amps for the mids and tweeters, you would be using the active crossovers in the amplifiers and not install the passive networks. At any rate, for those who will use the sleek-looking supplied passive networks, you'll be pleased to know the system is built with very good quality polystyrene capacitors and an air core inductor for the tweeter. An iron core inductor is used to roll off the top end of the midrange. A heavy duty screw terminal style jumper bridge is used to set the tweeter output level to either zero decibels or -3 dB. All of the screw terminals and connections are gold-plated to resist corrosion. The top cover of the network is smoked clear plastic and can be removed easily, but remains securely in place when installed.
The Sony speakers have an interesting list of power ratings. The XS-GS1720S system is rated at 75 watts, 120 watts (using CEA-2031 guidelines) or 350 watts peak. I say the ratings are interesting simply because I helped write the CEA-2031 standard and I see no reason for the 75-watt rating. Perhaps that's why I never had a career in marketing, but suffice to say I would have no problem pairing these speakers with a 120-watt amplifier if the person in charge of the volume control has a modicum of self control and intelligence.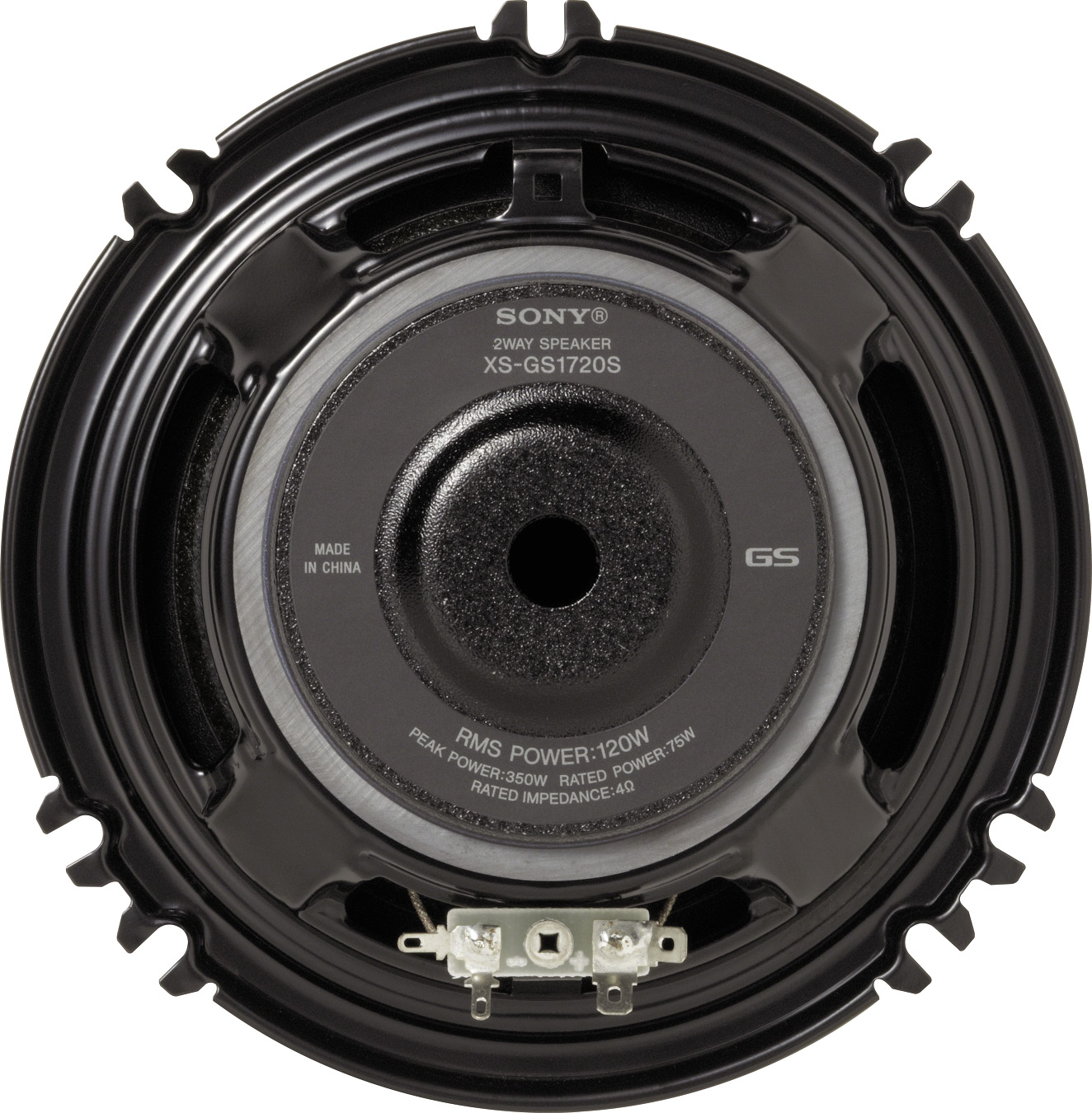 LISTENING
I mount the system in my listening baffles and after solving the tweeter polarity mystery, set the tweeters output to zero dB and begin running though some of my favorite music for speaker evaluations. After about an hour or so of listening to a really diverse collection of very well-recorded tunes, the Sony system proves itself very musical with a pleasant overall timbre. The system has good bottom end with well defined transient response and a smooth pleasant midrange. The upper midrange is a bit accentuated for my taste and seems a big thick (or chesty) at times, but it's never unpleasant or harsh. The tweeters sound very polite and smooth with no edginess or unwanted sibilance, but a few more decibels of output would be nice to bring them into better balance with the abundant high frequency output of the midrange. I'm listening on axis in a quiet room, so in your car doors, listening off axis and competing with road noise, you will probably find yourself boosting the upper registers a bit.
PERFORMANCE / BENCH MEASUREMENTS
After my listening session concludes, I bring the speakers into the lab for some basic measurements. I find the system has a low frequency resonance at about 83 Hz and my trusty TEF confirms what my ears have been telling me: there is a slight bump in the response at about 5,500 Hz and the tweeter rolls off above that. Impedance at 10 Hz is dead on at four ohms.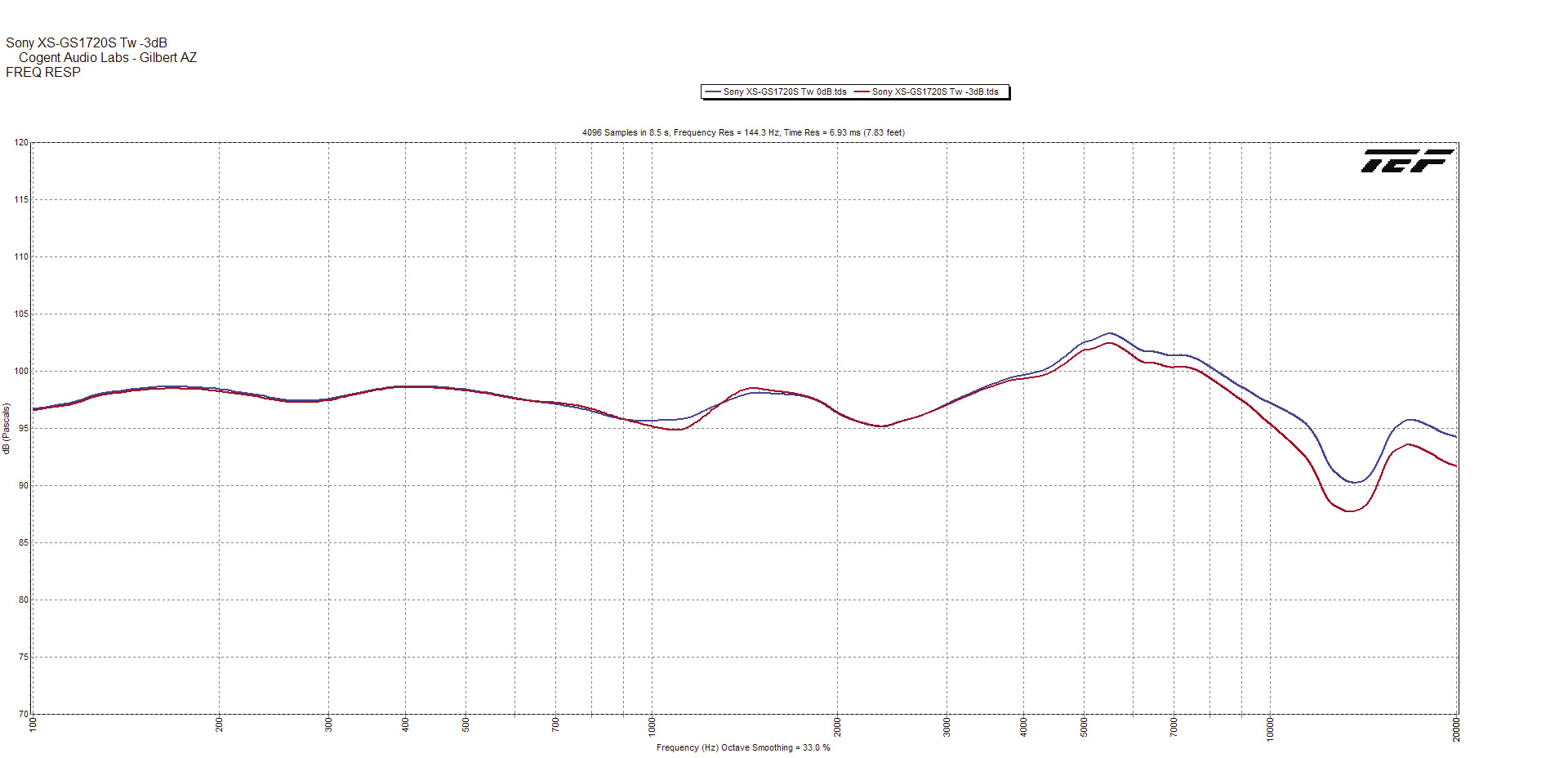 MEASURED TECH SPECS
Power Handling 120 watts RMS / 350 watts peak
Crossover (Woofer) -6 dB per octave
Crossover (Tweeter) -12 dB per octave
Frequency Range 45 – 25,000 Hz
Sensitivity 86 dB / SPL @ 1.0 W
Nominal Impedance 4 ?
CONCLUSION
While I personally may have been looking for flatter top end from a set of components, the sound of any speaker is ultimately a personal preference and matter of decision. There is no wrong answer. If you like the way a system sounds, that's all that matters. And, to that end, the Sony XS-GS1720S component system provides very good sound for the money, plus quality construction and a pretty unbeatable warranty. So, drop in to your local Sony dealer and get a demo of these for yourself. You you may just find the Sony XS-GS1720S's to be the ultimate solution for eliminating those OEM junkers.