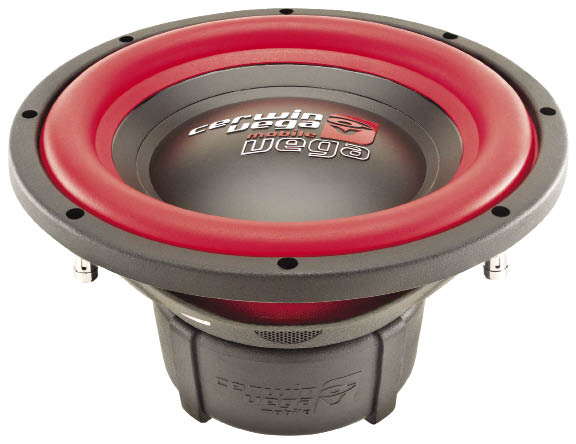 With the legacy of the venerable brand rooted firmly in the past, but their focus clearly on the future, there are few car audio companies with the history and diverse experience of Cerwin-Vega. Founded in 1954 by Gene Czerwinski, a brilliant aerospace engineer, the brand has a built a legacy of high performance breakthroughs spanning more than half a century. In fact, their motto is "Disturbing the Peace for over 50 Years". These days Gene's no longer with us, but the brand's legacy for high performance products lives on in the wild Stroker and V-Max products. But in addition to the mondo crazy stuff, let's not forget they also have a history of building very affordable loudspeakers that offer great performance value. A good example is the all new "Vega" series of subwoofers.
Features
The Vega woofers are available in 8", 10" 12" and 15" sizes. For our review, they were kind enough to supply me with a Vega 104, which is a 10" dual four ohm voice coil subwoofer. With a retail price of just under 100 bucks (U.S), the Vega 104 is rated for 250 watts. Designed to be completely new from the ground up, the Vega series of woofers have been engineered to operate over a wider range of frequencies than ever before, and to be more flexible when it comes to enclosure types as well. The result is a woofer that provides exemplary performance in a sealed or vented application.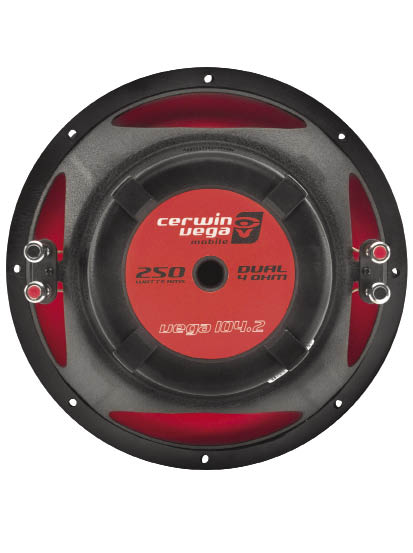 The Vega woofers provide a cosmetic throwback to the brand's trademark red colored surround and black cone treatment. But unlike those woofers of yesteryear, these make full use of modern technology, incorporating such high tech trickery as composite polypropylene cones and RCCD (Radial
Contact Convex Dome) dustcaps for improved cone stiffness while maintaining a lightweight moving assembly. The Vega woofers use stamped steel baskets, finished in black textured powdercoating, and two-inch diameter, four-layer copper voice coils wound on an aluminum former. Aluminum formers were chosen as a way to improve reliability, because Cerwin-Vega believes the aluminum offers improved heat dissipation characteristics. To further dissipate heat and improve reliability, special "windows" are stamped in the basket, and covered with a mesh screen to allow heat to dissipate outside the assembly. The magnetic motor's strength is augmented with a one-piece cold forged alloy yoke, for maximum focusing of the magnetic field. Electrical connections are made with spring loaded chrome terminals that are clearly marked for polarity, and will accept up to 8 gauge wire. Also in the interest of reliability, the tinsel leads from the speaker's terminals to the dual coils are woven into the linear-type rolled spider to eliminate the chance of lead slap or damage from over excursion.
Listening
As always, I fully exercise a woofer before making any measurements or doing any listening. On a woofer like this, that usually means a couple of hours at about 30 watts of power, at or below 20 Hz in free air. Because the excursion of a woofer quadruples with every halving of frequency, the lower frequency you use here, the greater the excursion becomes and the more completely exercised the sample is. Using a very low frequency for break-in also lets you reduce the input power, so there is no risk of thermal damage.
When the woofer had been exercised properly and allowed to cool overnight, I mounted it into a sealed enclosure with an interior volume of 0.75 cubic feet.
My listening began with an old favorite for woofer evaluation, Rickie Lee Jones – "Danny's All Star Joint". The bass from the 10" Vega was smooth and detailed, with really good detail in the slapped and plucked bass notes, and a realistic presence to the kick drum. Billy Idol's "Prodigal Son" was next, and this track, which has some continuous low frequency synthesizer and very well recorded kick drum was reproduced with authority and clarity.
Switching to a 1.25 cubic foot vented enclosure, tuned to 38Hz, the woofer now had audibly more output, at the expense of a bit of very low frequency rumble. Fans of Cerwin-Vega products are known to prefer the volume on the high side of 11, and in that case, the Vega in a vented enclosure won't disappoint.
I really enjoyed this woofer in both enclosures, and I liked the way it followed the classic trend of sounding a bit deeper and tighter in a sealed box, and much louder and more exciting in the larger vented enclosure. If I had to choose an application for my own vehicle, I'd lean a bit more toward the vented design, since it still sounded great and played seriously loud with only a modest amount of power required. In fact, the suggested amplifier size for these woofers is about 150 watts each.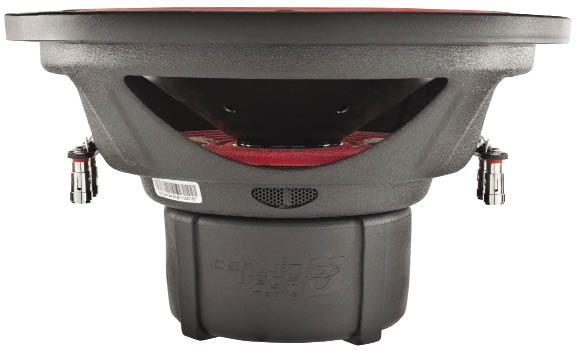 On The Bench
On the test bench with my trusty LMS system, the Cerwin-Vega Vega 104 measured very similarly to the published specs in the enclosed owner's manual. My 1 watt measurements were as follows:
Conclusion
The new Vega woofer is a significant improvement over the model it replaces, with better output over a wider range, allowing the user to choose their preferred type of enclosure and sound. Built with modern materials and techniques, and designed to withstand the type of use that Cerwin-Vega products are famous for, the Vega series of woofers should be very popular. Coupled with a very reasonable price and a full one year warranty, there's no reason to go without the kind of bass that's been "Disturbing the Peace for over 50 Years".