Sometimes when you set out to engineer a new product, it's pretty easy to get caught up to account for all of the possibilities. And when it comes to developing a new subwoofer, the myriad of options, custom tooled bits and cosmetic treatments can soon get overwhelming. It takes experienced and focused engineering talent to not get lost in the flash and bling and remain focused on what really makes a good woofer- how it performs.
So I tip my hat to the engineers at Soundstream, who have come up with an excellent woofer minus all the expensive cosmetic frills. The piece I'm referring to is the new Soundstream Reference Series RF-8W 8" subwoofer.
Features and Construction
The RF-8w is an 8" dual four ohm voice coil woofer, utilizing fairly standard "off the shelf" type of parts. But it's designed to be a very good performer, and the money not spent on chrome plating and injection molding was instead spent on real performance features and better parts that will make it sound better and be more reliable. The woofer has a heavy duty stamped steel basket, and weighs in at almost 8 pounds. A large 5.5" ferrite motor assembly provides the magnetic energy to drive the dual 4-layer coils, which are wound on a Kapton former. Each coil is rated at a nominal impedance of 4 ohms. Keeping the former and coil centered in the gap is the task of a Conex progressive type spider and an old school type foam half roll surround. Connected to the UV protected surround by special adhesives is a molded and double sided paper cone, which in my experience has a more natural sound than a poly cone. A poly-mica inverted dustcap is finished in the classic Soundstream blue and silver, with the Tarantula logo proudly displayed.
The basket is finished in a textured matte black powdercoat, and uses beefy nickel plated spring type binding posts. A molded rubber gasket provides an air tight seal and will seal from either side, just in case you wanted to mount the woofer with the motor showing. The RF-8W also incorporates a vented pole piece to reduce internal pressure build up at high excursion and to improve voice coil cooling.
Another feature designed to enhance reliability are the stitched in tinsel leads which follow the contour of the top of the spider.
Listening
After break in, following the recommendations in the owner's manual, I mounted the woofer in a 0.5 cubic foot sealed enclosure, and connected it to my reference system. I began with a -12dB/Oct subwoofer crossover at 125Hz, but later found that I preferred a setting between 80 and 100Hz. With the coils wired in parallel for a 2 ohm load, it was time to do some listening. The output from the 8" woofer was surprisingly strong and authoritative, and even very deep bass like the synth notes in Avril Lavigne's "Sk8ter Boi" were reproduced well. Moving on to a few other high energy bass tracks like Thomas Dolby's "Key to Her Ferrari" and Thom Rotella's "Friends", the RF-8W provided a rich and pleasing bottom end sound, and retained a tight and articulate character. Once again, I thought the good old paper cone did a great job in reproducing rich and natural sounding bass. While doing my listening, I had to remind myself a couple of times that I was listening to an 8" woofer, because the sonics of it were such that it could have just as easily passed for a 10" or even a 12" driver.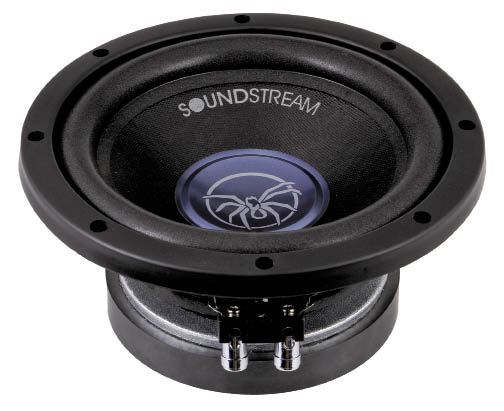 Measured Performance
After listening to the woofer for about as long as my hectic schedule would allow, I let the woofer sit overnight and measured the Thiele-Small parameters, and generated an impedance curve. I'm happy to report that my measurements were virtually identical to the specs that Soundstream published in the owner's manual. The parameters suggest that the woofer will work good in either sealed or vented designs, so you have some flexibility in the type of enclosure you prefer.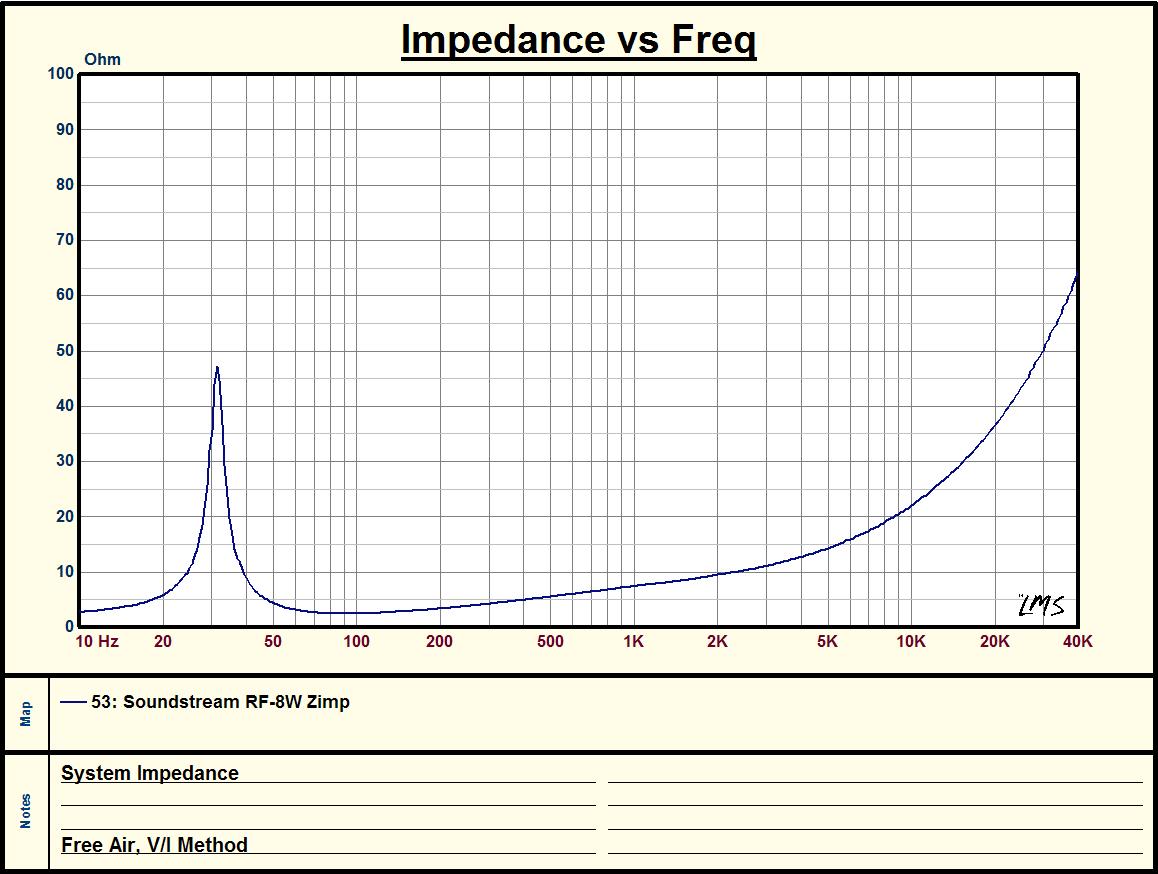 Conclusion
It may not have all the bells and whistles, and may be missing chrome plated bits or custom tooled components, but there is no doubt that the Soundstream RF-8W is built to listen to first and foremost. With performance belying it's size and using the money saved on "show" to improve the "go", I give the economically priced woofer high marks for not only it's performance but also for overall value. If you don't have a lot of room for some boom, the RF-8W could be exactly what you're looking for.
MEASURED Thiele-Small Parameters
| | |
| --- | --- |
| Revc | 1.800 Ohm |
| Fo | 30.950 Hz |
| Sd | 0.021 M² |
| Vas | 0.800 Ft³ |
| Cms | 351.810 uM/N |
| Mmd | 73.378 g |
| Mms | 75.165 g |
| BL | 7.748 T·M |
| Qms | 9.358 |
| Qes | 0.438 |
| Qts | 0.419 |
| Levc | 0.331 mH |
| No | 0.148 % |
| SPLo | 83.729 dB |
| EBP | 70.7 |
QUICK TECH SPECS
Power Handling

180 Watts RMS / 360 Watts "Peak"

Frequency Range

30-800Hz

Sensitivity

83.7dB/SPL @ 1.0W

Nominal Impedance

(2) 4 ohm coils

Preferred Application

0.4 to 0.8 cubic foot sealed enclosures

0.5 to 1.0 cubic foot vented enclosures