Ask anyone who's been around car audio for more than a few years to name some of the most iconic brands in the industry, and without a doubt the name Precision Power will make the list. The brand sort of floundered for a bit a few years ago, but lately it has been making a strong comeback to regain some of the former glory and respect in the industry. The resurgence is being driven with great new products, like the Phantom Series P900.4 amplifier, that we're going to have a close look at in this review.
FEATURES
The PPI Phantom P900.4 is a four channel full range Class D amplifier. Thanks to the high power efficiency of Class D operation, the amp sports a very compact chassis measuring only 10.5" x 6.75" x 2" tall. Finished in an almost sinister looking black brushed aluminum heatsink with gold logos, and sporting a set of high gloss powdercoated end caps, the cosmetics are cool and stylish. But few of us buy our amplifiers for their good looks, because when it comes to picking an amp, it's all about the performance baby! Rated at 145 x 4 into 4 ohms, and whopping 225 watts x 4 into 2 ohms, the P900.4 is all about power and performance.
It comes equipped with an unusual crossover system where the amplifier has a high pass filter that operates from 20Hz to 4kHz, and a low pass filter with a bandwidth of 50Hz to 5kHz. But the interesting thing is that by engaging the low pass filters, you create effective bandpass filtering. The wide bandwidth of operation is thanks to a simple-to-use 10x multiplier switch for each crossover section. Additional controls include front and rear gain pots, and a 2ch/4ch input signal steering switch. All these switches and pots are found on one end of the P900.4, along with the two pairs of RCA inputs. Occupying the opposite end panel are the power and speaker terminals, as well as an interesting fuse arrangement, which uses one 40A, and one 35A, ATC type fuses.
Of course you know I took it apart, and on the inside I found a very impressively laid out PCB, with top shelf components used throughout. Surface mount parts are used extensively and there are polypropylene caps in the input stage to ensure top quality audio signal flow. Good output filtering is critical in a full range Class D amp, and a look inside the P900.4 also shows that careful attention was paid in this area too.
LISTENING
Because of very pressing magazine deadlines, (as I write this, the clock just struck midnight) I didn't have as much time to listen to this amp as I would have liked, but I did manage a good hour long session, and even in that short a period of time I came away quite enamored with the sound of the PPI P900.4. The amp seemed to have an almost limitless amount of power headroom, even when pushed pretty hard on complex orchestral passages. Dynamics were very good, and with this much power on tap the amplifier was just plain fun to listen to. In terms of its sonic signature, the amp sounded very transparent, and had commendable detail and stereo imaging. It impressed me enough to give it a try in my own vehicle for a while to give it a long term test, so watch my blog for more comments, and my final opinion.
PERFORMANCE / BENCH MEASUREMENTS
Moving the amp to the Cogent test bench verified my impressions from my listening session, the amp makes gobs of power, and does it with relative ease. Efficiency was excellent, especially at fractional power levels where the majority of us listen, and the P900.4 managed to exceed all its published specs. Frequency response measured ruler flat in the audio band, and extended to over 30kHz. Signal to noise proved to be equally as impressive, scoring -82dBA @ 2V. About the only minor gripe I had was the amp didn't have quite as much gain as I might have liked, requiring about 280mV of input to drive it to clipping with the gains maxed. This is no problem if you have a high volt output radio, but if your head unit's preamp output voltage is on the anemic side, high quality recordings with wide dynamic range and lots of crest factor may not be able to get the amp to full power. But any good 4 volt or higher sources will be perfect.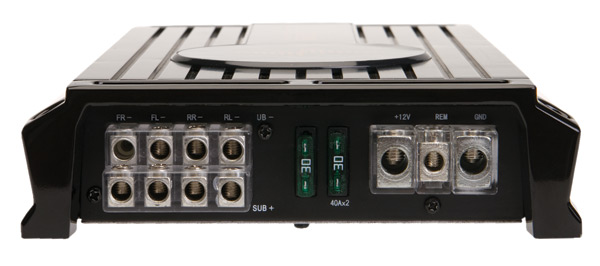 CONCLUSION
The PPI P900.4 is a solidly built, nicely designed amplifier. The small chassis allows it to mount in very small spaces, and the inherent efficiency in the design means it's will make a lot of power without wasting a lot as heat. The crossovers take a bit to figure out, as they are decidedly un-traditional, but once you get things dialed in, the amp is a joy to listen to. The price of the amp was unavailable at press time, but if you get in touch with your local Precision Power dealer, I'm sure pricing will be released by the time you read this.
For more information, visit www.precisionpower.com.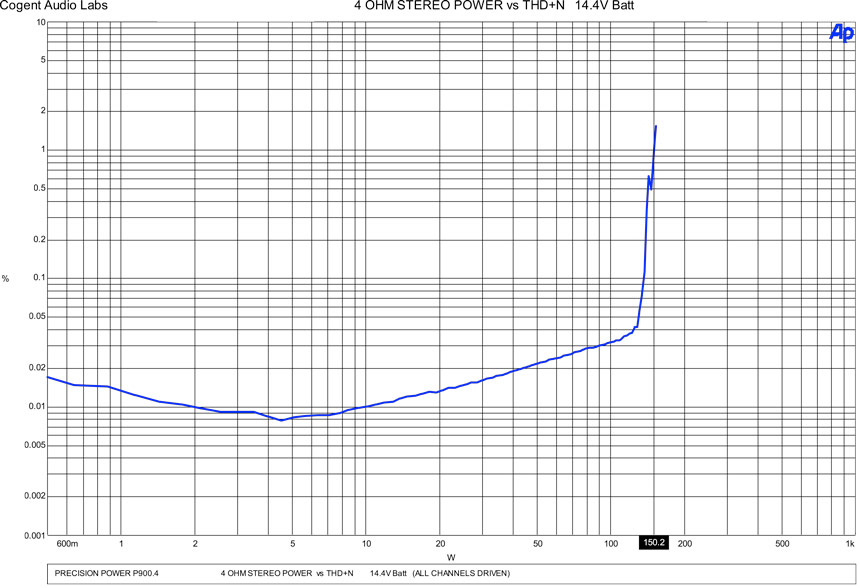 Tehcnical Data
The following power measurements were obtained using industry standard methods. (1kHZ @ 1.0% THD+N - Battery voltages shown +/- 0.2V)
Measured Performance Specifications
Manufacturers Rated Power

Actual Measured Power

@ 1.0% THD+N @ 12.6V Battery

Actual Measured Power

@ 1.0% THD+N @ 14.4V Battery

145 x 4 @ 4 ?

113 x 4 @ 4 ?

150 x 4 @ 4 ?

225 x 4 @ 2 ?

179 x 4 @ 2 ?

235 x 4 @ 2 ?

450 x 2 @ 4 ?

363 x 2 @ 4 ?

477 x 2 @ 4 ?
Signal to Noise Ratio referenced to 2V output.

(CEA-2006A) (1 watt @ 4 ohms)

-82.0dBA

Signal to Noise Ratio referenced to full output.

-103.8dBA

THD+N at rated 4 ohm power

0.55%

CEA-2006A rated 4 ohm Power (minimum power per channel developed over the entire intended audio bandwidth)

131 Watts

Maximum Efficiency at full 4 ohm power per ch.

83.0%

Maximum Efficiency at full 2 ohm power per ch.

75.8%

Efficiency at 10 watts per channel, 4 ohms

60.4%

Idle Current

1.5A

Input Sensitivity

280mV- 7.7V

Maximum Current @ full power, lowest rated impedance

86.1A

Frequency Response (-3dB)

<10Hz – 34.3kHz

High Pass Crossover

15Hz – 4kHz

-12dB/Oct

Low Pass Crossover

50Hz – 5kHz

-12dB/Oct

Subsonic Filter

None

Bass Boost

None