Everyone wants a great sounding system for their ride, but getting one designed and installed can be a bit intimidating.
For most people, thinking about the complexity of multiple amplifiers and wiring and then figuring out how to fit it all in the existing space while still allowing room for groceries is more than they care to deal with. But several manufacturers have produced multi-channel amplifiers designed to eliminate many of those concerns.
The most popular format for a single amp meant to run an entire system with front and rear speakers and a subwoofer is the five channel design. And while five channel amps have been around for well over a decade, they were slow to gain popularity because they were usually quite large. But thanks to modern Class D technology, the new versions of this format are very small, and consume only a fraction of the current that their ancestors required.
This time we are going to take a look at one of the most modern and modestly-sized five channel amps available, the Hertz HDP5. The HDP5 has a full suggested retail price of around $900 (US) and is rated at 60x4 + 310x1 at 4 ohms, and an impressive 100x4 + 550x1 at 2 ohms.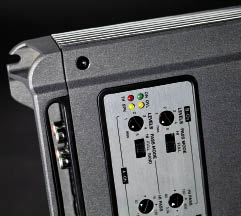 FEATURES
The HDP moniker stands for Hertz Digital Power, and provides the first clue that this is an entirely Class D amplifier. My hat is off to the engineering team who were able to fit all that power into a chassis measuring only about 13.5" long, 6.75" wide and 1.8" tall. The amplifier has the distinct look and feel of a product that was well-engineered and built with care. Finished in an attractive, dark metallic gray powdercoating highlighted by polished edges on the horizontal heatsink fins, the HDP5 comes with top mounted controls, cast aluminum end caps and a reversible illuminated badge. Attention to detail is what this amp is all about, with touches like injection-molded insulating rings that fit very precisely into the top of the end caps to prevent screwdriver induced short circuits when connecting the cables, and the forethought to make the badge reversible set the Hertz amp apart from less thoughtful designs.
And the thoughtful design carries into the audio section as well, with very flexible crossover networks allowing high pass, band pass, and low pass configurations, and a wide range of frequency adjustments. A switch engages a three-channel mode, which transforms the HDP5's output to 200x2 at 4 ohms, and 550x1 at 2 ohms, a handy configuration if you're not running rear speakers.
The HDP5 is also a great choice for upgrading your OEM system, as it comes with dedicated high level inputs for all five channels, and a special auto turn-on circuit can also be turned on for cars that do not have a dedicated amplifier control wire. To control the subwoofer volume from the driver's seat, an optional remote level control is available. To monitor the amplifier's operational condition, there are four LEDs on the top control panel that indicate normal operation, or warn of signal clipping, thermal protection or a short circuit condition.
Inside the HDP5 I found separate power supplies for the main and subwoofer channels, which is important to prevent high current demands on the sub channel from sapping the power from the main channels and causing premature clipping. Other good stuff included extensive use of low-tolerance surface mount components, low ESR high temperature capacitors, and the main channels use the new 5-pin TO-220 power MOSFETs.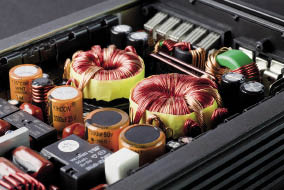 LISTENING
Sitting down to audition the HDP5 proved to be quite a pleasant experience. I used my 4 ohm reference bookshelf speakers for the main channels and a high performance 4 ohm woofer in a sealed enclosure. After configuring the amp for three-channel mode, and setting the gain and crossovers appropriately, I began with a few tracks of classic rock. Songs from Led Zeppelin, Pink Floyd and Supertramp sounded excellent, and in 3 channel mode there was an abundance of power for even very loud listening levels. Classical tracks were also accurately reproduced, with good control and clarity. A couple of times I did notice a slight lack of focus in the stereo image, but you'll remember I'm listening in a quiet room, seated perfectly between very good imaging speakers at an optimum distance. In a vehicle, the amount of difference I'm talking about here would be difficult to hear, even sitting still with the engine off.
After spending about three hours listening to the Hertz amp, it was barely warm, a testament to the efficiency and implementation of the Class D topology. Throughout the session, regardless of the type of music, the bottom end was powerful, clean and tight, and the amp still maintained smooth and detailed high frequencies. The sonic performance of the HDP5 sort of reminded me of the way Rolls-Royce used to describe their horsepower rating – more than adequate.
PERFORMANCE / BENCH MEASUREMENTS
Moving the amp to the deadly accurate test bench here at Cogent Audio Labs, the Hertz amplifier easily lived up to and exceeded its published performance specifications. The amplifier made more than its rated power at any specified impedance, and also proved to have very good signal to noise performance, which can be difficult to achieve with a Class D output topology. Overall power efficiency was also very good, which explained why the amp didn't get hot during my listening session. With this amp, the vast majority of the power consumed from your car's electrical system is used to drive your speakers and is not turned into heat. Distortion levels at one watt of output were well below audibility, but did measure slightly higher than some competitive products we've tested.
CONCLUSION
The Hertz HDP5 is a great choice for a single chassis amplifier regardless of your current system. Whether you need to conserve space, reduce current draw, or if you are considering upgrading your OEM system with some new speakers and real power, the HDP5's low current draw, flexible crossovers, and auto turn-on circuit should put this Hertz amplifier on your short list.
Thanks to the latest improvements in technology, the Hertz HDP5 is proof you can have great sound and abundant power in a single, small amplifier chassis. With amplifiers like this, now it's possible to enjoy both sonic performance and improved efficiency. What's next, light without heat?
TECHINICAL DATA
Signal to Noise Ratio referenced to 2V output. (CEA-2006A) (1 watt @ 4 ohms): -82.5dBA
Signal to Noise Ratio referenced to full output: -101.4dBA
THD+N at rated 4 ohm power: 0.11%
Maximum Efficiency at full 4 ohm power per ch.:89.7%
Maximum Efficiency at full 2 ohm power per ch.: 76.8%
Efficiency at 10 watts per channel, 4 ohms: 62.9%
Idle Current: 2.8A
Input Sensitivity: 321mV- 5.3V
Maximum Current @ full power, lowest rated impedance: 94.8A
Frequency Response (-3dB): <10Hz – 42.1kHz
High Pass Crossover: 40Hz – 3.3kHz / -12dB/Oct
Low Pass Crossover: 40Hz – 150Hz / -24dB/Oct
Band Pass Crossover: 80Hz – 3.3kHz / -12dB/Oct
Subsonic Filter: None
Bass EQ boost: None
MEASURED PERFORMANCE SPECIFICATIONS
Manufacturers Rated Power
60x4 + 310x1 @ 4
100x4 + 550x1 @ 2
Actual Measured Power
@ 1.0% THD+N
@ 12.6V Battery
58x4 + 278x1 @ 4
90x4 + 430x1 @ 2
Actual Measured Power
@ 1.0% THD+N
@ 14.4V Battery
77x4 + 369x1 @ 4
119x4 + 572x1 @ 2
For more info visit: www.hertzaudiovideo.com.