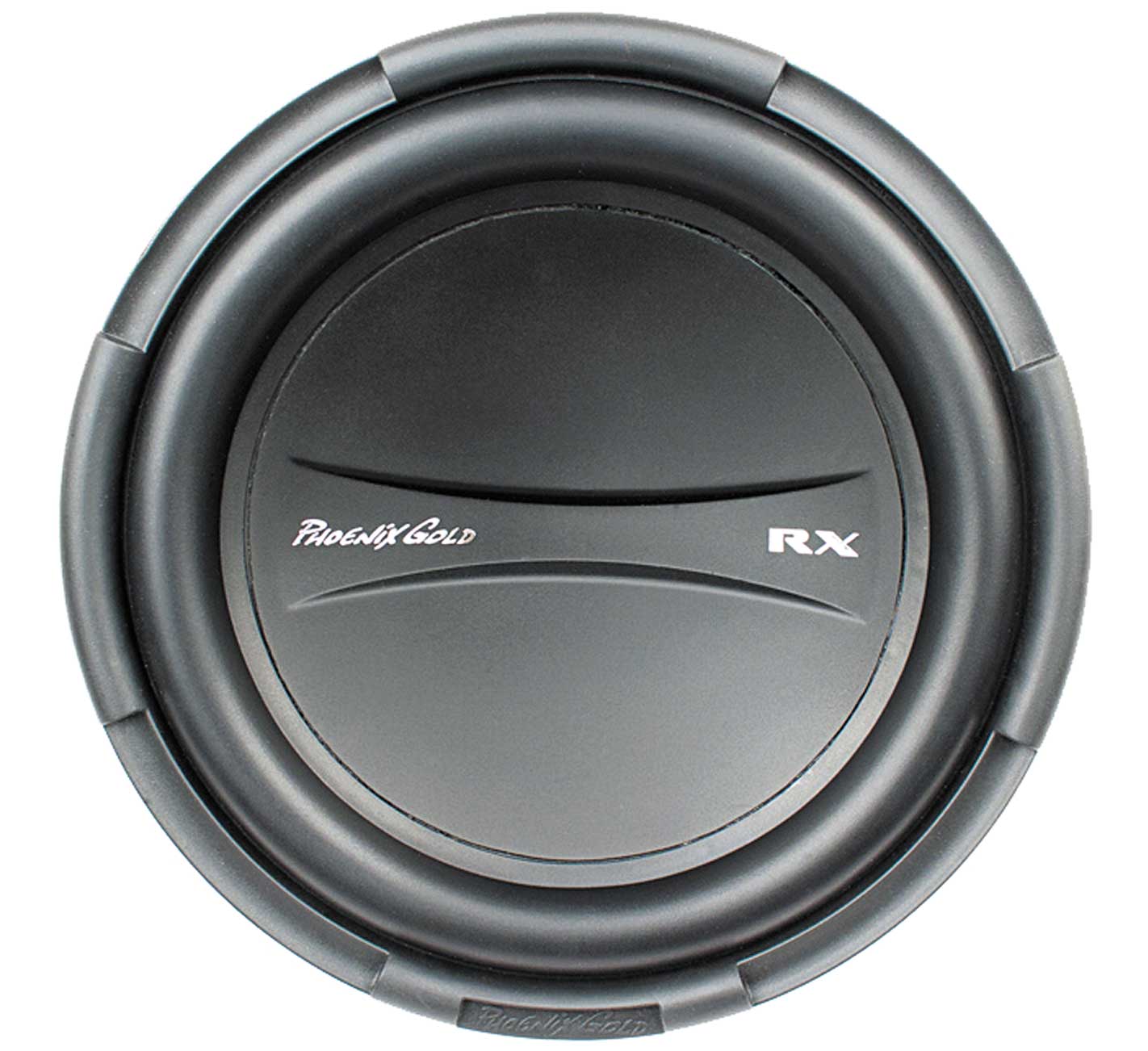 The new Phoenix Gold R Series of subwoofers may be priced as entry level products, but compared to the competition they are ruggedly overbuilt, so their performance is anything but entry level.
To have a closer look at these woofers for ourselves, we asked the good folks over at Phoenix Gold to send us an example of what they are about, and shortly after we received a sample in the from of an RX112. The RX112 is a 12-inch single voice coil woofer with an advertised impedance of four ohms and power handling of 200 watts. The R series woofers are also available in dual four ohms voice coil configurations. The woofer we received has a suggested retail price of $159.99 (USD) and comes with a one-year limited warranty.
Cosmetics

After unpacking the RX112 I have to admit I am rather perplexed with first impression of the cosmetics. As first blush, the woofer is quite plain looking, with a matte black poly cone and a matte black trim ring. The only contrast on the face of the woofer is the Phoenix Gold and RX logos on the cone and highlighted in a bright silver color. As I look closer at the woofer, I begin to understand what the designer originally intended. The cone is not too visually exciting, but it is designed with a deep trough in the center that provides additional strength and rigidity. Then I notice that the trim ring is also designed to completely hide the mounting screws for a clean finished appearance. So, I begin to see the beauty in the design after all.
Looking behind the front of the speaker, I find a sturdy stamped steel basket made with four wide, reinforced spokes finished in a textured black powder coat. On the business end of the woofer, a custom-tooled rubber motor cover finishes off the magnet very nicely.
Features

Getting into the internal workings is one of my favorite parts of my job. I enjoy seeing different engineering approaches to solving common problems, and I seldom look at any new product without learning something. Looking at the design and construction of the RX112 woofer, I note a few things that you don't see on too many entry level woofers, like venting the lower section of the cone above the voice coil for better cooling, or the heat shrink-covered tinsel leads that are connected to very sturdy spring loaded terminals. I can't tell you how many times I've bent the terminal mounting tabs on woofers when simply connecting the wires. You won't do that on this woofer.
Other features worth noting are the full two-inch diameter copper voice coil (wound on a Kapton former), a quality rubber surround instead of the more economical foam, linear poly-cotton spider, and a vented and machined back plate.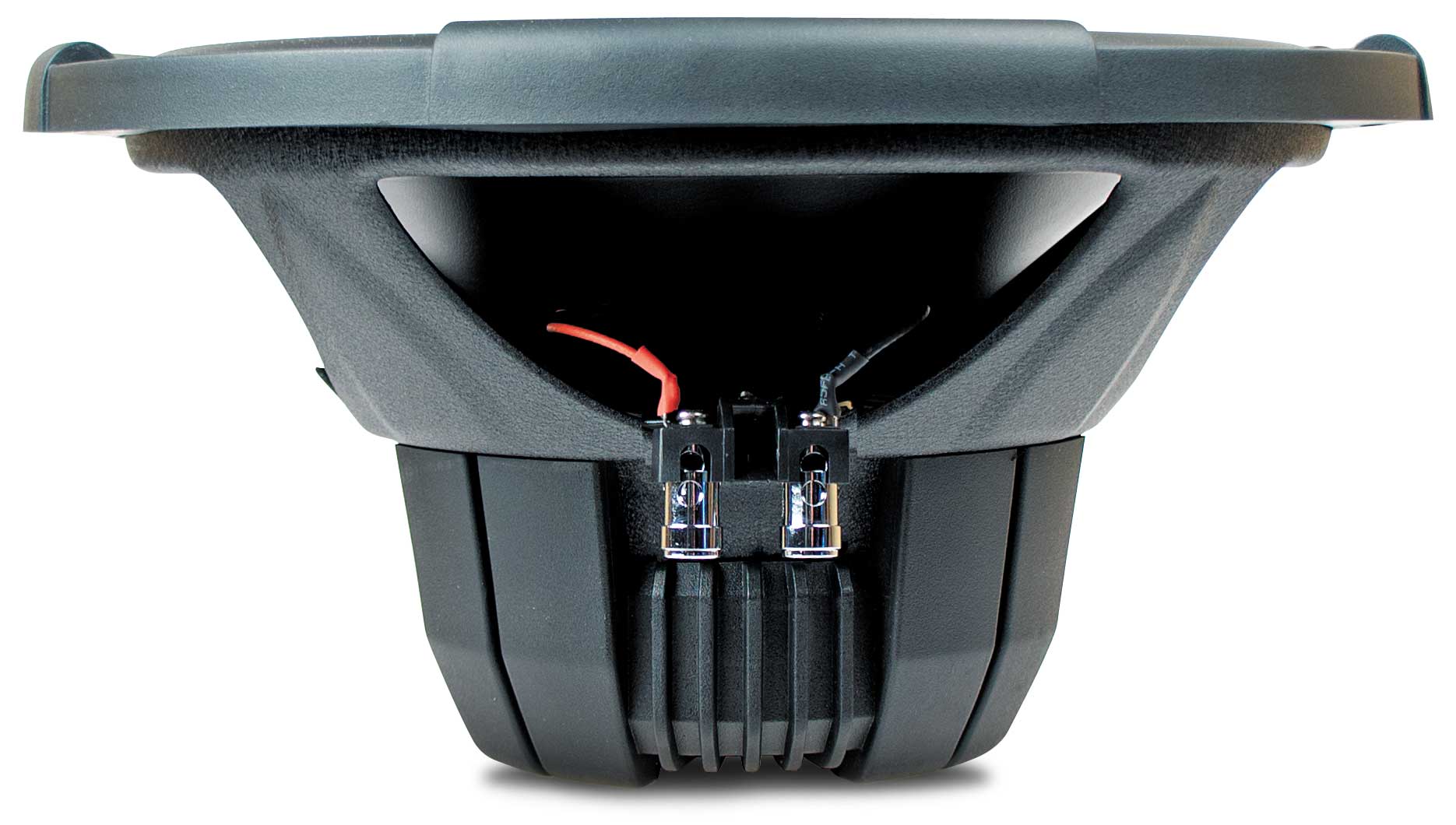 Listening

After the obligatory break-in process is complete, I install the Phoenix Gold RX112 into a 1.25-cubic-foot sealed enclosure. According to the owner's manual, the RX112 can be used in sealed enclosures ranging in volume from 0.75 to 1.5 cubic feet. The manual also says the woofer can be used in vented enclosures from 1.5 to 2.25 cubic feet. This put my test enclosure right in the middle of the range. Connecting the woofer system to my amp and getting the levels adjusted, I begin my listening session with the crossover on the subwoofer set at 100 Hz, -12 dB/octave. With these settings, the woofer has a lot of output and a bit of a tubbiness to the sound. A few tracks later, I decide to shift the crossover frequency down to 80 Hz. This small change made quite a difference – the RX112 sounded more musical, with better definition. The sound of the woofer is pleasant and it still had prodigious output for a single four ohms 12. During the course of my session, I note my enclosure choice may have been a bit small for the best output of very deep bass notes, as some of the really low stuff (below 40 Hz) was a bit laid back. This was most noticeable on jazz and classical recordings, so I'm not sure how important it will even be to the typical R Series user.
I drive the RX112 pretty hard a few times during my session, and come away very impressed its ability to handle brief periods of power that were over the its conservative 200 watt rating. When all is said and done, I feel the woofer has respectable low frequency output and handles transients – like kick drum and plucked bass – very well. It is very competitive when it comes to other woofers in this segment of the market.
On The Bench

After my listening session was over and the woofer normalized overnight, I connect it to my Klippel analyzer and measure the Thiele-Small parameters. My measured data is a bit off of the published specifications, but probably within the normal window of tolerance that is associated with subwoofer parameters. A look at my measured specs indicates to me that this woofer is going to perform best in a sealed enclosure, but if you are willing to give up some additional low bass extension for more output, you could give a vented design a go. It's not my cup of tea for this woofer, but it may be exactly right for you.
Phoenix Gold RX112 – Single four ohms coil

Measured Thiele-Small Parameters
Electrical Parameters

Re 3.72 ohms
Le 3.072 mH
L2 3.366 mH
R2 4.47 Ohm
Cmes 1155 µF
Lces 33.52 mH
fs 25.6 Hz
Mechanical Parameters

Mms 241.8 g
Mmd 229.01 g
Rms 6.895 kg/s
Cms 0.160 mm/N
Kms 6.25 N/mm
Bl 14.470

Loss factors

Qtp 0.624
Qms 5.636
Qes 0.690
Qts 0.615

Other Parameters

Vas 57.55 l
n0 0.134 %
Lnom 83.80 dB
Sd 504.00 cm²
EBP 37.10
Quick Tech Specs

Power Handling: 200 watts RMS
Frequency Range: 25-500 Hz
Sensitivity: 83.8 dB/SPL @ 1.0 W (2 Vrms)
Nominal Impedance: (1) 4 ohms coil
Conclusion

The Phoenix Gold RX112 subwoofer is a serious contender in the hotly-contested entry level market. It has plenty of output and can be mated to a smaller amplifier to save even more money. With a bit of tuning and the right enclosure, this woofer may surprise the owners of more expensive gear. Just make sure your amplifier has an adjustable frequency low pass crossover, spend a bit of time tuning, and use the largest volume enclosure that you have space for.
With its rugged design and very conservative power rating, it should be a reliable woofer through years of use and abuse. To find out more about the R Series woofers and all of the Phoenix Gold gear, check them out online, at www.phoenixgold.com.