Horsham, PA (March 11, 2021) — Turn 14 Distribution, the industry leader in performance parts distribution, is excited to announce that John Urist piloting the Turn 14 Distribution S550 Mustang took home first place in the Street Outlaw class during the NMRA Spring Break Shootout. The event was held at Bradenton Motorsports Park in Bradenton, FL, over the weekend of March 5-7, 2021.
"This weekend's results are the culmination of years of determination and dedication by John Urist and his team. Their innovation is limitless as they continue to lead and push the boundaries. Turn 14 Distribution is proud to be a part of their efforts and a well-deserved win," said Daryl Sampson, Director of Marketing, Turn 14 Distribution.
Coming off a strong performance at the Duck X Lights Out 12 race the previous weekend, John Urist and his team were confident going into the NMRA season opener. After securing second place in qualifying, the team moved onto Sunday eliminations, where they had three rounds of great competition. John won the first two rounds with consistent times taking out last year's Street Outlaw champion in the semifinals. For the final round, John made his fastest run of the weekend with a 4.261 at 171.97 mph, securing the win. John now starts the season leading in points and is well-positioned to pursue the 2021 NMRA Street Outlaw Championship.
"We had a great weekend! On our first practice run, we tested the track and had a big wheelie that caught us off guard. We knew the track was tricky, and after spinning a couple of runs, we finally got hold of the track. In eliminations, we won the first two with straight, consistent runs and took out last year's champion, so we were running well. In the finals, we had lane choice, so with that advantage, we took the better-prepared lane. The tree dropped, and BOOM, the competition spun as we crossed the finish line for the win. Now we are the points leader and set for a good run the rest of the year!" said John Urist.
Turn 14 Distribution would like to congratulate John Urist and his team for a well-deserved win made possible with support from partners like Automotive Racing Products (ARP).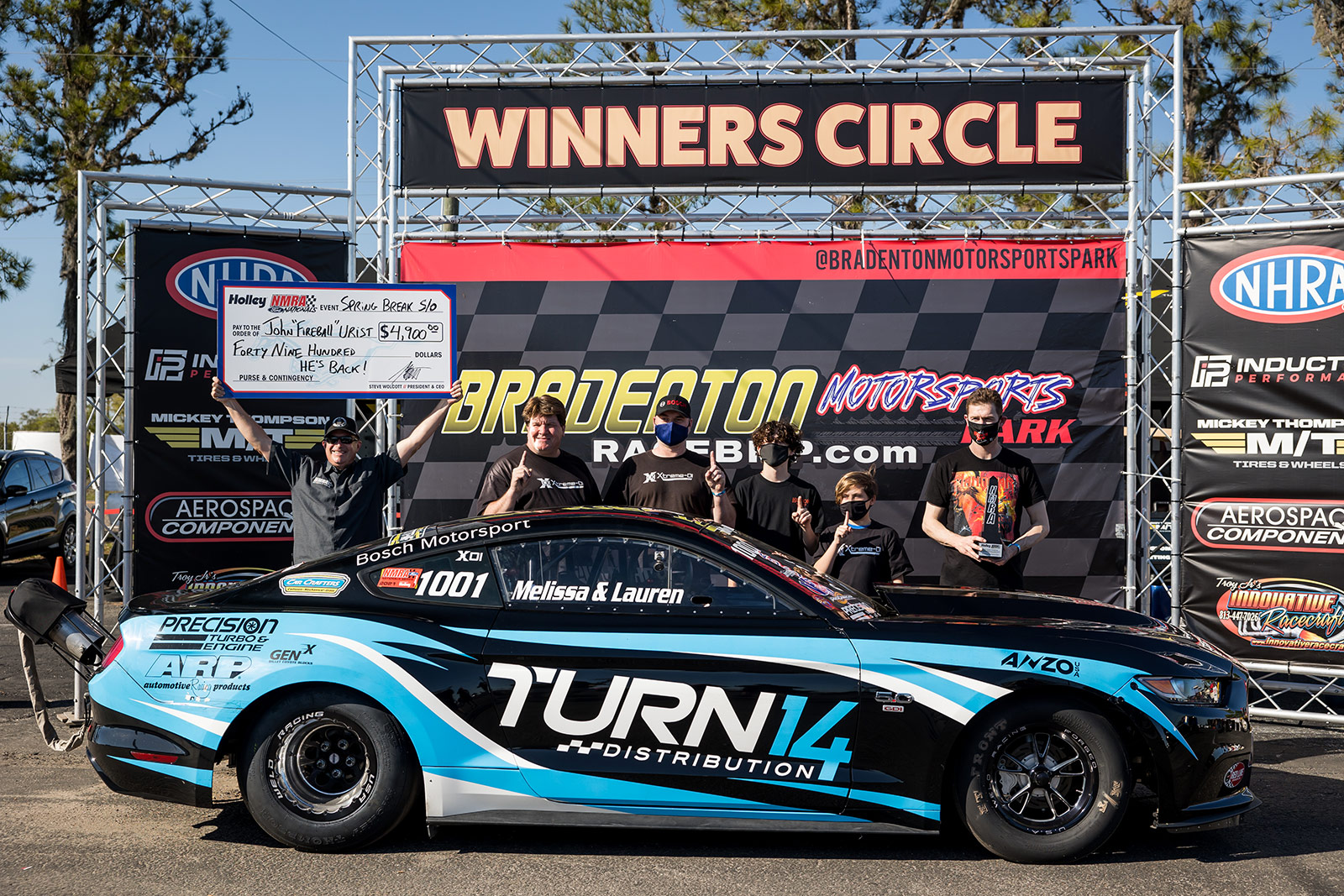 About Turn 14 Distribution, Inc.
Turn 14 Distribution is an award-winning national warehouse distributor, which sells vehicle parts and accessories into the automotive aftermarket exclusively through the business-to-business channel. With distribution centers in Pennsylvania, Texas, and Nevada, the company boasts ground shipping coverage to 43% of the U.S. population in one day and 100% within two days. Turn 14 Distribution leverages proprietary technology and innovative logistics solutions to drive growth, while simultaneously developing robust, symbiotic relationships up and down the supply chain to accelerate that growth. Turn 14 Distribution is privately owned and operated. www.turn14.com